Getting comfortable at your desk is largely a function of how long you're going to sit there. Do you hammer out an email twice a day, and ignore your system the rest of the time? In that case, you can probably get away with just about any setup. But for gamers, good ergonomics become more important. If you're sitting at your desk for hours on end on a regular basis, you need a comfortable chair and good accessories. For content creators and other people who work at their computers, comfort is paramount. You need to sit at your desk in order to earn a paycheck. You'd better be comfortable!
An under desk footrest is one way to make your workstation a more comfortable place to sit. Today, we'll review three options, starting with the Kensington Comfort Memory Foam Adjustable Footrest. This is a flat, memory foam rest on an adjustable plastic frame that can be pivoted or adjusted vertically. Next, we'll examine the ErgoFoam Ergonomic Foot Rest. This a plush foam half pipe that's soft and adjustable, and comes in two different sizes. Last, we'll look at the HUANUO Adjustable Under Desk Footrest. This is a harder, all-plastic stand that can tilt in either direction, and flexes to keep your feet active.
Note: At no extra cost to you, we may earn a commission for purchases using our links. Learn more.
Which one of these under desk footrests is best? To find out, we're going to have to take a closer look. We'll see how each of these footrests is constructed, how it can be adjusted, and how comfortable it is. After that, we'll be ready to make a better recommendation. Let's get started!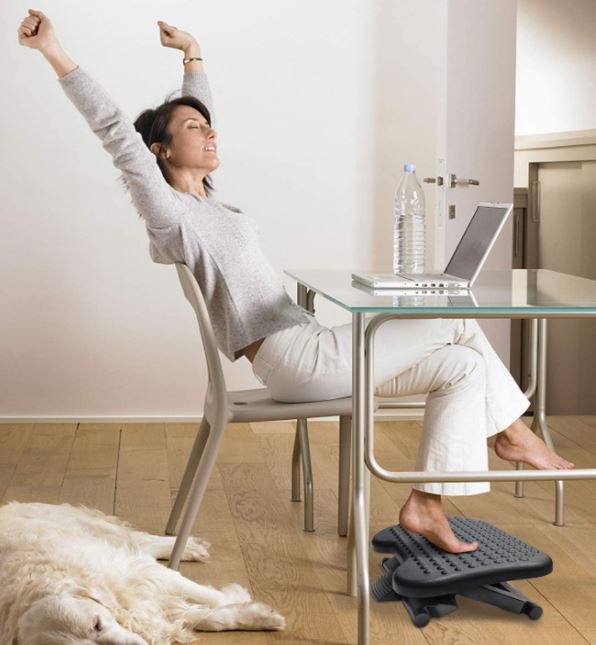 Why Use an Under Desk Footrest?
So, why would you want to use an under desk footrest to begin with? There are a number of reasons, but let's start with what we already mentioned: comfort. When you're not comfortable, you're not doing your best work. An uncomfortable seating position can negatively impact your life outside of work, too. If you're coming home from your desk job with constant aches and pains, your seating position may be to blame.
This is particularly true if you're on the shorter end of the spectrum. Yes, most desk chairs are adjustable. But if you're sitting low enough for your feet to touch the ground, you may have other issues. Such as not being able to reach the keyboard comfortably. With a footrest, you can put your seat at the right height for typing, and still be able to support your feet.
A footrest can also help keep your legs healthier and more active. The reason for this is that it gives you more positions to sit in. You can put your feet up, take them down, stretch them out, or squish them close. This helps to encourage circulation, so your legs won't fall asleep when you're at your desk for long periods. The same benefits apply to your overall physical condition. By taking stress off your lower back, blood flow is improved to the entire lower half of your body. Better circulation reduces the risk of blood clots, promotes healing, and is generally healthy.
Finally, a footrest pairs well with other ergonomic office products. For example, let's say you have a comfy gaming chair with adjustable armrests. Wouldn't you also like to be able to adjust your foot position, too? The more tools you have in the kit, the more comfortable you're ultimately going to be.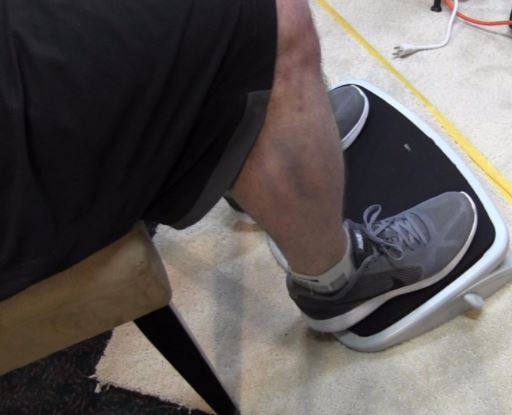 What to Look For in an Under Desk Footrest
Now that we know why you'd want an under desk footrest, let's talk about what makes one worth buying. First and foremost, you want one that's adjustable. This only makes sense. Not everybody is the same height, has the same length leg, or sits in the same height chair. As a result, no one footrest position – no matter how well-designed – will work for everybody. You need a rest that can be adjusted for height, angle, and preferably both. Even if you found a rigid footrest that was perfect for you, it would still be better if it were adjustable. For instance, you might buy a new chair, and suddenly need a new footrest position. You might also want to take your footrest on the road, in which case adjustment is essential.
At the same time, a good under desk footrest should be stable. Look for a non-skid base, or at the very least one that's wide and flat. Otherwise, you might find your footrest sliding across the floor. You'll also want to think about the type of floor you're using. For example, if you're on bare hardwood, a plush footrest is liable to slide around easily.
When it comes to the footrest surface, you want to find a good balance of softness and pressure relief. A hard surface can create pressure points, but so can a soft one, if it doesn't offer enough support. If the footrest is very soft, the padding should be nice and thick to allow for plenty of sink. Conversely, firmer padding can afford to be a bit thinner, which is what makes it a more common choice. Hard footrests should be textured. This helps prevent pressure points, particularly when you're periodically repositioning your feet.
Durability is less of a concern, but it's still something you should keep in the back of your head. Think of it this way. You're spending less on a footrest than you would on most other ergonomic accessories. As a result, replacing it isn't a huge problem. But it's still an inconvenience, and there's no reason to buy fragile equipment if you don't have to. A good footrest should be easy to clean. Plastic should be smooth, rather than rough, with minimal grooves. If there's a lot of fabric, the fabric should be removable for separate cleaning. These kinds of features will go a long way towards extending your footrest's life. A good warranty also doesn't hurt.
Last but not least, think about how portable your footrest is. We're not saying you should be able to cram it into your carry-on bag. But if you're commuting with it every day, you should be able to hold it in one hand. A lightweight design and a built-in handle are both good features to look for.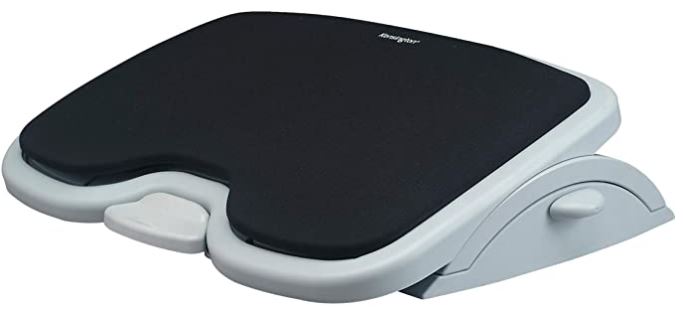 Kensington Comfort Memory Foam Adjustable Footrest
Kensington is one of the better-regarded companies in the technology landscape. Among their other offerings, we've reviewed the SD6000 Surface Go docking station. The Kensington Comfort Memory Foam Adjustable Footrest is similarly well-designed.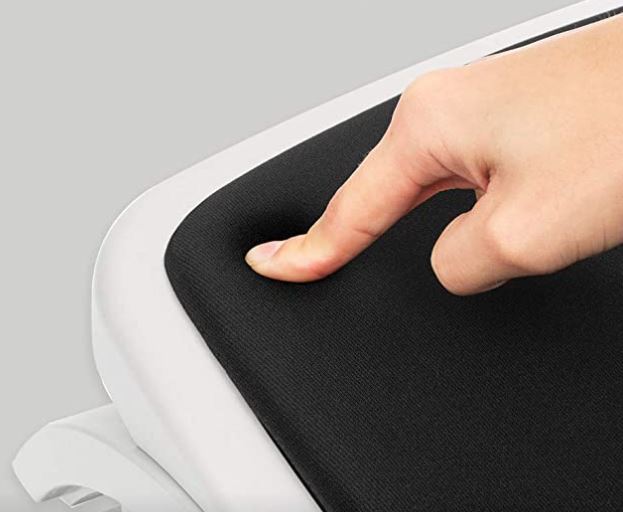 The Kensington footrest consists of a memory foam padded upper surface on a plastic base. The upper padding has a width of 22 inches and a height of 14 inches, more than enough room for your feet. The material is a rich memory foam, which provides a reasonable amount of support. You can sink into it a little bit, but it's going to push back. The frame material is grey in color, with an easy-to-clean matte finish. The pad attaches to an arched track on the top, where it can be pivoted forwards for comfort. The bottom of the frame has a non-skid rubber finish to keep it from scuffing or sliding.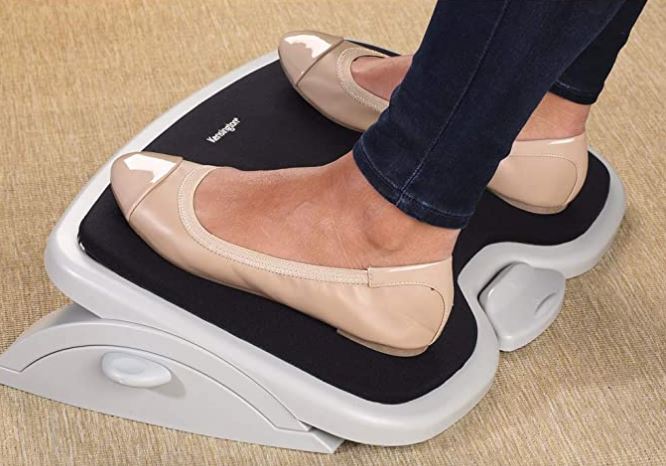 The total range of motion for the padded top is 30 degrees from center. This is a fairly generous range, and should provide a comfortable angle for most people. One thing we really appreciated was that the pad can be locked and unlocked with a foot pedal. This allows you to easily pivot the footrest without taking your eyes off of your work. After a bit of practice, it becomes second nature. You will need your hands to adjust the height, on the other hand. The frame unlocks on the sides, and can be adjusted from 3.5 to 5 inches. Once it's in place, you probably won't need to mess with it much.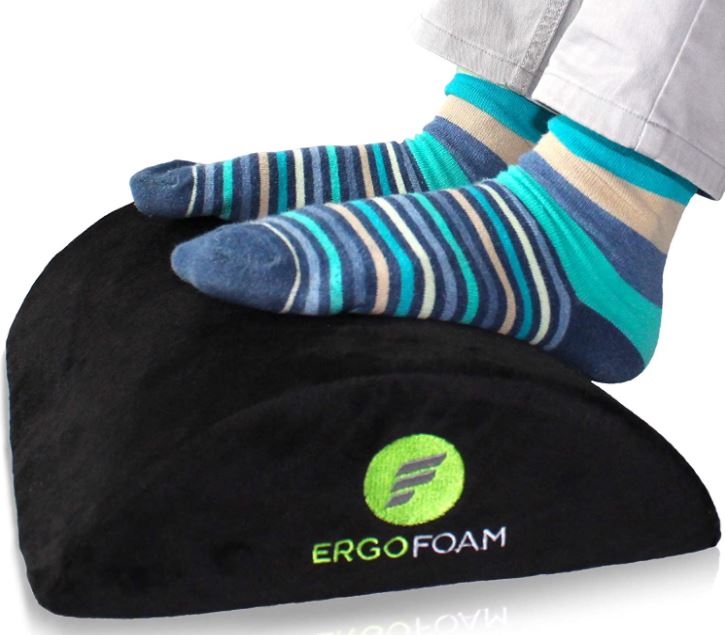 ErgoFoam Ergonomic Foot Rest
The ErgoFoam Ergonomic Foot Rest is a different creature altogether. Instead of being mounted on a frame, it's a single-piece unit that's essentially a shaped cushion. The outer shell is made of a plush material, which is fluffy and soft to the touch. If you like to work in your socks, you'll still find that it's very comfortable. It's available in two colors: black or grey to match a variety of settings.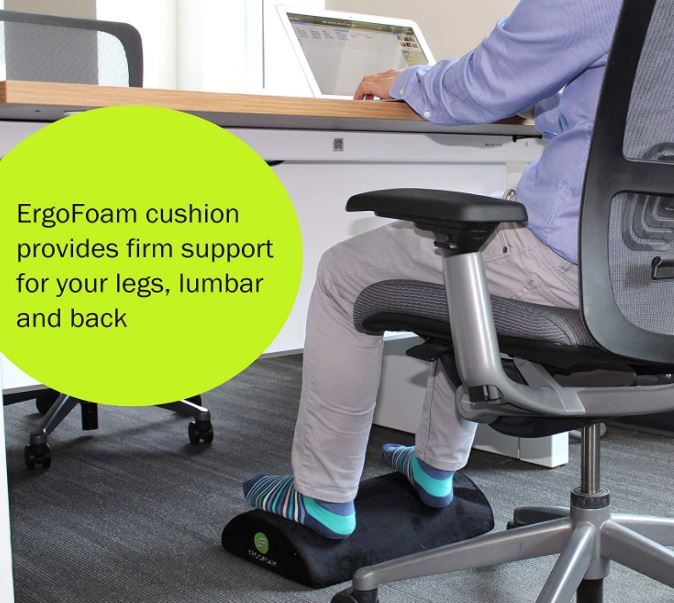 In addition to the two color options, you can also choose between two different sizes. The first is 17.3 inches long, 11.5 inches wide, and 3.9 inches thick. It has a profile like the edge of a pipe, as if someone had cut the pipe by a third. The fatter, "tall" variant has a truly semicircular profile, with a thickness of 5.5 inches. Which one is better will depend mostly on your height. Taller individuals will want a thinner footrest, while shorter individuals are going to want a thicker one.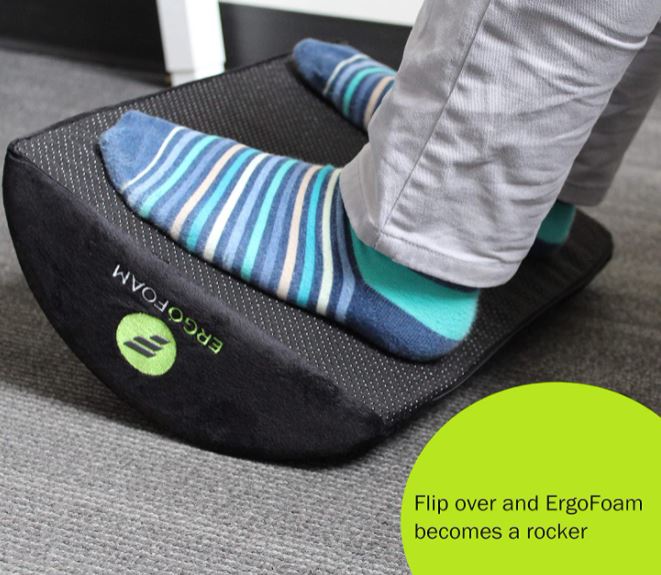 The nice thing about the curved design is that you can use the same footrest in different configurations. In addition to sitting on the flat side, the ErgoFoam rest can be flipped over and used upside down or angled. When used flat-side-down, you can take advantage of the rubbery, anti-skid base. This makes it suitable for use even on hardwood and tile floors. In addition, the entire shell can be unzipped and removed, and is machine-washable. As a result, it's much more durable than you'd expect at first glance.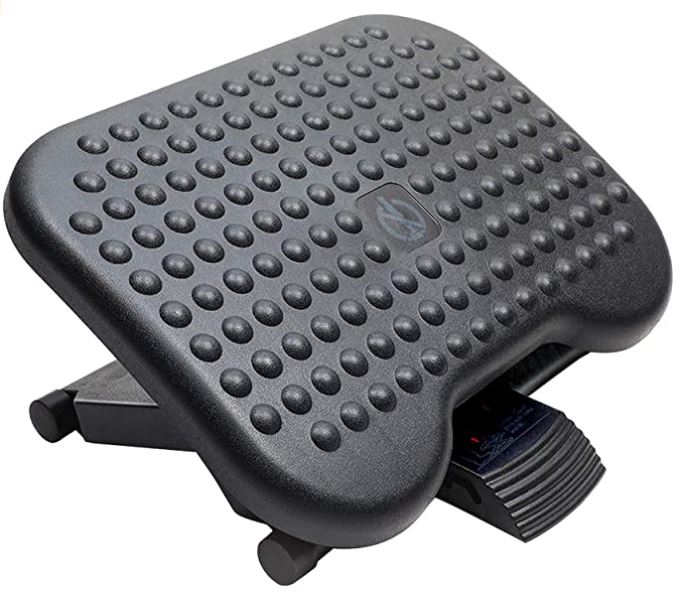 HUANUO Adjustable Under Desk Footrest
HUANUO is another brand we've looked at in the past. We reviewed their rolling printer cart, and found it to be a reliable, affordable option. In many ways, the HUANUO Adjustable Under Desk Footrest is similar. It's not fancy, but it's well-engineered and it gets the job done. The upper surface has a non-skid finish, with a series of dots that provide a massager-like finish. It measures 18 inches wide and 13 inches high, a reasonably-sized platform for most people's feet.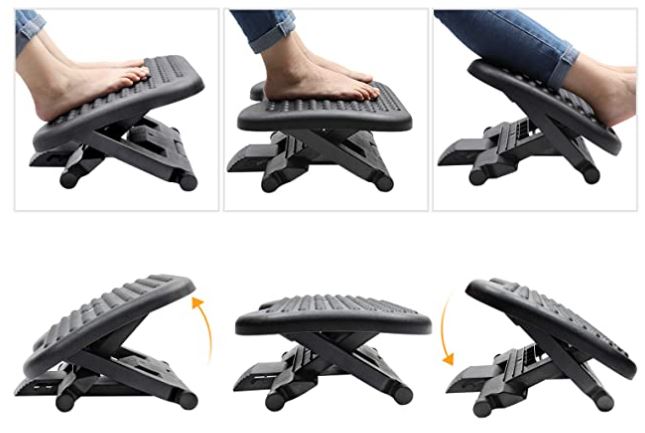 There's no padding on this footrest. However, it's surprisingly adjustable, with the ability to tilt both forwards and backwards. It has a range of 30 degrees in either direction, fully doubling the range of the Kensington footrest. That said, the angle cannot be locked. This is meant to encourage you to keep moving around, so your feet don't fall asleep. But it would have been nice to have the option.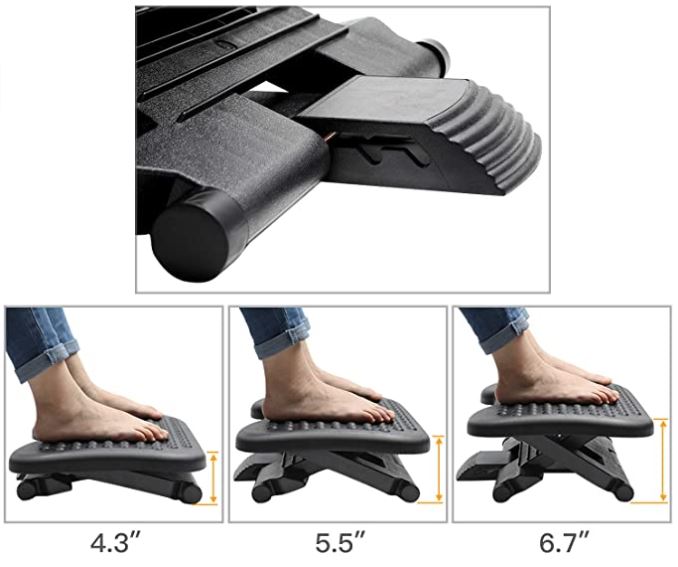 The height also has a wide range of adjustment. The frame is basically built like a scissor lift, and you adjust it as needed. Unlike the angle, the height does lock. You'll have to adjust it with your hands, but it won't move around while you're sitting. When fully collapsed, the HUANUO footrest is very flat, and easy to carry around. Part of the frame even forms a makeshift handle. All of this is covered by a five-year manufacturer's warranty, so durability is not a concern.
Final Verdict
As you can see, each of these footrests has its own benefits and drawbacks. We started by reviewing the Kensington Comfort Memory Foam Adjustable Footrest. This is a durable option, as well as a comfortable choice for many people. We liked the easy pedal adjustment, as well as the memory foam upper padding. That said, you can't angle it forward, and it's not as soft as some other options.
The ErgoFoam Ergonomic Foot Rest is a wildly different choice, but by no means a bad one. It's soft and cushy, great if you like a surface with plenty of sink. Not only that, but it's surprisingly durable, with a removable, washable shell. On the downside, there are only so many ways you can adjust a cushion with no frame.
The HUANUO Adjustable Under Desk Footrest is the most affordable of the bunch. But don't let that put you off! It's surprisingly durable, and is covered by a five-year warranty. It's easily collapsible and portable. And it offers a wide range of motion, with the ability to pivot 30 degrees in both directions.
Please consider sharing:
Note: At no extra cost to you, we may earn a commission for purchases using our links. Learn more.