Even in today's world of advanced technology, we still have to deal with old-fashioned pests. Termites can cause severe damage to your home. And if your pet has ever brought home a bunch of fleas, you know how infuriating they can be. But mice and other rodents are also a legitimate reason for concern.
In the home, mice will get into your food and leave their droppings around. This means inspecting all your stored food and throwing out anything they've contaminated. It also means cleaning out your drawers, cabinets, and other storage spaces.
And even if you've caught a single culprit, there are going to be more mice. You end up setting traps, and having to inspect your entire house for access points. Mice can fit through even the tiniest gaps, so this can be harder than it sounds.
For cars and other vehicles, you don't have to worry about rodents getting into your food. Presumably, you're not riding around with food in your trunk at all times. However, vehicles can be an attractive place for rodents to nest. There's hollow space under your car's hood that's safe from predators.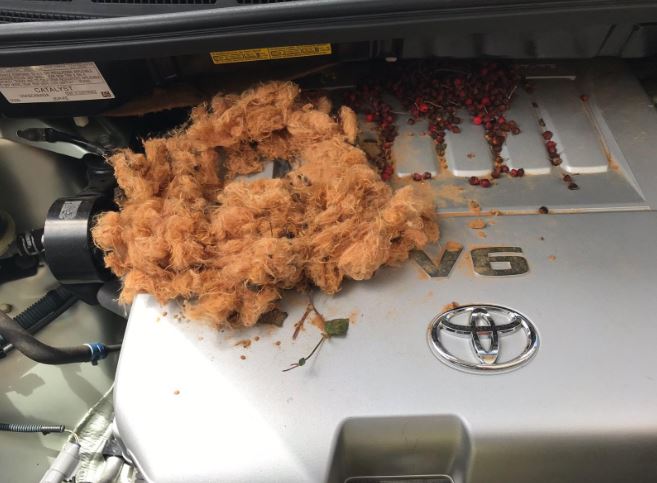 Unfortunately the animals can damage your vehicle. Squirrels have been known to chew through spark plug leads, battery connections, and other wiring. Even if they don't, leaves and other nesting material can catch fire while you're driving. Needless to say, these hazards are also dangerous to the rodents. They just don't know it.
An ultrasonic rodent-deterring device is a safe, humane way to keep away mice and other rodents. It makes a loud, ultra high-pitched sound that humans can't hear. Instead of setting traps or poison, you just scare the rodents away. That's a better solution for everybody.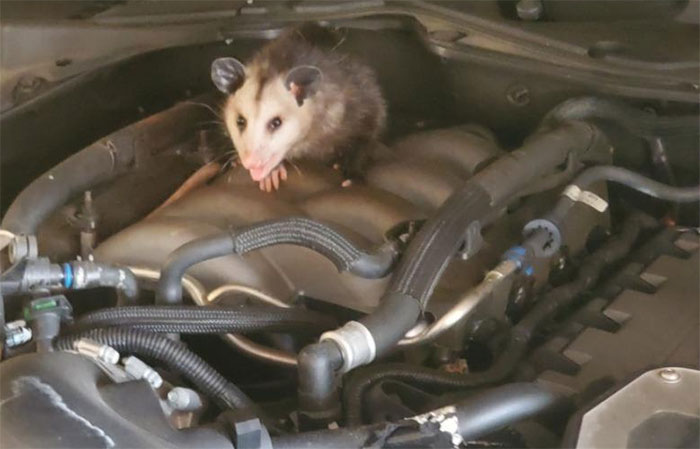 Choosing the Best Under Hood Mice and Rodent Deterrent Devices
Today, we'll be reviewing three of the best under hood mice and rodent deterrent devices available. All of these devices produce loud ultrasonic noises that scare away rodents. They're also easy to install, and it's easy to understand how they work. You don't have to be an expert.
At the same time, there are important differences between these three devices. To begin with, they work in different ways. Some have test functions, others do not. Some have adjustable alarm volumes, while others don't. It also makes a big difference whether the device is hardwired or battery-powered. Once we've evaluated all the different features, we'll have a solid grasp on what we're dealing with. Let's get started, and see what we find!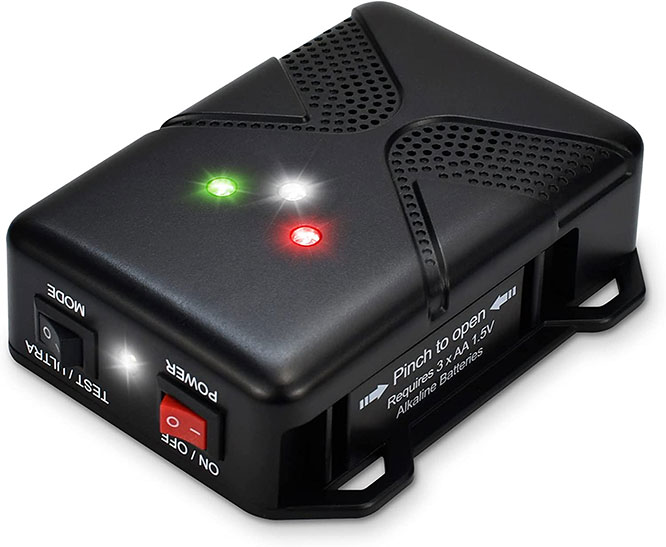 Loraffe Under Hood Ultrasonic Rodent Repellent
The Loraffe Under Hood Ultrasonic Rodent Repellent is flat and square, with a matte black finish. It measures three inches to a side, and is only about an inch thick. At 4.6 ounces, it's nice and lightweight. You can mount it somewhere and not have to worry about it being too heavy for the zip ties.
There's a set of speaker holes in the top surface, arranged in a pair of stylized V-shaped patterns. In front of the speakers is a set of LED lights. To the left, you'll see a green light, which indicates that the ultrasonic noise is active.
To the right, there's a red light that illuminates whenever the power is turned on. A white LED strobe light sits between these, and is offset slightly closer to the speakers. This light is very bright, and is an important rodent-deterrence feature.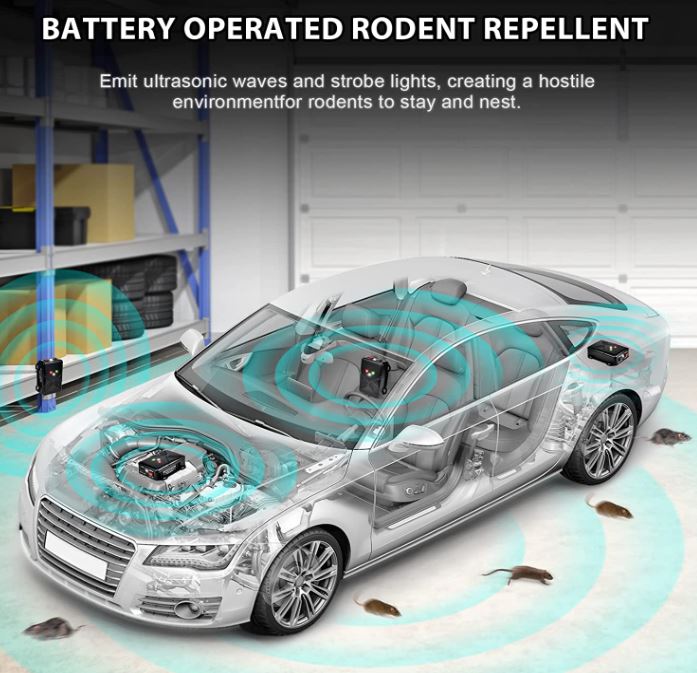 On the front edge of the housing, you'll notice a pair of toggle switches. The black one on the left changes between test mode and ordinary operation. The red one on the right powers the whole device on and off. There's a second strobe LED between the switches, which flashes at the same time as the one on top.
When it comes to effectiveness, it's hard to judge for sure. It's not like we have a bunch of mice around to test these things on. But it does produce a loud ultrasonic shriek, and Loraffe's demo video is pretty convincing. Keep in mind that it's not designed to protect your whole house. It's meant to keep rodents out from under a car hood, or away from your pantry.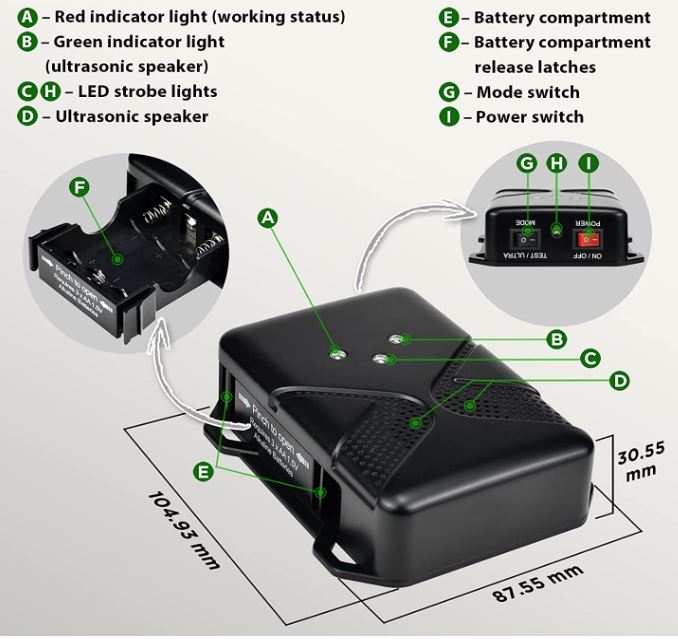 Usage and Testing
On either side of the housing, there's a set of narrow eyelets. These are designed to allow for easy mounting with a pair of zip ties. There are ties included in the package, but you can use any zip ties you want. Just don't mount it to any part of your car that gets hot. The top of the air intake is an excellent location on many vehicles. At home, there's no need for mounting. Just set it in your pantry or cabinet, and let it do its job.
The Loraffe rodent repellent's battery compartment can be accessed at the right side. There's a pair of indents where you can pinch your fingers and release the locking mechanism. The battery drawer will then slide out. You'll need three AA batteries, which will last for approximately 45 days. A lot will depend on how you use the device.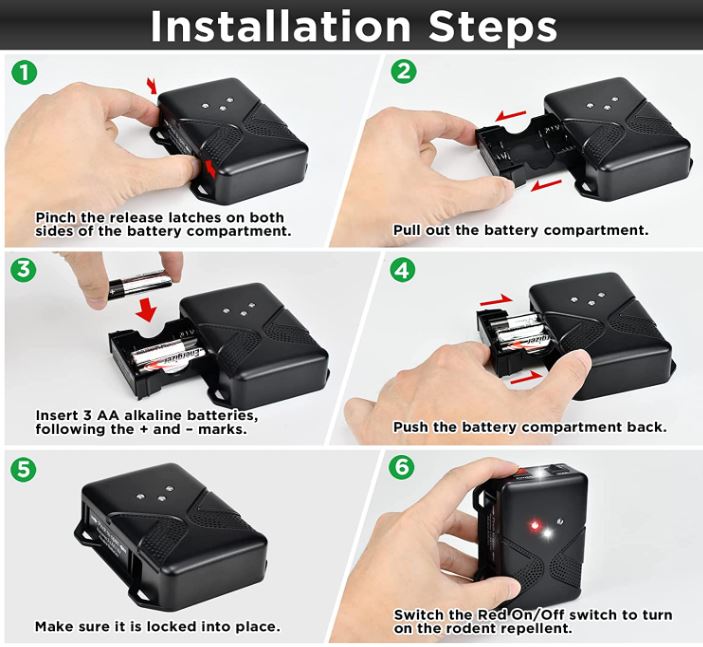 You'll tend to get longer battery life in a vehicle than around the house, because there's a built-in vibration detector. When your car vibrates, the rodent repellent will automatically shut down. When you shut off your engine and the vibrations stop, the device will kick back in.
To use the Loraffe repellent, first set the black switch to "Ultra" mode. Then, turn the red switch on. The strobes will start flashing intermittently, as will the green speaker indicator light. If you want to test the speakers, flip the black switch to "Test" mode. It's pretty loud, but it lets you know the speakers are working!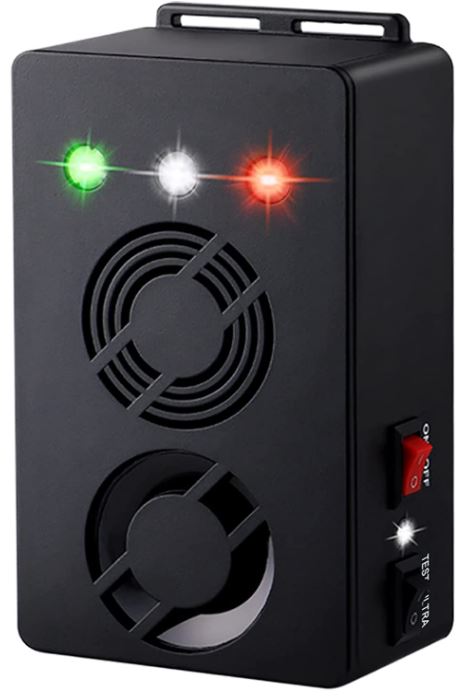 Angveirt Ultrasonic Rodent Repellent
The Angveirt Ultrasonic Rodent Repellent also has a matte black plastic housing. However, it's a bit beefier, measuring 4.7 inches long, 2.6 inches wide, and 1.6 inches thick. Even so, it's still very light, tipping the scales at only 4.6 ounces. It's available in a 1- or 2-pack, so you can save money if you wanted to buy two devices.
On the top surface is a pair of large, visible speakers. The one at the front has a mostly-open grille, while the one further back has a tighter grille. Behind the second speaker, you'll see a row of three LED lights.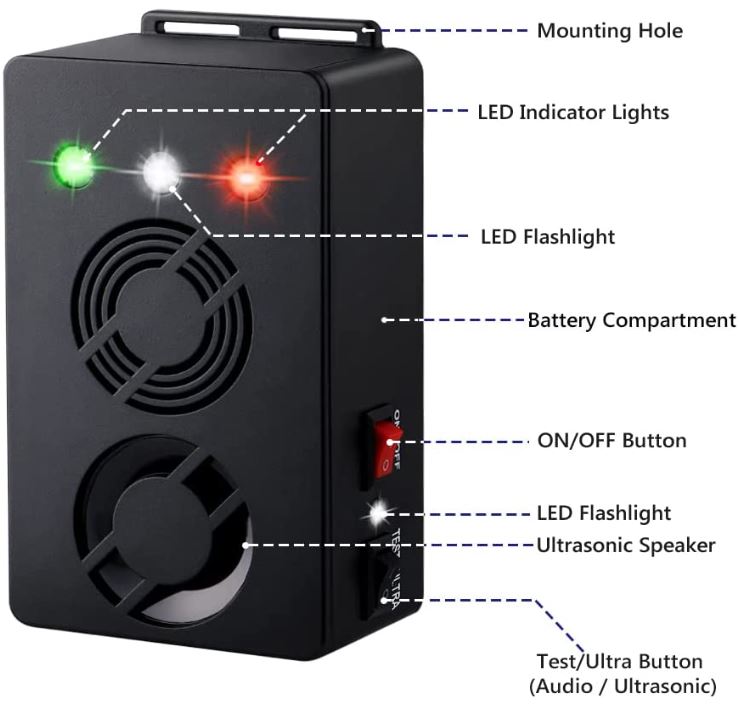 The green one at the left illuminates when the ultrasonic speaker is making noise. The middle light is an ultra-bright white strobe that drives away mice. The red light on the right lets you know when the repellent is currently powered on.
On the right side of the housing, there's a black testing switch at the front. Just behind this is a second white strobe, which works the same as the one on top. Finally, there's a red power switch, which turns the device on and off.
When it's turned on, the Angiveirt repellent flashes its strobe lights at random intervals. The ultrasonic speakers also operate randomly, which keeps rodents from getting used to them. The exact frequency of the sound even changes, ranging from 25,000Hz to 55,000Hz. All this randomization should make the device more effective, at least in theory.
Angiveirt backs their repellent with a 12-month manufacturer's warranty. If there are defects in parts or labor, you'll get a refund or free replacement.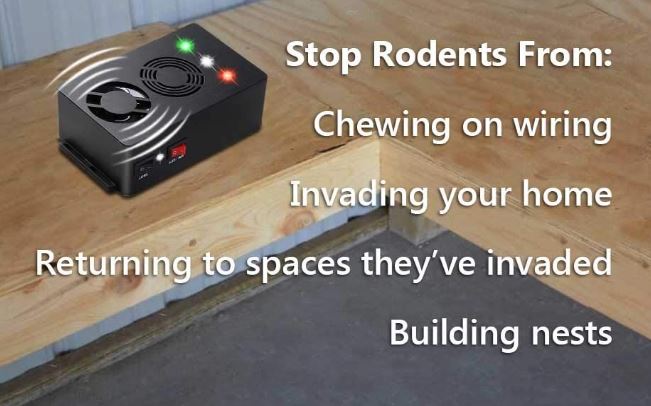 Usage and Testing
This device can be used in just about any location. Much like the Loraffe repellent, it has a set of plastic eyelets that can be secured with zip ties. However, these tabs are somewhat flimsy, and we'd be concerned about them failing over time due to motor vibration. The Angiveirt repellent is better for home use, or in boats or RVs that are idle for the season.
One thing we liked about this repellant is the power supply. Instead of AA batteries, it uses a pair of chunky C-sized batteries, which will last for 65 days. You can put one of these in place and not have to think about it for two months. It's also easy to test. The black switch lets you activate an audible siren, which lets you know your speakers are functioning.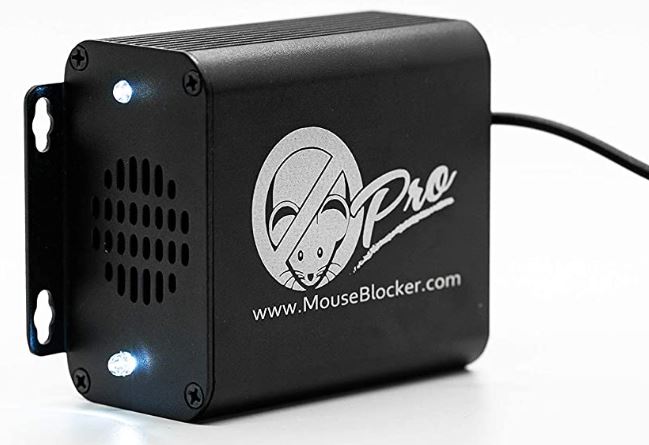 MouseBlocker PRO 12V Ultrasonic Under Hood Rodent Deterrent
The MouseBlocker PRO 12V Ultrasonic Under Hood Rodent Deterrent is metal, rather than plastic. It's made from a rugged matte black aluminum that can handle some serious abuse. It's also larger than the last two options, at 7.3 inches wide, 5.7 inches tall, and 3.2 inches thick. But it's still pretty lightweight, weighing in at a mere 5.3 ounces.
A cord connects to the right side of the housing. It has a split end, with a pair of U-shaped contacts for connecting to your battery. On the back of the unit, in the same general area, you'll find the "mode" button. We'll talk more about that in a second.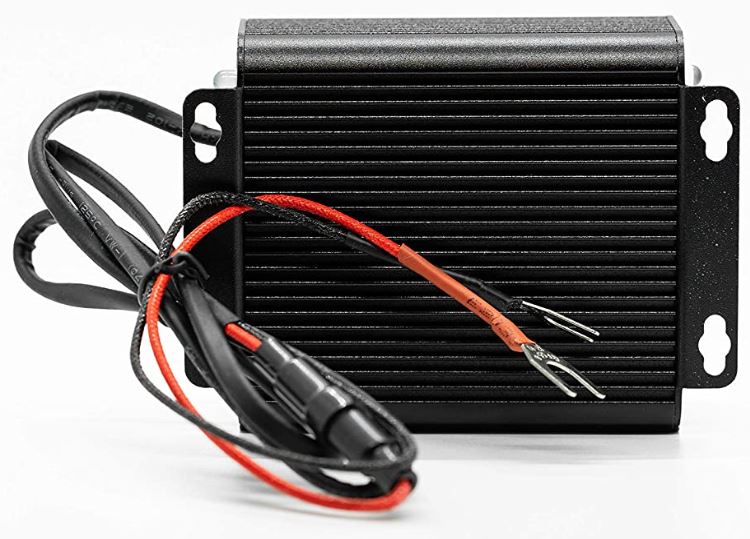 The speaker is located on the opposite end of the housing from the cord. It looks like a little round vent, but it's actually a loud speaker, capable of putting out up to 115dB. To either side of this speaker is a pair of white LED diodes. These are very bright strobes, and they blink intermittently when the device is powered on.
There's a set of wide metal flanges at the back and sides of the unit. These have little holes in them, so you can zip-tie the device in place. The holes are also sized for screws, so you can screw-mount it if you want to.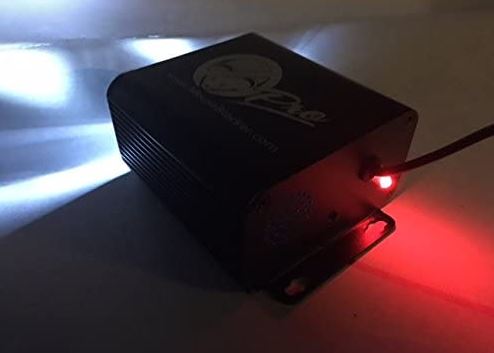 Usage and Testing
The main advantage of the MouseBlocker PRO is its hardwired design. You can connect it to literally any 12-volt battery. It works on cars, trucks, ATVs, boats, snowmobiles, motorcycles, and just about any other vehicle.
Just connect it to your battery and you're good to go. It only draws 0.06mA, so it can run for days without appreciably draining your battery. It will also shut off automatically when the vehicle is started, or if the battery drops below 11 volts.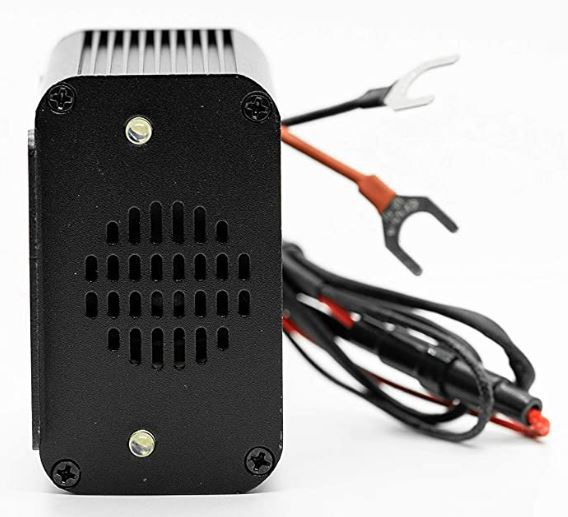 Because it's hardwired, we wouldn't recommend using the MouseBlocker PRO for long-term storage. After around 10 days, it's going to stop running. That said, it's tough and durable, and it's a great choice for your daily driver.
This device is controlled by pressing the mode button. Press it once to activate an 85dB ultrasonic siren. Subsequent presses will increase the volume to 95dB, then to the maximum volume of 115dB. That's incredibly loud, enough to exceed the discomfort threshold for human hearing, although you won't hear it. Pressing the button again will turn the device off. Unfortunately, there's no test function. The only way to know whether the device is running is to check if the strobe lights are flashing.
Final Verdict
So, which of these under hood mice and rodent deterrent devices is the best? Let's go over what we've learned.
We started by examining the Loraffe Under Hood Ultrasonic Rodent Repellent. This is the most compact of the bunch, which makes it the easiest to fit into tight spaces. While this does mean you get less battery life than the others, you still get 45 days of use. We also liked the vibration detection function, which is a great feature for under-hood use.
Next, we reviewed the Angveirt Ultrasonic Rodent Repellent. This is similar to the Loraffe device in that it's battery-powered. However, it uses a pair of C batteries, which make it a bit larger but provide up to 65 days of power. It's less ideal for use on your daily driver. But for a parked vehicle or around-the-house use, it's an excellent choice.
The MouseBlocker PRO 12V Ultrasonic Under Hood Rodent Deterrent was the last device we looked at. Its aluminum design makes it tough enough to stand up to vibrations and other abuse. It's not ideal for home use or for vehicles that are in long-term storage. But it's hardwired, which makes it very convenient to use on frequently-driven vehicles.
Meet Derek, "TechGuru," a 34-year-old technology enthusiast with a deep passion for tech innovations. With extensive experience, he specializes in gaming hardware and software, and has expertise in gadgets, custom PCs, and audio.
Besides writing about tech and reviewing new products, Derek enjoys traveling, hiking, and photography. Committed to keeping up with the latest industry trends, he aims to guide readers in making informed tech decisions.