BEZGAR HM163
Pros
Great quality for the price.
Blazing fast maximum speed.
Responsive and comfortable controls.
Built-in headlights for visibility.
Relatively affordable.
Cons
Relatively short battery life.
Not good for younger kids.
Remote controlled trucks can be different things to different people. A lot of us have fond memories of playing with an RC truck as a child. When you're six years old, watching the truck respond to your commands is a genuine thrill. It makes you feel "grown up," which is empowering for kids of any age.
That said, RC trucks are far more than toys. They're a serious hobby that many people spend a lot of time, energy, and money on. Enthusiasts will even soup up their trucks and perform stunts with them. It's a ton of fun, and it's a great way to spend a weekend with your friends.
Now, the idea of adults racing little remote controlled trucks might sound silly. But hobbyists don't race the same trucks you raced when you were a kid. Toy RC trucks are typically made of plastic, and can't drive any faster than you can jog along side. They're slow to respond, sluggish to handle, and easy to damage.
Hobbyist-grade trucks are different. They incorporate a metal chassis and other more durable parts. They use more powerful motors and the controls are far more responsive. You won't find one of these trucks in Walmart's toy section.
Now, you might think that you have to spend hundreds of dollars for a high-quality RC truck. And it's true that some of the most impressive RC trucks cost hundreds of dollars. If you're just getting into the hobby, you probably want something more modestly priced. Thankfully, there are fast, durable RC trucks that don't cost an arm and a leg.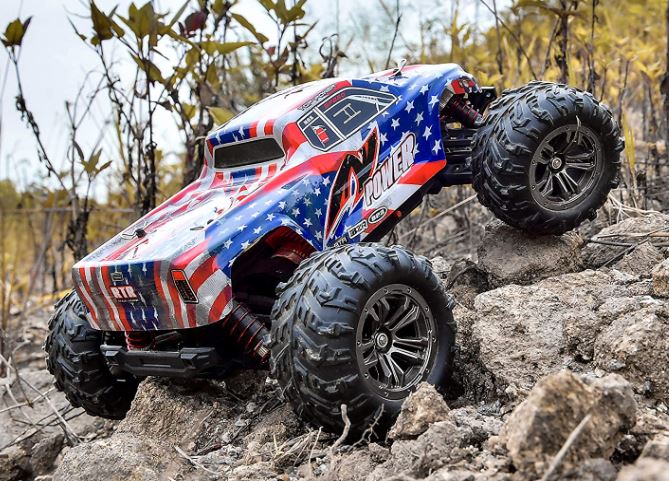 BEZGAR HM163 Off Road Remote Control Truck
We're about to review the BEZGAR HM163 Off Road Remote Control Truck. This is a midrange RC truck that's designed for beginning hobbyists. It's designed for off-road use, although it's just as capable of zipping around a parking lot. It also uses a traditional trigger grip-style controller, which is ideal for learning how to use one.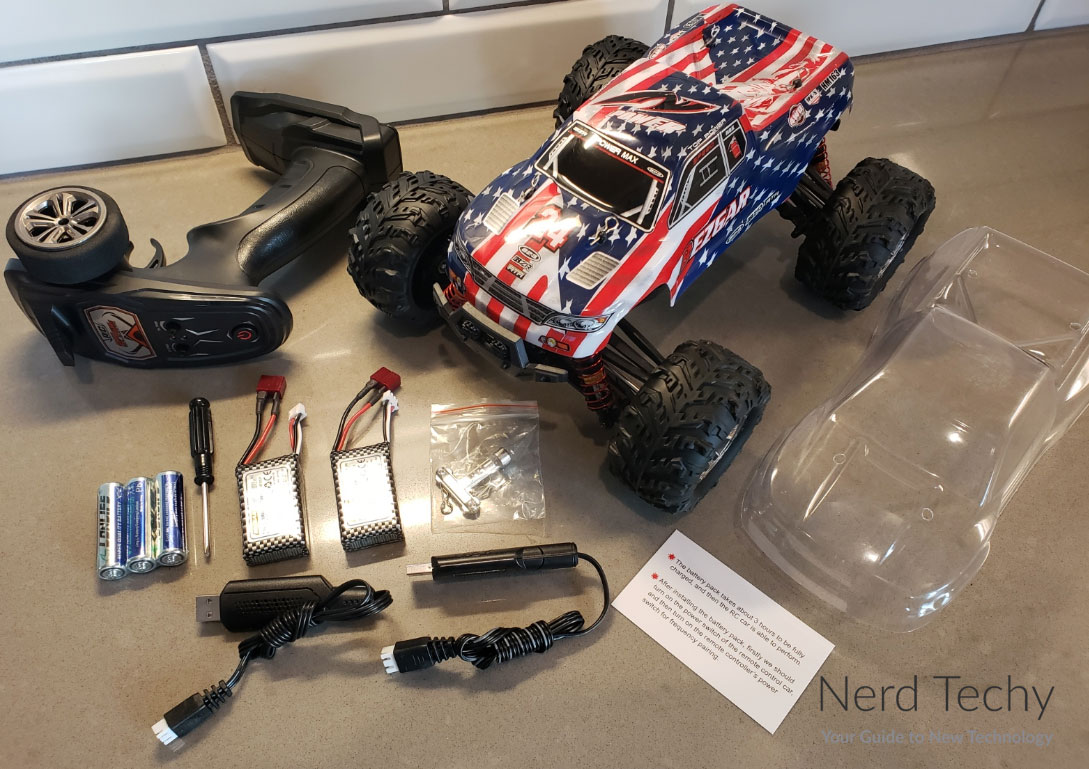 That said, there's a lot more we need to discuss about this RC truck. We need to look at how it's designed, and how well it's constructed. We'll have to talk about the battery life, and how to charge it. And of course, we'll need to evaluate the performance of the motor, servos, and controls. After that, we'll have a complete picture of what we're dealing with. Let's begin!
Overall Design
The BEZGAR HM163 Off Road Remote Control Truck is a 1:16 scale monster truck with wide, fat wheels. The wide wheel base keeps it nice and stable, which is perfect for off-road operation. They also have thick treads, so you'll get plenty of grip on questionable surfaces.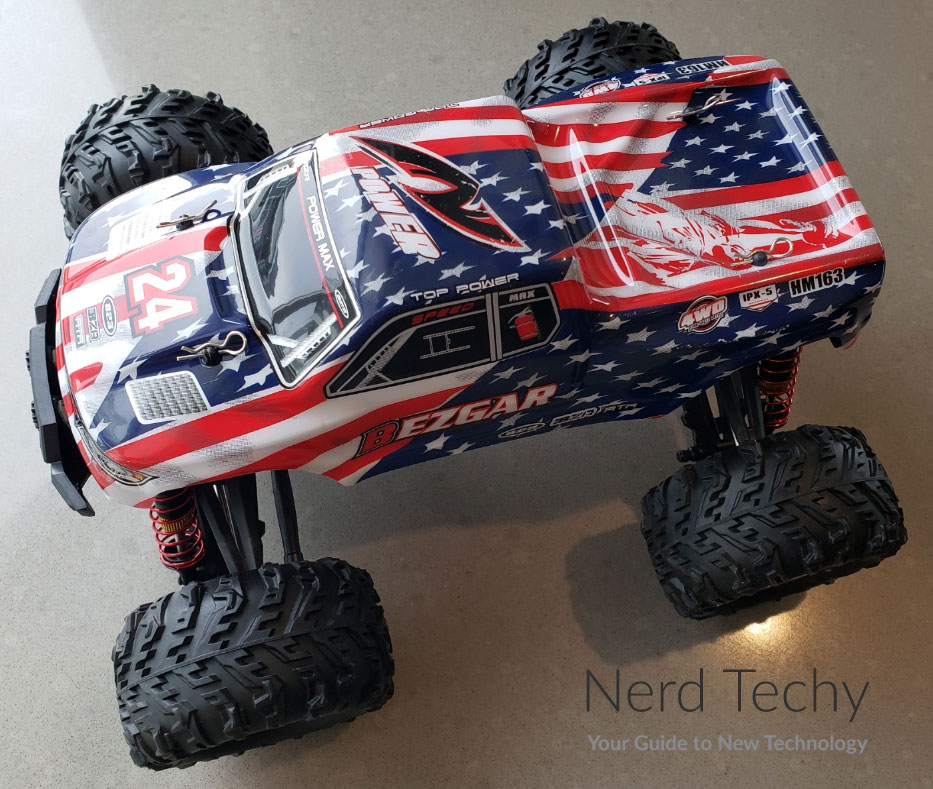 The overall size is 10.2 inches long, 9.1 inches wide, and 5.2 inches high. Under the body of the truck, there's 1.4 inches of clearance. This allows you to traverse small obstacles without getting it stuck. At 4 pounds, 5.17 ounces, it weighs a little bit less than a standard clay brick. That's heavy enough to remain stable, while still light enough to carry around.
You can choose from five different two-tone designs. There's an aggressive black and green, blue and white, or yellow and purple. There's also a patriotic red and blue and a slick red and black. No matter which version you order, the kit includes an extra transparent body shell. Paint it with whatever design you like, and create your own custom RC truck.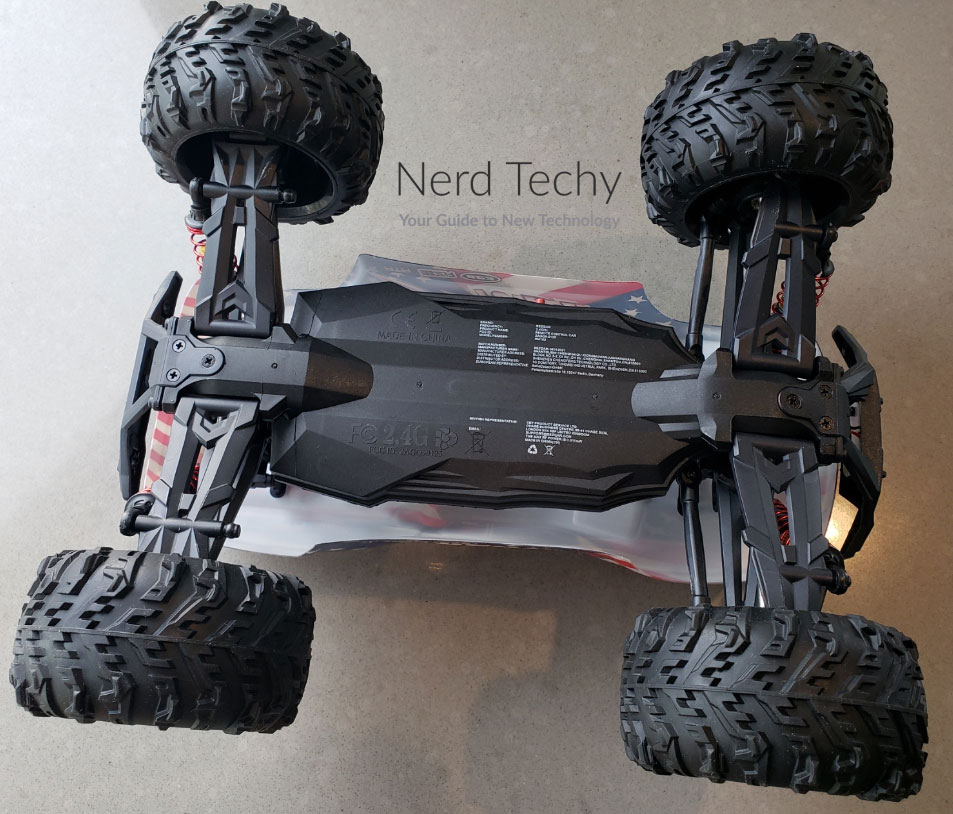 As for weather-resistance, the electrical components are rated IPX5. This indicates a moderate level of water-resistance. They can't withstand submersion or a direct stream of water. But they're splash proof, and rain or dew won't damage them. Just don't try to run through any puddles, and you'll be fine.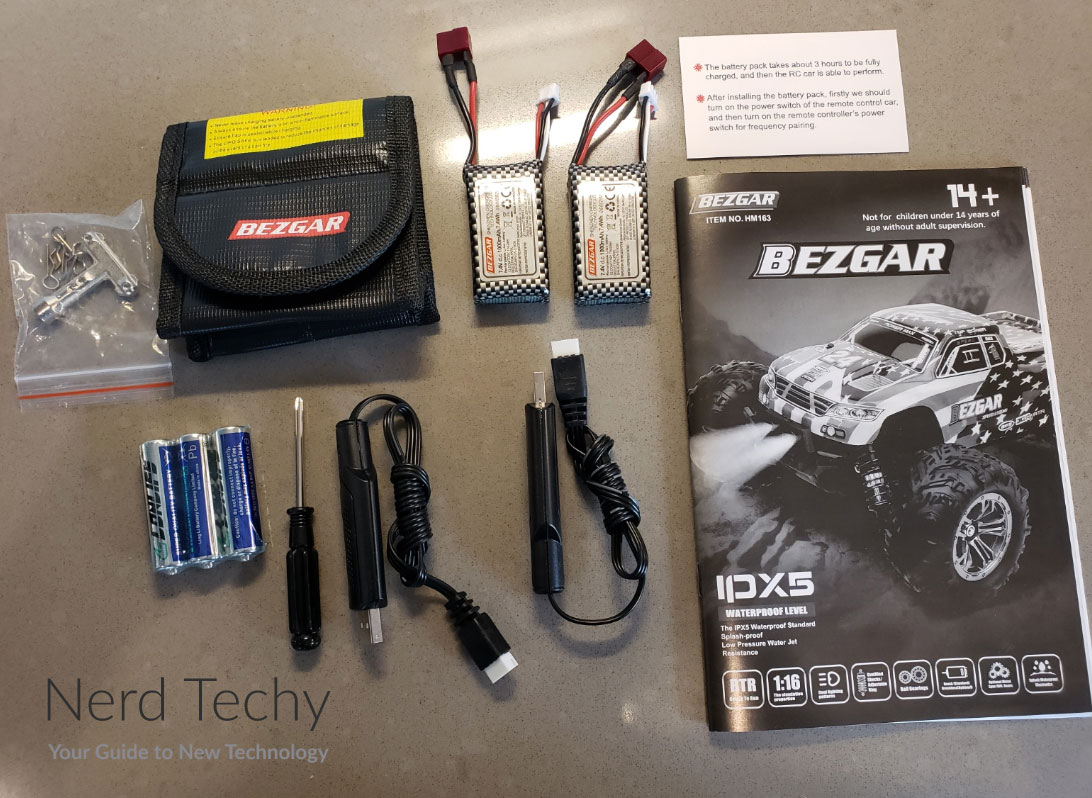 Along with the RC truck, you get a few extras. There's a pair of USB charging cables for the two batteries. There's also a set of four replacement cotter pins for making minor repairs. You even get a small wrench and a screwdriver for disassembly.
Chassis
The chassis for this RC truck is made from plastic, not aluminum. However, the plastic itself is a nylon thermoplastic that's extremely durable. It's abrasion-resistant, chemical-resistant, and temperature-resistant. It can also handle a low-speed impact without shattering. It's certainly tough enough to drive over rough ground without sustaining any damage.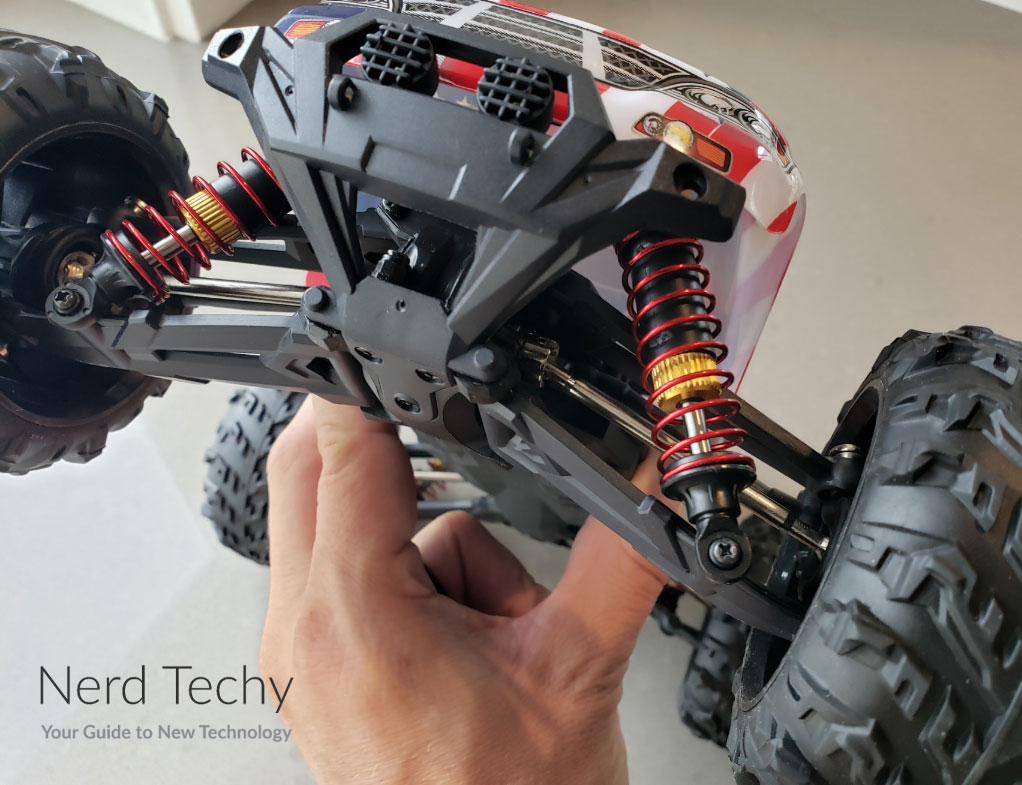 The chassis is supported by a set of sturdy oil-filled shocks. They consist of metal pistons, surrounded by springs to help them return to full height. Basically, they're the same as the shocks on a real truck, only much smaller. Once again, you're looking at a design that's perfect for off-road use.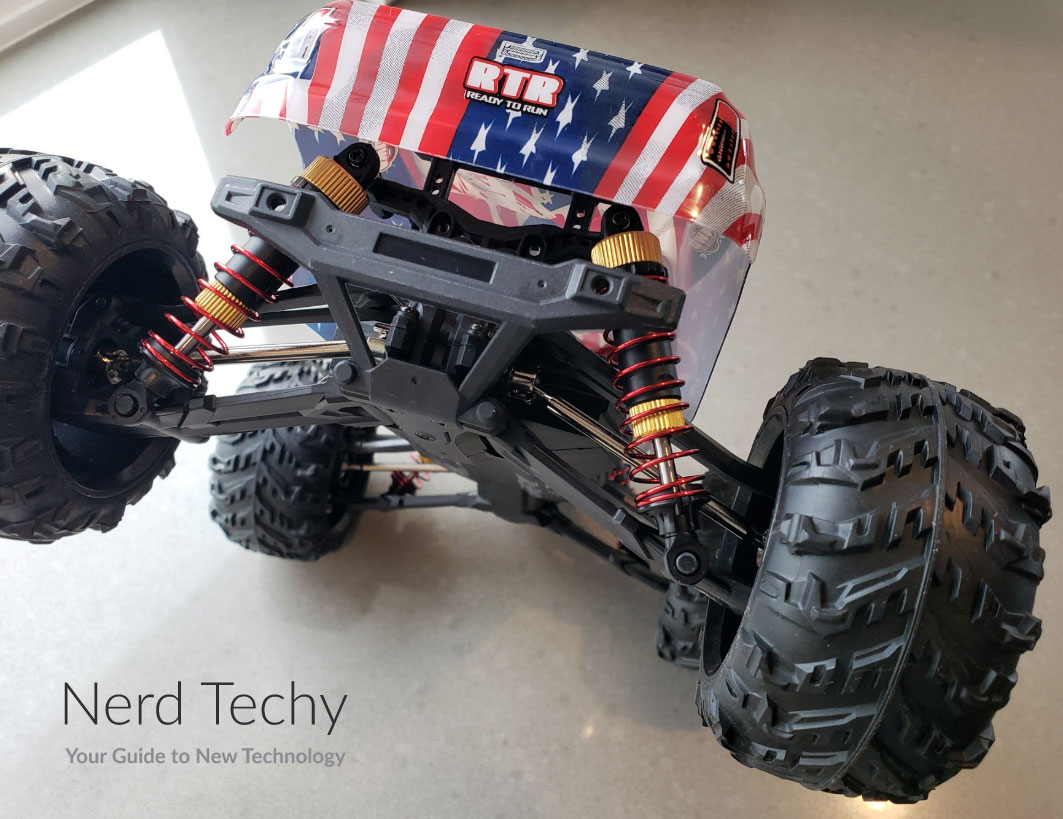 All of this is designed to balance price and durability. Hardcore hobbyists will be disappointed by the plastic frame, which is vulnerable to damage over the long term. Then again, it's much better engineered than a toy RC truck, and the shocks are well-engineered.
Controls
One thing we loved about the BEZGAR HM163 was the controls. To begin with, the design is completely traditional. It's a pistol grip you hold in your left hand. Pulling the trigger activates the accelerator, while pushing it forward runs the truck in reverse. On the right side of the grip, towards the front, is a little wheel that looks like a car tire. Twist it to the right (forward) to turn right, and left (backward) to turn left.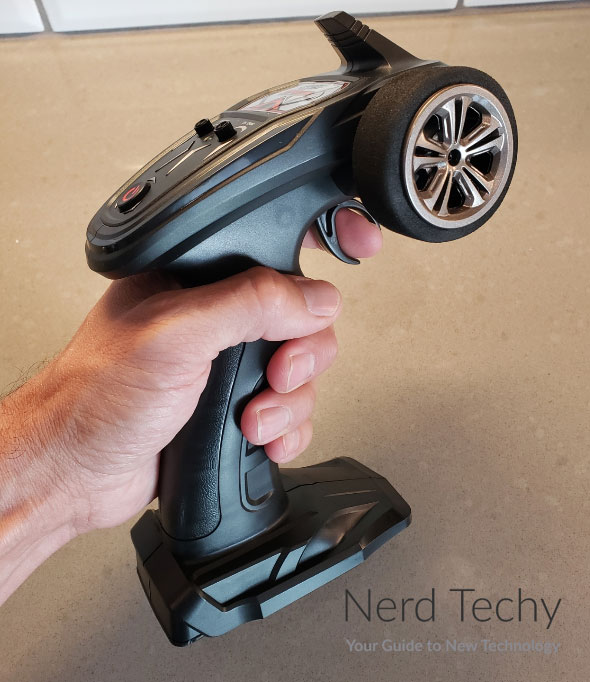 Near the back of the top of the housing, there's a power button. This allows you to turn the controller off when it's not in use to save batteries. In front of this button, you'll notice a pair of knobs. The one on the left lets you adjust the steering trim, meaning how responsive the steering wheel is. The right knob does the same thing, but for the throttle.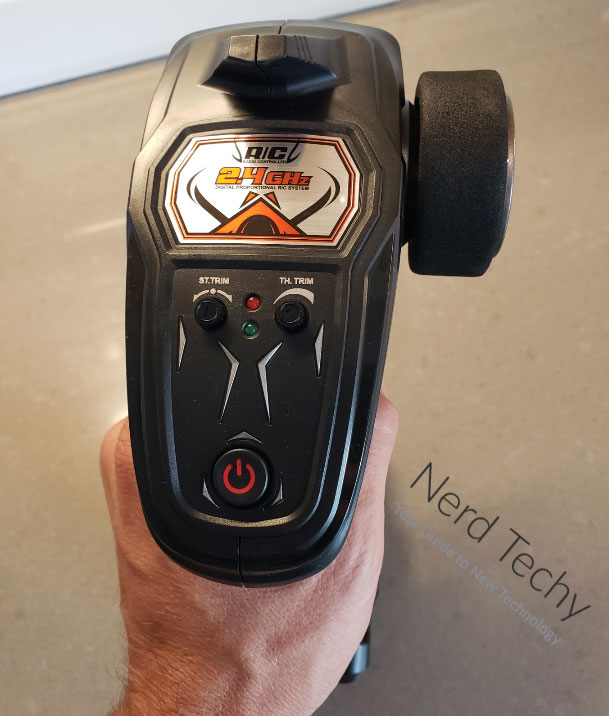 Even with the trim set at a low level, this controller is very responsive. It provides a smooth, effortless driving experience, and high trim levels provide plenty of control for advanced users. That said, keep in mind that this isn't a toy truck. Younger kids could easily drive too fast, steer too aggressively, and crash it. Older kids with a bit of experience will be just fine.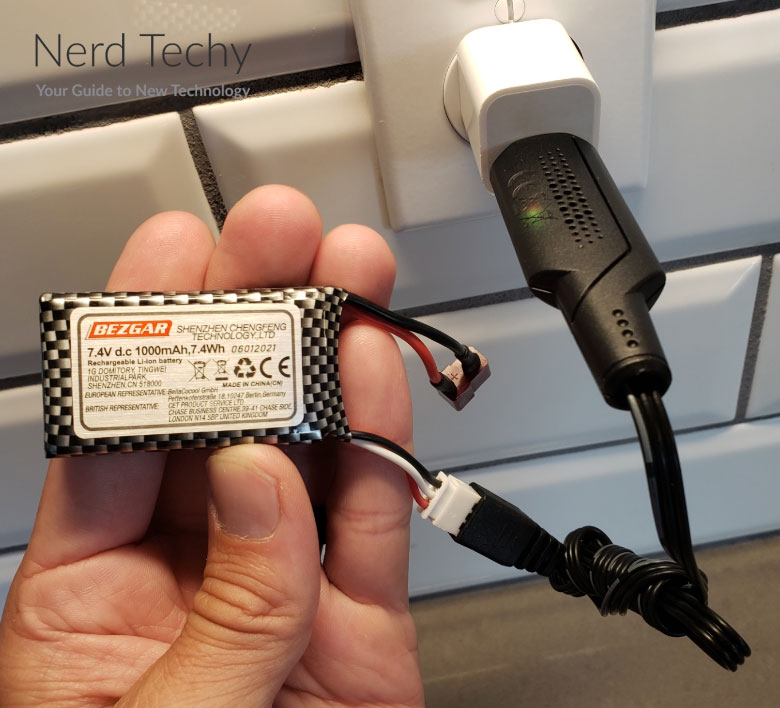 Battery Performance
The HM163 truck only takes a single battery, but the kit includes a pair. When one battery dies, you can swap it out for the other one and keep on racing. Each battery has a capacity of 1,000mAh, which is a bit small for an RC truck. Each one will run for around 20 minutes, for a total of 40 minutes with both batteries.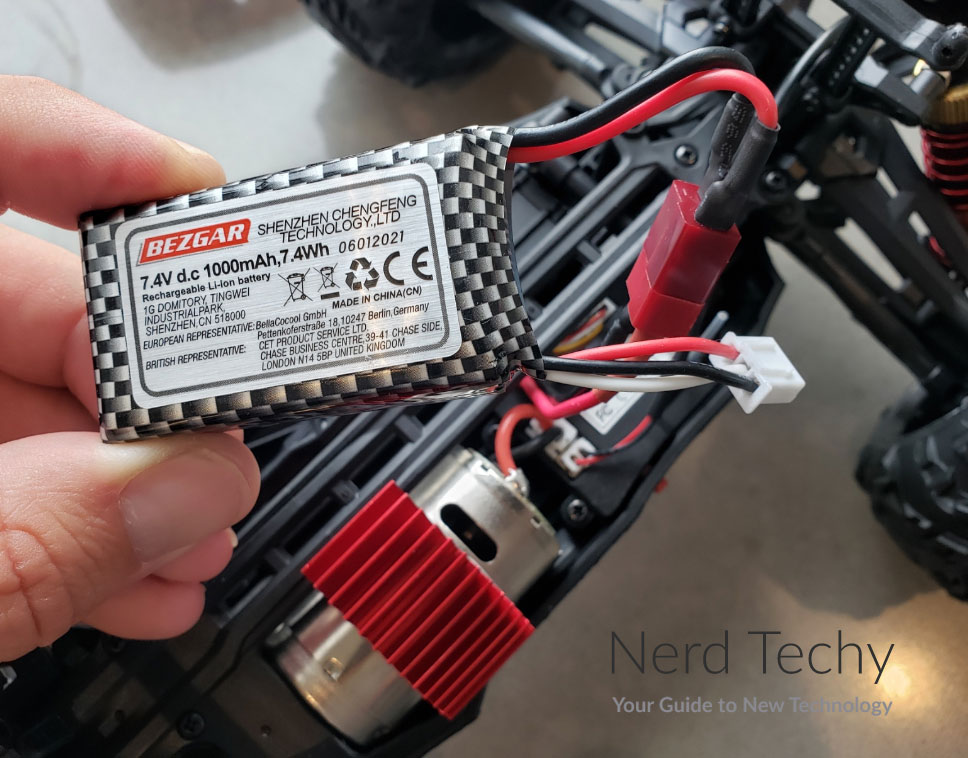 Ideally, we'd like a truck to run for a full hour before we have to go home and charge. That said, 40 minutes is a reasonable amount of run time for many people. Just keep in mind that this is a rough estimate. A lot depends on how fast and how hard you're driving. You'll drain the battery a lot faster at full speed than you will driving around casually.
Each battery takes around three hours to charge once it's been fully drained. If you bring a USB power bank with you in the field. That way, when you change batteries, you can immediately start charging the dead one. This won't make a huge difference, but it will at least get you started back towards a full charge.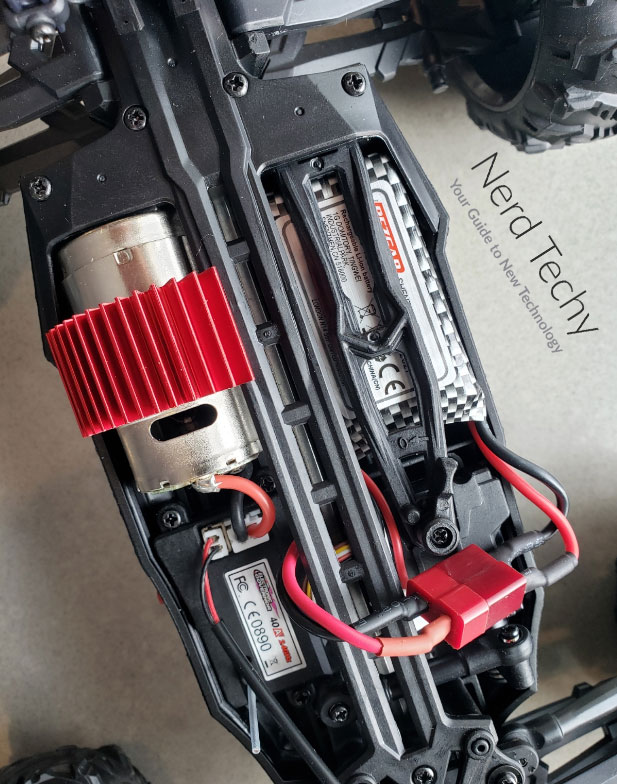 The controller, meanwhile, is powered by a set of three AA batteries. These last considerably longer, and you get three batteries to start out with. The kit also includes a small nylon pouch that's big enough to hold spares. That makes it easy to bring extras with you.
Driving Performance
In terms of performance, this truck is pretty impressive, especially when you consider the price. To begin with, the servo is faster and more responsive than entry-level RC trucks. This, along with the quality controller, is what makes the HM163 so easy to control.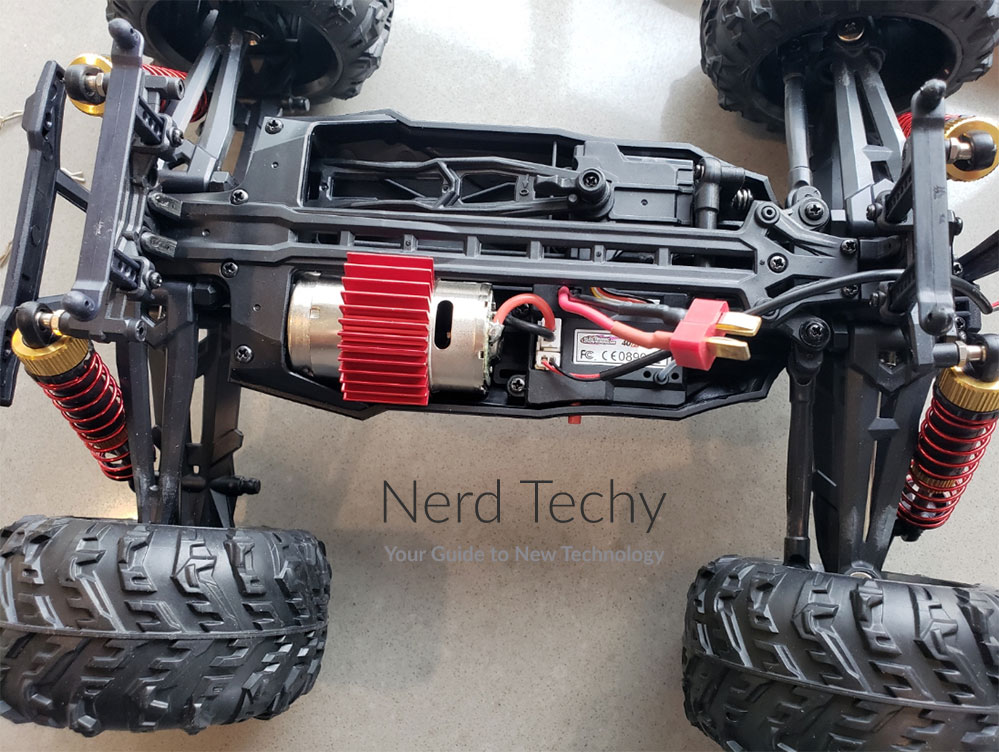 The shaft drive connects to separate front and rear differentials. This allows for excellent performance across uneven terrain. When one wheel slips, the other side of the axle will gain power to compensate. You can climb obstacles and navigate ground that simply wouldn't be accessible for most RC cars. The drive and differentials are all metal, not plastic. All of the moving parts are meant to last, and plastic gears would wear down quickly.
The motor is capable of providing a surprising amount of power. On a smooth surface, you can drive as fast as 25 miles per hour. By RC truck standards, that's pretty fast. Just be careful about driving at high speeds. Zip around a corner too fast, and you could flip the truck over.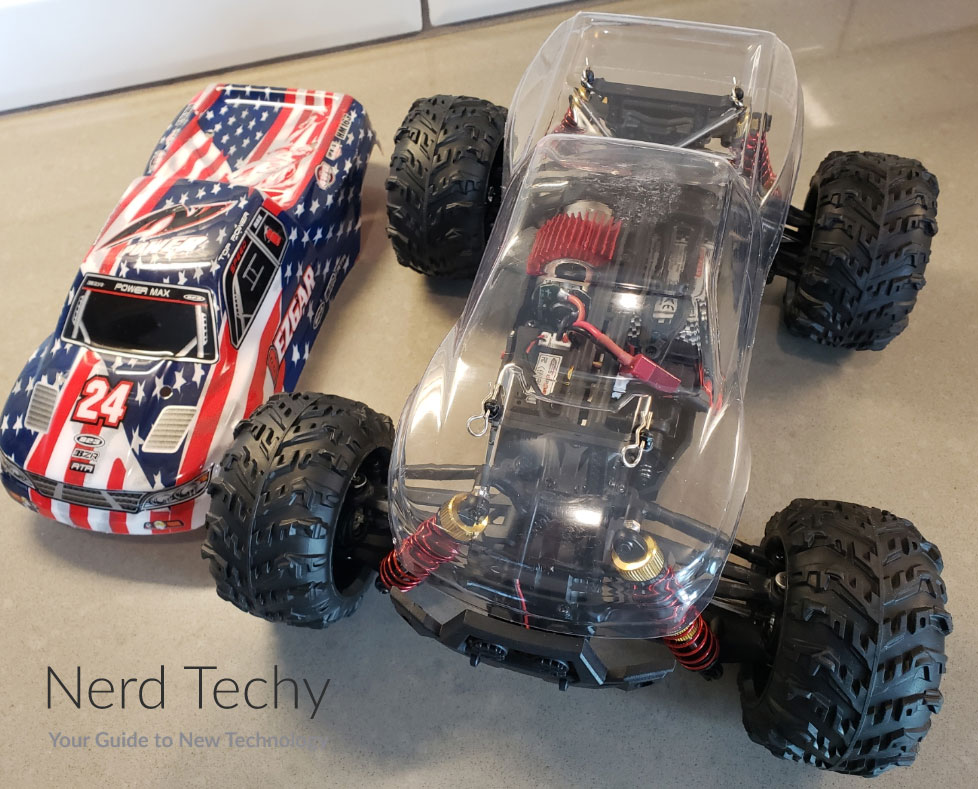 Extra Features
When you turn on the BEZGAR HM163, the headlights will automatically light up. We don't mean the regular truck headlights, which are only stickers. The real lights are built into the front of the bumper, and look like a set of fog lights. At first, this might seem like an odd choice. Why not just put them on the front of the hood like a regular truck?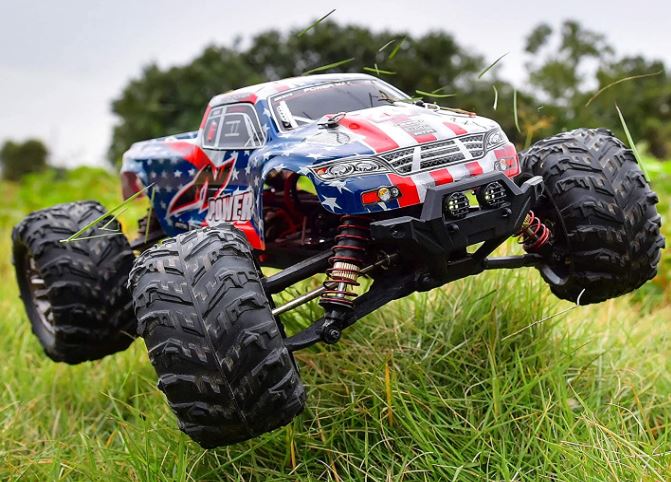 The reason is that the lights exist for a different reason than ordinary truck lights. They're primarily a way to find your truck if you've driven it out of view. The beams will give you a pretty good idea of its location, even at a distance. Meanwhile, they're directional. From the way they're pointed, you can figure out which way the truck is pointed.
This is a nice feature if you're driving in low light or in bad visibility. However, the lights obviously put some strain on the battery. We would have liked a way to turn them on and off independently, but this is a minor gripe.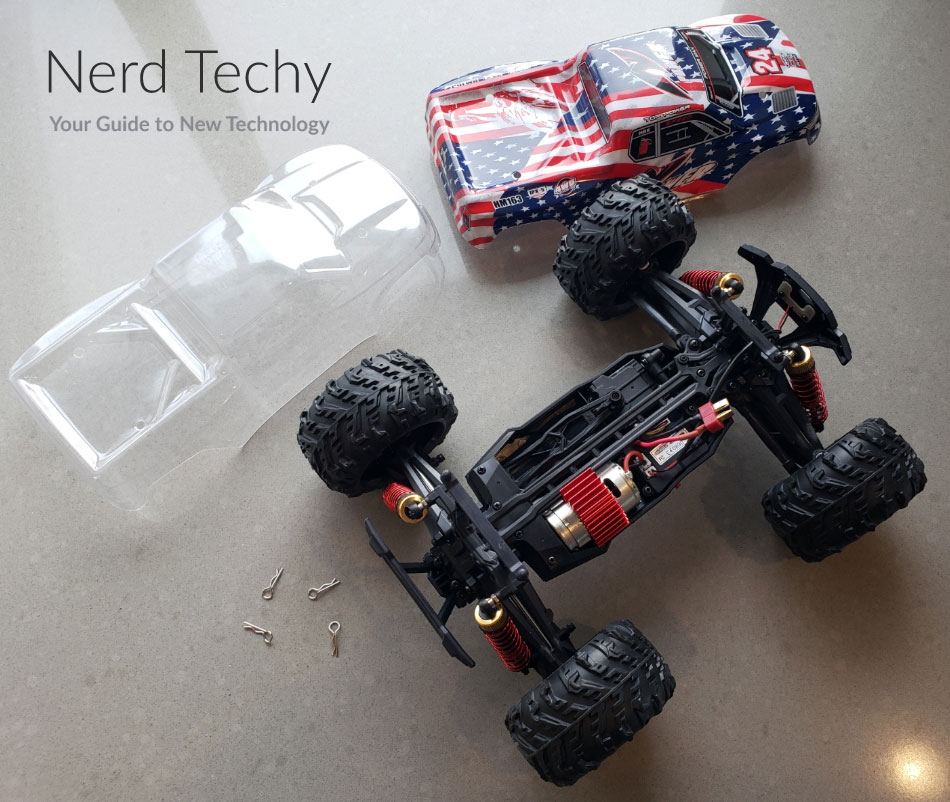 Final Verdict
As you can see, the BEZGAR HM163 Off Road Remote Control Truck is a great entry level RC hobbyist truck. It's fast and powerful, with all-metal moving parts. It's responsive and easy to control, and it can operate on most surfaces. If you want to dip into the world of RC trucking, this is a great introduction.