Soundcore Sport X10
Pros
Comfortable, secure retention.
Powerful app features.
Stable, low-latency connection.
Very durable and built well.
Available in 3 color schemes.
Cons
ANC mode is still in beta.
Issues with working in mono mode.
Finding a good set of wireless earbuds isn't easy. This isn't because there's some kind of shortage. Unlike with many other products, the market seems to be totally flooded with earbuds. With literally thousands of options to choose from, it's easy to get overwhelmed. There's simply no way to investigate them all. Why is this happening?
Mostly, it's because earbuds are easy to manufacture. Don't get us wrong; a lot of technology and workmanship goes into a quality set of buds. But compared to most other types of electronics, they're almost absurdly simple.
Note: At no extra cost to you, we may earn a commission for purchases using our links. Learn more.
This makes them an attractive option for newly-launched companies. If you're a brand-new startup, you have limited funding. So it makes sense to launch your brand by building some earbuds. It's something you can actually afford to make and get on the market.
The result has been an endless torrent of wireless earbuds. Some are good. Some are great. Some are downright awful. But how are you supposed to sort through so many choices?
One way is to stick with manufacturers you already know and trust.
To be fair, this is no guarantee of quality. Major, established brands launch their share of stinkers. But that's the exception rather than the norm. A good reputation isn't easy to earn, and brands who have earned one work hard to maintain it. Anker is one of those brands. They produce all kinds of earbuds, speakers, and other audio equipment.
Anker Soundcore Sport X10 True Wireless Earbuds
We're about to review the Anker Soundcore Sport X10 True Wireless Earbuds. These are purpose-built workout earbuds, with large retention hooks that loop over your ears. They're 100% waterproof, and they offer plenty of volume and rich audio. There's also a powerful companion app with several useful features.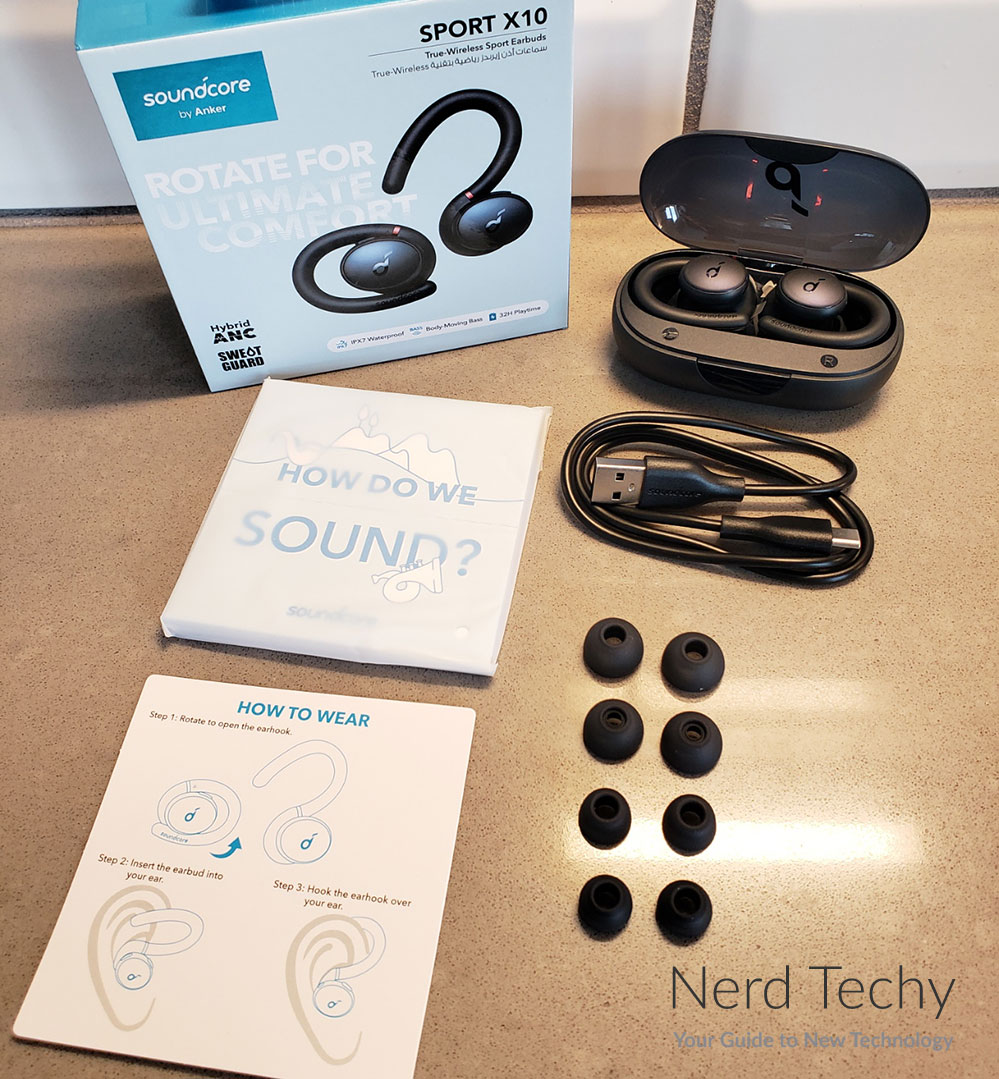 But are these earbuds worth your investment? To find out, we're going to have to take a deeper dive into all of its features and functions. We'll look at the design, the ergonomics, and the battery life. We'll discuss the wireless connection and noise cancellation. After we've considered all of these factors, we'll be well-informed enough to deliver a fair verdict. Let's begin!
Overall Design
The Anker Soundcore Sport X10 True Wireless Earbuds have small, oval-shaped in-ear shells. They're available in three colors: all-red, all-white, or black with blue-grey backs. All three have a matte finish, which makes them easy to keep clean and won't collect fingerprints.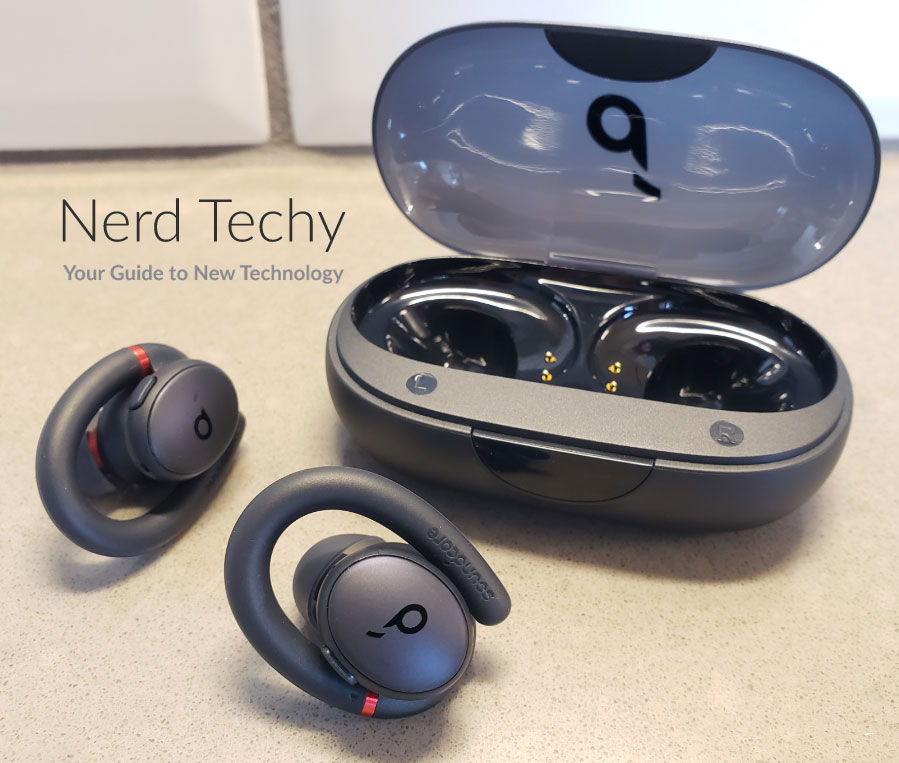 Instead of soft touch controls, these earbuds have physical control buttons. They're small, plastic buttons on top of the earbud shells, so they're easy to find and operate. They're also hard to actuate by accident, which isn't always the case for soft touch controls. Using these buttons, you can answer or end calls, skip tracks, play and pause your music, and perform other functions.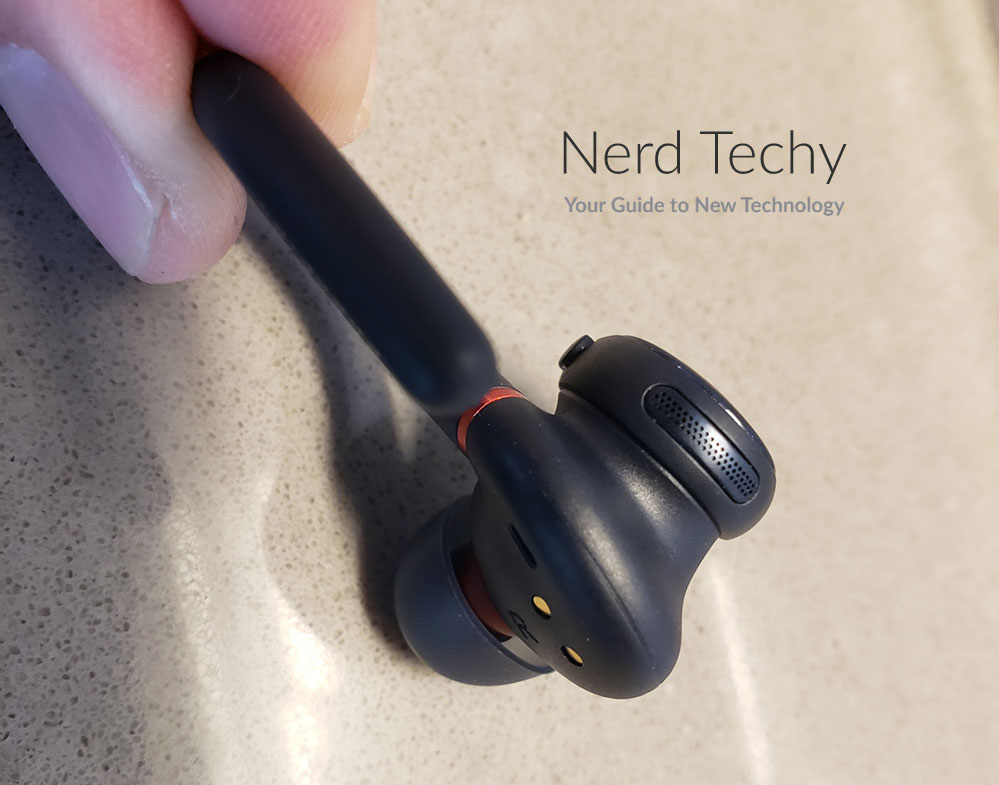 The buds themselves have a water-resistance rating of IPX7. This means they're submersion-proof to a depth of one meter for a minimum of 30 minutes. You can wear them in the shower if you want to, and they won't get damaged.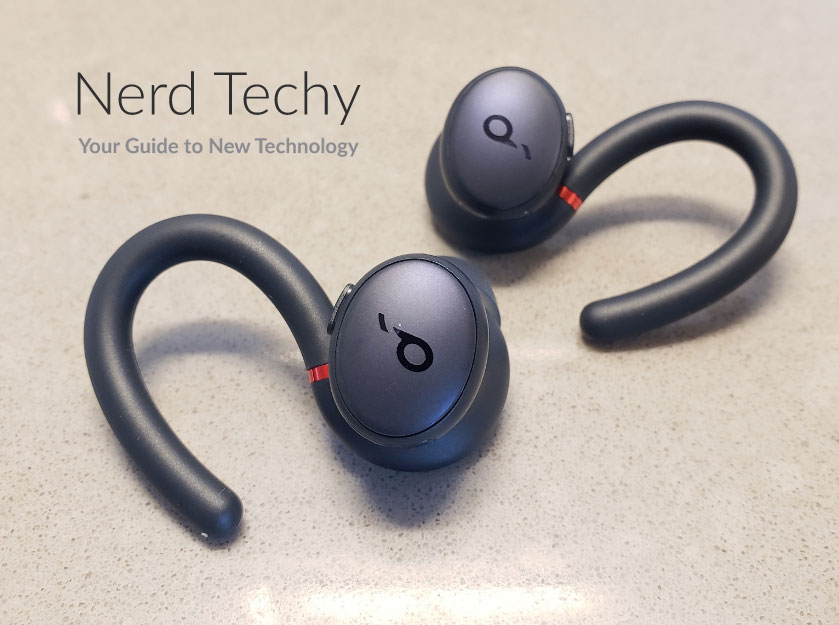 The X10 earbuds come with a small oval charging case. It measures 2.52 inches wide, 1.61 inches deep, and 1.18 inches tall – small enough to fit in your pocket. The case has a matte finish, and will be colored to match your earbuds. So the red earbuds come with a white case, and so on.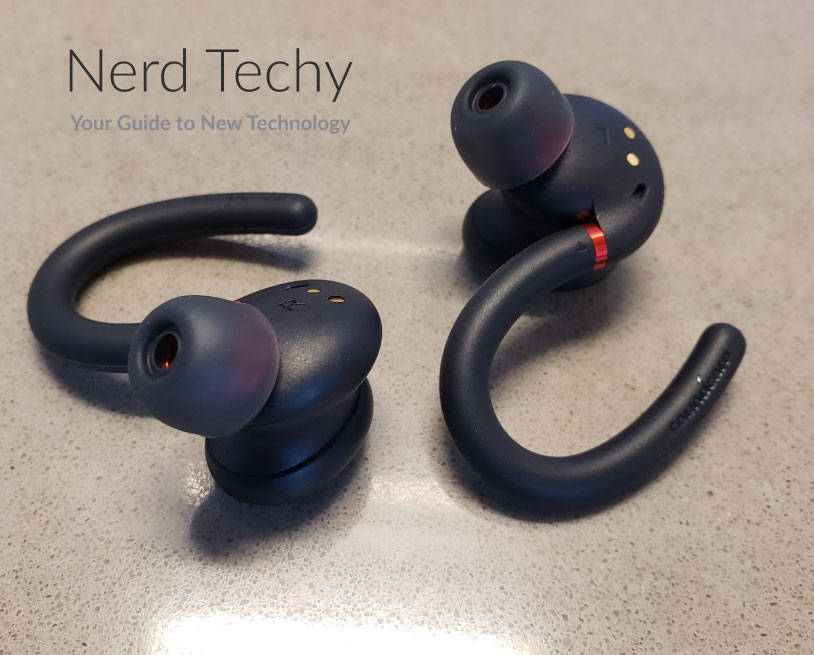 The lid is spring-loaded and very easy to open. Press the wide button underneath and it will pop right open. Inside, you'll see a pair of molded wells where your earbuds sit and charge. Because they're molded, the buds will always sit in the right orientation, and the electrical contacts will always touch.
Fit and Comfort
As we mentioned at the outset, these earbuds have over-ear hooks. The hooks are removable, but can also be rotated to fit in the charging case. They're surprisingly rubbery and comfortable, and can flex to fit any ear shape. They also provide an added layer of security to keep your earbuds from falling out.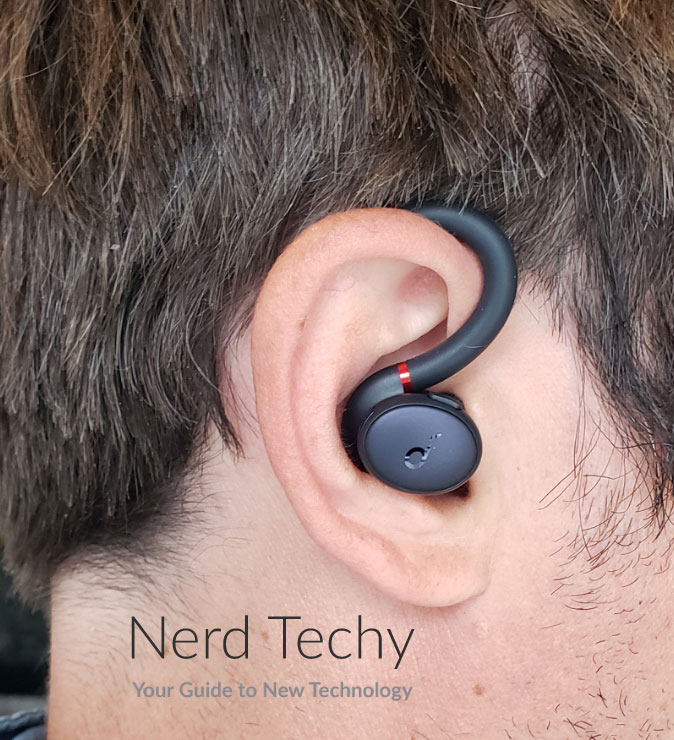 The kit includes five sets of silicone ear tips in five different sizes ranging from extra small to extra large. When the earbuds arrive in the box, the medium tips will be installed. It's worth taking the time to find a good fit. For one thing, it will be more comfortable. However, you'll also get better retention, and a seal against outside noise.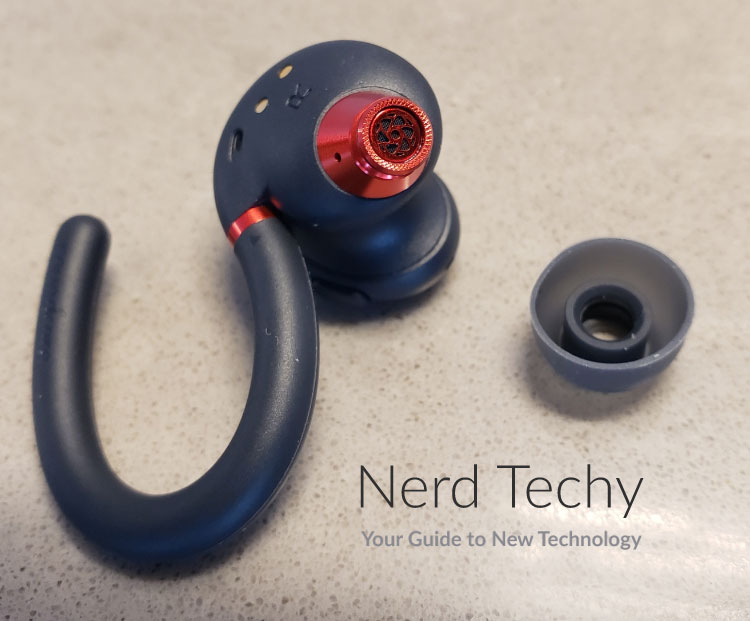 If you want a more traditional earbud design, take a look at the Anker Soundcore Life P3. These are AirPod Pro-style earbuds that come in your choice of five colors. They have surprisingly good ergonomics, and are very comfortable to wear. Then again, the controls can be a bit twitchy.
Pairing
The Soundcore Sport X10 earbuds connect to your phone or other device via Bluetooth 5.2. This is the latest and greatest version of the Bluetooth protocol, and it has some advantages over earlier versions. To begin with, the signal is very stable. You won't lose signal while you're moving around, which is important when you're working out.
Bluetooth 5.2 also provides exceptionally low latency. This means your audio is in perfect sync with your video. You won't notice this if you're just listening to music or talking on the phone. However, if you're watching movies or playing games, you'll have a more immersive experience.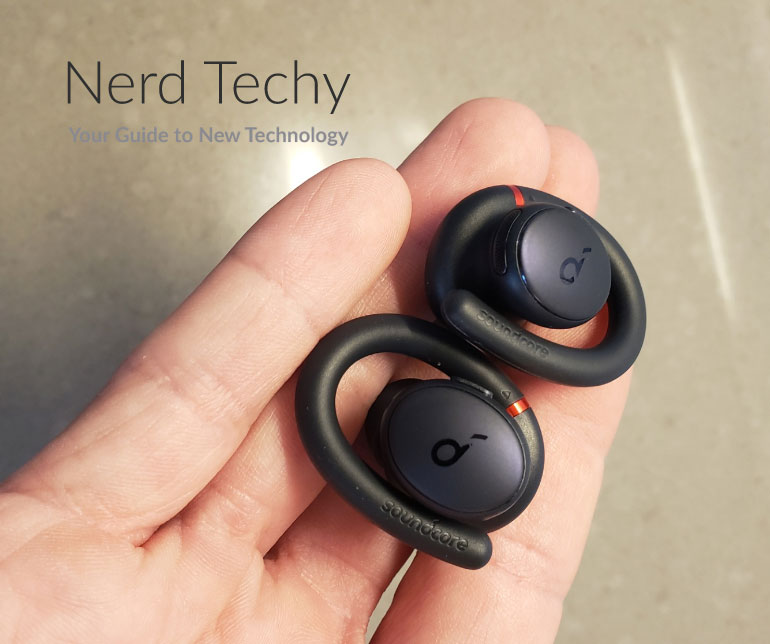 Finally, Bluetooth 5.2 supports a higher bitrate than Bluetooth 4.2. You can listen to high-definition music without any loss of signal quality.
These earbuds pair effortlessly in stereo mode, and the signal is indeed very stable. That said, we had trouble getting the buds to work properly in mono mode. Put one earbud in the case and it will turn off. But after a minute or so, it will reconnect to your phone if your phone is still in Bluetooth range. If you need to use your earbuds in mono mode, there are better options.
Battery Life
The X10 earbuds are rated to run for 8 hours on a single charge. This seems to be accurate, but keep in mind that earbud ratings are based on medium-volume playback. If you're blasting your music at 100% volume, you can expect more in the neighborhood of 6 hours per charge. The charging case provides three recharges, for a total of 32 hours of playback. You'll get markedly less life with ANC turned on, but that's par for the course.
You can fully charge the earbuds in less than 90 minutes. If you need a quick charge, 10 minutes will net you enough juice for 2 hours of playback. The charging case itself takes a little under 2 hours to charge via USB Type-C.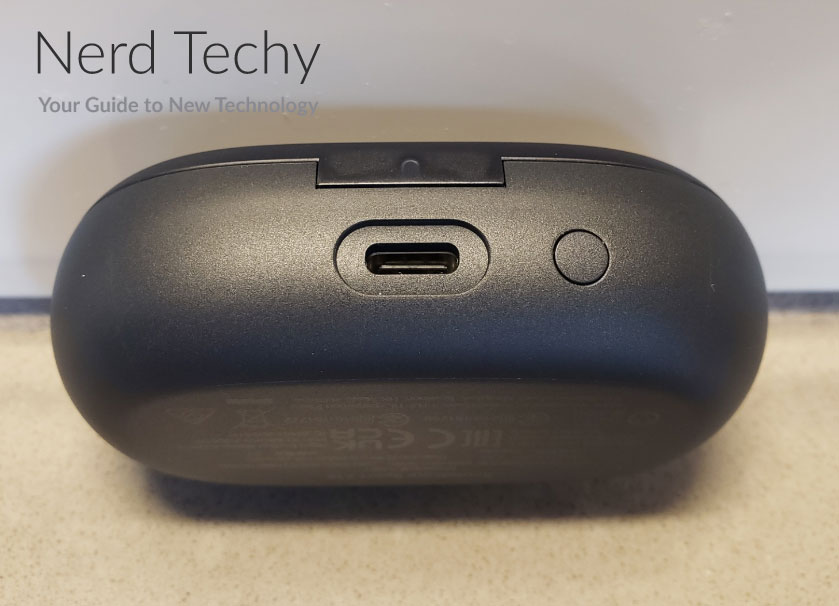 You can actually see the charging status by looking at the lid release button. It's see-through, with a row of 3 LEDs inside. The left and right lights will blink when the earbuds are charging, then off when they're charged. The center light will blink when the case is charging, and turn solid when the battery is full.
If you need a longer-lasting set of earbuds, consider the Lankey U-Air4 earbuds. They have a compact in-ear design with secure retention wings. And while they have less battery per charge, the case provides up to 180 hours of playback. It's even powerful enough to double as a power bank.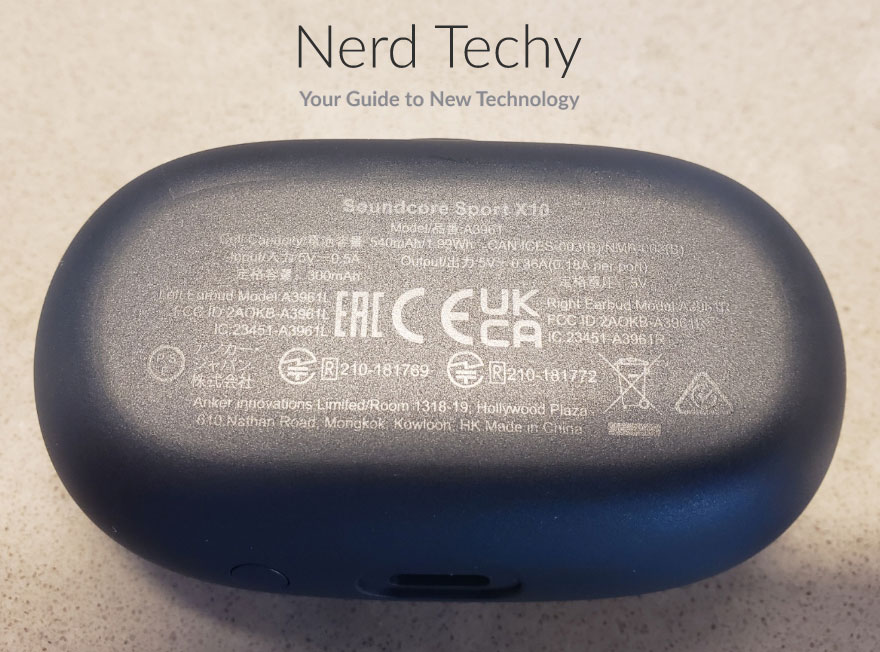 Audio Quality
At the end of the day, audio quality is the most important feature in most earbuds. In that regard, the X10 buds perform very well. You get excellent clarity across all frequencies, with plenty of richness. We're not talking about studio-quality sound, but there's a wide soundstage and a real sense of space. By default, the bass is a bit heavy. But if you don't like that, you can adjust the EQ in the app.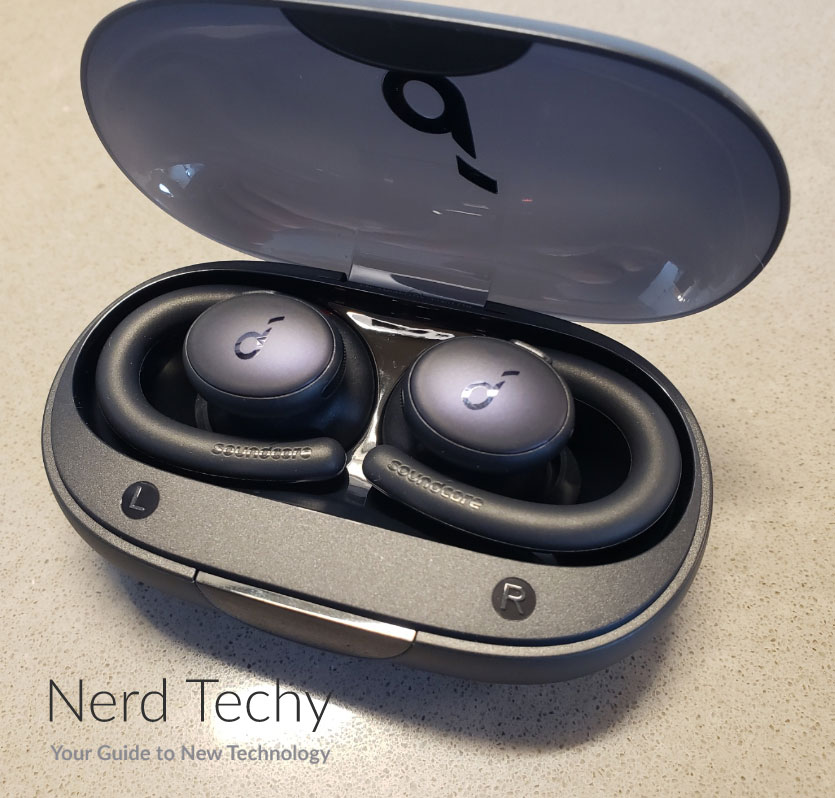 The active noise cancellation works very well. These are earbuds, not over-the-ear cans, so temper your expectations. But compared to other ANC buds, they do a good job of filtering out background noise. You can also turn the ANC mode off to preserve situational awareness or save batteries.
One thing that irked us a bit is that the ANC function is still in beta. While it works well, it's part of a worrying trend of manufacturers releasing unfinished products. If you want an even more refined ANC function, check out the Anker Soundcore Liberty Air 2 Pro. They're AirPod Pro-style earbuds with comparable audio to the X10 and even better ANC. On the downside, they have a shorter battery life.
As for call quality, we had no complaints. The X10 earbuds have six microphones that focus on your voice and filter out background noise. The person on the other end of the call will easily hear you and understand what you're saying.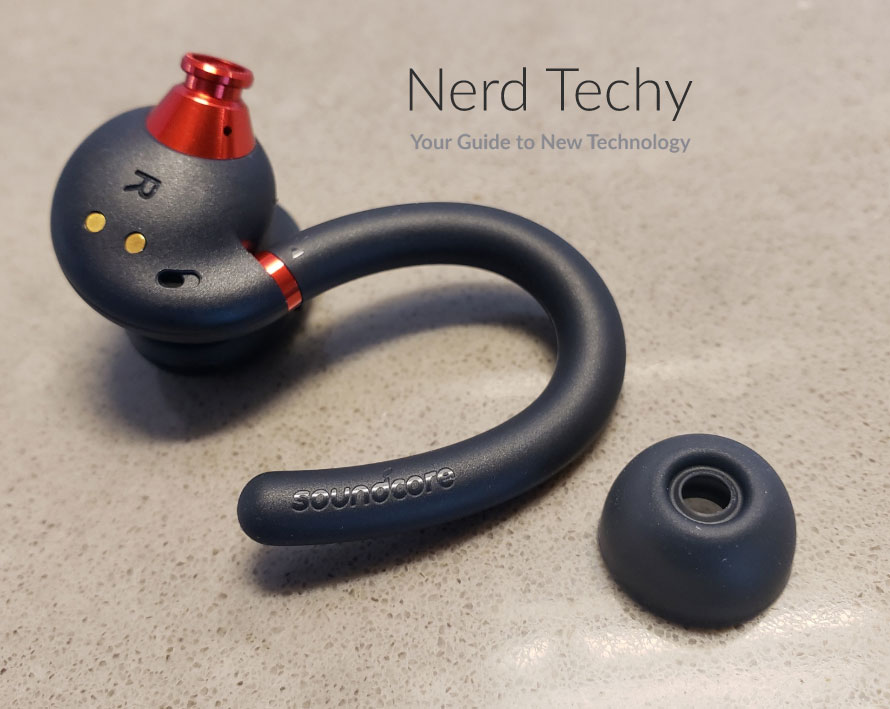 Extra Features
The Soundcore app is optional, but it's 100% free, and it unlocks several useful features. To begin with, it lets you choose from several EQ presets or create your own custom EQ levels. You can also activate a bass boost function that doubles the bass without affecting other frequencies. You can also change your microphone wind filtering settings, and even update your firmware.
Within the app, you can activate transparency mode. This is the opposite of ANC. Instead of blocking out outside noise, it actively boosts it. This is great for quick social interactions, or in scenarios where you need good situational awareness. You can also use the app to customize your controls and replace the ANC function outright. That way, you can activate transparency mode with the push of a button.
Finally, the app includes a breathing app for relaxation. You can choose from different breathing patterns and soothing background music. You can even create your own custom breathing routine for meditation.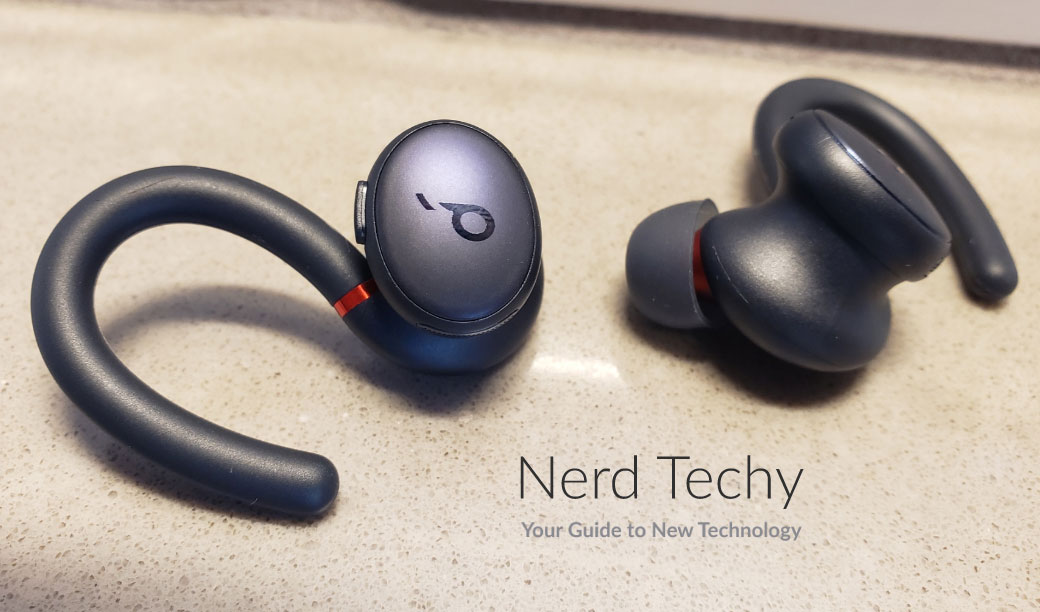 Final Verdict
The Anker Soundcore Sport X10 True Wireless Earbuds are an excellent pair of workout buds. With ultra-secure retention, IPX7 water-resistance, and powerful bass, they're ideal for exercise. They also offer a very comfortable fit, stable signal, and reasonable battery life. What more could you ask for?
Note: At no extra cost to you, we may earn a commission for purchases using our links. Learn more.