Whether you're hosting an event or just decorating your house, lighting is a great way to do it. Small accent lights in particular are great for livening up a dark environment. You can put them alongside a walkway, or hang them from trees or metal frames.
In the past, this was easier said than done. You constantly had to change bulbs, and in-ground wiring was expensive. Battery-powered lights were a poor choice, because incandescent bulbs would drain them in a few hours.
But LED lighting has changed all that. LED lights draw a miniscule percentage of the power of comparable incandescent lights. As a result, they've opened up a world of opportunities for battery-powered lighting. These days, you'll find LEDs on all kinds of devices that don't even need them. They just look pretty, and they draw virtually zero power.
Mason jar lights, by comparison, are far more traditional. You put a small candle in a mason jar and hang it up as a temporary decoration. They're also popular for use as table centerpieces. Think of the last time you went to a nice restaurant. There was probably a candle on the table, and there's a good chance the candle was under glass.
By marrying LED lighting to mason jar lights, you get something new and exciting. Like an old-school mason jar light, you create an attractive accessory. But since you're not relying on a candle, there's no risk of fire if you drop the mason jar. Your batteries will also last much longer than a candle. And if the mason jar lid has a built-in solar charger, you'll be able to use the same battery for years.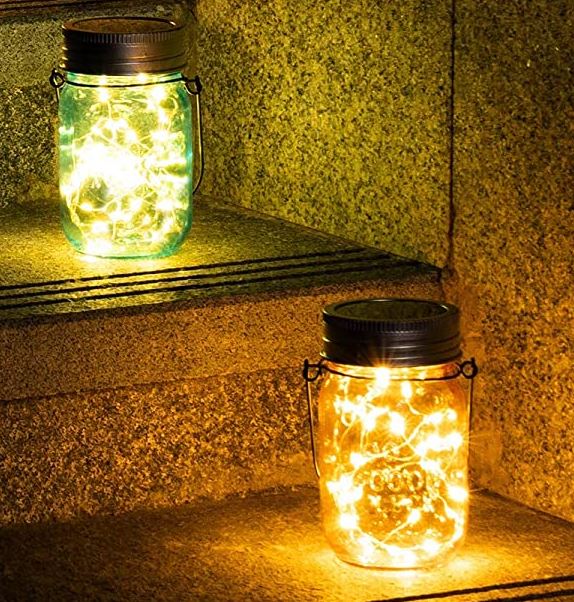 Choosing the Best Hanging Solar LED Mason Jar Lights
Today, we're going to review three of the best hanging solar LED mason jar lights we could find. All of these lights are attractive and easy to use, with built-in solar panels. All of them also seem reasonably durable, so you don't have to worry about premature failure.
Of course, there's a lot more that goes into making a good mason jar light. We'll need to talk about how they work, and how you operate them. We'll need to look at the nature and quality of the LEDs, as well as any color options. And of course, battery life is a significant consideration. After that, we'll have a more complete picture of what we're dealing with. Let's dig deeper, and see what we uncover!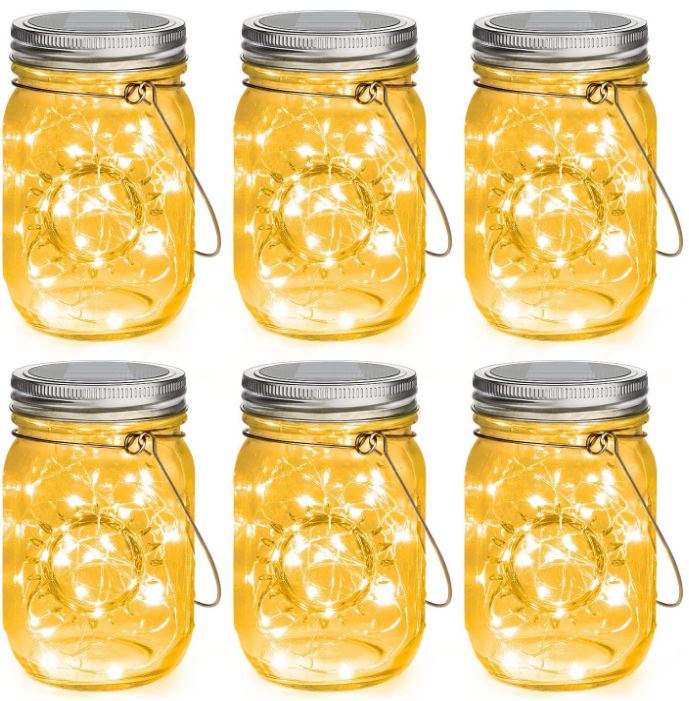 Mlambert Mason Jar Solar Lights
The Mlambert Mason Jar Solar Lights come in a six pack. To begin with, you get the jars themselves. These are classic Ball mason jars, with an oblong profile. They have a diameter of 3.2 inches and a height of 5.3 inches. The glass seems to be thick and durable, and has good clarity and transparency.
Each jar comes with a metal handle, which connects to a ring around the bottom of the mouth. This makes them easy to hang up if you want to. If you don't, the handle will rest unobtrusively against the side of the jar.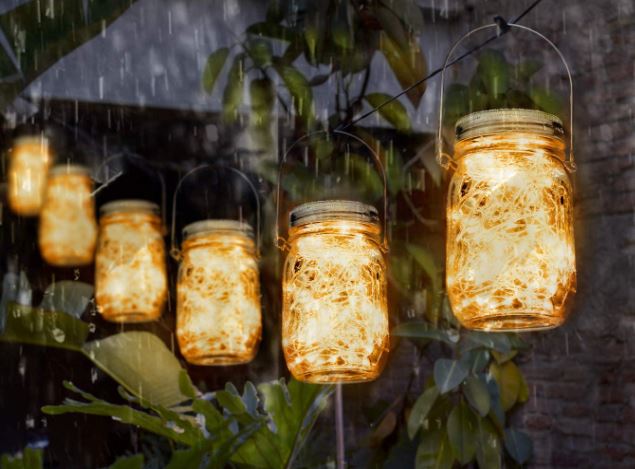 The difference between this and an ordinary mason jar is the lid. Instead of a metal disc and a screw-down ring, this lid is all one piece. Inside the outer aluminum shell is a plastic housing that contains the electronics. There's a rechargeable battery already installed, although it's easy to change if need be. To start the light, all you have to do is pull on the little green tab. Then, set the switch to "on."
Note that this is an automatic light. It has a built-in light sensor, and will deactivate when it's in a well-lit environment. When it gets dark, it will automatically light up. If your light doesn't come on at first, give it a few hours to charge. If it still doesn't, cover the lid with your hand. The sensor will think that it's "dark," and the light will come on.
The 30-light fairy string attaches to the bottom of the lid. Just let it drop into the jar as you put the lid down, and you'll be good to go. There are two different versions available. First, there's a pleasant warm white that creates a soft, red-tinged glow. The other is a cool white light that feels brighter and has a blue cast.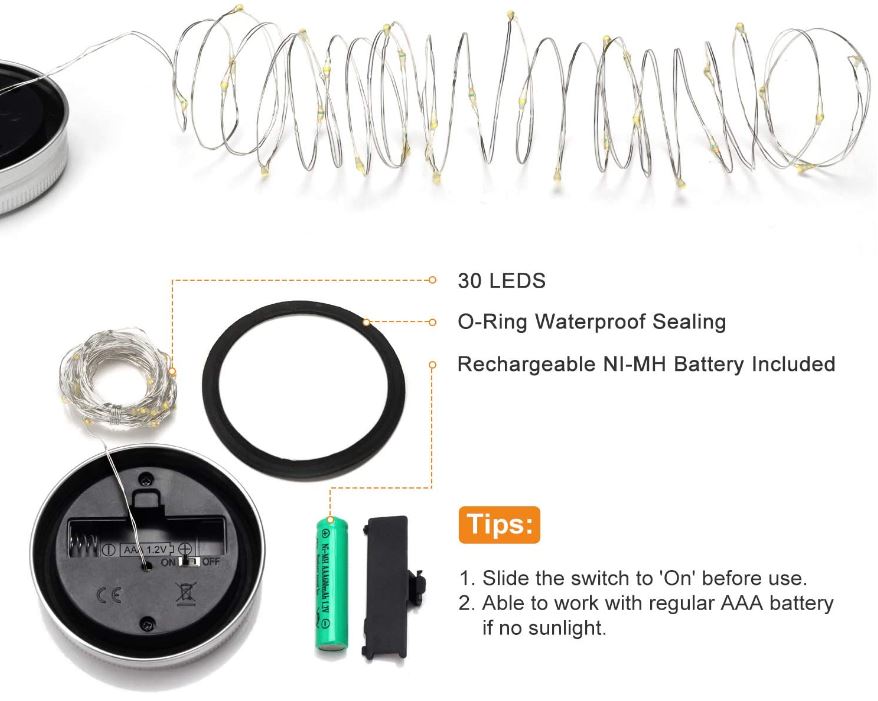 Water-Resistance and Power Supply
The Mlambert mason jar lights are entirely solar-powered. In the middle of each lid is a rectangular solar panel that keeps the internal battery charged. With a full battery, they'll shine for 10 to 12 hours – in summertime, that means they last all night. The exact charging rate will depend on how much sunlight your light is getting. In partial sunlight, 6 to 8 hours of charging is normal.
You don't have to worry about any kind of weather damage. While these mason jars don't have a specific water-resistance rating, there's a rubber O-ring under the lid. You don't have to worry about water getting inside.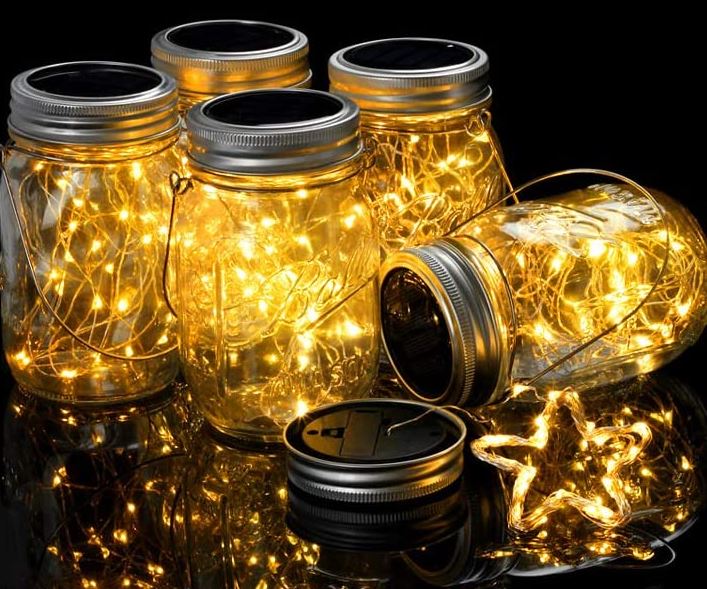 That said, you should check on your lights after major temperature swings. Condensation can build up inside the jar, precisely because it's so watertight.
Rust is also a non-issue. The lids are made from aluminum, while the handles are made from stainless steel. These are both corrosion-proof materials, so you can freely leave these jar lights outside.
But what if you already have a bunch of mason jars? In that case, you could always make your own mason jar lights. Check out our list of the best battery-powered fairy string lights for inspiration. You won't get the benefit of solar charging. But you'll have the freedom to use your fairy lights for other applications.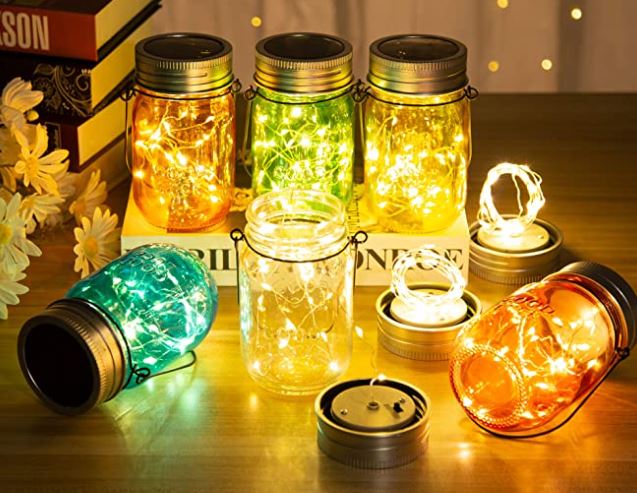 GIGALUMI Solar Multicolor Mason Jar Lights
The GIGALUMI Solar Multicolor Mason Jar Lights also come in a six-pack. They're not Ball brand, but they have the same classic shape and seem to be reasonably good quality. The front is stamped with the words "Good Luck" which creates an attractive touch. The jars also have the same 3.2-inch diameter and 5.3-inch height.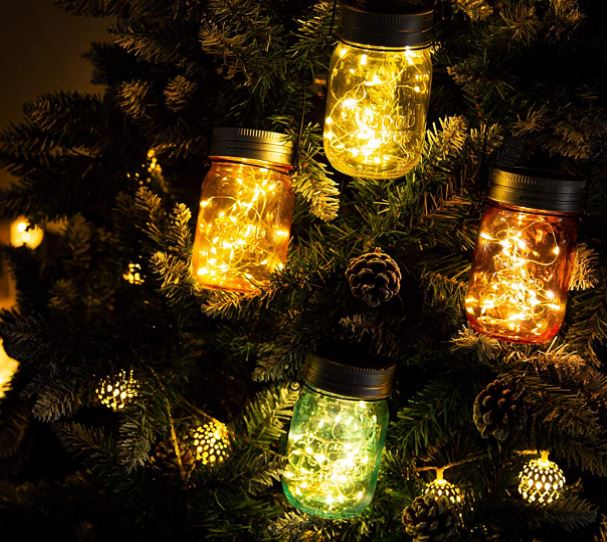 The fairy light strings are attached to the bottom of each lid, and are available in two varieties. The first is a multicolored pack with white, red, orange, yellow, green, and blue. This creates an attractive, colorful display. Alternatively, you can choose the soft white option, which is much more restrained.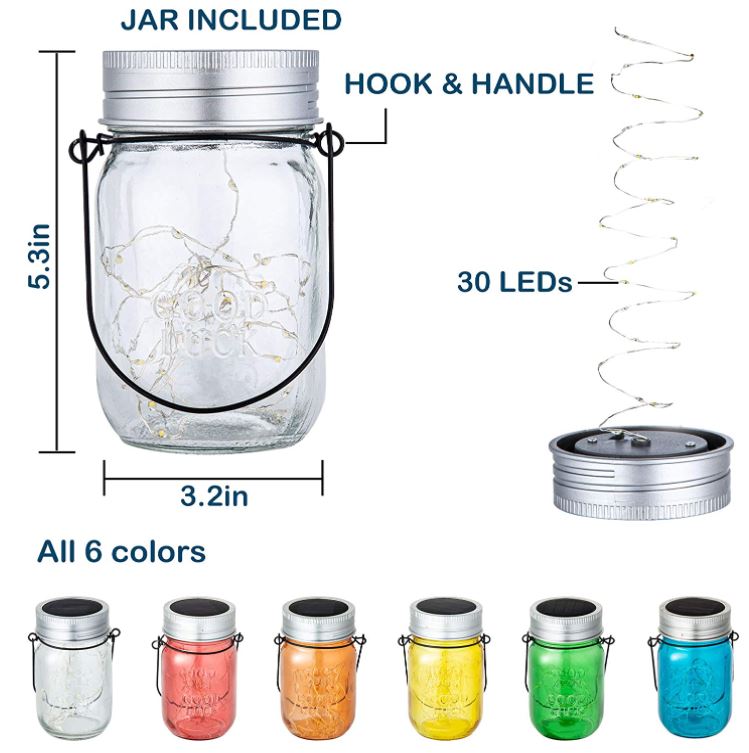 As with the last jar lights, each jar has a metal handle attached to a ring at the top. This makes them easy to hang if you want to. The battery is installed under the lid, next to where the fairy lights attached. There's also a power switch in this area. However, the built-in light sensor will shut off the lights in a well-lighted environment.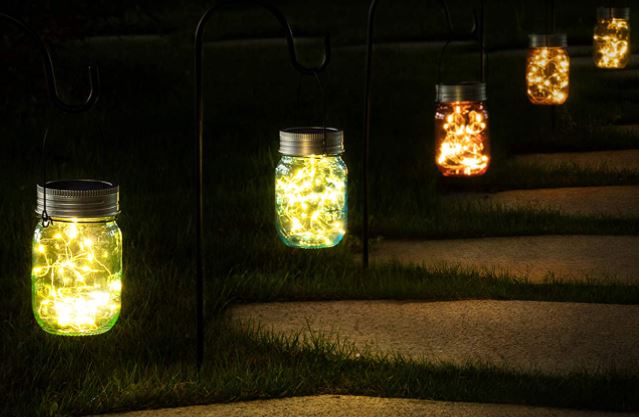 Water-Resistance and Power Supply
The GIGALUMI lights have a weather-resistance rating of IP65. This means they're entirely impervious to dust, and can withstand a heavy spray of water. Even in a bad storm, they're not going to fail you. GIGALUMI backs this with a 90-day refund, which provides a free replacement or a refund.
The battery will last for about five hours, which is less than we'd hoped. However, it charges in eight hours, so you'll have a full charge every time the sun goes down.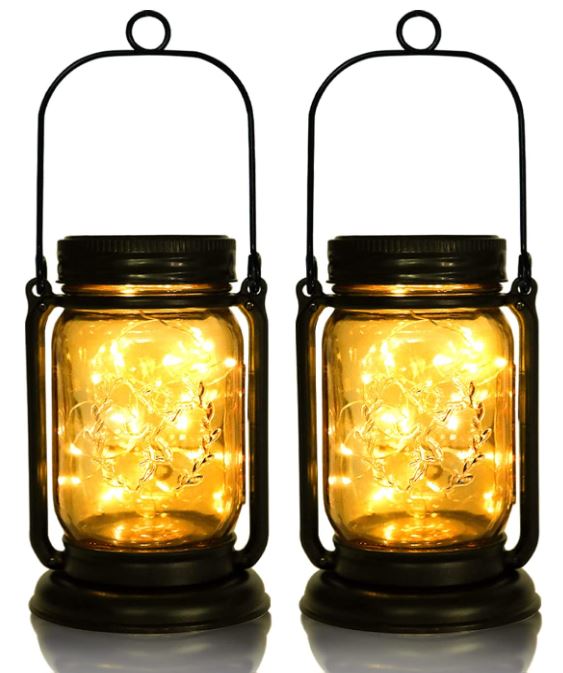 Yeuago Hanging Outdoor Solar Lantern
The Yeuago Hanging Outdoor Solar Lantern is a bit different from the others. Instead of a bare mason jar, each light is built into a bronze-colored ABS plastic frame. The frame is molded to resemble an old-fashioned kerosine lantern, and is attractive to the eye. The large handle is metal, so you don't have to worry about its durability.
You can order this light in a 2-pack or a 4-pack. Both come with a string of soft white fairy lights, which attach to the bottom of the lid. The 2-pack can also be ordered with red and pale blue roses inside the jars, which is a beautiful addition.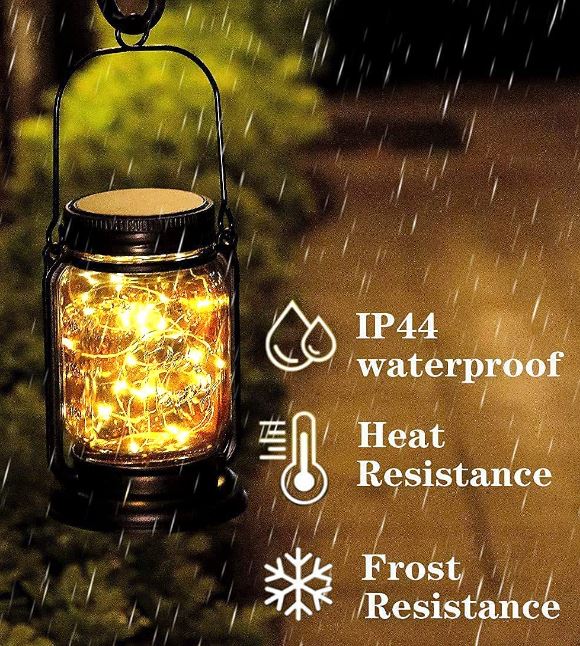 In addition to hanging them or setting them on a table, these lanterns are also mountable. The kit includes a set of 9.64-inch stakes which can be driven into the ground. The tops of the stakes are shaped to fit into slots in the bottoms of the lanterns. This is great if you need pathway lighting.
Yeuago backs their lanterns with a 12-month manufacturer's warranty. They also offer a 45-day no-questions-asked returned window. If you try the lights out and don't like them, you can just send them back.
Water-Resistance and Power Supply
The Yeugau lantern's weather-resistance rating of IP65 provides plenty of environmental protection. You don't need to worry about dust, rain, snow, or other moisture.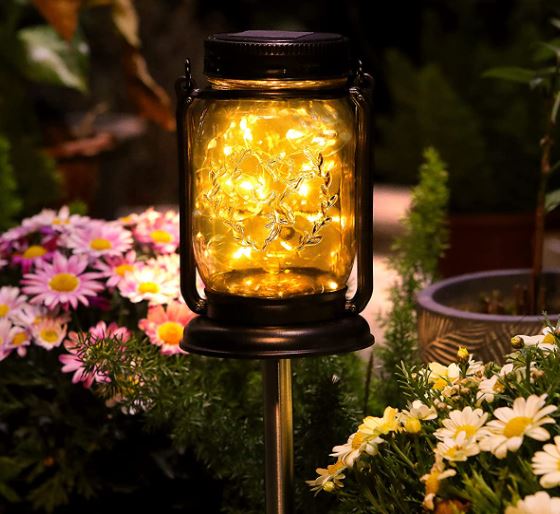 The batteries will last for six to eight hours per night, depending on how well it's charged. Depending on the level of sunlight, you can expect a full charge in around four to six hours of exposure.
If you're looking for a more quirky decorative light, there are plenty of options. Not long ago, we looked at the best jellyfish lava lamps. It doesn't get much more whimsical than that!
Final Verdict
So, which of these solar LED mason jar lights is the best? Let's go over what we've learned, starting with the Mlambert Mason Jar Solar Lights. These lights come in a six-pack, so you can decorate a large area. The batteries can last as long as 12 hours, which is great when you want all-night operation. The warm and cool whites are both attractive, and the jars themselves are excellent quality.
After that, we reviewed the GIGALUMI Solar Multicolor Mason Jar Lights. These lights can be ordered in a multicolored option as well as a warm white. The battery isn't as long-lasting as the last one, but five hours of operation is enough for most applications. We also appreciated the IP65 weather-resistance rating.
Third, we looked at the Yeuago Hanging Outdoor Solar Lantern. This light is unique because it's meant to look like an old-school lantern. It comes with a 12-month warranty, and a weather-resistance rating of IP65. Our favorite feature was the set of ground stakes, which allow for more placement options.