Creality CR-Laser Falcon
Pros
Very precise laser.
Fast engraving performance.
Large working area and high clearance.
Works with most engraving software and file formats.
Cons
No roller accessory (but will be released in Sept-Nov).
Limited on-board controls.
If you want to create branded products to promote your business, there are plenty of ways to do it. When someone wears your tee shirt, they're providing you with free advertising. The same goes when they use anything else with your logo printed on it, like a mug or a tumbler.
But if you want to create something a little more bespoke, printing isn't always the best option. An etching or engraving has a feeling of permanence. It also has an old-fashioned luxury appeal. And while you might think engraving is difficult, consumer engraving machines are surprisingly easy to use.
Note: At no extra cost to you, we may earn a commission for purchases using our links. Learn more.
Engravings don't have to be used for branding. They can also be used to create art, or to add an attractive flourish to a finished product. Engravings are particularly popular for awards. Who doesn't like a trophy or even just a plaque with their name on it? It makes you feel appreciated.
Beyond that, engraving machines can also be used to precisely cut sheets of wood or other material. This allows you to create your own jigsaw puzzles, or to cut complex shaped holes in your material.
Considering all these applications, it's not surprising that businesses and hobbyists alike are investing in laser engraving machines. But if you're going to invest in one, you want to make sure it's the best possible option. This means looking at its features and seeing what it's capable of.
Creality CR-Laser Falcon 10W Engraver
We're about to review the Creality CR-Laser Falcon 10W Engraver. This is a large engraver with a deep, wide working area. It's made to work with almost any material, and you can adjust the height to engrave taller objects. It also boasts a 0.06mm laser diameter, just over half the diameter of the average engraving laser.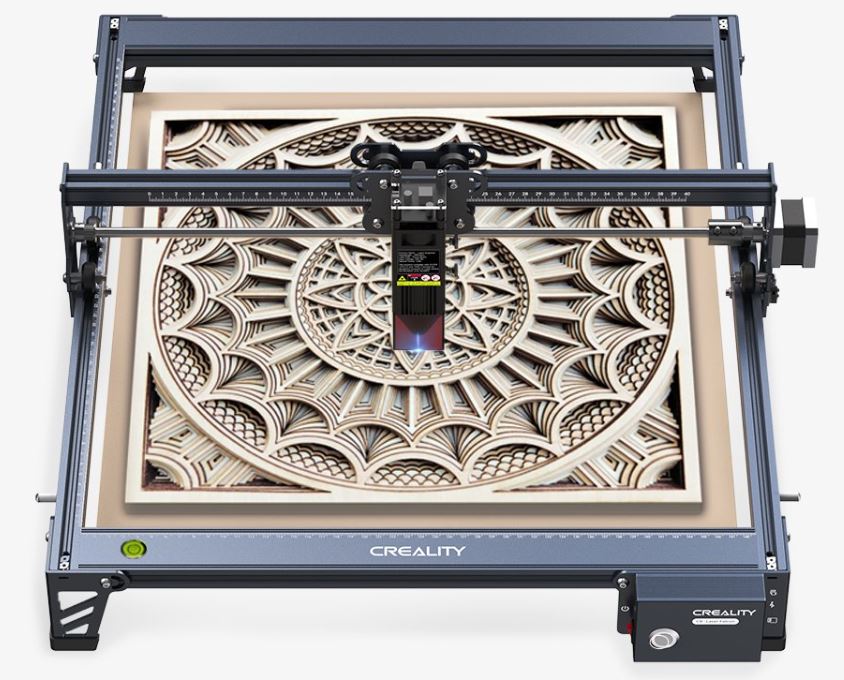 That said, there are many factors that go into making a good laser engraver. To find out if this one is worth its salt, we'll need to take a deep dive into its features. We'll have to look at how it's put together, and how you can control it. We'll need to talk about the accessories it comes with, and what kinds of materials you can engrave. After we've given it a thorough evaluation, we'll be in a position to deliver our final verdict. Let's begin!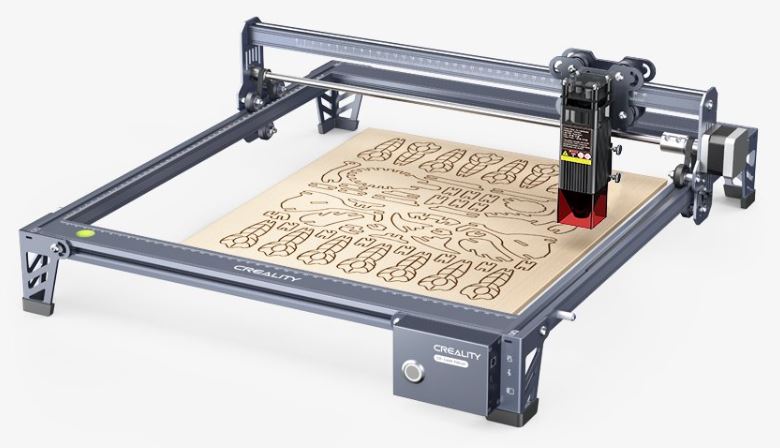 Frame & Gantry
The Creality CR-Laser Falcon 10W Engraver comes in a few pieces, but assembly is very easy. To begin with, there's a rectangular horizontal frame that's constructed from durable aluminum. The front parts of the frame are a bit wider, and have short legs attached at the corners.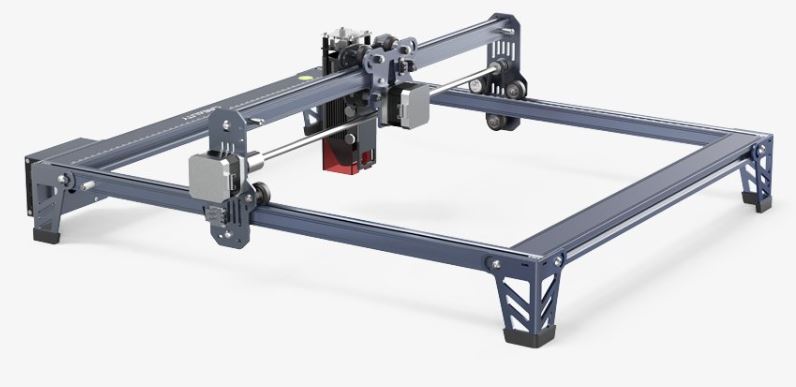 The front and back parts of the frame need to be secured to the pair of side rails. These rails serve as tracks, with grooves in the tops and bottoms where a set of rollers can ride. Because the rollers clamp down from both sides, their movement is very precise. They support a gantry which sits horizontally across the top of the housing. This gantry, in turn, supports a the laser module, which rides back and forth on a similar set of rollers. As a result, the laser can move independently across both the X-axis and the Y-axis.
The total working area measures 400mm (15.75") wide and has a depth of 415mm (16.34"). This is larger than most laser engravers, and allows you to engrave even very large objects. Positioning the objects is easy, thanks to a set of scales on the left and front rails. These show the positioning in centimeters and millimeters, so you can precisely plan out your work.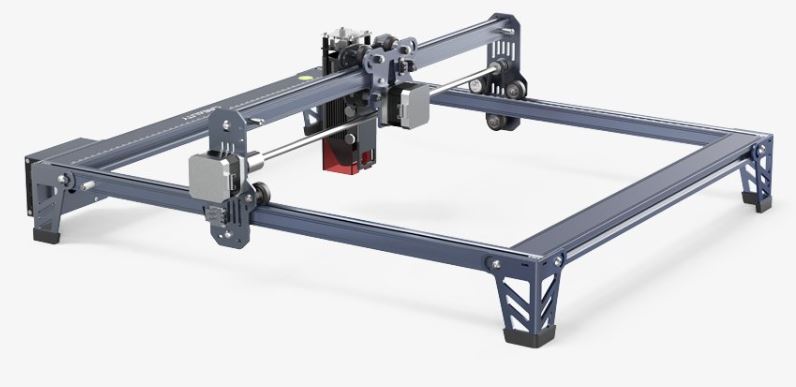 It's also easy to level out your working surface. There's a round green leveler on the front left of the frame. If the bead is in the center, you're level. Otherwise, you may want to shim up one corner of your workbench.
Best of all, the CR-Laser Falcon 10W utilizes a proven 3D core. In layman's terms, the technical stability of the engraving machine is guaranteed. It's equipped with a self-developed drive algorithm, stable motion scheme, and a module design with a silent operation scheme. Even with the
Creality backs their laser engraver with a 12-month manufacturer's warranty. If it fails prematurely, you'll get a refund or a free replacement. You also get a 14-day return window to try it out and see if it works for you.
Use code "Falconnerdtechy" for a discount when you order on the official website

Previously, Creality sold out 100 units within 2 minutes. There's still a chance to get the 10W CR-Laser Falcon with a 20% OFF to 15% OFF, but the quantity is limited! Act now to catch a chance to save big!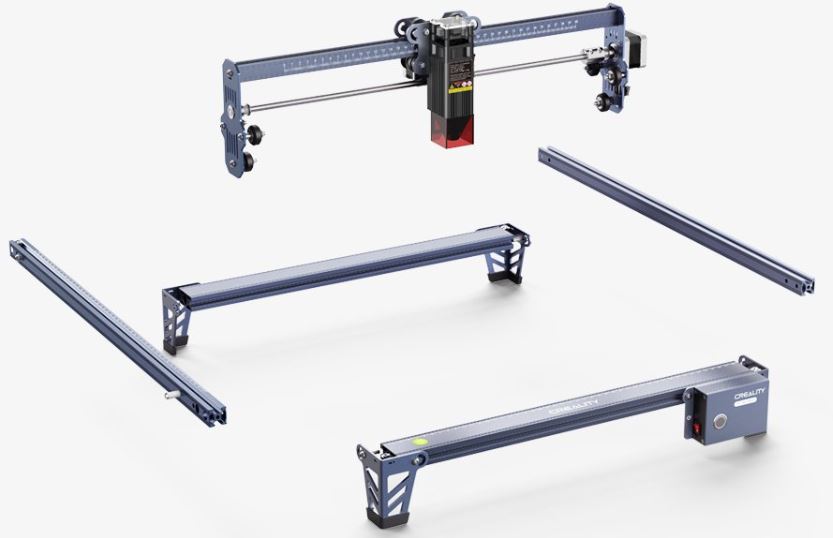 Laser & Controls
The laser itself is rectangular, and is installed in an aluminum housing. This housing attaches to the motorized roller on the gantry, and is pointed downwards towards your working surface. Towards the end, the aluminum is replaced by a red plastic. This material provides some protection from damaging radiation. At the same time, it allows you to see and verify that the laser element is functioning.
Focusing the laser is very easy. The kit includes a little three-step base that lets you set three different height levels. There's a screw on the side of the laser housing that you can loosen with your fingers. This will allow you to raise and lower it to a particular level. Slide the base into place, let the laser housing rest on the level you want, and tighten the screw.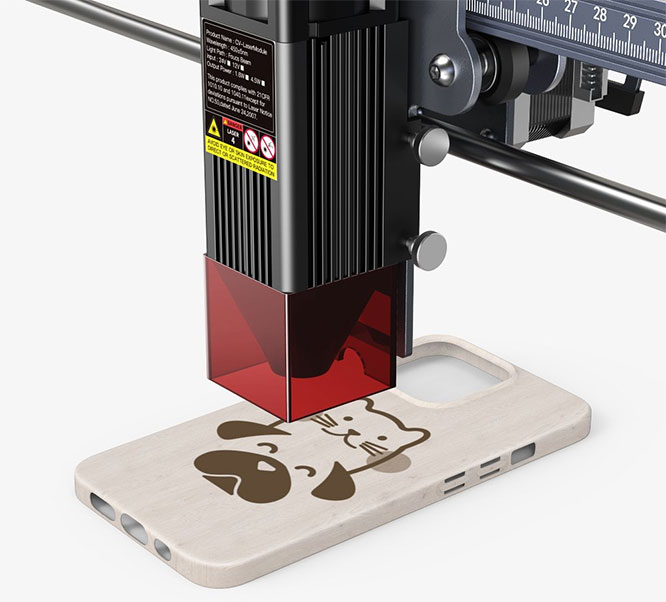 Luckily, the CR-Laser Falcon is equipped with a fixed focus. To adjust it, first, loosen the laser head screw. After that, slide the laser head according to the fixed focus bar. As a result, you can achieve the correct focus distance.
At the front right of the main frame, there's a rectangular box. This box houses the control circuitry, and has a little Micro SD card slot in the side. You can insert an SD card and manually create engravings using a single control button.
Press the button once to preview – basically, the laser does a dry run so you can know everything is working. Press it again to create your engraving. A third press will pause. If you want more control over your machine, don't worry. You can do a lot more by connecting it to a computer.
Connectivity & Setup
Connecting the Laser Falcon is easy. It plugs into your PC or Mac via a USB cable, and your computer should recognize it. It will show up under your printers in your device list. However, you may have to wait for a minute for the drivers to install.
This engraver is compatible with most popular engraving software. Most people use one of two common options. To begin with, there's LightBurn. LightBurn is a full-featured engraving suite with tons of advanced settings.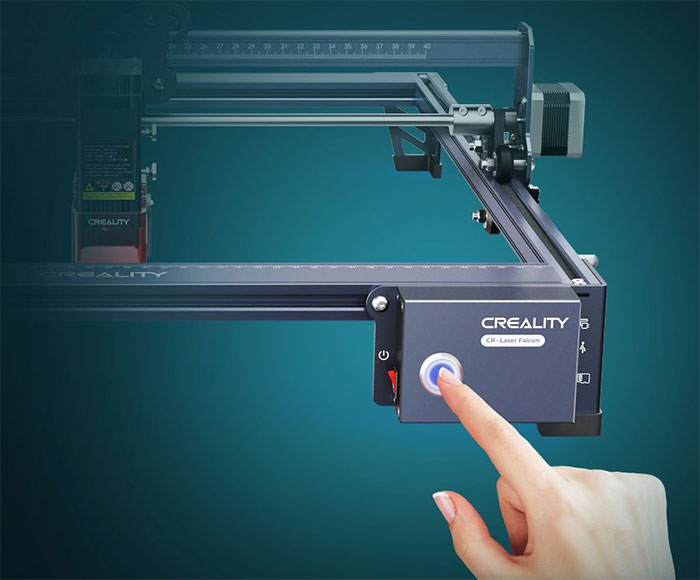 It's available for Windows or Mac, and there's a free trial version. However, you'll have to pay for a license if you want to do more than confirm your engraver's compatibility. The other popular option is LaserGRBL. LaserGRBL is 100% free, and it has almost all the powerful features of LightBurn. Unfortunately, it's only available for Windows. Mac users will have to shell out for a copy of LightBurn.
As for file format compatibility, the sky is the limit. You can create engravings from BMP, SVG, PNG, TIF, PDF, DX, and NG files. Even if your image isn't in one of those formats, it will be easy enough to convert.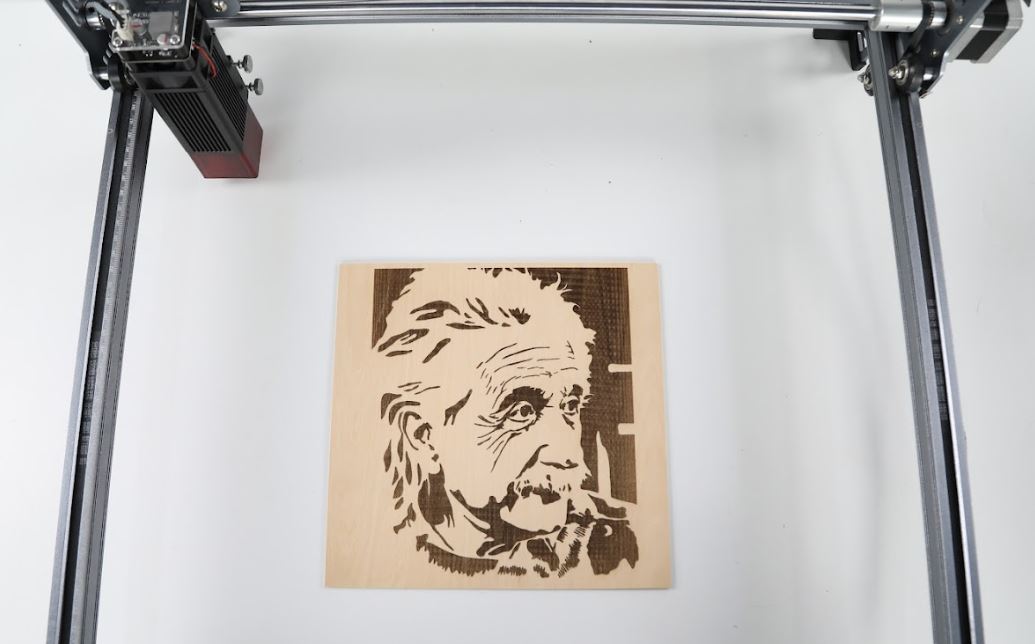 Engraving Performance
All in all, we were very happy with the Laser Falcon's engraving capabilities. As we mentioned, the 0.06mm laser dot is just a hair over half the width of a typical engraving laser. This allows you to create ultra-detailed images, with a resolution of 254 DPI. If this were a printer, that would be laughably low. But for an engraver, it's excellent. You can even engrave detailed photos if you really want to.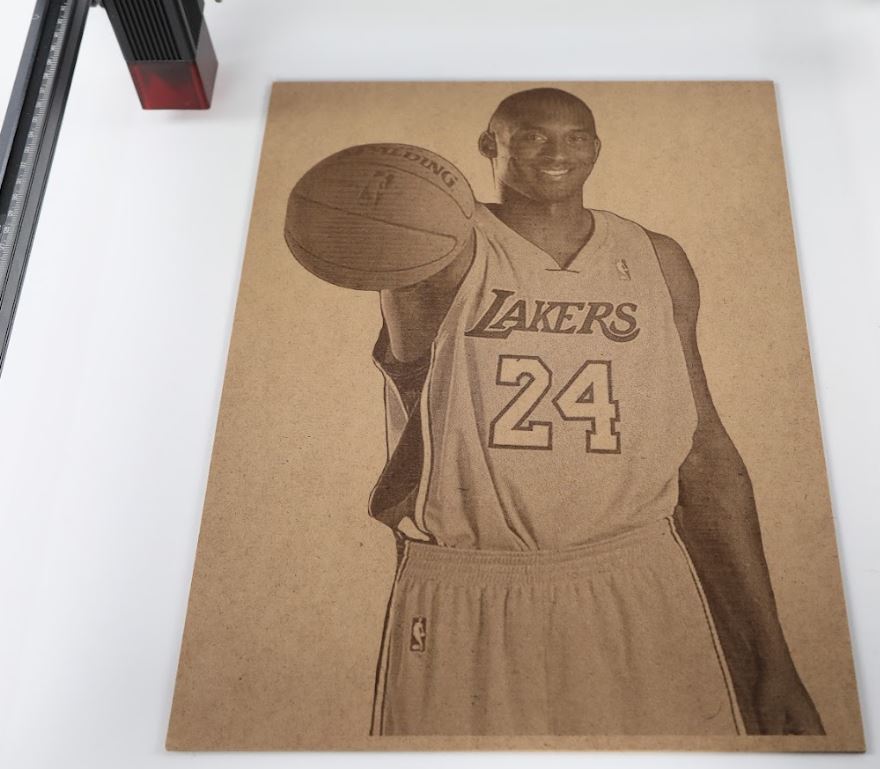 The laser has a power of 10 watts, which gives you more cutting ability than many lasers. A lot of engravers only have a 5-watt laser, which isn't quite as capable. This laser is capable of cutting through wood that's 18mm thick. It can even cut 12mm wood at a single pass. With metal, you can really only cut thinner sheets. Exactly how thin will depend on the metal.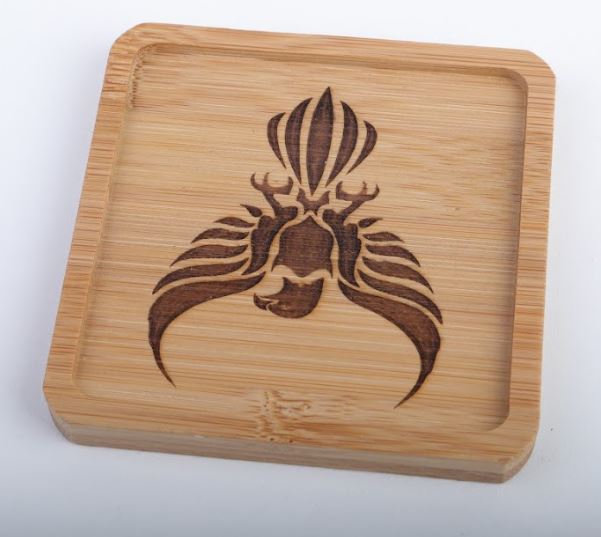 At the same time, you'll be able to engrave just about any material you can think of. On a lower setting and higher pass speed, you can engrave leather, cloth, or even heavy-duty paper. At a higher setting and slower speeds, you can engrave wood and even the hardest of metals. If you're engraving something clear, like glass, you'll need to cover it with black marker first. Otherwise, the laser will just pass through the clear material.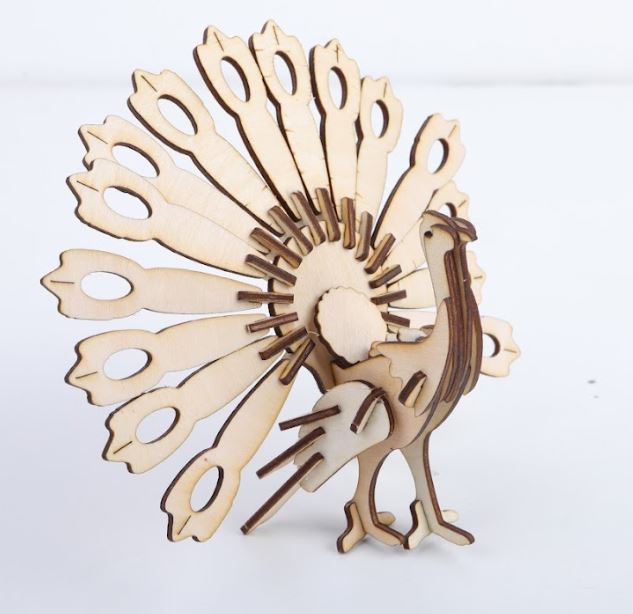 The Laser Falcon is capable of engraving at an incredible 10,000mm per minute. That's equivalent to 33 feet in a straight line. In practice, your speed will vary. Some applications require a slower pass, while others require brisk, rapid work. Either way, you'll have the ability to get the right speed for your job.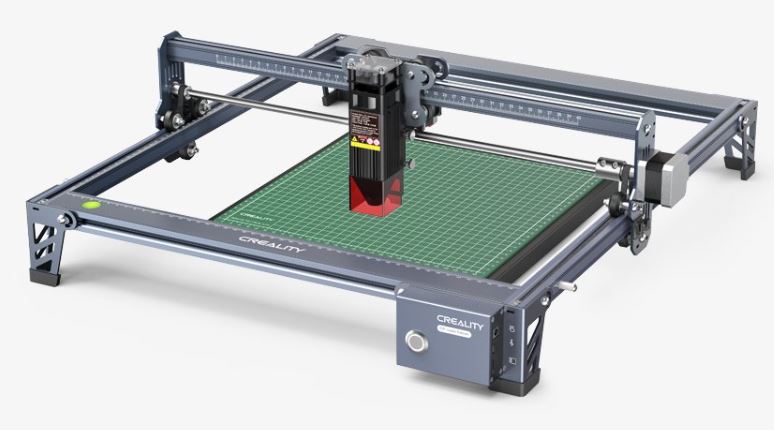 Accessories & Support
Along with your engraver, you get some accessories to help you out. There's a set of safety goggles, which we highly recommend you wear. There's a Micro SD card for offline engraving. Additionally, there's also a pair of plywood panels for calibration, a dust-free cleaning cloth, and all the necessary assembly tools.
The thing that most impressed us, though, was the set of removable legs. These legs come in three pieces, which screw together end to end. Each section is 50mm (1.97") long, and you can use one, both, or all three. With all three screwed together, you'll lift the engraver by 150mm (5.9"). This allows you to engrave objects that are too tall to fit under the frame.
The Laser Falcon also features an anti-tilt mechanism. If it gets knocked out of level, the laser element will automatically shut off. This is a crucial safety feature, because the laser itself is dangerous. If it's powerful enough to cut 18mm of wood, imagine what it could do to your hand or eye. Thankfully, this laser will only light up if it's pointing straight downwards.
Although there is no roller accessory currently available, Creality will soon come out with related accessories. These include air assist, honeycomb panels, rollers, etc. They will likely be released in September-November on the official store (one after another.)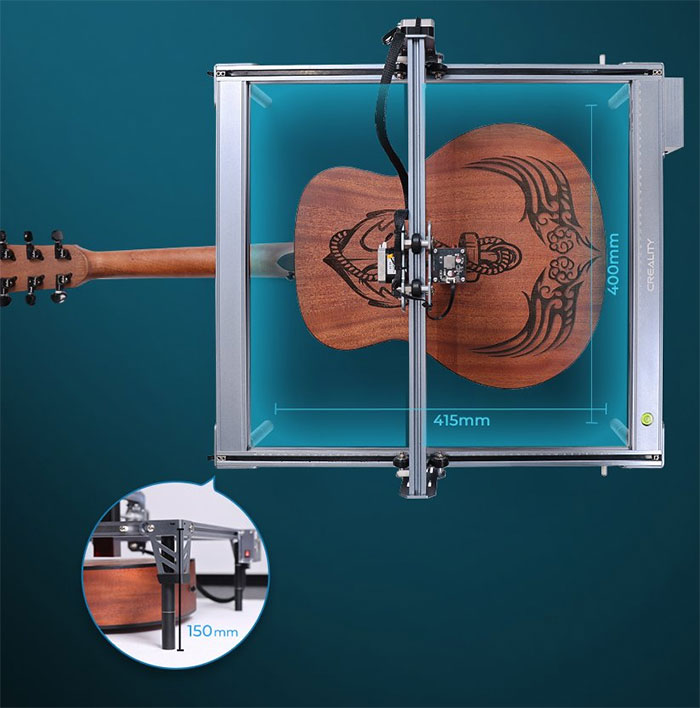 Final Verdict
The Creality CR-Laser Falcon 10W Engraver is a powerful, versatile machine.
You get a large working area, which makes it great for creating big engravings. We also loved the removable three-part legs. Height is less of an issue here than it is with many laser engravers. The movements of the laser are quick and precise, resulting in high-resolution etchings on any material. And you can use the Laser Falcon on Windows or Mac, with most common engraving software. All in all, we were very happy.
Use code "Falconnerdtechy" for a discount when you order on the official website
Previously, Creality sold out 100 units within 2 minutes. There's still a chance to get the 10W CR-Laser Falcon with a 20% OFF to 15% OFF, but the quantity is limited! Act now to catch a chance to save big!
Please consider sharing:
Note: At no extra cost to you, we may earn a commission for purchases using our links. Learn more.