There's never been a better time than today to buy wireless earbuds. To be fair, that's not saying much. True Wireless Stereo (TWS) has only really been viable since 2016, so the technology hasn't been around for long. Still, there are some advantages to a recent technology. The main one is that manufacturers are still in a mad rush to get into the market. This helps keep prices low, since there are many brands in competition. At the same time, it keeps pressure on the major players to keep pushing the boundaries of technology. You simply don't see these kinds of rapid advances and low prices in more mature markets.
That said, the rush to market is not a universally good thing. To begin with, there's the sense of paralysis that sets in when you have too many options. It's one thing to have ten or a dozen choices. But there are literally thousands of earbuds available online. There's no way any human being can possibly sort through that many choices. Another problem is that there are a ton of new manufacturers. For every established brand, there are two or three no-name players with earbuds of questionable quality. The solution to this second problem is simple. Stick with a brand you already trust, the theory goes, and you're less likely to be disappointed.
In that spirit, we're about to review the Anker Soundcore Life P3 wireless earbuds. These are vertical, AirPod Pro-style buds with silicone ear tips and a charging case. They also come with active noise cancelling technology (ANC), as well as powerful companion app. But there's more to a good pair of earbuds than just a list of specifications. Quality earbuds need to be comfortable to wear, and they need to have reasonably long-lasting batteries. It also doesn't hurt if the audio quality is up to snuff. So, how well do these earbuds perform in light of all these factors? Let's take a closer look, and find out!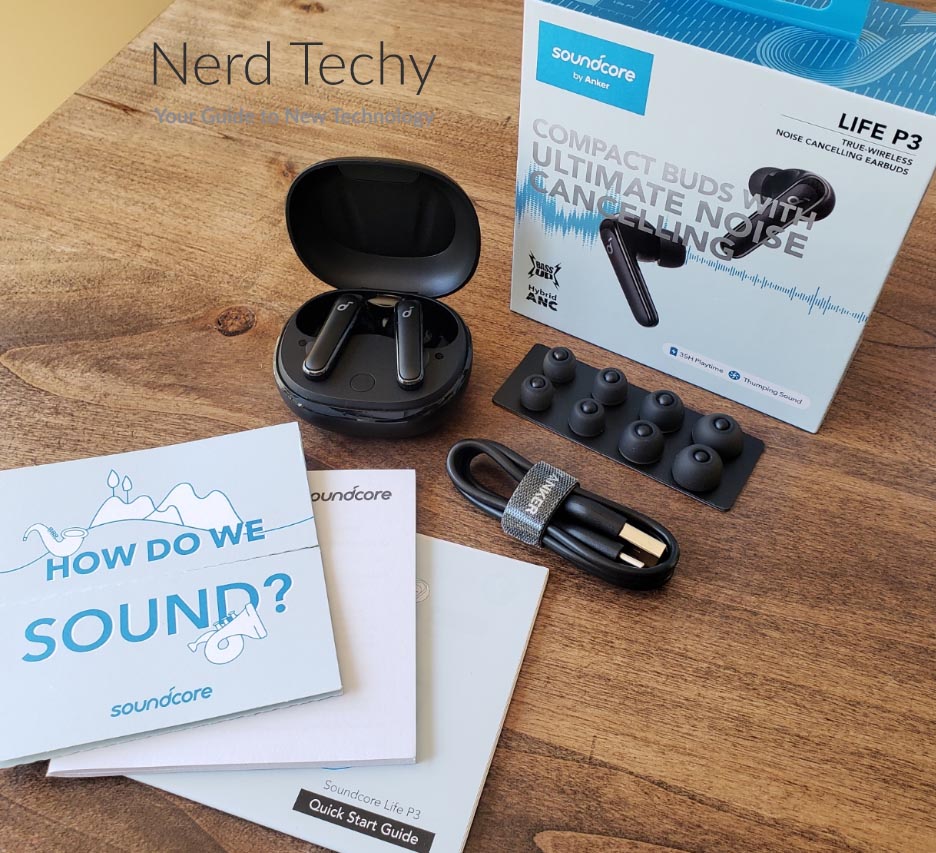 Overall Design
The Anker Soundcore Life P3 Earbuds consist of in-ear shells with silicone ear tips. They also sport a set of vertical studs, which house the batteries, and keep the earbuds bottom-heavy. The bulk of the shells are high-gloss, although the backs of the studs are matte so as not to show fingerprints. You also have the choice between five different colors. In addition to standard black, there's navy blue, sky blue, cream, and an orange that Anker calls "coral red." No matter what your personal sense of style, you'll be able to choose a pair that meets your standards.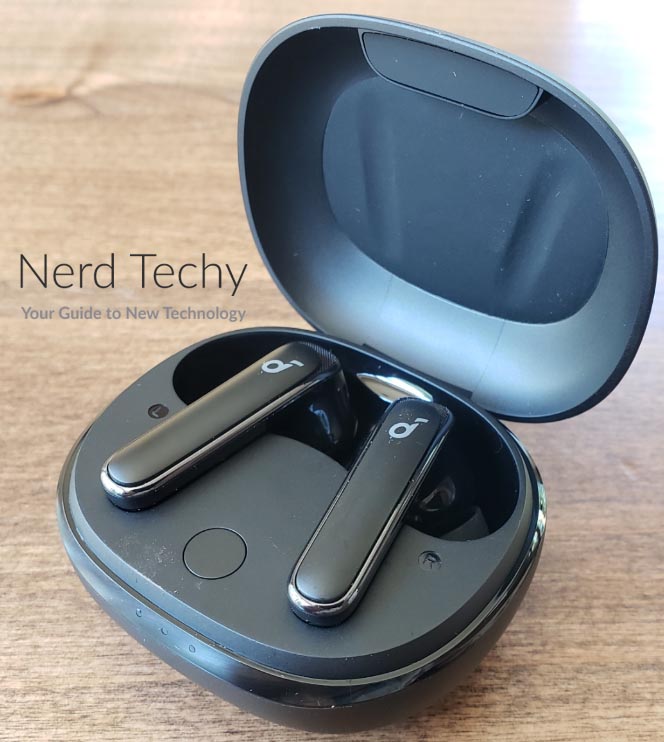 These days, most earbuds come with multiple sets of ear tips. No two sets of ears are alike, and it's important to have a comfortable, secure fit. But whereas most earbuds come with three sets, the Life P3 buds come with five. In addition to small, medium, and large, there are also XS and XL tips to fit even more people. Keep in mind that having the right tips isn't just a matter of ergonomics; it's a matter of sound quality. Earbuds rely on the tips to create a seal inside the ear. Without a good seal, it's easy for background noise to seep through and ruin your listening experience. For all these reasons, it's smart to try a few tips and see which ones fit best.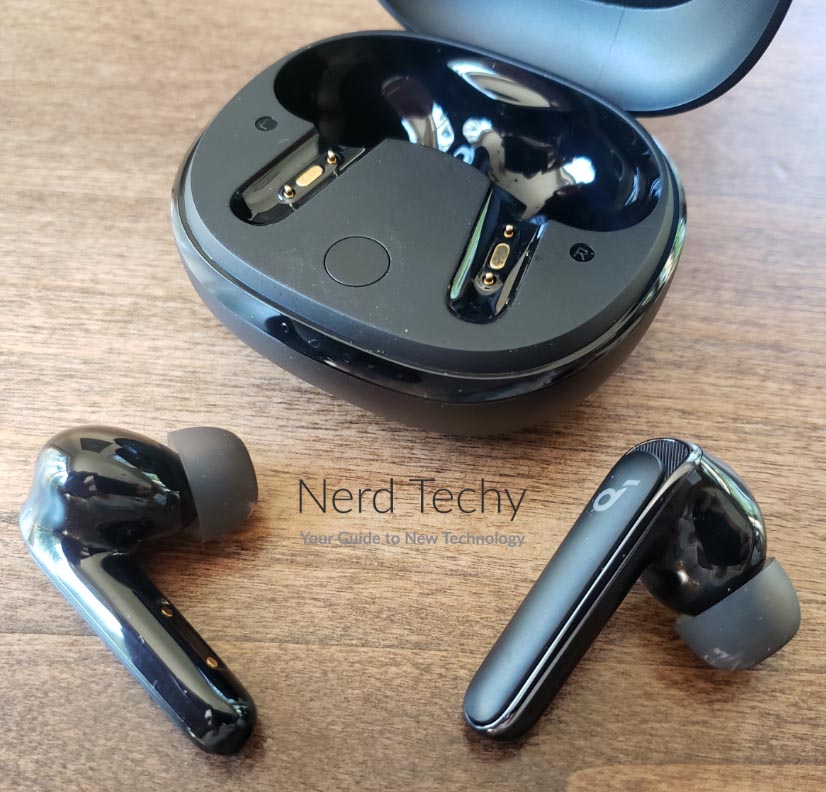 These earbuds come with a water-resistance rating of IPX5. This means they're sweat and splash-proof, so you don't have to worry about a little rain. Along the same lines, you can wipe them off with a damp cloth without causing any damage to the internals. That said, you wouldn't want to submerge them, or wear them in the shower.
The flat backs of the Life P3's vertical studs function as soft touch controls. These can be used to advance and reverse tracks, or to adjust the volume. You can also take phone calls, or send someone directly to voicemail. The soft touch design is popular because it doesn't cause any discomfort when you press a button. You're not applying any pressure to your ears. That said, many people prefer the tactile response you get from a physical button. If that's what you want, take a look at the Anker Soundcore Life P2. This is the older version, with physical buttons, longer-lasting batteries, and a submersion-proof design. On the downside, the sound and call quality are inferior to the P3.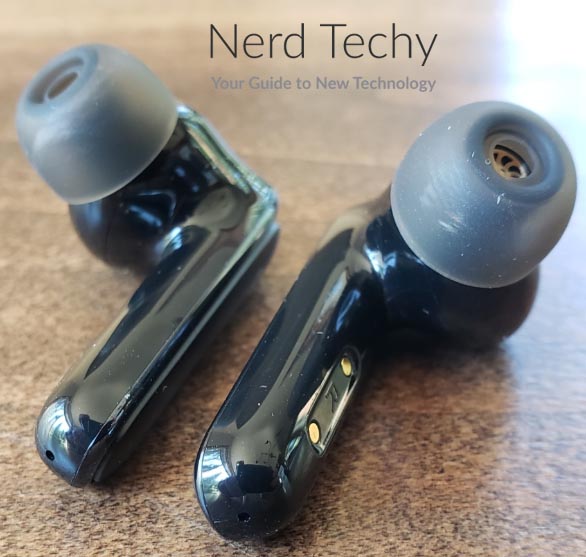 Along with the earbuds, you also get a carrying case that doubles as a charger. Unlike the earbuds' doppelganger Apple AirPod Pro, it has a horizontal design, rather than vertical. So instead of dropping your earbuds in, you lay them down flat. This makes it easier to get the buds out when you need to. That said, it doesn't affect the size of the case, or how easy it is to carry in your pocket. The case has a matte finish, in a color matching your earbuds. On top of the lid, there's a Soundcore logo, engraved in a glossy finish.
The case has a clamshell-style design, and it's easy to open and close. It's spring-loaded, so it won't pop open by accident. Underneath the front of the lid, there's a small cutout for popping it open with your thumb. Beneath that, there are three LEDs. These illuminate when the charger is in active use, and let you know the battery level. The charging cord is a USB Type-C, and is included in the kit. It plugs into a discreet port in the back of the case.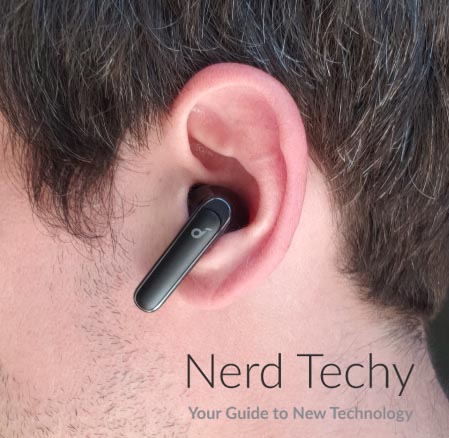 Battery & Connectivity
A pair of earbuds is ultimately only as good as its batteries. Without power, you won't be doing any listening at all. Thankfully, the Soundcore Life P3 buds provide more than enough listening time. They're rated for seven hours on a full charge, but that rating assumes that you're at medium volume. In practice, you may get as little as five and a half hours if you're listening at top volume. That's still in the range we expect to see from modern earbuds, so we're quite content. Not only that, but the case carries enough charge for four recharges. That's enough for at least 27 ½ hours of listening, or 35 hours at half volume.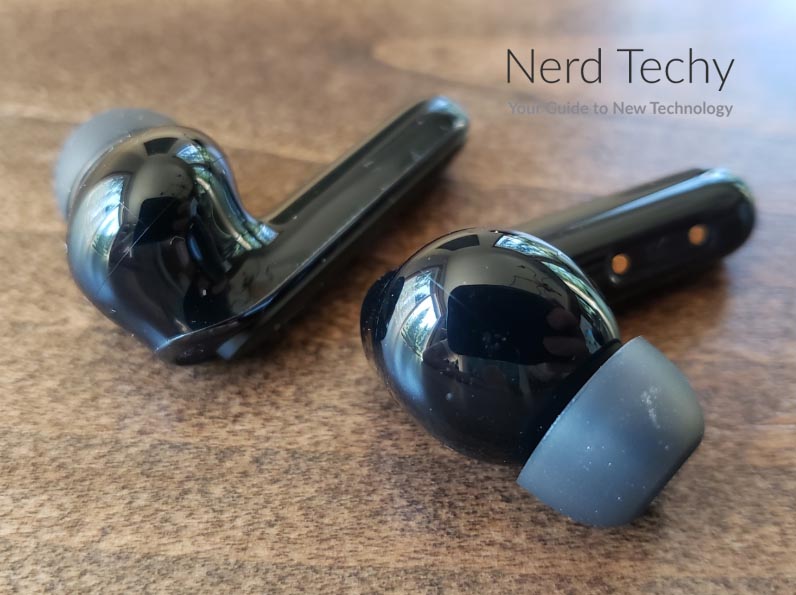 That said, having a little more power never hurts. If that's what you're looking for, the Soundcore Liberty 2 Pro will be right up your alley. These earbuds provide up to eight hours of playback per charge. They have a more compact, in-ear design, but their bass isn't as powerful as today's offering.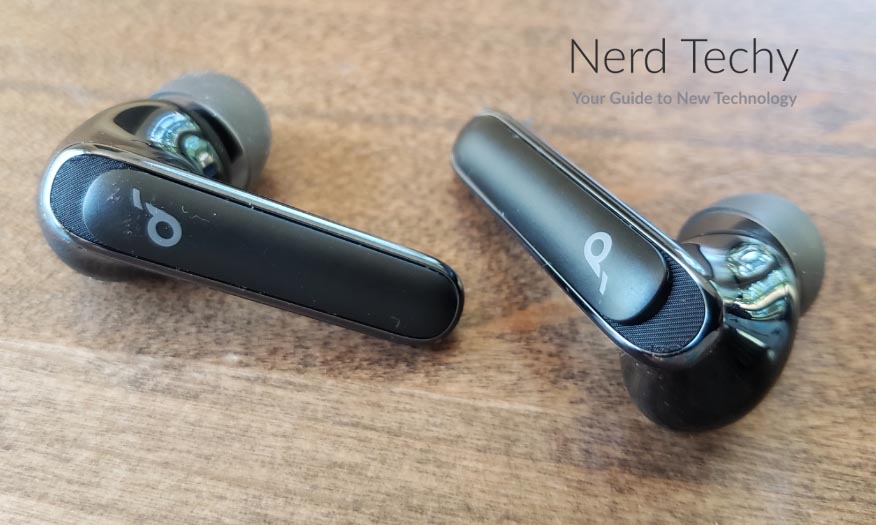 When it comes time to charge the Life P3 earbuds, you can use either a USB Type-C or a Qi wireless pad. With Type-C, you'll be able to fully charge the case in less than two hours. With Qi, it will take a tad longer, but you may prefer the convenience. You'll certainly be able to charge wirelessly overnight with no issues. The earbuds themselves will fully charge in about 90 minutes. However, a 10-minute quick charge will get you about two hours of listening time. That's enough to get through a workout or an unexpected phone call.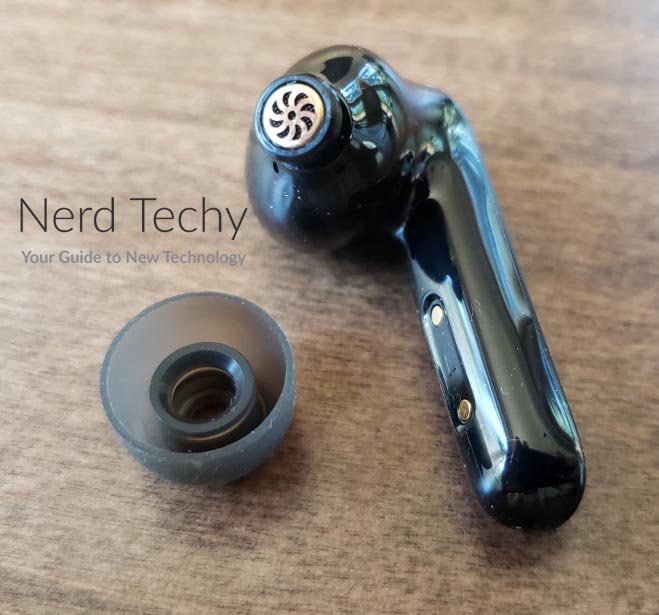 These earbuds utilize the Bluetooth 5.0 protocol to connect to your phone or MP3 player. This current Bluetooth standard serves as a major upgrade from the older Bluetooth 4.2 variant. You get a more stable signal, which means there are no random disconnections. You also get more bandwidth. This means you can listen to high-bitrate audio for better music quality. Finally, you get the advantage of very low latency. This means the audio and video will be better-synced for movies or gaming. Using the Soundcore app, you can even activate a special gaming mode that brings latency to near zero.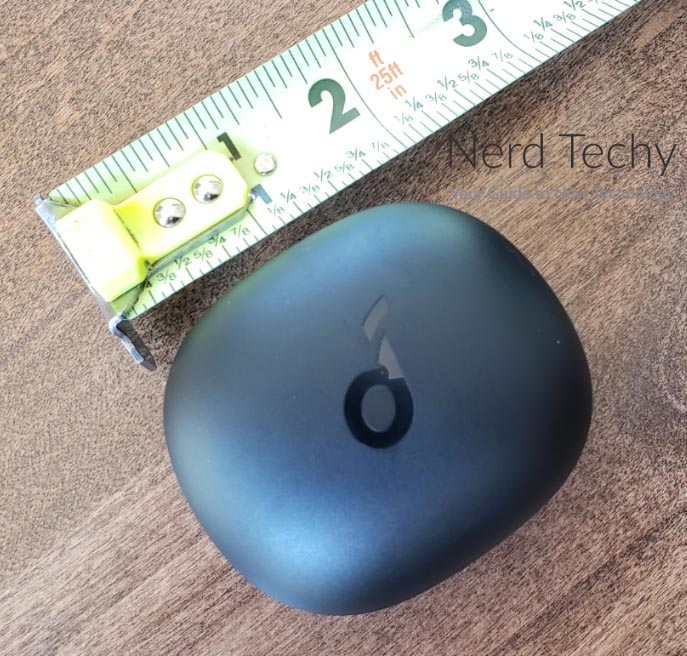 Within the app, you can also utilize a "find my headset" function. This is similar to Apple's "find my phone" feature. When it's activated, your earbuds will beep, revealing their location. Finally, the connection supports both stereo and mono use. If you want to use just a single bud for hands-free calling, you'll be able to do that.
Audio Quality
The Soundcore Life 3's 11mm drivers are about 50 percent larger than your average earbud drivers. This means they can produce more sound, but it's no guarantee of quality. Thankfully, we were pleased with the overall quality of the sound. The highs are crisp and shimmery, and the bass is rich and deep. Just as importantly, there's plenty of separation between the lows and the highs. This leaves space for vocals, and won't muddy them up. Within the app, you can also activate BassUp mode. This mode increases the bass automatically. If you're feeling a little more ambitious, you can customize the entire EQ to your liking.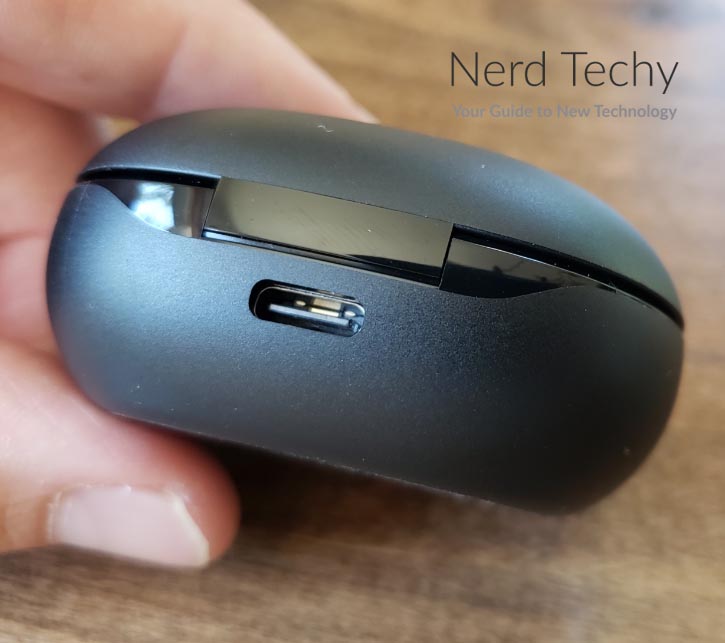 If you want even more powerful bass, consider the Anker Soundcore Spirit Dot 2. It provides exceptional power on the low end, and has a compact, in-ear design. That said, its batteries aren't as powerful, so you won't get as much runtime.
In addition to high-quality audio, the Soundcore Life P3 also gives you the option of an ANC mode. In fact, you get three ANC modes. There are separate settings for public transport, outdoors, and indoors. In practice, there's not much difference between the three, and all three are only moderately effective. This was our biggest disappointment about these earbuds.
That said, call quality is very good. A set of six microphones isolate your voice from the background noise, so you're easier to hear. As is the case with any earbuds or headset, the other person's mic will dictate how well you hear them.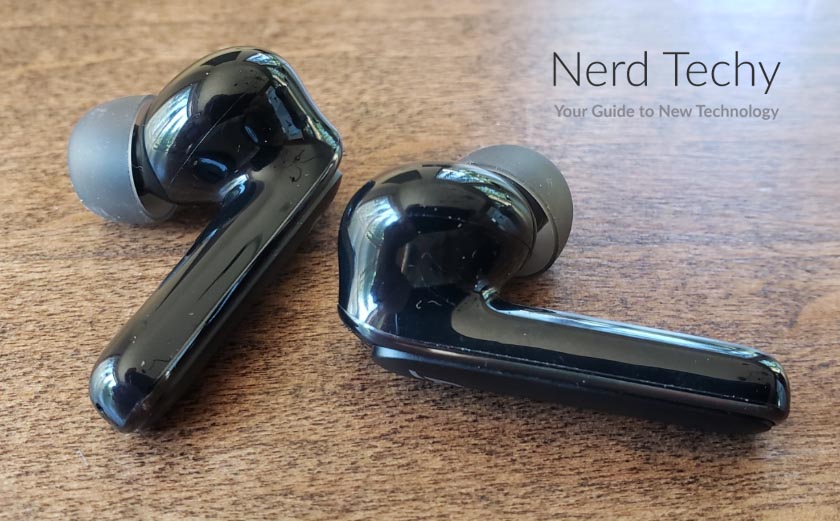 Final Verdict
As you can see, the Anker Soundcore Life P3 are a worthy addition to the Soundcore line. Some complaints about the ANC not withstanding, there's a lot to like here. You get a custom EQ, good all-around audio quality, and long-lasting batteries. If that's not enough, the design is also well put together, with plenty of comfort and versatility.
Meet Derek, "TechGuru," a 34-year-old technology enthusiast with a deep passion for tech innovations. With extensive experience, he specializes in gaming hardware and software, and has expertise in gadgets, custom PCs, and audio.
Besides writing about tech and reviewing new products, Derek enjoys traveling, hiking, and photography. Committed to keeping up with the latest industry trends, he aims to guide readers in making informed tech decisions.