USB volume and mute control knobs are essential tools that provide tactile control over audio levels on your computer or device, serving as a handy alternative to on-screen sliders or keyboard keys.
By offering easy accessibility and quick responsiveness, these gadgets greatly enhance your user experience, whether you're watching videos, listening to music, participating in online meetings, or even gaming in some instances. To help you find the right one for your needs, here are our top five picks for the best USB volume and mute control knobs:
Read on to explore each of these entries in detail, where we dissect all the features, the things we liked, and those we didn't. Our comprehensive review will help you choose the best volume control knob tailored to your needs and preferences.
DROK USB Volume Control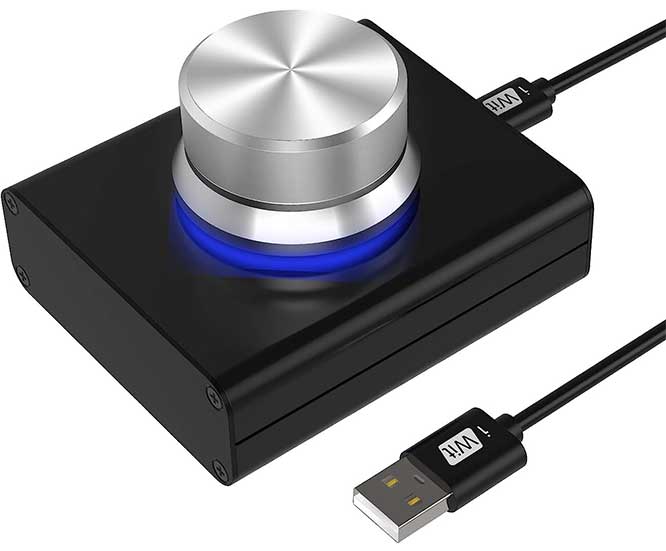 Key features:
Advanced control chip for quick response
Programmable for customizable use
Heavy metal base for stability
Blue breathing light indicates status
The DROK USB Volume Control Knob is a tech enthusiast's dream come true. For one, it's finely crafted and features a robust aluminum exterior that exudes durability. Its construction ensures it can weather daily use and handling with ease while offering smooth rotation that is a joy to handle. And the addition of an ALPS rotary shaft allows for smooth and precise volume control, which users will find both practical and satisfying.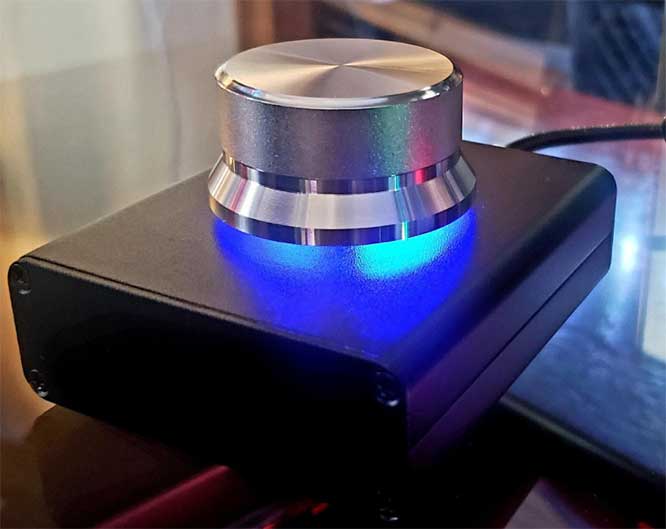 At the heart of it is the advanced control chip, operating at a frequency of up to 16MHz. This provides a quick and responsive interface that reacts instantly to user inputs. In practice, this was evident while switching between media types like YouTube videos, TV shows, and MP4 recordings, where it adjusted the volume swiftly and effectively. Programming the knob is surprisingly straightforward. A short press and connection to a USB port opens a world of customization possibilities, enabling key combinations and working seamlessly with a range of operating systems, including Windows and Mac.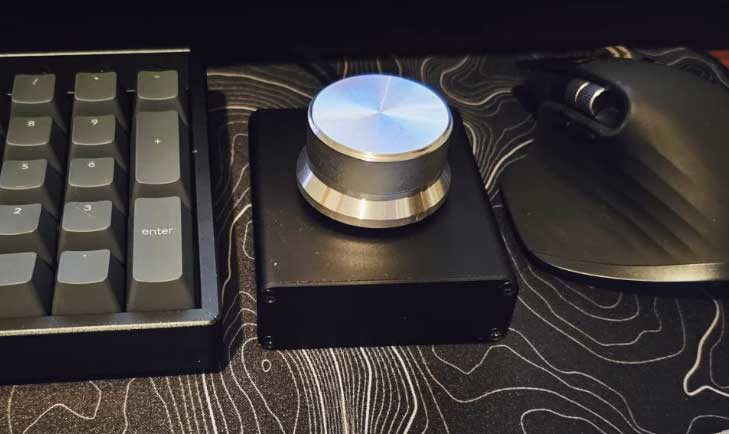 It can even function with Android devices via an OTG cable, though not all phones are compatible. Aesthetically, the knob is accentuated with a blue breathing light. This not only gives it a high-tech look but also indicates its working status and assists in locating the device in the dark. It has a good weight of 6.6 ounces, and its heavy base ensures stability. This is aided by the 3M skid-proof feet. The unit is moderately sized at 6.85 x 4.8 x 3.94 inches, making it a compact addition to any desktop setup.
What we liked:
Robust and durable design
Responsive volume adjustments
Easily programmable
Comfortable to use
What we didn't like:
Not ideal for gaming
Non-customizable LED color
MuteMe Illuminated Physical Mute Button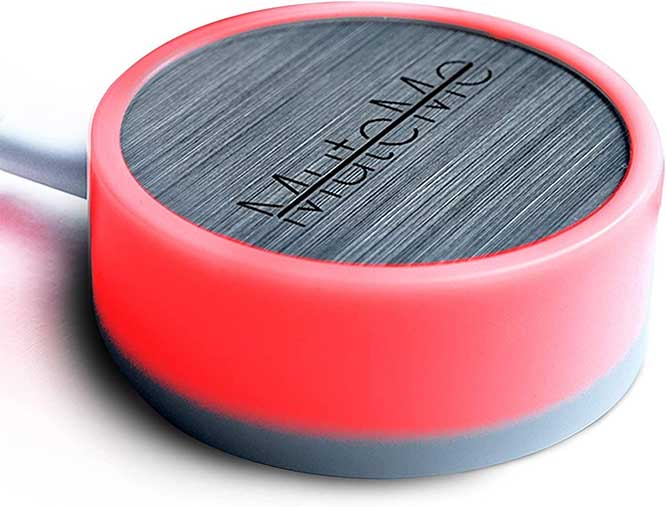 Key features:
High compatibility with conferencing platforms
Multiple microphone control
Compact and portable design
Illuminated mute status indication
The MuteMe Illuminated Physical Mute Button offers a simple, innovative solution to a common problem faced in today's virtual environment. This compact unit is designed to make managing audio on digital platforms less stressful and more efficient, making it an indispensable tool for anyone involved in online meetings or virtual interactions. We like that it's highly compatible – it seamlessly integrates with a variety of conferencing platforms such as Teams, Google Meet, Zoom, and WebEx.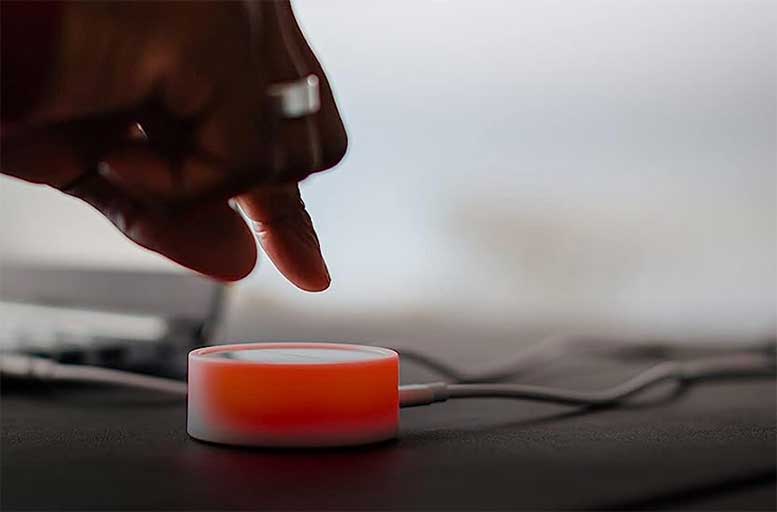 Its intuitive software (available as a free download) allows easy customization to suit individual preferences. Users can choose from toggle mode, push-to-talk, push-to-mute, and sleep mode. There are even options for multi-microphone control along with three distinct sound options when muting or unmuting. This is a nice addition, as it gives you peace of mind that it successfully muted. Another plus is the innovative illuminated design, which features a stainless-steel top for easy cleaning and silent operation.
The capacitive touch feature is noteworthy, too, as it allows for (un)mute without creating noise, making transitions smooth during calls. Moreover, it offers a visual cue of its operation status. It's an addition that helps reduce the chance of awkward meeting moments. Weighing 4.2 ounces and measuring a mere 2.3 x 2.3 x 1 inches, it's both compact and portable. The size, combined with a USB-C cord and adaptor, makes this one an ideal companion for those who need to work from different locations.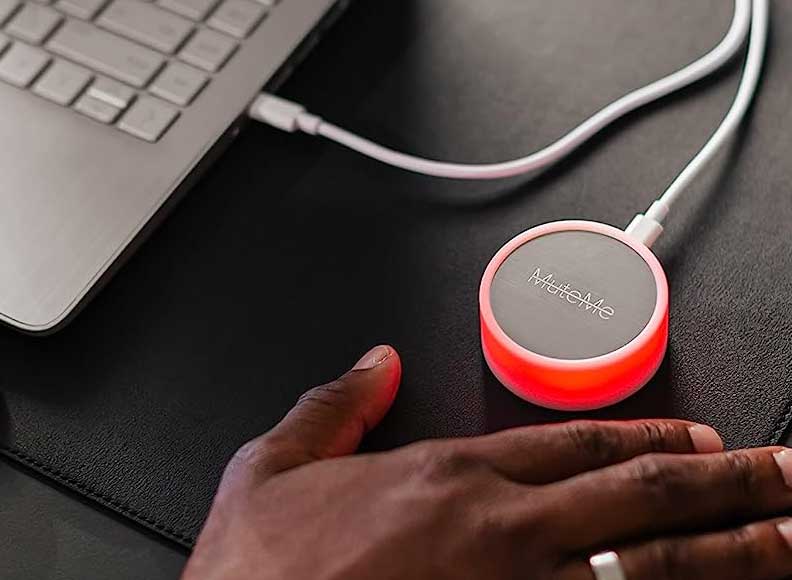 The MuteMe's design ensures it fits comfortably on a desk without taking up much space. During testing, it performed consistently, offering the flexibility to control various microphone types and streamlining the muting process during online interactions. Perhaps most importantly, it effectively boosted productivity by reducing interruptions and enhancing communication during meetings. If you want an easy mute button, this one's definitely worth checking out.
What we liked:
Seamless integration with software
User-friendly, customizable settings
Portable and lightweight
Visual mute status cues
What we didn't like:
No ChromeOS compatibility
Setup can be tricky on Mac
VAYDEER Volume Control Knob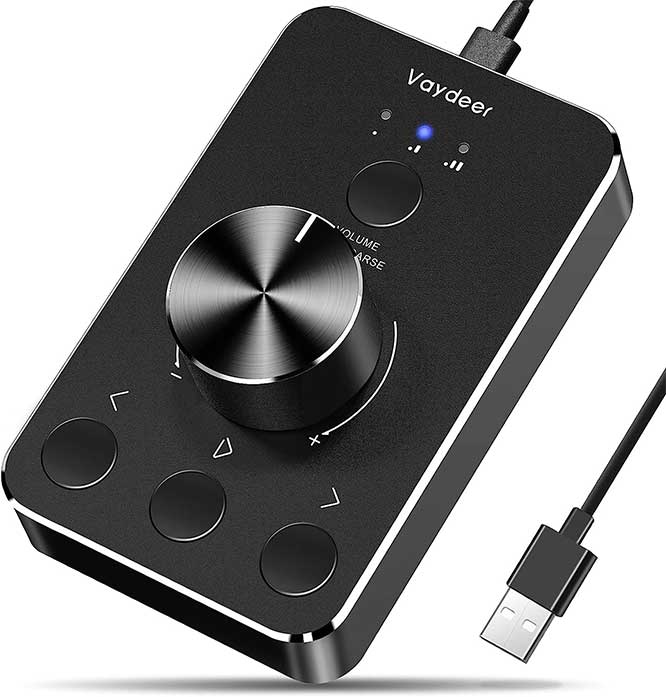 Key features:
Driver-free, plug-and-play setup
One-key mute function
Durable metal construction
Anti-slip, steady design
From Vaydeer comes their Volume Control Knob, a fusion of functionality and style. Compact and lightweight at 2.12 ounces, its dimensions of 1.26 x 2.36 x 3.94 inches make this unit easy to handle and transport. Experiencing this device begins with its no-hassle installation. It's compatible with Windows 7, 8, and 10, as well as Mac. So it starts working as soon as it's connected via USB. As such, the setup process is an exercise in simplicity. We love that it's devoid of complex drivers, offering the freedom to adjust the volume directly through a simple knob rotation.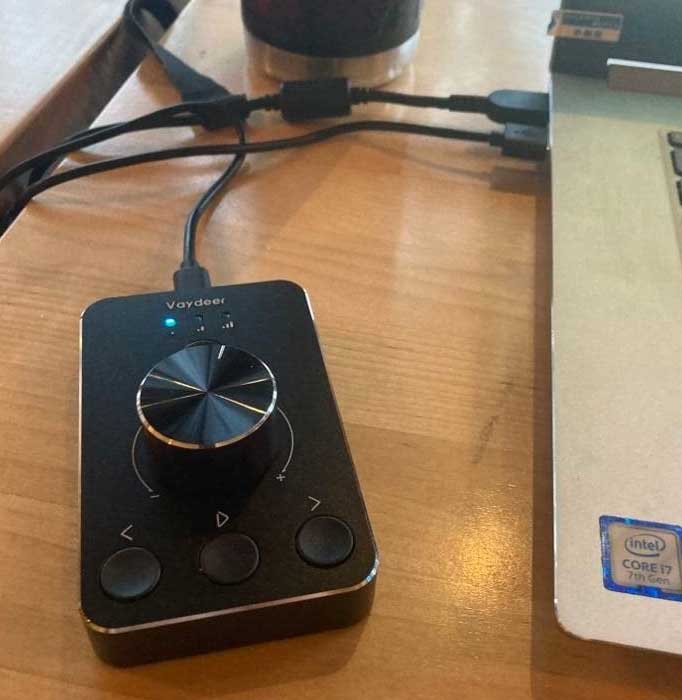 The knob's one-key mute function stands out, as well. This feature allows for quick music muting or unmuting merely by pressing the knob. Users who multitask or frequently toggle between audio experiences will appreciate this addition. What's more, its robust metal shell and solid rotary shaft demonstrate durability, so you can trust that you're investing in a device that's designed to last. The design of the knob strikes a balance between aesthetics and ergonomics.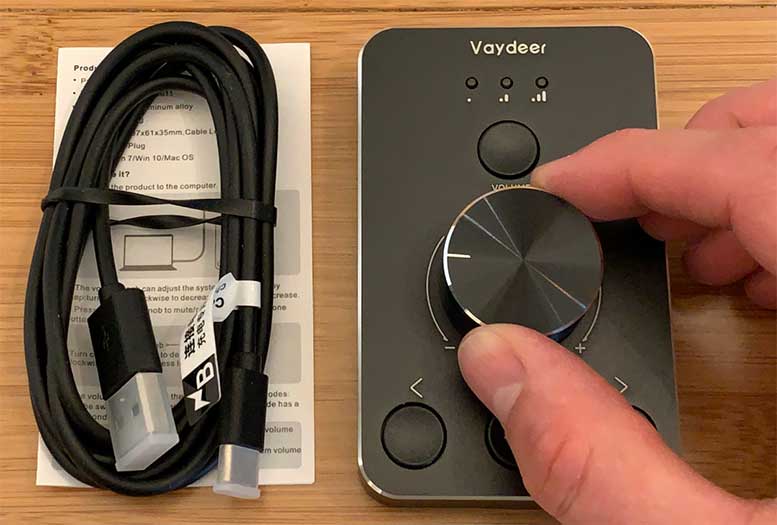 The black aluminum alloy appearance exudes an air of modernity, while the anti-slip mats at the base ensure the device stays steady at all times. A minor drawback, however, is the knob's unrestricted rotation. This design choice can lead to arbitrary positioning and volume uncertainty. Also, swift knob rotations may result in irregular volume changes. Still, the Vaydeer Volume Control Knob offers an elegant solution to PC volume control, proving its worth as a reliable desktop companion.
What we liked:
Compact and portable
Easy volume control
Premium aesthetics
Robust build quality
What we didn't like:
Infinite knob rotation
Irregular volume changes when spun quickly
AIMOS USB Volume Control Knob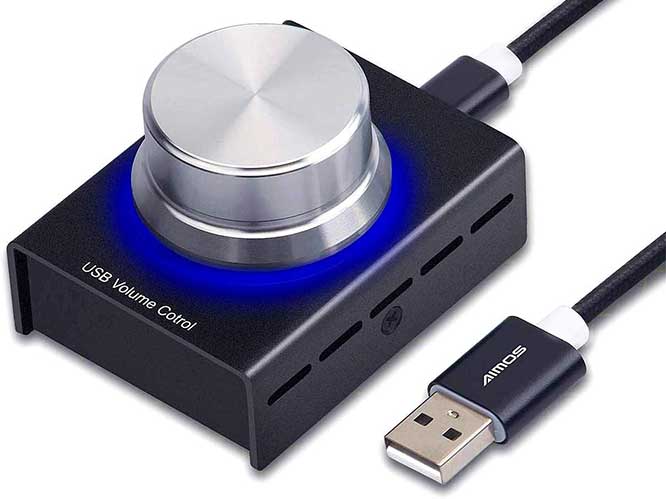 Key features:
Wired plug-and-play connectivity
Interactive blue breathing light
One-button mute function
Double-speed volume adjustment
The AIMOS USB Volume Control Knob makes a noticeable difference in the audio interaction experience. It is a sleek and compact unit, measuring 2.36 x 1.96 x 1.77 inches and weighing 5.5 ounces. Encased in a metallic body, it exudes a professional vibe with its silver knob. Its small footprint doesn't compromise stability, thanks to its weight and four small rubber feet that prevent slipping.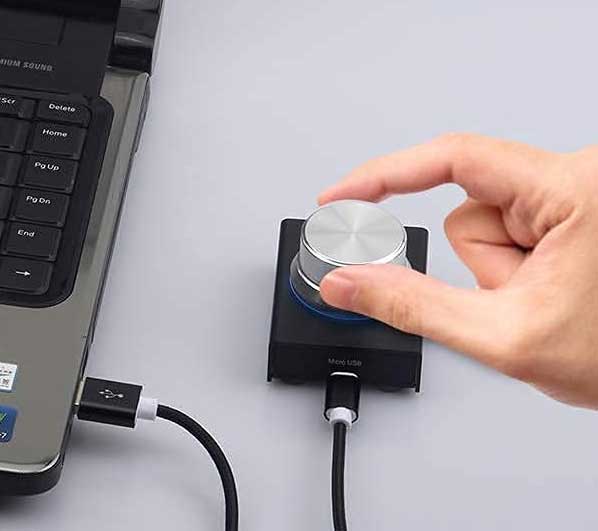 It's wired and plug-and-play, meaning no extra drivers or software are needed to use it. We tested it on various systems – Windows XP through 10, Mac iOS, and even Android devices via OTG – and each time, it seamlessly integrated. We can confidently attest that its connectivity range is impressive. It works this everything from phones to car navigation systems to set-top boxes. Moreover, its functionality is simple yet effective: rotate to adjust the volume and press to mute or unmute. The knob offers two-speed volume adjustment, which is beneficial for built-in speakers or low-powered speakers. The one-button mute function worked flawlessly in our tests and allowed for quick and easy audio control.
One aspect that deserves mention is the interactive blue breathing light, which responds to your operation. The light is soft, adding a subtle aesthetic touch without being a distraction. We like that you get a lengthy USB cable. This thing is nearly 6.5 feet long and provides enough flexibility in positioning it. This lends to a smoother user experience, which is always a welcome bonus.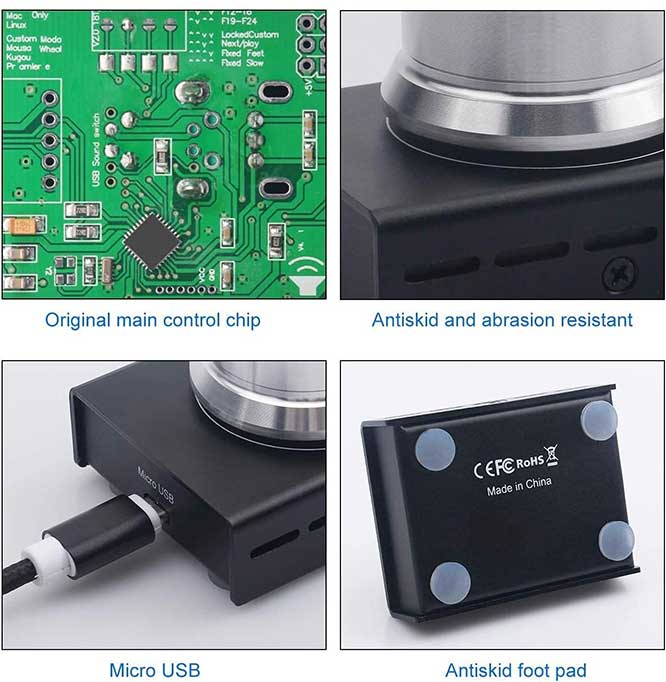 While the knob's quality is overall excellent, we noticed that its machined grip surface wasn't as smooth as we'd expected. Some may find this appealing, but it might be slightly sharp for others. Despite this minor setback, the AIMOS USB Volume Control Knob simplifies audio control, making it a worthwhile addition to any setup.
What we liked:
Wide system compatibility
Long USB cable for flexibility
Compact and sturdy design
Quick response time
What we didn't like:
Machined grip surface not smooth
Potential for outrunning sample rate
LITROK USB Volume Controller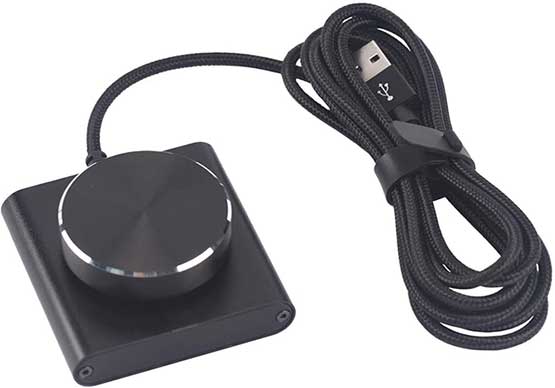 Key features:
Dual-mode for mute and volume control
Compatible across multiple operating systems
Lightweight and compact design
One-key mute and music track control
The LITROK USB Volume Controller is an intuitive device designed to simplify your PC's audio control experience. With its dual-mode function, it offers users the convenience of one-key muting and volume adjustment – simply press the knob down to mute the sound instantly, a feature that proves particularly useful in immediate quiet needs. A quick turn of the knob will adjust your volume while pressing and rotating the knob can change your music track.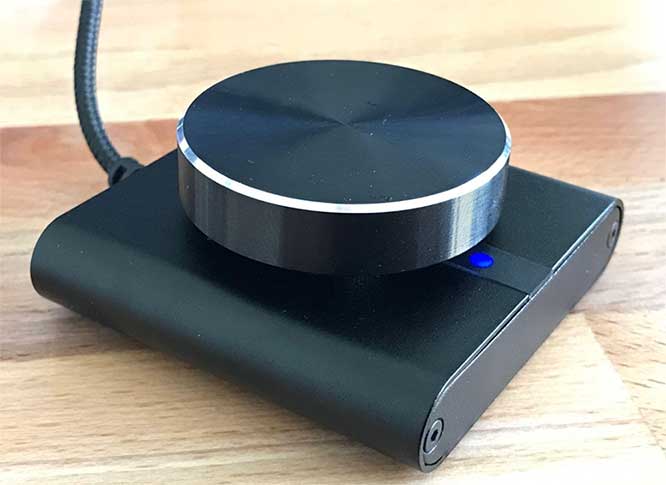 The device shows exceptional compatibility across different operating systems, including Windows XP to 10, Mac iOS, and Android. This allows for seamless operation right after connection with your computer or mobile device. The only catch is that you'll need to provide the right cable adapter for anything that isn't directly USB-A. Still, this wide range of adaptability makes the controller versatile for various activities, such as listening to music, watching videos, gaming, or participating in virtual meetings or parties.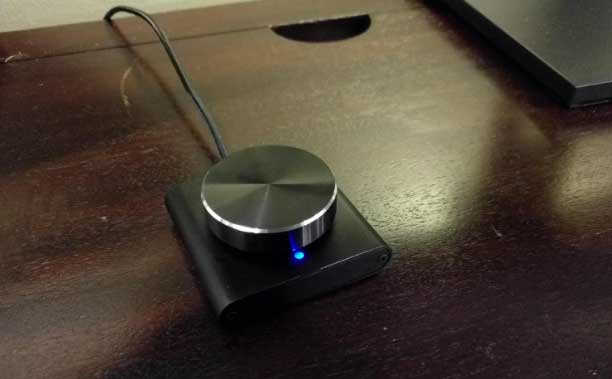 Measuring 2.4 x 2.4 x 1 inches and weighing 3.1 ounces, this compact device takes minimal desk space and feels lightweight. However, its build quality might slightly impact user experience. We noticed the knob can sometimes feel unstable. This is possibly due to the encoder shaft's slight give or play between the knob and shaft. Also, the blue LED light, while aesthetically pleasing to some, was distractingly bright at times. Nonetheless, these are minor issues that don't detract from the overall functionality. LITROK's USB Volume Controller is a nifty gadget that streamlines audio control while delivering performance and convenience.
What we liked:
Instant mute function
No extra power required
Plug and play, easy setup
Good for various activities
What we didn't like:
Slightly wobbly knob
Bright LED might be distracting
USB Volume & Mute Control Knob FAQs
What is a USB volume control knob?
A USB volume control knob is a hardware device that connects to your computer or device through a USB port. It allows you to control the audio volume more conveniently and precisely than using on-screen sliders or keyboard keys.
Why do I need a USB volume and mute control knob?
A USB volume and mute control knob can greatly enhance your user experience, particularly if you're involved in activities that require frequent volume adjustments, such as watching videos, gaming, listening to music, or participating in online meetings. The knob offers quick and tactile control over the audio levels, which is more responsive and accessible than digital controls.
Are USB volume control knobs compatible with all operating systems?
Most USB volume control knobs offer high compatibility across different operating systems, including Windows, Mac, and even Android. However, you should always check the product description to ensure compatibility with your specific device or operating system.
Final Verdict
All of our entries have earned their places due to their distinct features and capabilities. Starting with DROK's USB Volume Control, this one stands out with its customizable use and quick response. MuteMe's Illuminated Physical Mute Button is an indispensable tool for online meetings due to its high compatibility and intuitive mute design.
Next up, Vaydeer's Volume Control Knob shines with its driver-free setup and anti-slip design, while AIMOS's USB Volume Control Knob impresses with its interactive light feature and wide system compatibility. And lastly, the LITROK USB Volume Controller offers versatile control with its dual-mode function for mute and volume control. Regardless of your specific needs, each of these options can substantially improve your audio control experience.