Most people never saw it coming. USB charging sockets are now a part of our lives. Lithium-ion batteries are making their way into basically every type of portable electronics. Whether you're trying to recharge your smartphone, a tablet, or one of a thousand other devices, it's increasingly done through USB.
USB has been around for decades, and because it's adaptable to the future, it will stay around for decades. Which is why USB charging sockets are becoming just as common on electrical wall receptacles as ordinary 3-prong outlets. You don't want to be in the situation of deciding between having your TV plugged in, or being able to charge your phone. And you don't want to be at the mercy of being able to find your special USB adapters.
If you or anyone in your building owns even a single electronic device, it's going to be worthwhile to have these sockets anywhere those people use their device. That doesn't mean you need to convert every port in an entire building to having USB sockets, but they can be particularly prudent for living rooms, bedrooms, and bathrooms.
Choosing a USB Wall Receptacle
You don't need to be an electrician to choose a good USB wall receptacle. Even if you're experienced with this kind of home installation, you don't want to be second-guessing the quality of a USB wall receptacle. You just want it to work. And you shouldn't lose one of the two standard outlets in the process, unless that's what you want.
But you will need to have a good idea of what it is you expect from charging outlet. Depending on your needs, seemingly small details can make for big differences in real world use. Those differences are mostly played out in charging times and the port types of an outlet.
Significance of Amperage
Amperage determines how fast you can charge your stuff. Having one amperage is good for charging a smaller battery over a longer period of time. For example, a one amperage socket will need most of the evening to finish charging your smartphone. You'd want to plug it in before bed, and you'd be in terrible shape if you forgot.
The amperage rating of the USB outlet specifically is what you need to look for. Don't confuse this with the amperage of the outlet. If a manufacturer doesn't tell you the amperage for each USB port, you can just divide the listed amperage across all ports.
For example, if the amperage is listed as 2A and there are two ports, then each port is one amperage. By contrast, 4.8A socket would help charge a modestly sized 1500mAh battery about 20% faster than using the 2A socket. These charging speeds aren't night and day differences. But they add convenience, and they certainly add up to significant time differences when you're charging bigger batteries.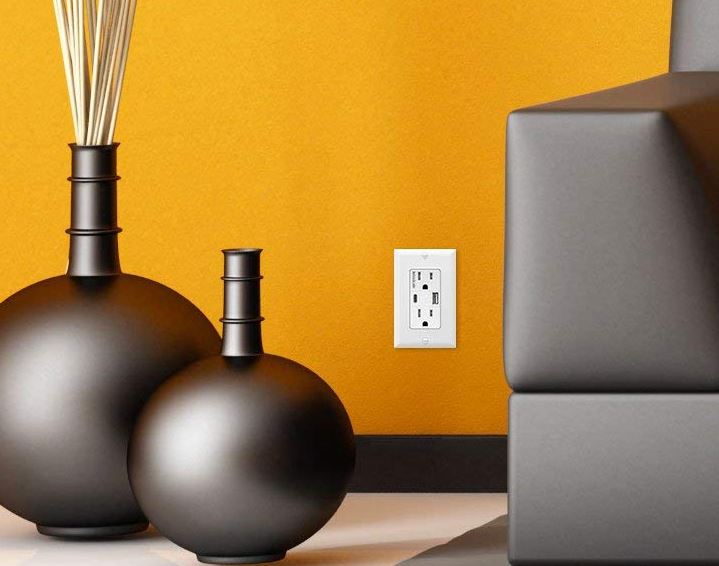 Outlet Size and Layout
If you ripped a standard wall outlet from your wall, you'd find it's not much thicker than your thumb. But USB outlets are about twice as thick. This detail matters because some older homes use shallow outlet boxes. In those homes, you'd need to replace the in-wall box in addition to the charging outlet. This isn't an issue in newer homes, since the swap to modern outlets occurred generations ago.
Aesthetic and Safety Features
Anytime you're changing a part of a home or room, aesthetic is going to be of some concern. Most receptacle charging outlets look fairly similar, so your biggest concern will be matching the coloring of your location. And most USB wall receptacle charging outlets are available in a handful of different common colors.
As far as safety certifications, UL-rated outlets are the only way to go. And looking out for UL listing is pretty important because charging outlets constructed poorly are more prone to becoming a fire hazard. The UL certification indicates a product follows very specific and stringent safety requirements. The right USB wall receptacle charging outlet may even go well beyond those requirements, implementing their own additional safeguards.
Other Considerations
The USB format has both the standard USB header and the micro-USB header. Those are important differences in the form factor of the plug itself. You'll want to think about the devices you and others use, and if there's a preponderance of support for one type of header over another. And as a rising star in the world of USB, you might want to lookout specifically for a USB-C port. It's an increasingly common format, and it's poised to be useful for years to come.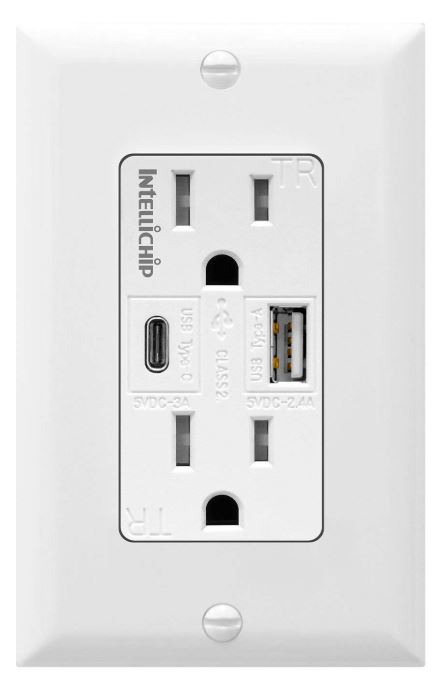 TOPGREENER
How much technology can you cram into a single outlet? The TOPGREENER answers this question in such a way that makes it almost certain to be the best choice for most people choosing a USB outlet. It does that with inclusion of both USB Type-A and Type-C charging ports. It does it with IntelliChip technology. And all without skipping a beat on safety regulations.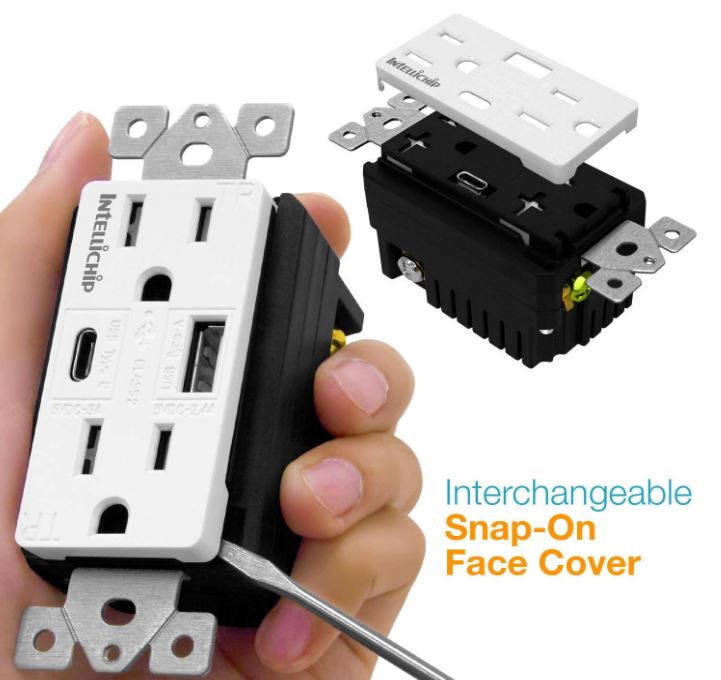 Build & Aesthetic
The physical plate uses the standard 5.1 x 3.1 x 2.2-inch build. And it's composed of rugged hard shell plastic to protect from collision. That makes the plate sturdy enough to be installed in both commercial and home environments.
The TOPGREENER USB Outlet includes a variety of face cover, distinguished solely by their color. These additional covers help you adjust the TOPGREENER outlet to better match a room without having to bust out a bucket of paint.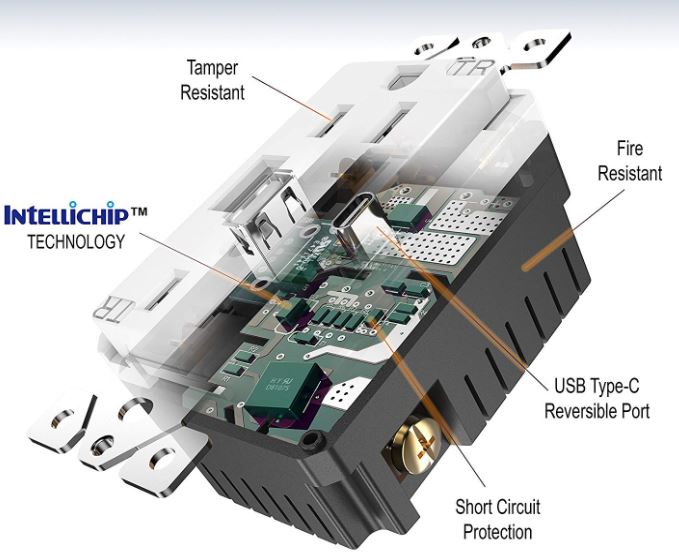 Ports & Power
It's a 5.8A dedicated to USB services is split between the USB-A and USB-C. The Type-A connection draws 2.4A, while the Type-C connection draws 3A. And those ports can provide just about everything you could ask for. You maintain strong charge speeds even with two devices going at the same time. Fancy features like QUALCOMM quick charge isn't supported, however.
The 15A tamper resistant receptacle is constructed to help ensure people don't accidentally or intentionally stick foreign objects into the charging socket. And most important of all, the TOPGREENER is UL listed, so you can trust it's of electrically sound design. All that's left for safety concerns rest solely on the person who does the actually installation.
Ease of Installation
Within this receptacle, you'll find short circuit protection, a fire-resistant wall box, and tamper resistant switches. As for the primary plugs themselves, they're a pair of 15A outlets, both with a tamper-resistant design for optimal safety and a hard-to-fail installation process. And on the high tech side of things, the built-in IntelliChip technology can even help prevent battery overcharge for your USB devices.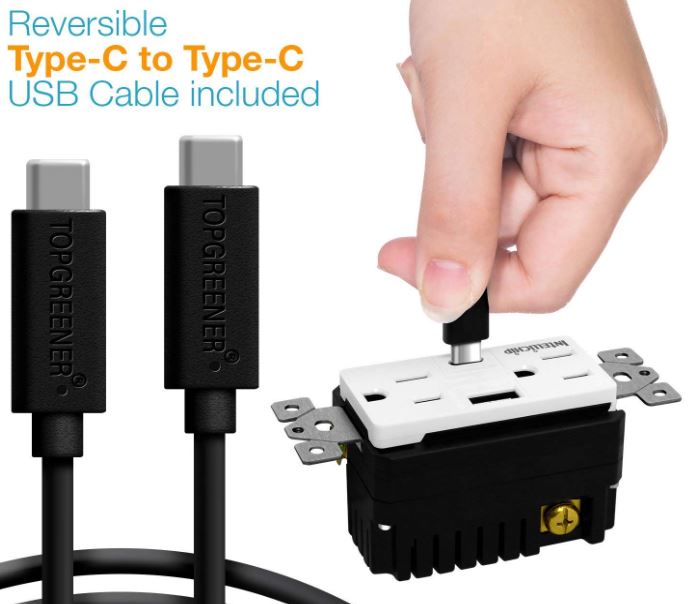 Back in 2015, hover boards quickly became one of the best-selling and most popular Christmas gifts of the year. Over the next few weeks, a slew of boards exploded, burned out, or burned down homes. Make no mistake, having the right outlet isn't going to be able to save you from fundamentally flawed electronics. But having the right outlet is very well capable of stopping that kind of serious damage in a variety of unfortunately common circumstances.
Other Considerations
TOPGREENER describes their receptacle as meeting the NEC Article 406.14R. That's basically a very technical way of pointing out their device follows the rules dictated by the National Electrical Code.
Snapping on the various colored covers is quite easy. This kit includes the white face cover that is pre-attached to the base, a black cover, and light almond cover. It also includes a 3.3 foot USB Type-C cable that terminates in a USB Type-A connection. That's a great little addition for people who are just getting started in the format.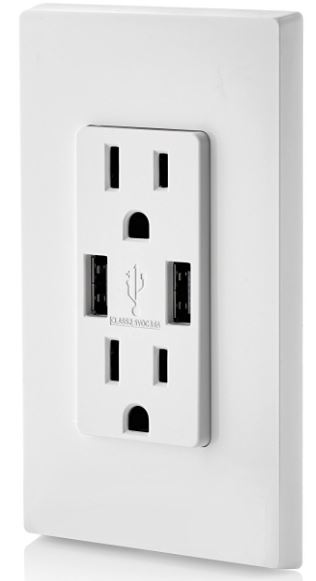 Leviton T5632-W Tamper Resistant Duplex Receptacle
If the name didn't give it away, the Leviton T5632-W offers two vertically aligned high-powered USB ports. The USB ports have been nearly positioned between the two traditional power outlets. With a reasonably impressive 3.6A charging capacity, the T5632-W leaves little to be desired. And like with the TOPGREENER outlet, Leviton uses smart-chip technology to their benefit.
Build & Aesthetic
Out of the gate, the Leviton T5632-W has some strong aesthetic advantages. It's available in a wide range of common colors, including white, light almond, ivory, gray, brown, and black. But you'll want to keep in mind that this receptacle does not include its own protective face plate. You'll need to use face plates you've already got installed within a building, or purchase additional plates separately.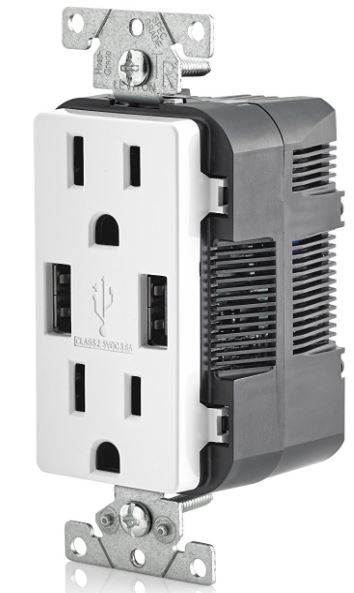 But it's not all just pretty design. The plugs themselves are vertically aligned to provide more space, and to reduce the stress placed on inserted USB cables. Within this receptacle, you'll find much of the same modern tamper-resistant technologies used in the TOPGREENER unit. And the Leviton T5632 uses smart-chip technology helps recognize the specific power requirements of a device that's attached, and then optimally charge that device in response.
Ports & Power
Each USB port uses the common Type-A connector, which will be advantageous for people who aren't currently using the Type-C connections. With this receptacle in place, you don't need to invest in a bunch of different USB adapters for every device you purchase over the next decade. It allows you to just use the wall socket as a centralized location for charging your smartphones, tablets, and so forth.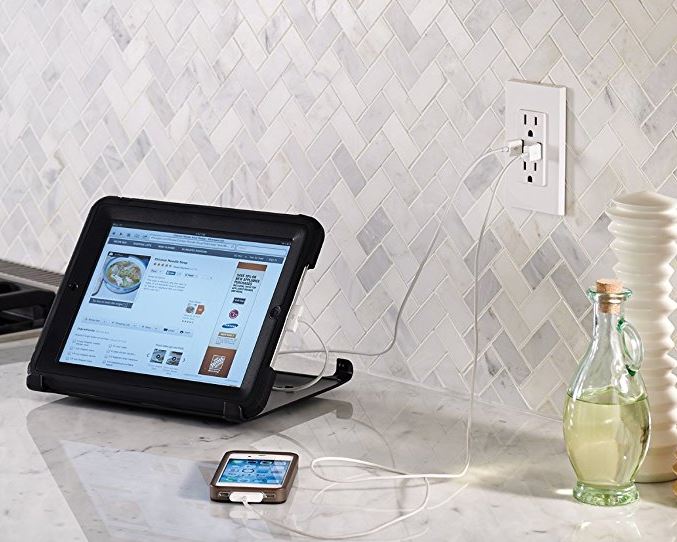 Ease of Installation
The T5632-W is back and side wired, so alongside the compact design, installation is quite a breeze. You don't have to punch a giant hole in the wall just to get all the necessary room to safely install the box. And the design of the Leviton charger makes the setup process rather simple, even if you don't particularly have this kind of experience working around the house. And if you decide to use more than one of these USB wall receptacle charging outlets, the T5632-W can be multi-ganged alongside other Leviton devices.
Other Considerations
As with TOPGREENER, Leviton complies with the National Electrical Code requirements. This kit includes the duplex receptacle, the USB charger, and two mounting screws. It doesn't include the faceplate which you place over the receptacle.
The T5632-W is available in a 1-pack, 3-pack, 6-pack, and 8-pack. This receptacle was already a fairly economical choice, but it only gets more economical as you continue to upgrade each additional outlet. And each of these USB wall charging outlets enjoy enjoys a five-year warranty from Leviton.
Choosing Between Two Excellent USB Wall Receptacle Charging Outlets
The TOPGREENER TU21548AC and the Leviton T5632-W have a number of things in common. With respect to safety standards, both have passed rigorous certification. Both share the same essential layout, and both offer the same number of USB ports.
But the TOPGREENER uses a 2.4A USB type-A port, and a 3A USB Type-C port. You're either going to be able to use that Type-C port, or not. If you've got a smartphone that takes advantage of the Type-C port, the TU21548AC is going to be a no-brainer. And the installation gets a little simpler with the inclusion of their "unbreakable" plate cover for the outlet.
By contrast, the Leviton T5632-W offers a pair of 3.6A USB Type-A ports, with no Type-C port connection. For connecting an individual device, you'll get fast charge on your electronics than with the TOPGREENER receptacle. But that charge will slow down if you decide to plug in two USB devices at the same time.
If you've got a real thirst for Type-A slots, then having two ports is much better than having one. That makes the Leviton T5632-W the right choice for people who are only using Type-A connections, and truly need to make use of both ports on the receptacle.