From the very beginning, Sony's PlayStation consoles have been among the best on the market. When the original PlayStation debuted, it quickly became the first console to ever sell 100 million units. The PlayStation 2 outperformed the original. Not only did it spell the end of Sega as a console manufacturer. It also crushed the Xbox and Nintendo GameCube in terms of sales. The PlayStation 3 and PlayStation 4 have continued that tradition of excellence. They may not have had the same level of domination as the PlayStation 2, but they've both been major players. Moreover, they've both outsold the competition.
There are many reasons for this success. First, the graphics and performance have been better than the competition. This difference has been marginal, enough that most users wouldn't notice. But it's definitely a factor. Most importantly, Sony has done a fantastic job of attracting some of the hottest exclusive games. In general, if you want the largest possible library, the PlayStation has been your best option. But another reason for the PlayStation's success has been the consistency in controller design across console generations. There have been minor improvements over the years, but the general design has remained the same.
Note: At no extra cost to you, we may earn a commission for purchases using our links. Learn more.
For most users, this is a good thing. You could use the same old familiar controller without the need to readjust with each new console. But what if you want a different design? Or what if you want a wired controller that doesn't need battery replacements? In that case, you might want to consider a custom, wired PlayStation controller.
Today, we'll be reviewing three of the best wired PS4 controllers that money can buy. First, we'll review the HORI Mini Wired PS4 Gamepad. This gamepad sports a rectangular, non-traditional design that offers different ergonomics from the default PS4 controller. Next up, we'll look at the Etpark PS4 Wired Controller. This is a more traditional controller, but it sports rubbery grips for better control during intense gaming sessions. Finally, we'll review the NACON Wired Compact Control. This controller is the closest of all to the standard PlayStation controller, but with better construction. Which one is the best? Let's take a closer look, and find out!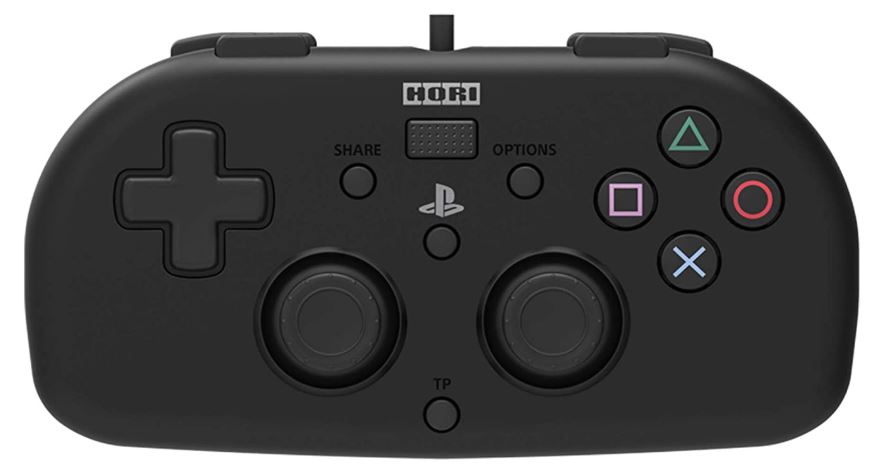 HORI Mini Wired PS4 Gamepad
HORI is a well-known manufacturer in the game accessory world. In the past, we've reviewed their Nintendo Switch Split Pad Pro, as well as some specialized gaming earbuds. Because of this history of quality, we were excited to review the HORI Mini Wired PS4 Gamepad.
The first thing you'll notice about this gamepad is its unique shape. A standard PS4 controller has a pair of grips, which are a great ergonomic feature. For most people, they provide a comfortable way to hold your controller. However, they can be problematic if you have small hands. The reach required for the thumb sticks, in particular, can be troublesome. This is a particularly significant issue for children. If you need a controller with an easier reach, the Mini Wired PS4 Gamepad is an excellent choice. In fact, it's 40 percent smaller than a standard Dualshock 4 controller. This makes for an easy reach, even for players with very small hands.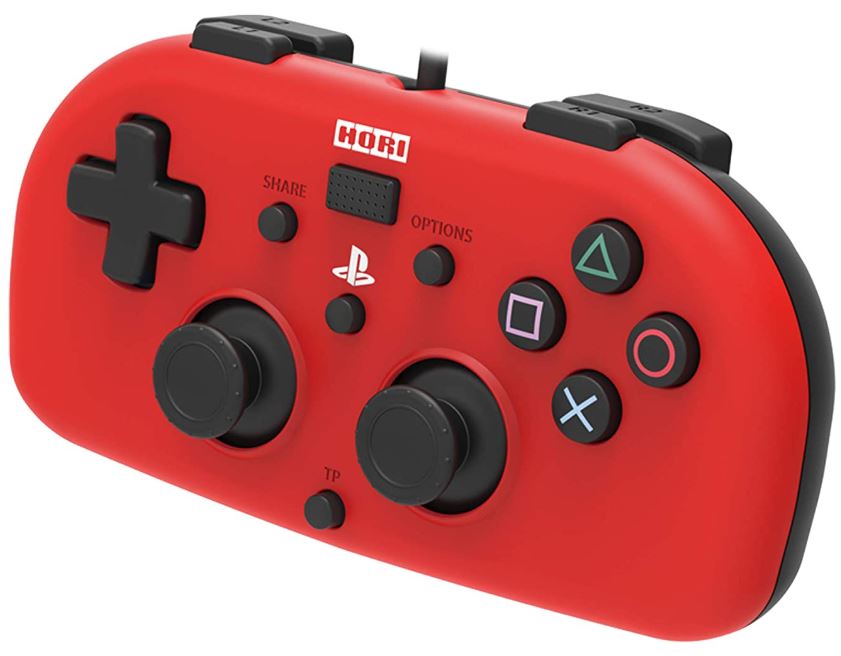 In fact, the overall design is reminiscent of the Nintendo Switch JoyCon controller. It has a mostly rectangular shape, with curves at the top corners. Not only that, but the skin is constructed from rubber, which makes for an easy grip. Even if your hands are very sweaty, it's easy to hold onto. It's also available in two colors: black or red. This is another unmistakable similarity with Nintendo Switch controllers. The colorful design lends a bit of flair to any home entertainment system.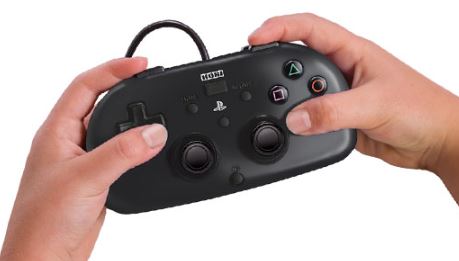 The HORI controller features a 10-foot cable, which provides enough range for most purposes. Even in a fairly large room, you won't have to feel like you're hugging your PS4 console. It also features the same controls as other PS4 controllers. The main difference you'll notice here is the triggers. Instead of a large R2 and L2 trigger, the lower and upper triggers are similarly-sized. They have a relatively soft touch, which makes for good ergonomics, but can be inconvenient for shooters.
This controller is also officially licensed by Sony. This means it's guaranteed to work with all PS4 games. It also means that if it damages your console, your warranty will still be honored. Not that this should be an issue. But whenever you're using a third-party component, it's nice to have that type of reassurance. That said, you won't get all the functions you'd expect from a standard DualShock controller. There's no light bar, speaker, or motion sensor. You also won't get the advantage of a built-in headset jack, and there's only a single motor. Then again, you still get the convenience of a wired controller.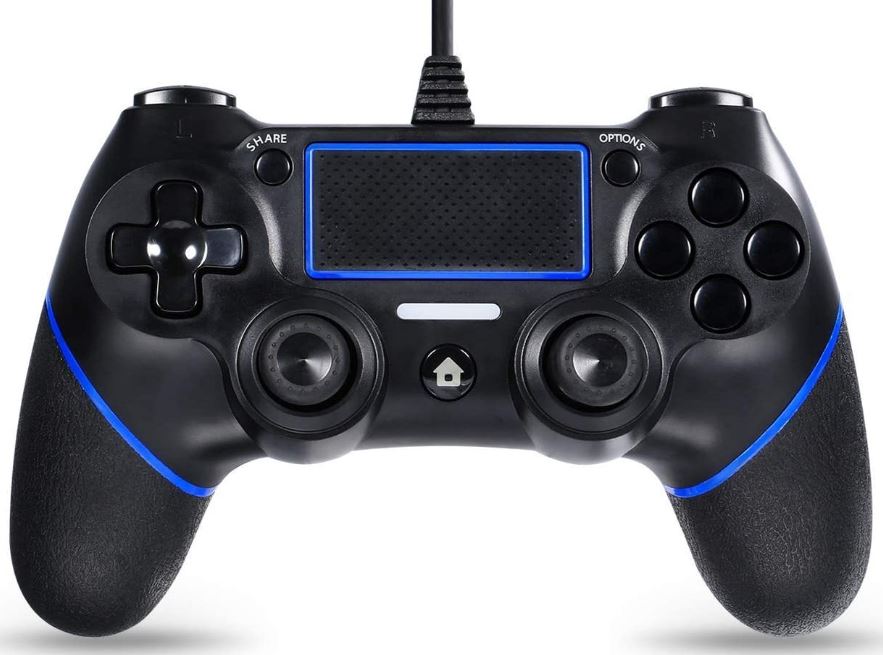 Etpark PS4 Wired Controller
The Etpark PS4 Wired Controller has a more traditional design. Instead of a rectangular shape, it had your standard 2-grip design. This makes it well-suited for PS4 players who want a traditional grip, but don't want to be encumbered by batteries. That said, there are still a few differences between the Etpark controller and a DualShock controller worth noticing.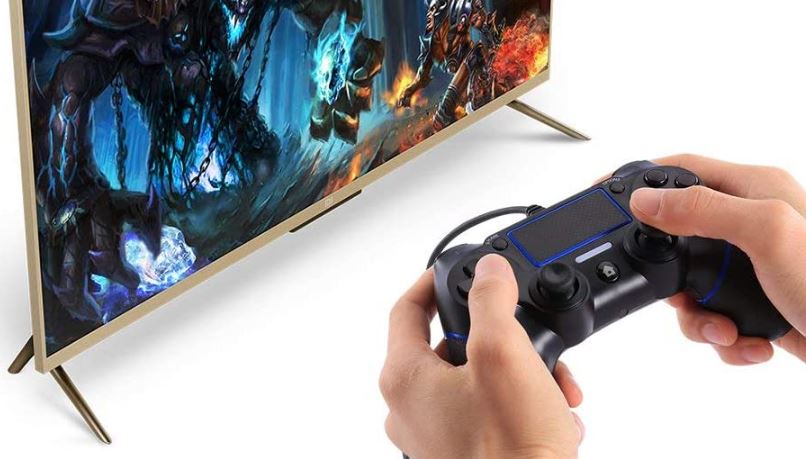 To begin with, the two grips are rubberized, which is different than the slick plastic of the DualShock controller. You won't have any issues with a secure grip here. Even if you have sweaty hands, you'll be able to hold on just fine. This makes it an excellent choice for long gaming sessions, particularly for demanding games. In addition, the rubbery grip is also comfortable. As a result, if you've got sensitive hands with bony pressure points, you're well set up.
The design is a flat black, just like a standard DualShock controller. But it does have a bit of flair to set it apart from the original. The center touch pad is surrounded by a fluorescent blue ring. There are also blue highlights on the grips. Admittedly, this is purely cosmetic, but it does add a pleasant touch of color. One thing we didn't like: the cord length. It's only six feet long, which can pose a problem in some larger living rooms.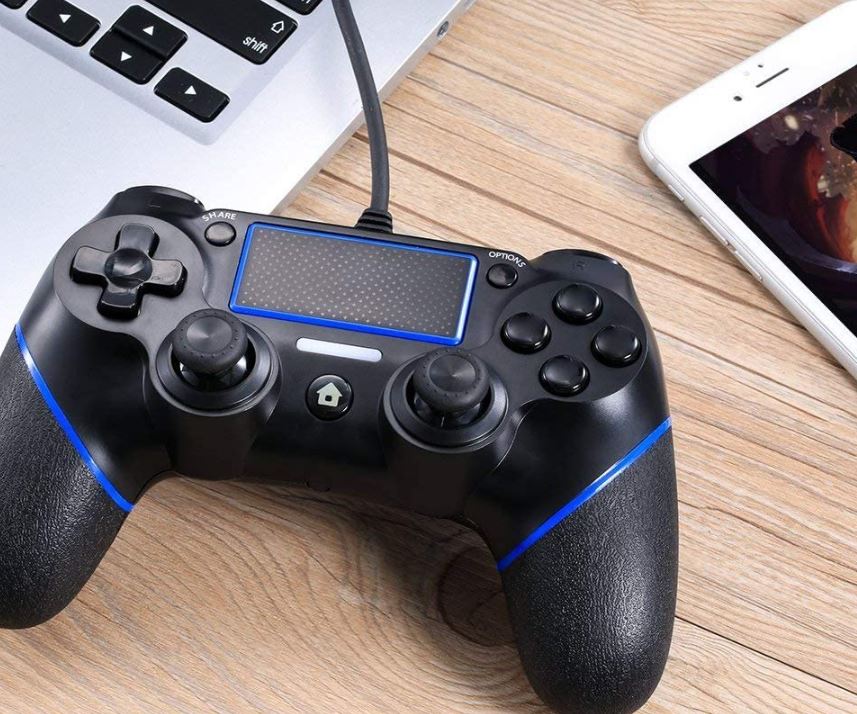 In terms of functionality, you get most of the same features you'd expect from a DualShock controller. As the name implies, you get a pair of rumble motors for excellent tactile response. You also get the same 3-axis performance the PlayStation controller is famous for. Tilt the controller as needed for games that support this feature. Keep in mind, though, that there are also a few limitations. To begin with, the center pad is just a tactical button. It doesn't have the same touch features as a DualShock controller. You also don't get an audio jack or mic port. If you want to use a headset, you'll need a wireless or USB headset.
In addition, the Etpark PS4 Wired Controller is also compatibles with Windows machines. However, you'll need to install some drivers to make this function work. Go to Etpark's website to find the right drivers for your controller.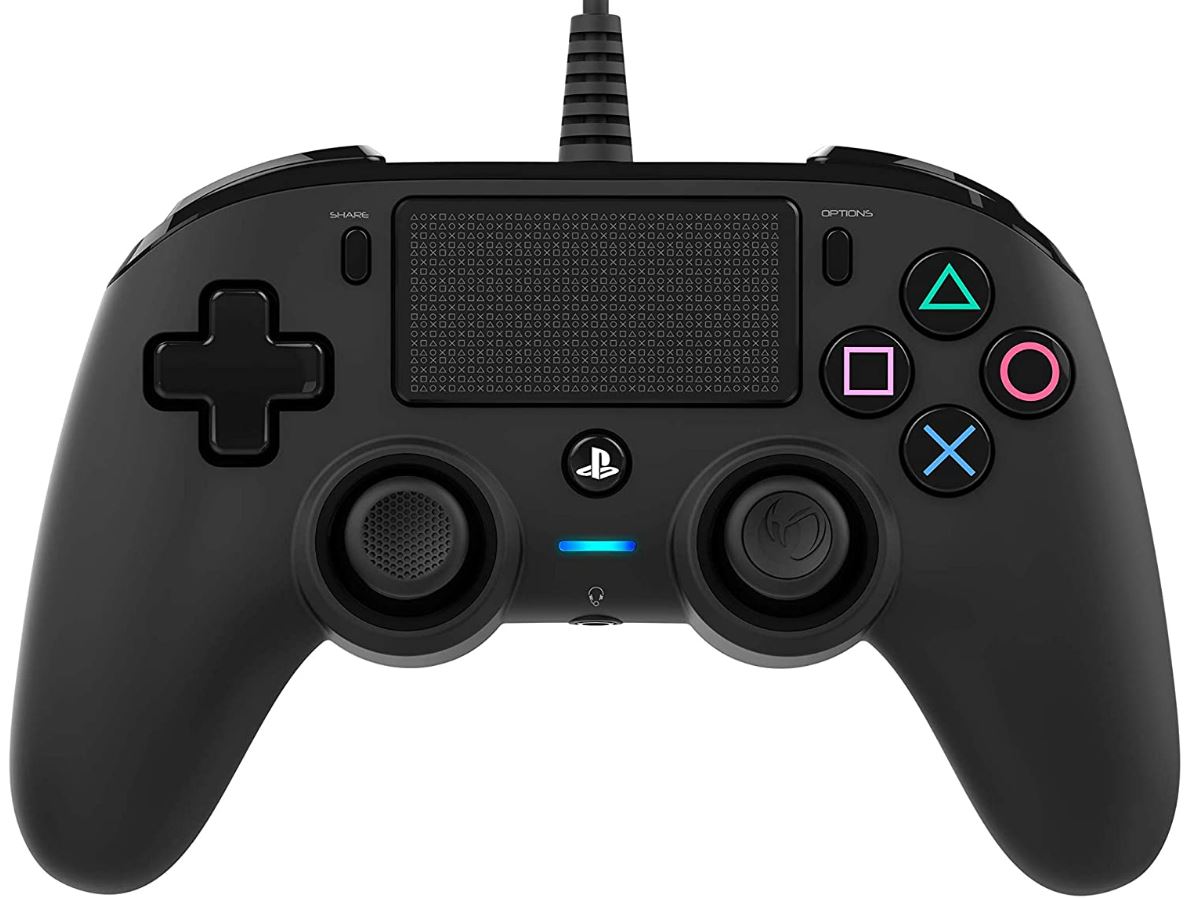 NACON Wired Compact Control
Of all the options on our list, the NACON Wired Compact Control is the most similar to the original DualShock. It has a virtually identical form factor, complete with a matte black ABS case. If you like the stock PS4 controller, but you want a wired design, it's an excellent choice.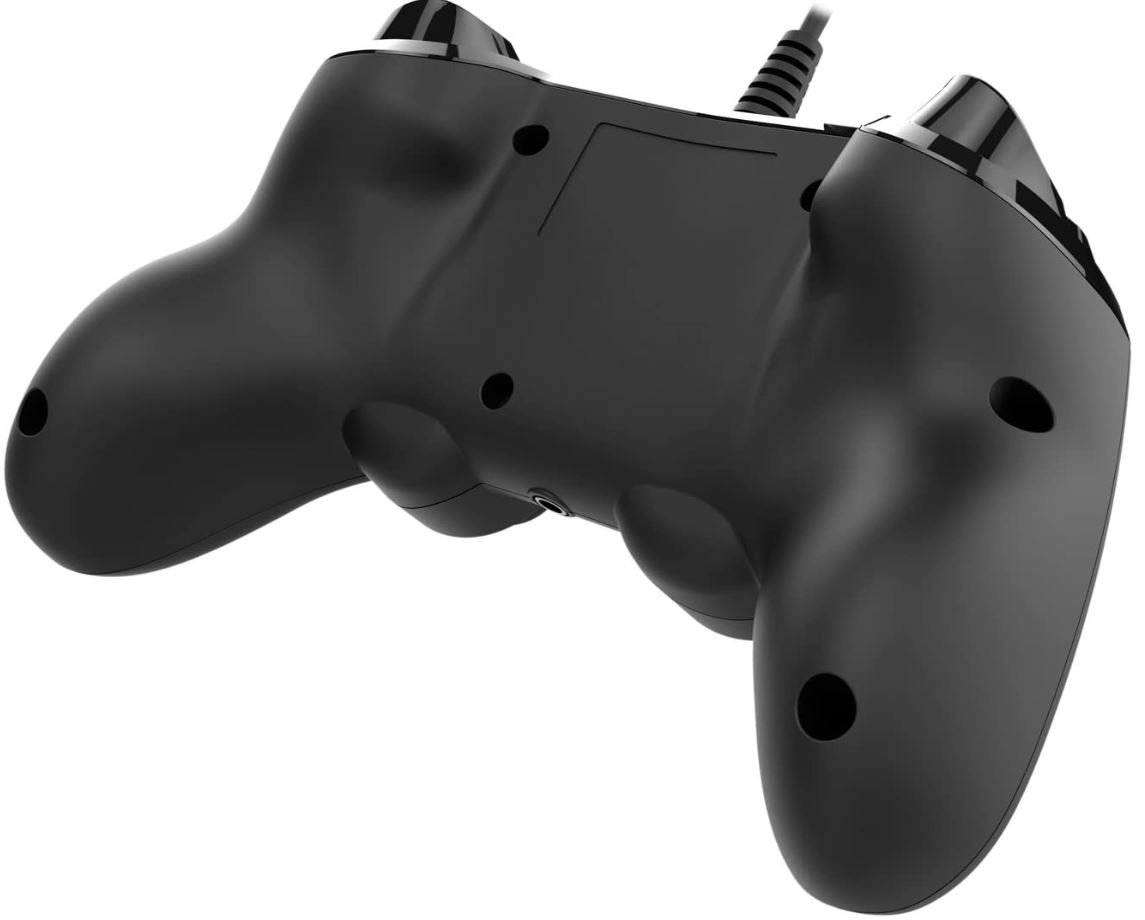 You're looking at a very similar design, with the same form factor as the original. This comes complete with the original triggers, which are very responsive. The touch pad is also fully functional, albeit with some modifications. In particular, it sports a pattern of the PlayStation's four button icons, in a repeating series. This adds a bit of flair to your controller, an attractive aesthetic touch that most people are going to appreciate.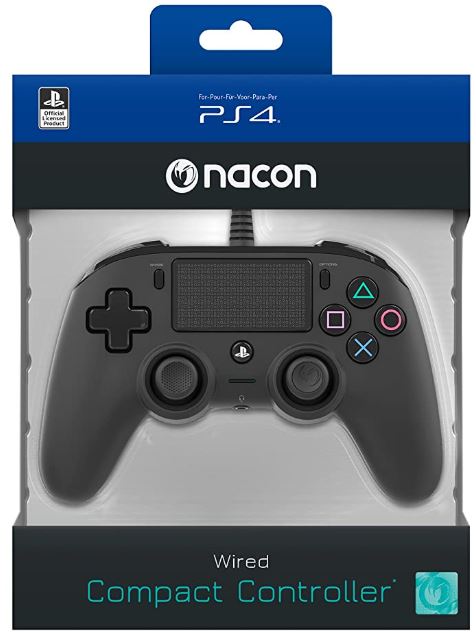 The cable is 3 meters in length, or just under 10 feet. This provides plenty of reach, even for a relatively large room. It has a rubbery finish, which can get a bit sticky if your cable gets tangled. That said, it provides plenty of protection from damage. Even if your controller takes a lot of abuse, you won't have to worry about durability. The NACON controller is up to the task. There's even a 3.5mm headphone jack in the bottom, between the two grips. For single-player gamers, this isn't going to be much of a benefit. But if you love to chat with your friends in multiplayer, the ability to use a headset is an essential feature.
The NACON Wired Compact Control is compatible with most PC games. Keep in mind, though, that this will require some configuration. You'll also need to install the proper drivers before you start gaming. But once you're set up, you're looking at a great dual-purpose controller.
Final Verdict
Which one of these controllers is the best? As with a lot of technology, it depends on your needs. Let's take our three options in order. To begin with, we looked at the HORI Mini Wired PS4 Gamepad. This is the most unique choice, since it has a rectangular design. It's ideal for people with smaller hands, since there's not as much reach required to operate the thumb sticks. Better yet, it has a 10-foot cord that accommodates larger rooms. On the other hand, it's only compatible with the PlayStation 4. There are no PC drivers, so it's basically a single-purpose controller.
Next, we looked at the Etpark PS4 Wired Controller. This is a more traditional controller, albeit with improved ergonomics. The rubberized grips are an excellent feature, particularly if you enjoy marathon gaming sessions. Not only that, but the Etpark controller is compatible with PCs. On the downside, it only has a 6-foot cord. This can be problematic if you game in a large room and need a bit more reach.
Finally, we reviewed the NACON Wired Compact Control. This controller has the same feel and form factor as the original DualShock. Not only does it look and feel the same, it also features the same functions. You can take advantage of a headset, and also enjoy the feel of dual rumble motors.
Please consider sharing:
Note: At no extra cost to you, we may earn a commission for purchases using our links. Learn more.