Owners of gaming consoles know how annoying it can be when your wireless controller dies in the middle of a gaming session. Sure, you can just slap in a fresh set of batteries, swap to another controller that's sitting at the recharging station, or even plug in a super short USB cable, but none of these prevent the problem from happening in the first place. For all their conveniences, wireless controllers do have that main downfall. To combat this issue, we really like wired PS4 controllers.
What is a wired PlayStation 4 controller?
A wired PS4 controller is basically the same as what you'd expect from a normal PS4 controller, except it isn't wireless. Instead, it comes with a built-in power cord that plugs into the device so that it never dies while playing games for countless hours.
How long are the cables on a wired PS4 controller?
The cable length varies depending on the controller that you choose. In general, they'll be around 6 feet long on average. One downfall is that many of these controllers can't use a removable USB cable, so the cable length you get it with is often what it will always have to be without custom modifications.
Can I use a wired PS4 controller with other platforms?
Yes! One common place to use a wired PS4 controller is on a computer. Many gamers who transition from console gaming to PC gaming end up missing their controller for gaming. Some games even feel weird if you don't play them on a controller.
That's where these types of controllers are great since you can just plug them in and start playing your favorite games. Some of these controllers can also be used on PS5 as a wired option. However, if you use it for your PS5, make sure it's going to be compatible before purchasing.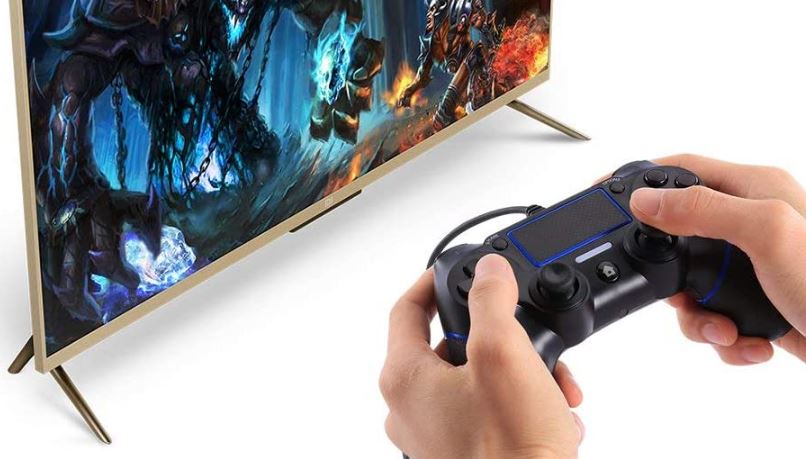 What styles of wired PS4 controllers are there?
There are a few different styles of wired PS4 controllers to choose from. The first is just a controller that looks like the standard DualShock4 controller, with the only difference being the attached wire. Some controllers opt to go a bit bigger and bulkier, making them feel better for those with larger hands.
On the flip side, some of these controllers are also designed to be extremely compact. This is great for storage or for gamers with really small hands so that it's a more comfortable experience. Regardless, you'll likely be able to find a style that suits your needs and preferences.
What Potential Drawbacks Are There To A Wired PS4 Controller?
While they are a great solution for the main issue of your controller dying during long gaming sessions, there is one main drawback to having a wired controller like these. That drawback is you're limited to the length of cord that the controller has. Since it isn't wireless, you really have to play games within whatever length it has, and it might not fit with how you have to play games.
One scenario this is particularly true in is when you're gaming on a normal TV in your living room on the couch. In this scenario, you'll want to find an option with as long of a cord as possible. On average, the cords will be between 6 and 10 feet long. To help ensure you don't have issues with it, we'd always recommend getting as long of a cord as you can.
That all being said, if you're using this at a standard gaming setup where you're playing on a monitor at a desk, the cord length is almost never going to be an issue. In these scenarios, this isn't going to be a notable drawback.
Best Overall: Nacon Compact Wired PS4 Controller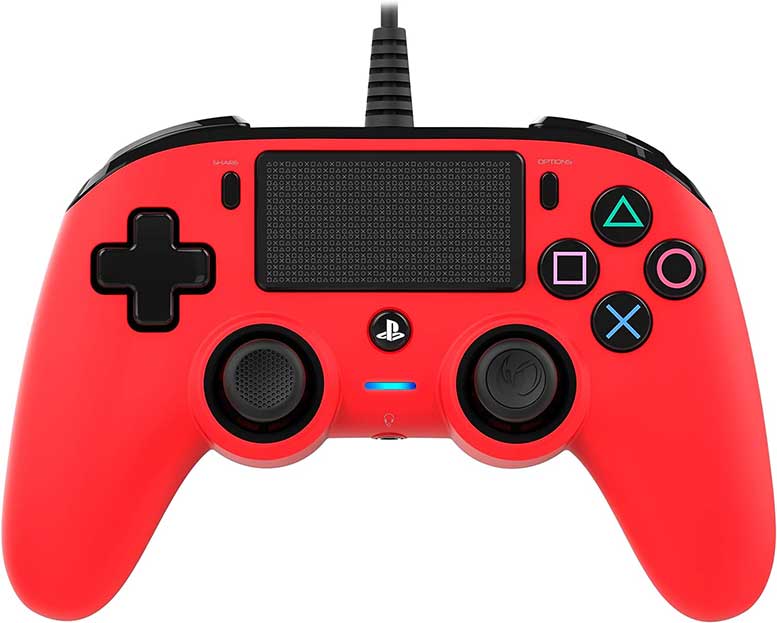 Key Features:
Standard DualShock design
Traditional button layout
Non-removable power cord
10 foot USB cord
Our best overall pick that looks almost identical to a DualShock controller is the Nacon Compact Wired PS4 Controller. This controller is available in either red or orange and is nearly indistinguishable in look from what you're used to. The body of the controller is covered in a soft touch material to help it from slipping after long hours of gameplay.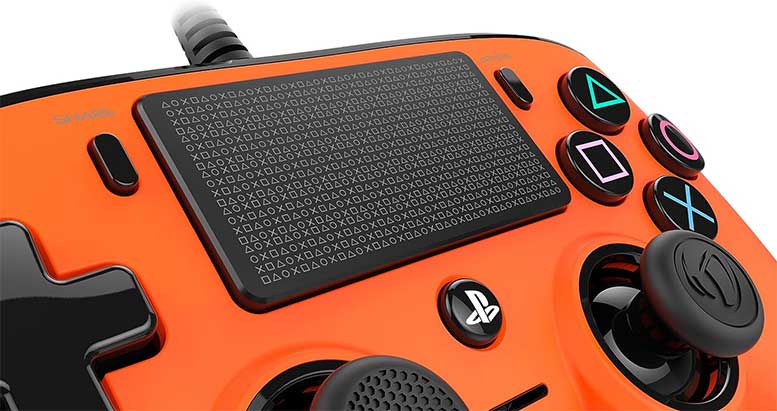 The button layout on the controller is also almost identical to a standard DualShock controller. The thumb sticks are at the bottom, with the d-pad and other buttons above. In the center, you'll find the touchpad with a PlayStation pattern printed on it. Additionally, the x, square, triangle, and circle buttons have the type print on them. Finally, there's also a 3.5mm headphone jack on the bottom so you can plug your headset directly into the controller.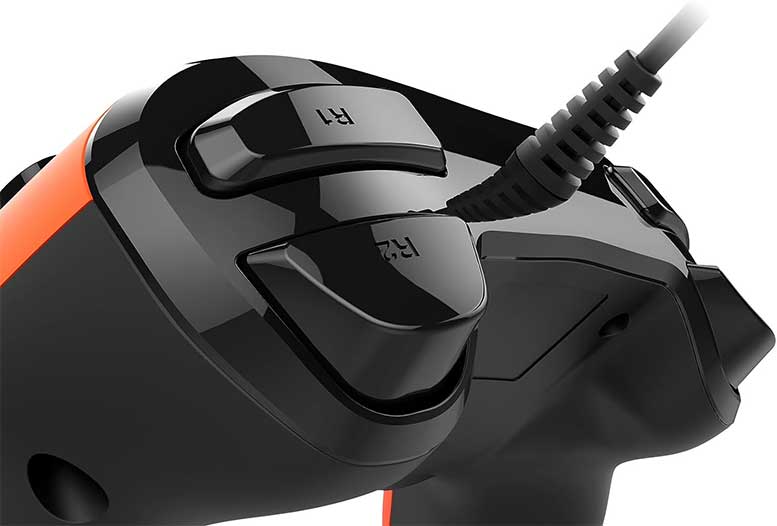 The cord used on this controller is built directly into the device. It measures 300cm in length which is just a hair under 10 feet. This makes it one of the lengthiest options currently available, giving you plenty of maneuverability and freedom.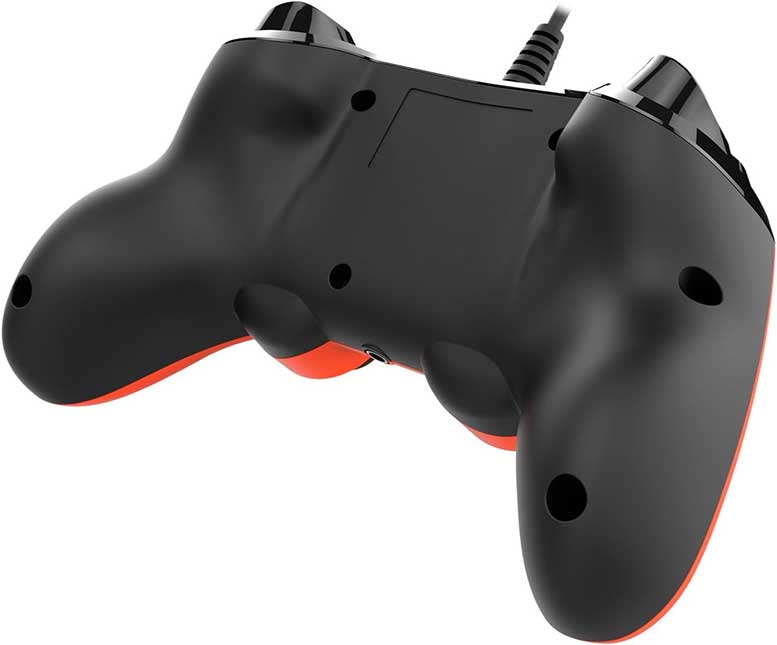 If you're looking for an almost identical copy of the traditional DualShock controller, the Nacon Compact Wired PS4 Controller is a good option. It has some nice quality-of-life changes, like the power cord and textured concave thumbsticks. The nonslip material surrounding also makes it much easier for an entire day of gaming.
Pros:
Two color options
Nonslip soft touch material
The large touchpad in the middle
Traditional PS4 controller layout
3.5mm jack included
Cons:
Cord cannot be removed
Some reviewers note that stick drift can occur after a while (in rare instances)
Best Runner-Up: Mayfan Wired PS4 Controller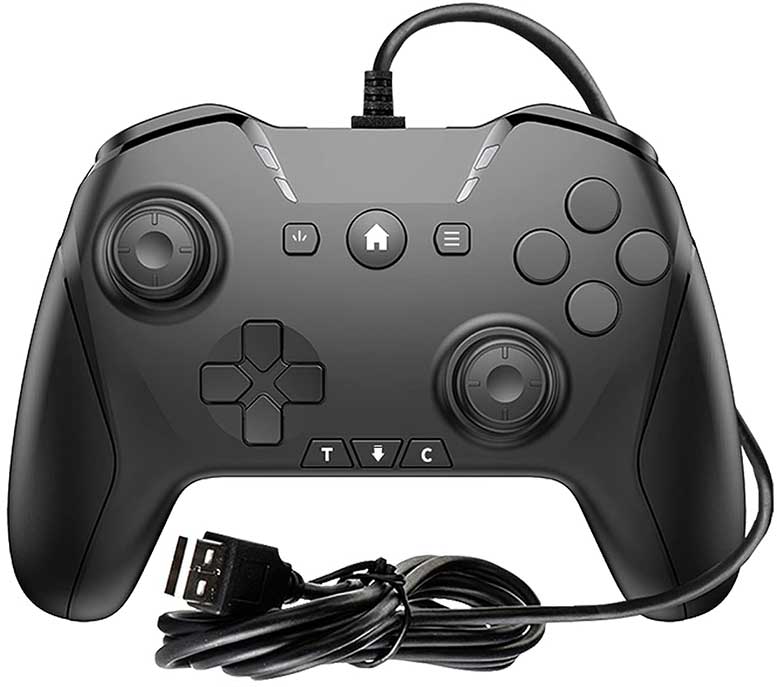 Key Features:
Unique design
Non traditional button layout
6 foot USB cord
A great runner-up option with a unique design is the Mayfan Wired PS4 Controller. This controller goes away from the traditional PS4 DualShock design, as it's much bulkier and switches the overall look up quite a bit. The controller itself is completely dark gray, with no additional accents or color options available.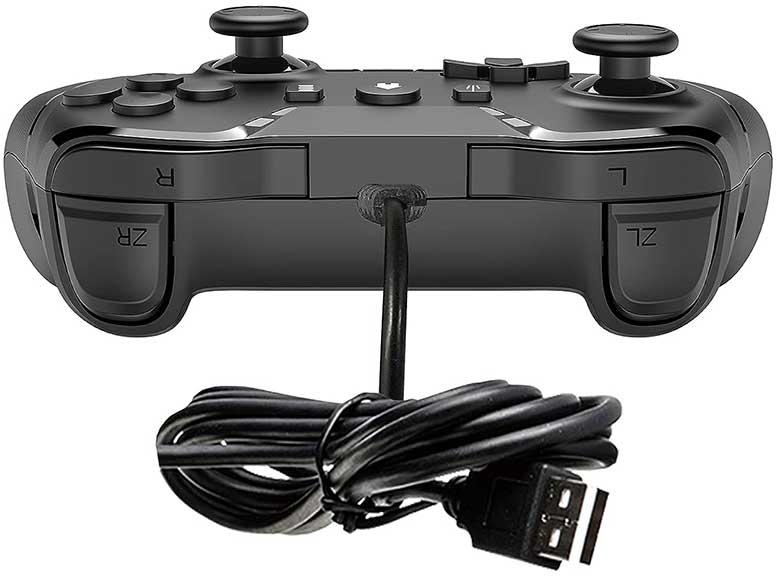 As for the buttons, it has the main ones that you'd expect. There are also three additional buttons on the bottom of the controller for additional functionality. The layout is also different when compared to a normal PS4 controller. The left thumbstick switches places with the d-pad, so it has a staggered setting. This makes it look much more like an Xbox controller. This is either a good thing or a bad thing, depending on your preferences. One issue it does have is the lack of a touchpad, which may limit functionality in some games.
The cord used on this controller is six feet long. Similar to the Prodico (listed below), it isn't removable. This makes it suitable for the same use cases as well since you'll likely struggle to sit on the couch and use this controller without getting very annoyed.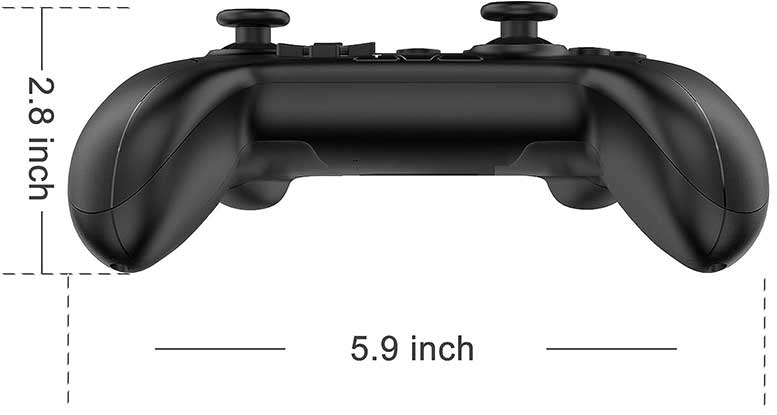 Inside the Mayfan Wired PS4 Controller are also dual vibration motors to help with shaking the controller according to whatever is happening on the screen while you're playing your favorite game. Overall, this is a solid choice that is designed with gamers in mind. It has a great layout (especially if you love the layout of Xbox controllers) and is great for your gaming setup.
Pros:
Xbox layout for buttons
Minimalist color scheme
Six-foot power cord
Dual vibration motors
Cons:
No touchpad
Cord cannot be removed
Best Compact: HORI PS4 Mini Wired Gamepad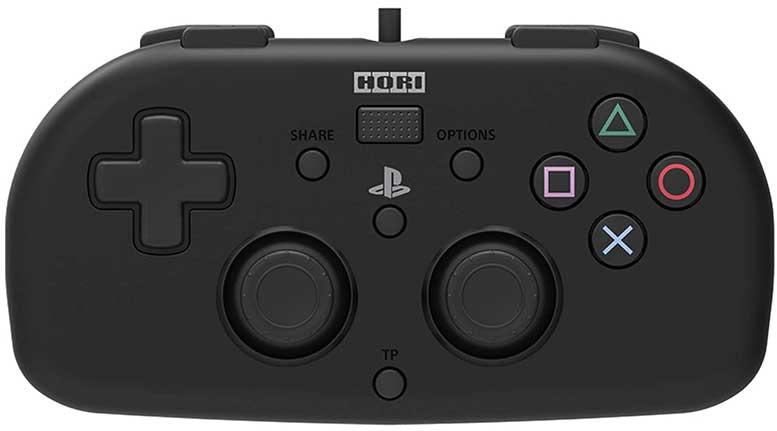 Key Features:
Unique compact design
Standard button layout
Two color options
10 foot USB cord
If you want something completely different and as compact as possible than the other options, then the HORI PS4 Mini Wired Gamepad is the right controller for you. This is basically what would exist if you asked for a combination of a PS4 controller and a Nintendo Switch Joycon. It's available in either black or red and is extremely compact, pushing everything together in one small package. For comparison, it's 40% smaller than a traditional DualShock PS4 controller.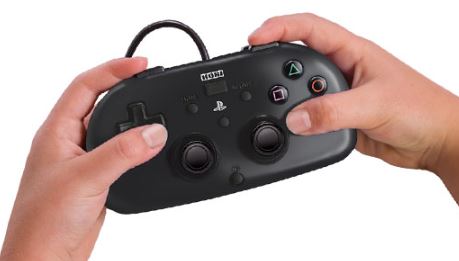 Even though it's compact, it still has all the same buttons in relatively the same layout as a normal controller. The thumbsticks are on the bottom, with everything else above it, as you'd expect. They even included a touchpad in the middle, although it's more of an extremely small button instead. They were even able to print the type on the x, square, triangle, and circle buttons.
Another great feature of the HORI is the power cord. Where the other options on the list are six feet long, this one is ten feet long instead. This gives you even more flexibility in where and how you can use it. You might even be able to play this on the couch without having any issues.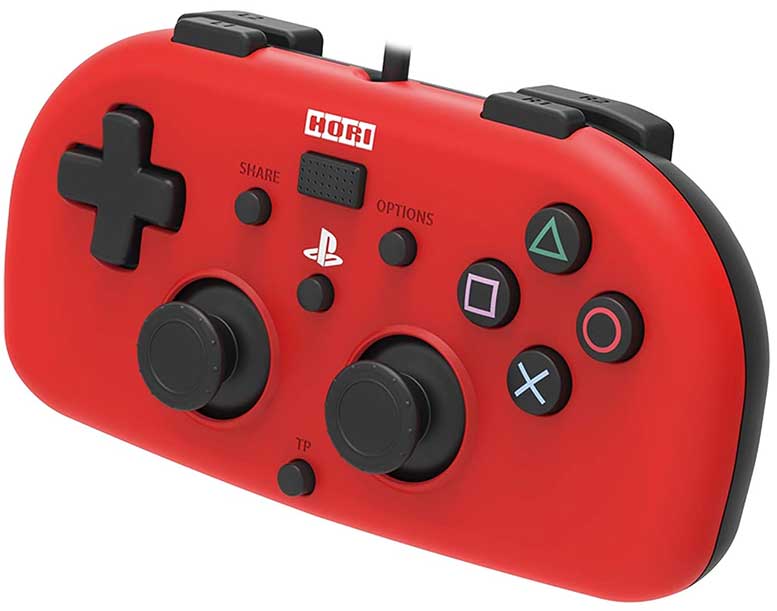 With the HORI PS4 Mini Wired Gamepad, you get everything you need in a compact design. It's perfect for those with smaller hands or for gamers who just prefer the feel of a smaller controller. The fact that it has its size without sacrificing functionality, even with the touchpad, is a great reason to consider getting this for your gaming setup.
Pros:
40% smaller than a traditional DualShock PS4 controller
Has all the buttons it needs in a regular layout
Ten-foot power cord for additional versatility
Available in black or red
Cons:
No haptic feedback motors
Cord cannot be removed
Best Budget: Prodico PS4 Wired Controller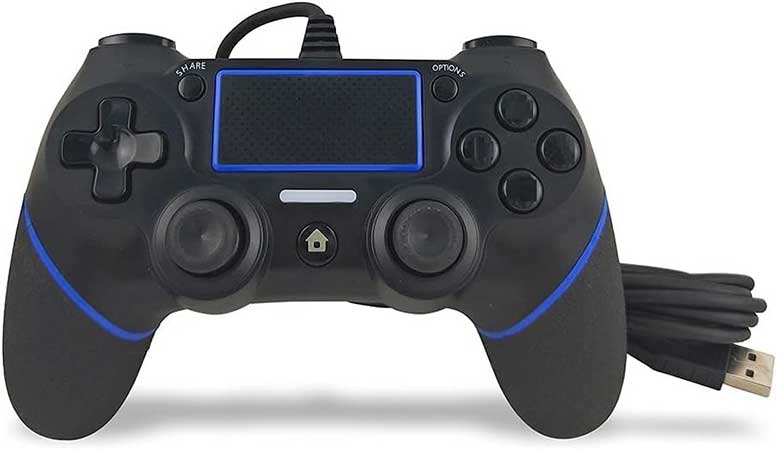 Key Features:
Standard controller design
Regular buttons in a standard layout
6 foot USB cord
As far as wired PS4 controllers go, the best budget choice is the Prodico PS4 Wired Controller. This controller looks just like the DualShock controllers that you're used to doing but has a permanent wire attached to it. It's primarily black in color, although it does have blue accents on the handles and around the touchpad. The handles also have a textured material to help improve grip.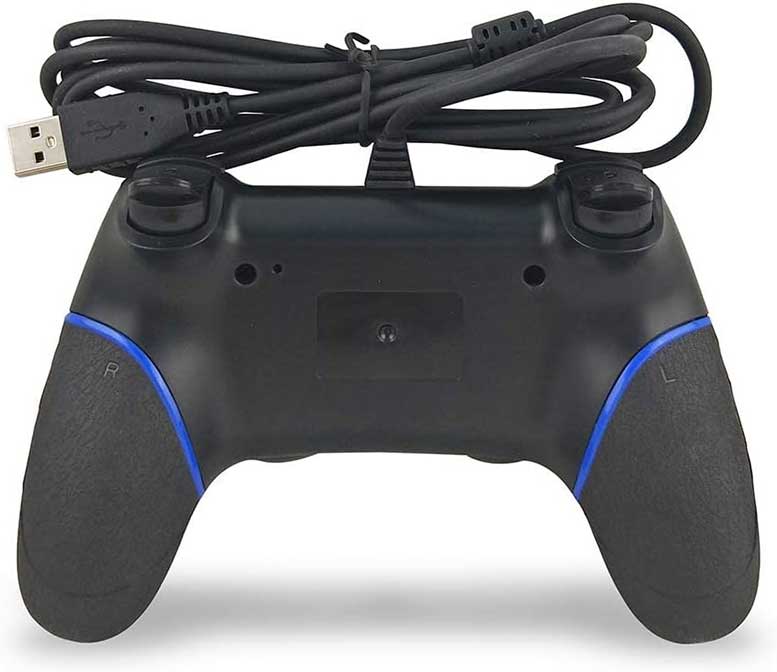 For buttons, this controller has the same amount that you'd find on a normal PS4 controller. The layout is also the same, as the thumb sticks are below the buttons and d-pad. The middle of the controller also has a full-sized touchpad. With the exception of the share, home, and options buttons, there is no text printed on the buttons, which helps with the minimalist look.
The cord used on this controller is six feet long. This is a fairly standard length. One drawback is that it isn't removable, so if it gets damaged, you'll have to replace the whole controller. With six feet of distance, this is an ideal controller for people with a dedicated gaming area, and not so much for those who have a PS4 at their main television.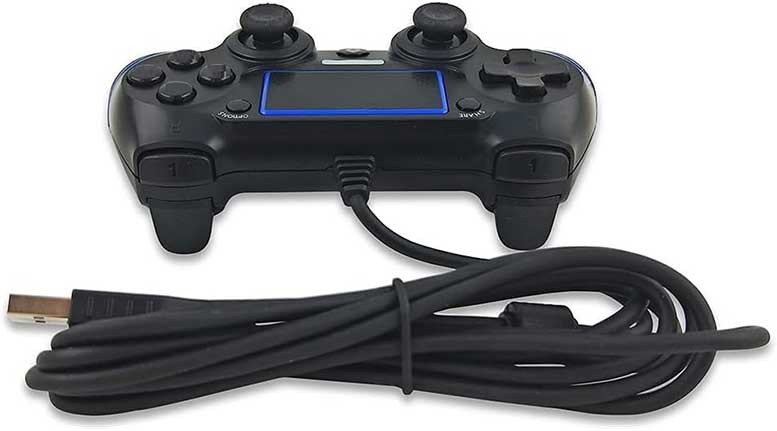 The Prodico Wired Controller stayed true to the design that PlayStation users know and love. The main changes are a more minimalist color scheme and the non-removable cord. It's available at a great price point and should be the best option of them all.
Pros:
The six-foot cord is a good length
It has a full sized touchpad
Standard layout
Textured hand grips
Cons:
The cord isn't removable
May feel a bit cheap for some tastes