If you're a videographer, photographer, or cinematographer, you can't always remain stationary. Sure, a simple tripod is just fine for some shots. But in other cases, you're going to want to move around. In that case, it's simply not practical to be tethered to a wire. In other words, everything in your rig needs to be wireless. This means you'll have to use battery power, and you'll have to be concerned about weight. But you also need to worry about remote monitoring. In many cases, there's a third party, such as a director or client, who wants to view a live feed. So, how do you get them a live feed from your camera?
The industry standard transmission method is the SDI cable. Modern SDI cables can transfer video in insanely high quality, and are very reliable. But this isn't terribly convenient when you're moving around. Thankfully, there's a solution. A wireless SDI transmitter and receiver might just be the solution to your problem. These are a pair of small devices, which are in wireless communication. One sits on your camera, and the other near the monitoring hardware. The camera connects to the receiver with a short SDI cable. In turn, the receiver outputs the SDI signal to a monitoring device. Alternatively, you might connect an SDI to HDMI converter, to output to an HDMI monitor.
Today, we're going to review three of the world's best wireless SDI transmitter and receiver sets. We'll kick things off with the Hollyland Mars 400S PRO. This is a powerful transmitter and receiver that can connect to up to four devices simultaneously. Next, we'll examine the MOMAN Matrix 600S. This is a more compact transmitter and receiver with an impressive 600-foot range. Last but not least, we'll evaluate the Vaxis Atom 500. This is a similar compact transmitter that can accept a variety of DV batteries. We'll talk about the pros and cons of each, and then render a final verdict. Let's begin!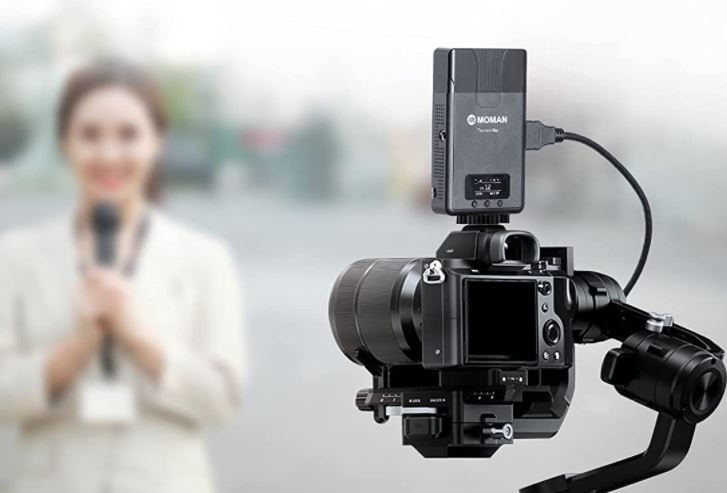 Wireless SDI Transmitter/Receivers: The Basics
There are any number of ways to wirelessly connect two devices. If you want the most powerful performance and longest range, there's no substitute for microwave. But microwave transmitter-receivers can be complex to set up, and aren't quite as portable. In addition, you need to be licensed to operate a microwave transmitter, which adds a lot of trouble and expense. Instead, most people will be better off with an unlicensed WiFi broadcaster. "Unlicensed," in this sense, doesn't mean illegal. It just means that you don't have to obtain a license to operate the equipment.
For this reason, wireless SDI transmitter/receivers are a very popular technology. But there are differences in quality between different transmitters and receivers. To begin with, there are obviously going to be differences in video quality. The more bandwidth you have, the higher quality the live video feed will be. Moreover, it's important to think about latency. This is the gap between when the footage is captured and when it appears on the monitor. If you're filming a live scene, high latency can be a problem. You also need to think about what type of WiFi your system uses.
U.S. WiFi Standards
The FCC has designated two distinct bands for use by unlicensed WiFi devices. These frequencies are 2.4GHz and 5.0GHz, and they're the same frequencies used by your home router. Anyone in the US is free to broadcast on these frequencies without the need for a government license. So, what's the difference between these two bands?
The 2.4GHz has a longer range. In addition to that, the 2.4GHz band does a much better job of penetrating solid objects like walls. However, it doesn't have as much bandwidth, so the video quality won't be as high. Another thing to consider is that the 2.4GHz band has become cluttered by so many devices. This can slow down your performance even further if you're in a densely-populated area.
For this reason, a good quality SDI transmitter should operate on the 5GHz band. Despite the somewhat reduced range, you'll get more bandwidth, along with less interference. Not only that, but the 5GHz band is actually a wide band between 5.15 and 5.825GHz. This allows for up to 24 channels, none of which overlap. If the same transmitter can switch to the 2.4GHz band, so much the better!
What if I Want to Film Overseas?
As you might expect, different countries and regions have their own WiFi regulations. If you want to be able to film anywhere in the world, you need to buy a specialized SDI transmitter. These can swap between many bands, to comply with local laws anywhere on Earth. Today, we'll be focusing on 5GHz WiFi transmitter/receivers. 5GHz WiFi is by far the most popular in the world. It's used in the US, the UK, Canada, Australia, Germany, South Korea, China, Japan, India, Indonesia, and many other nations. In most cases, you'll be just fine with a 5GHz transmitter/receiver.
More importantly, you'll want a transmitter that can work with many different power sources. If you can only run from an internal battery, and that battery dies when you're on the road, you're in trouble. It could be difficult or impossible to get a replacement. On the other hand, if you can use a USB or DC power source, you'll have plenty of options. Unless you're deep in the Amazon or in the wilds of Antarctica, a suitable local replacement should be available.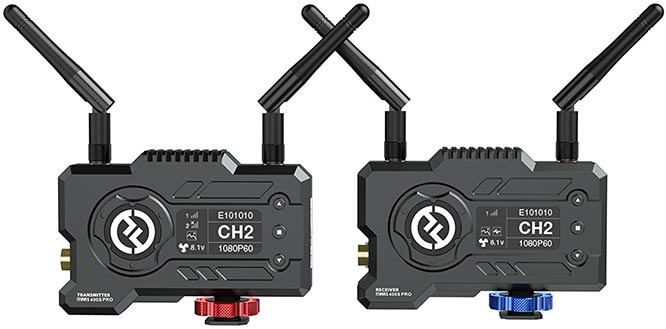 Hollyland Mars 400S PRO
The Hollyland Mars 400S PRO is a kit consisting of a transmitter, a receiver, and a single AC/DC adapter. The housing is a rugged black plastic, which won't reflect light and disrupt your shoot. The OLED screen on the back lets you see your channel, the WiFi connection strength, and other information. A set of control buttons are located to the right, so you can switch bands and change your settings. After a few seconds with no interaction, the screen will automatically shut off so it won't disturb your lighting.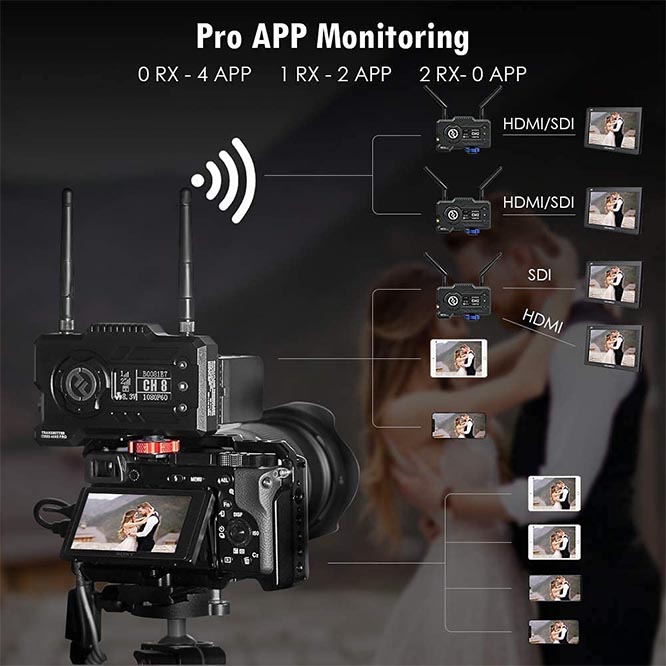 Four antennas are included in the kit, two each for the transmitter and receiver. These attach to the top of the housing, and can be swiveled and tilted in any direction. The base of the housing has a built-in metal cold shoe. This will attach easily to the top of most cameras. The bottom of the shoe is also threaded, so it can be set on any ¾-inch mounting rod.
In terms of power, you'll have three options. To begin with, you can use a USB Type-C input. On the transmitter, this could connect to a simple power bank. On the receiver, you could plug into your laptop, or into any other USB power source. You can connect to many L-series batteries. These are some of the most popular batteries on the market, with wide compatibility. Finally, you can just plug an AC/DC adapter into the DC power port. This isn't ideal for the transmitter, but it's easy enough on the receiver.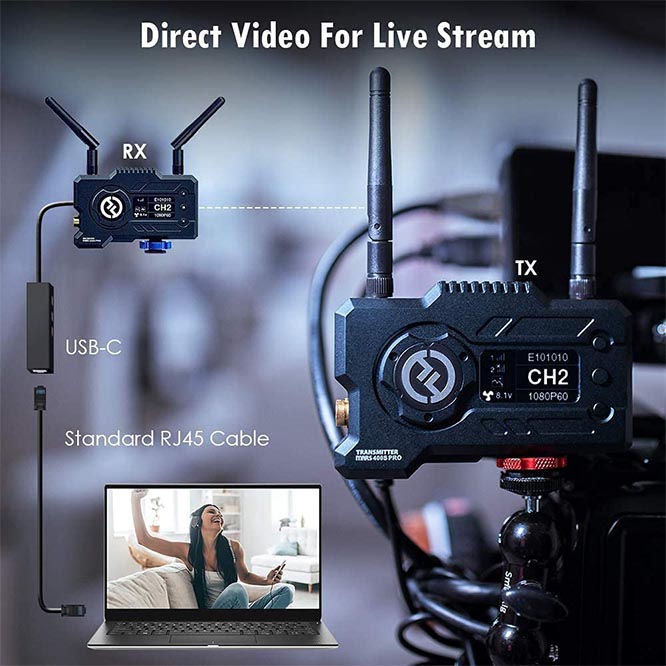 This transmitter/receiver kit can support both HDMI and SDI inputs and outputs. This provides far more compatibility than SDI alone, especially on the receiver side. You can plug into a TV, or even into your laptop, without needing an adapter. As an added bonus, the receiver can output through both ports at once.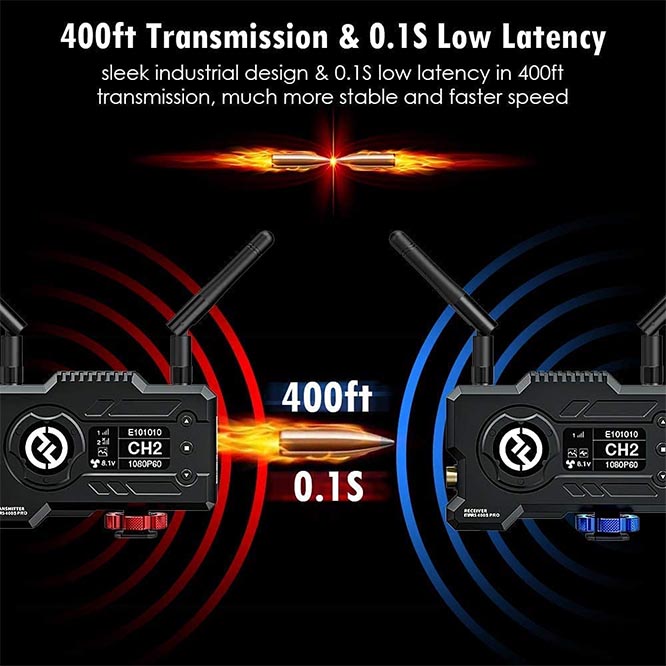 The transmitter can actually stream to up to four devices simultaneously. Using the Hollyland app, you can stream directly to a laptop, tablet, or smartphone. This eliminates the need for the receiver altogether. You can also stream to a combination of the receiver and two devices. Or, you can transmit to two receivers at once. In other words, you've got a ton of flexibility in how you wire your rig and transmit your video.
The 5GHz signal can operate at a range of up to 400 feet, assuming a clear line of sight. If there are physical obstacles in the way, the range will be correspondingly shorted. The signal latency is 0.1 second, or 100 milliseconds. The total data transfer rate is 12Mbps. This is sufficient for a full 1080p live feed, at 60 frames per second.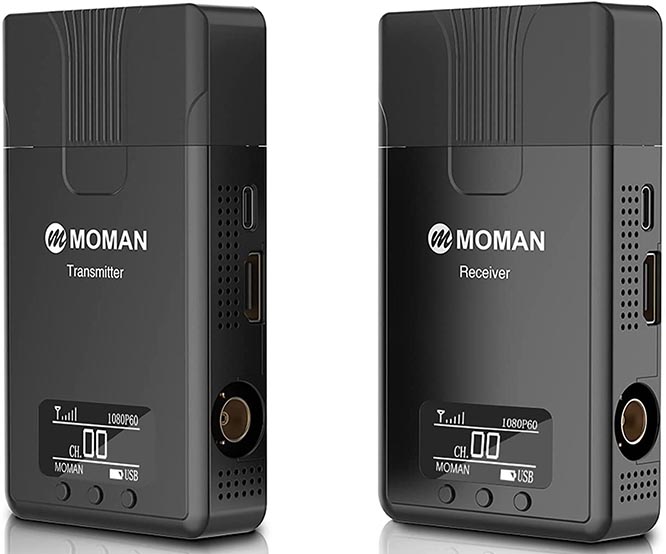 MOMAN Matrix 600S
The MOMAN Matrix 600S transmitter and receiver have a rectangular plastic housing. It's constructed from the same type of plastic as the Hollyland housing, for near-zero reflectivity. The housing is a bit more compact, though, and the antennas are internal instead of external. On the front, there's a small OLED display. Here, you'll see not just your channel, but also your power supply and current video quality. There's a set of solid plastic buttons next to the screen, which are used for all the controls. For mounting, you have a pair of ¼-inch threads, one on the short side and one on the long side. This allows you to switch between horizontal and vertical installation as needed.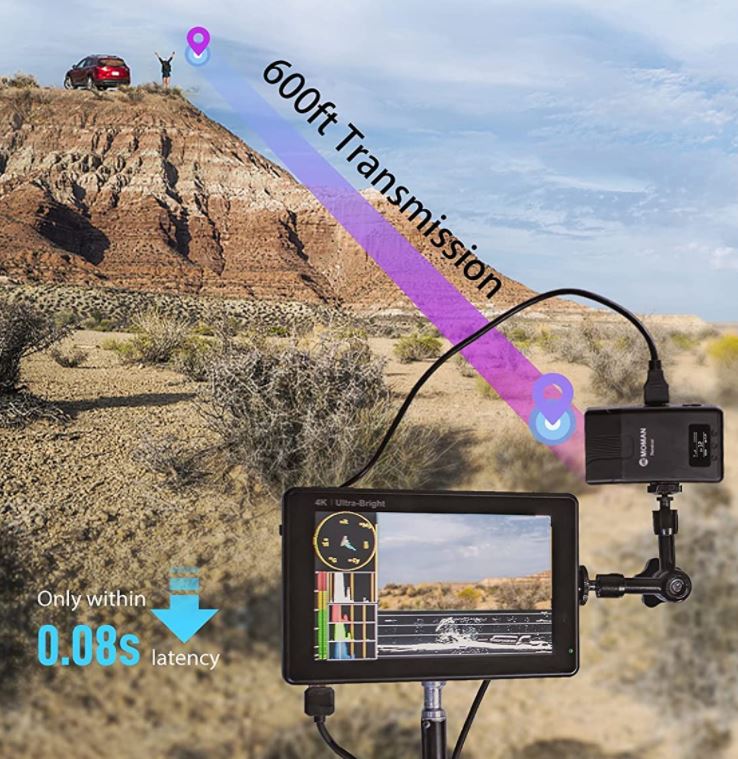 The Matrix 600S is powered by USB Type-C, and draws only 3.5 watts. This allows you to connect to virtually any USB power supply, which gives you plenty of options. You also have dual HDMI and SDI inputs and outputs. As a result, you'll be able to work with just about any source and just about any monitor.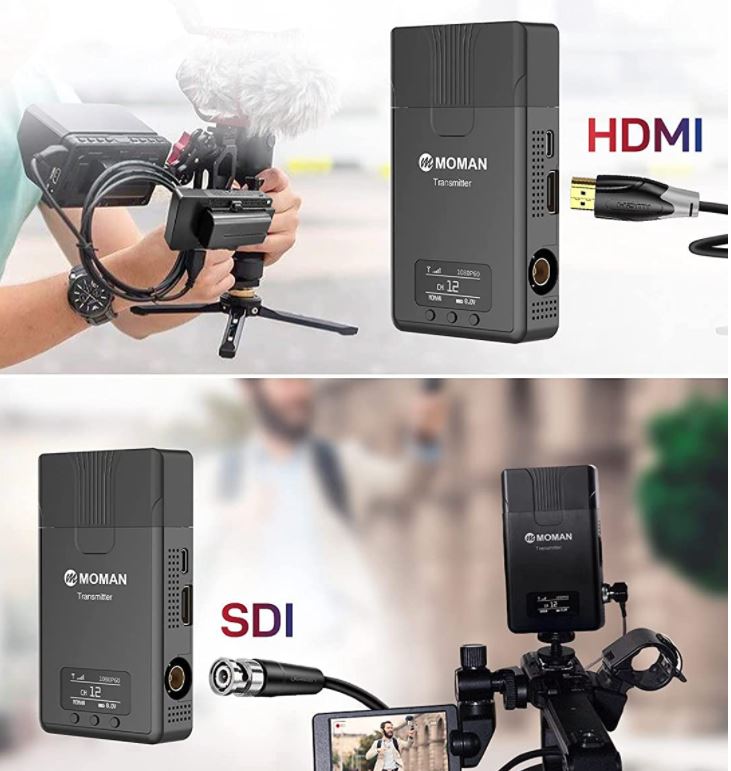 The transmission range and latency are both excellent. With a clear line of sight, the internal antennas can communicate at a range of 600 feet. As before, this will decrease when there are physical obstacles in the way. But no matter how you cut it, that's an impressive signal range. The latency of only 0.08 seconds (80ms) is also among the best on the market. As for video quality, you can choose a number of options, but the maximum is 1080p at 60 FPS.
Vaxis Atom 500
Like the MOMAN transmitter/receiver, the Vaxis Atom 500 has a rectangular black plastic housing. The front panel has a large OLED display, along with three control buttons. And as with the other options, you can choose different channels, video resolutions, and other options. It mounts on a standard ¼-inch mounting rod, with threaded sockets on two sides. This makes horizontal and vertical mounting equally simple. The default power option is a USB Type-C input. However, the back is also slotted, and supports a variety of common batteries, like the Sony NPF-970.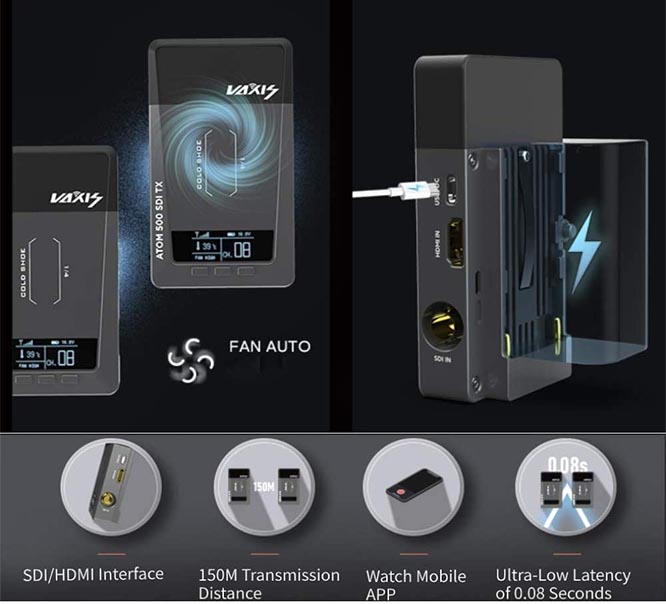 As with the previous two options, both the transmitter and receiver support both SDI and HDMI. You also get access to extra features through the ATOM dual-end APP. With your smartphone or iPad, you can change all of your options, and even snap screenshots. You can also view a live feed from your camera, for truly wireless monitoring.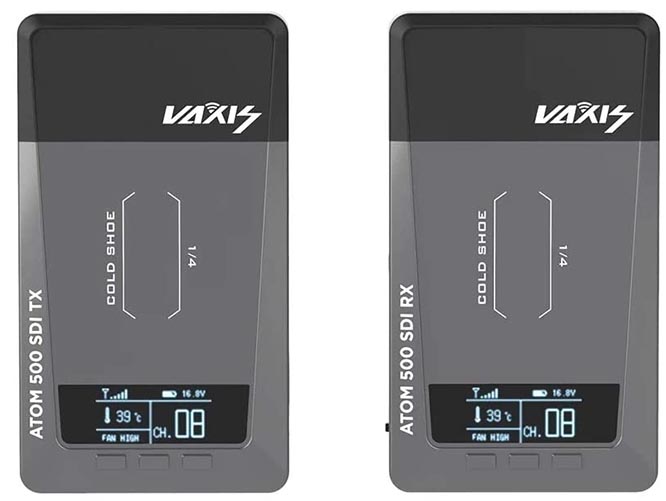 Unfortunately, the Atom 500 has a shorter range, with a maximum of 100 meters (330 feet). To be fair, you won't often need to shoot at that far of a distance. But if you need to monitor at a far distance, you could run into some trouble. Then again, the ATOM 500 has excellent latency, at only 0.08 seconds. You can also choose a video quality of up to 1080p at 60 FPS. This is the same maximum as our last two options, but this transmitter receiver uses H.265 encoding. This means that while the resolution will be the same, there will be fewer compression artifacts.
Final Verdict
So, which of these wireless SDI transmitter and receivers is the best? The Hollyland Mars 400S PRO is the easiest to mount, with both a cold shoe and ¼-inch threaded mount. The app is powerful, and the signal range is surprisingly good. Not only that, but you get powerful multi-device support.
The MOMAN Matrix 600S has the longest range of the bunch, at up to 600 feet. This allows for monitoring from a significant distance away. Then again, you don't get any app features, and the Hollyland's range is nearly as good.
The Vaxis Atom 500, on the other hand, has the shortest range, at only 330 feet. That's still a decent distance, though, but you get the benefit of all kinds of app features. And the H.265 encoding provides exceptional video quality.