When it was first released, the Nintendo Wii was hailed as one of the most innovative consoles ever made. With the exception of the original Pong console, it would be hard to argue, if only because of its revolutionary nature. Pong took video games from the arcade and into the living room. Atari and others followed by developing cartridges, so you could play multiple games with one console. The Wii broke the mold by turning games from a laid-back activity into an active one. Instead of laying back on the couch and pushing buttons, you had to move around. It was this revolutionary control scheme that made the Wii the first Nintendo console to break 100 million lifetime sales.
It's also thanks to this scheme that the Wii remains popular today. Despite being more than a decade old at the time of this writing, millions of people use the Wii every day. There's even a rich aftermarket of parts, so people can replace and repair their Wiis as needed. There are also gadgets like Wii to HDMI converters, so you can connect to modern televisions. All of this to say that you might need a replacement part now and then.
Integral to the Wii's control scheme is its motion sensor bar. The bar sits on your TV, and picks up the movement of your controller. If the bar is out of place, or if it's broken, you won't be able to play your Wii. Of course, there may be other reasons to replace your sensor. You might want to use your Wii with a different system, or use a wireless bar. In that case, you'll definitely need an aftermarket option.
We're about to look at the three best replacement wireless Wii sensor (motion) bars available. We'll start out by reviewing the Mayflash W010 Wireless Sensor DolphinBar. This is a specialized Wii sensor that's designed to allow you to use your Wiimote as a PC input. Next, we'll examine the KIMILAR Replacement Wireless Sensor Bar. This bar works in both wired and wireless mode, to cover a variety of circumstances. Finally, we'll review the NIFERY Wireless Infrared Motion Sense Bar. This sensor has a range of 12 feet, longer than the original and suitable for very large rooms. Let's take a closer look at all of them, and see how they stack up.

Mayflash W010 Wireless Sensor DolphinBar
Mayflash has produced a number of Wii accessories, including their GameCube Controller Adapter. Now, we've gotten a look at the W010 Wireless Sensor DolphinBar. The DolphinBar is a slick black sensor bar that has the same general form factor as the original. However, its glossy black finish is a better match for PCs and other "gamer" gear. Moreover, the stand is removable. This means it can easily be laid flat on a desk or dresser, if you'd rather not mess with attaching the stand to your TV. At 10 inches wide, 1 deep, and 0.7 thick, it's also compact enough for easy travel. You can take it on the road without a lot of fuss.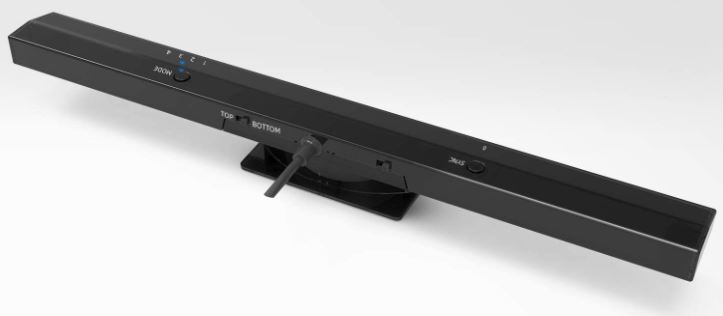 Sensor Bar Installation
The W010 sensor bar can be easily synced with your Wii console. Simply hold down the sync button as you normally would, and follow the usual pairing process. From that point, use it as you'd use any other Wii sensor. You can set it underneath your TV, or attach it to the top with double-sided tape.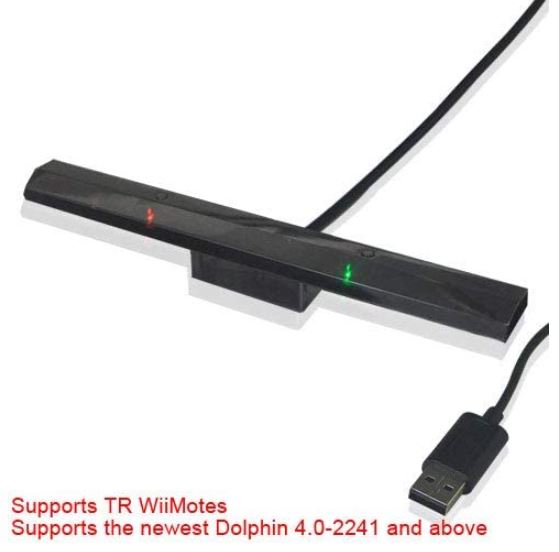 The W010 can also be used to connect to your PC, via the detachable three-foot USB cord. It's easier to use on PC than most motion sensors, since it doesn't require an emulator or other third-party software. That said, while Mayflash advertises "plug-and-play" operation, it's not quite that simple. Before you use this sensor bar, you'll need to update to the current driver package. This can be downloaded from Mayflash.com, and takes just a few minutes to install.
Performance
The Mayflash W010 works in four different modes. In the first two, your Wiimote will work as a mouse, along with your PC's keyboard. There are subtle differences between the two, but both are fairly easy to use. The two modes differ based on how your Wii buttons work. In the first, they'll function as media controls, for pausing, playing, and skipping tracks. In the second, they'll function as gaming controls. In both cases, the cursor doesn't shake or stutter.

In the third mode, your Wiimote will work as a normal gaming controller. The motion controls will be locked out, and you can use the controller in horizontal mode. In the fourth mode, your Wiimote will work like a Wiimote. You can play Wii games through an emulator, or use the Wiimote for playing third-party games. You can cycle through all four modes easily by tapping a button on top of the sensor. Moreover, you can connect four controllers simultaneously, either on your Wii or on your PC.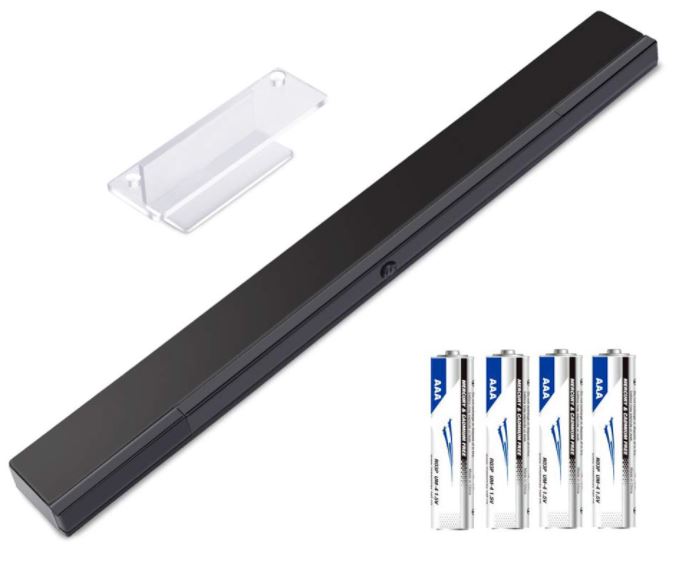 KIMILAR Replacement Wireless Sensor Bar
The KIMILAR Replacement Wireless Sensor Bar is a compact, black sensor that looks like the original. The exception to this is the prominent power/syncing button on the front of the unit. There's also a small, clear plastic stand that's easy to attach and detach. At only 9.55 inches in width, it's the narrowest sensor on our list. This makes it ideal if you're positioning it in a narrow location. For instance, if you're trying to put it on a narrow shelf just above or just below your screen, you can.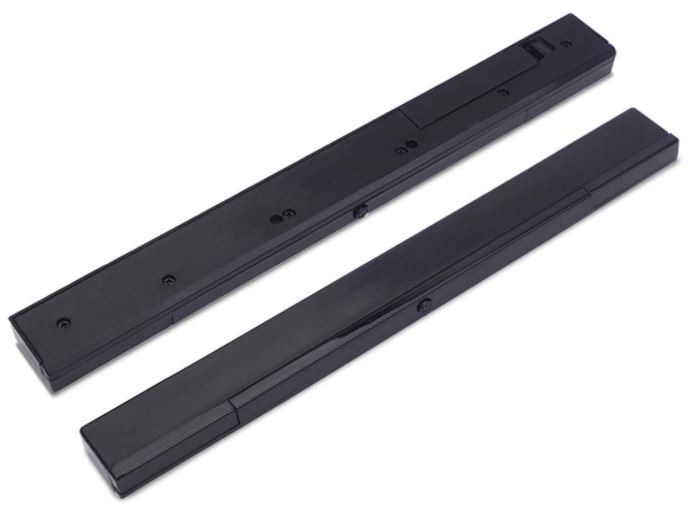 Sensor Bar Installation
The KIMILAR sensor is designed to be easy to install both with your PC and your Wii. On your PC, it connects via either Bluetooth or USB. Using USB usually makes the most sense, since you can save batteries. That said, there is no plug-and-play functionality. You'll need an emulator to actually use your Wiimote as a Wiimote. Syncing with the Wii is easy with the Sync button, and you can also sync with the Wii U. This means you can use both the old and the new versions of the Wii console. Moreover, KIMILAR includes mounting tape in the kit, so everything you need is at hand.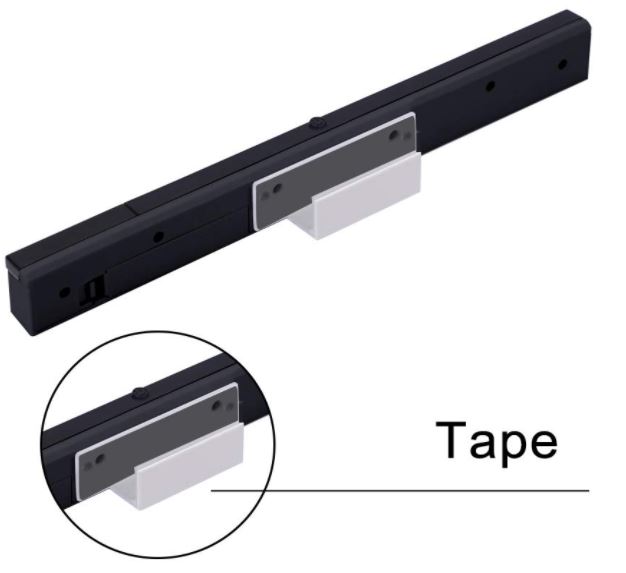 Battery Life and Performance
This sensor takes four AAA batteries, which are included in the package. When it's set up, it will run for just over 12 hours, depending on conditions. The range of eight feet is neither long nor short, about the same as the original Wii sensor. The sensitivity is very good, so you won't have trouble with shooters and other precision games. Once the Wii has been calibrated, your controller will point exactly where you want it to.

NIFERY Wireless Infrared Motion Sensor Bar
The NIFERY Wireless Infrared Motion Sensor Bar is a bit more eye-catching than our last two options. It has a blocky, retro-Nintendo vibe, with a prominent sync button on the front. At 12.1 inches wide and 3.5 inches deep, it's fairly large. But at only 0.4 inches thick without the stand, it will fit just about anywhere. It's also well constructed. This doesn't mean it's shock-proof, by any means. But if you accidentally drop it now and then, it's not going to suddenly quit working. Along with the unit itself, you get a small stand, which is easily removable.
Sensor Bar Installation
Installing the NIFERY sensor is simple and straightforward, just like the other two on our list. It can be synced with your Wii, and used in mere seconds. Install the four AAA batteries, and you're ready to go. Alternatively, you can connect to a PC via USB. This method will save you on battery life, since the cable will provide the power. That said, there's no plug-and-play compatibility on PC. Much like the KIMILAR, you'll need to use an emulator for PC gaming.
Battery Life and Performance
Like the KIMILAR, the NIFERY sensor will work with both the Wii and the Wii U. A set of fresh batteries will last for 12 hours, which is about the same as the Wiimote. If you're on the road, you'll probably want to bring an extra set or two.
The actual performance of the sensor was a bit of a mixed bag. On the one hand, it could be a bit laggy. It works fine when you're moving your Wiimote slowly. But as soon as you start making any quick movements, you'll occasionally get some lag. This is no big deal if you're just navigating a menu. But if you're in the middle of Smash Bros, it can seriously crimp your style. On the other hand, the maximum sensor range of 12 feet is quite impressive. You can use the NIFERY sensor in large rooms that would be problematic for most other sensors.
Final Verdict
As is probably clear by now, each of these replacement Wii sensors has its own purpose. The Mayflash W010 Wireless Sensor DolphinBar is the best if you're a PC gamer. Since it's designed to work with your computer, you're ready to go without needing to install third-party software. You can even use your Wiimote as a mouse, and free up your hands. It also has a removable base, which makes it easy to transport. You can also use the W010 with your Wii, but there's nothing spectacular about it.
The KIMILAR Replacement Wireless Sensor Bar is the best hybrid option. With both a Bluetooth and a wired option, you can connect to both a Wii and a PC. However, it's not plug-and-play on PC. You'll need something like the Dolphin emulator to make it work. But since it doesn't require a wire, it's easy to move from room to room. Performance on the Wii was surprisingly good, and pairing was easy.
The NIFERY Wireless Infrared Motion Sensor Bar works with both the Wii and the Wii U, just like the KIMILAR. Its main difference is that it has a very long range, as far as 12 feet. This makes it suitable for large rooms where a normal motion sense bar wouldn't be workable. On the other hand, the sensitivity isn't quite as accurate as we would have liked. If you need a hyper-accurate sensor, you may want to look elsewhere.