If you own a Nintendo Wii you know how much fun it is to get lost in a game. The wireless controllers let you move freely during play, and make you feel like you're a part of the action on screen. From doing home workouts on Wii Fit to getting lost in a first-person RPG, the Nintendo Wii makes the experience of gaming that much more exciting and immersive.
This popular and interactive style of gaming is made possible by a small sensor that comes with the console. It's only a few inches long, has a wire that plugs into the Wii itself, and tracks the motion of the controller as you play. It requires some minor installation and can be a hassle for those that prefer not to deal with lots of wires, but is definitely worth using for games that require a lot of physical movements.
Wii consoles only come with one of these sensor bars. If you plan on using the Wii on more than one television or the sensor gets damaged during use, you'll be out of luck unless you can purchase a replacement. Luckily, there are several options on the market right now that function just as well if not better than the original Nintendo sensor bar.
They're even smaller and less conspicuous than the original, making it easier to fit them in your home or on top of a variety of televisions. What's even more impressive about them is that they're totally wireless—a major improvement over the original version. Like any accessory, some function better than others, and if you're looking to replace your existing Wii sensor bar, it pays to do a little research.
In this review we'll be taking a look at three of the best Wii sensor bars on the market to see if they're worth having as a backup or replacement to the original. We checked out the design, the features, the responsiveness, as well as the installation requirements of each sensor bar for a fully comprehensive view of what each could deliver.

HDE Wireless Ray Motion Sense Bar
The HDE Wireless Motion Sense Bar has a more detailed, stylish look than the others on our list, and is surprisingly eye-catching for a sensor bar that will mostly be sitting above or below your TV. It has a silver trim with a black panel in the front that contains the power button as well as 6 infrared sensors. On the bottom you won't find much except a small tab that opens the battery compartment.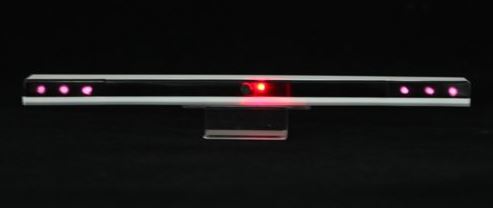 The entire bar measures in at 12.1 x 3.5 x 0.4 inches and only weighs 1.6 ounces. It's very lightweight, but has a pretty sturdy construction that didn't have us worried about it getting damaged. Unlike the Hokyzam Sensor Bar, the plastic is strong, assembled well, and felt like it could withstand light drops or falls. It also comes with a stand and double-sided tape for secure mounting on top of televisions.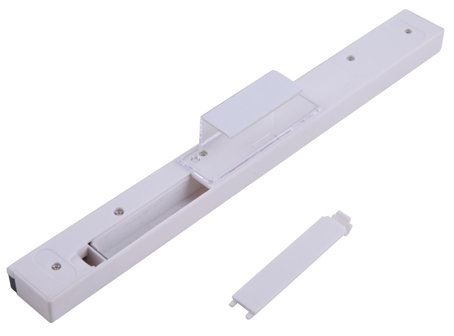 Ease-Of Installation
The HDE Wireless Sensor Bar was very easy to install, and had the same set up parameters as the other two on our list. There is a battery compartment that takes 4 AAA batteries and a power button, and the sensor bar connects wirelessly to your console via the sync button. However, due to its lowered responsiveness, positioning it can be a little bit of a struggle. We found that it worked best at about eye-level, but this can be a little bit of a problem depending on the height of your television. That being said, installing the batteries, turning it on and connecting it was still pretty straightforward.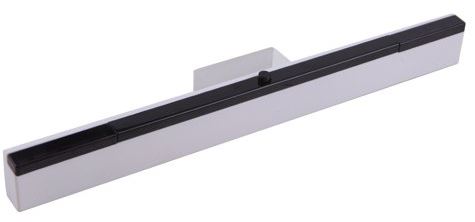 Features and Responsiveness
The HDE Sensor Bar is compatible with both the Wii as well as the Wii U, much like the others on our list. It's also completely wireless up to 10 feet and syncs easily to either system. You'll also get 12 hours of play on 4 AAA batteries. We weren't particularly impressed by the battery life. If you're someone that uses their Wii often, twelve hours could go by pretty quickly, and the fact that the sensor bar only runs on batteries means you'll have to keep plenty on hand to keep it working.
We actually found the HDE sensor bar to be a little inaccurate when it came to responsiveness. Depending on how quickly we moved our Wii controller, the sensor occasionally lagged, jumped, and didn't feel quite lined up with what has happening on screen. After some tinkering with the position we were able to improve the issue, but right out of the box, it just didn't perform as well as the others on our list. We also noticed reduced sensitivity if we stood to the side of the sensor rather than directly in front of it.

Power A Wireless Ultra Wii Sensor Bar
Of the three on our list, the Power A Wireless Ultra Wii Sensor Bar has the most robust design and felt the most durable when we took it out of the box. It comes in either black or white, and considering that it's an officially licensed Nintendo sensor bar, we weren't surprised by how well-made it felt. It measures in at 15 x 1.6 x 3.2 inches and weighs 2.72 ounces, making it the largest of the three. There are also a whopping 10 LEDs in the sensor itself which had us thinking it was going to perform extremely well when we tested it out.
In addition to the added LEDs, there is lot more happening on this sensor bar's exterior as well. You'll find a power button, a button for the built in timer, as well as two switches on both the left and the right side that allow you to change the range from standard to wide. There is also a battery compartment on the bottom of the sensor bar that fits 4 AA batteries. Lastly, you'll find a plug on the back of the sensor bar for the included wire. When it came to the overall design, the Power A Sensor Bar was definitely at the top of our list.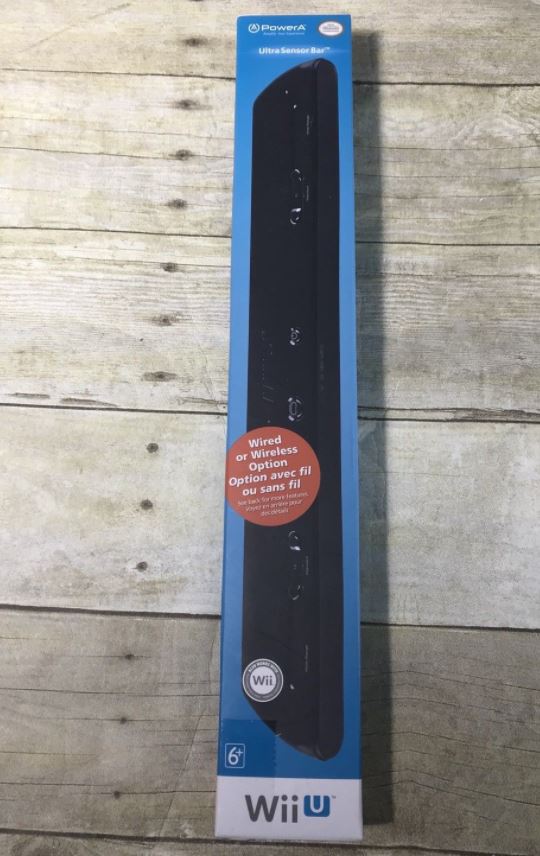 Features and Responsiveness
The Power A Wireless Sensor Bar contains a surprising amount of useful features. First of all, there is a built-in timer that could be set to turn the sensor bar off after either 1 or 2 hours as a way of preserving battery life. There is also an indicator light that reads the word "LOW" when the batteries start to run dry. Another really impressive feature is the built-in wide-range or standard-range setting. There are two switches on the sensor for you to choose from, and we noticed that in wide-range mode we could achieve ranges of over 16 feet from the sensor. For larger rooms, or even those that might want to use the sensor bar with a projector, we thought this feature really increased usability. It added a lot of versatility not just to gameplay, but also created a lot of possibilities for where the sensor could be set up.
The Power A Sensor Bar can also be used either wirelessly or with the included wire. Considering that the wire can also power the sensor bar using your Wii or Wii U as a power source, we found this to be a great addition. With the included wire you'll be able to keep using the sensor bar even after the batteries run dry.
It's very responsive, regardless of which range setting you use. However, we did notice that it worked a little bit better set up below the screen of a TV, but the difference is only slight, at best. Regardless, the sensor bar tracked our movements extremely well and at no point did we experience any lagging or inaccuracy. It's worth noting that turning on the wide-range setting will free you up to move a bit more during play, but as long as you're within range in standard mode, you'll still experience the same sharp level of accuracy with your controller movements.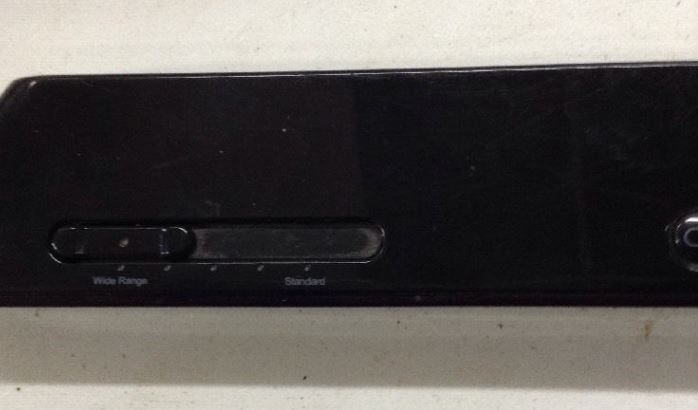 Ease Of Installation
Like the others on our list, the Power A Sensor Bar is really easy to install. You can either connect it wirelessly by pushing the sync button on your Wii console, or you can just use the included wire to plug it in. You'll still have to position it appropriately according to the size of your room, but the built-in range settings make this process a little bit easier because they help the sensor detect more of the overall space. Also, the 10 LEDs created a much larger detection range too, so setting this sensor bar up the right way didn't take quite as much tinkering as the other two we checked out.

Hokyzam W06 Wireless Sensor Bar
The Hokyzam W06 Wireless Sensor Bar has a pretty basic design. It comes in white or black, has a long rectangular shape and is almost hard to see when it's set up above or below the television. It measures in at 3.9 x 3.9 x 5.9 inches and weighs only 2.4 ounces. On the front of the sensor you'll find a power button, as well as 6 infrared LED lights. On the back, you'll find a sliding cover for the battery compartment. It also comes with a stand for a little added stability.

We liked that it had such small dimensions, but found ourselves wishing it was a little sturdier. Considering that it could function as a replacement for a broken sensor, we would have liked for it to feel a little more durable. The plastic construction felt cheap and not well-assembled, like it might crack if we dropped it.
Features and Responsiveness
The Hokyzam W06 Sensor Bar is pretty basic when it comes to features, but is very responsive. It's compatible with both the original Nintendo Wii as well as the Wii U, and is completely wireless up to 10 feet. Once you turn it on, you can easily connect it by pushing the sync button on your Wii console. The connection is almost instant and the sensor recognizes Wii controllers within seconds.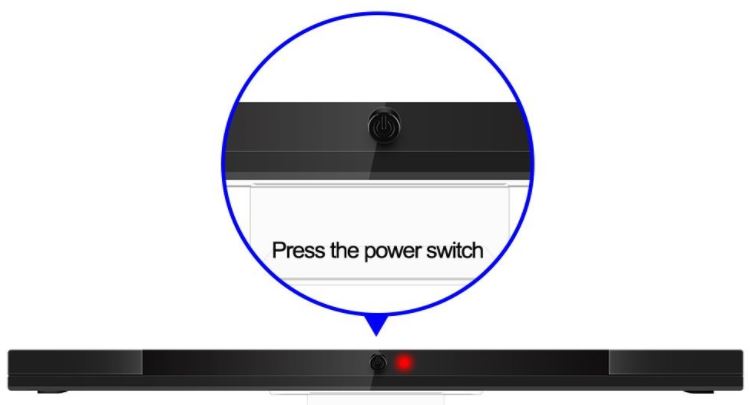 As far as responsiveness goes, we found that there was very little lagging and the gameplay was perfectly in sync with our controller movements. That being said, you'll have to find the right place to mount it for the best results. We found that it worked best on top of a television set or monitor, rather than under one. Placing it on top gave the sensor a bigger field to detect our movements, and also allowed for us to make larger inputs with the controller.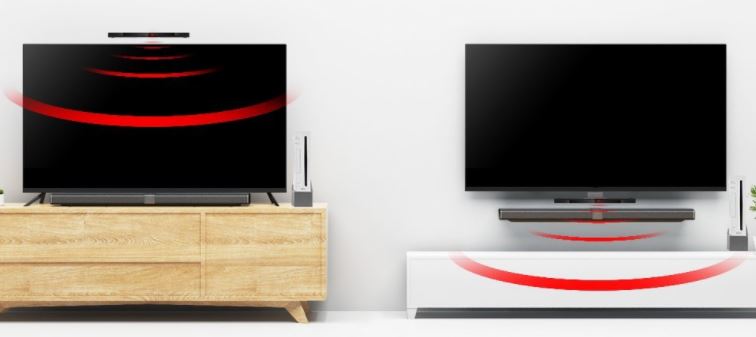 Ease-Of-Installation
The Hokyzam W06 Wireless Sensor Bar is extremely easy to install. Due its wireless functionality, there is very little you have to do to get it up and running. The first thing you'll have to do is find a place to mount it that gives it the best possible access to your Wii remote. We found that higher positioning tended to work better, but found that it could still function reasonably well if this isn't an option.
In general, it's very easy to place above or below a TV or monitor, especially if you use the included stand. You'll also need to install four 4 AAA batteries to power it up. We would have liked for it to be rechargeable or use a more economical power source, but the batteries did last a surprisingly long time, so it wasn't a huge downside.
Final Thoughts
Each of the wireless Wii sensor bars we looked at have their own individual strengths, and are capable of enhancing the average Wii user's experience, depending on their expectations. The Hokyzam W06 was the most discreet of the three. It had the simplest, smallest design and was also the easiest to fit above or below a television. It did feel a little flimsy, but its responsiveness was fairly accurate depending on where we positioned it. For the price, it performed reasonably well.
The HDE Wireless Sensor Bar had a high-quality construction and was just as easy to install as the others, but had the poorest responsiveness to Wii controllers. It was either jumpy or lagged too much, and even with some re-positioning wasn't perfect. That being said, if you're less concerned with performance and more interested in a sensor bar that can be dropped, moved around or just kept on hand as a backup, the HDE Wireless Infrared Sensor Bar might be the right choice.
However, we can't really deny that the Power A Wireless Ultra had the best design, most useful features as well as the best responsiveness. It was the only sensor bar that could be used both wired and wirelessly and the only one that came with an adjustable range. Overall, our favorite of the three!