As the world becomes more digital, more and more people are discovering the need to optimize their home and office work spaces.
One of the ways people are doing this is through the use of workstation wall mounts. These innovative products let users mount their monitor and keyboard/mouse tray to the wall. This frees up valuable desk space or can eliminate the need for a desk altogether.
These kinds of wall mounts are popular in many fields, such as healthcare, education, and manufacturing. For instance, doctors and nurses utilize these workstation setups when talking to patients about their medical records.
They're also useful for individuals who work from home or in small spaces, as they allow for better use of limited space. Additionally, they can be particularly useful in settings where equipment needs to be moved aside, such as in a laboratory or workshop.
To help sift through the dozens of options available, we've evaluated the best workstation wall mounts as of 2023. To assist with your decision-making process, we suggest keeping in mind the same criteria we used to narrow down the best picks. The following features are worth consideration:
Adjustability: The ability to adjust is important for comfort and good posture so you can change the height and angle of the monitor, keyboard, and mouse tray.
Durability: It should be made of high-quality components that can withstand regular use and support the weight of your equipment.
Easy Installation: A good mount should be relatively easy to install and configure with all the necessary hardware included.
Cable Management: Some models include cable management solutions to keep cables organized and out of the way.
Compatibility: It should work well with your monitor, keyboard, and mouse in terms of size and weight capacity.
It's also important to keep in mind that while there are budget options available, purchasing a workstation wall mount is still a significant investment. That's why it's crucial to take the time to consider your needs and choose a product that meets them.
Not all are created equal, and different people have different needs. This article takes that into account and showcases the best models for meeting different needs and goals. Let's get right into it.
Best Overall: Ergotron LX Wall Mount System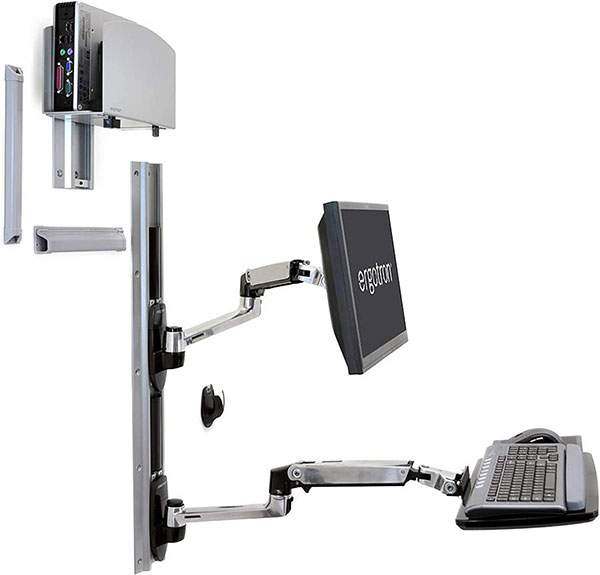 Key Features:
360 degree pan and tilt.
Fits monitors up to 32 inches and 25lbs.
Includes mounting kit for hollow wall and stud mount applications.
10 year warranty.
The Ergotron LX Wall Mount System is our best overall choice due to its versatility, intuitive functionality and quality construction. While it's definitely in the high-end price range, we feel that it offers the best choice for most uses and situations while offering name-brand quality.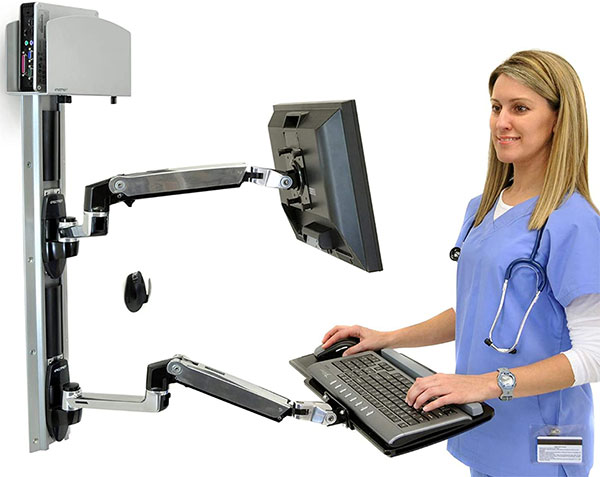 One of the key benefits is its ease of installation. Out of the dozens of options we tested, the Ergotron LX took less than an hour to install, while other models required significantly longer. This is partially since it comes with mounting hardware and easy-to-understand instructions for the most common types of installations. The track system also makes placement much more forgiving.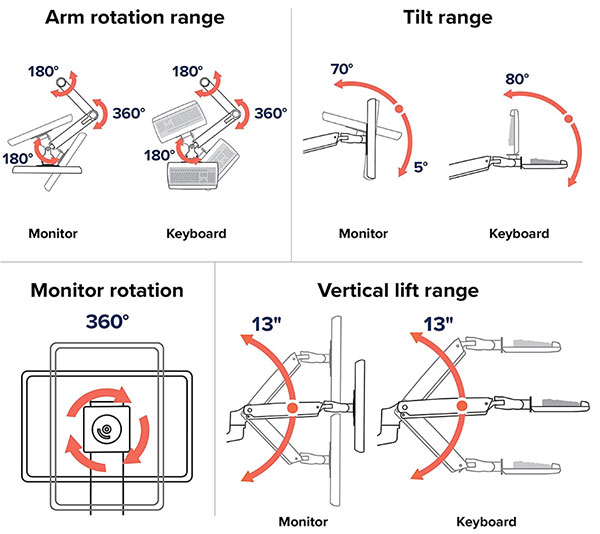 The monitor arm provides easy height adjustments with a 13 inch range. While we would have liked to see greater range, it's sufficient for most uses. The arms operate on a track system, allowing single-button sliding adjustment. The computer tower can be mounted on a separate bracket and is usually installed above or to the side of the entire setup.
The track system offers several advantages in real-world use. The computer tower bracket can hold medium-sized cases while still letting you access all of the buttons and ports. The track system also allows for a wide range and variety of height adjustments. And once the track is installed, you can make height adjustments along the 32-inch track as needed.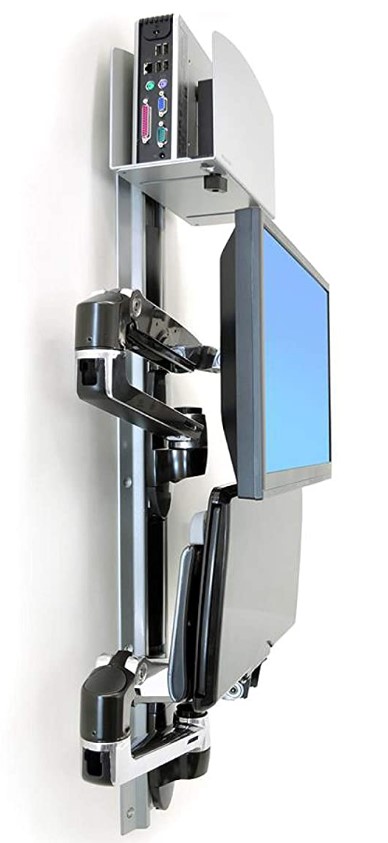 Another strong feature is its fold-up functionality. When pushed back into the "home position" the entire setup protrudes from the wall by only 8 inches. Considering that the keyboard arm can stretch out by more than 30 inches, this is a very impressive feat. The keyboard tray also has a back-tilt feature that puts your wrists at a better angle when in use.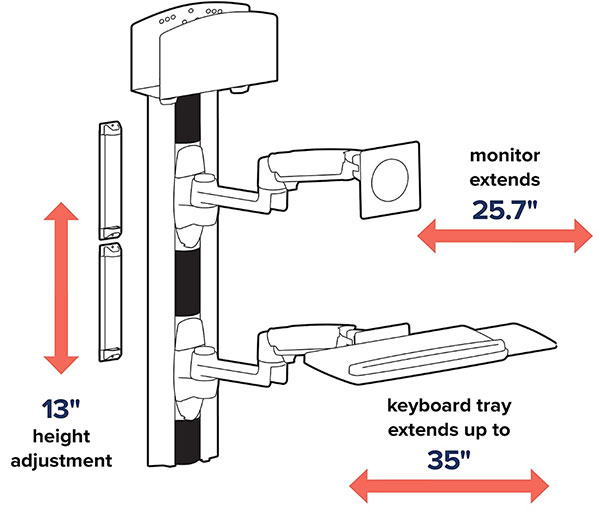 The 360-degree pan and tilt feature of the monitor arm is another highlight. We put a 36-pound monitor on it to test it and found that it worked well, letting us use the full range of the pan and tilt. But it's important to note that even though it never felt unstable or dangerous, you'll have to work harder with a fully loaded monitor arm than with a smaller one.
Overall, the Ergotron LX Wall Mount System is a great setup that will work in the majority of workplace environments. Its compact size and thoughtful cord management solutions make it stand out from the competition. Best of all, it's made of high-grade materials that's immediately apparent while unboxing it. Even though it's a big investment, it'll last a long time and be worth it for those that want the best of the best.
What We Liked:
High-end build quality with a large weight capacity.
Folds up to 8 inches from the wall.
Back-tilt keyboard tray adds comfort.
Pan and tilt adjustments are simple to use.
What We Didn't Like:
Best Runner-Up: StarTech.com Wall Mount Workstation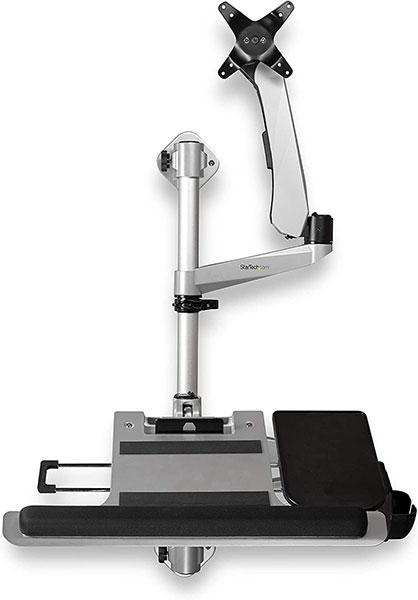 Key Features:
Monitor arm that can hold a 34" display.
Highly adjustable keyboard arm/tray.
Wall-mount pole design.
Our runner-up is a solid performer that provides easy adjustments. The StarTech.com Wall Mount Workstation is our top pick for people who often tend to switch between a seated and standing desk position. You're able to do this with a single button adjustment for both the monitor and keyboard arm.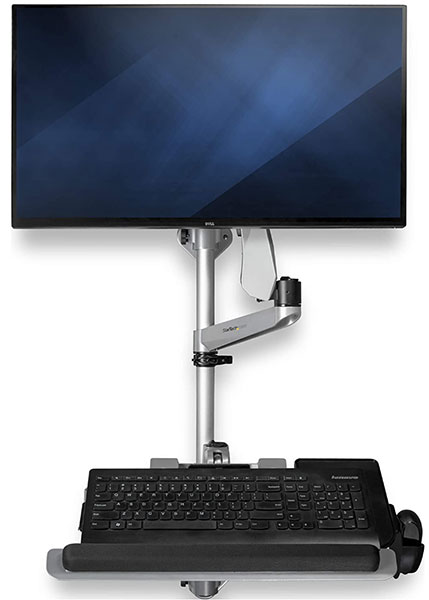 It does a great job of folding back while having the ability to extend up to 31" from the wall with the keyboard arm and 20" with the monitor arm. This can help reduce the feeling of being right up against the wall. We would say that the height adjustment feature of this model is actually slightly easier than the Ergotron.
However, we feel that the tradeoff comes with installation. The pole mount installation is harder to put into place. It tends to limit the locations where it can be installed. You'll want to review the literature to make sure that it'll work with your preferred location. While the pole mount provides easier height adjustment, we wish that the included pole was just a bit longer. It does a good job going from seated to standing, but we would have liked a little more length for more versatility.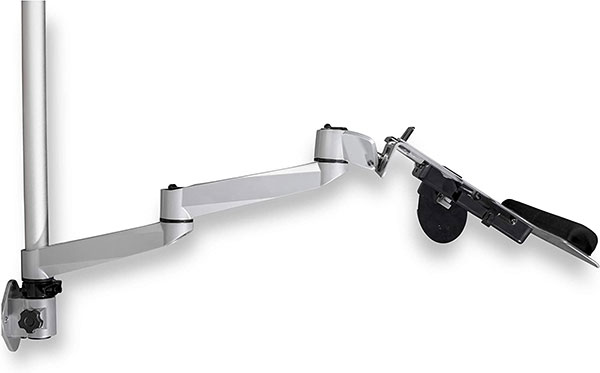 Although this setup is rated for a larger monitor than the Ergotron, its weight capacity is less. You'll want to keep this in mind. Also, this setup does not include a computer tower/case mount. So if you're using an all-in-one workstation, you'll want to make sure that it falls below the 19.8-pound weight limit.
The pan and tilt adjustability is fantastic. While it doesn't offer the 360-degree ability of the Ergotron, we felt it was slightly more robust and delivered more control when articulating back and forth.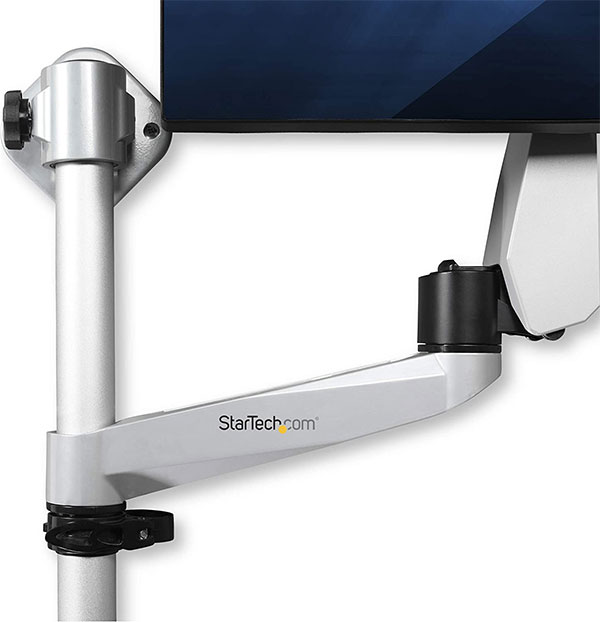 We were impressed by the keyboard tray as well. Both of the models we've talked about offer solid support to reduce bouncing when using a keyboard or mouse. This makes a big difference, as too much movement can lead to fatigue in the hands and the wrist. While you can achieve a back tilt with the keyboard arm, it's not quite as intuitive as the Ergotron.

One area where this unit has the edge is in compactness. When we folded it up, it was able to stand a mere 4 inches from the wall. This is a bit better than the Ergotron and makes it a strong choice for anyone who will be installing it in tight quarters. All in all, the StarTech.com Wall Mount Workstation is a great option that's priced fairly given its high quality build and design.
What We Liked:
Strong keyboard support without any bounce.
High-end build quality.
Pole-mount design for easy height adjustment.
Easy to maneuver pan and tilt feature.
What We Didn't Like:
Does not include a computer tower mount.
Best Budget: VIVO Sit-Stand Wall Mount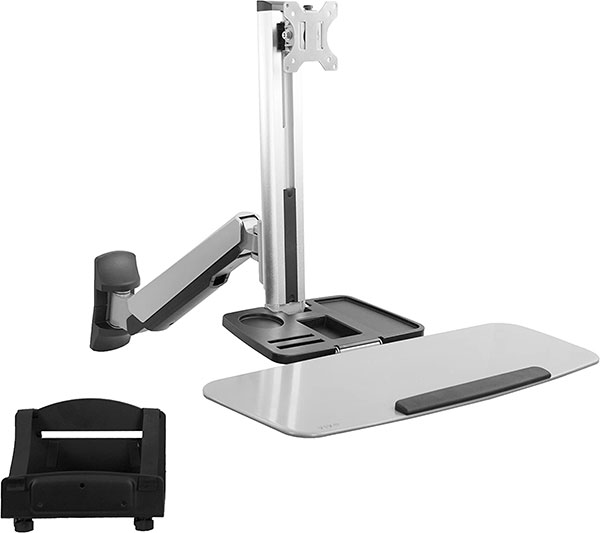 Key Features:
Supports monitors up to 32"
Counterbalance gas spring arm.
Intuitive cable management system.
180 degree swivel.
15 degree tilt.
360 degree rotation.
The good news is that workstation wall mounts don't necessarily need to break the bank to be effective at keeping your system secure and compact when not in use. In this category, the VIVO Sit-Stand Wall Mount is one of the best that we've tested.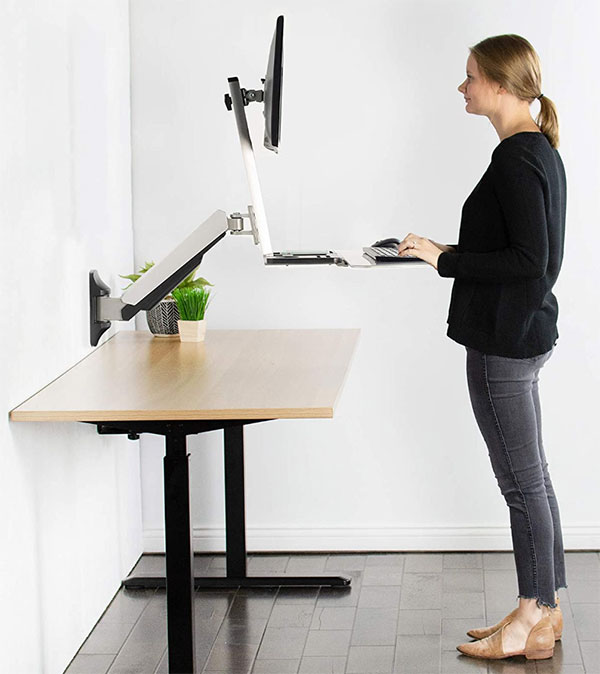 The biggest advantage is the quality of the components and construction, given the affordable price-point. In order to keep things cost-efficient, this brand reduced the number of moving parts and combined certain portions together.
Instead of separate arms, the monitor and keyboard are mounted to a single arm. In addition to fewer moving parts, it also helps provide a more compact design, which can be an advantage when folded up and not in use. There's a vertical piece attached to the extension arm that holds the monitor at the top and the keyboard at the bottom.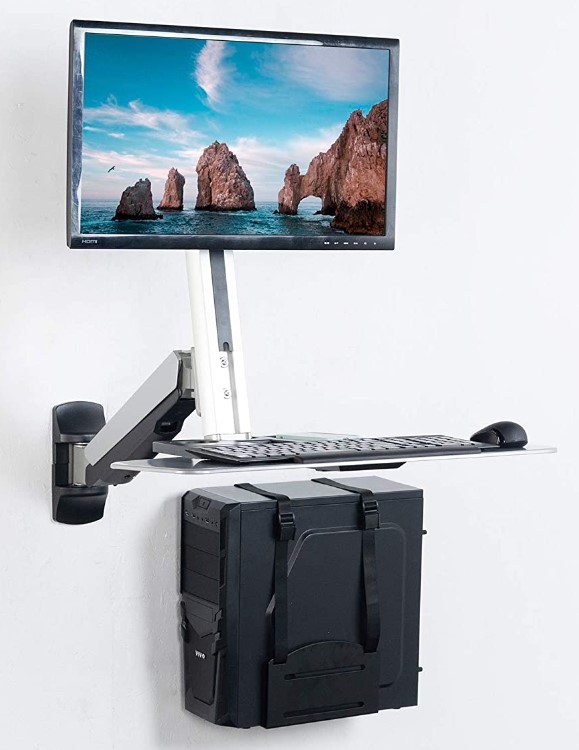 Towards the back of the keyboard tray where it meets the arm, there's a small black tray with enough room for your phone, drink and a few small accessories. It doesn't really get in the way, and is a nice addition overall. Best of all, the cable management is beautiful. You can easily route cords, wires and cables into the arm and out the back, keeping them neatly out of sight.
Keep in mind that you'll need to attach this mount to a wood or steel stud. You won't want to use this with sheetrock anchors. This is due to the fact that with only a single arm, the concentration of weight will be greater than most anchors are rated for.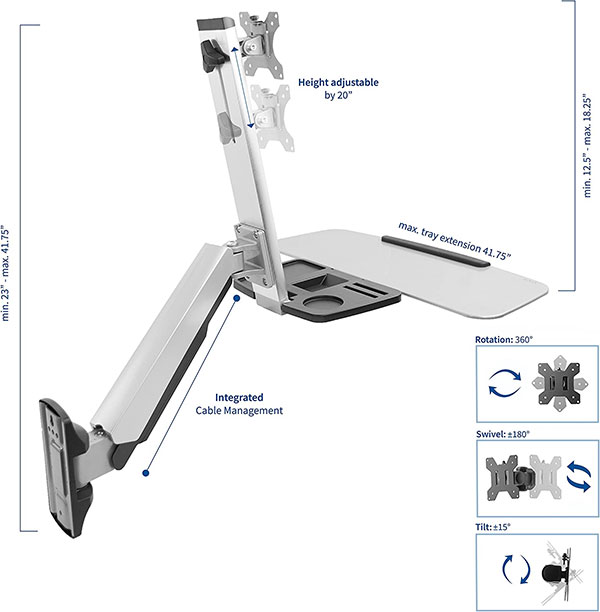 We like that this mount comes included with a PC tower/case mount. It's a great value that saves you from having to spend additional money to round out your configuration.
Overall, we feel that the VIVO Sit-Stand Wall Mount is an excellent, cost-effective option for those desiring simplicity. It's well-built and surprisingly inexpensive for what you get.
What We Liked:
Affordable price.
Good quality.
Solid pan and tilt features.
Easy height adjustment from sitting to standing.
What We Didn't Like:
Could be a bit too simple for some setups.
Best Alternative: Mount-It! Sit Stand Workstation Wall Mount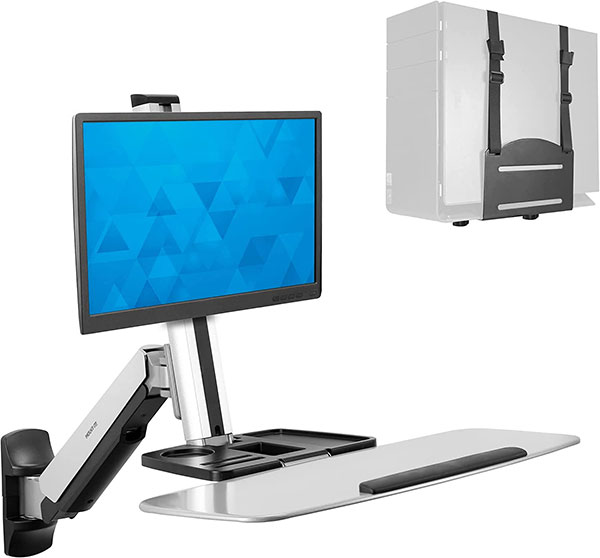 Key Features:
Single arm design.
Counterbalance gas spring arm.
180 degree swivel.
15 degree tilt.
360 degree rotation.
We're excited to include the Mount-It! Sit Stand Workstation Wall Mount as our top alternative. It's nearly identical to the previous option.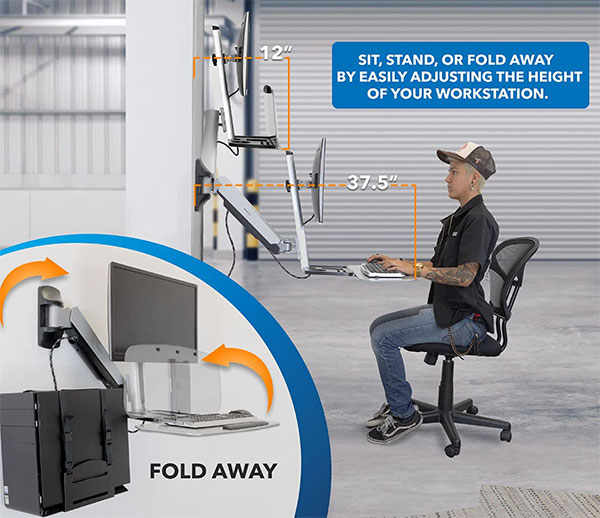 Most mounts are optimized for screen sharing for patient or client interaction. This model can do that, but it's also designed to work in scenarios where the height needs to be adjusted often with constant, repeated adjustment. An example of this would be with an inventory management PC in a warehouse where multiple workers or personnel are interacting with the same workstation. This is a simple, relatively affordable, albeit well-built workstation mounting system that can hold up to continuous use.
The counterbalance gas spring arm is one of the strongest and easiest to adjust we've tested. We were able to make adjustments with just a few fingers' worth of pressure. Once locked into position, we appreciated that it kept things super steady, even with heavy keyboard tapping and constant mouse movement.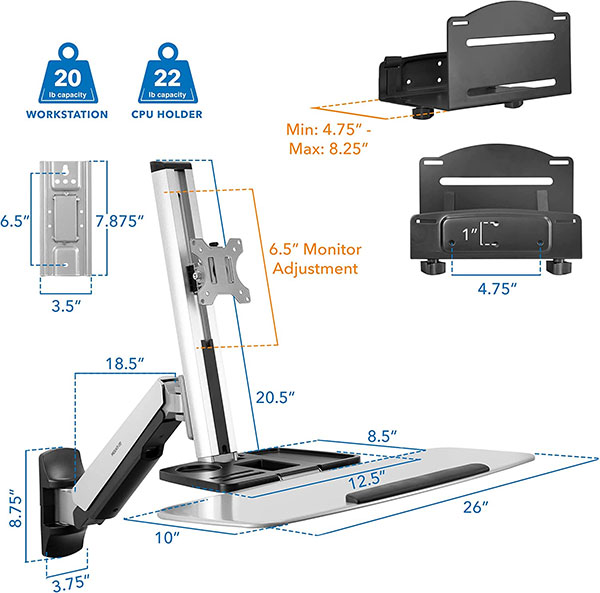 The Mount-It! has a supplemental height adjustment track for the monitor that allows you to adjust the distance from the monitor to the keyboard. This is a big advantage when it comes to tailoring your viewing experience and posture.
Overall, we feel that the Mount-It! is a great buy for anyone. It has a very good high-to-low height range, and the arm can extend up to 41" from the wall. Additionally, the rugged construction makes it a workhorse for many environments. Best of all, it's not very expensive, even though it seems to be very well designed.
What We Liked:
Very smooth height adjustment.
Strong gas spring arm does most of the heavy lifting.
Solid construction.
Accommodates large computer cases.
What We Didn't Like:
PC straps could be more elegant.