Okaysou AirMax10L Plus
Pros
Enough coverage to filter a small house.
Efficient H13 True HEPA filter.
Also removes odors and VOCs.
Built-in visual air quality indicator.
Highest setting is very powerful.
Cons
Gets loud on higher settings.
No companion app.
Indoor air quality is a serious concern these days. In part, that's because we're more health conscious than we used to be. We're certainly far more aware of the risks posed by VOCs, smoke, and other contaminants. But at the same time, the way we build your houses has changed. New building codes and environmental standards have been designed to improve energy efficiency. But they also keep contaminants from being cycled out of our homes.
A good air purifier can be a solution to these problems. But different filters have different capabilities. For example, some will remove odors and chemicals, while others will only remove particulates. Some are designed for use in a medical setting, while others are more for household use. Depending on your needs, a given purifier could be perfect or it could be a terrible choice. That's why it's important to do your research.
We're about to review the Okaysou AirMax 10L Plus. This is an affordable air purifier that can cover up to 1,500 square feet. It's also surprisingly capable, with the ability to filter, odors, VOCs, and particulates. As a result, it's suitable for a variety of needs. But is it going to meet your individual requirements? To find out, we'll have to go over all of its features, benefits, and drawbacks. Then we'll be able to deliver a fair verdict. Let's get started!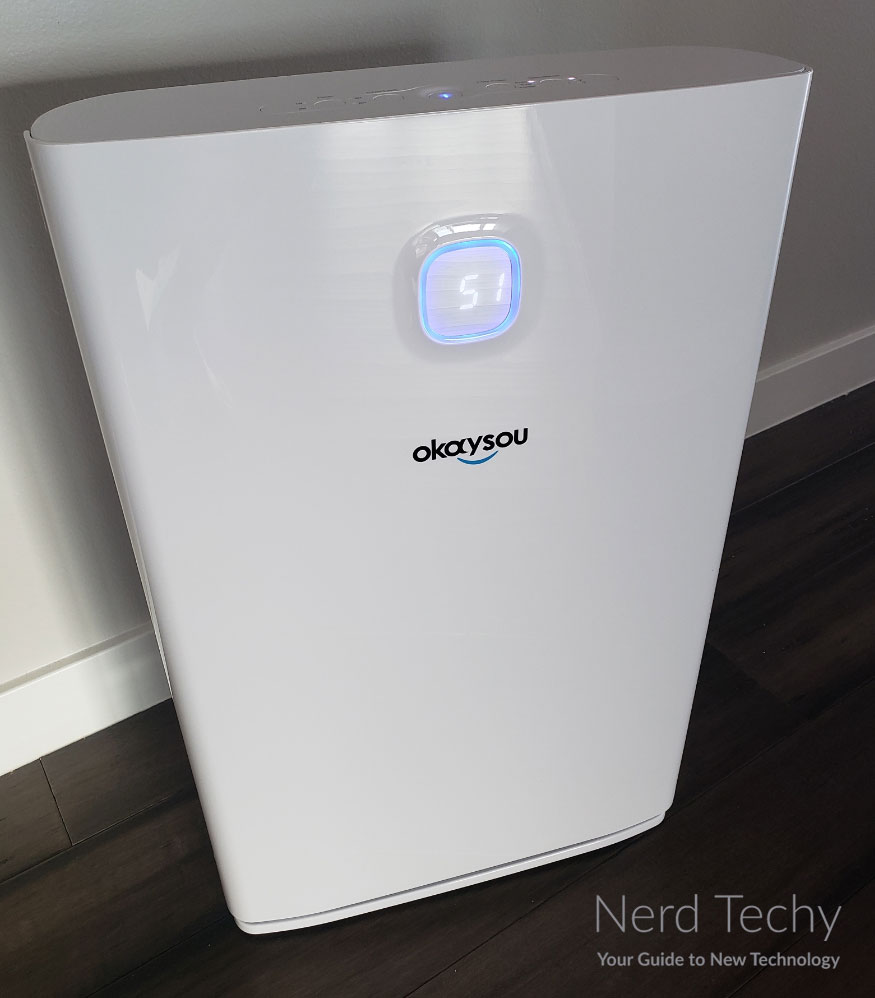 Overall Design
The Okaysou AirMax 10L Plus has a white plastic housing, with an easy-to-clean semi-glossy finish. This affordable purifier has a vertical design, with a rectangular footprint and a blocky profile. While it's mostly rectangular, the top surface is stepped, with a lower back portion and taller front portion. The overall size is 14.9 inches wide, 8.27 inches thick, and 23.2 inches tall. At 13.88 pounds, it's surprisingly light for the size, and it's relatively easy to carry around.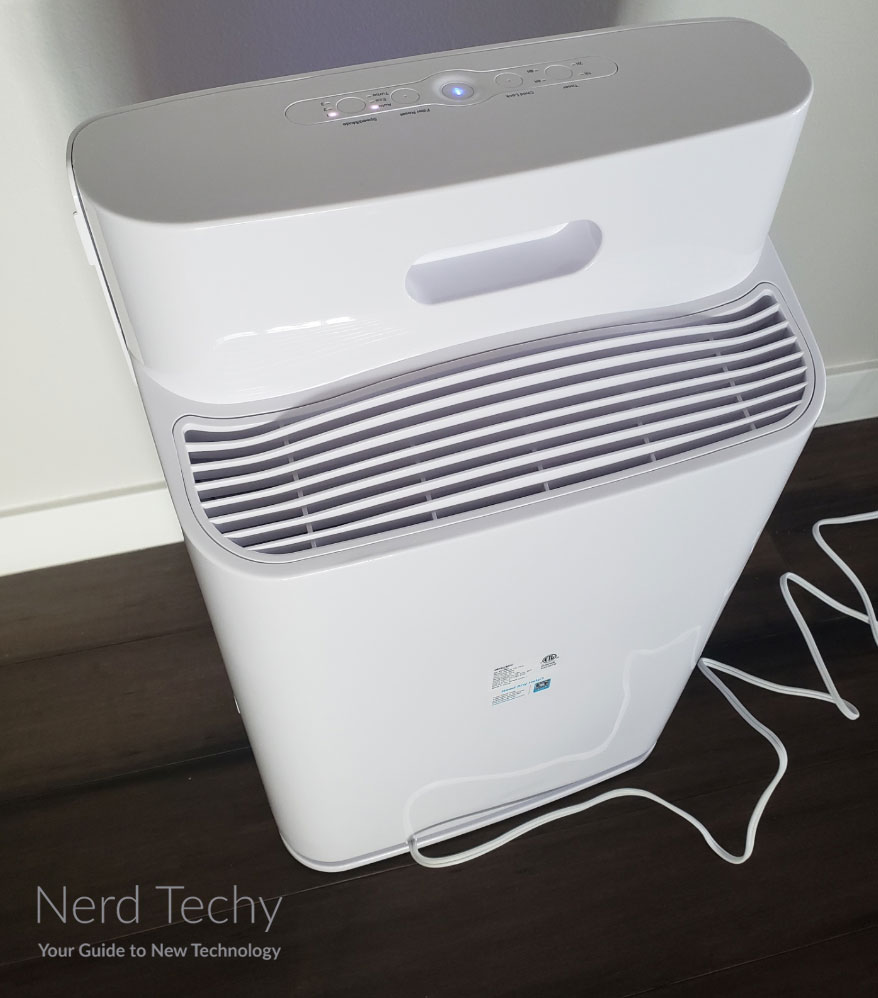 The sides of the housing have a tall, wide gap in them that makes it easy to remove the front panel when necessary. Just behind these gaps is a set of intake vents, which suck air into the unit. After going through the filter, the air is then expelled through vents on the back portion of the top panel. This makes placement pretty straightforward. Keep the sides and top clear to allow air to flow freely, and you'll be all set. The controls are located on the front portion of the top, and consist of a row of five circular physical buttons.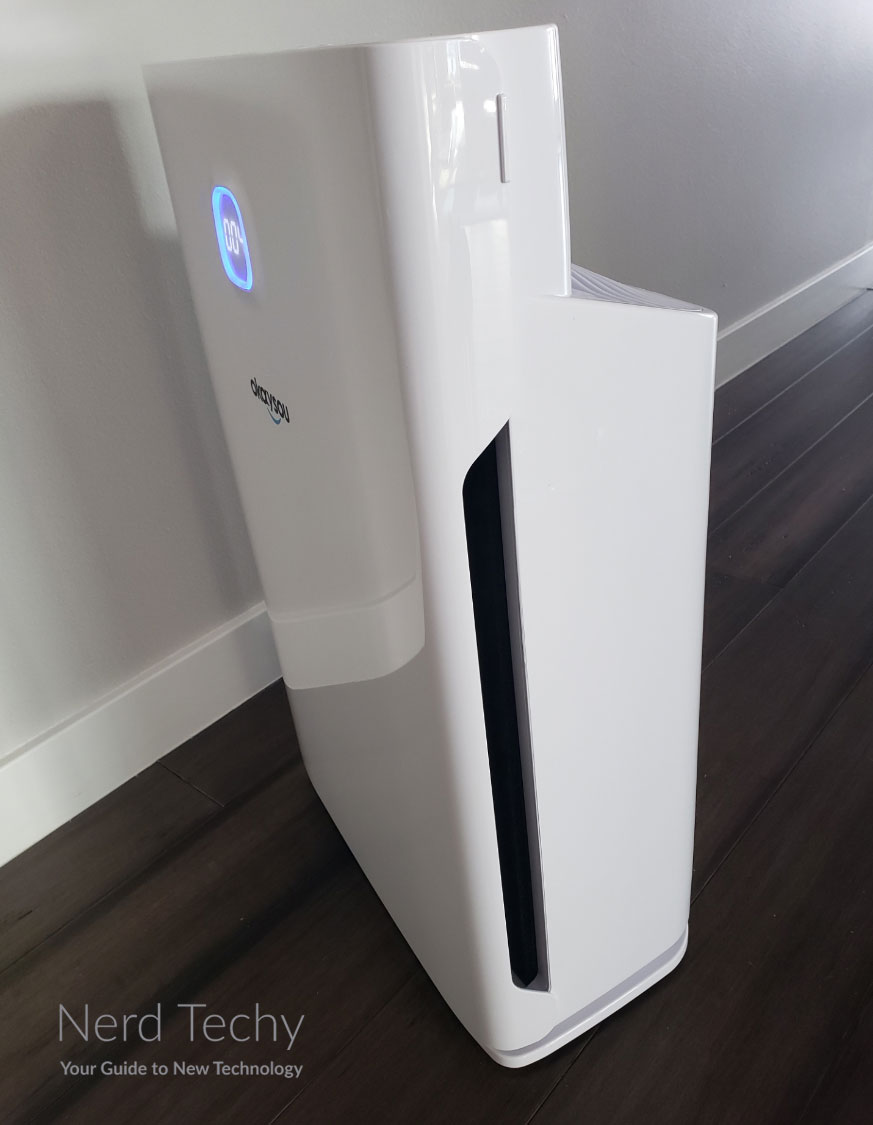 Near the top of the front panel is an air quality indicator. This is a square LED light that changes color depending on how dirty the air is. When the air is filthy, it will be red. As the quality improves, it will fade to yellow and then to blue. There's also a digital display in the middle of the square light. This displays your current air particulate level in micrograms per cubic meter.
The design is pretty well thought out, but what if you're looking for something a bit different? In that case, the Okaysou Apollo 818 might be more up your alley. It has a similar size and uses the same filtration system. But it has soft touch buttons instead of physical ones, and the motor runs quieter.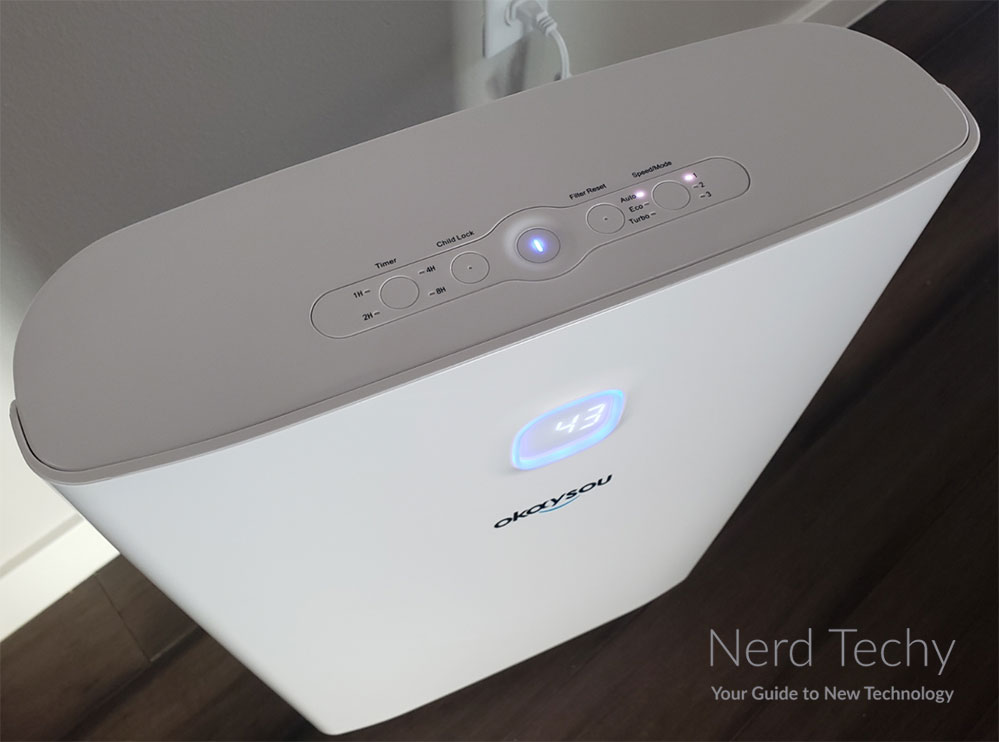 Controls
The controls on the 10L Plus are pretty straightforward. The leftmost button activates the timer mode. It has a single blue LED pip in the center that lets you know when the timer is active. In addition, there are four more pips around the button that let you know how many hours it's set for. Press the button once to set the timer for one hour. Press it more times to extend it to two, three, or four hours. Another press will deactivate the timer function entirely.
The second button in line is a child lock. Pressing and holding this button will lock out all other controls, and turn on an LED pip on the button. To unlock the controls, press and hold the same button again. The middle button is a power button, which turns the whole purifier on and off.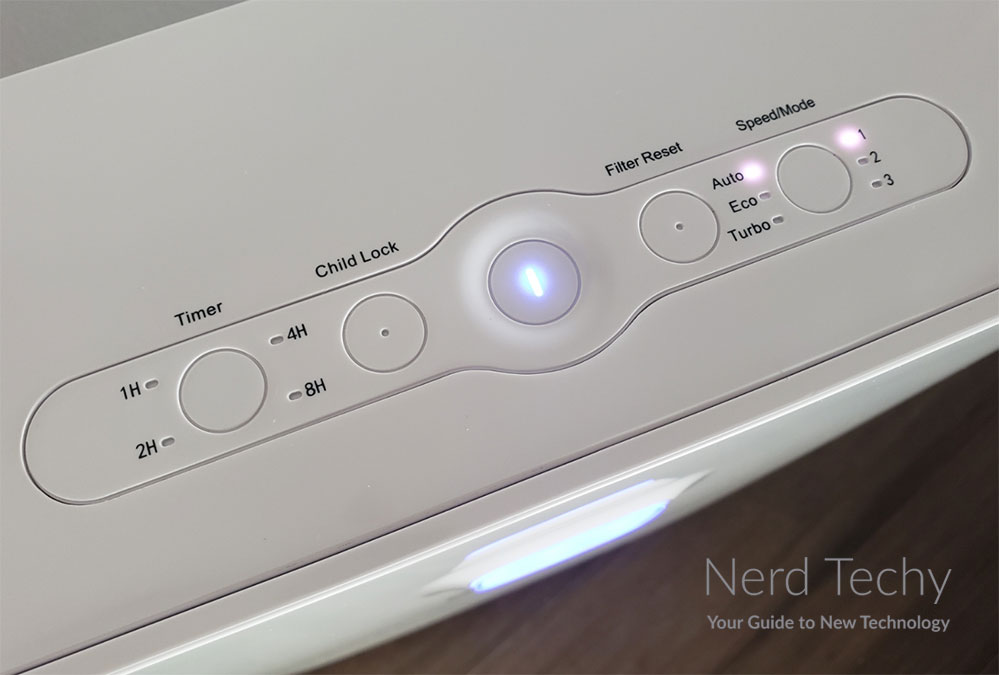 The fourth button in line is the filter reset button. When your filter needs to be changed, a blue light in the middle of the button will illuminate. After you've changed the filter, press the button to reset the system. Until you do that, the purifier won't turn back on.
The last button is the one you'll probably use most often. Pressing it will cycle between the different cleaning modes. There's a set of six indicator lights to the sides of the button, which indicate the system's current status.
The top left light is for Auto mode. In Auto mode, the 10L Plus will rely on its internal air quality sensor to determine the fan power. When the air is clean, it will run on low power to save energy. When the air is dirty, it will speed up to clean your air faster.
The second light on the left is for Eco mode, which is designed for maximum power savings. It will run until the air quality is as good as possible. When the quality remains excellent for 30 minutes, the system will automatically shut down. Not only that, but the lights will remain off in this mode, which makes it easy to sleep.
The bottom left light is for Turbo mode. This mode runs at the highest possible intensity without stopping.
Pressing the button again will put you into manual mode, which is indicated by the three lights on the right. You can cycle through three different speed settings, which allows you to get the level of power you need.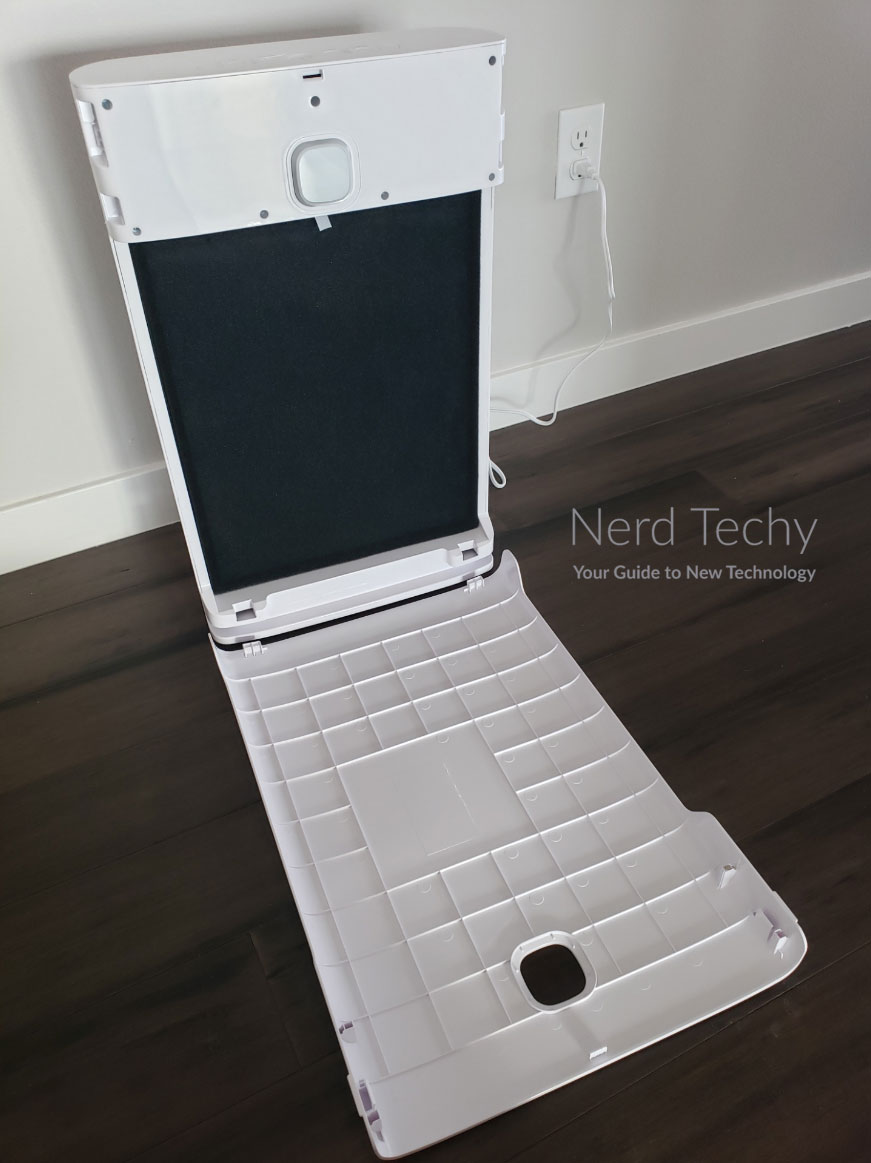 Filtration System
The 10L Plus has a powerful fan and large set of filters, both of which allow it to cover a large area. In one hour, it can filter a 1,500 square foot space. The area a filter can cover in an hour is generally the standard for what you want to limit it to. That said, it can work even faster in smaller spaces. In 30 minutes, it can clean a 1,160 square foot space. In 15 minutes, it will filter up to almost 600 square feet worth of air. All of this assumes standard 8-foot ceilings. If your ceilings are shorter or taller, you'll get more or less coverage respectively.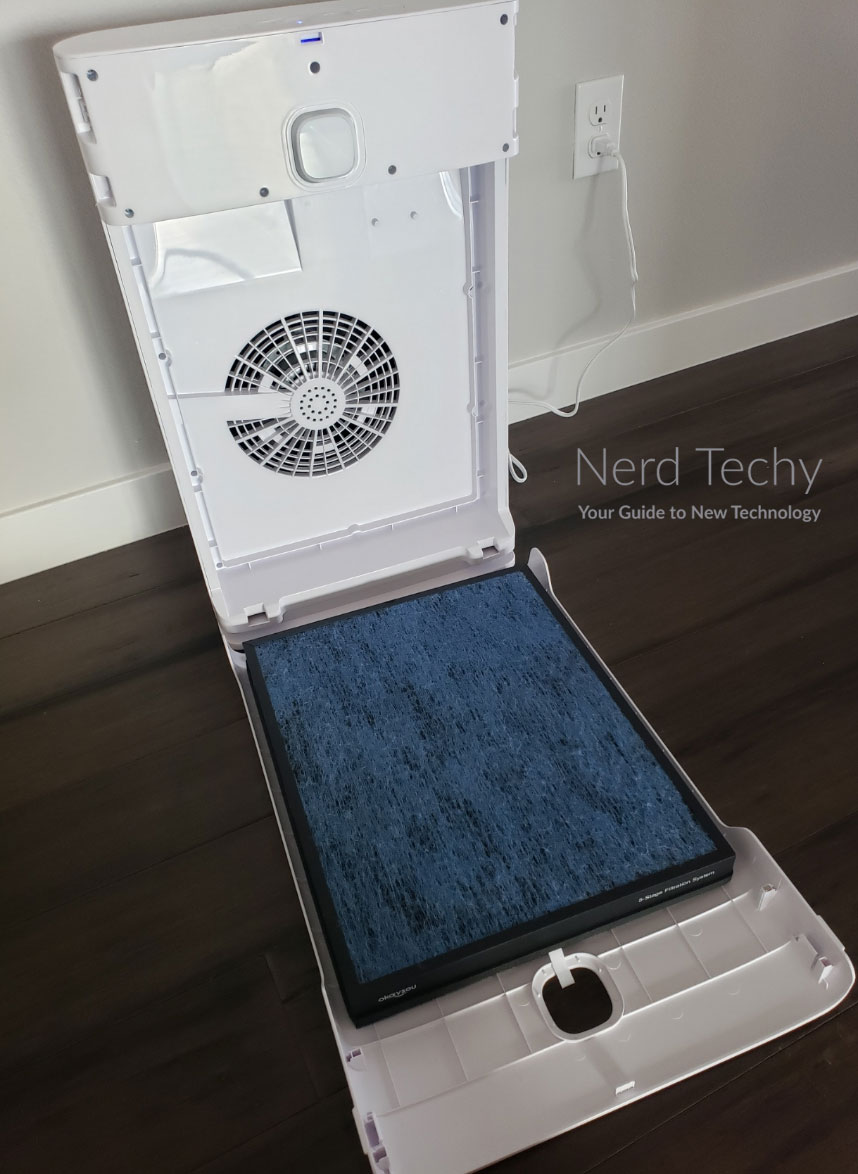 In Eco mode, the fan produces only 24dB of sound, which is literally quieter than a whisper. You have to put your ear up to the purifier in order to hear anything. That said, it can get pretty loud on higher settings. If you're going to run it in Turbo mode 24/7, you won't want to keep it in your bedroom.
The filtration system consists of five individual rectangular layers, which fit inside the housing. The first of these is a standard pre-filter. It doesn't do any heavy lifting, but it captures hair, large dust particles, and other visible debris. This ensures that no larger items get into the main filter and clog it up prematurely.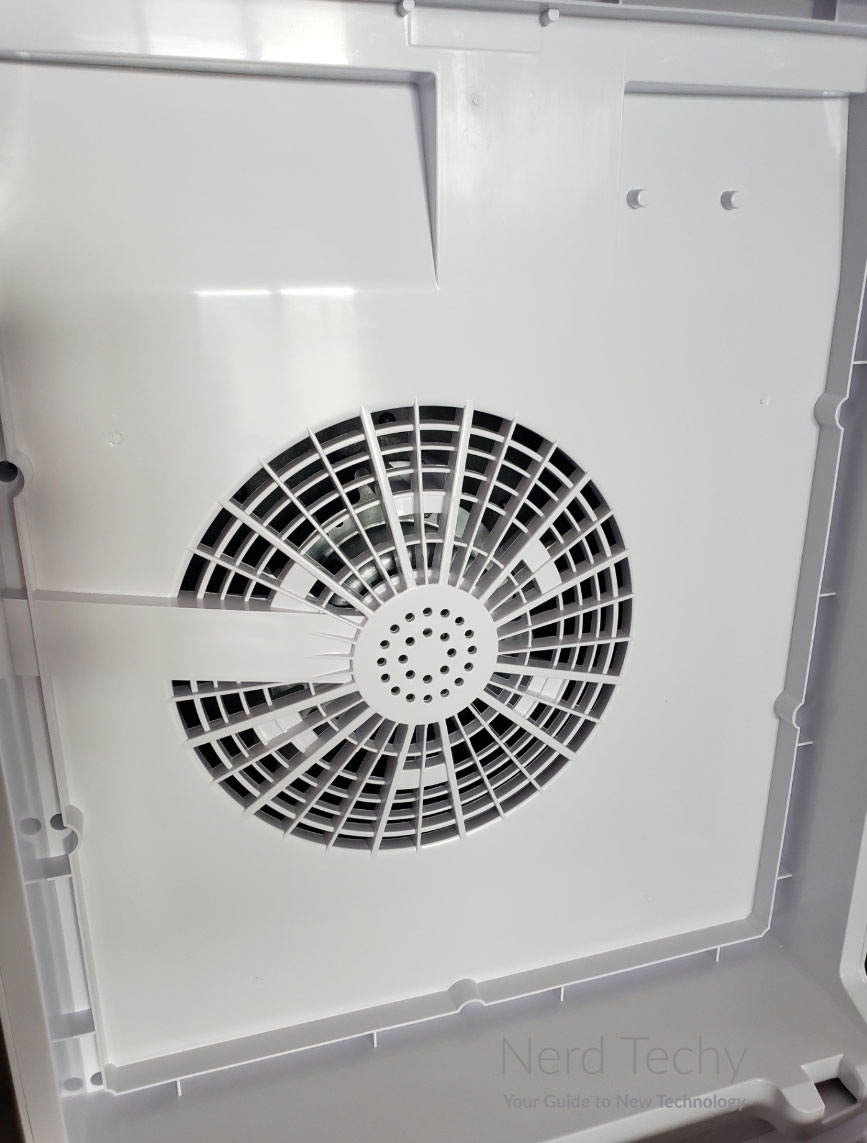 Behind the pre-filter is where the magic really happens. First up is a Nanois filter. This removes most dust, pollen, and other mid-sized particulates. Behind that is the H13 True HEPA Filter. This is the same high-quality accordion-style filter that's used in medical-grade air purifiers. That's not to say the 10L Plus is medical-grade – it's not. But it's as powerful as a non-medical filter can get.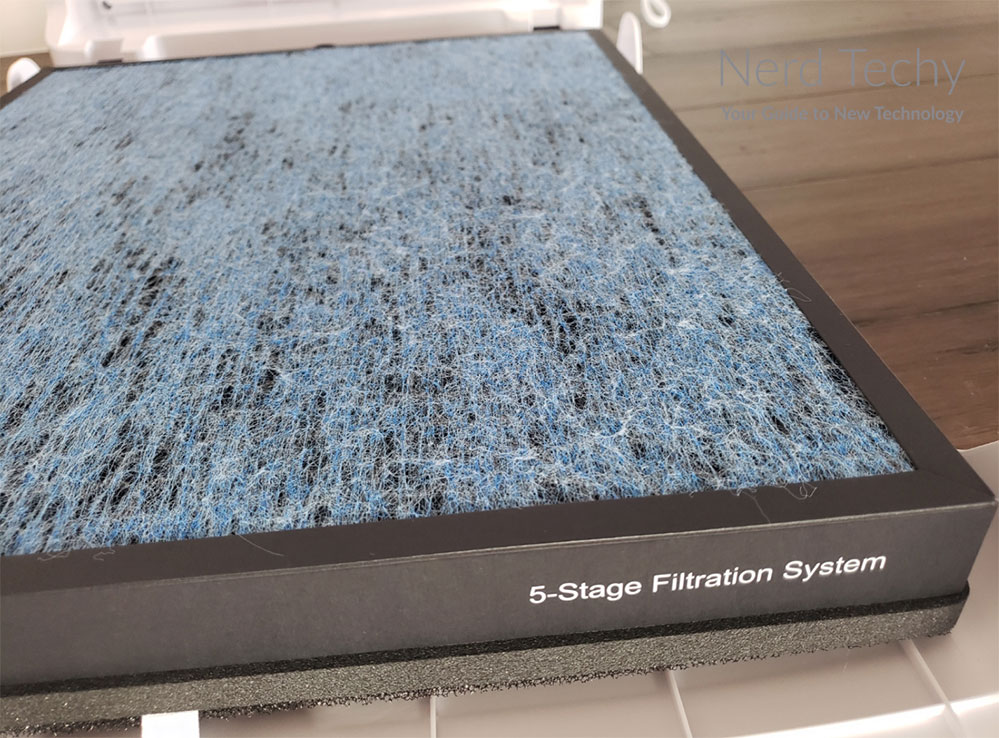 Next up is a honeycomb-patterned carbon activated filter, followed by a cold catalyst filter. These don't remove particulates, but instead remove odors and chemicals.
If you don't need a huge amount of coverage, the Okaysou Apollo 630 is a great choice. It's significantly smaller, which makes it easier to position. It covers a correspondingly smaller area, but the filters themselves remove the same types of contaminants.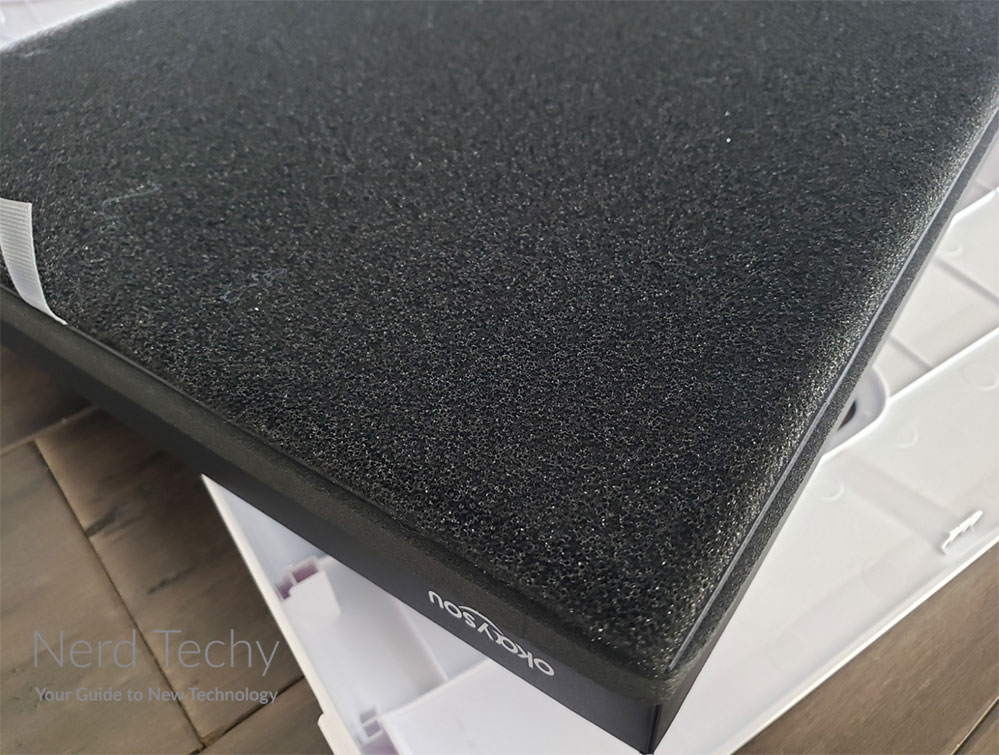 What Does it Remove?
We've established that the 10L Plus can cover a large area. But what does it actually remove from your air? To begin with, it will eliminate 99.97% of particles down to a size of 0.3 microns. This includes dust, smoke, pollen, mold spores, and animal dander. The activated carbon filter and cold catalyst filter will eliminate formaldehyde and other VOCs. Meanwhile, food and animal odors are reduced to a bare minimum.
If you like the filtration system but want something a little bit smaller, check out the Apollo 810 GT. It's a more compact purifier that has the same filter system and covers up to 1,200 square feet. Not only that, but it's even more affordable than the 10L Plus.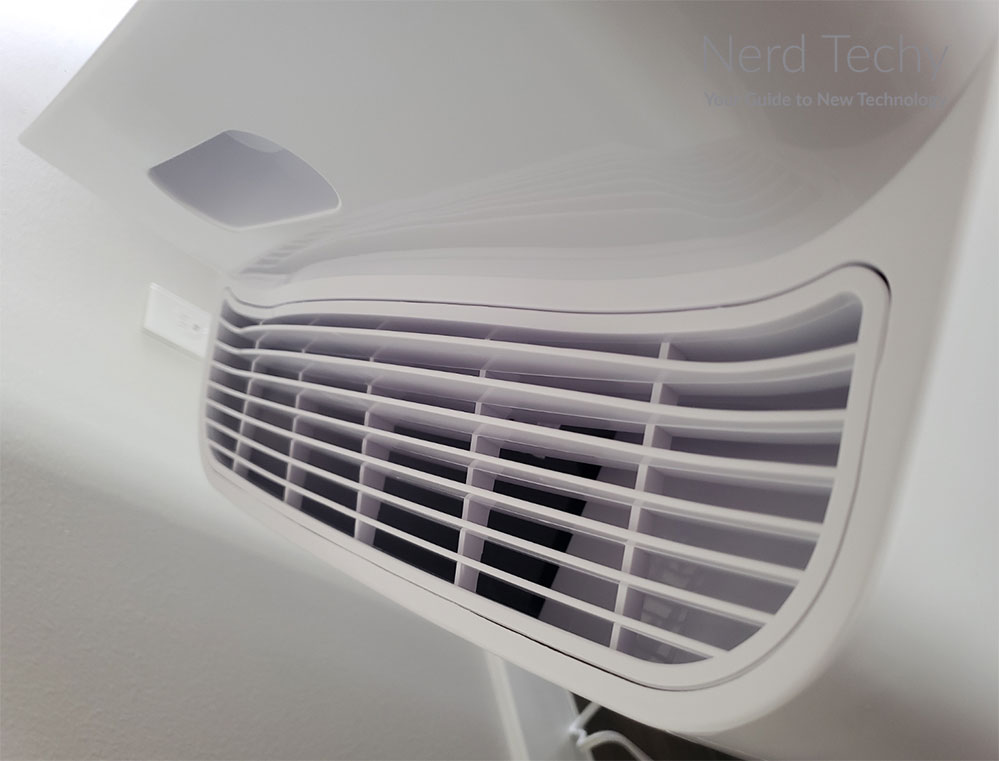 Maintenance and Extras
Taking care of the AirMax 10L Plus is pretty straightforward. When the filter light turns on, pull off the front panel and remove the filter. Take the pre-filter and wash it under the faucet by running cool water through it from behind. Make sure to let it dry thoroughly before you re-install it into the purifier housing.
The other filters are disposable, and you can order them as a pack. Put them into the housing, and install the pre-filter once it's dry. Then pop the front panel back on and press the reset button, and you'll be back in business.
If anything goes wrong, you'll be protected by a generous five-year manufacturer's warranty. It covers any defects in parts or labor.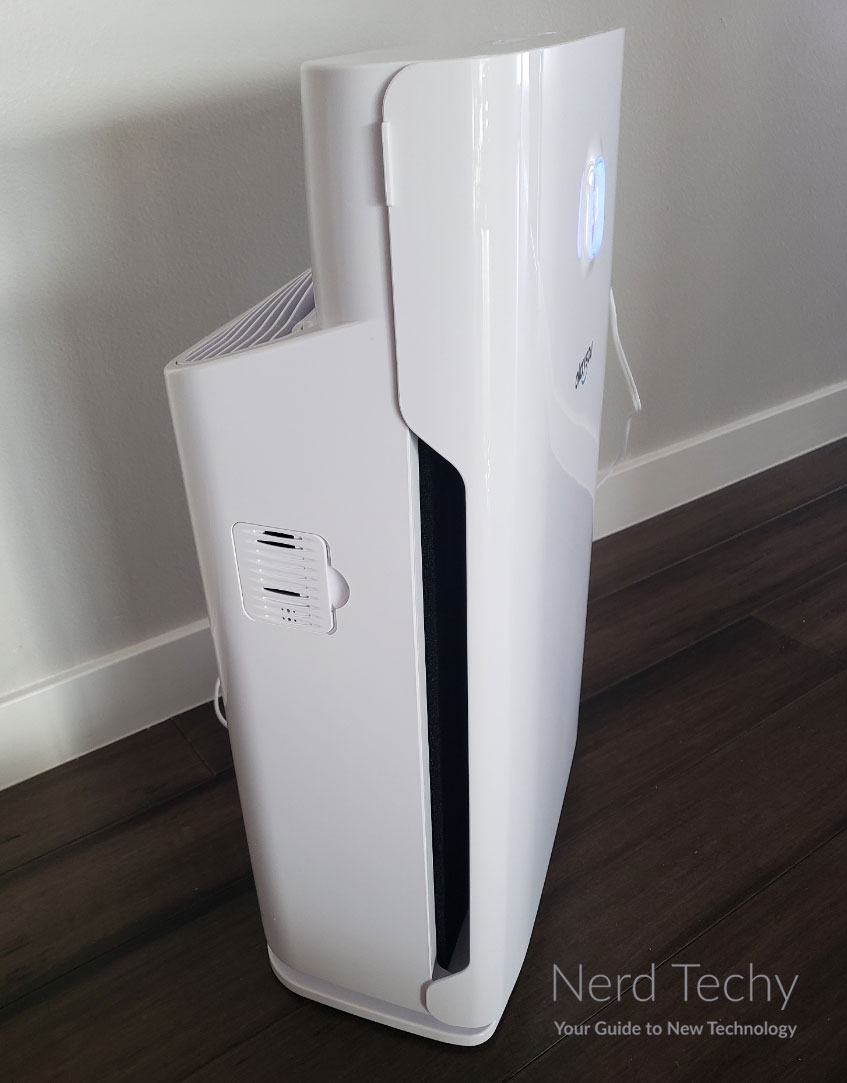 Final Verdict
The Okaysou AirMax 10L Plus is exceptionally powerful, especially considering the low price tag. Not many home air purifiers can cover 1,500 square feet, but this one does so with ease. It also boasts a powerful filtration system that removes not just particulates but odors and VOCs.
The control scheme is simple and straightforward, and the air quality sensor provides good quality feedback. Both of the automated modes seem to do a good job of moderating the fan speed. And when it comes time to change the filter elements, the process is quick and painless. All in all, we were very happy.