These days, a lot of small businesses are turning to tablets instead of traditional point-of-sale (POS) systems. This only makes sense, particularly if you're a mom and pop shop. Simply put, a traditional register system is fairly pricey. It's not back-breakingly expensive, but it's yet another expense at a time when you're investing a ton of money. By contrast, tablets have gotten absurdly cheap in recent years. Pair one with a card reader and a payment app, and you've got everything you need to take payments.
Tablets are also useful for larger businesses, and even nonprofits. Museums can use them as interactive displays. They can be used for self check-in at many kinds of business. The list goes on.
Note: At no extra cost to you, we may earn a commission for purchases using our links. Learn more.
Unfortunately, tablets have one major weakness: they're easy to steal. A traditional cash register is fairly heavy. Unless you're unusually strong, you're not going to be able to snatch one up and run away with it. On the other hand, anyone can grab a tablet and run, leaving you emptyhanded. And while tablets might be inexpensive, you still don't want them getting stolen. How do you take advantage of their small size and portability, without putting yourself at risk?
One method is to use an anti-theft tablet stand. These stands are specifically designed to lock your tablet in place, making it much harder to steal. They're also designed to make it convenient for you and your customers to use.
Choosing the Best Anti-Theft Locking Tablet Kiosk Stand
We're about to review four of the best anti-theft locking tablet kiosk stands that we could get our hands on. These are all well-engineered devices that will keep your tablet safe and secure. They're all also well-designed when it comes to ergonomics and general ease of use.
That said, there are important differences between the four of them. A stand that would be ideal in one scenario might be entirely useless in a different scenario. To decide which one is best, you need to consider several different factors.
You have to look at the height and the angle of the stand, and how the tablet can be adjusted. You need to think about the supported tablet size, and whether your tablet will even fit. Moreover, you've got to consider installation, and how the stand fits into your workspace. We'll go over all of these things and more. After that, we'll be able to make a proper comparison. Let's begin!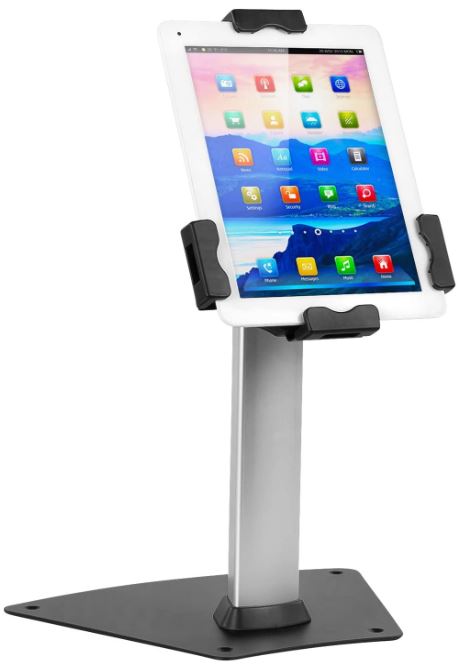 Mount-It! Secure Universal Tablet Kiosk
Mount-It! is a manufacturer that specializes in mounting hardware. Not long ago, we reviewed their curved TV wall bracket. It performed very well, and was also not too difficult to install. So we were excited to take a closer look at their tablet stand.
The Mount-It! Secure Universal Tablet Kiosk has a rectangular vertical support that's surprisingly tough and sturdy. It's made from rugged aluminum, and won't bend or damage easily.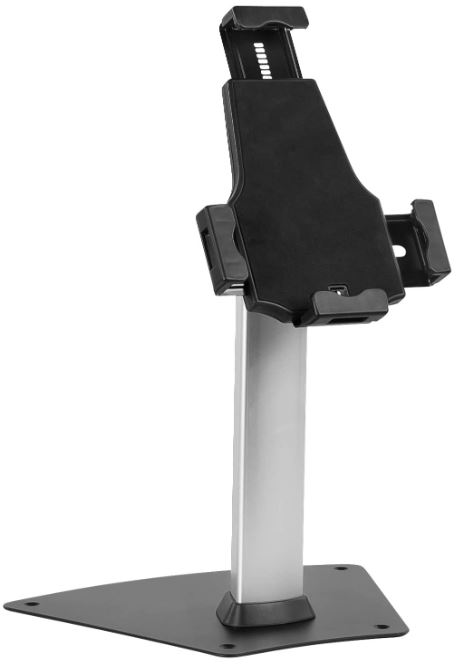 The tablet mount sits on the top, and is positioned on a hinged mount. This allows it to pivot 80 degrees in one direction, and 65 degrees in the other. Not only that, but the tablet can be rotated 360 degrees. As a result, this stand is very useful in situations where two people are sharing a tablet across a counter.
The mounting clamp is made of plastic, but it's a thick, chunky plastic that's not easy to break. The back panel is flat and smooth, with a slim foam pad that goes behind your phone. Two secure your phone, there's a set of vertical and horizontal clamps. The vertical clamp can extend as wide as 10.6 inches, or as little as 7.9 inches. The side clamps, meanwhile, can extend from 5.5 to 7.7 inches. This gives you a ton of flexibility in terms of sizing. You can easily mount any tablet from 7.9 to 10.5 inches, including all iPad, Galaxy, and Surface models.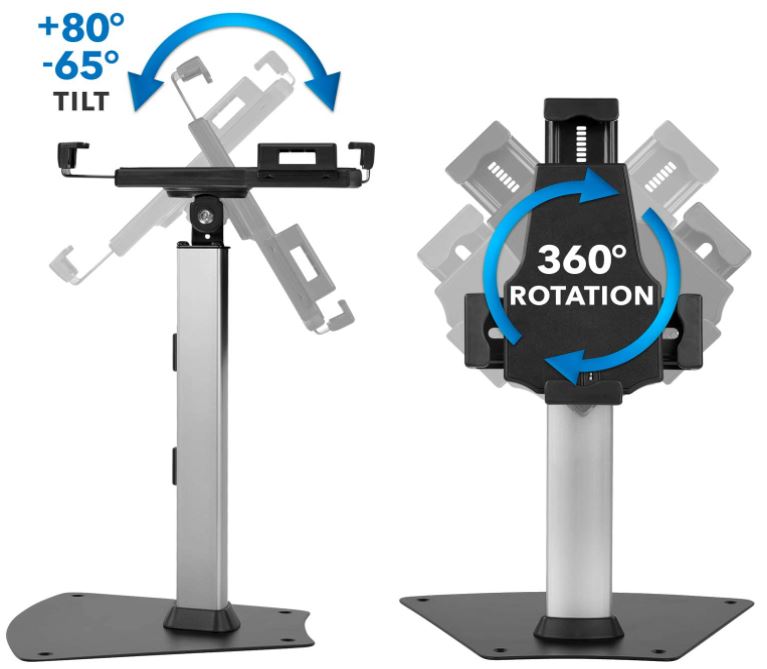 Installation & Extras
When the Mount-It! kit arrives, it's going to be in pieces. Thankfully, it's easy to assemble. To begin with, attach the vertical mounting post to the base, using the four included screws. Then, you need to mount the base to your desk or counter.
The base itself is a wide black steel plate, with an arc-like shape. It measures 12.4 inches wide at its widest point, and 8.5 inches deep. This gives it a modest footprint, so it won't take up a ton of counter space. It attaches to your desk with four screws, which once again are included in the kit. You'll need to pre-drill for these, but it only takes a minute. Keep in mind that these are wood screws. If your counter is concrete or granite, you'll need to use a set of anchors.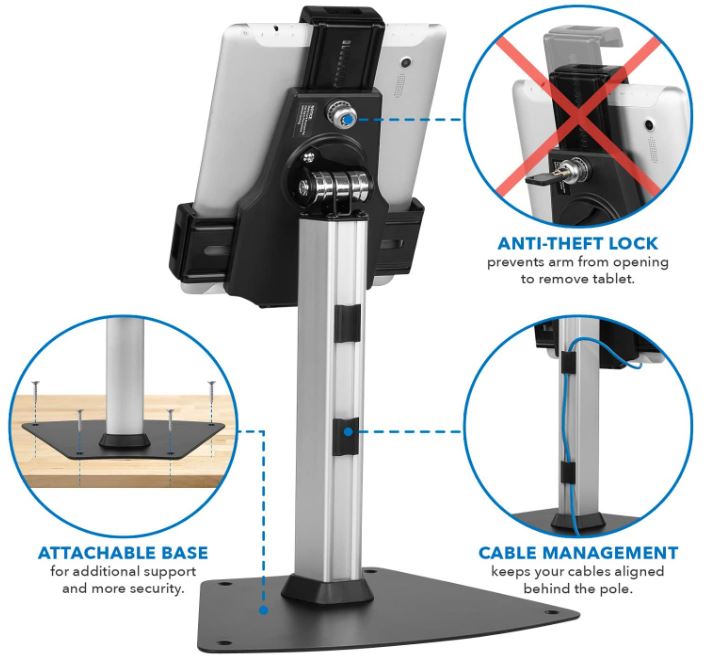 The vertical mount is hollow on the inside, with access at the top and base. This is engineered for cable management, so you don't have to leave your cord dangling free. It's easiest to access when you're first installing the mount. But if you have to, you can still run a new cable later on.
The lock cylinder itself is located in the back of the housing, where the two halves of the bracket cross. It's removable, and it locks into place when you turn the cylindrical key. This is very secure, and you can still remove the tablet in seconds if necessary.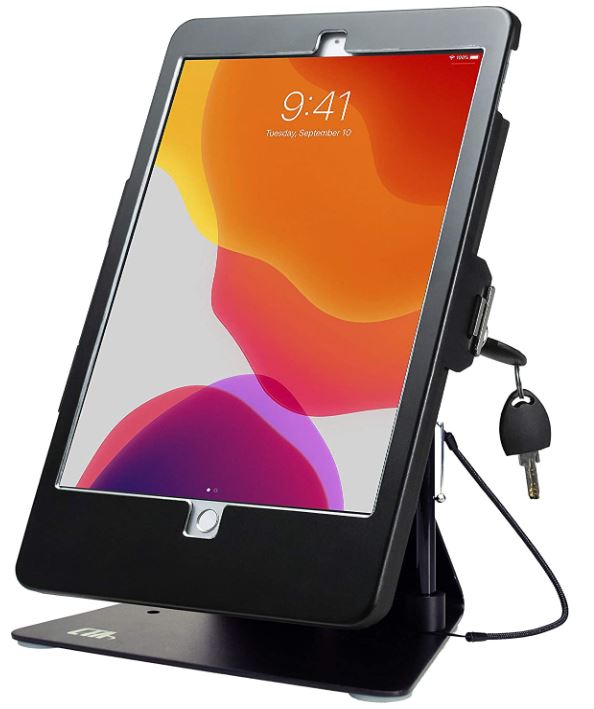 CTA Anti-Theft Kiosk Stand
The CTA Anti-Theft Kiosk Stand comes in several variants, all of which have their own quirks. To begin with, there's the standard aluminum version. This version is available in black, silver, or white, all of which have a smooth, glossy finish. Alternatively, it can be ordered in a translucent acrylic material, or in an attractive stained wood.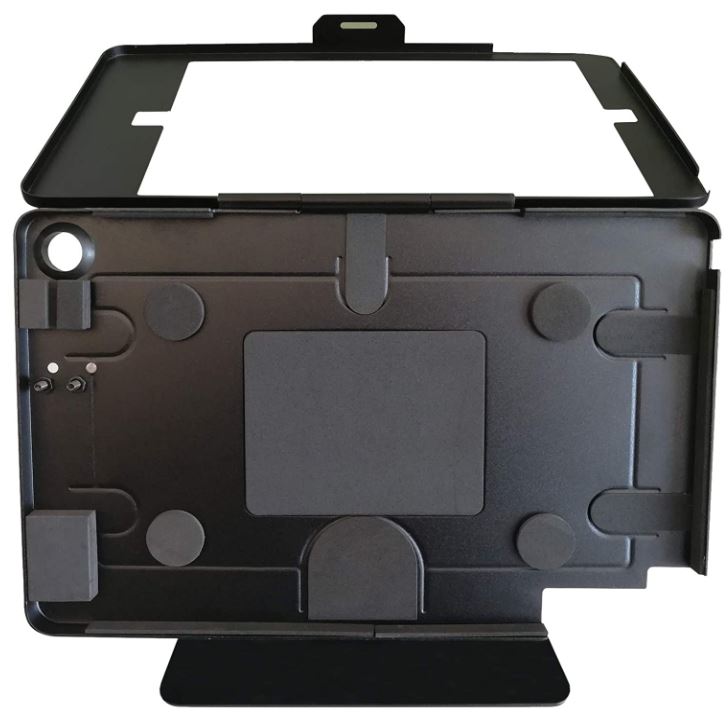 The main attraction of this stand is the top housing. This housing completely encloses your tablet, with just an opening to reveal the touchscreen. It allows full access to all your tablet's controls, including a porthole for the home button. If you'd rather not have the home button available, there's a little removable cover.
The top of the housing opens with a hinge, which reveals a padded internal compartment. The padding here is very generous, both underneath and around the edges of the lid. It holds your tablet safely and securely, and keeps it safe from scratches and bumps.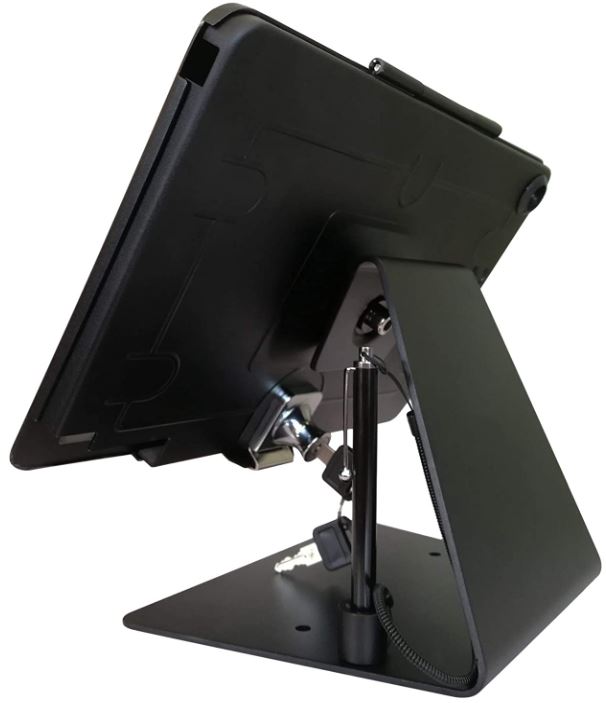 As you might imagine, it's important to get the correct fit for your tablet. To that end, there are multiple sizes available, covering most editions of the iPad. If you're a Samsung user, the 9.7-inch Samsung size will cover most people's needs.
If none of these fits your tablet, there's also a version that clamps your tablet from the corners. This can accommodate any tablet from 7 to 14 inches, or just about anything on the market. Then again, this variant isn't as secure, and it's only available with the aluminum options.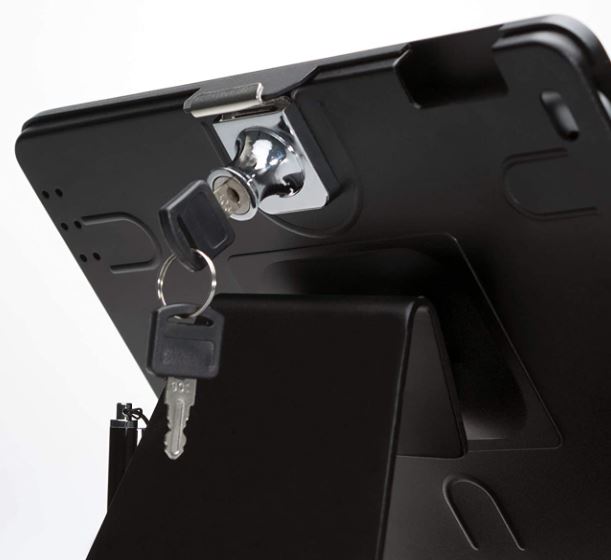 Installation & Extras
All versions of the CTA stand have a locking mechanism on the back. When the lock is engaged, the front cannot be opened, and the tablet cannot be removed. That said, only the aluminum version can be screwed down to your counter. The wood and acrylic ones aren't drilled out. The aluminum version also has an optional locking cable that attaches to the base.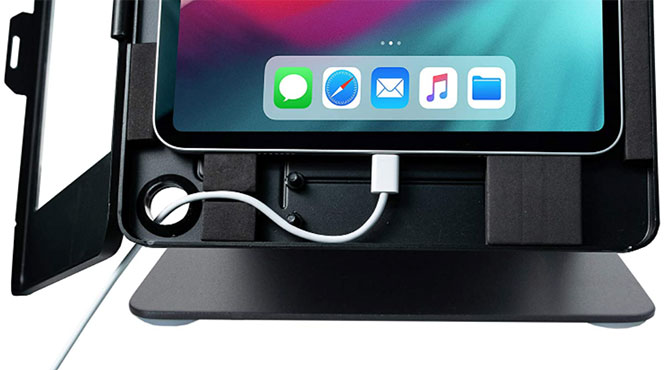 All versions allow the screen to be rotated to portrait or landscape mode. The silver, white, and wooden ones can also tilt back and forth to face either direction.
There's an opening in the back of the mounting enclosure, which allows for easy cable routing. Meanwhile, you'll find a stylus mounted in the base, which is attached by an elastic lanyard.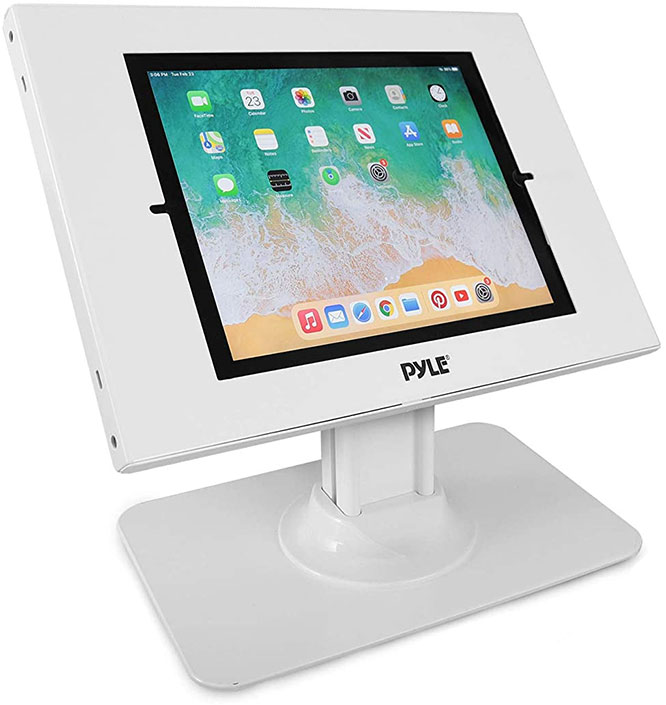 Pyle Anti Theft Tablet Security Stand
The Pyle Anti Theft Tablet Security Stand is comparable in some respects to the CTA stand. It sports a full enclosure, which entirely encloses your tablet.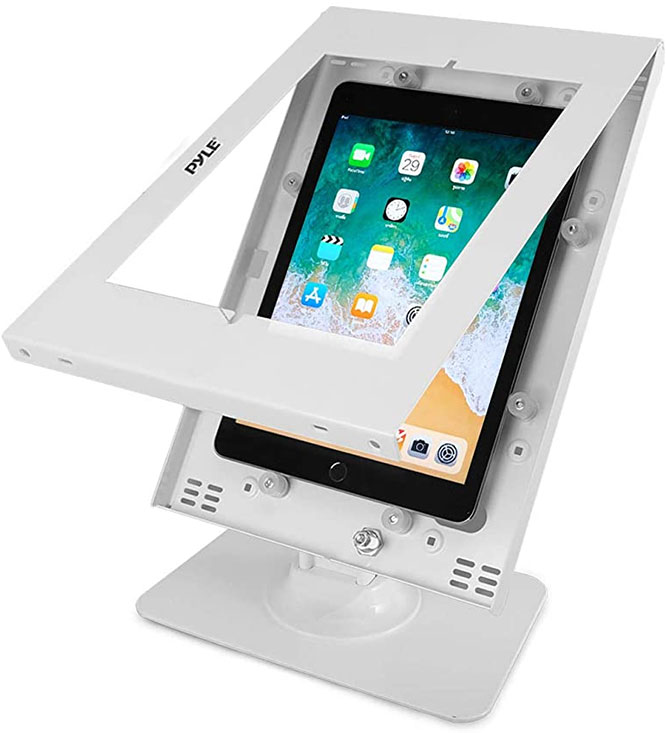 The inside is padded, and while it's not quite as well-padded as the CTA, it's not going to scratch your phone. Better yet, the inside has a set of adjustable bumpers. Instead of ordering it to fit your tablet, you get one stand that works for different iPad and Samsung Galaxy models.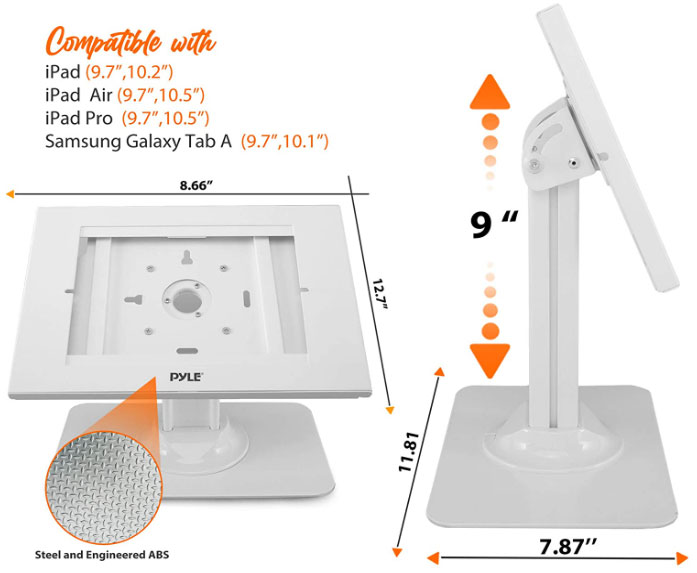 The enclosure itself is made from steel, which is very durable. The bumpers are ABS plastic, stiff enough for firm support, but not hard enough to scratch your phone. The vertical support is made from aluminum, and is nine inches tall. That's ideal for countertop use, where it will be just below eye level.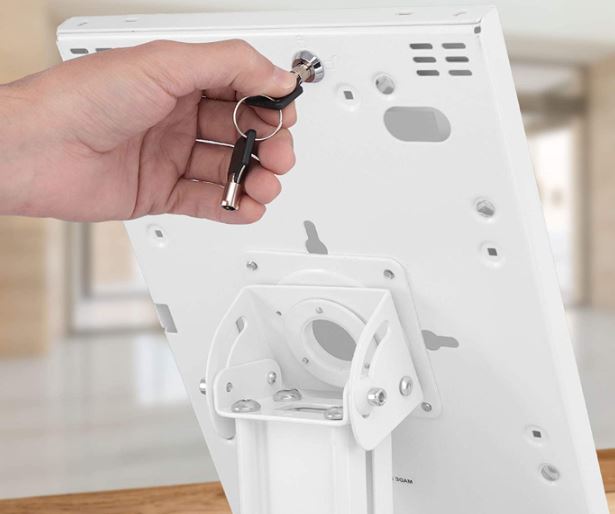 Installation & Extras
Your tablet can be rotated to portrait or landscape orientation, and can tilt up to 75 degrees. You can also run your cable through the vertical support, and through a hole in the back side of the enclosure.
The rectangular base measures 11.81 inches wide and 7.87 inches deep. It doesn't bolt down, but there's a lock on the back of the enclosure itself. Not only that, but you can remove the tablet enclosure from the support and wall-mount it.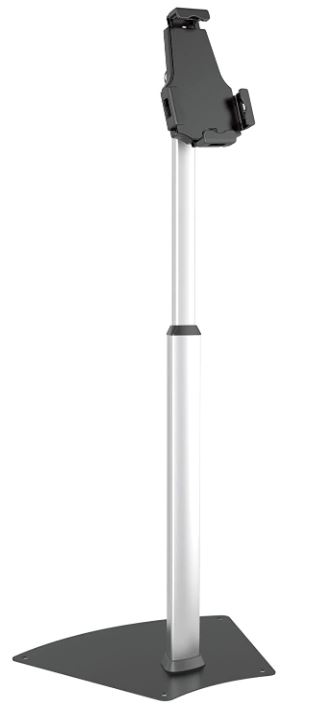 Kantek Floor Mounted Tablet Kiosk Stand
Kantek specializes in producing high-quality mounting equipment. We recently reviewed their computer tower stand, and we were reasonably impressed. In light of that, it only made sense to check out their tablet stand.
The Kantek Floor Mounted Tablet Kiosk Stand is a bit different than the other ones we've looked at. This stand is very tall, with a vertical telescoping aluminum rod that extends from 37 to 58 inches. As you might imagine, it's not meant to go on a desk or counter. Instead, it's meant to be mounted on your floor, for use as a free-standing kiosk. There's also a tabletop version available, but there's nothing terribly special about it.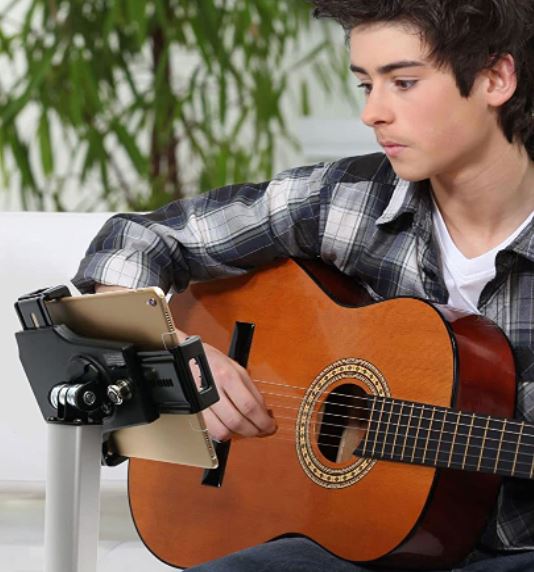 Your tablet sits on the top, supported by a plastic clamp. This clamp system allows for vertical and horizontal adjustment, and is reasonably well-padded. In total, it can support tablets between 7.9 and 10.1 inches. That's not an enormous range, but it's respectable.
Installation & Extras
The black steel base is wide and deep, with an arc-shaped profile. It has holes at the corners, and is designed to be bolted down. That said, you don't have to bolt it down if theft isn't a huge concern. It's bottom-heavy enough to remain stable.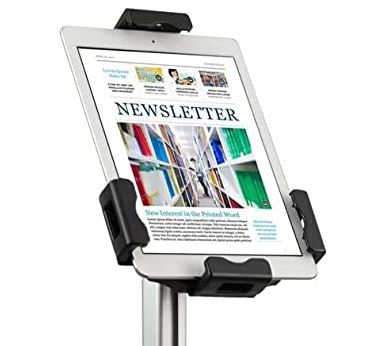 The support rod is hollow, and you can pass a cable through it. This allows for easy cable management, so you don't have a cord hanging down from the tablet. The mount itself can be rotated to portrait or landscape mode, and can also be tilted back and forth.
All of today's stands are well-designed for businesses and other organizations. But what if you want something you can use around the house? In that case, check out our list of the best gooseneck tablet and smartphone stands. They're great for the kitchen, office, living room, or bedroom.
Final Verdict
As you can see, these are all solid tablet mounts. But which one is the best for your situation? Here's a quick summary of what we've learned.
The Mount-It! Secure Universal Tablet Kiosk is designed primarily for retail applications. The hinged design makes it easy to flip the tablet one way or the other. At the same time, installation is straightforward, as is the cable management. Not only that, but it accommodates almost any major tablet.
The CTA Anti-Theft Kiosk Stand has the most padding, and keeps your tablet well-protected. It's also useful for retail, but it can also be great for restaurants and coffee shops. We particularly liked the wood and acrylic options, which provide an unusual and unique aesthetic.
The Pyle Anti Theft Tablet Security Stand is another great choice for countertops. But it's also removable and can be wall-mounted, so it can be used for interactive displays. And with its one-size-fits-most design, sizing is hardly a concern.
The Kantek Floor Mounted Tablet Kiosk Stand is a different breed altogether. Instead of desk- or counter-mounting, it's purpose-built to be a free-standing kiosk. This is useful for all kinds of applications where no mounting surface is readily available.
Please consider sharing:
Note: At no extra cost to you, we may earn a commission for purchases using our links. Learn more.