Last year, having an 8-core CPU was something to brag about. This level of performance was only valuable if you had a computer made from the highest performance hardware, and it was financially out of reach for most consumers.
Today, ThreadRipper has changed all of that. AMDs ThreadRipper CPUs are designed gamers who crave cores, hoard memory, and need the bandwidth to accomplish even the most challenging computational tasks. Early reviews have shown that ThreadRipper is the future of PC computing, and consumers are clamoring to get their hands on one.
But it's not just the CPU you need. You also need a motherboard as well. Although there are a few chipsets available for AMDs latest platform, X399 motherboards are the top-tier chipset for top-tier chips.
The X399 Platform
ThreadRipper CPUs feature 16 cores and 32 simultaneous threads. They use an all new CPU socket dubbed TR4, hosting an astounding 4000+ pins that allow the chip to communicate with all of the hardware on the motherboard.
X399 motherboards all have a few universal features in common. Their quad-core memory controller supports a staggering 128GB of memory. This means that you'll be buying your RAM in packages of 4 if you want to get the best performance.
X399 motherboards have 64 PCI-express lanes. Up to 60 of these lanes can be used for graphics cards, but it's up to your individual motherboard to distribute these lanes between USB 3.1, NVMe SSDs, and other PCI-express compatible hardware. These boards also offer one-touch overclocking, allowing you to tap into the extra headroom included with high end ThreadRipper chips.
All X399 motherboards support an additional 8 (or less) USB 3.1 Gen 1 ports that don't have to tap into the CPUs available PCIe lanes. They also support six SATA ports and two lanes dedicated to WiFi or Ethernet networking.
Which board should you choose? We went through the list and selected our top 4. Whether you're building a beefy PC for gaming, digital media, or scientific calculations, we'll help you find the board that's right for your specific application.
ASUS ROG Zenith Extreme
ASUS has always been known to create some of the best gaming motherboards on the market, and this is their flagship ThreadRipper solution. They didn't skimp anywhere. All of the core features available with the X399 platform are included here. Additionally, they have a few cutting edge features that you won't find on most boards.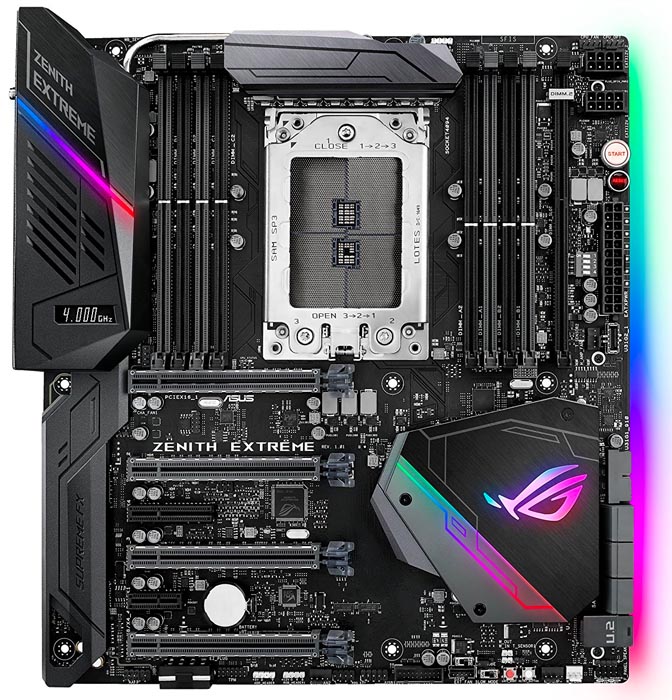 Graphics & Storage
Technically, any X399 board had the opportunity to support quad SLI graphics. However, doing so makes for a challenging build. If you're looking to shove 4 graphics cards into your system, the ASUS ROG Zenith Extreme is one of your only options. Chances are, you're not going to buy a top-tier motherboard and throw in some bargain basement graphics cards. To accommodate the large dual-slot coolers, ASUS spaced all of the PCIe ports apart so everything will fit.
The fourth card can also run independently. You could use three-way SLI for graphics, leaving the fourth card for physics calculations. This setup is also ideal for scientific or engineering applications where you might want to run CUDA calculations on a compatible Quadro graphics card.
The ROG Zenith supports four NVMe SSDs, one of which has its own dedicated heat sync for improved cooling performance. We recommend using this slot for the drive that will be in use the most. Either your boot drive, or the drive where you store your games or working data.
External drives can be connected to one of many USB 3.1 ports available. There is a single header for an A or C port on the front of your case, and one of each (C and A) are available on the rear of the motherboard. For slower storage, six SATA ports are provided.

Networking & Communication
ASUS provides one of the most impressive networking setups we've ever seen integrated into the motherboard. The WiFi chipset has two modes. You can use the cutting-edge 802.11ad technology to get superior bandwidth on the expanded 2.5 and 5 GHz frequency range. If you're still using 802.11ac hardware (which is still pretty impressive!) the card offers 2×2 MIMO to further boost your bandwidth.
When you've got wireless that's faster than most wired connections, you wouldn't expect to use an Ethernet port. In this case, you still might want to. ASUS has a 10g Ethernet card offering professional grade networking in a consumer grade motherboard.
AURA LED lighting technology is integrated right into the motherboard. You have a single addressable channel that connects to two headers. This ensures that your lighting is cohesive, giving you an affordable way to add some LED lighting to your case.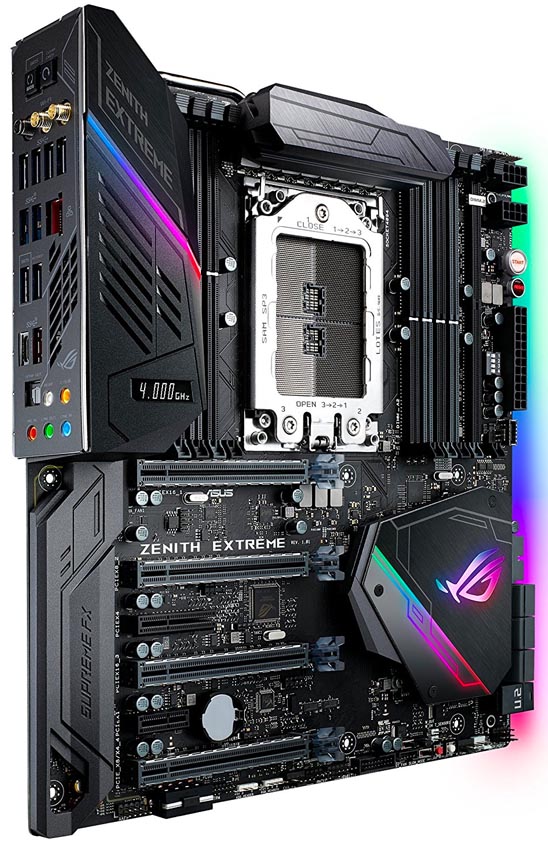 Additional Features
The primary advantage of the ROG Zenith motherboard is cooling. All of this hardware is pushing the X399 chipset to its limit. The board is compatible with Monoblock liquid cooling, as pumps and headers are provided that allow you to connect it to all other components of the motherboard. Internal sensors help you measure flow rate, temperature, and load for advanced software-controlled cooling systems.
If you're planning to use air cooling, high current fan headers are available for use with compatible fans.
Gigabyte X399 Aorus Gaming 7
Gigabyte's flagship gaming board blurs the line between sever boards and consumers boards. Designed with overclocking in mind, this board should help you hit higher clocks from your chips with less money invested. It does this through a combination of high end power supply lines and advanced temperature sensor diodes, ensuring that your system remains stable even under heavy load.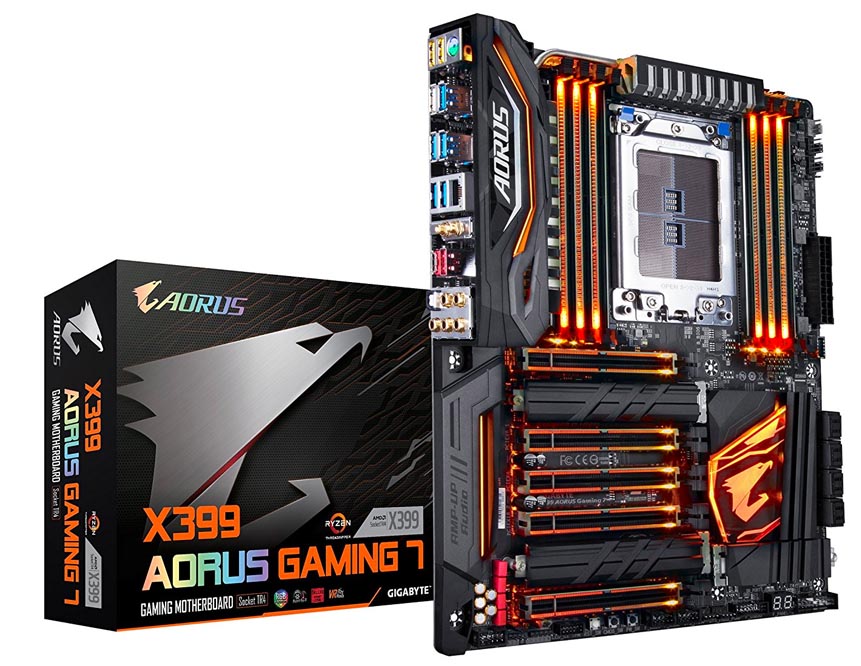 Graphics & Storage
The Gigabyte X399 Aorus Gaming 7 is another board that supports quad SLI, with a few more limitations. The center ports are spaced a little closer together. If you've got double width cards, you'll fit a maximum of three cards inside. If you have single width cards (or replace the cooler with a waterblock) you'll be able to use four. Using a fourth card as a physics or computational engine isn't supported, although this isn't much of a disadvantage for the gaming community. If you're using heavier cards, the reinforced PCIe slots ensure that you're not going to damage anything during installation.
For top-tier storage, you can install up to three NVMe SSDs, two of which have their own dedicated heatsink. The NVMe SSDs are uniquely placed near the rear of the motherboard. This allows an exhaust fan to offer superior cooling, reducing throttle time.

This board offers a USB-C and A port on the rear, and a USB 3.1 header for the front of your case. No less than six other USB 2.0 ports are available. The two yellow ones are designed to supply power even when the computer is off, so you can charge your devices. The white port is used for flashing the motherboard. Even if you push your overclock too far, just throw in a USB key and you'll always be able to recover the EFI.
Networking & Communication
Gigabyte is using an Intel server-grade 802.11ac chipset that provides rock solid WiFi connections even over a long range. This chipset also offers built-in Bluetooth. It supports the cutting edge Bluetooth 4.2 communication protocol, allowing connectivity with low power and long range devices.
Wired networking is handled by a Killer NIC card that supports multi-channel Ethernet broadcasts up to 2500 Mbps. It's refreshing to see high end wired Ethernet becoming standard, as Wireless has quickly outpaced standard Gigabit Ethernet.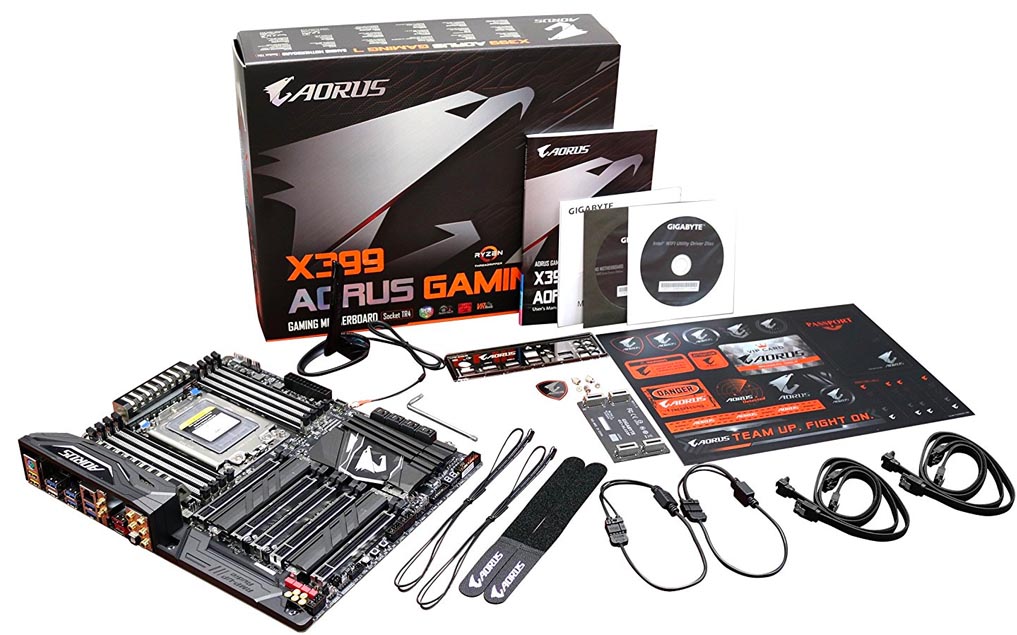 Additional Features
Gigabyte has gone out of their way to make this the premier board for overclocking. Of course, the standard "one touch" overclock is available through the X399 chipset. But if you want to go above and beyond, there are a few key things you'll need. The power supply to the processor uses ultra-high end capacitors that deliver a rock solid voltage. You're able to overvolt your CPU much higher with this board, resulting in more stable overclocks.
Gigabyte also provides a high end audio system. The USB ports have a built in digital DAC, improving the connections with external sound cards. If you want to use the integrated system, gold plated 3.5mm ports and WIMA audio capacitors ensure that your sound is crystal clear. The ALC1220 audio processor is capable of 120DB signal to noise ratio, so there is no static or distortion in your audio signal at all.
MSI X399 Gaming Pro Carbon AC
MSI's board comes in at the affordable end of the spectrum, but still provides plenty of performance for game fanatics. The key advantage with this board is the ability to overclock your memory to 3200 MHz, and the interchangeable coolers for all motherboard chipsets. One of the unique features about this cooling system is that MSI provides 3D models for all heatsink covers. A number of additional covers are available through them, or you can purchase third party options if you want to give your motherboard a unique look.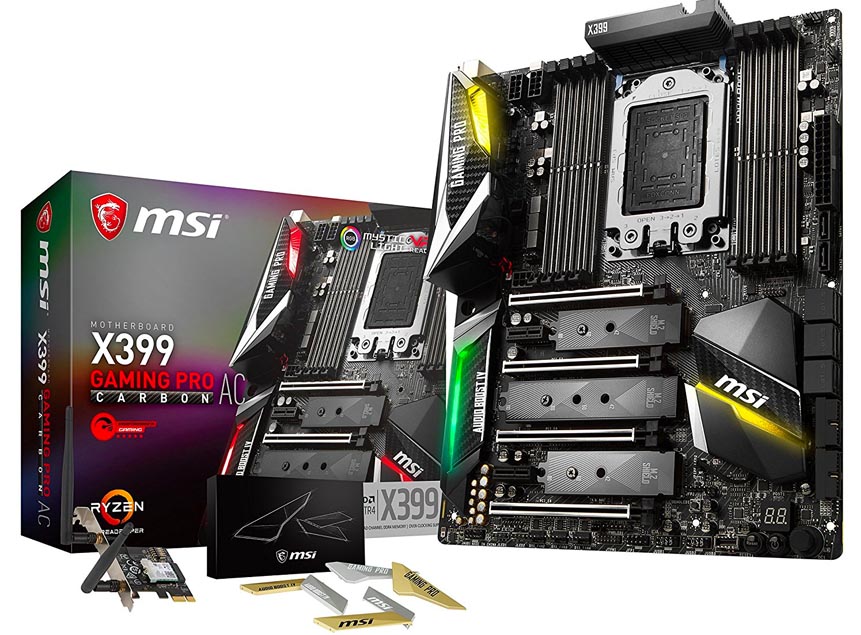 Graphics & Storage
The MSI X399 Gaming Pro Carbon AC supports three way SLI, with a fourth PCIe x16 port available for SSDs or other non-graphics applications. Like many top tier boards, these ports are all reinforced with metal to ensure that you can use dual width cards that may weight more. The tensile strength on these ports is a little higher than some, ideal for applications where you're using custom water cooling solutions that may put more pressure on the cards.
It also supports up to three NVMe SSDs, all of which are located in between the PCIe ports. By placing them in a spot where there are already a number of lanes, latency can be kept to a minimum. This also allows for more efficient distribution of power, reducing the load on your power supply. All three NVMe ports have their own heatsink, so you can use all of them without having to worry about head-imposed throttle.
For USB 3.1 Gen 2, you're going to have to head to the back of the board where one A and one C port are available. USB 3.0 headers are provided for your case, and six more USB 3.0 ports are located on the back of the board.

Networking & Communication
The integrated networking on this board is fairly basic in design. You get an original 802.11ac card made by Intel, which is capable of 867 Mbps total bandwidth. This card also provides a standard Bluetooth 4.2 connection, ensuring compatibility with virtually every modern device.
Also from intel is a gaming LAN card, which supports gigabit networking with reduced ping time and improved latency. While this isn't the highest end card on the market, it's still a decent performer.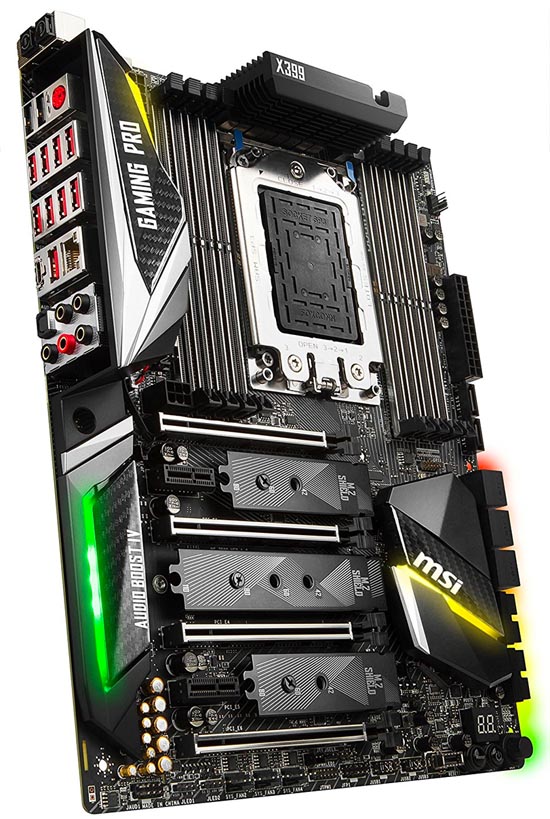 Additional Features
When you're overclocking, you always run the risk of setting a configuration that is too aggressive. Back in the day, this could result in your motherboard being bricked. Fortunately, MSI provides a solution that ensures that will never happen. Their BIOS Flashback+ feature offers a discreet button on the motherboard. Hold this button while powering it up, and all BIOS / CMOS features will be reset to default. This lets you start your overclock again, without worrying about damaging your hardware.
To improve overclocking performance for the RAM, high grade trace is supplied. Since RAM can often hold back top-tier chips, this board would be a good option if you're unable to get the overclock you wanted.
ASRock FATAL1TY X399
Although ASUS currently has the top-tier motherboard, the FATAL1TY X399 is a pretty worthy competitor. In addition to many of the features that make the ASUS stand out, this board has a few cutting edge assets like an ultra-modern external drive connection, the best power filtering on the market, and server-grade Ethernet technology.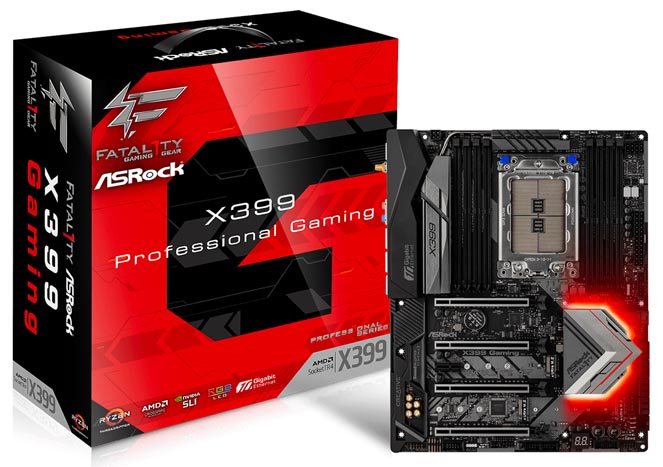 Graphics & Storage
The ASRock FATAL1TY X399 is the third X399 board to support four-way SLI. The compatibility is slightly limited, as this technology works only with Quadro & GTX cards. In many ways, this makes sense. Using top-tier graphics cards is necessary to get the most from such a high end SLI setup, and most consumers will choose these cards anyway.
Where the board really stands out is with its new external storage options. The U.2 connector is an external technology that allows NVMe-based flash drives and hard drives to be used. Although this technology was developed for the server market, it's started to become popular with consumers. There isn't a lot of options on the market right now, but this will be changing very quickly.
In addition to the U.2. port, this board provides sports for three NVMe SSDs, and two USB 3.1 A and B connectors. One pair is located on the back, the other pair is provided as a header for the front of your computer case. Additionally, 8 SATA ports are provided for massive banks of storage.

Networking & Communication
If you're building a high end wired Ethernet network, this is the board you want. There are two options available. The 10 GBPS AQUATINA port offers the highest possible wired internet connection speed. You will need a special router that supports it, but this is the best you'll find. If you're using an older router, ASRock has an alternative for you. Dual Intel Gigabit Ethernet ports allow you to bond two standard channels to get 2 GBPS of bandwidth. This is compatible with any common router, and will be a popular option for those who want lots of bandwidth on a budget.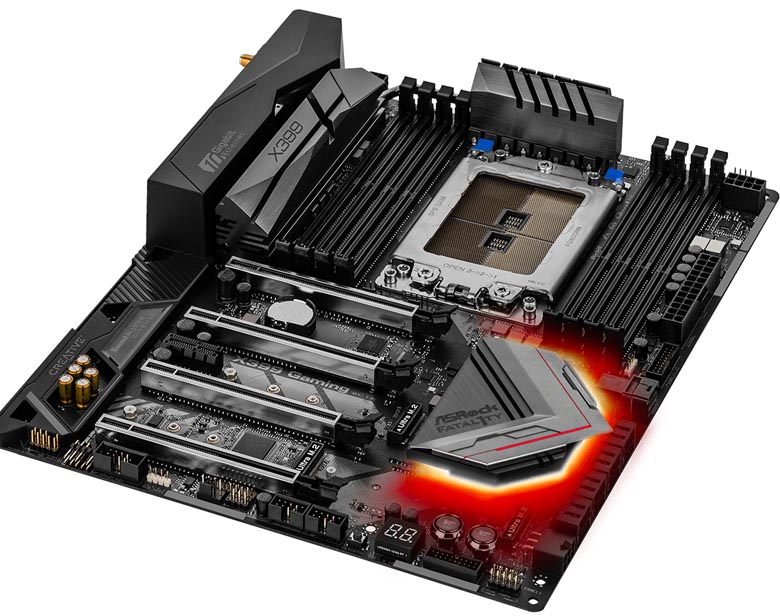 Additional Features

This board was basically begging to be equipped with the finest hardware available, and it's got the technology to back it up. Their 11-phase power deliver system allows you to overclock some of your components without running the risk of damaging others. Separate power filtering circuits are installed on the memory header and on all PCIe lanes.
Which X399 Motherboard is Right for Me?
Unsure of which one to choose? If you're just looking to run the latest AMD chips and install a huge amount of memory, any of these boards will do. But depending on your desire to overclock, the storage devices you'll be using, and the number of graphics cards you have, some options may be better than others.
If you want no-compromise quad-SLI, the ASUS ROG Zenith Extreme is the board for you. It offers better compatibility than any other board on the market, and even supports using a separate card for physics or mathematical calculations.
If you're looking to take advantage of the latest storage technology, you'll want to give the ASRock FATAL1TY X399 another look. It supports the latest U.2. standard, which is soon to offer the best SSD performance on the market.
If you after improved cooling performance, the MSI X399 Gaming Pro Carbon AC is the board for you. It offers replaceable heatsinks and and advanced temperature monitoring system. Nothing else is better suited for a water-cooling upgrade.
If you're looking for a deal, the Gigabyte X399 Aorus Gaming 7 is a great choice. It still has most of the features as the other boards, but comes in at a much lower price.
Meet Derek, "TechGuru," a 34-year-old technology enthusiast with a deep passion for tech innovations. With extensive experience, he specializes in gaming hardware and software, and has expertise in gadgets, custom PCs, and audio.
Besides writing about tech and reviewing new products, Derek enjoys traveling, hiking, and photography. Committed to keeping up with the latest industry trends, he aims to guide readers in making informed tech decisions.