There's a big difference between different pairs of top-shelf headphones. It's really a matter of what features you end up paying for. Sometimes, you're paying for extra noise isolation or greater sound quality. Other times, you're paying for higher quality materials, or you're getting special calling features. That can make it tricky to pick from this price range, but certainly not impossible once you have a good idea of what you want.
Beyerdynamic Lagoon
Even though Beyerdynamic doesn't have the kind of name recognition behind a brand like Sony or Bose, their latest released "Lagoon" is a shockingly adept competitor. Even when compared to some of the bigger brands flagship products, the Lagoon really seems to hold its own. It does that primarily in two ways.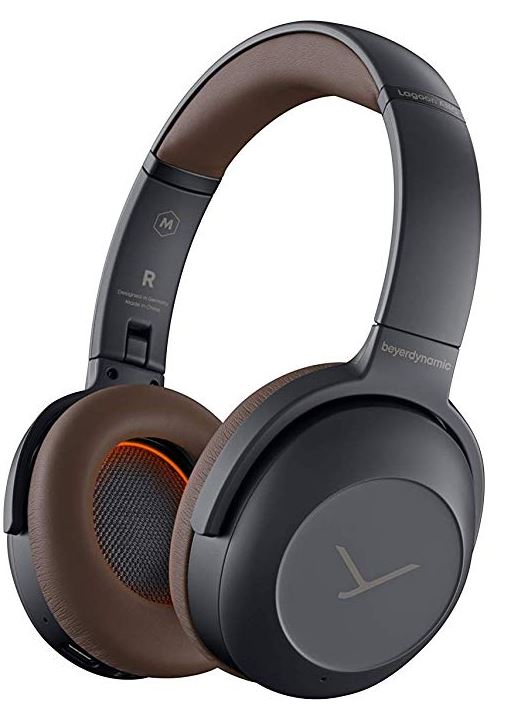 The first way is that it delivers on a slightly unique set of abilities and style that are totally unique to this brand. That's mostly achieved with their innovative light guide system, which makes clever use of LEDs to help make them easier to manage. The second way the Lagoon comes through is in a more traditional sense, constructing reliable core features, especially surrounding their ANC.
Outside of the bigger brands, like Sony, it can be tough to find ANC that's worth utilizing. Because developing ANC technology is still fairly expensive, so small audio brands are mostly left trying to create pale imitations of what can be done at the higher end. But the Lagoon is a stark exception, offering ANC that can be reasonably compared to the best on the market. At least, in some ways and not others.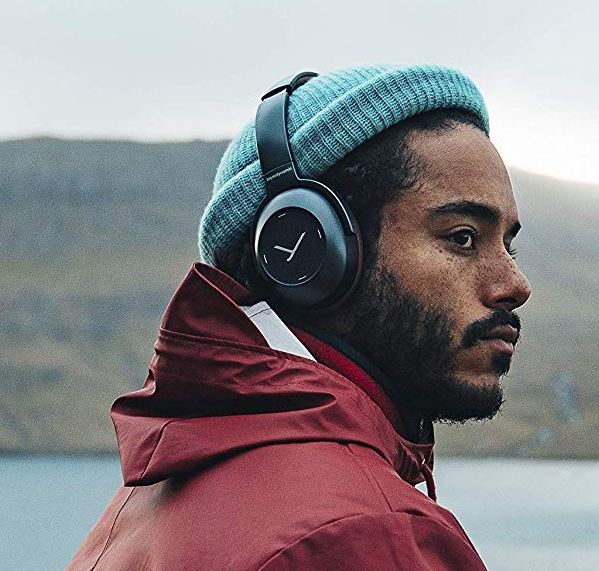 Design & Layout
The Lagoon are gray on the outside, and highlighted with brown padding on the inside. That gives them a professional and stylish aesthetic that can fit in basically anywhere. But at the end of the day, beauty is fairly subjective, so you'll have to make your own determination about how you feel about the brown.
Physically speaking, the materials which the Lagoon are constructed from are made from feel light, and feel generally sturdy. However, since it's ABS plastic, they don't always ooze a sense of high quality. Nevertheless, ABS plastics are specifically selected by sound developers because they provide the best comfort relative to their weight.
As with style, some people like touch controls, some people do not. Here you'll find some pretty standard outer-ear touch controls. Being able to control over-ear headsets by touch is something that only a couple of brands have done so far, and it feels like they're still figuring out how to perfect the implementation.
Like you would expect, you can tap or swipe your finger to start playing, pausing, or skipping around between tracks. You can also adjust the volume controls with taps and swipes, but the sensitivity of the control interface leaves a little bit to be desired, so it may be fair to say it could use some refinement. You won't have a problem raising or lowering your volume, but sooner or later one of your finger inputs will be missed, and you'll have to repeat the action, which could be mildly irksome over years and years of use.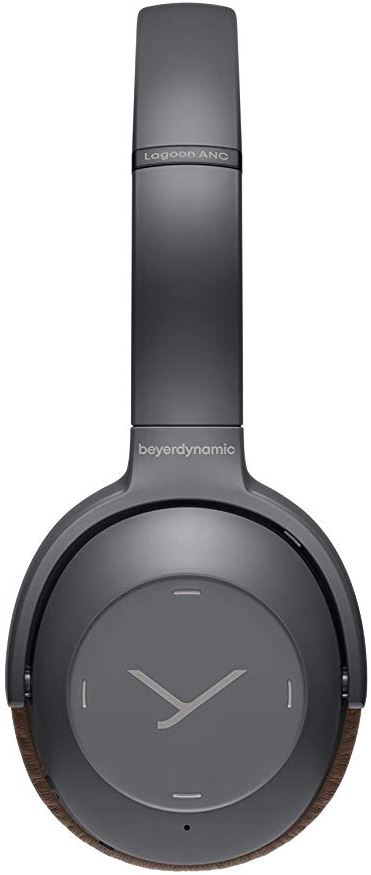 Light Guide System
Usually, LEDs on headphones are somewhat wasteful, or are only used for a cheap gimmick. One of the things that makes these headphones special is rather than using an exterior LED, the Lagoon actually uses internal lights that run along the insides of the ear cups. And those lights aren't only there for aesthetic purposes. Instead, they're positioned to help inform the user about the status of their headphones.
It actually has a far greater impact on your experience than you might expect. After all, the only time you actually want to see status lights on your headphones is while you're not wearing them. You don't want LEDs on your headphones to be creating glare or disturbances in your environment while you can't see them. Shoving them inside the ear cups might seem like an obvious design decision, but it's taken years and years for any headphone developer to actually do it.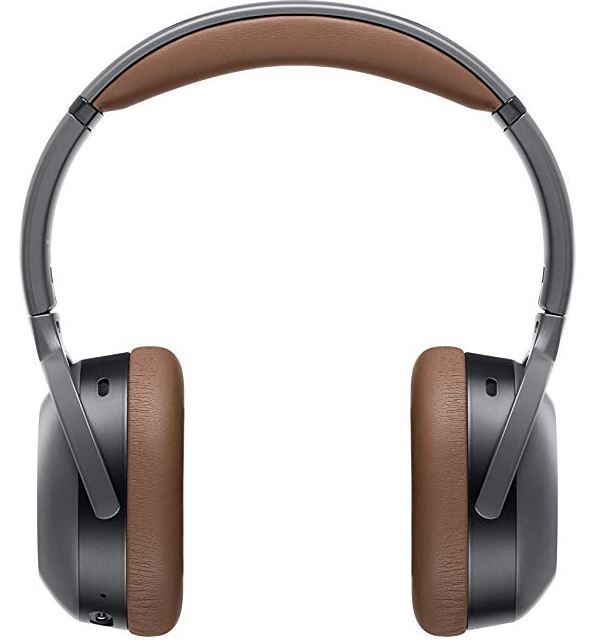 How do they help? In many ways. For starters, when you grab the Lagoon, the left ear cup will start glowing blue, and the right ear cup will start glowing red. The difference is to help you distinguish the left side from the right side, which is much easier than looking for a little "L" or "R" symbol, as most headphones are designed.
While you're running the Bluetooth syncing mode, those lights will start to pulsate blue color, moving from one cup to the next in an alternating fashion. After they've successfully paired with your device, the Lagoon will swap over to orange, letting you know you can start using them when needed.
Red means the battery is close to running dry. And then there's the charging process. While charging, you'll find a gradually changing palate of many colors, initially starting with the Lagoon blinking in tones of red, then easing its way towards orange, yellow, and green. You can probably guess that green means that the Lagoon have fully charged and are ready to be used again.
Normally, you may not spend so much time thinking about how a pair of headphones look, or how their lights perform. But these features are surprisingly smart and easy to appreciate. They add style, class, and utility all in one pass. It should be surprising if this kind of lighting system didn't become more popular in the future, and if other brands didn't start to copy Beyerdynamic.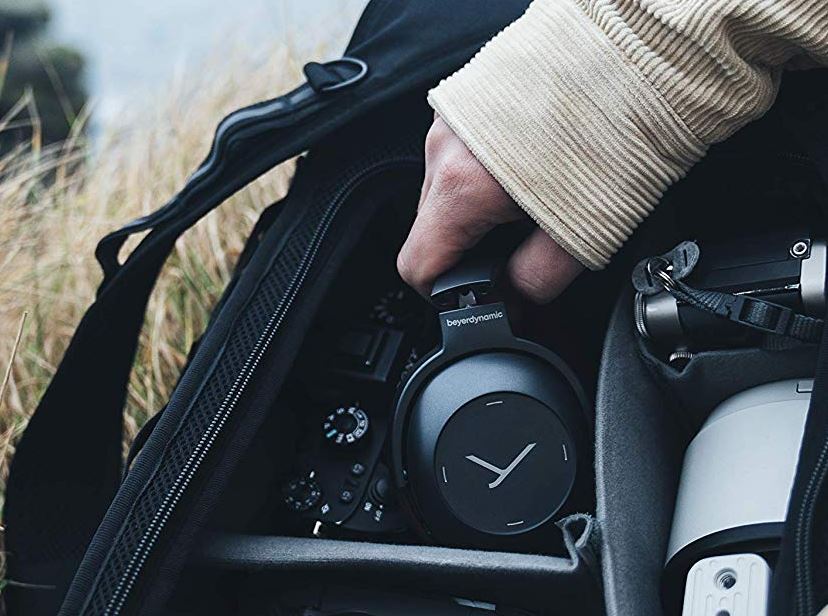 Worn Comfort
Like basically all headphones these days, the Lagoon are made with memory foam. That foam is coated in artificial leather, allowing for a nice and smooth touch against the ear. And the headband is made with a steel spring band, which helps keep each ear cup pressed nice and firmly against the side of your head, maintaining a seal against noise.
It shouldn't surprise anyone that over-ear headphones are comfortable. Notably, the Lagoon were not made to be as ridiculous lightweight as similar wireless ANC headphones like the QC35. But the slightly increase in their weight isn't something that most people will be able to appreciate or notice. Especially for people who aren't listening to their headphones for 8+ hours in a row.
Notably, there's the smallest bit of creakiness in their construction. But that's something you can only hear when you remove them and start bending them in your hands, and it's not reflective of their general sturdiness. The ear cups can be rotated and folded together, allowing you to hide them away inside the included hard-shell carrying case, or otherwise protect them during transport.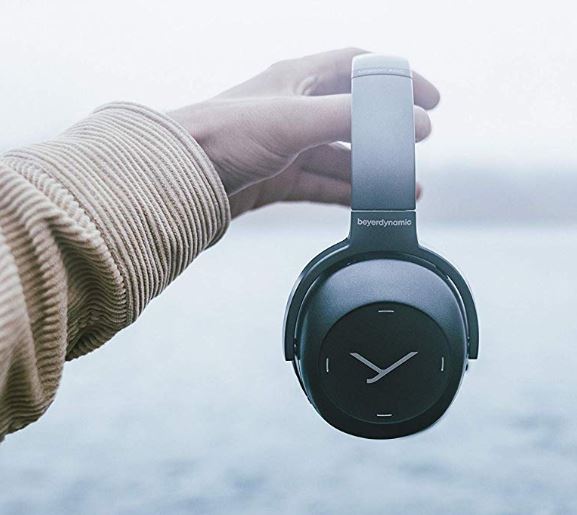 It's worth noting that the Lagoon allows you to remove the included headphone pads and replace them as needed, which is critical for keeping your headphones running their best over the long term. Ear-pads gradually decay over time, especially as the oils on your skin and hair begin to soak-in and wear down the foam inside them. And that's especially true for fake leathers, which tend to dissolve within 2-years of regular contact with human skin.
One minor complaint is that the ear cup padding isn't very deep. The pads aren't especially breathable and can end up feeling a little sweaty when you're listening to them in a hotter environment.
Wireless Connectivity & Calling Features
Operating with Bluetooth 4.2, the Lagoon were made to provide support for the aptX codec, as well as the low latency version of aptX. They also support SBC and AAC codecs, so if you're someone who appreciates higher bitrate audio files, you can use the Lagoon to listen to virtually any compressed or uncompressed audio.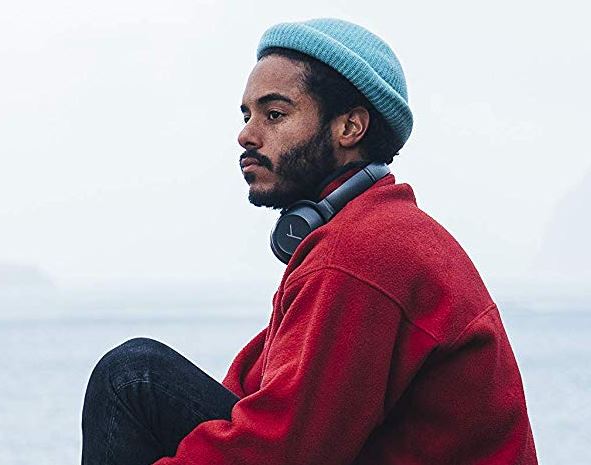 For calling features, it's worth noting there's solid support for both Siri and Google Assistant. If you press on the right ear pad for about two seconds, you'll launch an assistant, depending on which one is the default on your phone. Another nice little detail is the inclusion of cVc noise cancelling to help the Lagoon hear your voice prompts, and language support is available in both German and English.
Audio Quality
It would be fair to say the Lagoon has a very spacious and deep sound. It's one of the wider soundstages you'll be able to find on a closed pair of circumaural headphones. In part due to their ANC support, instruments come through clearly, vocals shoot through with twang and spirit, and compositions sound realistic and intimate.
Some people prefer a soundstage with more warmth, others prefer their headphones to sound upbeat with kicking highs, it's ultimately a matter of taste. And in either case, the free app that supports the Lagoon allow you to help refine your sound to better match your personal preferences.
The Lagoon's frequency response spans a respectable 10-30,000Hz, allowing tracks to breathe in the treble range, and to growl in the bass range. Moreover, the over-ear sealing of this design is good for reducing ambient noise around you without activating the ANC. Which means you won't necessarily have to use ANC while enjoying your music. But in most cases, you'll probably find the best audio quality is something you experience with the ANC on.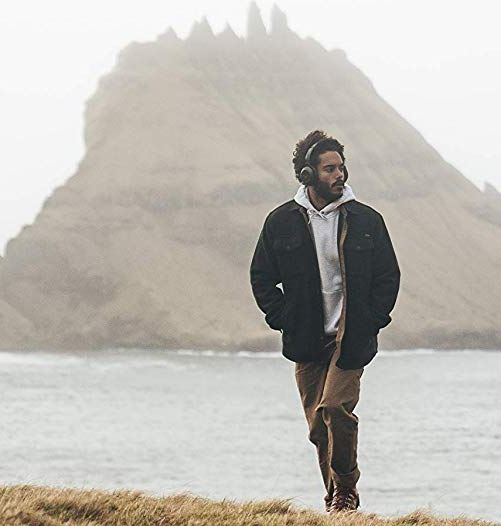 Battery Lifespan & Other Considerations
Speaking of ANC, when you've initiated it, you should be able to expect the Lagoon to last around a full 24-hours. That's actually pretty close to average for headphones of this type. But if you turn off the ANC, you can actually get the battery to extend much further, reaching out as far as 46-hours. That's terribly impressive, even though it might be unrealistic for a lot of people, given the importance of ANC in so many circumstances.
One more cool thing — there's an automatic play/pause features which will identify when you're actually wearing the headphones, and when you've taken them off. When you put them back on, they'll start playing again. It works with fantastic accuracy, and it's not a feature you see that often outside of earbuds.
Included is a 3.5mm audio cable, a USB-A to USB-C charging cable, and a hard shell zippered case that's shaped for it specifically. Their impedance comes in at 20ohms, which is a little low, meaning you won't have any problem powering them while connected to your smartphone or similar devices, even in the wired mode.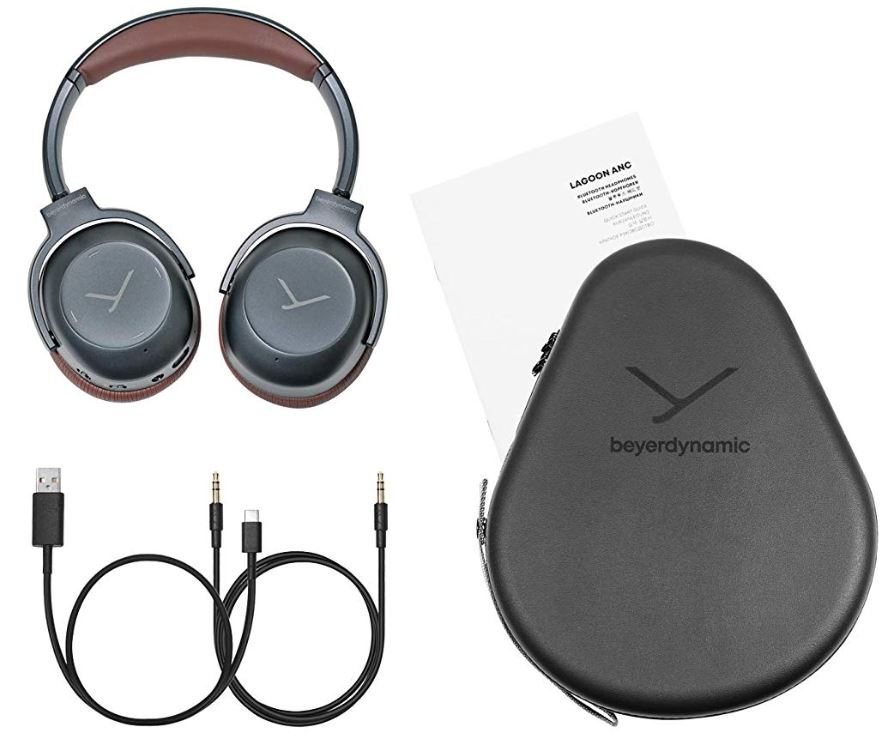 Who Should Choose the Beyerdynamic Lagoon?
It's tough to say who is the target audience for the Lagoon. But a few things are clear. Even though these headphones don't necessarily have the industry's best calling features, they do have arguably the best sound quality among their immediate competitors. Which means if you're looking for overall sound quality above all else, you'll probably like Lagoon. And if you can appreciate the cool LED lighting system, all the better.