With Black Friday just around the corner, gamers are buzzing with excitement for the unbeatable deals on offer. One name that's generating a lot of attention is BIGBIG WON, a seasoned titan in the game controller manufacturing realm.
Known for their innovative designs and top-notch performance, BIGBIG WON controllers have been a staple in the gaming community for years.
This Black Friday, they're back with 20% discounts on some of their most popular offerings. Get ready to level up your gaming experience with BIGBIG WON's Black Friday Deals. Let's get right into it.
Here are the three highlight products:
BIGBIG WON C2 Pro – Offers 16 mechanical buttons for enhanced responsiveness and supports multiple platforms, including Nintendo Switch, iOS, Android, and PC. It features a precise ALPS joystick, customizable buttons, and robust wireless/wired connectivity options.
BIGBIG WON Rainbow 2 Pro Combo – another multi-platform gaming controller with customizable back and top buttons, a precision ALPS joystick, and motion control technology. It offers flexible 2.4G, Bluetooth, and wired connections, along with RGB lighting and an app for real-time customization.
BIGBIG WON Armor-X Pro Controller Paddles – Designed for Xbox Series X|S, enhance gameplay with four additional back buttons, motion aiming, and customizable features, including wired audio support and remappable buttons. They offer both wireless and wired connectivity, with an accompanying app for further customization.
BIGBIG WON C2 Pro Gaming Controller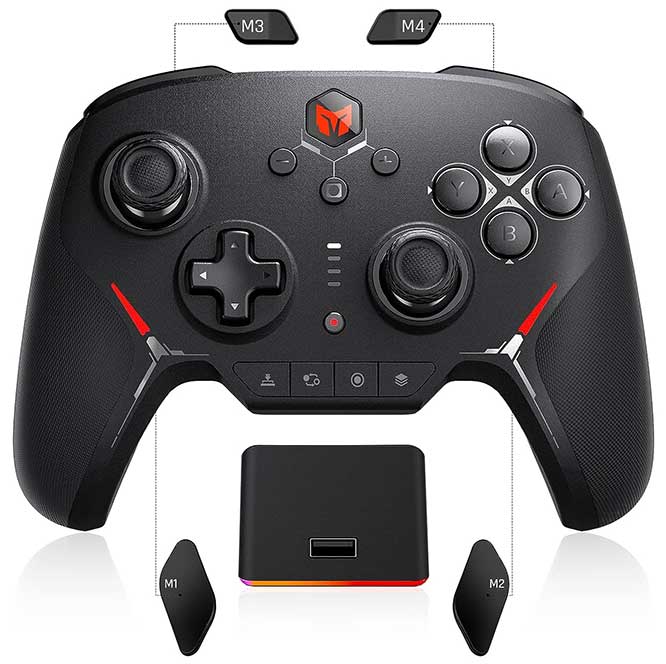 Key Takeaways:
16 mechanical buttons for rapid response.
Wide compatibility: Switch, iOS, Android, PC, Windows.
Customizable with four programmable buttons.
Precise control with ALPS joystick.
Comprehensive features, including Bluetooth and NFC.
November 20th-27th Deal = 20% off
The BIGBIG WON C2 Pro stands out in the world of game controllers, especially for those who appreciate responsiveness and versatility. Its 16 mechanical buttons are a first in the gaming industry, offering the tactile feel and quick response akin to a gaming mouse.
This makes a noticeable difference in games where timing is crucial, like first-person shooters. The C2 Pro's mechanical buttons are significantly more responsive than traditional silicone buttons, providing a quicker and more precise gaming experience.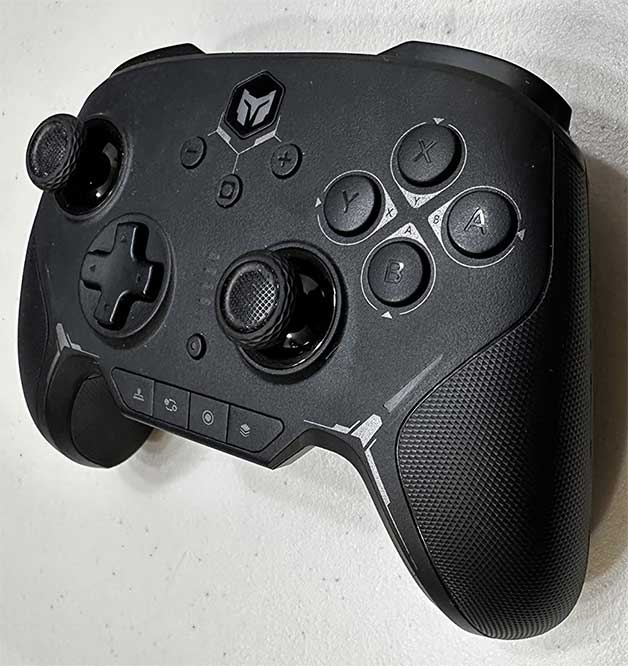 When testing, its responsiveness in fast-paced gaming scenarios was impressive. The 0.3mm mechanical micro button triggers allow for rapid reactions, similar to high-end gaming mice. This feature is particularly beneficial in competitive gaming, where every fraction of a second counts.
The controller also supports both wireless and wired modes, adding to its flexibility, and can connect to various platforms including Nintendo Switch, iOS, Android, PC, and Windows 10/11.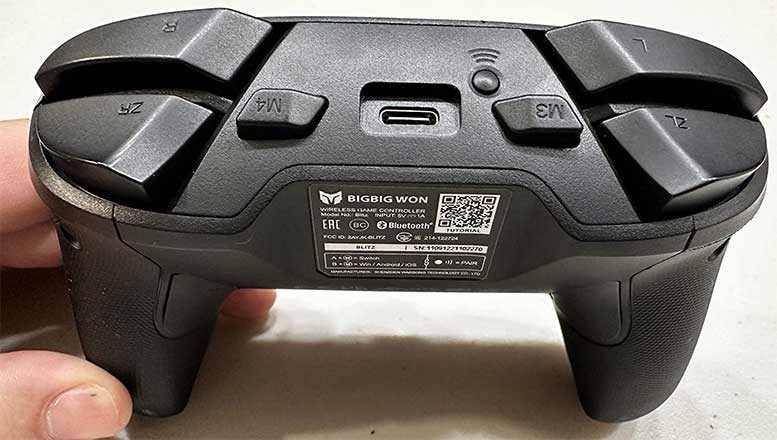 The BIGBIG WON C2 Pro Controller's compatibility is a strong point. It seamlessly integrates with a range of devices, enhancing its utility for different gaming setups. The addition of four custom programmable buttons provides a level of customization that adapts to various gaming styles and needs. These buttons can be set for specific actions, such as key mapping, turbo, or macros, offering personalized control.
The ALPS joystick used in the C2 Pro is designed for precise and smooth control, with a unique algorithm that minimizes dead zones. This joystick, combined with the controller's vibration function that offers four levels of feedback, enhances the overall gaming experience, making it more immersive.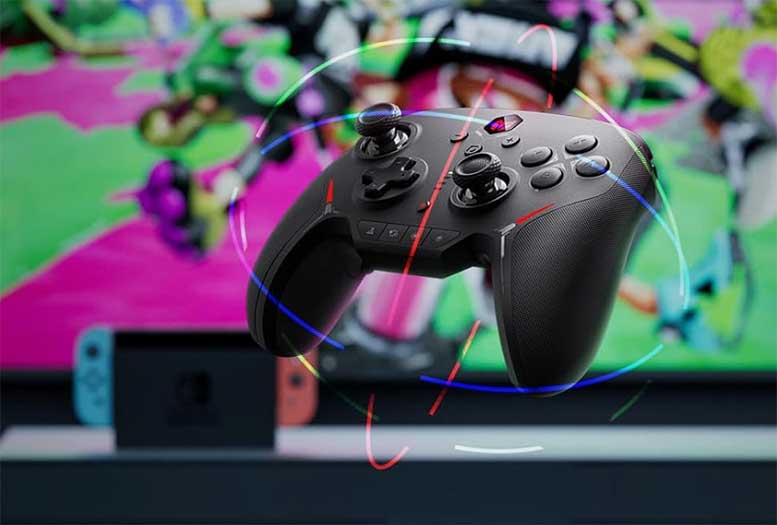 Dubbed the Switch Elite Controller, the C2 Pro packs numerous features, including Bluetooth connectivity, a host wake-up function, customizable settings, a 6-axis gyroscope, NFC sensing, and a substantial 1000mAh battery. It's designed to be a comprehensive tool for gamers across various platforms.
In essence, the BIGBIG WON C2 Pro is a well-rounded controller that emphasizes precision, customizability, and comfort, catering to diverse gaming preferences and requirements.
BIGBIG WON Rainbow 2 Pro Combo Wireless Controller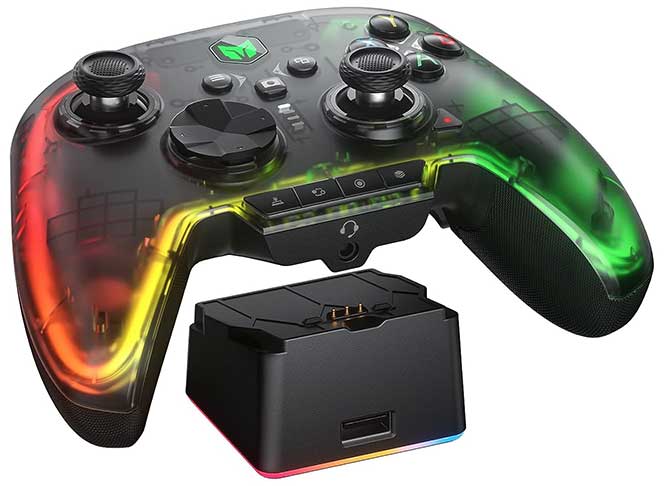 Key Takeaways:
Multi-platform compatibility: Switch, PC, Android, iOS.
Flexible connections: 2.4G, Bluetooth, wired.
Precision ALPS joystick with zero dead zones.
Customizable buttons and dual motor vibration.
Supports motion control and RGB lighting.
November 20th-27th Deal = 20% off
The BIGBIG WON Rainbow 2 Pro Combo is more than just a colorful addition to your gaming arsenal. It's a multi-platform marvel. We tested it across devices – it smoothly transitions from Switch to Windows 10 & 11, Android 7.0+, and iOS 14.0+. One click, and it wakes up your Switch. The controller's semi-transparent shell with a matte surface is not only stylish but also practical, offering a comfortable grip.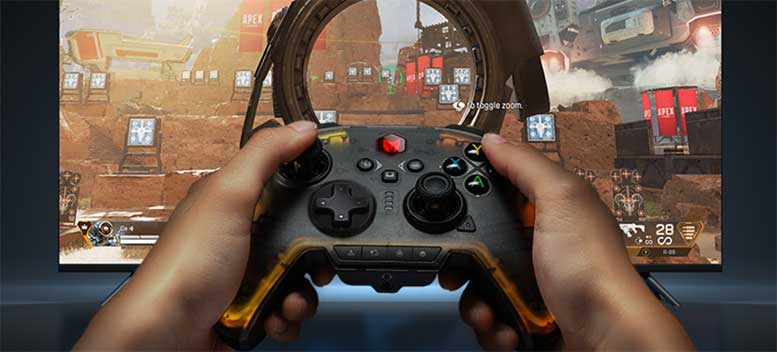 Take a second and think about it. You're deep in a gaming session, switching between your PC and Switch. The Rainbow 2 Pro makes it seamless. With 2.4G wireless, Bluetooth, and wired connections, it's all about flexibility and reliable signals. No more lag or disconnections. The ultra-high polling rates (200Hz for wireless and 1000Hz for wired) ensure your gaming is smooth and responsive.
Motion control is a highlight. The GYROCON+ technology in the Rainbow 2 Pro is perfect for PC gaming. It supports motion aiming, adding a new level of realism to your gameplay. Imagine playing a shooter game where your controller movements translate directly to in-game actions. It's immersive and intuitive.

The ALPS joystick on this controller is a precision tool. Zero dead zones mean your movements are accurate and fluid. The 12-bit chip and over 2000 resolution enhance game smoothness, and the adaptive calibration keeps drift at bay. Plus, the Hall-effect triggers are a game-changer for racing and shooting games. They provide precise control, whether you need a quick fire in an FPS game or a steady pull in a racing game.
Customization is key with the Rainbow 2 Pro Combo. The back and top buttons can be programmed for Macro, Turbo, or remapping. The dual motor vibration with four intensity levels adds an extra layer of immersion to your gaming. And the 8-way mechanical D-pad, with its quick response, is a dream for fighting game fans.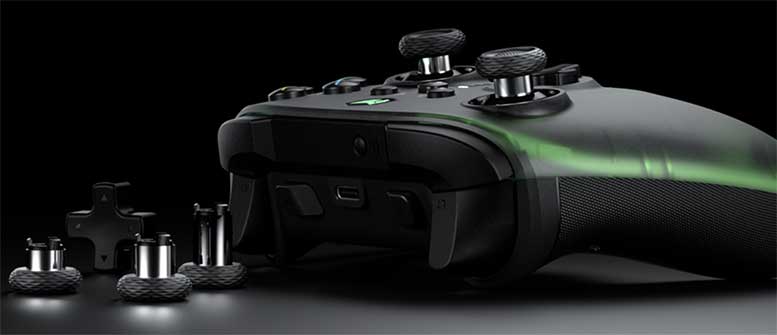 The BIGBIG WON ELITE APP takes customization to another level. Adjust everything from the RGB lighting and motion aim to the joystick, trigger, and buttons. And speaking of RGB lighting, it's not just for show. It creates an exciting gaming atmosphere, enhancing your overall experience.
To sum it up, the Rainbow 2 Pro Combo is a comprehensive controller that brings a new level of customization, precision, and style to your gaming setup. Whether you're a PC gamer, a Switch enthusiast, or a multi-platform player, this controller adapts to your needs and enhances your gaming experience.
BIGBIG WON Armor-X Pro Controller Paddles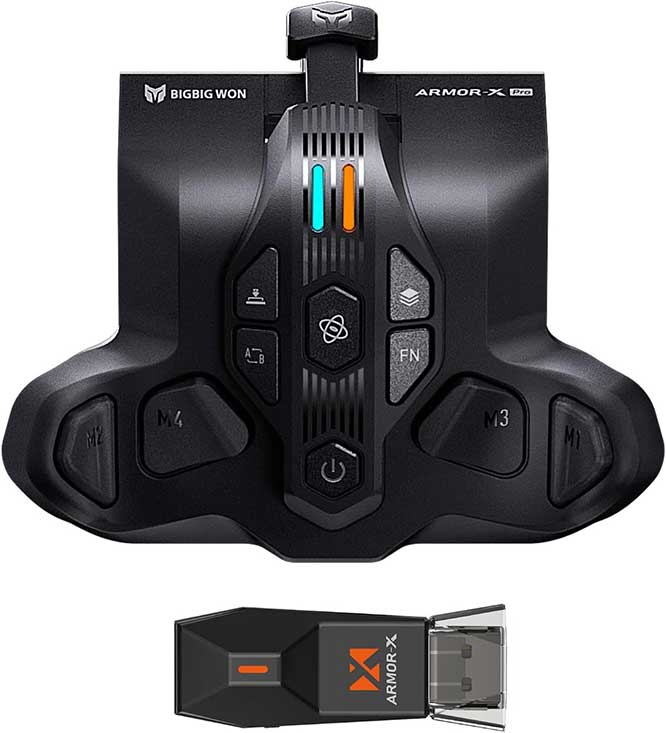 Key Takeaways:
Designed exclusively for Xbox Series X|S controllers.
Offers wireless and wired gameplay flexibility.
Supports wired audio and motion aiming technology.
Features four customizable, remappable back buttons.
Includes three gaming profiles and hair trigger option.
November 20th-27th Deal = 20% off
The BIGBIG WON Controller Paddles are a game-changer for Xbox Series X|S gamers. These paddles come in sleek black or white and are specifically designed for the Xbox controller. When we tried them, the transformation was immediate. They add four extra responsive back buttons to your controller, enhancing your gaming experience.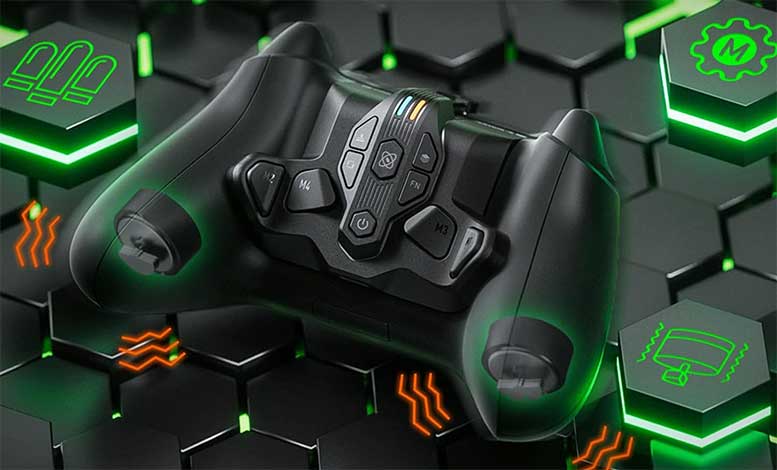 Let's say you're playing a fast-paced game on your Xbox. These paddles make a huge difference. You can play wirelessly via a 2.4Ghz adapter or with the included Type-C cable. It's perfect for gamers who want the freedom of wireless play or the reliability of a wired connection. The paddles work with Xbox Series X|S, Xbox One, Switch, and Windows 10 & 11 PCs.
Wired audio support is another great feature. While the ARMOR-X Pro paddles don't support wireless audio, you can plug in wired earphones for an immersive audio experience. This feature, however, doesn't extend to Switch and PS4 consoles.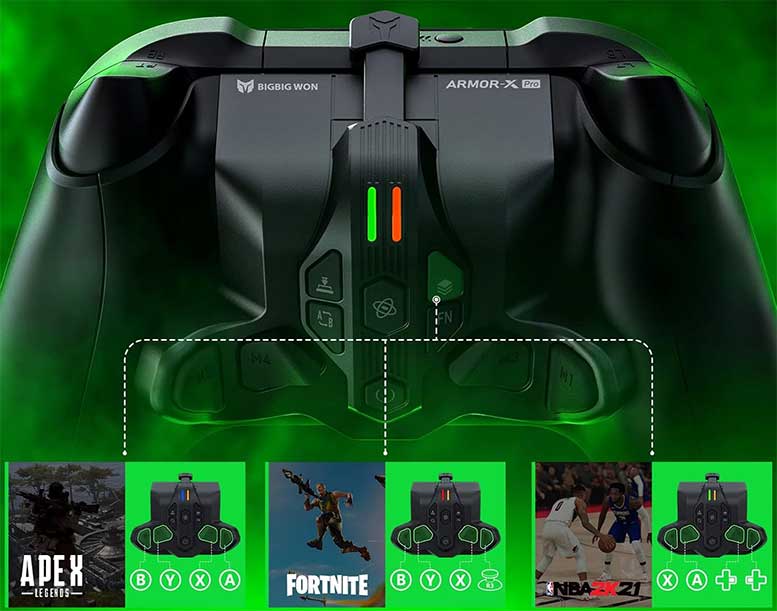 The motion aiming technology, GYROCON+, really sets these paddles apart. It's especially beneficial for FPS games, where precision and quick reactions are key. Now, you can use motion control with Xbox and Windows 10 & 11 games, which wasn't possible before.
Customization is a breeze with the four remappable buttons. You can tailor each paddle to suit your gameplay style, making complex moves simpler with a single press. The paddles also feature three profile configurations and a hair trigger function, which reduces the travel distance of triggers, speeding up your response time.
An added bonus is the BIGBIG WON Elite App. It allows you to set on-board profiles, lighting effects, button mapping, joystick/trigger sensitivity, and more. The app ensures you get the most out of your paddles and is a safe download from the official website.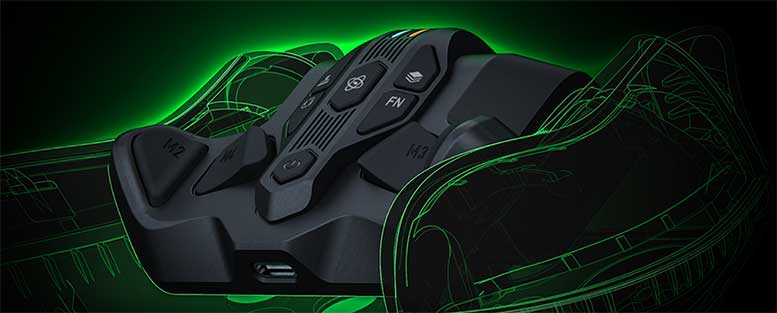 All in all, the BIGBIG WON Controller Paddles offer Xbox gamers enhanced control and customization options. Whether it's the added back buttons, motion control, or the ability to remap buttons, these paddles elevate your gaming experience. They're a valuable addition for anyone looking to get more from their Xbox gaming setup.
Meet Derek, "TechGuru," a 34-year-old technology enthusiast with a deep passion for tech innovations. With extensive experience, he specializes in gaming hardware and software, and has expertise in gadgets, custom PCs, and audio.
Besides writing about tech and reviewing new products, Derek enjoys traveling, hiking, and photography. Committed to keeping up with the latest industry trends, he aims to guide readers in making informed tech decisions.