Where PC performance is concerned, there are very few things that are as important as cooling. Modern machines leverage throttling to keep components cool. When they get too warm, they're automatically slowed down. For you, this means that just when your game starts to heat up, you can experience unnecessary lag.
Installing a proper cooling system is an important part of keeping your computer running tip top. 80mm fans aren't the largest available, but most compact computer cases have several 80mm fan slots available. If you're going to use this format, it's important that you pick a high-performance fan to take advantage of the limited surface area. Today, we'll be taking a look at the best 80mm cooling fans on the market. We'll help you understand the differences between them, and find the one that's right for you.
Noctua NF-A8 ULN Premium 80mm Fan
Where fans and cooling are concerned, Noctua is one of the most prolific companies in the industry. Yes, you pay a little more for their products. But in almost every regard, they outpace the competition by a noticeable margin. Aside from their iconic two-tone brown styling, Noctua doesn't put a lot of time into the styling of their products. All of their energy goes into the mechanical components that make them tick. They have better bearings, higher build quality, and are generally all-around better than competing models. But can their 80mm fan live up to this hype?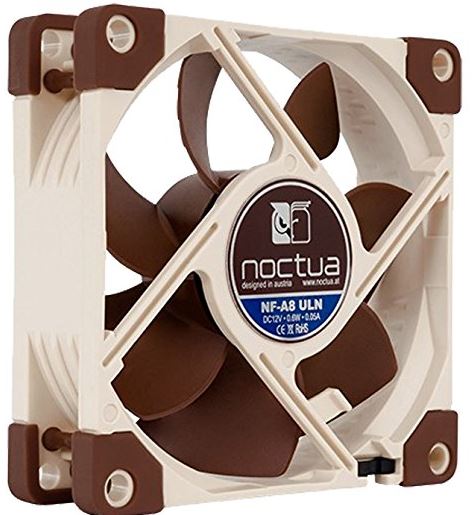 Design
If you're familiar with Noctua's products, you'll recognize this little fan as one of theirs from the first glance. The two-tone tan and brown look is iconic for the brand. Because it is so recognizable, the company has very little branding on the fan. Outside of the logo on the sticker, there isn't much other indication that it's one of their products.
Outside of the branding, it's very clear from holding the Noctua NF-A8 ULN Premium 80mm Fan in our hand that it's solidly built. All of the plastic supports are incredibly rigid, giving it a feel much sturdier than we're used to. There is no movement or compression when pressure is applied, so we'd feel comfortable torquing it down onto our case without worry.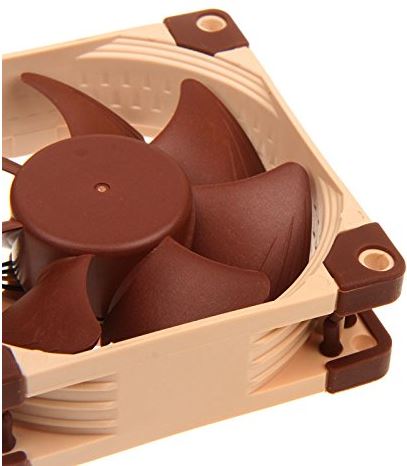 Cooling
The A8 turns at 2200 RPM in PWM (pulse width modulation) mode, and 2000 RPM in direct drive mode. The speed is controllable, with accuracy of 10%. This gives you quite a bit of control over how much air the fan is pushing. It can move 43.9 cubic meters of air per hour, which is a pretty high air flow for such a compact fan. With the correct arrangement, this fan will change the air in your case every 8 seconds. This is more than enough to remove quite a large volume of heat, and definitely above average for the form factor.
You will also notice that the blades are slightly scooped. This allows for a linear change in air pressure, reducing turbulence and keeping the air moving away from your case. A poorly designed fan will cause many micromotions, causing hot air to pool up behind your case. These subtle design changes make for one powerful fan, keeping your components cooler than most competing models.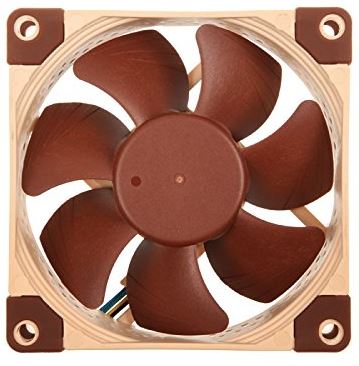 Noise
Despite it's higher output, this van is virtually silent when compared to similar models. There are a few technologies at work here. First, you'll notice the little notches around the inlet. They look almost like a tiny set of stairs. This allows the air to be pulled gradually into flow channel, reducing noise. Another way they keep the fan silent is by engraving several small notches onto each of the fan blades. This allows air to be channeled gradually from the fan blades, once again improving silence.
Finally, the fan reduces noise by minimizing vibration. The fans driving motor is filled with pressurized oil, preventing motor vibrations. Just to be save, they've protected the mounting points of the fan with rubber inserts, that prevents the transfer of vibration to your computer case.
Overall, the fan produces a maximum noise level of 17 DBA, which is just skirting the line of the audible level. With the low noise dongle attached, this drops to 11 DBA which is effectively silent in most environments. The low noise dongle does drop speed by 15%, but this won't be a concern for many applications.
Cooler Master Sleeve Bearing 80mm Silent Fan
If you've been shopping for PC cases and hardware, you've likely come across more than a few components made by Cooler Master. They are best known for their high end and stylish cases, but their power supplies are also quite popular. Cooler master caters to the enthusiast crowd, producing components that are stylish, reliable, and high performance.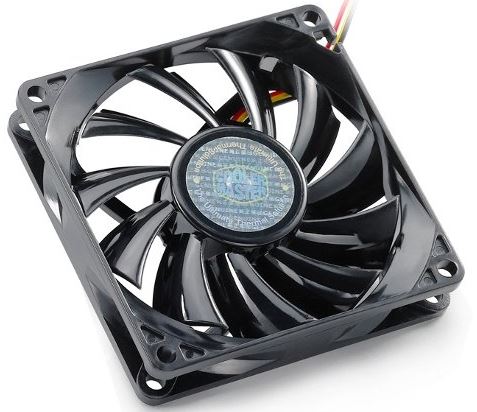 Design
The Sleeve Bearing 80mm Silent Fan is one of Cooler Masters entry level fans, but that doesn't mean that the performance has suffered. Although the visual appearance of the fan is pretty basic, it still has many of the high end features they use in their top-tier fans. The appearance is as simple as they come. It's got black blades, and a black enclosure. The most stand-out feature is the large holographic logo, which is something you should become familiar with. Because the fan looks simple, there are many counterfeit versions floating around. The difference between those and the real deal is the performance. The blade shape, motor, and air duct design all share grassroots with the upper end models, and you just don't get that level of quality with a knockoff fan.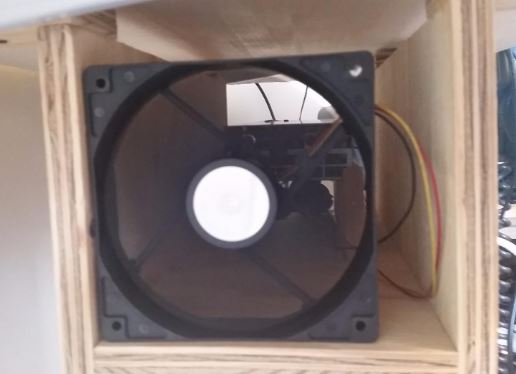 Cooling
This fan is specially designed to be used with Cooler Master's CM 690, 590, and 690 II case. These cases have special cooling slots designed for high airflow while remaining compact, and this fan delivers this in every regard. Despite being small, you get 24.2 cubic feet per minute of air output, which is above and beyond what you'd normally get in this form factor. This air output is ideal for compact cases, or larger cases where you have a lot of powerful hardware. Overclocked CPUS and SLI'd graphics cards are all examples of heat-challenged systems that can benefit from a high output fan like this one.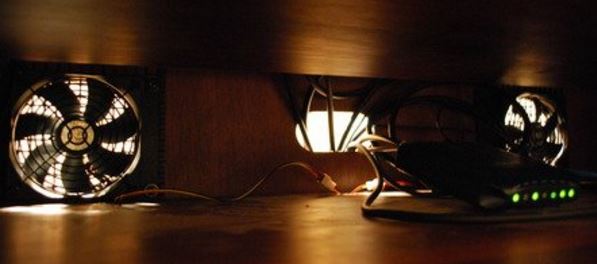 Noise
Due to the extremely high output of this fan, the noise isn't exactly silent. At 20 DBA, this noise level is still considered acceptable for a recording or broadcast studio. For reference purposes, a quiet rural street at nighttime is around 30 DBA, and a library is around 40 DBA. Although we can't call it silent, this level of sound is likely barely noticeable for most users. How did they manage to get such a high output while keeping sound levels low? Most of it has to do with the shape of the fan blades. They've got quite an aggressive slope, allowing it to gently push large volume of air. The air inlet has also been enlarged and outfitted with smooth curves to reduce turbulence, adding to the overall noise reduction system.
Antec TriCool
The last fan well be looking at comes from another popular case manufacturer. The Tri-Cool is the very same fan that Antec includes in their high-end cases, and it's now been made available to users who want to add additional cooling, or expand the performance of a case that did not include these high end fans.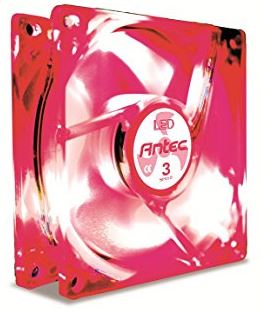 Design
If you're looking to make your case appear a little more aggressive, the Antec TriCool is a great choice. The fan itself is made from a clear, translucent plastic. But what makes it stand out is the bright LED lights inside. There are a few different colors you can choose from. The red light definitely gives your case a very aggressive look, while the blue LEDs have a more electric feel to them. You can also choose from a standard fan which has now lighting and comes a little cheaper in price, or a DBB fan, which we'll get into later. Overall, it's not really the fan itself that draws your attention. It's the warm (or cool, if you choose) glow that fills your case with stylish light.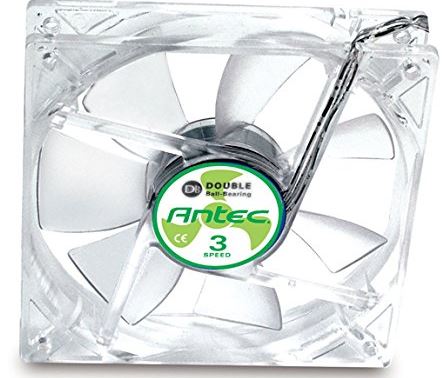 Cooling
Pushing about 21 CFM, this fan still has very respectable cooling performance. It's ideal as either an inlet fan, or an accessory fan to an existing cooling system. Even though it's not the highest pusher on the list, it still fits much more air through this small 80mm hole than most fans can dream of. It's ideal for shaving a couple degrees off your overclock, or boosting a tight temp range when you're adding your first or second high end graphics card.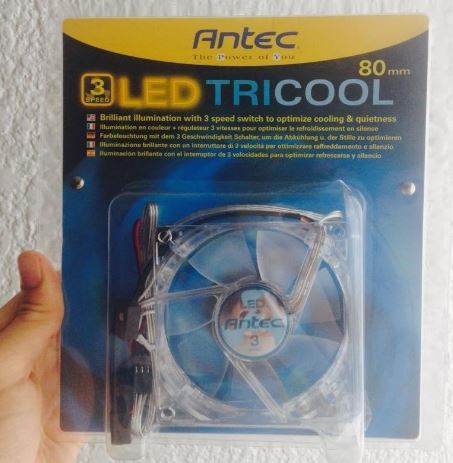 Noise
Although the airflow has only been reduced by a small margin, the noise levels are quickly approaching zero. 10 DBA is considered to be the lower level of audibility. This fan produces 16 DBA. Think leaves rustling in the wind, or a distant whisper. That's how quiet this fan is. The best part of all? That volume level is only at high speeds. When it's scaled down, it will run even quieter. Most modern motherboards automatically scale fan speed based on temperature, so the chances that you'll ever hear this fan running is pretty low.
Which 80mm Case Fan is Right for Me?
Before you decide which fan you want, you're going to need to decide what how it's going to be used. Generally, the concept is to have an equal amount of air coming into the case as there is going out of the case. Take a quick inventory of the fans already in place. Do you have more air going into the case than being pulled out? Great, you'll want to place an exit vent somewhere near the sources of heat: eg, your CPU or graphics card. If there is more air being pulled out, you can add an inlet somewhere away from the heat sources.
For an outlet fan in an environment that is generating a lot of heat, we'd recommend the Noctua NF-A8 ULN Premium Fan. This model has the best performance to noise ratio, and is an extremely effective at removing unwanted heat.
If price is a consideration, you might also want to check out the Cooler Master Sleeve Bearing 80mm Fan. This option is still a very high performer, but comes in at a rock bottom price.
Looking for an inlet fan? The Antec TriCool 80mm Fan is a great option. Intake fans are often located on the top or front of your computer case. This means that they'll be visible to the average users. Since the Antec fan has such a stylish lighting system, it can really improve the visual appearance of your case beyond any stock fan.
Need something a little larger? Check our reviews of the best 120mm case fans. These fans are the most popular size to be sued, and virtually every case on the market has a free 120mm outlet. Alternately, our review of the best 140mm case fans covers the highest performance category available, helping you to make the most out of your high end gaming PC.