Everyone needs a nice pair of headphones to enjoy their favorite music, movies, or on the go entertainment. If you've been searching high and low for an affordable and high quality pair of headphones, you may have heard about the new Blackzebra HP-H01 Bluetooth Headphones. Offering full wireless freedom, high fidelity sound, and an amazing amount of comfort, they're a great choice for those who want quality but don't want to spend a lot.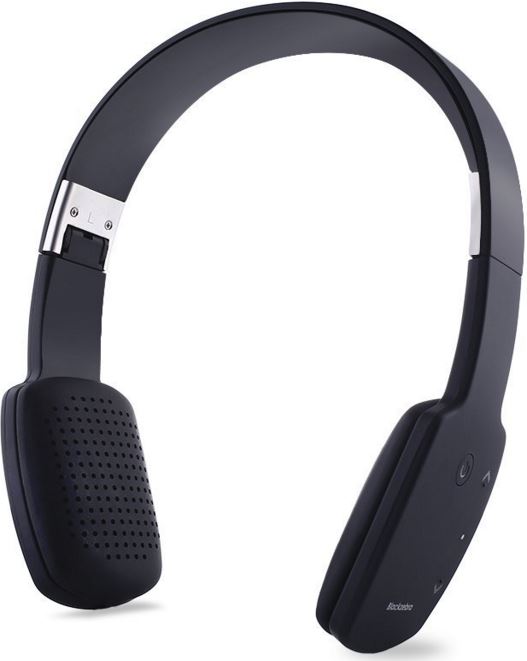 We were sent a pair by Blackzebra to test them out and give an honest review about them. To our liking, we found that this pair of headphones provide wonderful tones with surprisingly rich sound for an enjoyable listening experience. With both audio and comfort specific features built in, we enjoyed their portability as well as their unique noise cancellation abilities to keep unwanted noise from ever becoming a distraction. We'll now give you a run-down on what we loved and didn't love about the HP-H01.
Bluetooth 4.0
Full wireless freedom seems to be the norm now a days. Most headphones, headsets, and earbuds are now available with a wireless feature built in. But not all are created to take advantage of the latest Bluetooth 4.0 technology. Within a few seconds of turning them on, you can effortlessly sync or pair them to your preferred audio source, whether that's your tablet, smartphone, televisions, or MP3 player.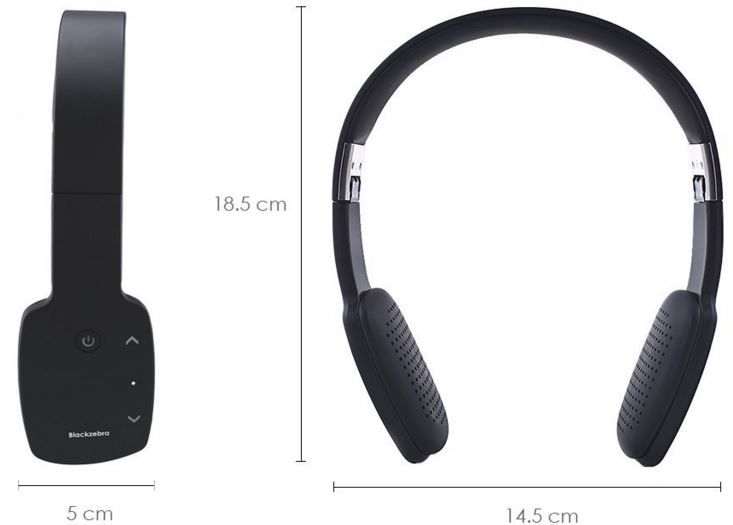 Once connected, you'd never know the difference between a wired and wireless connection – as far as audio quality goes. However, the range of the wireless feature is also of great importance. We found that the Blackzebra HP-H01 held a strong connection from a distance of about 40 feet between the audio source and the headphones. Any further and you'll likely experience a drop or loss of quality.
Another thing that's worth noting is that once you've paired it with a music source like your smartphone, it will automatically remember the sync for next time. This way, you won't have to re-do the setup process each and every time you put them to use. Pair them once and they'll connect automatically each time you turn them on.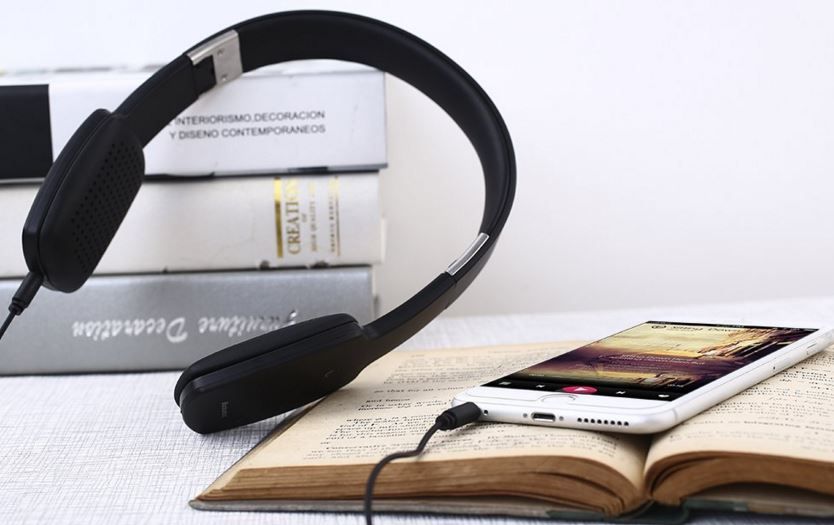 Sound
Although Blackzebra may not be a huge company like Sony or Beats, they pack a powerful punch when it comes to overall sound quality. Inside are 40 millimeter large dynamic units that carry an open style sound cavity that emit fantastically rich sound without effort. The highs, mids, and lows all sound great and there's even a decent amount of bass that's delivered – perfect for home movies or your favorite songs. Whether you have them turned up all the way or turned down to a low volume setting, the sound quality seems to be inline with what you'd expect in a pair of headphones that cost twice as much. Although it's difficult to describe sound via text, we feel that anyone looking for great sound quality would agree.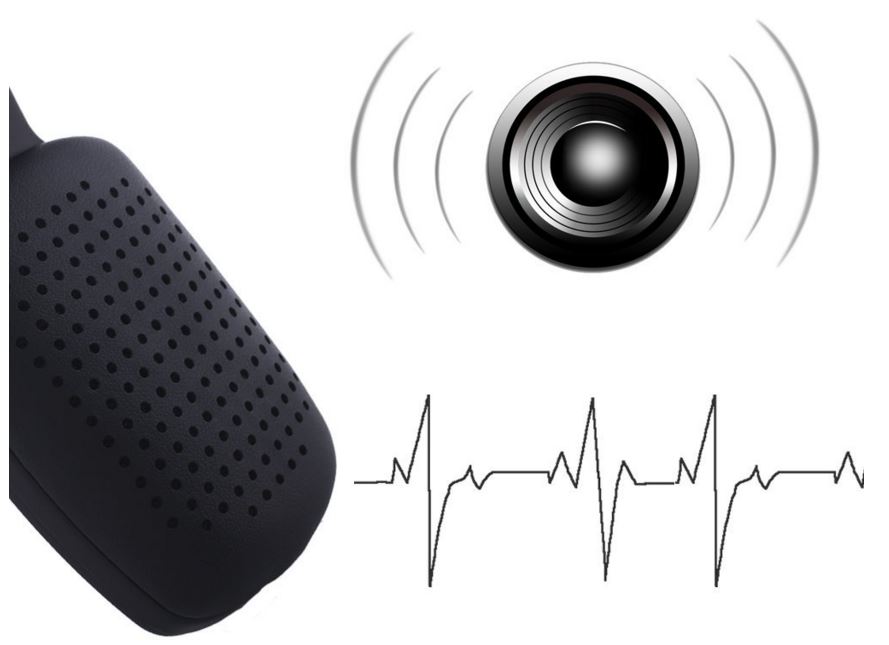 Comfort
Comfort is a huge factor when you're searching for a pair of quality headphones. When you put the Blackzebra HP-H01 headphones on for the first time, you may notice that they're a bit more elastic than other ones you may have tried in the past. This flexibility gives them a "stretchy" feel to the neckband, making them fit universally well on those with larger or smaller heads. Additionally, they're covered in an ABS material that's resistant to both cold temperatures and staining, giving them a soft and "cozy to the touch" feel. When placed over your ears, you'll notice that the earpads have a unique feel as well. This is because they're made from a protein material that sits well against the skin for hours of continuous use. Overall, they're very comfortable to wear and create no irritation for extended periods of use.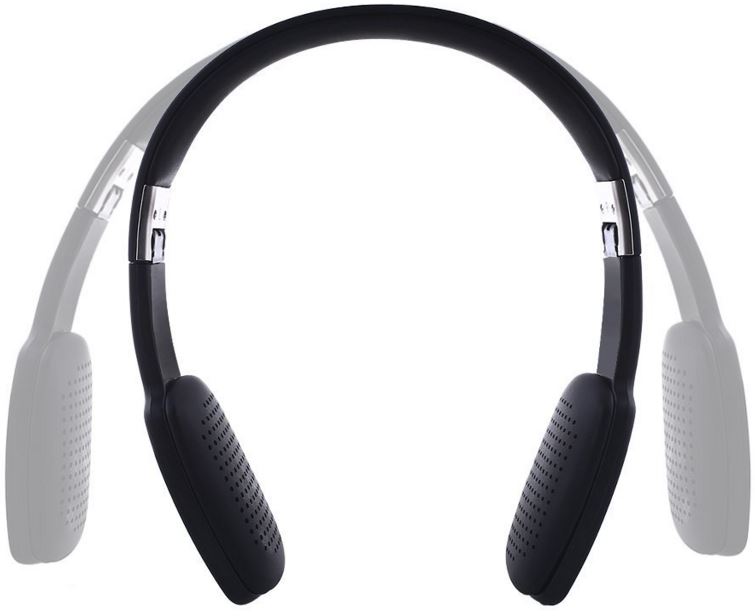 Portability
With any Bluetooth headphone, you'll probably want to take it with you wherever you go. Portability is a huge factor that many need to consider since it'll determine when you can use them. When we received the package for the Blackzebra HP-H01 in the mail, we were surprised to find that the box was about half the size we expected. Upon opening the packaging, we found that they pair well with on-the-go portability quite well. Each side of the neckband is equipped with a small hinge that lets you fold ear earpad in while they're not in use or when they're stowed away. Their folded down size makes it easy to place them in your book bag, extra pocket, or glove box. Also, they're insanely lightweight, weighing in at just around 8 ounces or a half pound.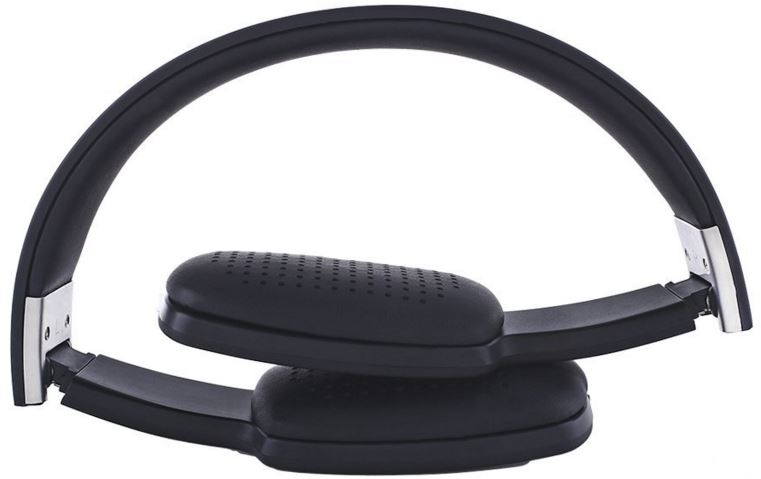 Noise Cancellation
One of the nicest features we had the pleasure of testing was the noise cancellation technology. Thanks to the latest CVC 6.0 echo cancellation technology, they keep unwanted background noise out of your listening experience. Upon a proper fit, they rest snugly on your ears and create an excellent seal between your ear and any outside elements that may be a distraction. Best of all, you don't need to switch the CVC 6.0 feature on, it's integrated to keep unwanted grey noise out at all times. Additionally, the built-in microphone is equipped with double mic noise reduction to keep unwanted noises or voices outside of your phone call or communication with another friend.
Battery Life
As with anything that's built for portable use, battery life is essential since it'll play a huge role in where you can take them and how long you can go in-between charges. The integrated battery can be charged up with the included micro USB cable at anytime. With a single full charge, you can expect around 10 consecutive hours of play/talk time without any interruptions. Although there's a power-saving feature that will automatically turn them off within three minutes without a connection or within a minute without pairing, they have a standby time that's rated for 45 days.
Functionality and Controls
The Blackzebra HP-H01 Headphones offer easy control from your fingertips. On the outside of the right earpad there are a wealth of functions that can be performed with simple button clicks. Control the volume, skip or change tracks, or use the multi function button to turn them on/off completely. Each button is slightly raised in order to give a positive identification that you're touching a function.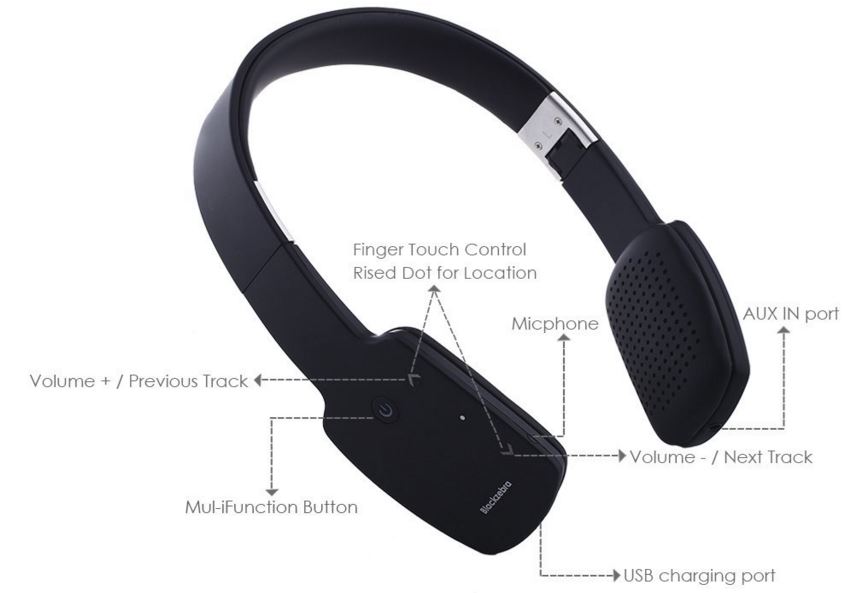 Overall Thoughts
Whether you're looking for a wireless headset that pairs well with movies, television, gaming, or exercise, the Blackzebra HP-H01 Bluetooth Headphones seem to deliver everything they've promised. High fidelity sound with quality acoustics bring your listening experience to the professional level you're likely craving. Comfort and portability are also greatly accommodated as they boast several portable features that make them easily stowable when not in use.
Backed by an impressive 12 month warranty period with 24 hour email support, we're pleased to say that these headphones are definitely worth the investment. Priced much less than you'd expect, they're gaining popularity and sure to be a real winner in the long run. Overall, we would recommend them to the budget-savvy individual who wants high end sound and comfort without spending a lot.