Listening to your favorite music is often an essential part to anyone's workout regime. The importance of having a small, lightweight, feature-rich, and fully-functional in-ear headphones is crucial to some. It's not always ideal to workout with a set of headphones that aren't built for fitness. The Blackzebra HP-S1 Bluetooth 4.1 Wireless Sport In-Ear Headphones are a fantastic choice that we were fortunate enough to test out for ourselves. We received a free-sample directly from the company and were asked for our opinion on them. We took the time to explore exactly what they have to offer and if they're a good choice for those looking for a sleek pair of wireless sport in-ear headphones.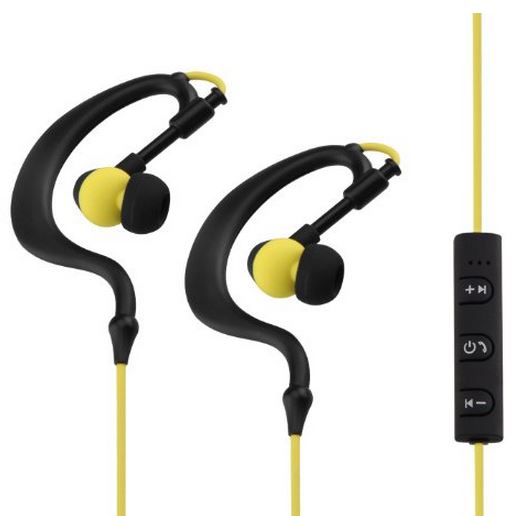 Note: At no extra cost to you, we may earn a commission for purchases using our links. Learn more.
Bluetooth 4.1
Using the latest Bluetooth 4.1 technology, the Blackzebra HP-S1 can provide listening for up to five hours of continuous playback. This latest version of Bluetooth boasts improvements in efficiency over previous versions so you can go longer in-between charges for more enjoyment on the go. This is important in any wireless headphone since nobody wants to have to constantly charge it. As far as range goes, you can expect a transmission range up to about 10 meters or 33 feet, depending on the infrastructure around you. For example, a brick or concrete wall between your headphones and the music source will definitely have an effect on the wireless range.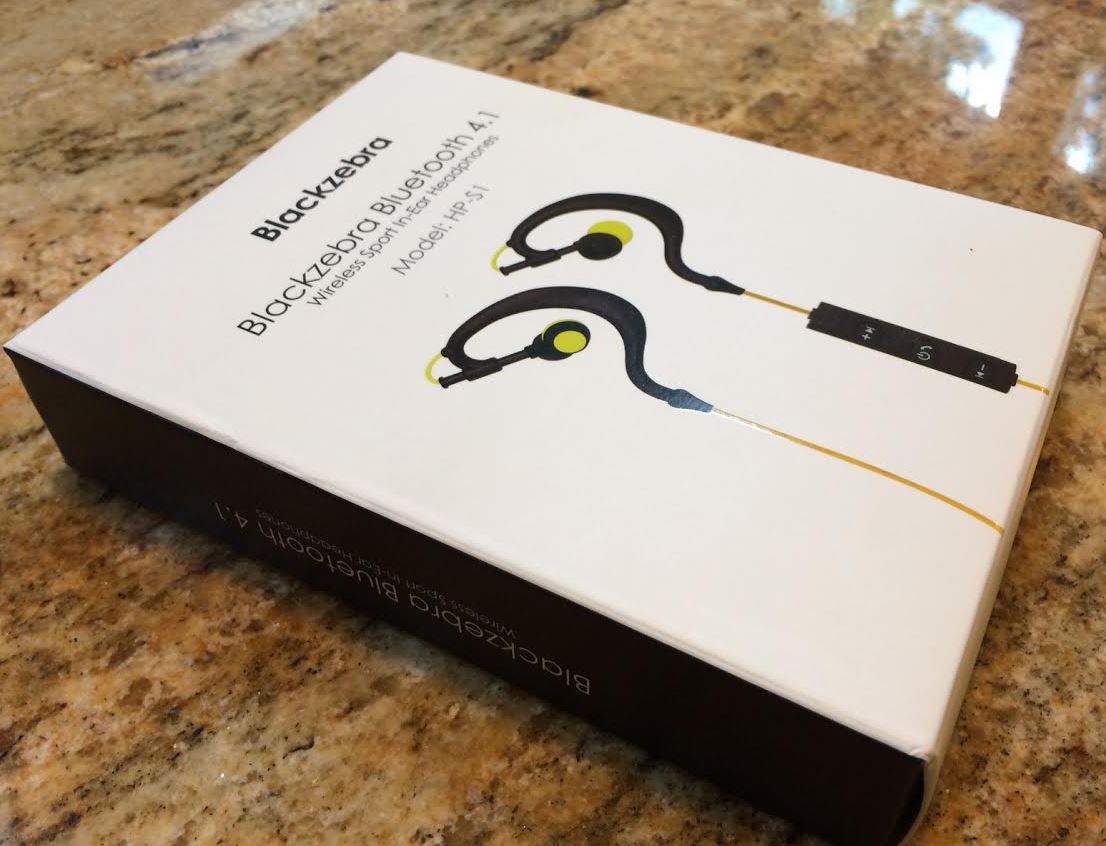 Comfy Design
Built with an ergonomic design, these feel great when they're on your head. Since they weigh in at only 20.1 grams, you really won't feel a difference when you're using them. Virtually no added weight keeps you light and efficient in your fitness – perfect for those long workout sessions or lengthy morning runs. They are worn behind each ear in a 'hook' position. This keeps them comfortable, stable, and secure for listening during any activities. And don't worry, there isn't any pressure or sore spots that develop over time. When worn for even 5 hours at a time, they always seemed to provide a cozy fit.
Incredibly Durable
Not all headphones are known for their durability. However, the Blackzebra HP-S1 Bluetooth Headphones are actually built to withstand abuse quite well. While working out, you'll need a pair of headphones that are sweatproof, resistant to moisture, and durable for all sorts of terrain – the HP-S1 fit the bill. Since they're designed in such a way to provide a secure fit, they'll never slip out of place or fall off, even with rough movement. Additionally, they're suitable for damp or wet conditions that may exist while it's raining or foggy early in the morning during your daily jog. Right out of the box, it's apparent that Blackzebra made a point to make certain that these headphones were ready for a tough road ahead of them. They feel solid and sturdy, not cheap or low in quality.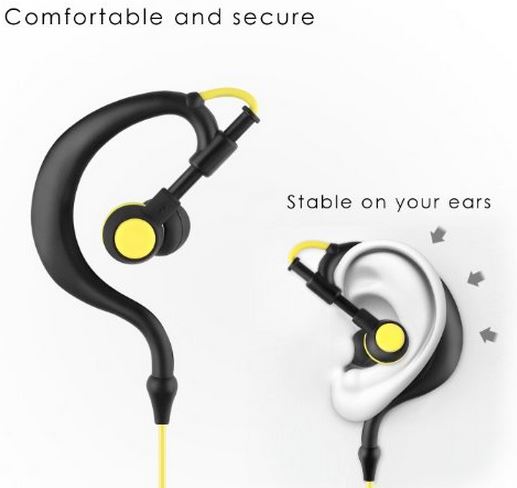 Simultaneously Pairing
A great feature that many are impressed with is the simultaneous pairing ability. With it, you can switch between two audio sources. It's a great way to listen to what you want, when you want. I don't know about you, but I often carry an iPod and my iPhone at the same time. More often than not, my iPhone has a few songs that aren't readily available on my iPhone. With this feature, I can quickly and efficiently swap between the two devices if I want to pick a song from a specific playlist.
What's Included?
The box comes packed with a few additional accessories that you should probably know about. A small USB cable is included to charge them up when needed through any USB port that you have available. The user manual offers a quick introduction to them and thoroughly describes how to get started in a few quick and easy steps. Also, there's a few additional ear buds – six to be exact – that are included with two middle size ear buds to offer a snug fit for all sizes of ear canals.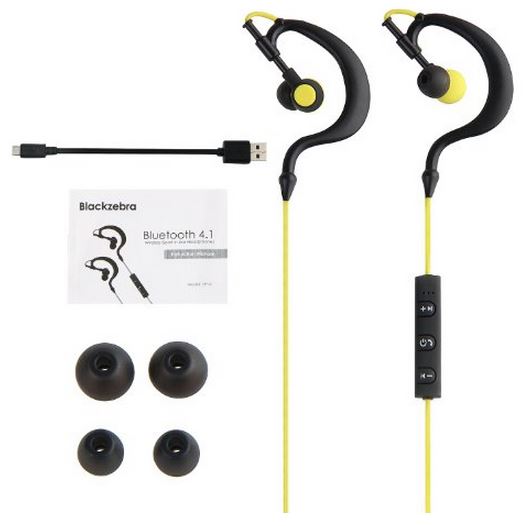 Overall Thoughts
It's nice to see such a high quality piece of technology for such a low and affordable price tag. Sold at retail for around $20, the Blackzebra HP-S1 Bluetooth 4.1 Wireless Sport In-Ear Headphones provide a fantastic listening experience for those who seek high quality sound and durability for all sorts of sports and outdoor activities. Compatible with both iOS and Android, you can use them on just about any smartphone you'd like. Plus, these headphones also have an integrated microphone so you can take a call without taking them off.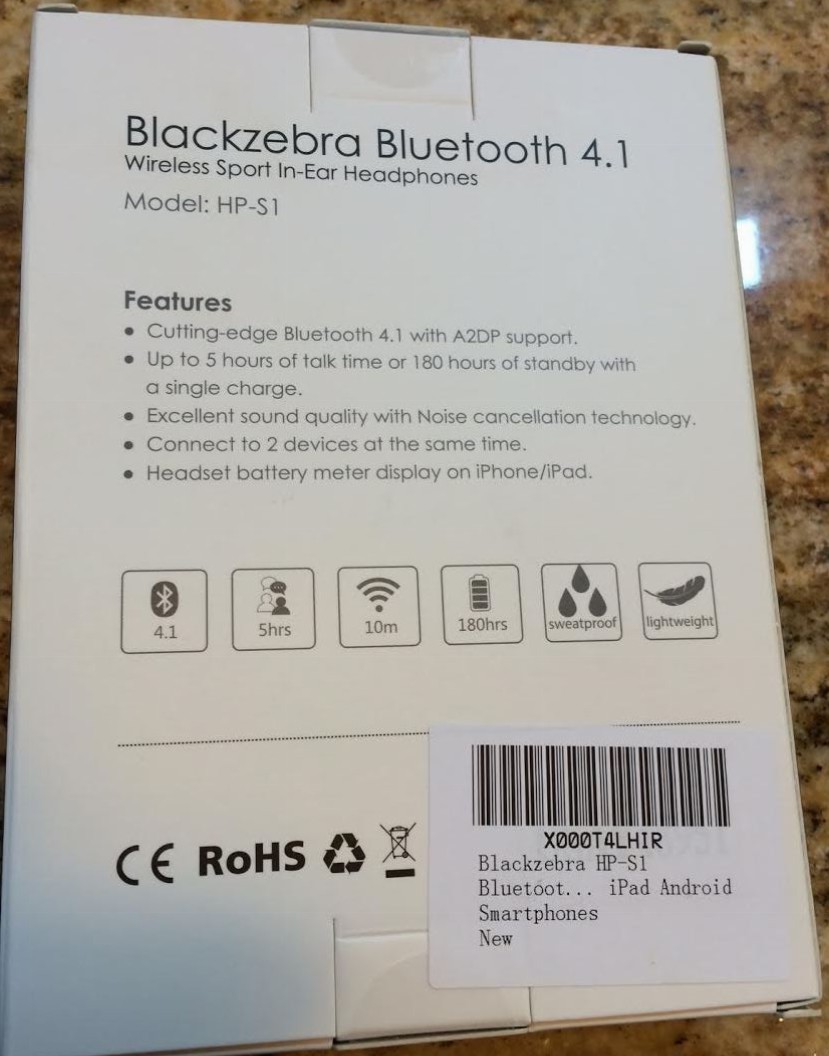 Strong and sturdy, with superb audio quality, we wouldn't hesitate to recommend them to anyone looking for a great pair of lightweight wireless headphones.
Please consider sharing:
Note: At no extra cost to you, we may earn a commission for purchases using our links. Learn more.