CES is right around the corner. Every year, tech companies from around the globe gather to show off their latest products. Before the actual event on January 5th through 8th in Las Vegas, they award various new-releases with the Innovation Awards.
This year, popular power station manufacturer, BLUETTI has announced that their APEX Solar Generator, the AC500 has been named a CES 2023 Innovation Awards Honoree.
Note: At no extra cost to you, we may earn a commission for purchases using our links. Learn more.
Produced by the Consumer Technology Association, this yearly competition showcases the best products with outstanding designs and engineering in 28 consumer tech product categories. As a result, products with the highest ratings receive the "Best of Innovation" title.
Backed by an expert panel of industry-expert judges, they review over 2100 submissions and use innovation, engineering, functionality design and aesthetics as their basis. Needless to say, this is an impressive achievement and one that BLUETTI should rightly be proud of.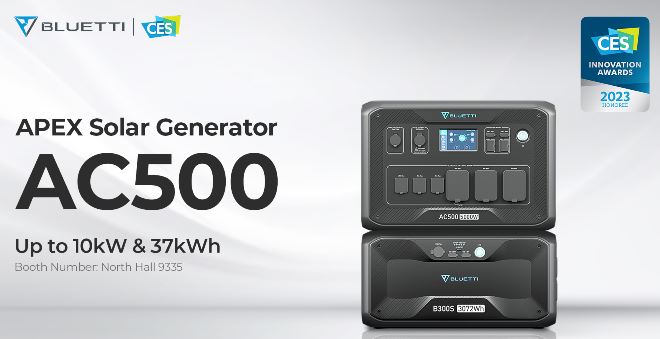 About the AC500
The BLUETTI AC500 is a highly capable solar generator with a lot going for it. Being fully compatible with additional B300S battery modules, users are offered up to 18,432Wh of capacity for storing energy. Additionally, each battery is of the LFP variety which promises better longevity and improved security.
Inside the AC500 is a 5,000W pure sine wave inverter with a massive 10,000W surge rating. In turn, this allows users to run high-demand electronics without any issues. There's even the ability to link an additional AC500 unit in series, which can then double the voltage, capacity and power. Namely, this will offer up to 36,864Wh with 240V/6,000 inverter power. Essentially allowing users to live fully off-grid or offer a reliably source of backup power.
On top of the output capabilities of the AC500, it also offers impressive solar input. With a maximum charging input of 3000W, it has the ability to re-charge through the daylight hours without any qualms. In fact, recharging from 0% to 80% capacity is said to only take 1.5 hours in ideal conditions with a large array of panels. If using one AC500 and two B300S units, dual solar and AC charging can bump the solar input all the way up to 8,000W. Therefore, re-charging from 0-100% takes just 1.8 to 2.3 hours, depending on conditions.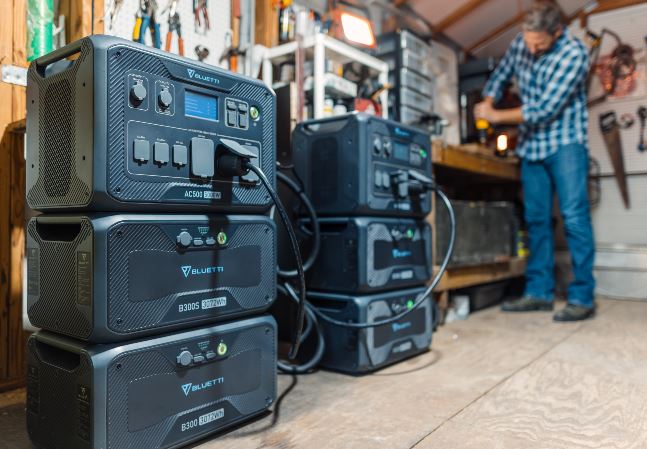 The highly modular design lets BLUETTI significantly shrink the overall dimensions and weight to a much more manageable level. The unibody construction isn't only aesthetically pleasing, it ensures maximum flexibility for moving the units and vertically stacking multiple at a time. Additionally, the B300S batteries can also be stacked on top of each other for maximum space-saving.
Last but not least, each AC500 unit offers a wealth of outputs, making it highly versatile for any and all electronics. Specifically, there's one 120V/30A L14-30, one 120V/30A TT-30 and one 120v/50A NEMA14-50 output.
Investing in the BLUETTI AC500
Whether you're looking to power an off-grid home or simply supply emergency backup power, the AC500 is a smart decision. Although it may be quite expensive initially, it's a great investment to avoid continuous electric bills that never end. The beauty of modularity is that you can buy as you go. While one may not be able to afford their desired capacity at first, modularity lets users add additional capacity over the course of time.
With power outages and energy shortages running rampant in some areas, the AC500's 24/7 UPS function offers a promising solution. It can seamlessly integrate into the main grid and automatically protect against unexpected power failures. Over time, it can even realize peak loads and shift to reduce power consumption during peak hours. Ultimately, this helps save money to a further degree.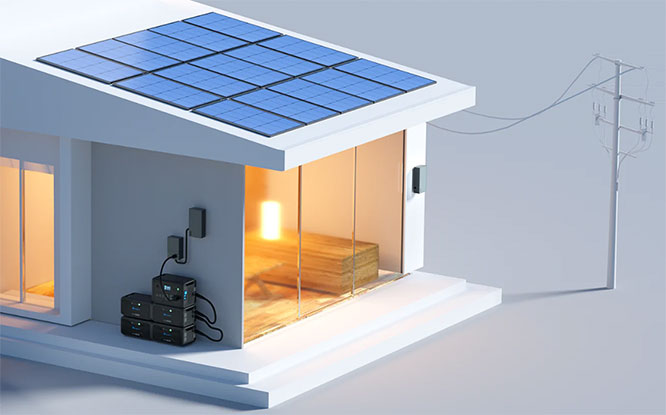 New for CES 2023
In order to showcase the crucial role of tech, CES has partnered with the World Academy of Art and Science. This is in an effort to support the United Nation's effort to advance human security throughout the globe. The Consumer Technology Association even introduced a completely new category of Innovation Awards that specifically showcase technologies that advance human rights.
This "Human Security for All" category includes eight subcategories that are specifically for new tech in 2023. More information regarding this will be announced in January so stay tuned. Most, if not all, honorees will be showing off their winning products in the Innovation Awards Showcase at CES 2023.
As stated earlier, CES 2023 will be held in Las Vegas from January 5th-8th. Media Days will take place a few days earlier on January 3rd-4th. Those who attend Media Days will be offered first-hand experience of a wide variety of tech from top brands. In addition, there will be talk of future tech from brand leaders and between those who attend in-person.
The Media Days show will highlight topics that cover innovations in sustainability, digital health, mobility, the metaverse, transportation and much more. There are also distinct plans to address some of the world's greatest challenges that we all face. Industry experts will offer live keynotes with leaders from AMD and John Deere. If interested, visit CES.tech to learn about all of the new 2023 updates with specific details on registration and press resources.
About BLUETTI
For over a solid decade, BLUETTI has been at the forefront of new and upcoming technology, mostly in the power station and portable energy sector. Since then, they've tried to stay true to a completely sustainable future through green energy storage solutions.
As a designer and manufacturer of some of the best indoor and outdoor energy storage products, they've delivered various high-end products throughout the years. Making a strong presence in over 70 countries, BLUETTI is a trusted name that millions have trusted in. For any additional information, please visit https://bluettipower.com.
Please consider sharing:
Note: At no extra cost to you, we may earn a commission for purchases using our links. Learn more.