Even with high end tablets and powerful smartphones, nothing can replace our laptops. These fully featured computers are getting more powerful year by year, many of which provide performance that exceeds that of even a desktop computer.
But there is one area where mobile devices excel – charging. Most phones only take a few hours to charge, and the cables are almost universal. The choice is between apple chargers and Android chargers. We wish we could say the same for laptops. Not only does each manufacturer have a different charger, but often different models within a manufacturers product line have a different charger as well.
There is actually a good reason for this. Almost every Android phone runs on the same hardware. They all have very similar power requirements. Laptops aren't designed the same way. Every model has different power requirements, and the chargers are designed to provide exactly that requirements.
Fortunately, there are several universal options that allow you to charge virtually any laptop on the market. Essentially, these are variable power supplies. The nice thing about DC electricity is that devices will only draw as much power as they require. These power supplies are capable of producing a variety of voltages, and they use the laptops own internal resistance to calculate the current draw. They generally include a large variety of connectors so that they will fit your laptops own unique plug. We'll be taking a look at the three best universal Laptop AC connectors on the market. We'll help you find the model that's right for you, and show you how to determine which one will work with your laptop.
Belker 90W Slim Universal AC Laptop Charger
Several years ago, Belker started out by manufacturing specific OEM chargers designed to replace the exact model users needed. But their expertise in power supplies allowed them to develop a dynamically adapting charging circuit that could adapt to almost any load. Whether you're trying to charge a laptop, a television, or any other DC device, you can rest assured that Belker has a charger for you.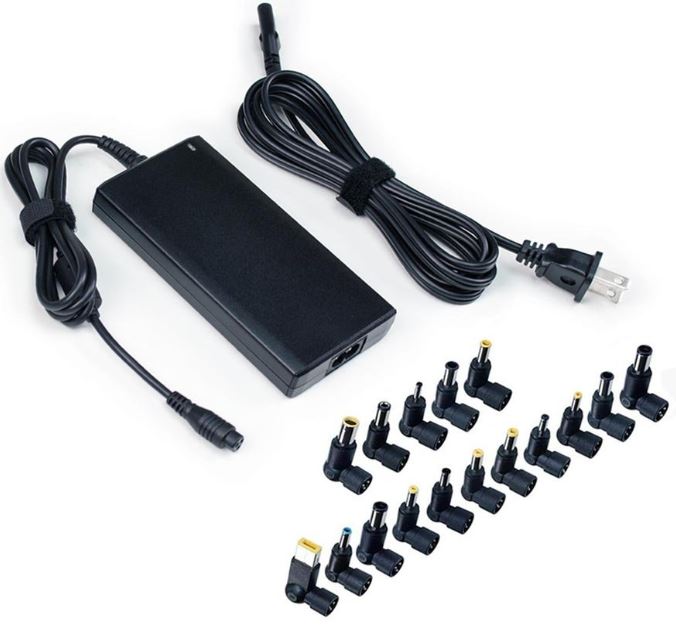 Input Power
The Belker 90W Slim Universal AC Laptop Charger has an advanced transformer that is capable of handling anything from 100V to 240V. It does have a US plug, so it's designed out of the box to work with 110V. But it also supports 50HZ 240V connections, which is what they use in most of Europe. This means that if you ever find yourself travelling, all you need is an adapter that will change your US plug to the correct shape.
Another nice thing about the input cable is that it's standard. The two-prong input is found on devices all over the world. If you don't want to buy an adapter, or you're ever caught without one, you can easily find an input cord abroad that will work.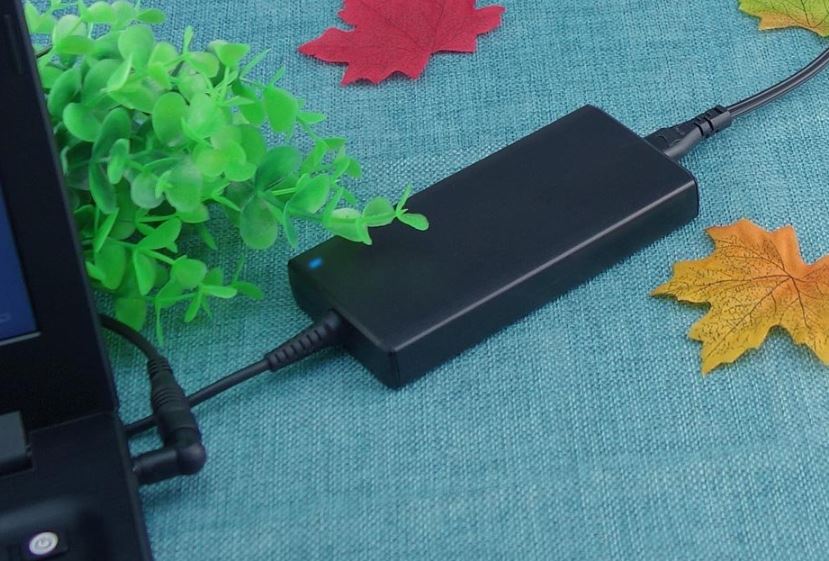 Output Power
When it comes to output power, it's not easy to build something that generates a smooth range of voltages. Products that can do this are called lab power supplies. They're very large, and generally cost upwards of $500. Instead, Belker took the most common laptop voltages and created a circuit that can produce that specific voltage. This charger supports 15v, 16v, 18.5v, 19v, and 20v. It is capable of producing up to 90W. Unlike voltage, power use is a nice smooth curve. You can use a 40-watt charger, a 20-watt charger, or even an 87.235-watt charger if you like. As long as it's below 90 watts, you're good to go.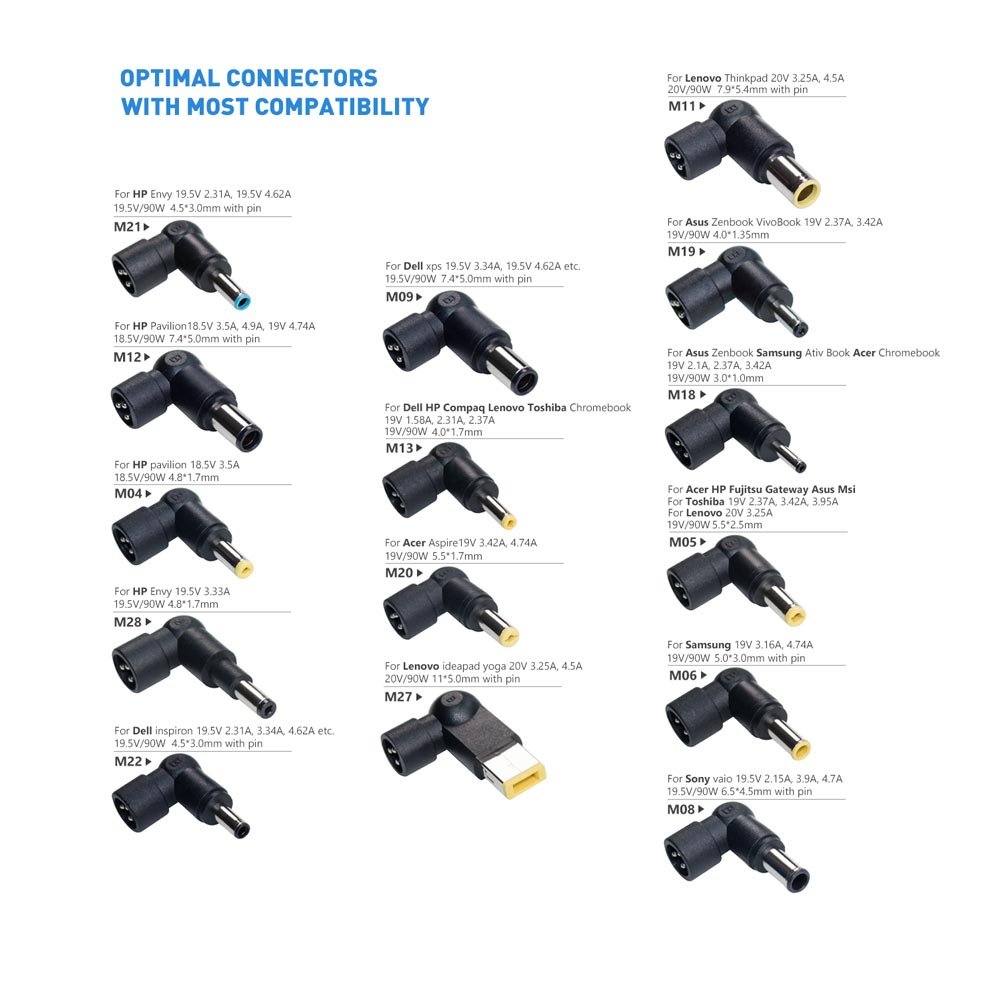 Connectivity
To make this charger as universal as possible, they've included 18 different connectors for a plethora of different laptops. These connectors come pre-labelled identifying the brands of laptops they're commonly used with. For 90% of users, you'll have no problem finding the right one for your laptop. But it's important to remember that these cables aren't completely exclusive to one type of laptop. Some of the Dell chargers are also used on Alienware, and some rebranded laptops (such as the ones sold by MSI) use a connector from another brand. If you don't see your laptop type on the list, it's worthwhile to take a look at the images and see if you recognize one for your computer.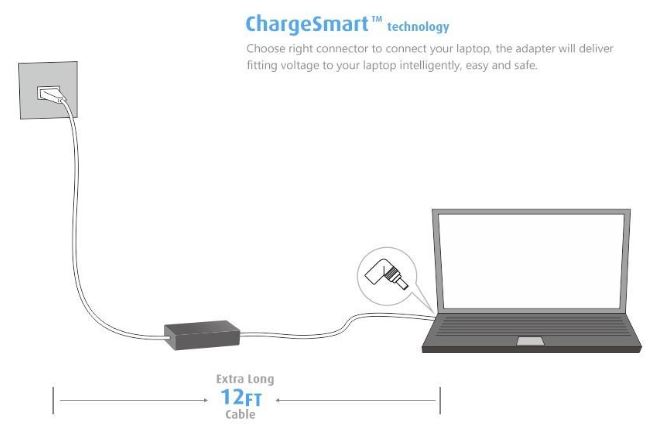 Design
One of the things we love about this charger is how compact it is. The power supply itself is much smaller than many of the chargers we found online, making it quick and easy to throw in a bag. They also include a very long 6-foot power supply cord. If you've ever had to spend time hunting for an outlet at an airport, you'll be thankful for the extra length they give you.
LVSun 90W Universal Laptop Charger
LVSun is a very large importer of foreign manufactured electronics. In fact, this very same charger is rebranded and sold in stores for twice the price. For that reason alone, it's a great value. But the icing on the cake is the extra features they've included.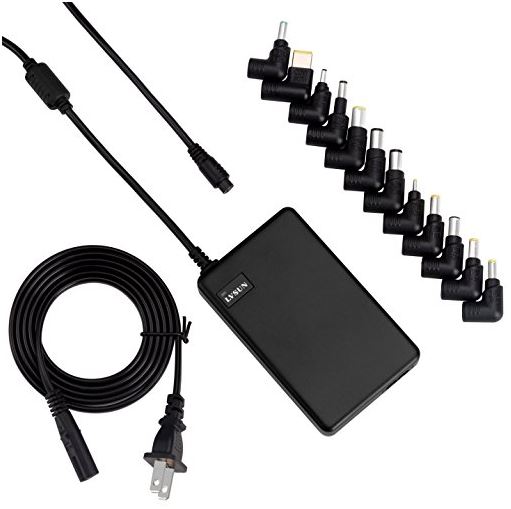 Input Power
The LVSun 90W Universal Laptop Charger is designed for the US market, so it will only accept 100 to 120V input. The range is still a little wider than some, so it will work if you're running it off a generator or battery backup system. But if you're planning to go travelling, it might not be the best option. But for use within north America, it's everything you need.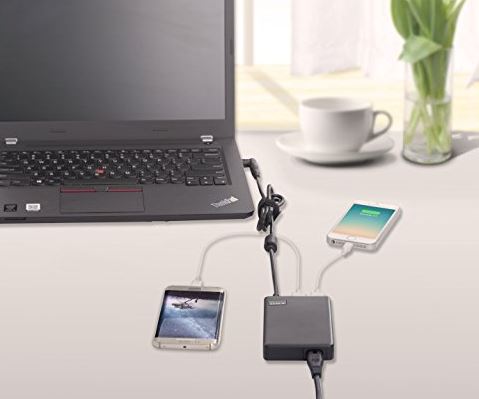 Output Power
This charger has an output range of 12 to 24v, in increments of 0.5 volts. Chances are, there are several voltages that aren't going to be commonly used. But if you have an odd laptop that works off an uncommon voltage, this might be a good option for you.
The laptop can produce total power of up to 90 watts. This model is a little more efficient than some, and its ideal range is in the 40 to 60 watt area. If you have a laptop in this range, you'll enjoy reduced heat output and better efficiency.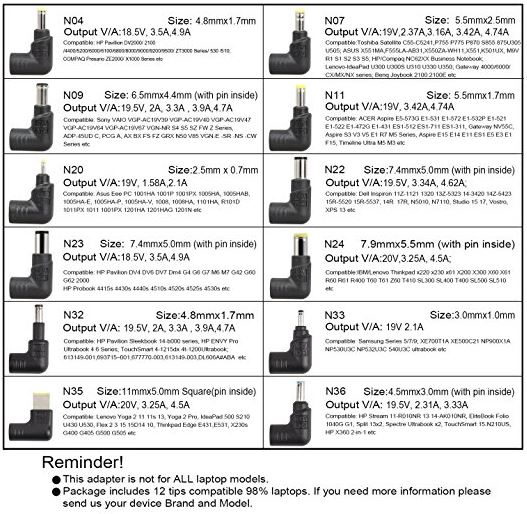 Connectivity
The manufacturer only gives you 12 connectors to choose from, but they're the 12 most common ones. These connectors alone should work with about 80% of the laptops on the market. If you've got a Lenovo, HP, Dell, Toshiba, Samsung, Acer, or Asus notebook, you've for sure got a connector in here that will work. But you should double check the exact connector to make sure.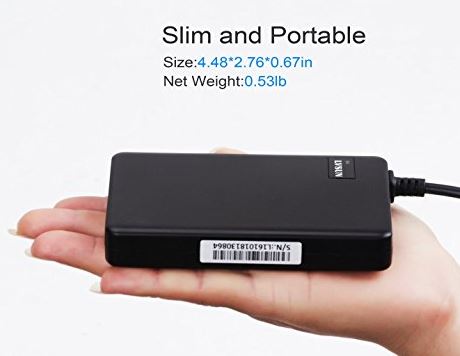 Design
Although it's not the most compact charger on the market, there is a few extra features that will make this model a great buy. It's got dual 5V USB ports that are capable of charging at up to 2.1A. This makes them fast chargers. We're very happy to see this since most USB chargers only provide 1A of charging capability, making them slow to charge modern phones.
Powseed 70W Universal Laptop Charger
Powseed has been in the charger market for many years. They produce both high quality OEM replacement chargers, and these high end universal chargers. They've got more products on the market than any other brand, making them one of the most all-inclusive solutions you can buy.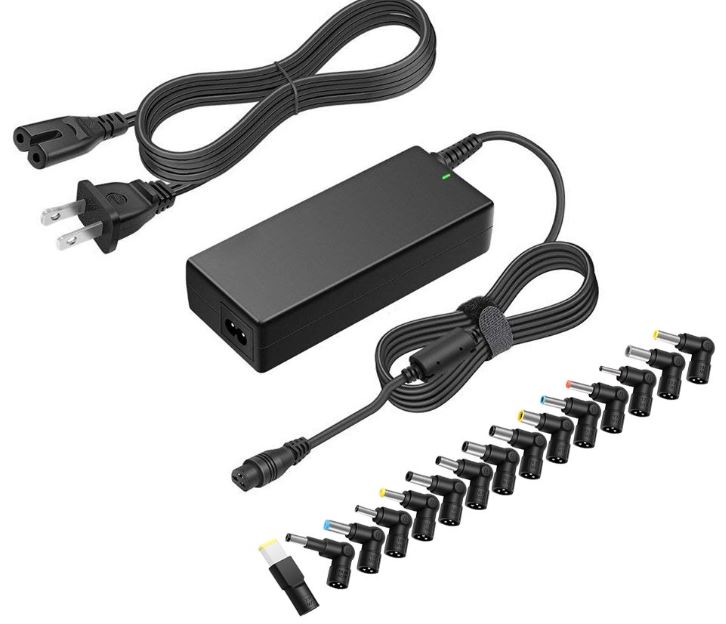 Input Power
Other than the main power cord, the Powseed 70W Universal Laptop Charger is sold overseas. For that reason, it supports both 120V and 240V input power. This makes it a great travel buddy, and you know you'll be able to juice up your laptop no matter where in the world you are.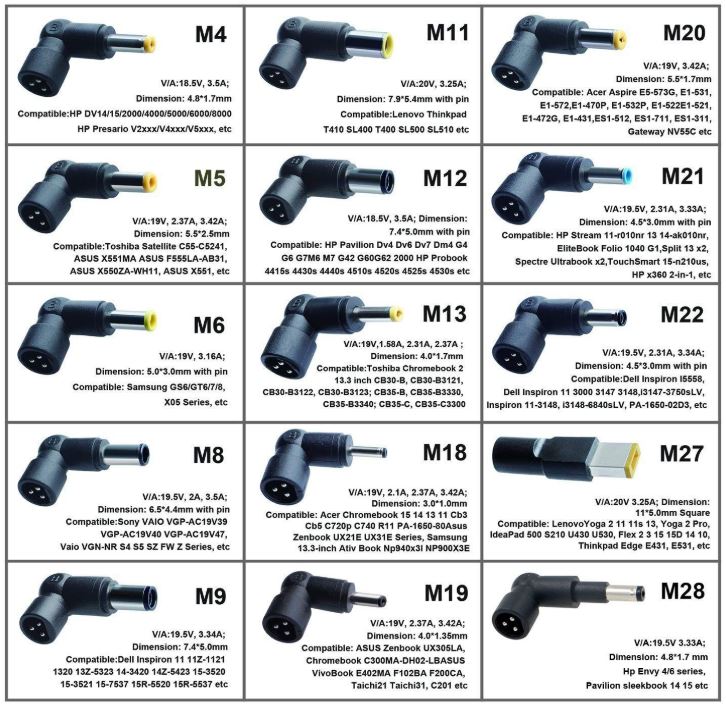 Output Power
Like most universal laptop chargers, this one is capable of producing a total of 70 watts of output power. If you aren't sure how many watts your charger uses, all you have to do is multiply the input voltage by the current draw. For example, a laptop that requires 19v and draws 3 amps would use 57 watts. The gross majority of laptops use less than 70 watts, so this model should cover you.
The range of voltages covered includes 12, 15, 16, 18, 18.5, 19, 19.5, 20, 22, and 24v. The nice thing about this model is that it adjust the voltage automatically. Some cheaper models choose the output based on the tip you choose, but this one automatically adjusts it based on the needs of you laptop, so you don't have to worry.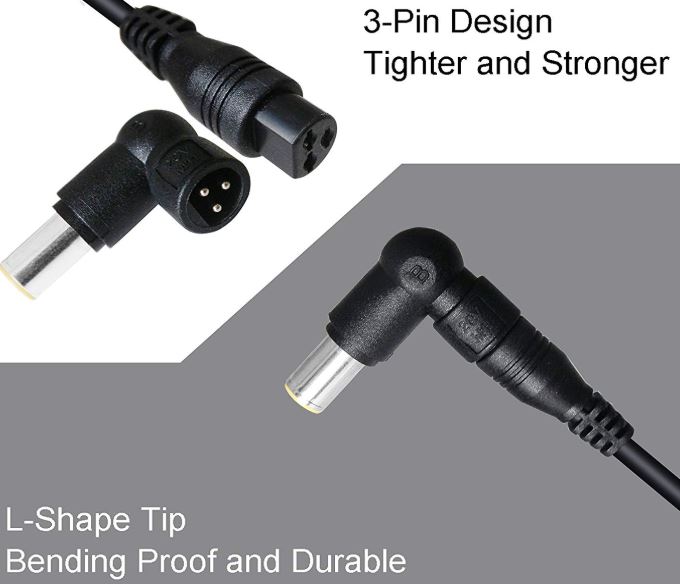 Connectivity
We picked this particular charger because it includes more tips than any other model on the market. With 20 to choose from, this one works with almost every laptop on the market. If you've been hunting around for a good universal charger and haven't found one, this is the last one you should try.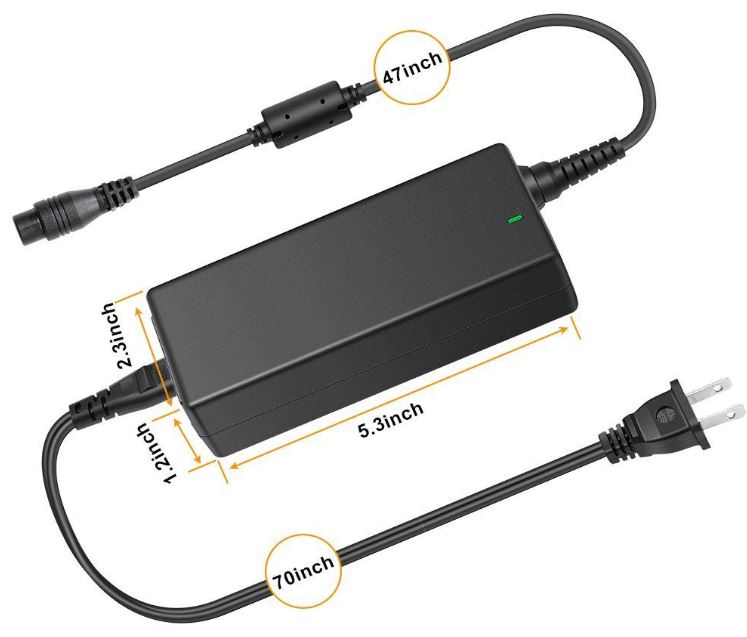 Design
Although this charger is a little larger than some, the additional voltages and connectors it supports makes it a worthwhile investment. The manufacturer knows that it's a little larger than some, so they've included a few helpful features that make it easy to carry. Both of the cables include a Velcro wrap so you can keep your cords organized without having to worry about tangles.
Which Universal Laptop Charger is Right for Me?
All laptop chargers do pretty much the same thing. Before you buy, you're going to want to make sure that you know that yours is going to be compatible. The first thing you should do is look up the specifications. Check the voltage and current rating. Every universal laptop charger lists the voltages and current that it supports.
The next thing you'll want to do is check the total power consumption. All you have to do is multiply the voltage (V) by the current draw (A) to determine the total power (W.) As long as it's under 90, you're safe to use a universal charger.
Remember, very few laptops require more than 90 watts with the exception of desktop replacement notebooks. Your final task is to check the tip settings to make sure there is one that works with your computer. The first model we'd check is the Belker Slim Universal Laptop Charger. It's got a very compact design, and supports the most common models of laptop.
If you don't find your connector and voltage on that list, give the LVSun Universal Laptop Charger a shot. It's got the two USB ports, so as long as you've got this on you you'll never have to worry about having a phone charger again.
If you still haven't managed to find a laptop charger that suits your needs, check out the Powseed Universal Laptop Charger. This has better support than any other model we've seen before, so if you can't find your connector here it's likely that you'll have to buy a dedicated charger.
My laptop requires more than 90 watts? Is there no universal laptop charger that will work with my computer?
You may have noticed that virtually every laptop charger on our list has set 90 watts as the upper limit of the power they can produce. The reason for this is that at high currents, it's difficult to build a universal circuit. But that doesn't necessarily mean that your computer will not accept less than 90 watts.
For example, some desktop replacement notebooks (like the Dell M6700) use massive 200 watt chargers. These chargers are designed to produce enough power that they can both run the computer and charge your battery at the same time. But Dell also makes a 90 watt charger. This smaller charger is powerful enough to either run the computer, or charge the battery – not both. If you own this computer, you could buy a universal model. But more often than not, you'll notice that it will only charge when the computer is turned off. Whether this is worthwhile to you is a decision you'll have to make.
Was this helpful? Please consider sharing: