When you own a laptop, you need a reliable power supply. Yes, your battery will get you through some rough patches. But when it's time to plug in, it's time to plug in. You may only have a few hours before you need to rely on your battery again. If your power supply is acting up, it's imperative that you get a replacement as soon as possible. Now, modern power supplies come in a variety of flavors. A number of newer laptops simply charge with a USB Type-C cable. In that case, a PD-capable USB Type-C AC charger will be all you need.
But many laptop manufacturers still use barrel-style adapters. These adapters come in different sizes, different polarities, and different voltages and wattages. As a result, it can be hard to find a good match. The same adapter that works for your Samsung Chromebook won't work with your Compaq. The good news is that none of these adapters are proprietary. They're simply variations on the same basic design. As a result, third-party manufacturers are able to come along afterwards and make "universal" adapters.
We're about to look at three of these universal laptop AC chargers. We'll start by reviewing the ZOZO 90W AC Universal Laptop Charger. This is a powerful, 90-watt charger, designed for even the most demanding of laptops. Next, we'll look at the Belker 65w Universal Laptop Charger. This is a more modest 65-watt charger, ideal for smaller laptops. Finally, we'll examine the POWSEED 70W Universal Laptop Charger. This is a 70-watt travel charger with a short, 3-foot cord. Which one is best for you? To find out, we'll take a closer look at each. Then, we'll be able to render our final verdict.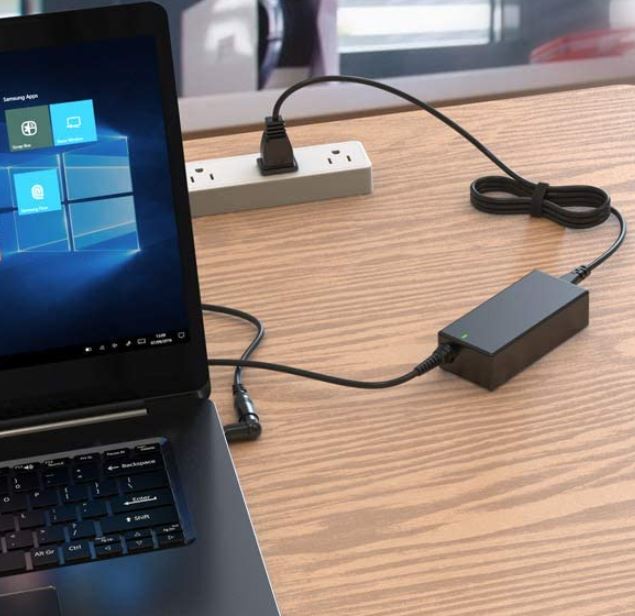 How to Choose the Right Adapter
So, your laptop's power adapter is broken, and you need a replacement. How do you know which one is right? The ones we've chosen all come with a number of tips with several specifications. That said, it's impossible to find one charger that literally charges anything. When in doubt, it's best to verify the specifications to make sure you're using the right thing. Here's a quick guide to making sure your replacement charger functions correctly.
Voltage, Amperage, and Wattage
The first thing you'll want to look at is the adapter's output voltage. This is extremely important, since a device will only work if it's receiving the correct voltage. Most laptop chargers are rated for 3, 5, 6, 9, 12, or 18 volts. However, you'll want to check your owner's manual or original charger to verify.
Voltage corresponds to a circuit's maximum capacity. If you imagine the circuit as a river, the voltage measures the width of the river bed. Amperage, on the other hand, represents the intensity of power delivery. So a high-voltage, lower amperage charger is like a wide, slow-flowing river. A low-voltage, high-amperage charger is like a narrow whitewater rapids.
Unlike voltage, amperage does not be exactly matched to your device. You can use a higher amperage charger with a lower-amperage laptop, but not vice-versa. So a 4.5-amp charger will work with a 3.25-amp device, but a 3.25-amp charger won't power a 4.5-amp device. Keep in mind that it's sometimes possible to use a lower-amperage charger if the numbers are close enough. However, this is a Very Bad Idea. In the best case scenario, over-power circuitry in the charger will deactivate it. In the worst case, the charger can overheat, permanently burning out the circuitry or even starting a fire.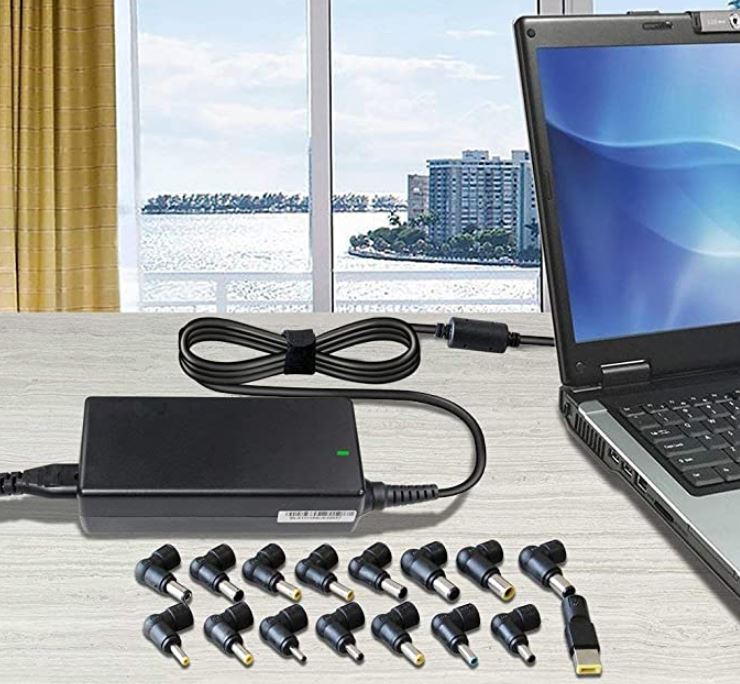 Watts are a measurement of total power consumption – a combination of volts and amps. If voltage is the width of the river and amperage is its speed, wattage is the total volume of water. To find wattage, you simply multiply the voltage and amperage. So if you're using a 5.0-volt, 1.5-amp USB charger, you're getting 5.0V x 1.5A = 7.5W of power. Similarly, you can find the amperage by dividing the wattage by the voltage. So a 100-watt, 5-volt charger supplies 100W ÷ 5V = 20A of power. This calculation can be useful, since chargers will often list wattage or amperage, but not both. You can also divide wattage by amperage to find voltage, if need be. But you'll rarely, if ever have to do this, since almost all chargers will prominently list their voltage.
Plug Polarity
Once you've found a charger that provides the correct amount of power, the next step is to determine your polarity. For barrel-style plugs, you'll see a symbol with a "+" and "-" sign, connected to a ring and a dot. The symbol connected to the outer ring represents the polarity of the outside of the barrel. Similarly, the sign connected to the dot represents the polarity of the inside of the barrel. Most devices use an adapter with the positive connector on the center, but there are exceptions.
Regardless, it's essential to get the right polarity! A charger with the wrong polarity can cause your laptop to overheat. If your laptop is equipped with a polarity fuse, the fuse will blow. You'll need to replace the fuse, and you'll still need a new charger. If your laptop doesn't have a polarity fuse, you'll potentially cook your entire machine.
Plug Diameter
Compared to everything else we've discussed, plug measurements are relatively straightforward. There are two measurements: one for the inside diameter, and the other for the outside. Both are measured in millimeters. This is generally noted as "5mm OD x 2mm ID" or something similar. If need be, you can also check by simply plugging it in. Provided the polarity and power supply are correct, connecting the wrong size adapter won't do any harm. It just won't work.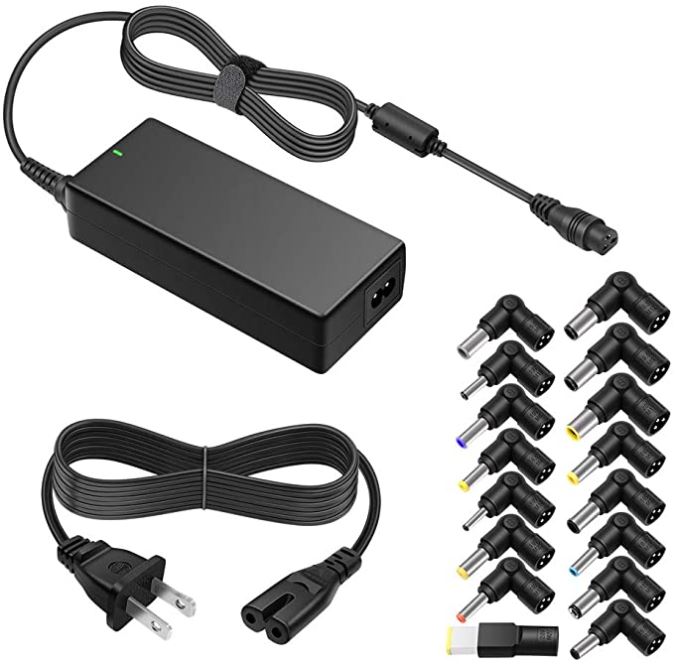 ZOZO 90W AC Universal Laptop Charger
The ZOZO 90W AC Universal Laptop Charger consists of two primary components. The first is a 10-foot power cord, which plugs into any 2-prong AC outlet. The other end of this cord plugs into a black plastic power supply. This supply is just over 5 inches long and 2 inches wide, and is easy to carry along with your laptop. From the other end of the power supply, a secondary cord runs to your laptop. Near this end, you'll notice a green LED indicator, which lets you know when the power supply is active.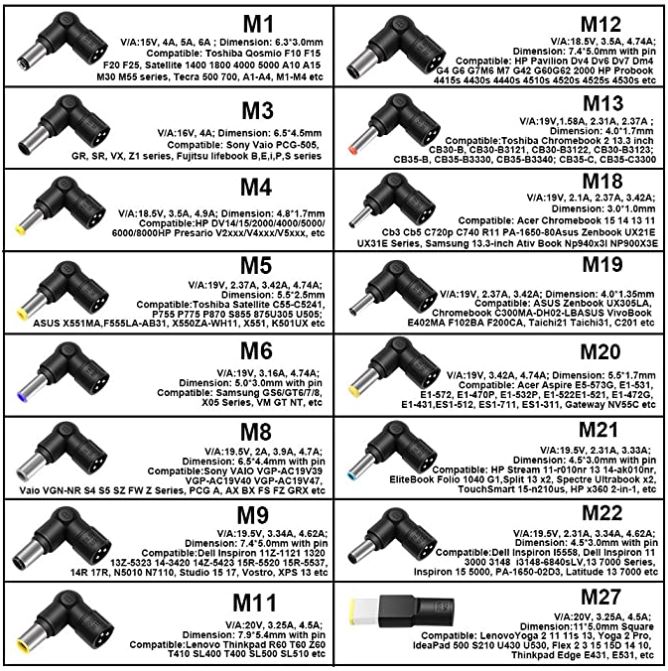 The far end of the smaller cord ends in a 3-pin tip which connects to any one of 16 different tips. The neat thing about this design is that each tip comes with automatic voltage adjustment. In other words, when you attach a tip, the charger will automatically adjust the voltage to match. You don't have to mess around with any switches, buttons, or other shenanigans. Another thing we should point out is that the connection to the tips is flattened on one side. This ensures that you attach the 3-pin connector in the correct orientation. Finally, there's a small velcro strap attached to the DC cord. It's not much, but it's a nice extra touch when you're transporting your charger.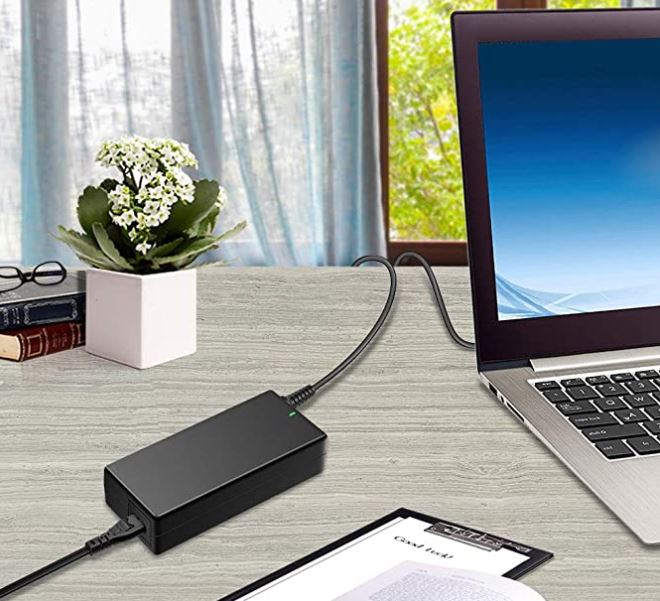 Power Input and Output
For power input, the ZOZO charger accepts both North American 110/120-volt power and 220/240-volt power. As a result, you'll be able to use it anywhere in the world. Just keep in mind that outside of North America, you'll still need a plug adapter. It won't have to adjust the voltage to North American standard, though.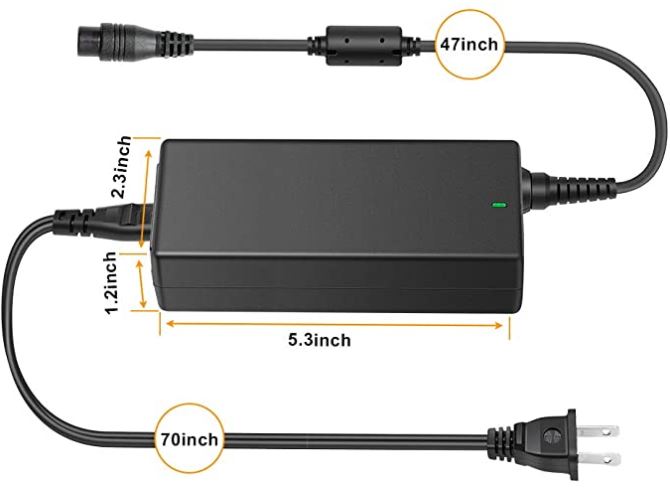 The output voltage on the ZOZO is designed mostly for higher-voltage laptops. It can deliver 15, 16, 18.5, 19, 19.5, or 20 volts, at a maximum of 90 watts. It's suitable for some of the larger HP and Lenovo machines, which can be hard to find chargers for. That said, given the high wattage, we couldn't help but be disappointed that there's no USB Type-C adapter. Yes, USB-C users have other options. But for the sake of completeness, it would have been nice to see one anyway.
This charger comes with over-voltage protection. Basically, this means it won't deliver too much voltage and damage your laptop. On the downside, the power supply block itself tends to run hot. It's poorly-ventilated, and should be exposed to the air as much as possible. If you're laying in bed with your laptop, this can present a small challenge.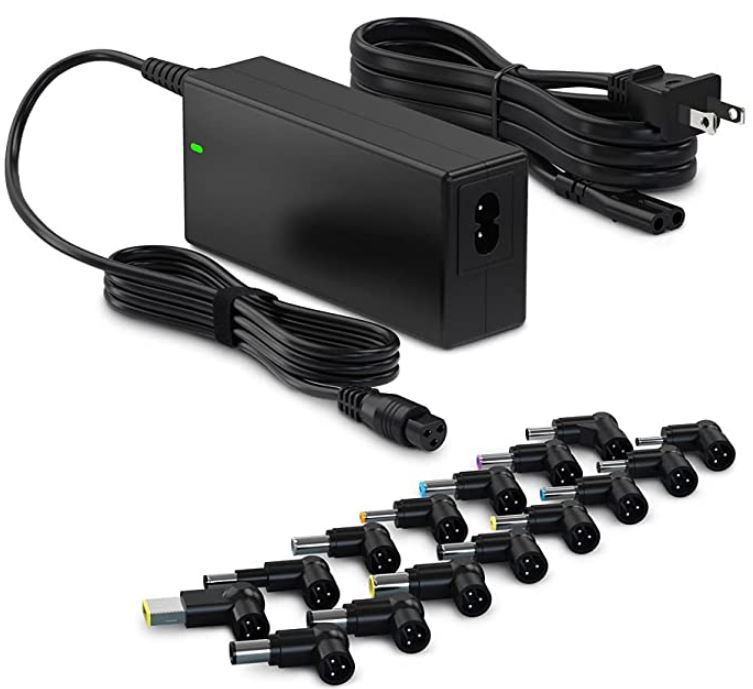 Belker 65w Universal Laptop Charger
The Belker 65W Universal Laptop Charger is similar to the ZOZO in terms of basic design. There's an AC power cord, a power supply block, and a DC cord running out of the power supply. The only significant difference is the length of the cord, which measures 6 feet instead of 10 feet. For what it's worth, the LED is also blue instead of green. But let's be honest, one laptop charger looks the same as another.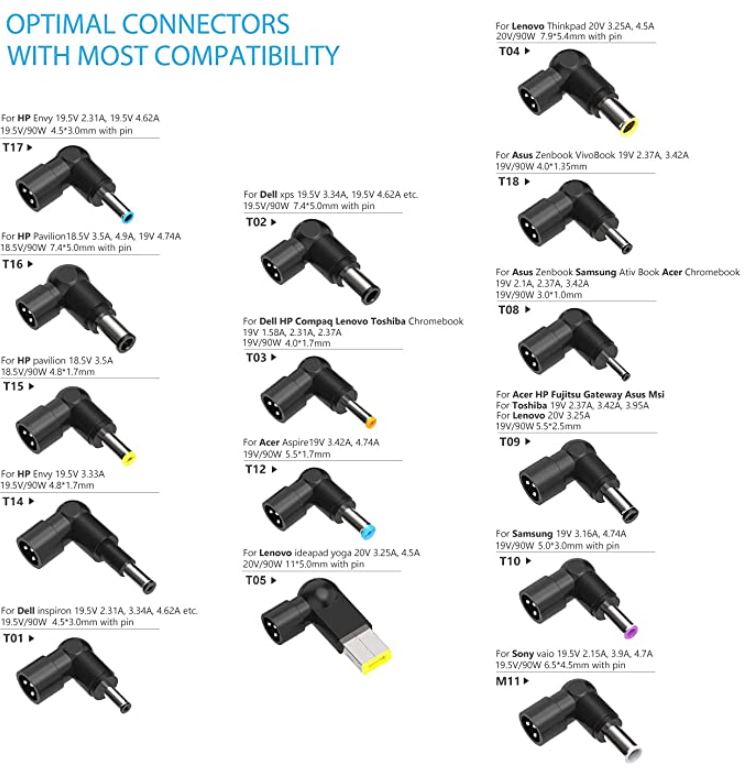 The similarities even extend to the number of tips. These include 16 different options, for a variety of brands. Among others, you can find tips for Acer, Asus, Compaq, Dell, HP, IBM, Lenovo, and Sony laptops. You'll also find that all the tips attach with the same standard three-pin connector.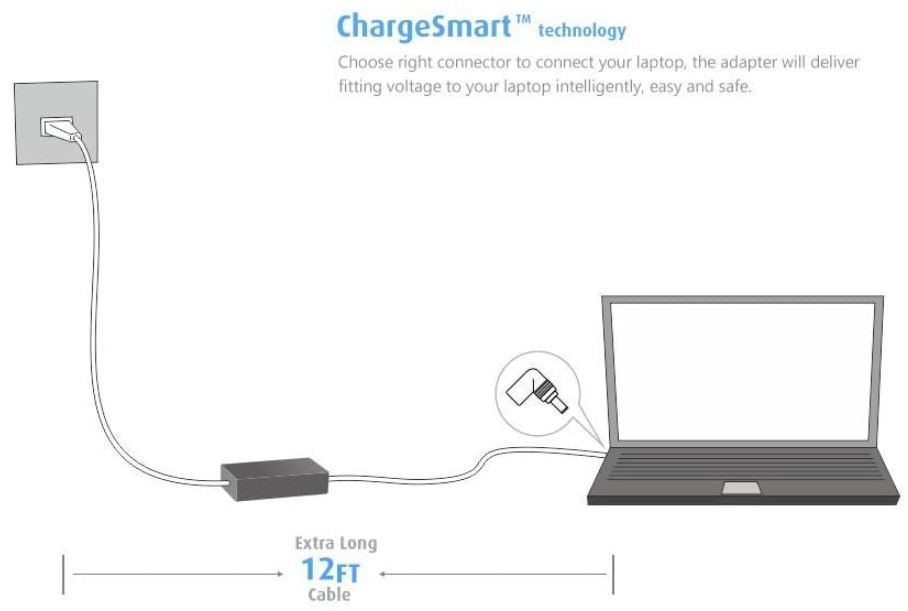 Power Input and Output
The Belker charger can accept an input power of between 100 and 240 volts, and from 50 to 60 Hz. This makes it suitable with both US and international power outlets. As with the ZOZO, you'll still need a plug adapter of the appropriate socket type for the country you're in.
Output voltage is more limited than the ZOZO. There are 18.5, 19, 19.5, and 20-volt tips, with a maximum power delivery of 65 watts. As a result, you'll be limited to powering small to mid-sized laptops. On the other hand, there are still 16 tips. This gives you broader coverage among this size of machine. You also get overload and over-voltage protection to keep your charger and laptop safe.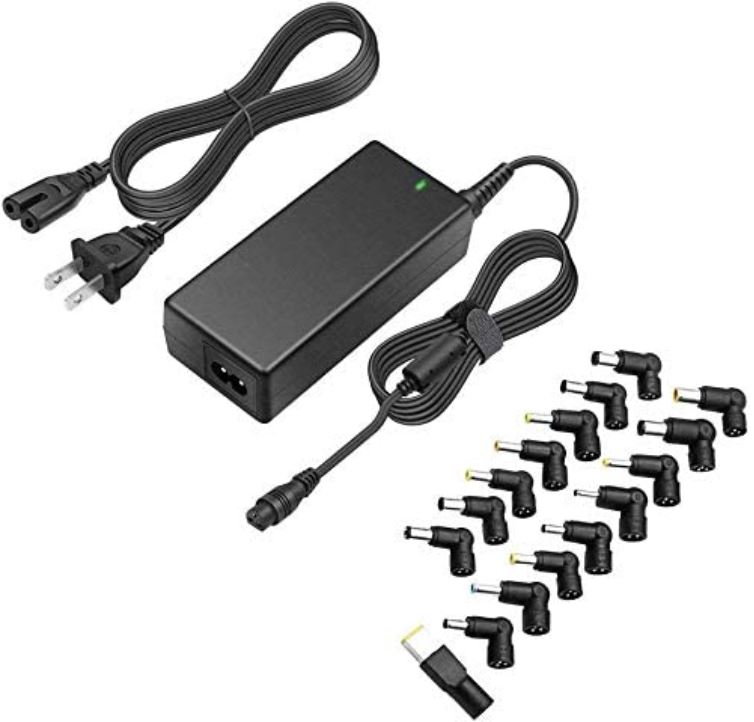 POWSEED 70W Universal Laptop Charger
The POWSEED 70W Universal Laptop Charger has the same basic design as our last two. You get an AC cord, a power supply – with LED – and a DC cable that ends in a 3-pin connection. Once again, though, the cord is smaller than our previous options, this time at a mere three feet. For many applications, three feet is too short to be practical. On the other hand, a small cable is ideal for frequent flyers who need a compact charger.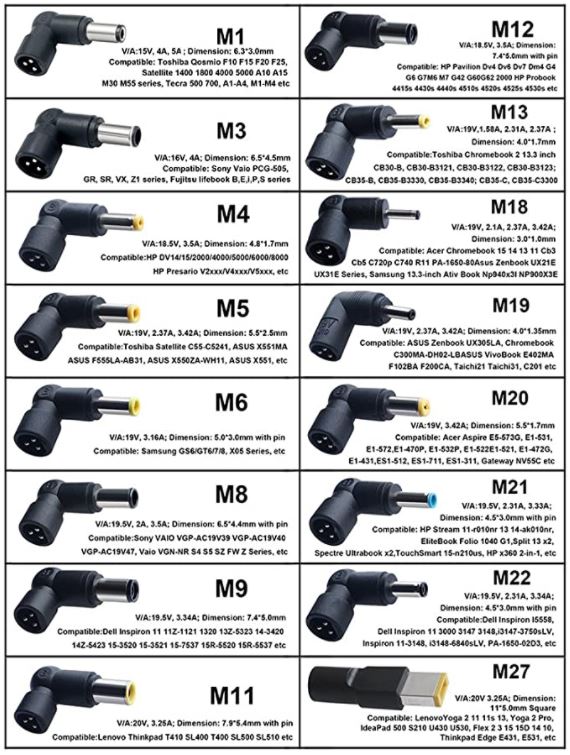 The kit includes 16 kits, with compatibility for a wide variety of manufacturers. If neither of our last two choices worked for you, there's a good chance that this one will. That said, if you're looking for even more portability, consider a portable power bank. The Jackery Explorer 240 can charge anything that has its own AC or USB plug. And with its powerful battery, it can fully charge even the beefiest laptops without the need for an outlet.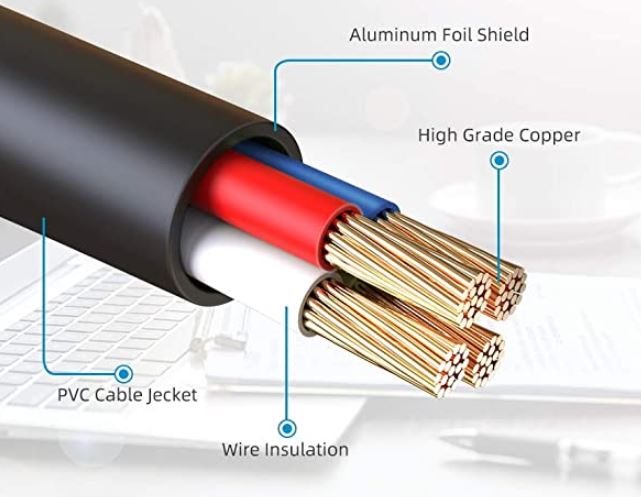 Power Input and Output
The POWSEED charger accepts input voltages in both North American and international standards. On the output side, it can deliver 12, 15, 16, 18, 18.5, 19, 19.5, 20, 22, or 24 volts. This makes it compatible with a number of machines that won't work with our other choices. Its maximum power is 70 watts, though, so it won't work for the very largest laptops. It does, however, have all the safety features you'd expect, including over-charge and over-voltage protection.
Final Verdict
As you can see, each of these chargers has its own benefits and drawbacks. Which one is the best? The ZOZO 90W AC Universal Laptop Charger is an excellent choice if you have a larger laptop. It supports big Lenovo and HP machines that other chargers don't. It also has a long, 10-foot cord. On the downside, it doesn't support as many smaller laptops as some other chargers. The long cord also takes up more space for travel than a shorter cord.
The Belker 65w Universal Laptop Charger has a similar design, and most features don't bear repeating. However, the power cord is a bit shorter, and the maximum wattage is a bit lower. If your small or mid-sized laptop won't work with the ZOZO, the Belker may be a good fit.
The POWSEED 70W Universal Laptop Charger is a well-designed catch-all charger that supports very high voltages. Other than the short cord, we had no complaints. If neither of the last two chargers worked for your laptop, consider this one. At the end of the day, the "best" charger is the one that's compatible with your laptop!