RGB lighting is a core part of the gamer aesthetic. Whether you're trying to dress up your gaming PC or accent the entire room, gamers love RGB lights. Look at a quality gaming rig, and chances are you'll see an RGB mouse, keyboard, and other accessories. If this appeals to you, you might be looking for even bigger, more powerful LEDs. Forget little light strips and accents. What if you want to bring RGB lighting to your entire wall? In that case, you'll want a wall-mounted RGB light kit.
We're about to review three of the best RGB LED wall lights for your gaming room. These lights are designed to make a bold statement, and lend a gaming aesthetic to an entire room. To find out which one is the best, we'll need to look at many aspects of their design.
First, we'll introduce each option. Afterwards, talk about the physical build, and the kind of illumination they provide. In addition, we'll need to look at how they get their power, as well as how they're mounted. We'll have to discuss controls, color-changing options, and any other extras. After that, we'll be able to make a useful comparison, and render our final verdict. Let's dig in, and see how these lights stack up!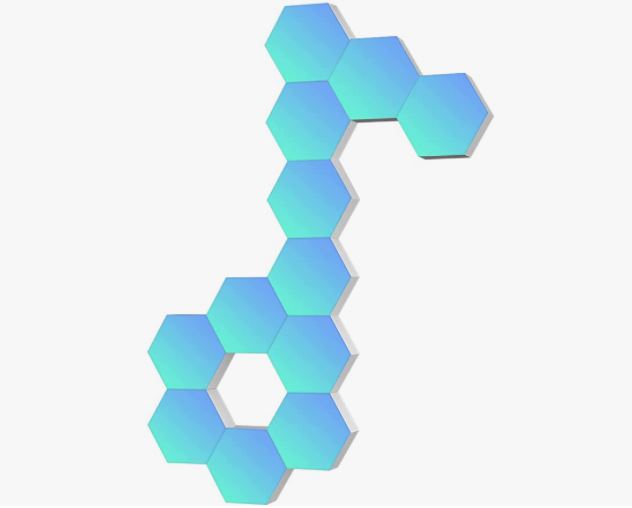 Cololight Hexagon LED Wall Light
The Cololight Hexagon LED Wall Light is a set of 12 individual hexagonal lights. Each one has a white housing, with the backs of the LED diodes visible on the reverse side. They measure 2.94 inches from edge to edge, with a corner-to-corner width of 3.14 inches. This makes them roughly the size of a hockey puck, although a bit slimmer, at only 1.2 inches. Each light can be used individually, or they can be interlinked to form a larger shape. You can do this with the little plastic connectors, 12 of which are included. The connectors provide power connectivity as well, so all your lights can receive electricity.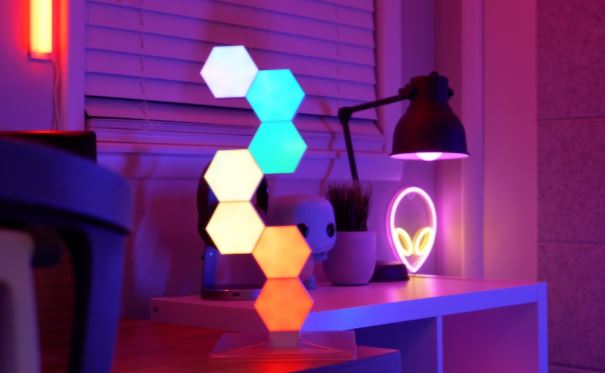 Along with the lights themselves, you get a black controller block. This is smaller than the lights, and plugs into the bottom of a single light. The controller is then connected to a USB power source. You can expand the kit with up to 225 lights per controller, but there's a caveat. For every 10 additional lights, you'll need an additional USB cable to supply power.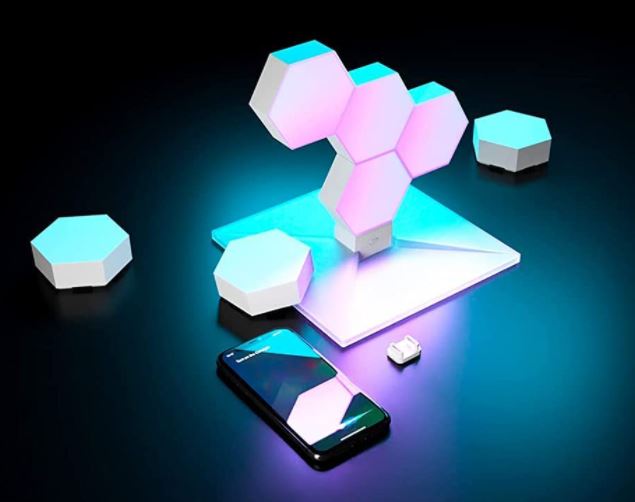 The kit includes a wall mount kit, so you can attach your lights with a small bracket. Alternatively, you can use a third-party two-sided adhesive. This will give you a somewhat cleaner look. Also in the kit, you'll find a flat base with a socket to insert the controller block. This allows you to use the lights on a desktop or tabletop.
Use code "HHKXF7LJ" for 15% off when you order the Cololight Hexagon LED Wall Light from Amazon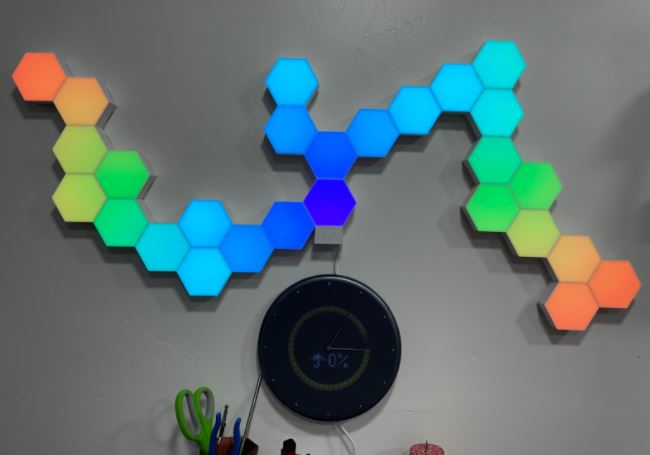 Each individual light has 19 light beads inside. All of them are individually controllable, which gives you tons of options. Instead of each hexagon being one solid color, you can create a gradient across several of them. Color changing, cycling, and effects look smooth and natural, no matter what your light configuration. The lights can produce all 16 million RGB colors, with more than 71 pre-programmed effects. There's also a music sync mode, for syncing your lights with your favorite tunes.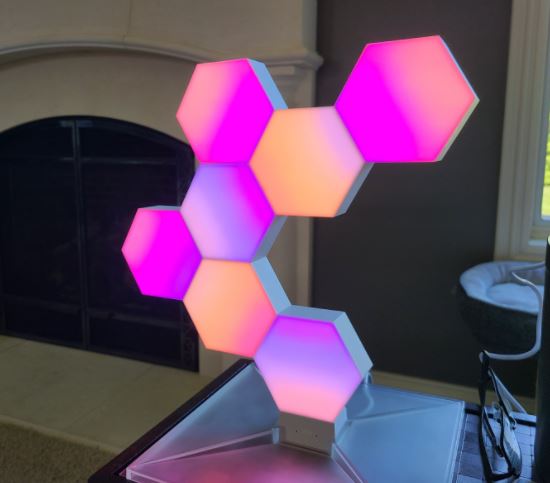 All of these controls are performed through the smartphone app, which is free and easy to set up. Once that's done, you can access all the color-changing modes, and adjust the brightness and speed. You can also set up your lights to respond to your voice assistant. It's compatible with Alexa, Google Voice, Stream Desk, and HomeKit.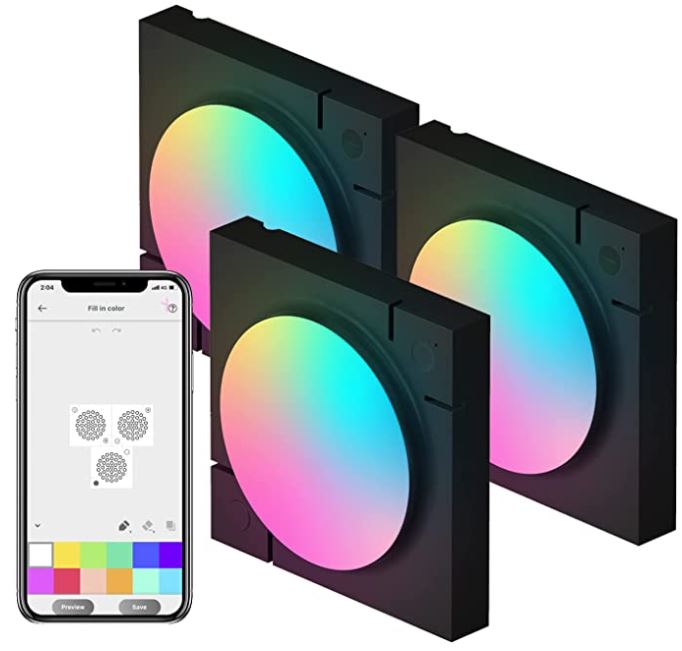 Cololight Multi-Color Music Sync Ambient Lights
The Cololight Multi-Color Music Sync Ambient Lights are a three-pack of large, round LED lights. While the lights themselves are circular, they're mounted in a square plastic housing. This housing measures 5 inches to a side and 1.2-inch thick, so it's fairly broad and flat. Like Cololight's hexagonal kit, these lights can be linked and synced together.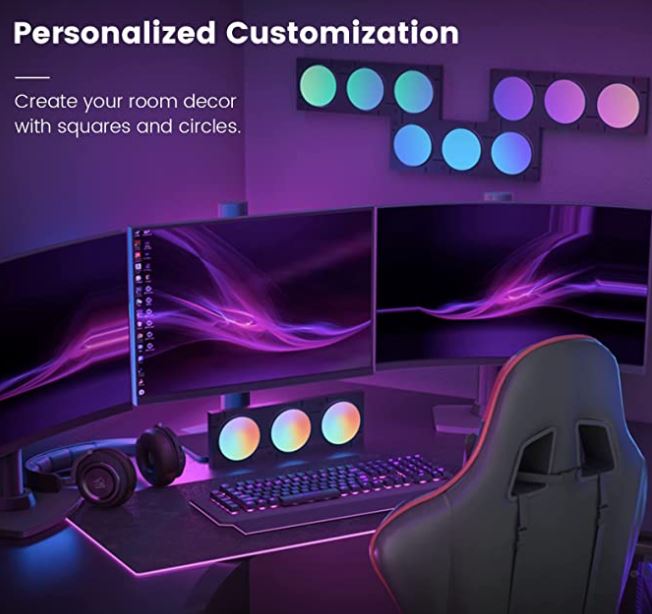 The kit comes with a set of black plastic tabs, which slide into slots on the sides of the housing. When locked together, two or more lights will share power, and can be controlled simultaneously. If you want to add more lights, there are single expansion LEDs available separately.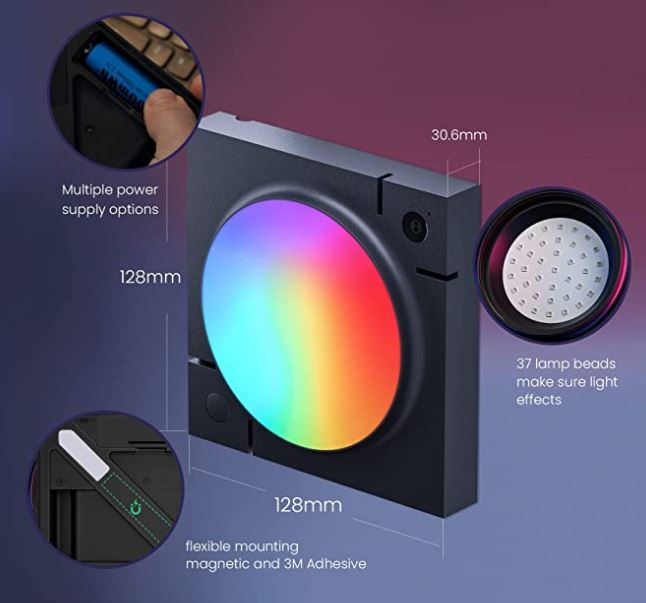 For power, you have two different options. To begin with, there's a USB Type-C wall adapter included, so you can plug it in and forget about it. If you'd rather not mess around with any wires, each light can also be powered with a single AA battery. The backs of the lights are magnetic, so they can be mounted on any metal surface. For mounting on an ordinary wall, the kit includes a set of double-sided adhesive pads. As an alternative, the lights can simply be set on your desk.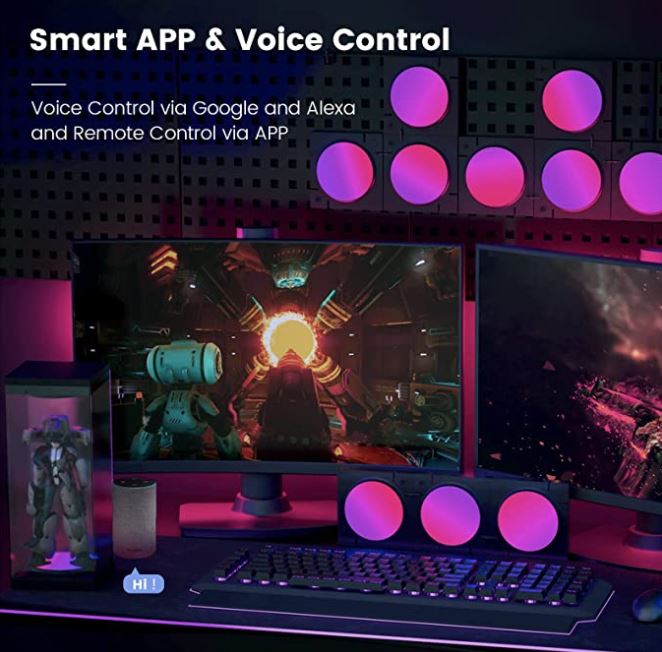 These lights can display all 16 million RGB colors, and each one has 37 individual diodes. This gives you a ton of control, create smooth transitions, and achieve ultra-smooth color changing. You can sync the lights with your music, or use the Cololight app to access over 60 color-changing effects. And just like the last kit we looked at, you can control it with your voice assistant.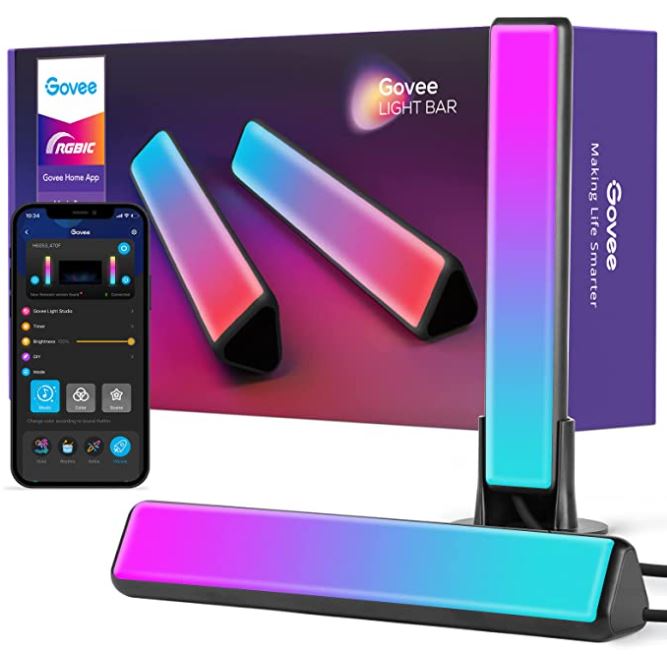 Govee Smart LED Light Bar
Govee is a well-known manufacturer of all kinds of LED technology. Among their other offerings, we've reviewed their wireless LED light strips, which are very well-designed. So it only made sense to take a look at their LED light bar, and see how it stacks up.
The Govee Smart LED Light Bar is actually a set of two separate RGB lights. Each one is wedge-shaped and a little over 12 inches wide, with the light along one end. The lights can be used on a desk or tabletop, or mounted on your wall. For tabletop use, you can lay them on their side, or stand them up in their flat black bases.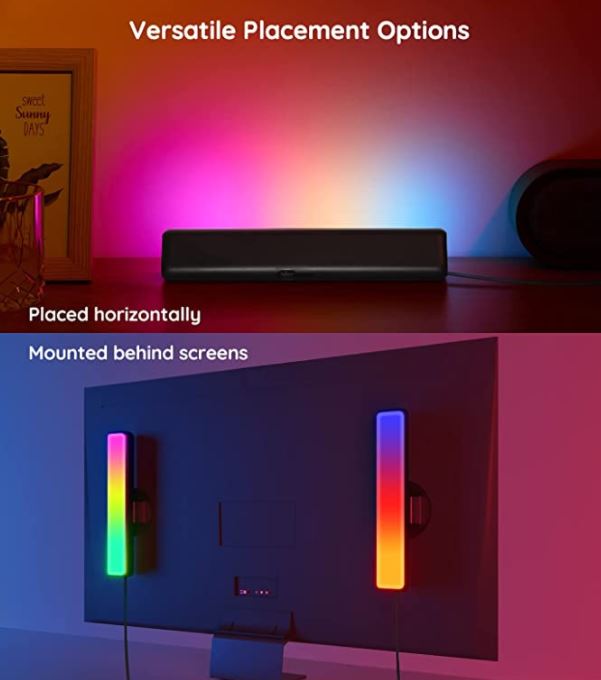 The kit also comes with a pair of mounting brackets, which can attach to a wall or other vertical surface. You get a set of high-quality 3M adhesive pads for mounting, which ensures you'll get good adhesion. In addition to your walls, these brackets can also attach your lights to the back of a TV or monitor. In this configuration, it can be used as a backlight for gaming or watching movies.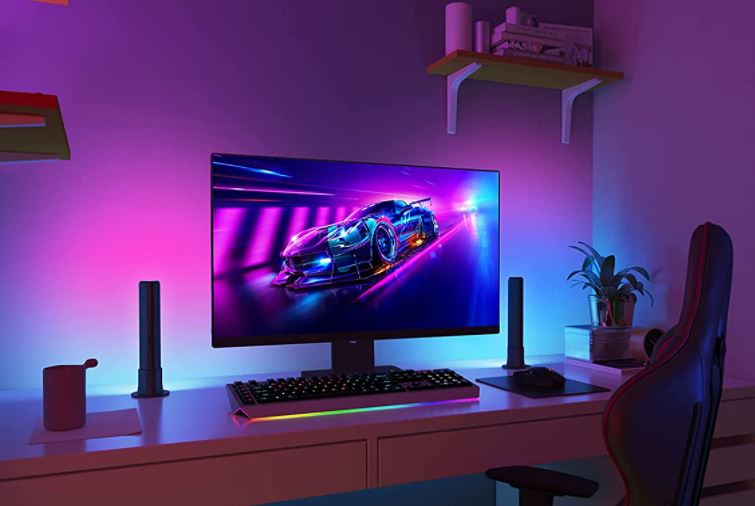 The two light bars are joined by a split power cord, which comes to a single socket tip. This connects to an AC power adapter, which supports EU as well as North American power. The lights are app-controlled, and you can change the brightness or color. They can also be synced with your music. And with 12 different scene modes, you'll have a versatile backlight for any environment.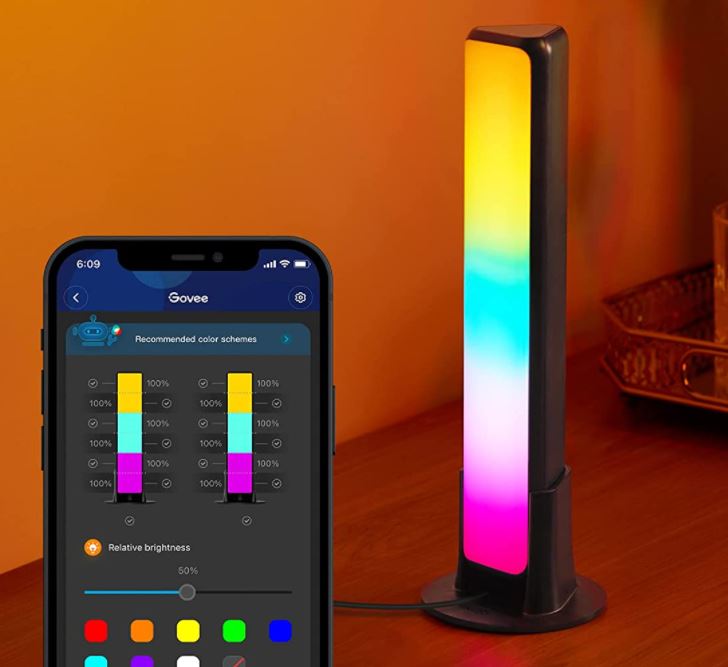 How to Choose the Best LED Wall Lights
So, what makes one RGB LED wall light better than another? A lot depends on what you're looking for, and your particular aesthetic tastes. That said, there are some basic features you should be looking at, regardless of your preferences. Here are some of the factors you need to consider.
Design and Number of Lights
First and foremost, how are the lights built, and do you want a single light or a multi-light kit? There are many different designs, from light bars to modular lights. Nowadays, most multi-light kits can be synchronized using an app or a controller. If you have a large area to cover, this can be the ideal design for you. On the other hand, you may be trying to light a more limited area, like the space behind a TV. In that case, more modest lights – or fewer of them – could be a better choice.
Power Source
Another important consideration is how your LED lights are going to be powered. If they're installed permanently or semi-permanently, AC power is usually ideal. That way, you don't have to worry about changing batteries or using any adapters. Then again, batteries also have their advantages. Yes, you'll have to charge or change them periodically. But you don't need to have any ugly wires running up to your wall-mounted lights.
Other possible sources of power include USB. USB-powered lights can be powered from a USB controller, a wall adapter, or even your PC. It's worth noting that most dedicated PC light kits are designed to be hardwired into your PC. But USB power can still be used for a larger, wall-mounted light.
Color-Changing Options
Ultimately, an LED wall light exists for decoration. Yes, it can certainly serve a practical function. For example, if you game with the lights off, you probably still want a minimal amount of room lighting. But if your lights aren't providing the cosmetic effect you want, you're not getting your money's worth. In days past, this meant buying an 8- or 9-color light set. But nowadays, you can expect a lot more. A quality modern light will support the full array of 16 million RGB colors.
This goes hand in hand with lighting controls. Exactly how much customization do you need? Can you work with a few presets, or you want your lights to be programmable? Do you want your lights to sync with your music or game sound effects? The more options you have, the more you'll be able to do. Then again, a more barebones interface can be simpler and easier to use.
Durability
One reason LEDs are so popular is because of their durability. Unlike older lighting technologies, they can last for over a decade of regular use. That said, some LEDs are still better-designed than others. For one thing, a long-lasting diode is no good if the housing is fragile and ends up cracking. Also, keep in mind that LEDs can be damaged by overheating. A larger, oversized housing can do a better job of dispersing heat. Along the same lines, avoid buying discount-priced LED lighting. A lot of cheap LEDs put out excess heat, which significantly shortens their lifespan.
Installation and Mounting
So far, we've talked a lot about the lights themselves. But even the best-designed RGB LEDs require a well-engineered mounting system. One common method is simply to use a double-sided adhesive. A lot of wall lights come with an adhesive backing that sticks directly to your wall. That's about as simple as it gets, and it takes only a few minutes.
That said, there are other designs that are worth considering. Some lights come with special mounting brackets that provide a little more security. Alternatively, you could have your lights on a stand in front of your wall, instead of actually on the wall. Ultimately, it comes down to a combination of the light design and where exactly you want the lights.
Of course, not every RGB light necessarily gets mounted at all. Take PS5 RGB light strips, for example. They install directly inside your console, so you don't have to worry about extra hardware. Then again, they don't light up your room the way a wall light will.
Best RGB LED Wall Lights: Final Verdict
All three of these lights could be an excellent choice, depending on your needs. But which one is best for your gaming room? Let's go over what we've learned.
We started out by reviewing the Cololight Hexagon LED Wall Light. (15% discount code: HHKXF7LJ) This light is unique in that you can customize not just the color, but the shape. With 12 interlinking sections, you can piece them together in any configuration you like. Wall mounting is straightforward and simple, and the included desk stand is also well designed. Altogether, we were very pleased.
The Cololight Multi-Color Music Sync Ambient Lights has a lot of similar features. You get the same control options, including plenty of color-changing options. The main difference is that there are only three lights, but they're round and oversized.
The Govee Smart LED Light Bar has a simple, straightforward design and it uses AC power. It can mount on your TV as well as your wall, and it works great as a backlight. It also works very well for desktop use, for lighting beneath or to the sides of your screen.