Overall Design -

9/10

Connectivity -

9/10

Print Quality -

8.5/10

Software -

7/10
Summary
In a world cluttered with office tools that often disappoint, the BPXX Bluetooth Thermal Label Printer emerges as an unsung hero. It achieves the golden trio of speed, quality, and compatibility, with only a few minor bumps along the way. Its efficiency is golden, and its Bluetooth connectivity only strengthens that. With its wide-ranging capabilities and robust build, this thermal printer isn't just another piece of office equipment; it's a reliable companion for a wide range of printing tasks.
Pros
Lightning-fast printing speed
Exceptional print quality
Broad device compatibility
Extended service life
Cons
App lacks customization
No thermal labels included
There's a certain joy in the air when the office tools you've got just work. If you've ever fought to get a printer to operate correctly, you know the pain felt when these things act up. That's where the BPXX Bluetooth Thermal Printer stands out from the crowd.
No longer do printers need to be cumbersome space-hogs. This thing can fit right next to your coffee mug! And it's a printer that means business, as you'll soon discover from our hands-on testing. In this review, we'll walk you through our insights to see if it's the printer you've been waiting on all these years.
Unboxing the BPXX
Unveiling a new gadget is a ceremonious event in any tech-savvy environment. In the case of this thermal label printer, the unboxing experience is refreshingly straightforward. You get what you see: a printer and a Quick Setup Guide, complete with on-page videos to walk you through the installation.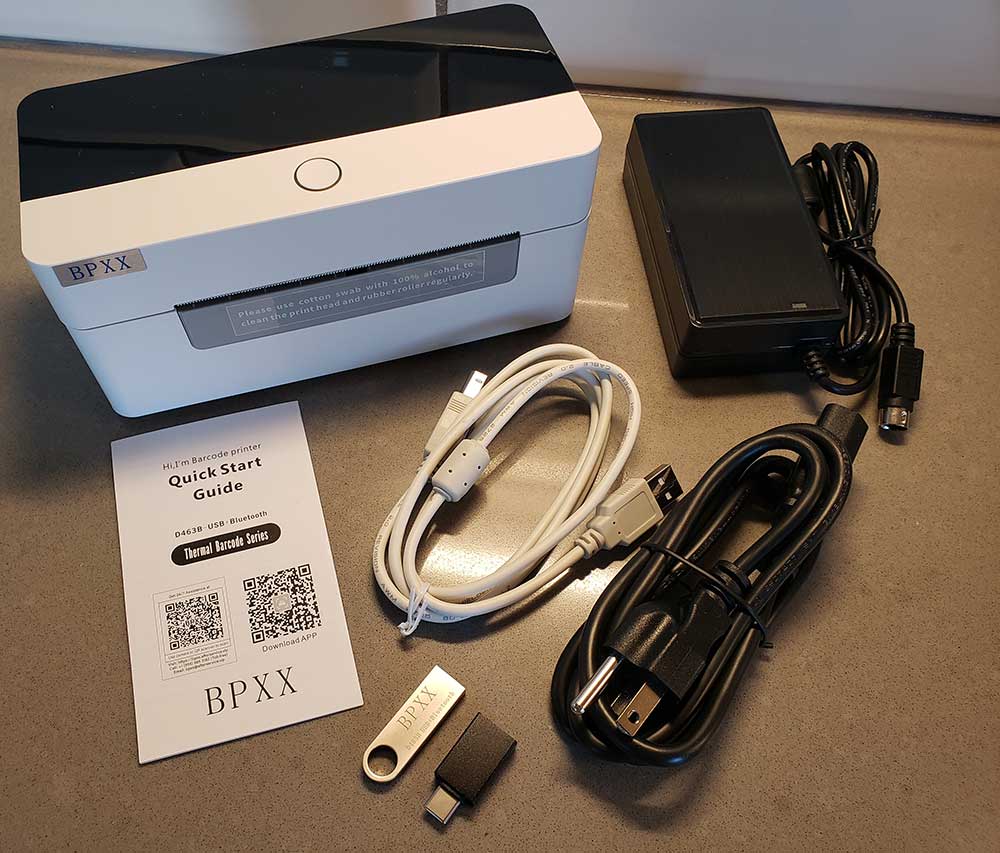 But since thermal labels are not included, you'll need to buy them separately. So while the box doesn't offer a complete printing solution, it certainly sets you up for success by taking the guesswork out of the initial setup phase.
First Impressions
Upon taking this unit out of its box, it becomes clear that size really doesn't matter – or at least not in the way you might think. Clocking in at a modest 3.35 x 7.28 x 3.35 inches and weighing just under 3 pounds, this printer proves that you don't need a behemoth of a machine to print quality works. Indeed, its petite dimensions mean it won't dominate your workspace; rather, it'll subtly complement it.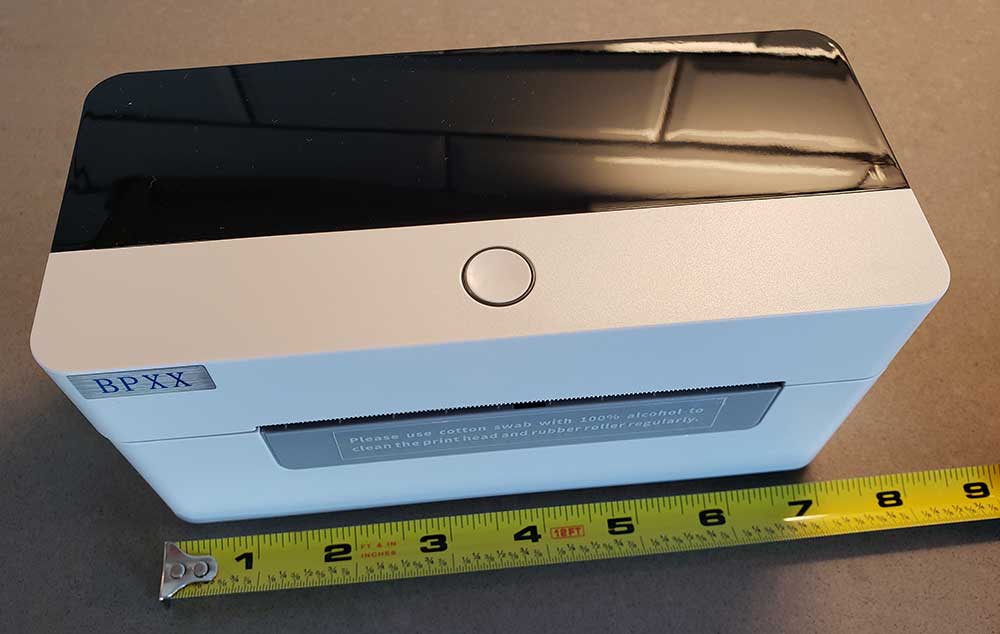 Connectivity Options & Specs
In an age where our attention spans are becoming shorter and shorter, we don't have time to mess around with cumbersome setups. The BPXX understands that. Whether you're Team Android, Team iOS, or even Team Windows, this printer has you covered with one simple, universal solution: Bluetooth.
But what if you're more old-school and like your connections wired? In that case, USB compatibility extends a warm welcome to users of Mac OS, Chrome OS, and Linux. This printer doesn't play favorites; it's a true multitasker when it comes to connections.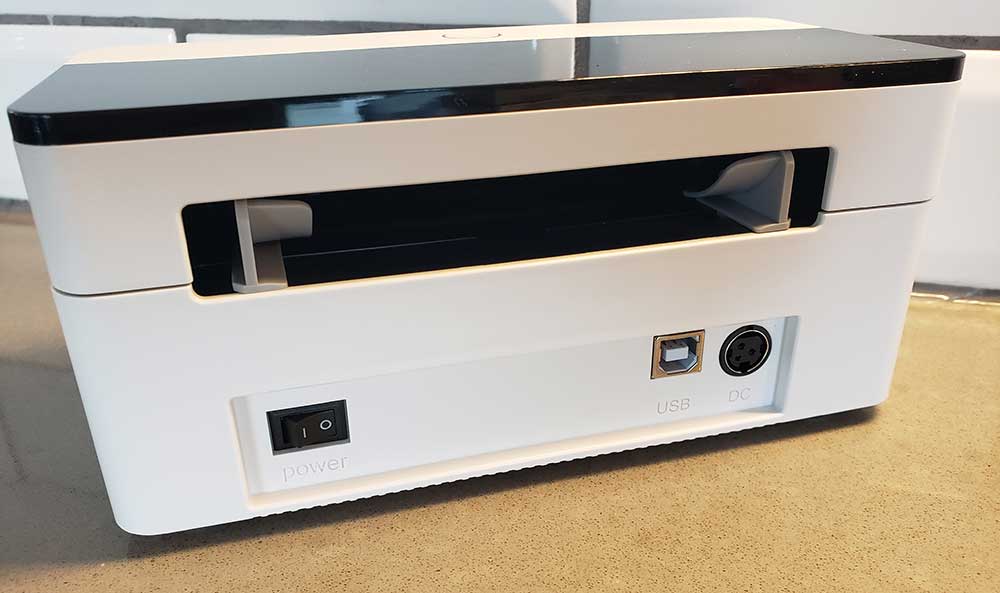 Printing Capabilities
When it comes to printing, you want a unit that can juggle different tasks without dropping the ball. With a monochrome output that employs thermal printing technology, this printer ticks off efficiency like it's going out of style. Its remarkable speed of 72 labels per minute at a clear 203 DPI resolution ensures your labels look professional, crisp, and easy to read. And it doesn't pigeonhole you into printing just shipping labels. If you've had similar printers in the past, you know what a big deal this is.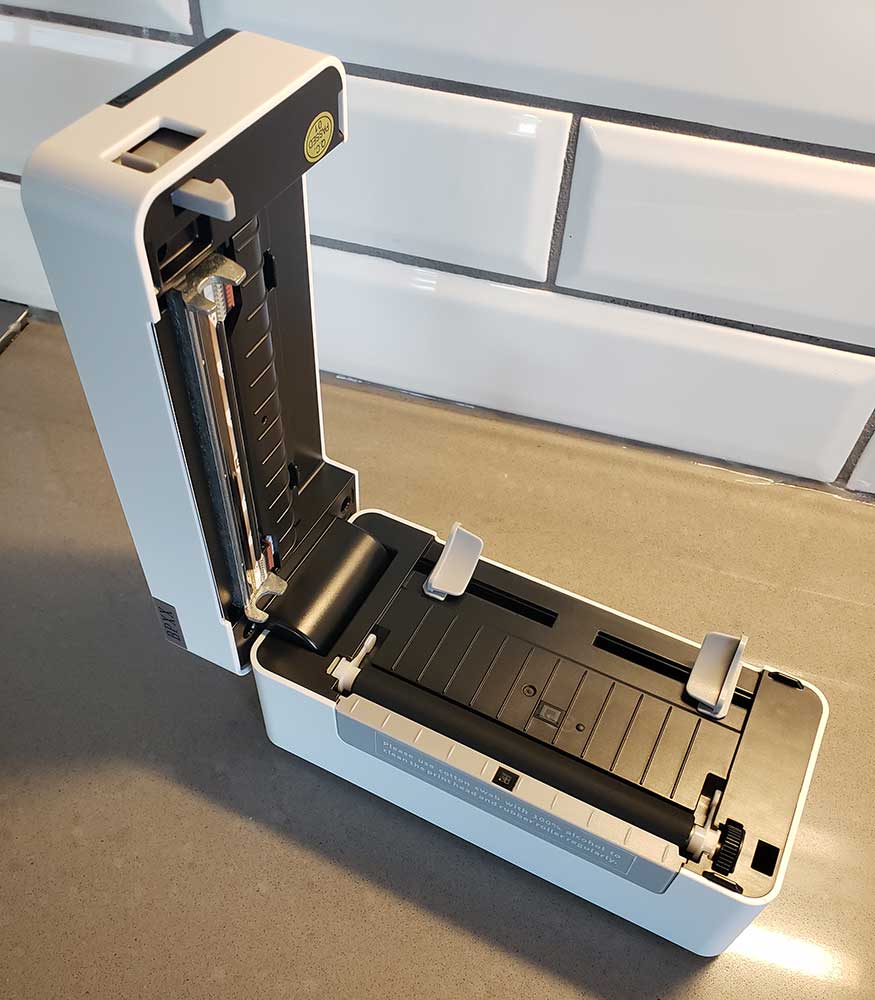 That's right; from QR codes to document labels, this is your go-to gadget for an array of printing needs. What solidifies its place as a must-have for small businesses is its durable aluminum alloy print head, designed to offer a 35% longer service life. It's not just a printer; it's an investment that plans on sticking around, making it a reliable partner for your daily operations. The machine promises not just to meet but to exceed expectations, making it a potential game-changer for small businesses.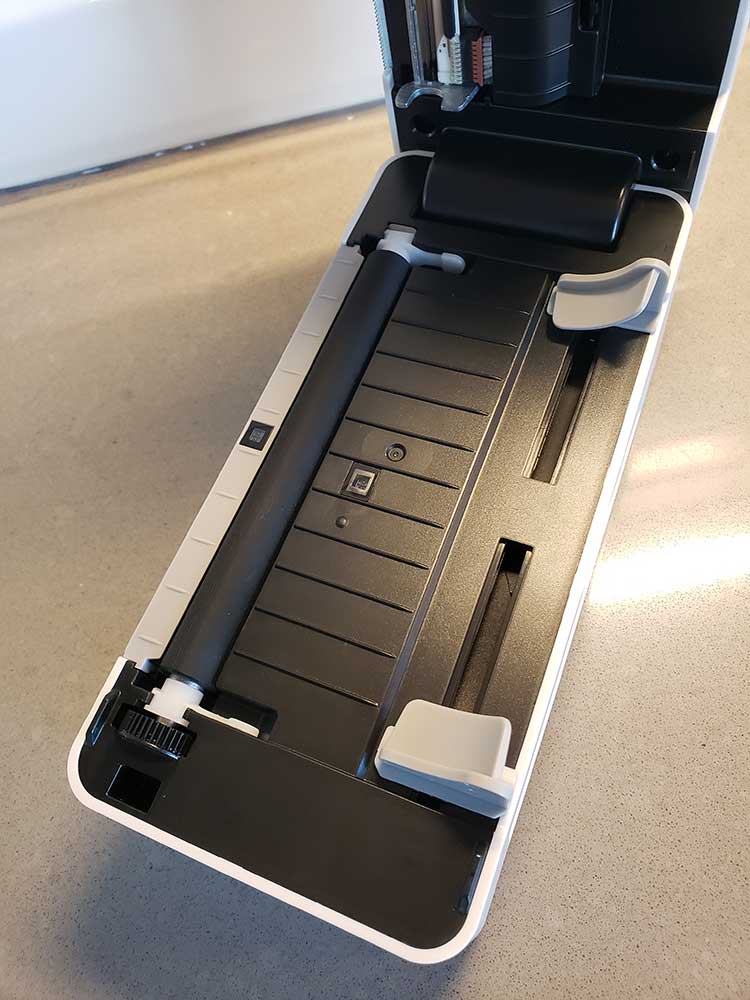 A Variety of Features
The variety of features offered here is quite impressive. It is multifaceted, for one, designed to provide an array of utilities that can make your small business operations run more smoothly. And at the end of the day, that's what matters here. Take a moment to explore the various features hidden within this tiny device. You'll see that it just may be the printer you've been looking for.
Wireless or Wired Printing
We touched on this briefly, but this printer caters to both the cord-cutters and the wired warriors among us. Bluetooth connectivity is available for Android and iOS devices, as well as Windows computers. If you're a Mac, Chrome OS, or Linux user, a USB option is also at your disposal. This connectivity adaptability ensures that no matter your preferred setup, this printer can accommodate you.
Wide Platform Compatibility
E-commerce platforms like Amazon, eBay, and Shopify are all within this printer's wheelhouse. It's not just a piece of hardware; it's like a liaison between you and virtually every online retail platform you can think of. With a straightforward process to upload your labels via the 4Barcode app, you won't need to make those tiresome trips to the post office anymore.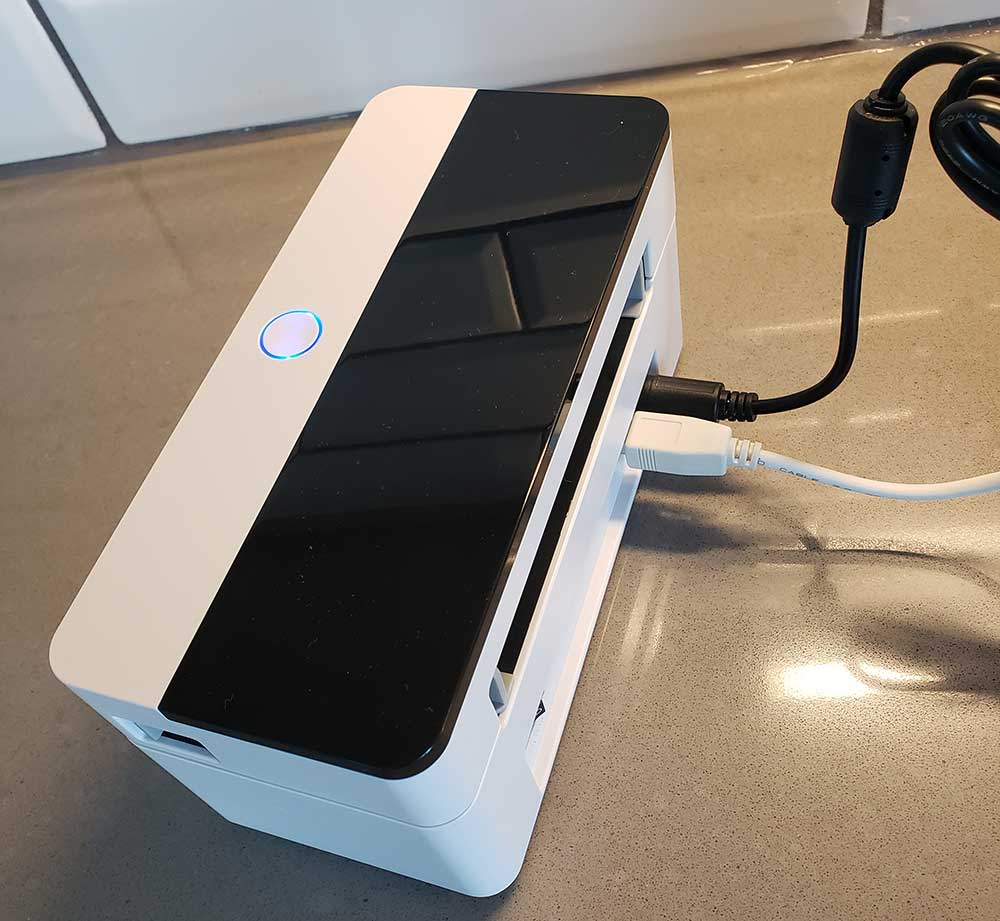 Versatile Printing Options
Though specialized in thermal printing, the printer isn't a one-trick pony. It supports a variety of thermal label types and has an auto-detection function that simplifies the label installation process. Whether you're printing bulk mailing labels or custom stickers, this unit can handle the task with ease.
Extended Durability
The aluminum alloy print head isn't just for show. It really is engineered for an increased service life of 35%. This feature ensures that the printer is not just a quick fix but a long-term solution for your labeling needs.
Performance: How Does It Stack Up?
A device's feature list can be as long as your arm. And while that's all well and good, it all boils down to how well it performs under real-world conditions. That's why we put this printer through its paces, applying a set of standardized tests to gauge its capabilities.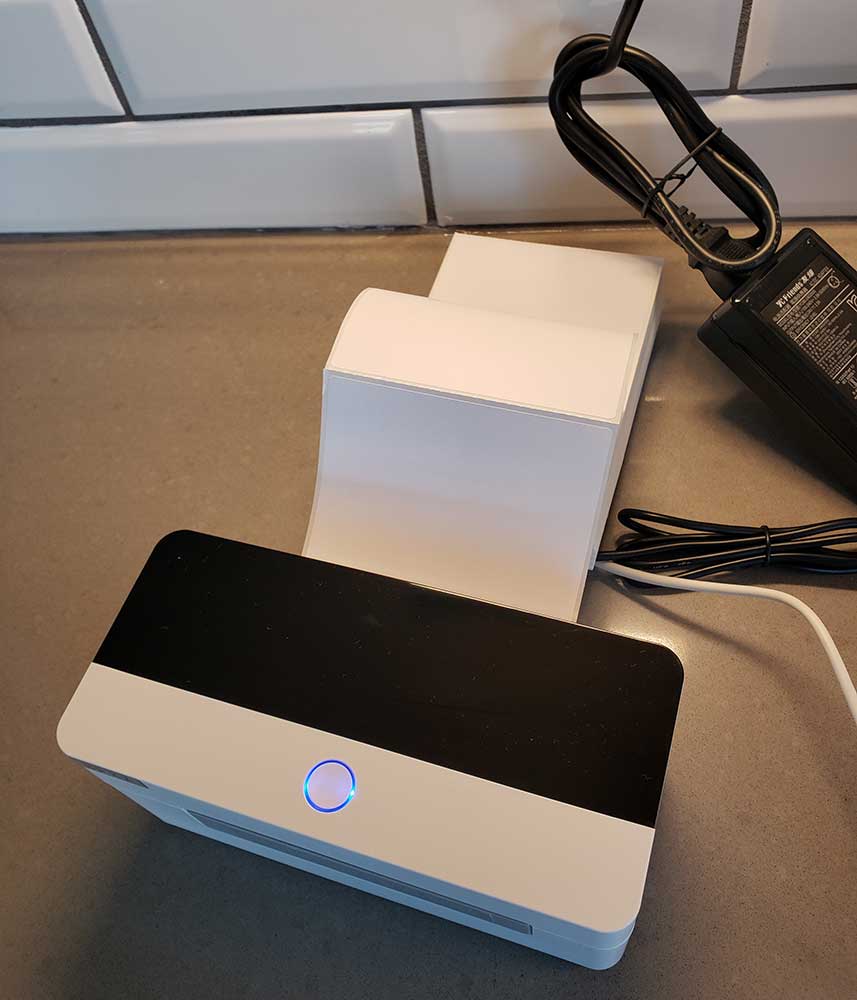 Speed Test
Time is money, especially in a fast-paced business environment. With that in mind, we geared up to test the unit's much-hyped speed of 72 labels per minute. To do this, we prepared a batch of 72 distinct 4×6 shipping labels. A stopwatch at hand, we started the session and watched the printer come to life. As the seconds ticked away, the printer hummed through its task with a mechanical efficiency that would put an assembly line to shame.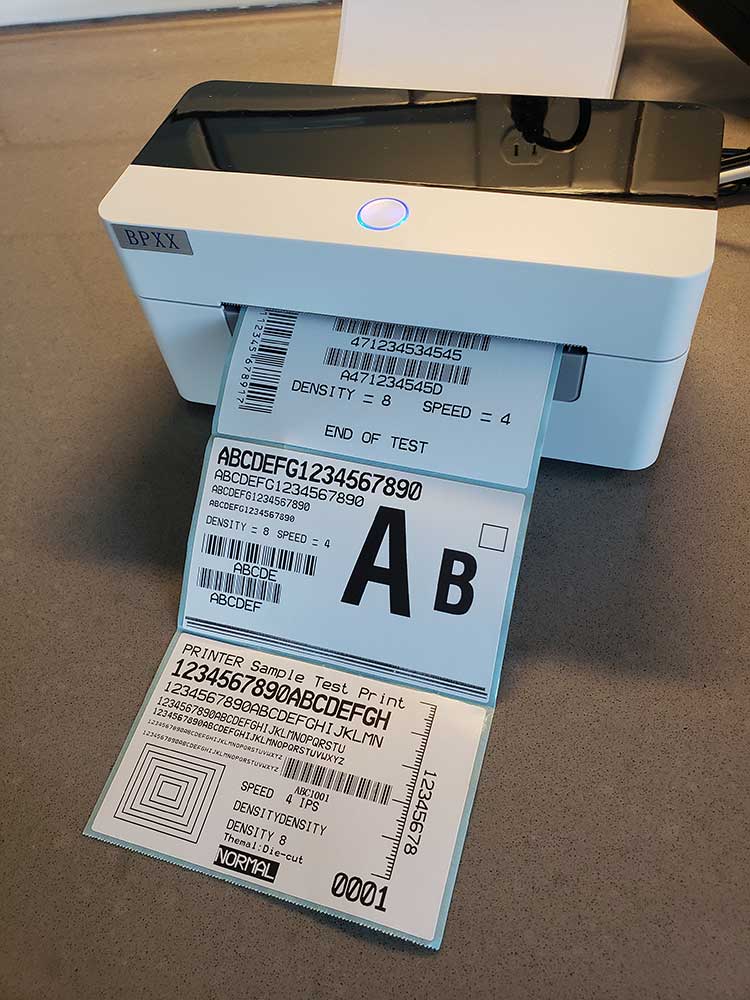 When our stopwatch hit the one-minute mark, we had 72 labels lined up, all printed to perfection. This proved to us that this device doesn't just talk the talk but walks the walk. Given the unit's size and pricing, accomplishing this level of speed without sacrificing quality was, frankly, a pleasant surprise. We figured there would be some deviation, but not so. It doesn't exactly what it advertises to do, and that's sure to appeal to business owners everywhere.
Quality Test
But what's speed without quality, right? A race car is no good if it falls apart after the first lap. Therefore, we decided to put the device's print quality under the microscope, examining a range of label types – shipping labels, QR codes, and document labels. We printed each label at the device's maximum speed to see if it could maintain the quality while operating at full throttle. And it did.
The 203 DPI resolution wasn't just a number on a spec sheet; it was visibly apparent in every label we examined. Every line was crisply drawn, and every barcode yielded to our scanner without any drama. The high-quality print ensured readability and scanability, even when the labels contained intricate details like small fonts or complex QR codes. This printer proves that in a world where many devices sacrifice quality for speed, some can genuinely offer the best of both worlds.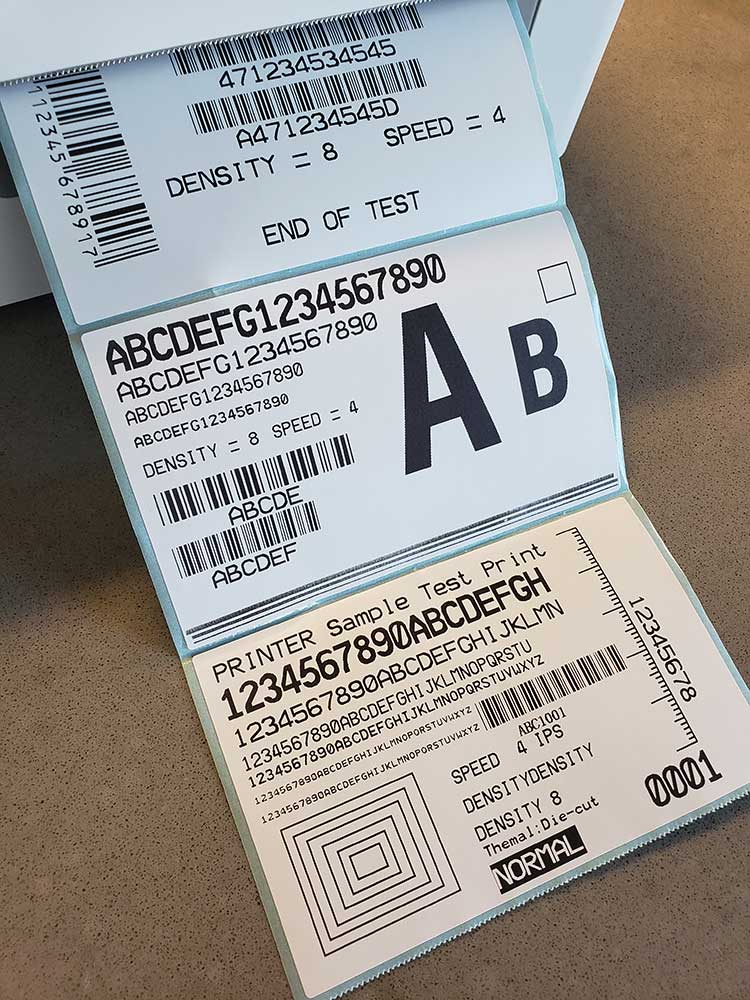 Compatibility Test
Compatibility is often a major stumbling block for many devices – after all, what use is a brilliant printer if it refuses to talk to your gadgets? To put this issue to bed, we tested the unit's compatibility across an array of devices. We went from Android smartphones and tablets to Windows laptops, setting up a variety of print jobs to see if the printer could really be everyone's best friend.
Without fail, it smoothly paired with each gadget via Bluetooth. For our old-school folks using Mac OS, Chrome OS, or Linux, the USB connection proved equally reliable. Bottom line: It's an incredibly versatile tool in today's diverse tech environment. So regardless of the platform your business relies on, chances are this printer is ready to get along just fine.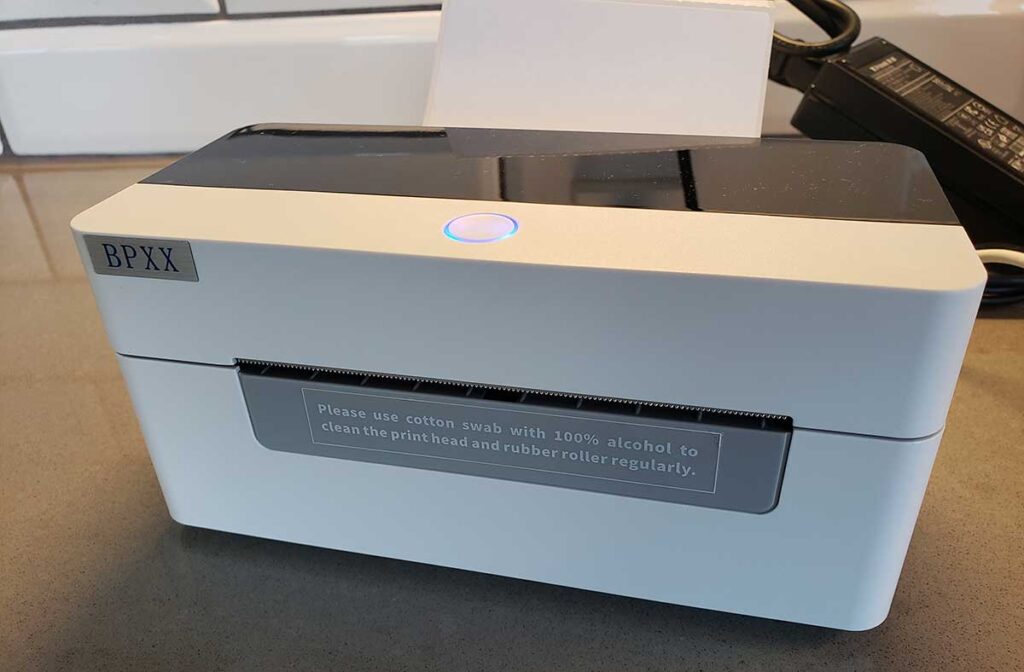 Longevity Test
Now, let's discuss the printer's durability or, as the manufacturer prefers, its "35% increase in service life." Naturally, we couldn't confirm its longevity claims spanning decades. However, we did the next best thing – marathon printing. Over the course of several grueling hours, we set the unit to print, pause, and then print again.
We wanted to see if it could go the distance without signs of mechanical stress or degradation in print quality. After approximately 20,000 labels (yes, you read that number right), the printer showed no drop in performance. It's early days, of course, and a thorough durability assessment would require more time and continuous use. However, these initial findings do lend some credence to the claim of an increased service life.
App Control
We can't really talk about a modern thermal printer without examining the software that drives it, can we? Since our unit offers both wired and wireless printing, we had to dig into the 4Barcode app to see if it could make our lives easier – or send us scrambling for a user manual.
Starting with the basics, setting up the printer for PC use is a no-fuss process. It comes with a USB Flash drive containing all the software you'd need. Install it, and you're all set to use any label-design software you prefer. Once your masterpiece of a label is ready, simply select the printer from your print dialog box, and out pops your label. Simplicity at its finest, one could argue.
Switching gears to mobile platforms, things get a little complicated. The 4Barcode app is meant to be your gateway to wireless printing from Android and iOS devices. And yes, it does recognize the printer. But here's the issue: the app lacks the capability to create custom label sizes. We had to reach out to the vendor for clarification on this, as the instructions were strangely silent on anything mobile-related.
Despite this little hiccup with the app, the printer shines when it comes to platform compatibility. It supports virtually all the big names in shipping and e-commerce – Amazon, eBay, Shopify, you name it. But remember, you'll need to download the labels from these platforms and then upload them to the 4Barcode app for printing. A little complicated at first, but once you've got the hang of it, it's smooth sailing.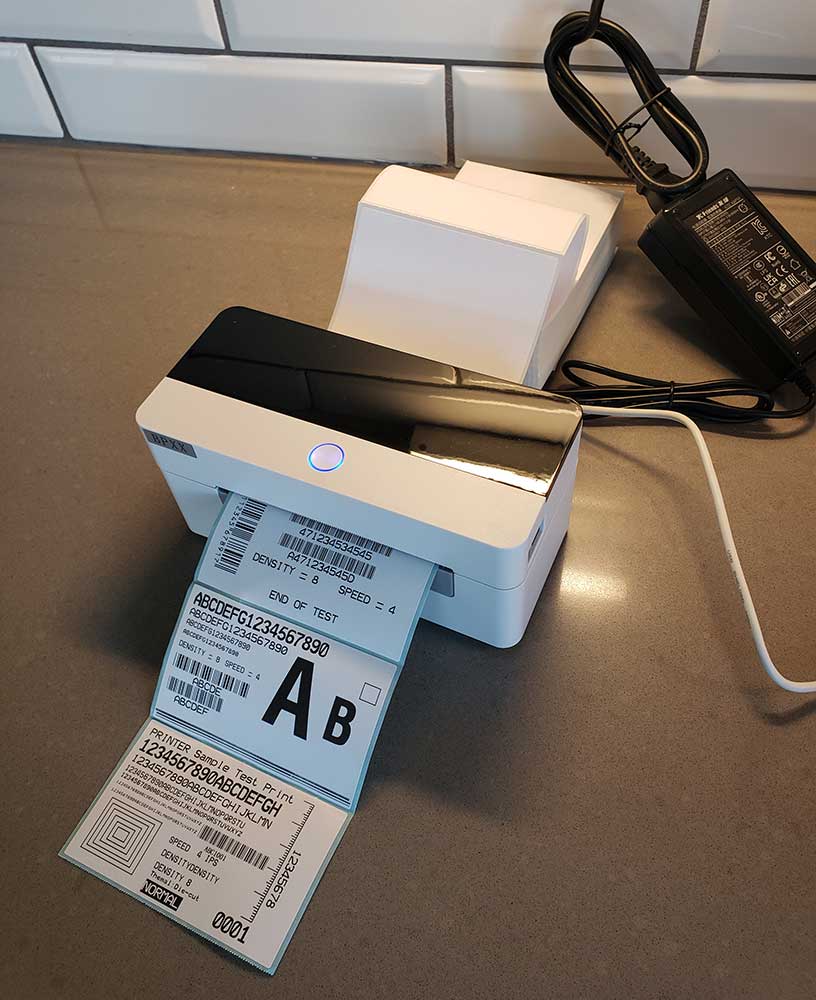 Final Verdict
In a world cluttered with office tools that often disappoint, the BPXX Bluetooth Thermal Label Printer emerges as an unsung hero. It achieves the golden trio of speed, quality, and compatibility, with only a few minor bumps along the way. Its efficiency is golden, and its Bluetooth connectivity only strengthens that. With its wide-ranging capabilities and robust build, this thermal printer isn't just another piece of office equipment; it's a reliable companion for a wide range of printing tasks.
Meet Derek, "TechGuru," a 34-year-old technology enthusiast with a deep passion for tech innovations. With extensive experience, he specializes in gaming hardware and software, and has expertise in gadgets, custom PCs, and audio.
Besides writing about tech and reviewing new products, Derek enjoys traveling, hiking, and photography. Committed to keeping up with the latest industry trends, he aims to guide readers in making informed tech decisions.