If you suffer from tendonitis or carpal tunnel syndrome, you don't need to be told how painful it is. You already know. Any kind of relief will surely be welcome. And if you don't already suffer from one of these conditions, you'd do best to avoid them. But how do you do that? These days, many of our jobs require constant keyboard and mouse use. It comes with the territory of a modern, digital economy. So how do you keep your wrists and hands safe from serious, long-term damage?
One way is to use a wrist support cushion. These cushions are exactly what they sound like; they support your wrist, ensuring an ergonomic working angle. But not every cushion is right for every person. Some people will need a thicker cushion, while others will need a thinner one. Thankfully, there are plenty of options to choose from, and we're about to look at three of them. The Glorious Gaming Mouse Wrist Pad/Rest is a slim, compact option. The Vankey Soft Memory Foam Mouse Wrist Rest Support is a mid-sided option. And the LINGSFIRE Memory Foam Mouse Wrist Rest is the thickest, beefiest choice. But what else sets them apart? Let's take a closer look, and find out.
Note: At no extra cost to you, we may earn a commission for purchases using our links. Learn more.
Why Use a Support Cushion?
So, if you don't suffer from wrist pain, why would you use a support cushion? The answer is repetitive stress injury. Repetitive stress injury is a catch-all term for injuries that are caused from repeated actions. When it comes to your wrists, the most common of these injuries are tendonitis and carpal tunnel syndrome. For computer users, carpal tunnel syndrome is the greatest risk. It can cause a number of unpleasant symptoms. Primarily, it can cause pain, all the way from your wrist to your shoulder. But it can cause tingling, numbness, burning, and pain throughout your hand. It can also cause your hands to get weaker, making it difficult to perform everyday tasks like buttoning your shirt.
But what actually causes carpal tunnel syndrome? It has to do with the way your wrist is constructed. The muscles that control your fingers are actually located in your forearms. They're connected to your fingers by tendons, that run through your wrist. These tendons pass through a passageway in the middle of your wrist bones, called the carpal tunnel. In addition to tendons, blood vessels and nerves also run through the carpal tunnel. So far, so good.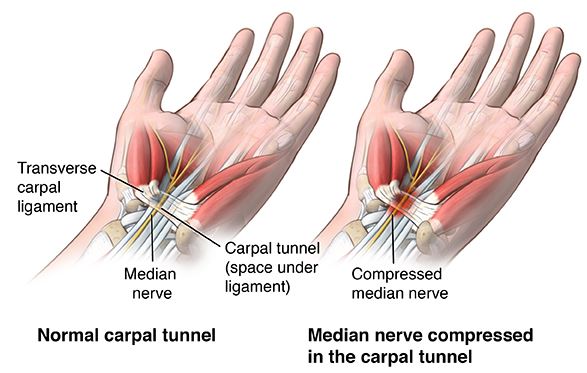 But what happens when your tendons become inflamed from overuse? They put pressure on your nerves and blood vessels. And since the carpal tunnel isn't able to expand, you end up feeling pain, tingling, and other symptoms. The worst part of all this is that once carpal tunnel syndrome sets in, it generally gets worse over time. For many people, this even leads to permanent nerve damage. To prevent this, your doctor might even recommend surgery. Needless to say, this is a significant health issue that you should avoid at all costs.
A wrist support cushion can go a long way to avoiding the health risks of repetitive stress injury. Because it will keep your wrist straight while you're working, it helps eliminate extra stress on your tendons. Moreover, it can prevent you from putting pressure on your wrist, which allows for increased blood flow. If you use a mouse every day, whether for work or for gaming, a wrist rest is a great choice. And while you're at it, it's a good idea to invest in an ergonomic split keyboard and a keyboard wrist rest as well. Finally, keep in mind that we're a tech site, not a medical website. If you think you might actually have carpal tunnel syndrome, don't turn to the internet. Talk to your doctor.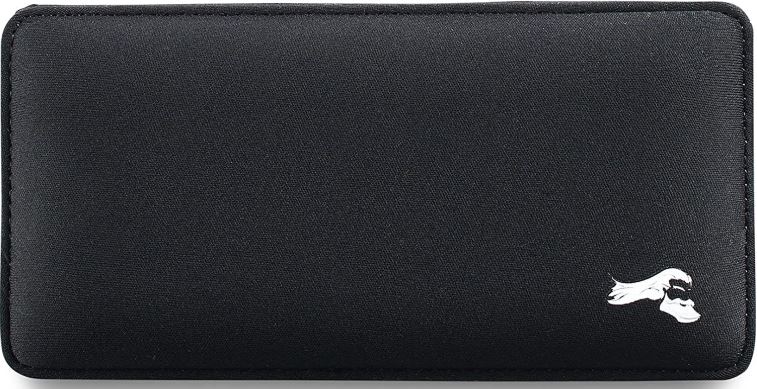 Glorious Gaming Mouse Wrist Pad/Rest
The Glorious Gaming Mouse Wrist Pad/Rest is the slimmest option on our list. At only half an inch in thickness, it's ideal if your mouse sits relatively high compared to your body. At 8 inches wide and 4 inches deep, it's got a fairly wide profile. This makes it a solid choice for using with a large mousepad, since you can move your hand freely. Gamers won't have any issues here, with plenty of freedom to move around. The same goes for content creators, if you use a large mousepad for Photoshop or Illustrator. That said, it's not the best choice if you have a small desk or workstation.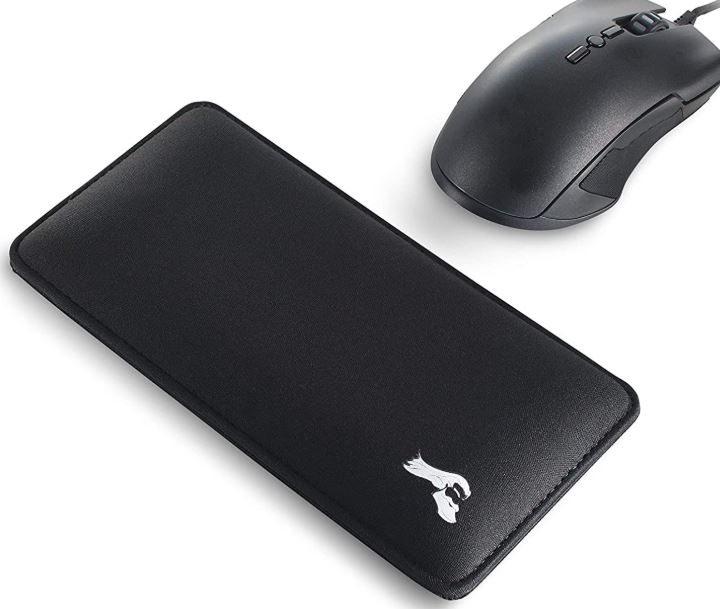 The core of the Glorious Gaming Mouse Wrist Pad/Rest is constructed from a medium-density foam. This provides support, while still offering enough cushion for comfort for most people. The top surface is a smooth, dense nylon weave. It's easy to slide your wrist across, and won't cause any discomfort due to friction. It's also easy to clean, so spills are not a major issue. The bottom of the wrist pad has an anti-slip rubber base. It's nice and grippy, so you don't have to worry about it sliding around on your desk.

Durability and Other Features
One thing we liked about the Glorious Gaming Mouse Wrist Pad/Rest is how durable it is. It's dual locked stitched around the edges, which ensures plenty of toughness. You should be able to use this wrist rest for years, even with heavy daily use. And you don't need to worry about any manufacturer's defects. Glorious Gaming provides a 1-year manufacturer's warranty to cover any factory defects.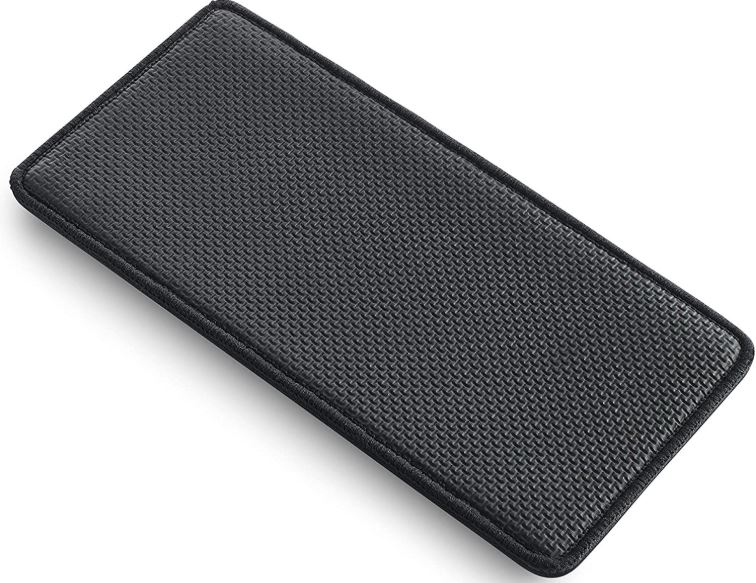 Overall, the Glorious Gaming pad has a sleek, unassuming plain black look. However, there's a large, bearded dude logo on the lower right corner. This doesn't actually interfere with your usage of the pad. However, many people find it unattractive. So what do you do if you don't want a big logo as part of your gaming rig? Wipe it off! Use some nail polish remover and a cotton ball to scrub it until it starts peeling. Then use a rag or a paper towel to keep rubbing it out. If you need more nail polish remover, repeat the process. Eventually, you'll just be left with a little white residue. To remove this, just scrub it down with a Tide pen. Presto! You've got a classy, plain black wrist pad.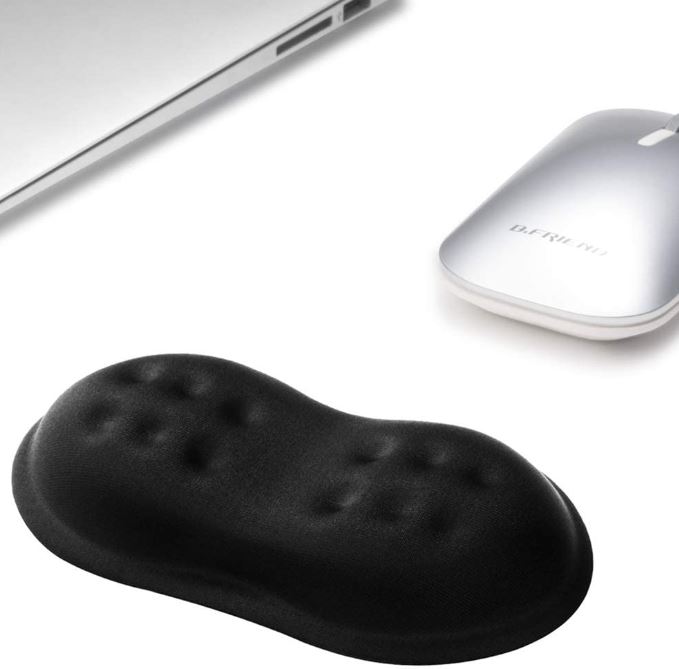 Vankey Soft Memory Foam Mouse Wrist Rest Support
The Vankey Soft Memory Foam Mouse Wrist Rest Support is the mid-sized option on our list. It measures 0.9 inches in thickness, which provides good support on an average height desk. It also has an ergonomic design, with a little indent where your wrist is supposed to go. This makes it better suited for office work than for gaming, since you won't be able to use a large mouse pad. Then again, at 5.5 inches wide, it doesn't provide much room for large movements in the first place.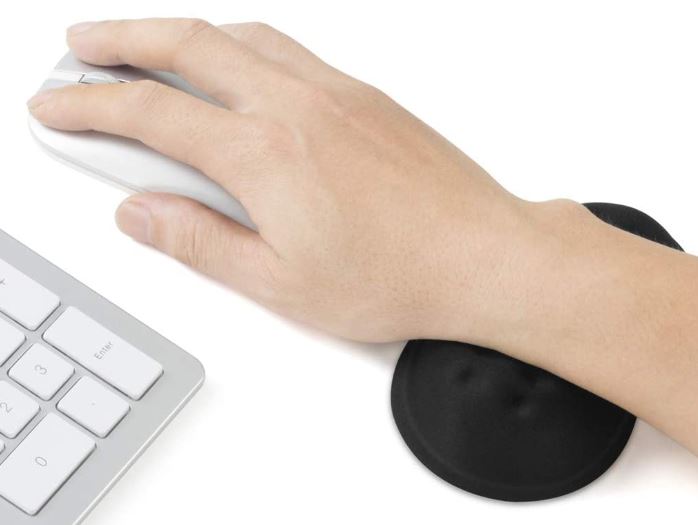 The pad is filled with a soft gel, which allows for a little bit of sink. It's soft and bouncy, and springs back immediately when you lift your wrist. If you're already suffering from wrist pain, this is a welcome relief. In addition, the gel doesn't outgas like most memory foams. This means you won't have to worry with any offensive odors during the first few weeks. The shell is constructed of smooth Lycra, which is non-irritating for most people. If rough textures make your skin crawl, you won't have any problems here. There's also a soft, PU leather base. This isn't quite as grippy as the base on the Glorious Gaming pad, but it works well on most surfaces.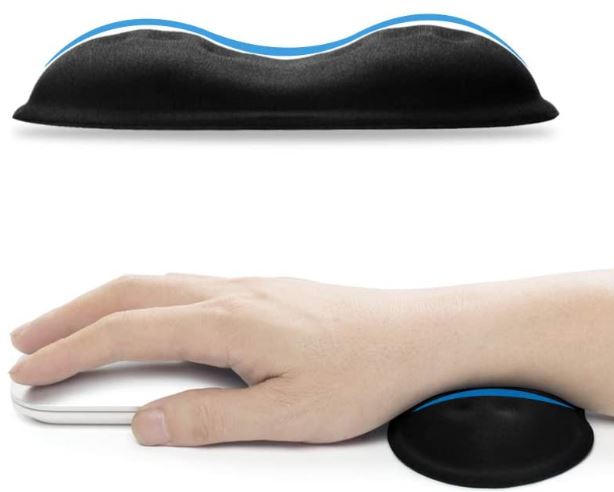 Durability and Other Features
The Vankey pad's gel padding has a few significant benefits compared to a traditional memory foam. To begin with, there's no risk of separation. If you frequently raise and lower your wrist, separation can be a problem with memory foam pads. On the Vankey, this is simply a non-issue. The second major benefit is that it doesn't harden over time. Ordinary memory foam will slowly harden over the course of its life. It's eventually going to lose its flex and become rigid. Once again, the gel padding comes to the rescue. Your wrist rest isn't going to wear out until the fabric itself does.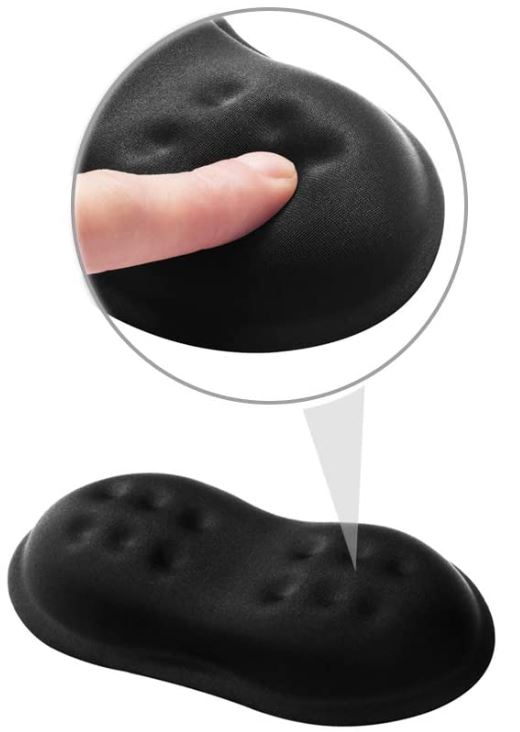 Another thing we liked about the Vankey pad is just how easy it is to clean. Because the Lycra material is smooth and water-resistance, just wipe it down with a cloth to clean it. The overall form factor has a figure-8 shape, and is dimpled, which makes it attractive as well as functional. Finally, Vankey provides an impressive 2-year replacement or refund warranty. For such a small, unassuming product, this is fairly impressive. They also offer lifetime technical support. We're not sure why you'd need technical support for a wrist rest, but it's thoughtful of them to offer.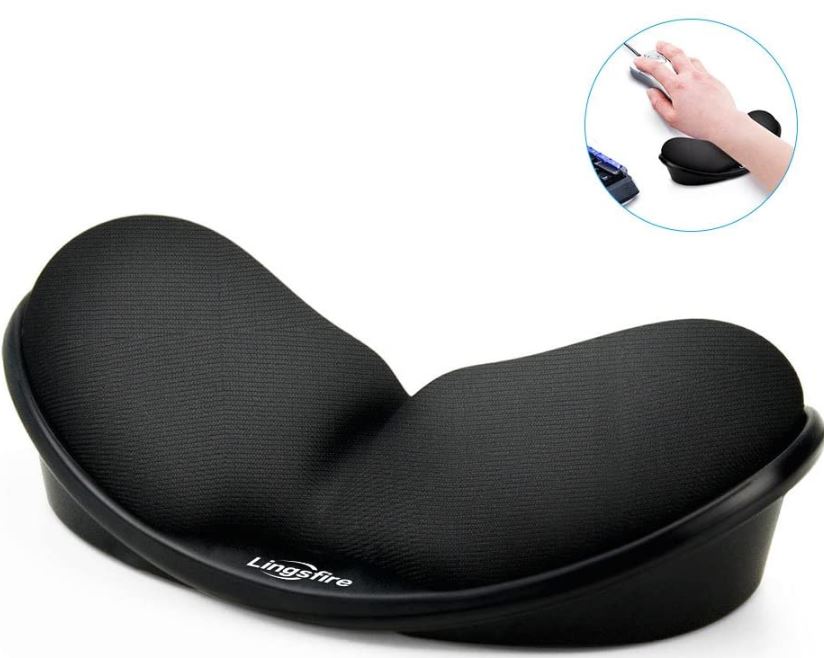 LINGSFIRE Memory Foam Mouse Wrist Rest
Moving up the size scale, the LINGSFIRE Memory Foam Mouse Wrist Rest is the beefiest pad on our list. It's a full 2 inches thick, which makes it well-suited for lower desks. It's only 2.8 inches deep and 5 inches wide, which would limit your movement if it weren't easy to slide. Thankfully, LINGSFIRE manufactured it with a relatively smooth base. It's rubber, so it won't slide on rough surfaces. But on smoother desks, you can actually slide the rest around while you work. As a result, it may or may not be good for gaming or content creation, depending on your desk. It's available in black, blue, or grey, so you can find a color that matches your workstation or gaming rig.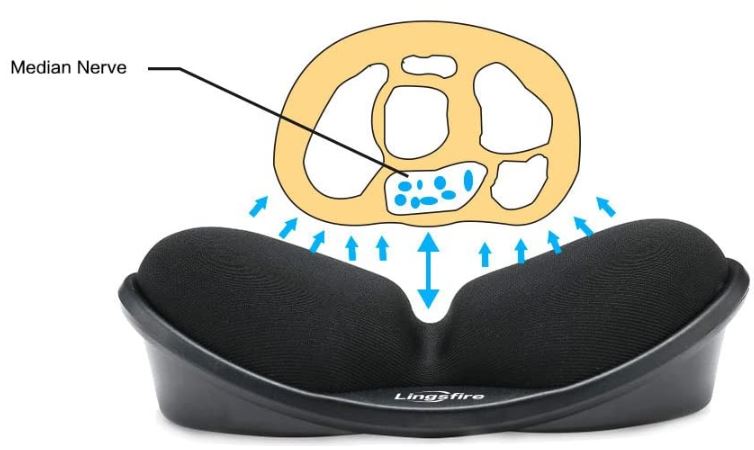 The overall design is a bit different than other rests we've looked at. Instead of a simple cloth design, the LINGSFIRE rest actually has an ABS plastic frame to support it. The form factor has a large trough, so your wrist will remain securely seated in the middle. The outer cloth finish has a bit more texture than some other wrist rests. That's not necessarily a bad thing, but it's something you should be aware of if you prefer a smoother feel. The inner padding has two parts: memory foam and silica gel. The memory foam layer has lots of give, and the silica gel less so. It will sink easily when you first put your wrist down, and get firmer as you press down.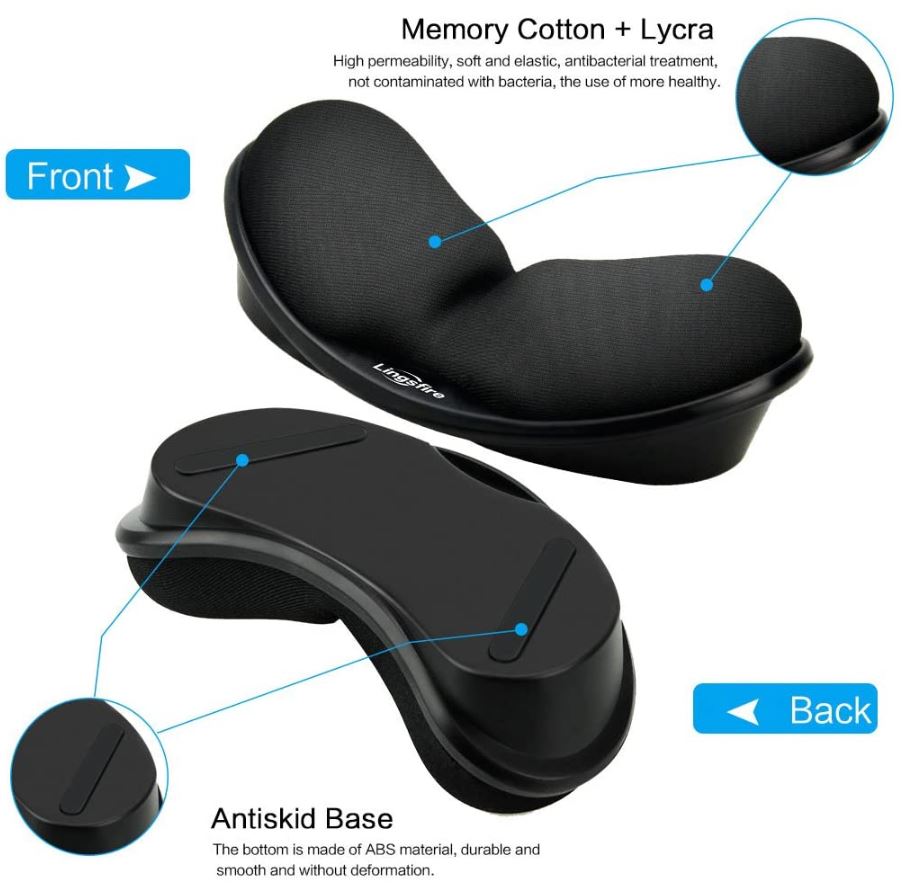 Durability and Other Features
The LINGSFIRE rest might look fragile at first glance when compared to the others, but don't worry. It's rugged enough for travel, and doesn't break easily. One thing you should be aware of is that the memory foam is relatively low quality. It doesn't seem to have a durability problem, but it outgasses for about 3 weeks after you unbox it. In other words, it's going to smell for a little bit. LINGSFIRE only offers a 30-day warranty on their wrist rest, which is a bit disappointing. They do, however, offer a full year of customer service, for what it's worth.
Final Verdict
At the end of the day, the primary difference between these three wrist rests is the thickness. For most people, that's going to be your most significant concern. If you need a thin rest, the Glorious Gaming Mouse Wrist Pad/Rest will be your best choice. If you need a medium rest, the Vankey Soft Memory Foam Mouse Wrist Rest Support will be ideal. And if you need a big, beefy rest, you'll want to use the LINGSFIRE Memory Foam Mouse Wrist Rest.
That said, there are a few other factors we should look at. The first is the warranty. In this regard, the Vankey rest is the best. You get a two-year guarantee, which is better than most products in this class. Secondly, the feel of the padding is important. The Glorious Gaming pad has a softer feel, and the Vankey pad has a springier feel. The LINGSFIRE pad, meanwhile, is in the middle. Finally, there's the issue of cleaning. The Glorious Gaming and Vankey pads are smooth and easy to keep clean. The LINGSFIRE, on the other hand, has a textured finish that's a little harder to clean.
Please consider sharing:
Note: At no extra cost to you, we may earn a commission for purchases using our links. Learn more.