Printers are a competitive market, and it shows. If you compare a printer made 15 years ago to a modern printing device, it's stunning how much has changed. Modern printers have half a dozen different methods for connection. Many now have standard what used to be high-end features, like duplex printing. And virtually all of them serve double-duty as a copier, scanner, or fax machine.
When you break down any one of these improvements individually, they're not very impressive. But when formed together, they combine to form a much smoother printing experience. They're features that prevent you from running into frustrations while setting up, or from discovering that your documents randomly will not print.
Printer frustrations are particularly annoying because they never happening when you're printing out a funny cartoon to post on your refrigerator. They happen when you're trying to create documents for a business, complete important classwork, and all the other countless circumstances where presentation matters.
Brother MFC-J491DW Wireless All-in-One Inkjet Printer
The Brother MFC-J491DW is a reflection of what people can now expect from modestly priced home office printers. It's a fully wireless, all-in-one printer, meaning it supports copying, scanning, and faxing. And within its ordinary-looking frame, it offers all the quality prints reliable service that people want from their print devices. All that with a size that's not hard to stick inside a small office, it's easy to see why Brother decided to recently update the MFC-J491DW.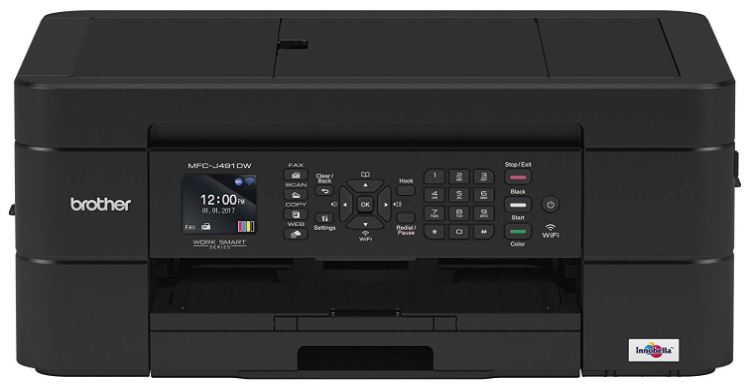 Design & Build
The Brother MFC J491DW uses a fairly standard 6.8 x 13.4 x 15.7-inch build, which is rather typical for a home office printer. Similarly, the MFC-J491DW weighs about 18 pounds. That's a little on the heavier side for an inkjet printer, but it nevertheless shouldn't present any added challenges, even for even a flimsy printer cart.
Traditionally speaking, one of the weaknesses of inkjet printers has been a low sheet capacity. But here, the 100-sheet capacity tray is a fairly generous offering, relative to a home office inkjet printer. That's about double the capacity of many similarly sized home inkjet printers.
Print Speeds and Throughput
But where inkjets do not shine is in print speeds. The MFC J491DW provides 12ppm for monochrome prints, or 6ppm for color prints. These figures are pretty much standard for inkjet printers across brands and across price thresholds. Without heavily investing or switching to a laser printer, these slower print speeds are something that you simply have to endure.
But fortunately, you don't have to endure them long or often. An automatic document feeder keeps your prints working so you don't have to. That automatic document feeder has a maximum capacity of 20 sheets, which isn't exactly industrial strength, but it's suitable for a printer with this capacity for throughput.
Moreover, the Brother MFC J491DW features automatic print duplexing, which provides 2-sided prints to help save paper. It's great for your budget, it's great for the environment, it looks professional, and it takes no added effort. That's actually a fairly good description for this entire series of Brother printers, but there are some other considerations to be made aware of.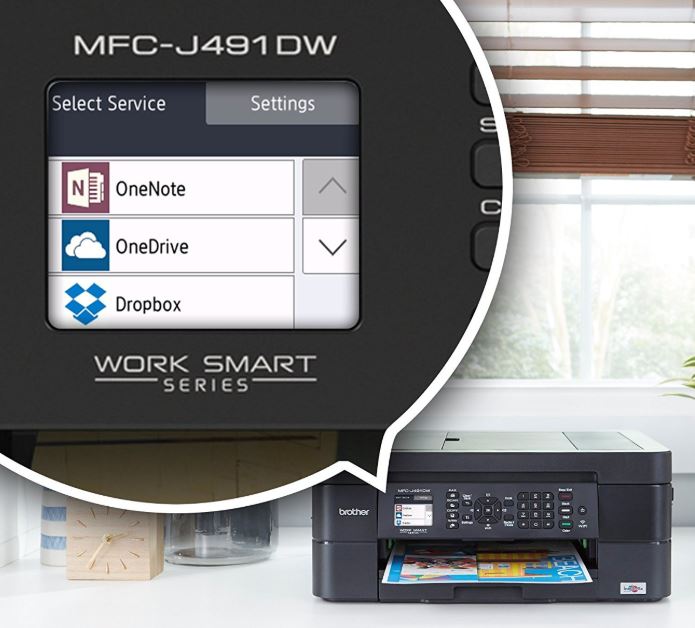 Connectivity
Another thing going in its favor is how the Brother MFC-J491DW has fairly versatile connection options. They begin with wireless connectivity. Some users will want to note how the is 802.11bgn. That's not the latest standard, but there's really no reason for AC wireless on your printer, provided only that you're not trying to perform Wi-Fi direct prints from 1,000 yards away.
The inclusion of Wi-Fi direct means you can connect and print mobile from wireless devices, without the need for going through a separate Wi-Fi network. You can connect to a mobile device like a laptop or smartphone in only a few seconds. And that makes it that much easier to get prints started for people who are just joining your network, or for devices that you are just adding for the first time. As many of us have come to expect, you can also connect and order prints through a USB port.
However, the largest range of connectivity options are found within cloud support. You can use the Brother Cloud App if you don't have your own cloud service already. But if you're partnered with or have a preference for a cloud service, you'll be glad to know Brother includes native support for all the biggest names. Google Cloud Print, Mopria, OneDrive, EverNote, Dropbox, Box, AirPrint, and a handful of others are supported.
And it doesn't stop with simple cloud support. You can also print straight from cloud services, or scan directly to cloud services. That direct interaction with the cloud is no small part of what makes the Brother MFC-J491DW so easy to use. Small interactions that would normally take 30 seconds on another printer can suddenly be completed in 15 seconds. That's not a world of difference until it's been multiplied over hundreds or thousands of prints, but it's something you can feel each and every time you interact with the Brother MFC-J491DW.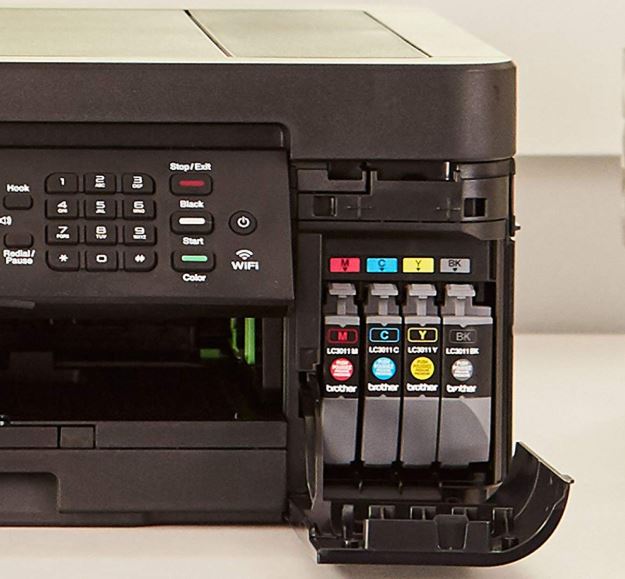 Ease of Use
What matters most about a printer is that it works. You want it to work well, yes. But you shouldn't need to have a computer science degree to setup a printer and reliably get prints. And luckily, Brother is right alongside HP for the easiest consumer printer installations on the market.
When you're using a feature-rich printer, like the MFC-J491DW, you're going to need more control than a big red button that says "Print." The face of the MFC-J491DW is lit-up with alphanumeric keys, arrow directional buttons, color-labeled function keys, and clearly-leveled feature keys. Fortunately, all of these keys are intuitively placed and well labeled.
A complete novice can likely work out how to do even the most advanced maneuvers this printer can manage, all without cracking open a user manual. That's possible due to the somewhat intimidating looking exterior of the device being made simple with a 1.8" color display. As you tap along menu options and configure print settings, your instructions are made clear on the display. This makes it simple to navigate through the various menus, or connect your printer straight to the cloud.
All in all, MFC-J491DW is incredibly easy to setup and use. If you or someone else on the network needs to make use of more advanced printing options on a regular basis, you don't want that to require a bunch of extra training. You don't want to have to memorize obscure button patterns to navigate your way through printer menus, and you don't want to have to take a seminar just because you're trying to do something more complicated than a standard black and white print. That kind of accessibility is what the MFC-J491DW is all about.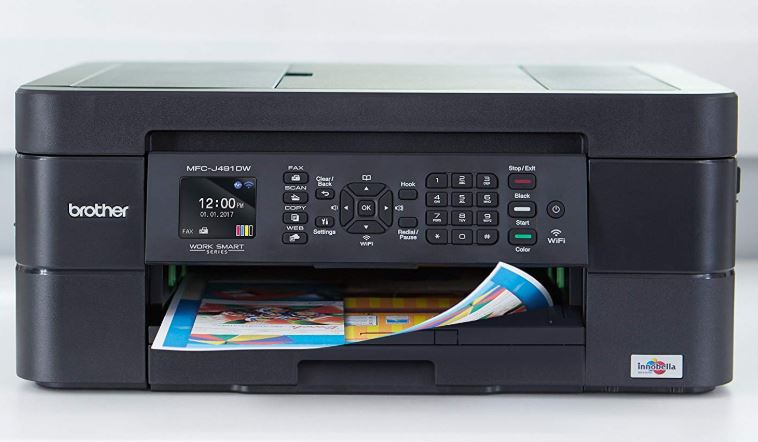 Ink and Paper
Inkjet printer ink can be expensive. The Brother MFC-J491DW makes use of high-yield cartridges to help cut down on costs. You can use either High-yield or Brother Genuine Standard cartridges, both are accepted by the Brother MFC-J491DW. Ink costs will still end up being a substantial portion of your expenses. But if you're looking for quality prints and willing to pay for them, there's really no alternative to inkjet printers, especially for color.
One of the more intimidating aspects of owning a printer has always been popping it open to change the ink. Interestingly, the Brother cartridges are especially simple to replace due to a simple one-snap design. Additionally, cartridges can be replaced individually, which is both economical and convenient design. Brother has somehow managed to turn an intimidating process into something as simple as changing a toothbrush.
As far as print media goes, the Brother MFC-J491DW accepts the standard gamut of entries, including letter and legal paper. There's little to note about media compatibility, though it's worth noting Brothers has a recycling program for their Brother Genuine cartridges. You just hand over your stuff, and they'll recycle it free of charge. Those options are available in all but three states, West Virginia, Idaho, and Louisiana.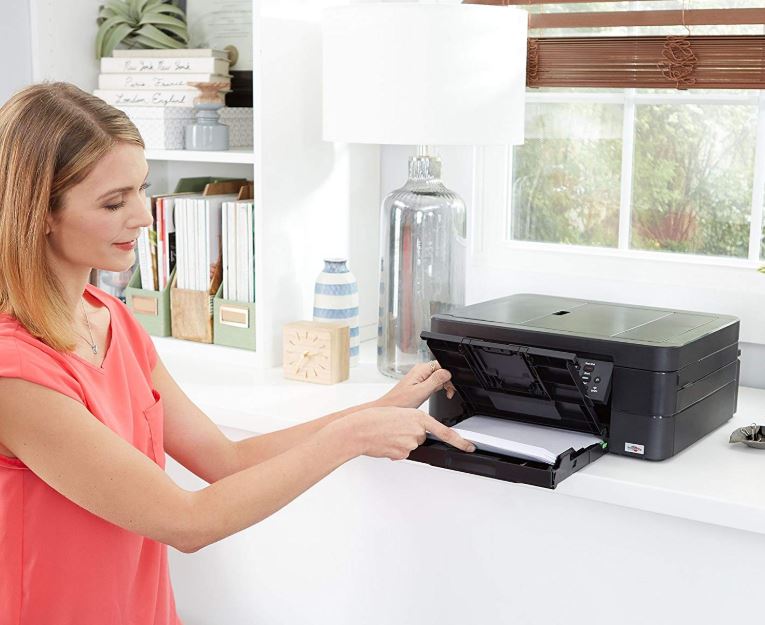 Inkjet Stereotypes Broken
Inkjet printers have pretty well defined pros and cons. They're great for photos and images because they allow smooth color blending. They have virtually no warm-up time between prints. Inkjet cartridges can be reused, and inkjet printers tend to be smaller than their laser counterparts. The Brother MFC-J491DW is an excellent example of all of these strengths in action.
As for weaknesses, inkjet printers have expensive ink. The water-based nature of the ink means your prints are susceptible to water damage. And your prints are slower compared to laser printers. If you're looking to churn out 30 monochrome prints per minute, you'll have to look elsewhere.
Other Considerations
Brother is working on adding a new feature to the Brother MFC-J491DW, allowing it to accept AmazonDash. When implemented, it will be a feature which detects low ink levels, and then drafts an Amazon order for new supply before you've even run out. The replacement is delivered to you without the need for you to concern yourself with subscription services or cancellation fees or subscription.
And you'll be able to configure everything to where you only pay for what you actually need. Pretty convenient. It will take some months before those features are prepared, but because they're software based, anyone who owns a MFC-J491DW will be able to access them once those features are finally released.
You might want to note that Brother has been rated #1 in reliability by PCMag.com for nearly a decade. They offer free support over the phone or through their live chat service online. And Brother officers a one-year warranty.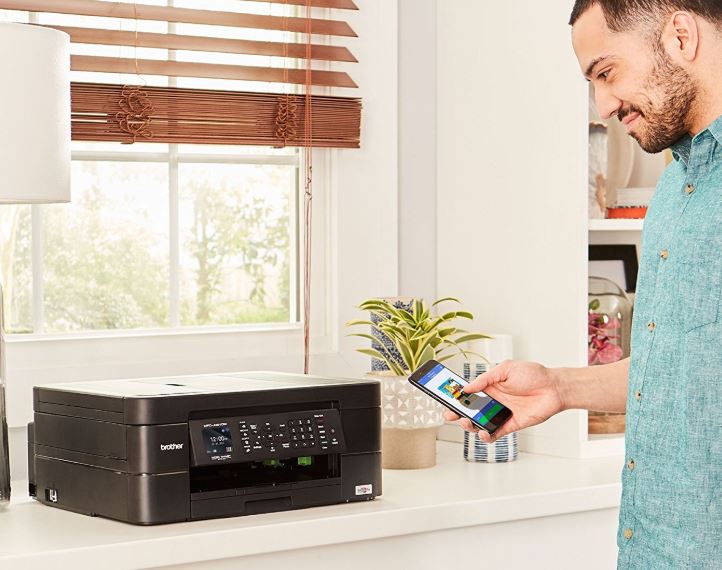 Who Should Choose the Brother MFC-J491DW?
With how feature-rich printers have become in recent years, it's getting easier and easier to find a good one. Provided you choose a reliable brand, and understand what kind of deal you're getting into, it's almost hard to go wrong. And Brother is one of the most reliable brands in the industry. Both Brother and HP make fantastic printers, but Brother's much simpler printer cartridge system has pretty distinct advantages when it comes to the costs of toner.
In short, it's fair to say the MFC-J491DW is an excellent choice for a small business or home office. It's not intended for high volume print jobs, and it's not intended to be used by a dozen different colleagues. But for a small business, at-home printer, it has close to everything you could hope for. The lack of Bluetooth is something to consider if you live in area with heavy Wi-Fi traffic. But if you know what you need from a printer, it's easy to recommend the MFC-J491DW to almost anyone.