Projectors can be convenient. But they're not quite like televisions. If you choose the wrong projector for your environment, you're going to end up with seriously underwhelming performance. And that can be just the beginning. Imagine this. You have a new projector. You've just taken it out of the box. How do you see yourself using it?
If you're a movie-watcher, contrast will be at the top of your list of concerns. For someone using a projector in rooms which are only slightly dimmed due to the presence of natural light, a high lumen projector will be essential. And for someone who intend to take their projector on the road with them, or to a business presentation, brightness will almost certainly be your primary concern.
Where will you place or mount the projector? How fast can you get things setup? Depending on your intended use, these can be make-or-break considerations. You might need more zoom, a greater lens shift, or similar forms of correction. And then there are the things you almost certainly want, like a 16:9 aspect ratio, HD resolutions, and wide support for almost any kind of device. Keeping all this in mind, it's rather easy to determine which projectors will work best for you.
QKK 2200 Lumen Mini Projector
The QKK 2200 Mini Projector is essentially three things: bright, portable, and cost effective. The 2200 in its name refers to its lumen output, which prepares the QKK 2200 for even modestly well-lit rooms. The portable nature of the QKK 2200 is fairly heavily implied by its name, but suffice to say it's small enough to safely carry with one hand. And as for cost effective, that really depends on understanding more about the QKK 2200.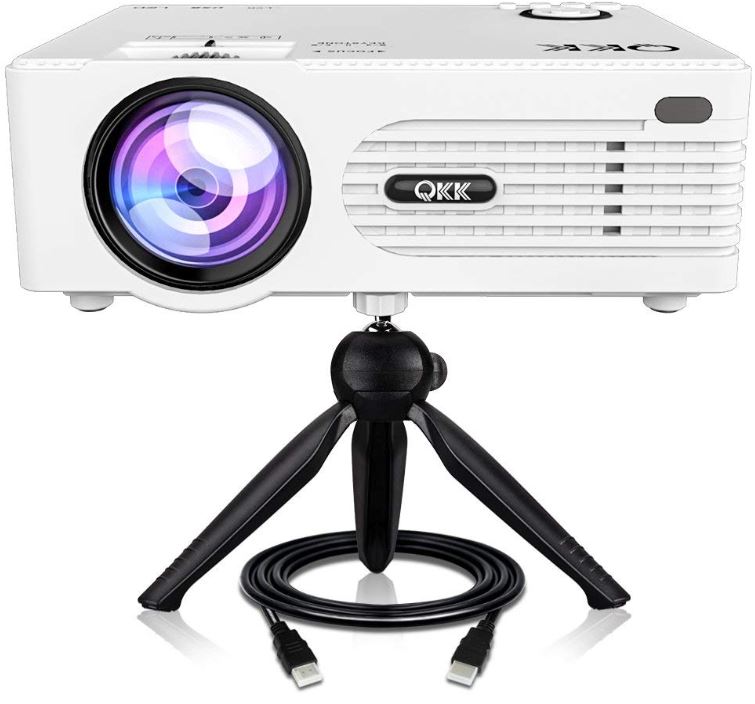 The QKK 2200 operates with an LED bulb, using a color temperature of 20,000K. It's worth noting that the QKK 2200 is heavily advertised as if this bulb were rated to last 50,000 hours. This is a mistake. The actual bulb used in the QKK 2200 has an estimated lifespan of 40,000 hours. But the difference is nothing to be concerned with. At the pace of watching one movie per day, this bulb will last for decades before it needs replacement.
Build & Design
Physically speaking, the QKK 2200 is manufactured to a precise 9.3 x 9 x 4.3-inch frame. It's been constructed with a simple white chassis, using open grating along its edges to help disguise the onboard speakers and fans. Its lightweight construction, placing it just shy of 2lbs, makes the QKK 2200 fairly good for taking with you from one place to another.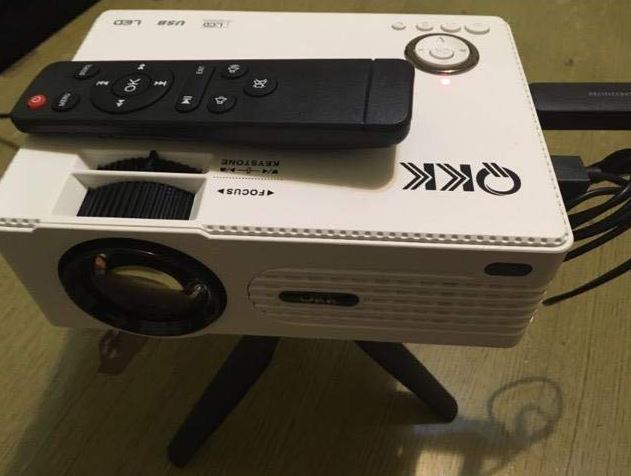 But the 2200 has one weakness in its build, and that's fragility. It almost goes without saying, but you wouldn't want to drop this projector any more than you'd want to drop a 50" television. But the fragility of the 2200 goes one step further, as we'll see in a moment.
The QKK 2200 is a mini-projector, and as such, it's hard to expect image quality that compares favorably with bulkier projectors. But it holds up surprisingly well, largely due to having such a high range of luminosity. Great projectors can look terrible in subpar viewing conditions. The QKK 2200 is built to look fairly good in places where many other projectors would fall flat. That includes full HD LED projection for 1080p content. The range of screen sizes includes 32 to 176 inches. That's a range which is intended to have the projector placed 1.5 to 5 meters away from the surface for projection. For a nice large 120" screen, the ideal viewing distance is about 11.4 feet.
Audio Video Inputs
Along the top left side of QKK 2200, you'll find some highly accessible video and audio inputs. They include multimedia QKK projection support for HDMI, VGA, AV, and common SD cards. You can pair-up the QKK with a flash drive, iPad, iPhone, smartphone, media player, and essentially any other device using any common connection standard.
But the most significant input on the QK 2200 is no doubt the inclusion of double USB ports, allowing for multiple flash drives used simultaneously. This allows for one can be added, and the other to be removed. For copying and sharing files, making hot-swaps during a presentation, or working from multiple sources, that can be a great extra feature. And among mini projectors, it's a feature totally unique to the QK2200.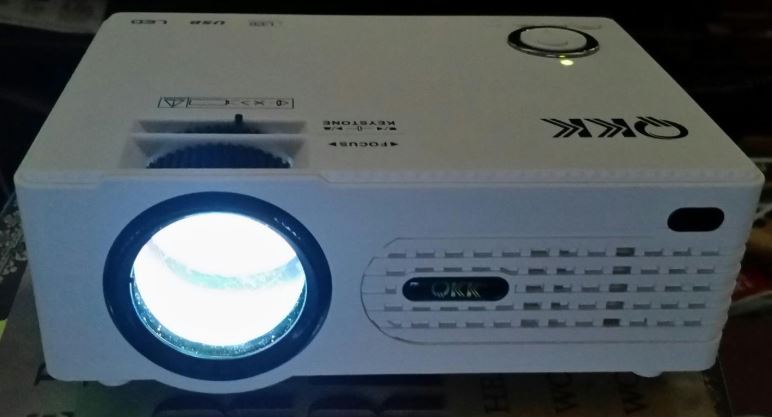 Media Support
The QKK 2200 uses a fairly versatile media player, offering wide support for a number of common video formats. Some of the most significant ones include MPEG, AVI, MOV, VOB, MKV, and RM. You'll find equally wide support for audio files, photos, and .txt documents.
However, you might want to note that the QKK 2200 media player does not have support for the .gif format. Anyone with a few animated gifs in their PowerPoint presentation need not despair, you could convert those images to one of the supported formats with little difficulty.
Visual Presentation
Setting up the QKK 2200 can take some getting used to. It provides a small degree of optical correction, as much as 15-degrees. But that's not very much if you're dealing with positional issues, or with subpar angles on your projection. However, outside of those kinds of extreme circumstances, once you know how to get things going, the QKK 2200 works quite well.
Given a proper setup, the QKK 2200 produces a fairly accurate 800-pixel picture. But to get the most out of it, you're going to have to make some small adjustments. Like many televisions and monitors are shipped with poor color configurations, the QKK 2200 needs its own fine-tuning before you'll get the colors to where you want them to be.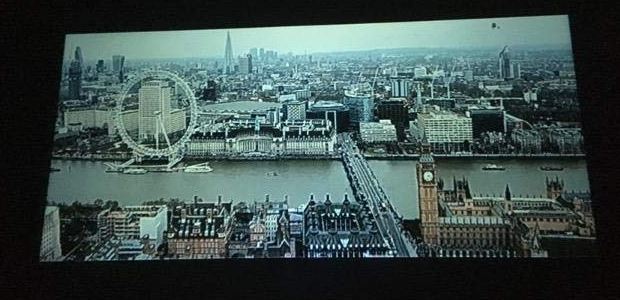 Image Quality
Naturally, the image quality of any projector will depend partially on the space it's playing. Lighting conditions and the color of the surface you're broadcasting on play a non-trivial part in the equation. Luckily, the QKK 2200 supports an exceptionally bright 2200 lumen output, making it well-suited for being operated in spaces which are only slightly dimmed. If you're trying to imagine the setting, think of a classroom with the lights turned off, or a meeting space with some source of natural lighting.
In short, you don't have to be in a pitch black room for the picture quality to be good, which is important for a portable projector. But that's only the beginning. Given truly dark conditions, like those you'd normally expect to provide for a projector, the QKK 2200 performs excellent for its price. The 2,000:1 contrast ratio provides dark-darks for watching movies.
And it translates exceptionally well into clearly visible text, even when you're using smaller fonts. Depending on the size of the projection, you can get fonts which are readable as small as 10-point. Moreover, the QKK 2200 uses a standard 16:9 aspect ratio, so you don't have to worry about weird formatting issues with your media.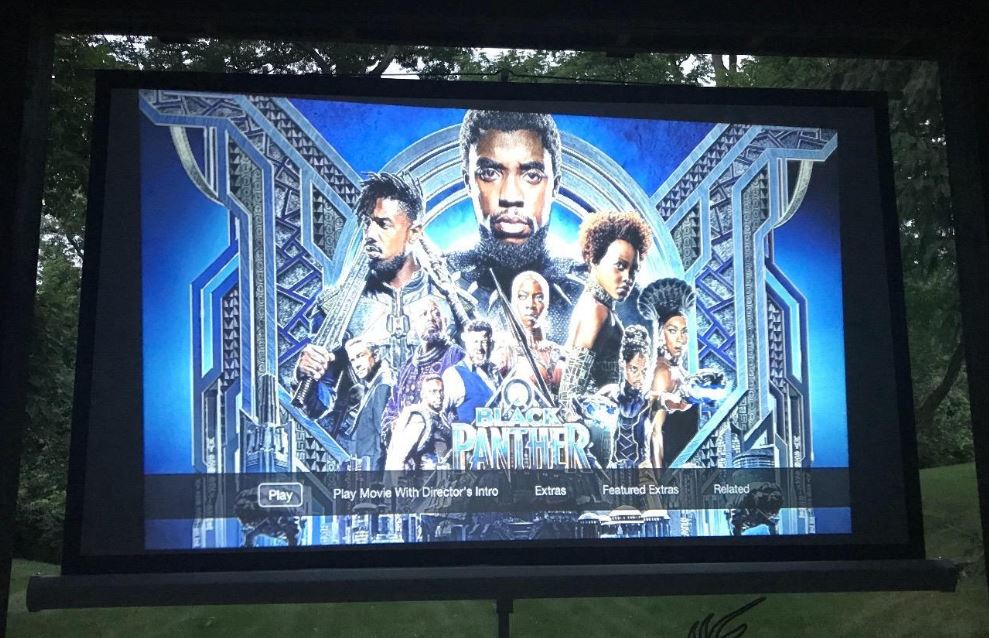 Portability
At last, we come to the concern of fragility. If you end up using the tripod mount, you'll have to notice how the included tripod has a half-inch thread. But the projector itself has a 0.2" input. If you're not careful every time that you're setting up the QK 2200, you may accidentally screw it all-the-way down. And that will slightly damage the chassis of the projector.
But with that precaution observed, you won't have to worry about treating it any more carefully than you would any other projector or portable TV. You're going to want to use the tripod fairly often because otherwise you'll find constant stability issues from even small vibrations. Alternatively, you could mound the QKK 2200 to another stable surface. But simply placing it on a table in-front of you isn't going to work well, especially if there are other people sitting at that table.
Limitations and Common Concerns
The QKK 2200 has a continuous use time of 25 hours, so it can't be used endlessly in some public display. You're going to have to give it at least a couple hours of downtime between those exhaustively long sessions. The included dual 2-watt speakers aren't going to blow you away, and would probably be best paired with some portable speakers. But they do offer roughly the same audio quality as a computer monitor, albeit with slightly more volume.
Heat isn't much of an issue because the QKK 2200's power consumption is only 50 watts. And the cooling fans noise during operation is only about 40dB. That's not loud or annoying, but it is noticeable if you're near the projector.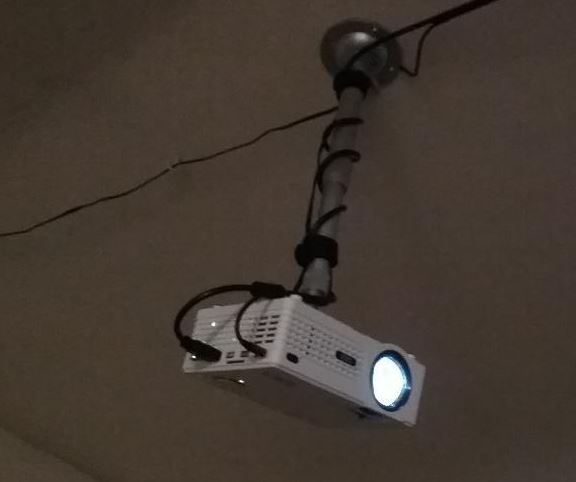 Other Considerations
It's worth noting, the QKK 2200 does not include the alkaline batteries necessary for the remote. And although you could attach a wireless HDMI dongle, no such accessories are included. So the QKK 2200 has a high degree of expandability, including the possibility to connect streaming services. But you'll have to cobble together those kind of features on your own.
Two more things. QKK offers fairly good customer support. Although you probably won't need to contact them because the included user manual is well-written and quite descriptive. But if you ever lose the manual and end up having a question, the unlimited customer support can come in handy. Having a 3-year warranty takes care of the rest.
It also includes the video projector, an AV cable, the remote control, an HDMI cable, the power cable, and the potentially hazardous tripod mount.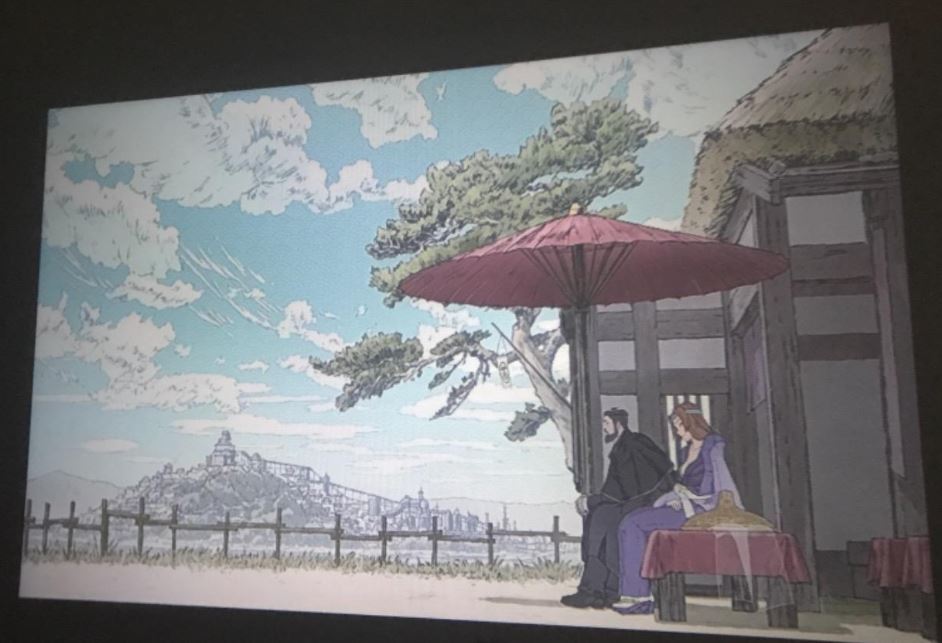 Who Should Choose the QKK 2200 Lumen Mini Projector?
The QKK 2200 Lumen Mini Projector is a good choice for someone who needs a highly portable projector. If you're setting up something to serve as the dedicated projector in your home theatre, you might want to increase your budget by $30 and find a projector that's intended to stay-put. Relative to its price, the video quality is above average, provided that you take a few minutes to adjust the settings to your liking.
If you're careful while attaching the tripod, everything else should be smooth sailing. The QKK 2200 has a highly intuitive design, so just about anyone can start using it straightway. And the QKK 2200's features, like the 2200 lumen output, are fairly clearly adapted towards support for traveling and presentations. It's a great choice for anyone who needs a high resolution, highly portable projector, without paying for quality that greatly exceeds what's really necessary for your tasks.