Gaming mice aren't the same as ordinary mice. Gaming mice are made be specifically to be comfortable for hours on end, and backed with an accurate grip. They're loaded with ridiculously powerful sensors which dwarf those used by ordinary desk mice. And you'd be hard-pressed to find a gaming mouse that didn't have at least a few extra buttons.
These kinds of differences are hard to notice when you're browsing the web. But they can be night-and-day differences for gaming. Competitive gamers need a certain level of performance from their gear. And even if you're not playing competitively, you want a mouse that remains comfortable, has the appropriate number of extra macro buttons, and ultimately works for you.
Cooler Master CM310 Gaming Mouse
The CM310 has a manufacturer suggested retail price of $30, which is genuinely inspiring. You probably haven't been keeping tabs on the development of gaming mice over the past decade or so. But not that long ago, a gaming mouse with half as many features as the CM310 would cost two or three times as much.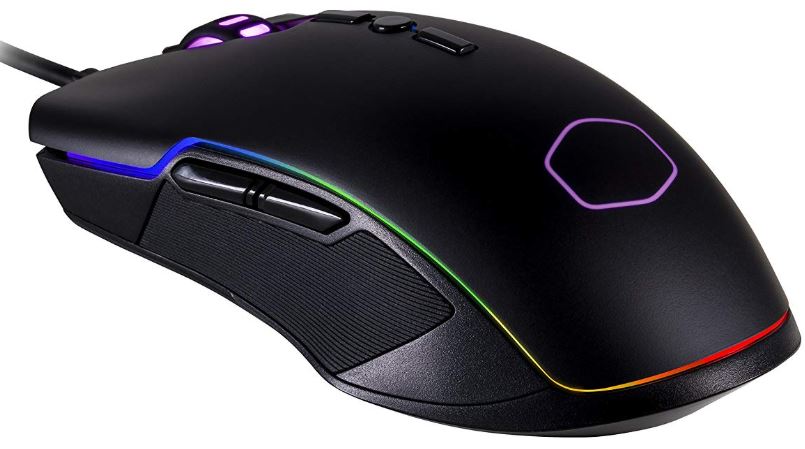 In many ways, the CM310 is a landmark in the development of gaming mice. It's a new low for the point at which you can essentially every major feature you can get on mice, and without paying premium prices. The CM310 actually raises the bar on what you can expect from a basic gaming mouse. That's not to say that it's a perfect mouse, or that it's perfect for everyone. But it is a made to be used by almost anyone.
Build & Design
From a design perspective, the CM310 looks fairly average. It uses a 5 x 2.8 x 1.6-inch build, and weighs 0.2lbs, if you exclude the cable. Some people prefer wielding heavier mice with some heft to them, others prefer lighter mice that are more agile. The CM310 is on the lighter side, but still feels sturdy and well-composed in your hand.

The CM310 is constructed with matte-black ABS plastic. At numerous points where your hands make regular contact with the mouse, the CM310 also provides soft rubberized surfaces for a particularly smooth feel. Noticeably, both sides of the mouse have their grip enhanced with rubberized sides. This prevents slippage, especially around the thumb and pinky finger.
One thing to note about ABS plastic and rubberized keys is that they will wear down. After two or three years of use, the plastic develops a light shine. Most people usually see this on their keyboard keys, which are also commonly made of ABS plastic. Rubberized bodies usually hold up much better than ABS plastic, but might have a realistic lifespan of 4 years before it starts to lose some of its smooth grip.
In total, the CM310 has 8 buttons. Along the topside, the first three buttons have been mapped to DPI presets, allowing you to toggle between your settings quickly. The presets are 500, 1000, 2000, 3000, 4000, 5000, and 10,000 DPI. But changing them is simply, as you'll see later. The remaining buttons are the usual suspects you see on any modern mice, including a clickable scroll wheel, and a pair of side buttons.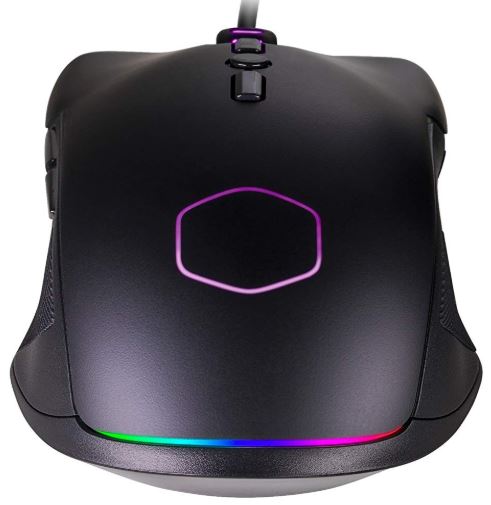 Cooler Master Aesthetic
Gone are the days when gamers were satisfied with an ordinary looking mouse. LEDs have ended up on everything else, if your mouse lacks them, it probably looks distinctly cheap. And that's unfortunate for people who are buying mice on the less expensive side of the market, especially when the addition of LEDs ends up detracting from the performance of their selection.
Luckily, those problems aren't faced by the CM310. The CM310 uses a wide strip of LEDs, which run along the base of its entire body. They also run up through the scroll wheel. And you can change those LEDs through a variety of RGB modes and effects, most easily through the five included presets. But you can also adjust through included software, as we'll see in a moment.
Beyond the LEDs, it's worth noting how the CM310 does roughly resemble the general aesthetic of other Cooler Master products. The Cooler Master symbol is prominently displayed on the top of the mouse. But even the visual angles of the mouse are part of its subtly distinct appearance.
Sensor Accuracy
The Cooler Master CM310 is constructed with an optical sensor. What does that mean for gamers? Optical mice have little variation in tracking speeds, and they're generally less jittery to use. However, optical sensors do require that you use a mouse pad, or a similar non-glossy surface. If that's a deal-breaker for you, then you'll need to use a laser mouse instead.

More specifically, the Cooler Master CM310 uses a Pixart A3325 sensor. It provides a massive DPI range that extends out as far as 10,000. And realistically, 10,000 DPI is far more than any gamer will ever need. The only people who might need that kind of pixel-perfect precision are those who work in design. So suffice to say, for gaming it's more than enough.
One more thing to note about the sensor is how the CM310 provides a polling rage of 1000Hz. For comparison, most wireless mice offer about 500Hz. Compared to a 500 Hz mouse, this means your mouse signal is being sent to your PC twice as often. The result is a greater feel of responsiveness. And it's not just a feeling because you're actually getting a more responsive experience.
The maximum lift-off distance of the mouse is 3mm. If you're someone who pulls-up the mouse as a habit, this distance helps ensure you keep reading accurately, even if you start rapidly moving your pointer from one location to the next. The 60-inch per second tracking speed is works out to more than 3 miles per hour, faster than you'll need for any form of gaming.
Connectivity
The CM310 is a wired mouse, making use of a 6-foot long cable. The connection terminates in USB 2.0 to make sure the keyboard can work on basically anything you plug it into. If you're worried about the USB 2.0 aspect of the design, there's' no need. Peripherals like keyboards don't need to take advantage of higher bandwidth USB connections because they're not sending that much data. All that matters is the cord will fit into a USB port
Unfortunately, the CM310 doesn't have any wireless support. But multiple forms of connectivity are the kind of features that start to tack-on digits to a price tag. The CM310 isn't trying to be a mouse that can transform into six different things, it's more about getting the essentials done correctly.
Comfort & Ergonomics
The physical build of the CM310 is constructed to be ambidextrous, in part. You'll notice the grip style is suitable for both claw and palm grips. And held in your hand, the CM310 clearly feels like it has a well-balanced weight, especially as you glide it around a mousepad.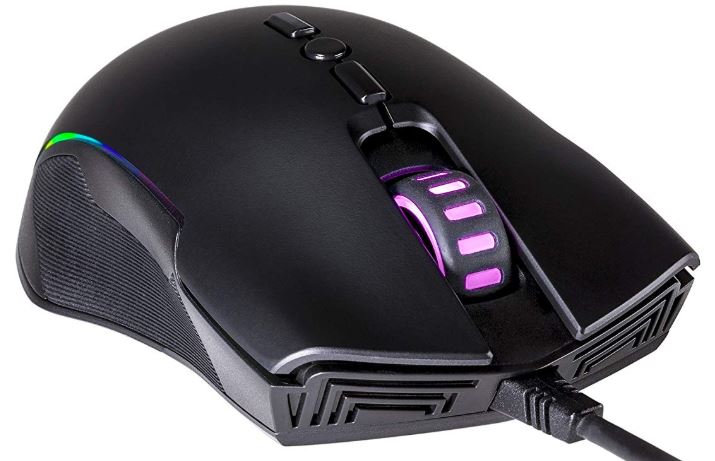 However, the ambidextrous design of the CM310 is somewhat undercut by how Cooler Master has positioned a pair of side buttons on the left side of the mouse. People who are left handed aren't going to find those buttons are in the way, but they will find they're poorly positioned for regular use.
In that regard, the CM310 might be better characterized as being for right handed people who occasionally switch hands. A left-handed person would be fine using the CM310, and they'd certainly have a hard time finding a comparable mouse in this price range. But if you're left-handed and absolutely need thumb-accessible side buttons, the CM310 can't help you.
Other Considerations
While Cooler Master sounds like a terribly generic brand, they're actually one of the bigger manufacturers of PC peripherals. And like many of the bigger peripheral brands, they have their own line of free software that can help you customize the performance of the CM310. While these sort of features are becoming increasingly common, the size of the Cooler Master brand means you don't have to worry about software support suddenly disappearing.
Moreover, you may even be able to expect additional features to be added to the Cooler Master CM310 after you've had the mouse for years. As they continue to upgrade their control software, those new features are usually retroactively available to older products.
Most of these additions aren't monumental changes, but include things like additional control over LED profiles, new preset options, and so forth. Nevertheless, having products improve with age is something so rare, it's always worth mentioning.
Cooler Master includes a 2-year warranty with the CM310. Mice are unlikely to suffer from some kind of manufacturer defect, so you don't have to place much weight on the value of this warranty. But it's nice to be covered, just in case you end up getting shipped a mouse with some kind of manufacturing mistake.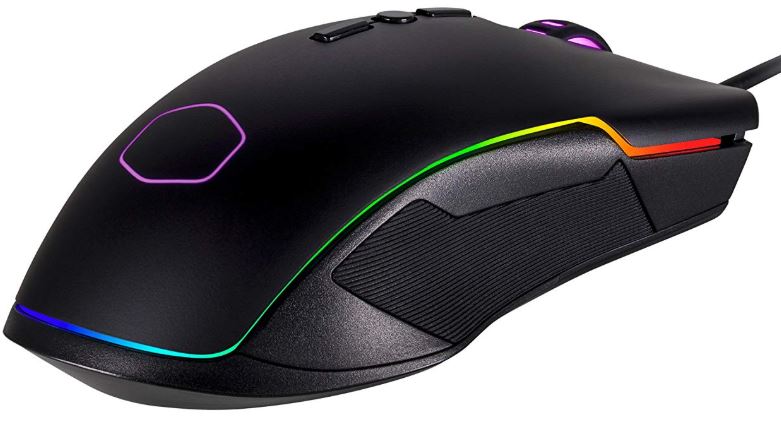 Who Should Choose the Cooler Master CM310 Gaming Mouse?
The CM310 is well rounded. It's got the LED aesthetic that says its modern and high-end. It's got a comfortable design, and a grip profile which is pretty clearly gamer-oriented. And it has a price tag that makes other gaming mice look laughably expensive.
If you were willing to expand your budget, you could find mice that would allow you to switch between wired and wireless configurations. You'd find mice with additional macro buttons. And you'd end up paying twice as much. Unless you need those kind of niche features, the CM310 is an incredibly clear choice. It's the mouse every gamer wishes had existed 10 years ago.
In short, the CM310 is for people who want a powerful gaming mouse at a sensible cost. It doesn't take any shortcuts. From the aesthetic to its performance, it delivers consistently, while providing features that were exclusive to high-end mice only a few years ago. It's worth a look for anyone who's seeking a powerful yet inexpensive wired mouse.