Everyone likes a big TV. And these days, they're more common than ever. You can get a 50" HD television for as little as $250. But enjoying large screens can make it tough to go back to using comparably small PC monitors. Anyone who uses their monitor more than their television certainly can almost certainly relate.
Size provides more workspace, it provides more immersion, and it provides a much better way to share your screen with others. But size can be a curse as well. For monitors, 1080p content is typically best viewed on panels as small as 24-inches! Making monitors larger isn't as simple as you might think, especially if you want to maintain all the various advantages monitors have over televisions.
If you're someone who likes big screens and uses a monitor fairly often, where does that leave you? Until quite recently, you were pretty much out of luck. But computer monitors have been improving at a stunning rate, and not just in terms of resolution. Monitors are becoming so feature-rich that even regular people will find substantial improvements in those made today compared to those made as recently as 2014.
Philips Momentum 436M6VBPAB
The Momentum 436M6VBPAB is an attempt at bringing large television sizes to monitor scale. For movie-lovers and gamers alike, the Philips Momentum is fairly well rounded. But it's also a machine made for a very specific type of person.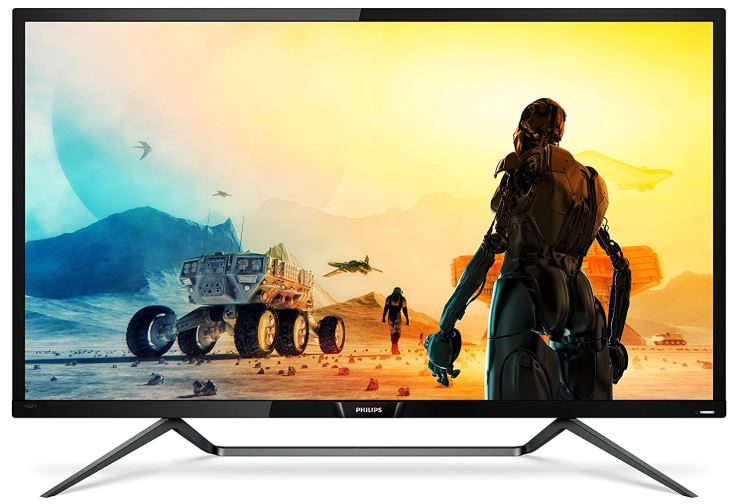 Build & Design
Screen size matters, and not just because bigger screens are far better at creating cinematic immersion, or because of their purely practical advantages. Screen size matters because it's part of what determines pixel density. And the Philips Momentum has one of the biggest standard resolution monitors on the market, with a massive 42.5" screen size.
But like televisions, those screen sizes are measured diagonally. The physical device itself sits at 38.4 x 10.4 x 26-inches. You'll want to pay attention to that for fitting this beast on your desk. You'll also want to note its 32-pound weight if you decide to try mounting it on the wall. Most typical-sized VESA mounts will have no trouble carrying that weight. But you'll want to double check before attaching it to any particularly small wall mounts.
And like televisions, the Momentum has a variety of TV-like features. For example, there's a picture in picture mode, as well as a picture-by-picture capacity to split the screen into two separate sources. As a display, it comes fairly close to being a real monitor-television hybrid.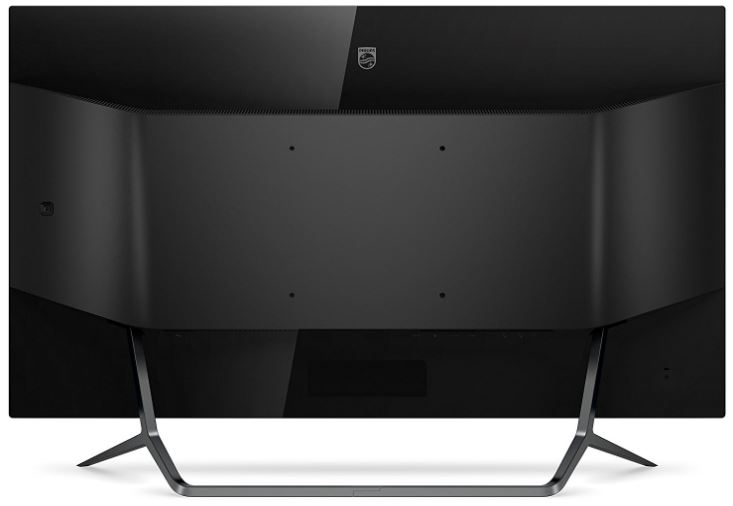 Audio Quality
In 2015, Acer released what was, at the time, one of the best monitors on the market. It cost had essentially every feature you could name, and it cost roughly $800. In spite of everything that panel had going for it, its backside was still plagued with pathetic 3-watt speakers. And when you turned them on, suddenly a top-shelf product sounded like listening to a singing birthday card projected through a tin can.
The Momentum 436M6VBPAB includes dual 7-W speakers, which have been certified with an official DTS sound badge. At the end of the day, monitor speakers will always be monitor speakers. You're not going to get stunning performance from them.
The Momentum 436M6VBPAB comes very close to providing the same sound quality of large televisions. You'll probably still want to pair it up with PC speakers. But more importantly, you might actually want to continue using your monitor speakers alongside your PC speakers, which is something that can rarely be said.

Video Quality
The Philips Momentum is constructed with a multi-domain vertical alignment panel. Multi-domain vertical alignment panels (MVA) are a compromise between IPS and TN. They're made to provide response times which approach TN panels, and matrices offering wide viewing angles to compete with IPS panels.
Response time on the 436M6VBPAB is 4ms, which should satisfy everyone except a small handful of people. And the 178° viewing angle keeps color accuracy quite high, no matter where you're standing relative to the panel.
That's partially because it's built with Quantum-Dot backlighting which allows the screen to cover 97.6% DCI-P3 color gamut, and 100% sRGB color. In other words, you're basically getting all the advantages of an IPS panel, but without IPS bleeding. Just about the only thing missing is Adobe RGB support.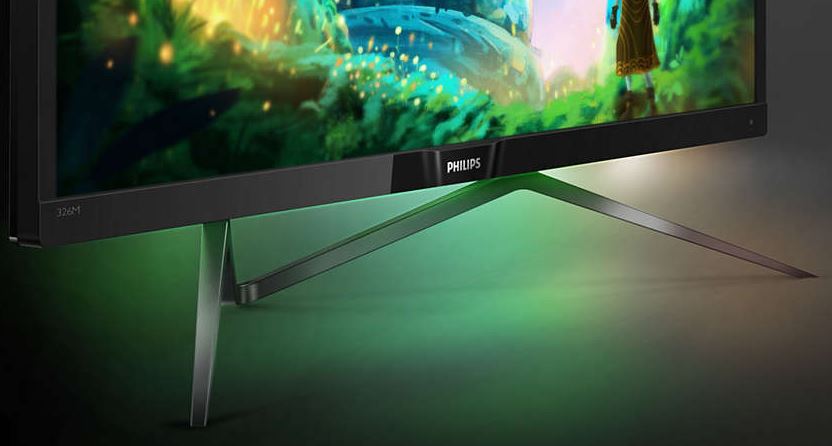 Resolution and Performance
The Philips Momentum 436M6VBPAB has a native resolution of 3840 x 2160, more commonly known as 4K UHD. Its native refresh rate is 60Hz, but the panel can be overclocked to 80Hz. Some types of gamers will be concerned about this. While console gamers are accustomed to dealing with lower frame rates, in recent years, 144Hz panels have become increasingly common among PC gamers.
There are only a small handful of 4K panels which incorporate 144Hz. They're all relatively small screens, generally in the range of 27-inches, and they all cost about the same as a used car. While 4K as a format is getting fairly inexpensive, which is certainly demonstrated by the Philips Momentum 436M6VBPAB, 144Hz on 4K panels is both a rare and prohibitively expensive feature. Gamers who demand those features will either have to pay handsomely, or wait another half-decade.
Pixel Density
The Momentum 436M6VBPAB has a pixel density of 102 PPI. For comparison, the pixel density of a 24" 1080p panel is about 93 PPI. The means the sharpness of the picture pm the Momentum is one visible step ahead of 1080p content. The Momentum 436M6VBPAB is actually noticeably crisper than larger 4K televisions because of its comparably higher pixel density. More importantly, in order to see individual pixels, you have to get far closer to the screen than you would ever want to sit.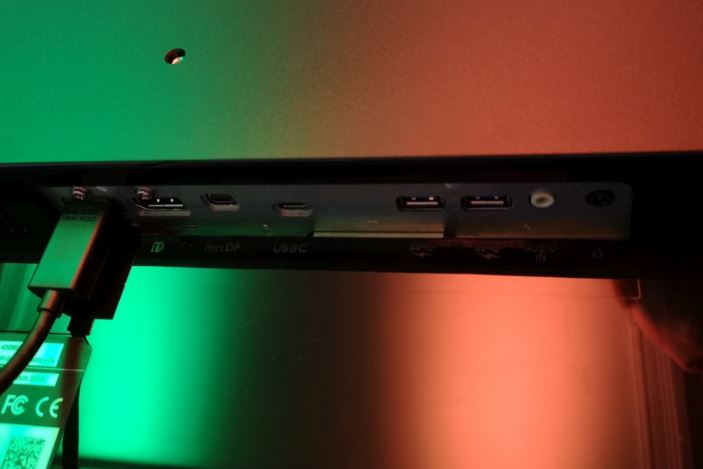 Color and Contrast
DisplayHDR is a very new VESA standard, so you're unlikely to have heard of it. But it breaks down a variety of visual performance targets, and then certifies panels based on their performance. Currently there are three certifications: DisplayHDR 400, DisplayHDR 600, and DisplayHDR 1000. Certification for the DisplayHDR 1000 logo requires the highest levels of bit depths and display performance.
Meeting the requirements can be fairly hard, even with a VA panel. But Phillips uses a zone edge-lighting system is what's made it possible, boosting brightness to a range of 720-1000 cd/m². The Momentum is the very first DisplayHDR 1000 panel on the market, and one of few monitors which has bothered to try and introduce HDR to PC monitors. Much of this magic is due to the fact MVA panels are great contrast ratio and depth in blacks, and the 4000:1 contrast ratio advertised on the box is a clear indicator of that.
But every type of panel has its weaknesses, there is no such thing as a perfect monitor, only perfect for your intentions. And the Momentum suffers from the typical color inconsistencies you see in VA panels. Those inconsistencies are something you really need a trained eye to spot, and even then, only when viewing from strained angles do they become visible.
Added Features
The Momentum 436M6VBPAB supports FreeSync, which is an adaptive synchronization technology. If your PC has an AMD GPU, or your console supports the format, FreeSync can be quite handy. Let's face it, 4K content eats through a lot of bandwidth, and it requires quite a bit of processing. When your framerates start to dip, FreeSync is there to make sure everything stays smooth.
Gamers may also want to note how the Momentum 436M6VBPAB supports a low-input lag mode. When you toggle it in, it helps to bypass internal processing within the display. For gaming, that means crisper responsiveness on the panel as you play.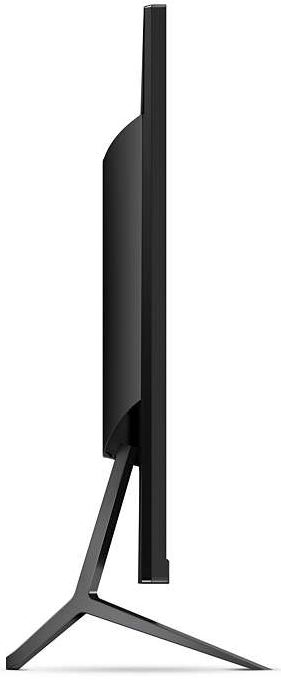 Inputs & Control
The Momentum 436M6VBPAB has one DisplayPort 1.2 port, one Mini DP 1.2 port, one HDMI 2.0 port, and one USB Type-C port. That USB port can be used to help connect your display, or used to stream from a USB drive. On the audio frontier, you'll find a standard 3.5mm audio input and output.
The remote control can control your panel like a television as well as device which are connected to the panel. That includes your Xbox, Blu-ray player, and so forth. The body of the remote itself is fairly simple. It has scarcely a dozen buttons, an easy to navigate arrow interface.
Other Considerations
The Momentum 436M6VBPAB uses a glossy screen, which means you need to control the lighting in your room. You don't need to enter a cave to use this monitor, but if things are too bright or lights are directly striking the screen, you'll have problems with glare. In proper conditions, glossy screen give a sort of wet appearance that really helps the image shine. And it looks great on the Momentum, provided you can provide the necessary light-controlled conditions.
The Momentum 436M6VBPAB has a typical 63-watt power consumption. Your typical 24" panel consumes around 30-watts, so the Momentum is roughly the same as running two panels, from an electrical standpoint. Relative to the size of the panel, that's actually pretty good.
The Momentum's stand isn't capable of adjusting height or tilt. The stand is simply two wide-set legs, positioned to help ensure your previous panel doesn't end up toppling over. If you want those kinds of controls, you'll have to take advantage of the VESA mounting options on the back of the Philips Momentum 436M6VBPAB.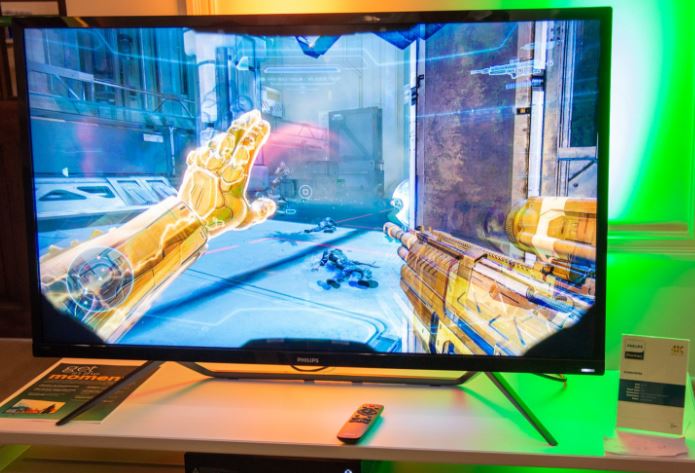 Who Should Choose the Philips Momentum 43" Class 4K LED Monitor?
The Philips Momentum 436M6VBPAB is aimed at a very specific type of person. In short, it's for someone who wants the biggest monitor they can get their hands on. The 4K resolution looks gorgeous in these 42.5" dimension. It's not a monitor you'll want to sit 18-inches away from, and you're going to want to use the same viewing distances you'd use for a television of that size.
But if you know what you're getting into, the Momentum is an excellent way to take advantage of 4K content. As long as you don't believe 144Hz is a necessity, it's easy to recommend the Philips Momentum 436M6VBPAB. It's a particularly great choice for people who watch TV and movies on their monitor.