Distance shooting is a science. Successful shots are the collective achievement of the shooter correctly understanding a wide range of variables. And rangefinders give you the equipment to help objectively judge those conditions. Whether you're shooting for fun or you've got an objective in mind, rangefinders make it easier.
If you're experienced at hunting with a rifle, you're not going to need a laser rangefinder for something under 300 yards. But for 1,000 yards? Having the right equipment can drastically improve your chances of making those longer shots. Hitting enormously distant shots is getting easy, but only if you have the right gear.
With a decent rangefinder, a decent shooter should be able to pull off an 18-inch target from a thousand yards. Even with 20mph winds! But with the wrong rangefinder, you're going to be out of luck the moment sub-optimal weather rolls in.
Nikon BLACK RANGEX 4K Laser Rangefinder
The Nikon BLACK RANGEX 4K Laser Rangefinder has all of the excellence you'd expect from a brand like Nikon. From the physically rugged build of the device, to the engineering that goes into making an accurate laser, the BLACK RANGEX 4K is nothing if not a quality instrument.
The most important feature of that quality is accuracy. The 4K in its name refers to its maximum effective measurement range, which is 4,000 yards. With the BLACK RANGEX 4K, it's pretty easy to pick out individual trees at around 1,700 yards. And for hunting, you'll get clear visibility of deer around 1,500 yards.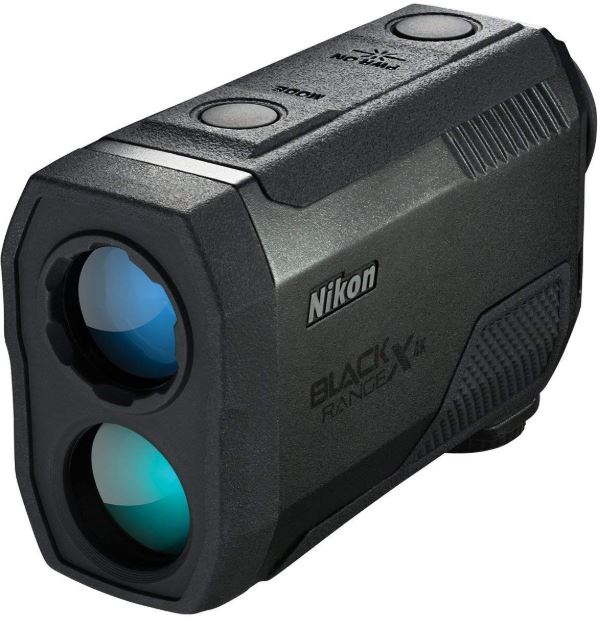 Build & Design
The BLACK RANGEX 4K is constructed into a standard black rectangular design, sitting at 4.3 x 1.6 x 2.9-inches. The monocular itself has a 3.5mm exit pupil, and 18.2mm of eye relief for people with glasses. By all accounts, it looks like just any other rangefinder.
But simplicity can hide greatness, and with the Nikon BLACK RENGEX 4K, the greatness is lurking in how every subtle detail works to your advantage. For example, the black exterior is a non-reflective matte surface, making it perfectly suitable for taking into the wilderness.
All in all, these kind of details give the impression that the BLACK RANGEX 4K Laser Rangefinder was thoroughly field-tested. And that's exactly what's happened. As a brand, Nikon doesn't simply follow what others manufacturers are doing. They're an industry leader, setting trends and establishing higher standards. It seems obvious they've learned from consumer feedback with respect to each previous generation of their rangefinder. Which is why every new generation feels just slightly better than the last.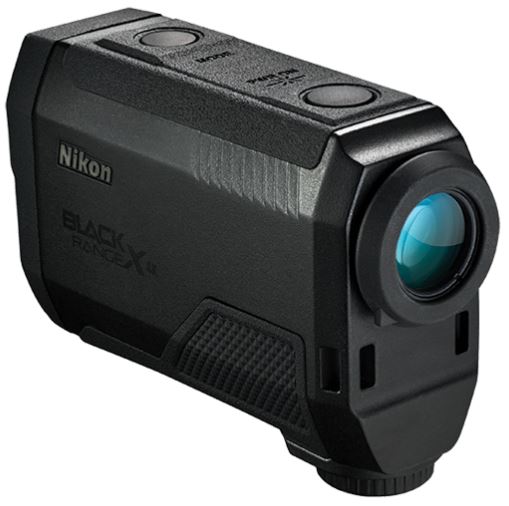 Of course, some of those advantages have been Nikon standard for some times. For example, the BLACK RANGEX 4K is both waterproof and fog proof, making it equipped to handle conditions with subpar visibility. Many rangefinders, especially towards the inexpensive side of the market, have the fatal flaw of being totally inept at range-finding the first moment bad weather starts. If a rangefinder can't handle fog, then it's going to be out of operation half of the time.
In spite of its watertight, rugged build, the BLACK RANGEX 4K weighs only 6.2 ounces. And that's including the single CR2 battery necessary for operation. It was a great relief to find the BLACK RANGEX 4K didn't make use of one of those annoying button-cell batteries.
You may want to note, CR2 are those miniature lithium photo batteries you can find in just about any drugstore, usually about $5 each. Between the high powered battery and the relatively low energy consumption of this rangefinder, you'll very rarely find yourself changing the battery anyway.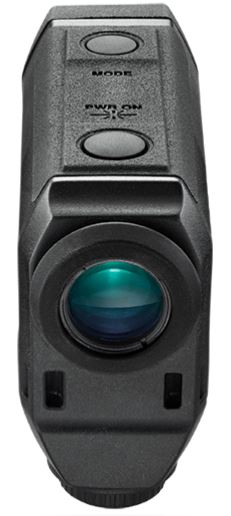 Visual Use
Peering through the BLACK RANGEX 4K, the 6x monocular keeps your image bright and well contrasted. It provides a particularly sharp view, clearly made for target spotting and acquisition. Overlaid on the monocular, the red OLED display provides even more visibility, by contrasting a distant target against bright red lines. This contrast can be set automatically, or manually, with five stages of brightness you can select between.
The Nikon BLACK RANGEX also uses Nikon's own target identification technology, which is useful for target-finding on angles which decline or incline. For helping determine the best shot, you need to understand both the vertical and horizontal distance from your target. Whether you're headed up-hill or moving down-hill, you don't want a small incline to be what ruins your shot. And that's what Nikon's ID feature is all about.
Additionally, the BLACK RANGEX uses Nikon's hyper-read feature, which provides rapid computational measurements of the targets location. That way you don't have to wait five seconds for your range finder to decide how far the target is. Instead, you're capable of getting those measurements in about 0.3 seconds. And because the laser is moving at the speed of light, you get that rapid reading whether you're aiming it at something 10 yards away, or two miles away.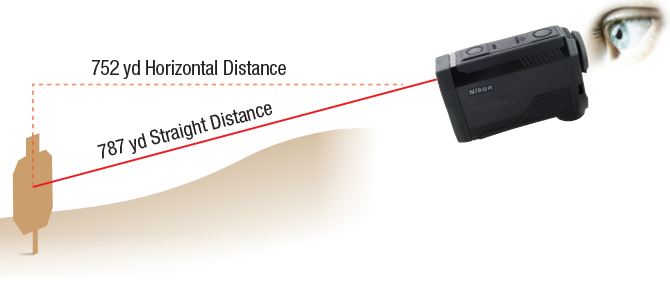 Ease of Use
The Nikon BLACK RANGEX 4K Laser Rangefinder provides increment readings in a 0.1-yard resolution, but the viewfinder can be switched between meters and yards to match your preference. Taking the BLACK RANGEX into the field, you'll find it's easy to isolate the side of a hill from as far as 1,600 yards. Once you start looking out well-past 2,000 yards, it becomes difficult to see individual objects unless they're reflective.
In the interests of visual clarity, the BLACK RANGEX 4K Laser Rangefinder supports diopter adjustment of +/- 4°. If you're not familiar, the diopter is a control knob on an ocular device which helps compensate for differences between your eyes. For identifying objects at exceptionally long distances, those few degrees can help you get a much better view.
Rangefinders don't have to be complicated. Once you know what you're doing, using one should be as simple as taking a quick glance at your target. And that's exactly what the BLACK RANGEX is all about. From the perfected presentation of visual information within its OLED display, to its high visibility, this rangefinder has everything you need to make rapid and accurate positional judgements.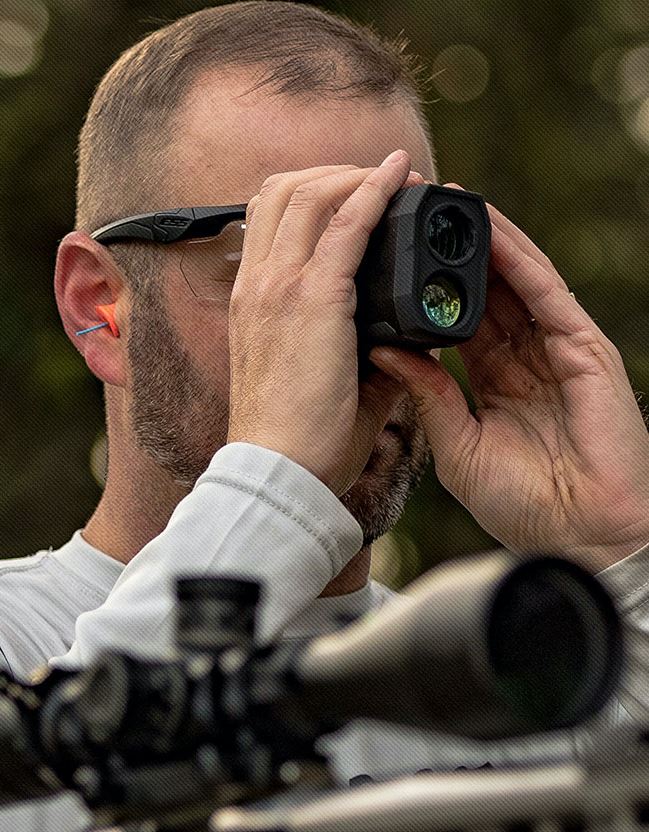 Accuracy and Image Quality
But let's talk about the Tru-Target technology. The Black RANGEX 4K has two different modes of range capabilities, each designed to help maintaining speed and precision. Enabled through Tru-Target, these modes allow you to adapt the capabilities of the rangefinder to the whatever circumstances demand.
The first target priority mode is good for ranging-in on a distant object, like a fence post. If you're just trying to see something that's directly in your line of sight, it's going to be the fastest and most reliable mode to use, most of the time. The other mode is called distant target priority mode. It's for finding the range of the farthest object amongst a big group of objects.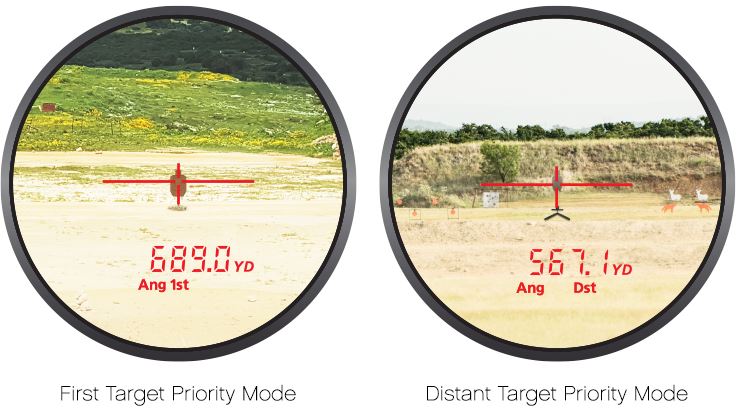 For example, imagine you're standing in a clear field, and you're pointing the BLACK RANGEX 4K Laser Rangefinder at a tree line which is 100 yards ahead of you. You could use the first target priority mode to help you determine the distance to the closet trees to you. And with the distant target priority mode, you'd record the distance of trees further into the woods.
The Nikon BLACK RANGEX 4K provides a 7.5° angular field of view. That's basically enough of a field of view for looking look directly at a target, similar to a pair of binoculars. And similar to binoculars, it can be a bit tough to aim your sight while you're looking into vast distance. But unlike a pair of binoculars or a simple scope, you've got a high-contrast OLED and a very responsive laser to guide your way.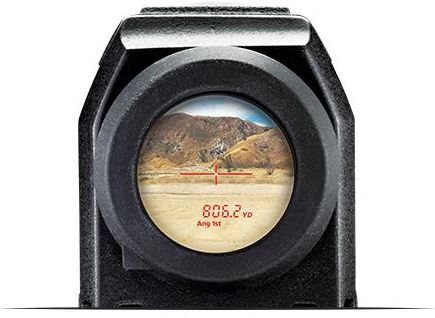 Other Considerations
Because of its multiple operation modes, the BLACK RANGEX 4K can be easily used as a highly accurate golf rangefinder. It has adequate magnification, the right target priority, the necessary carrying case, and it's certainly rugged enough. Whether or not you're using a rangefinder for that kind of thing, it's nice to be able to get multiple uses out of an instrument.
Like its maximum viewing distance of 4,000 yards, the Nikon BLACK RANGEX has a minimum viewing distance as well. It needs to be at least ten yards from its target. So unfortunately, this is one instrument that won't be of much use on a construction site.
Being able to adjust the brightness of the OLED display doesn't seem like a critical feature. But when you're in the field and dealing with changing conditions of ambient light, that adjustability can make a world of difference. These are the kind of small details which add up to make the difference between a mediocre rangefinder and an excellent rangefinder.
The BLACK RANGEX 4K Laser Rangefinder includes an impressive 5-year warranty from Nikon. It also provides all the standard mounting ports you'd expect from a Nikon product, so you'll have no problem attaching the BLACK RANGEX 4K to an appropriate tripod or firearm.

Who Should Choose the BLACK RANGEX 4K Laser Rangefinder?
The Nikon BLACK RANGEX 4K Laser Rangefinder is an easy recommendation for any long-range kit. It's been pretty clearly made with hunters in mind, but beneath its rugged exterior is a highly versatile tool. Over any variety of long distance shooting and target spotting, the BLACK RANGEX can maintain an exceptionally high level of performance and accuracy. Whether you shoot for fun or you're involved in serious competitions, Nikon's 4K rangefinder is a great choice.
Most hunters aren't actually going to need 4,000 yards. But you don't need to be trying to sight targets at 3,995 yards for the BLACK RANGEX to be the right choice for you. This rangefinder is ultimately about high accuracy readings and an outdoors-friendly build. Which is why essentially anyone who needs to do long range sighting could benefit from having the BLACK RANGEX 4K with their gear.