Trackball mice are superior. At least, for most people. That's actually somewhat surprising because trackball mice were first used in computers as early as 1946. They only began to vanish about three decades ago, as laptop track-pads hit the market. But the underlying technology behind a trackball is still sound. The design basically fell out of favor because trackpads take up less space on a portable device.
But trackballs still have some fairly large advantages over ordinary mice. In general, it's much easier to use a trackball mouse. You don't have to unnaturally extend your arm back and forth, as if your body was some kind of printing device. And you don't have to lift and drag the mouse around. The pointer won't accidentally move, providing a far more stable work environment.
People who use 3D modeling software often prefer trackball mice for that very reason. Trackball mice are also favorites amongst disabled people, and people who have suffered repetitive stress injuries like carpal tunnel. But almost anyone can make efficient use of a trackball mouse, provided you can find the right one.
ELECOM EX-G PRO (M-XPT1MRXBK) Trackball Mouse
One of the bigger problems in choosing a trackball mouse is they're a bit of a niche item. There are generally lower levels of competition in niche markets, like trackball mice. And in response to that lower level of competition, you often find low-quality products competing with other low-quality products, and with higher prices.
Fortunately, you can still find a diamond in the rough, if you know how to look. If you're looking for a trackball mouse that doesn't ask you to sacrifice quality simply because it's got a trackball on it, then it's hard to find many mice to compare to the ELECOM EX-G PRO. From software support to the ergonomics of the mouse itself, the EX-G PRO is everything people have come to expect of a high quality mouse.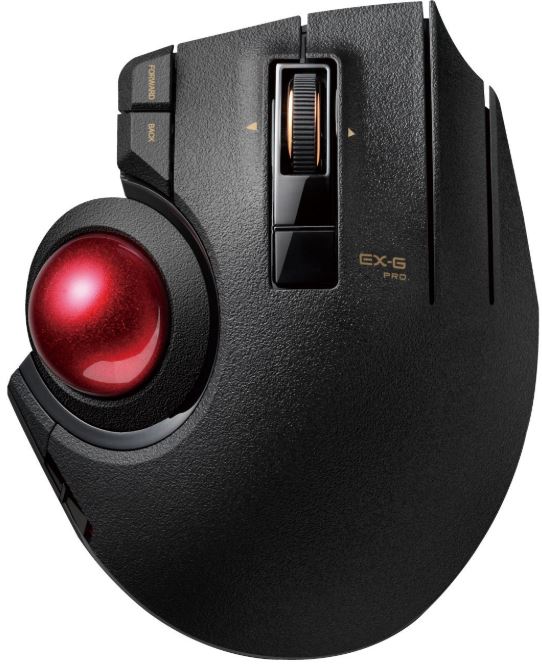 Build & Design
Physically speaking, the EX-G PRO is built rather similar to an ordinary mouse. It's got a basic 5.31 x 4.24 x 1.88-inch build, using what could be called the standard mouse layout. But then there's the trackball.
Notably, the trackball isn't just packed onto the side of the mouse, like previous versions of the ELECOM mice. Instead, ELECOM has actually set the trackball out at an angle, creating more movable thumb area.
The result is much easier operation of the trackball. For example, now you don't need hands that are perfectly average sized for the trackball to be comfortable. Whether you've got larger or smaller hands, you'll find plenty of space for the motion of your thumb.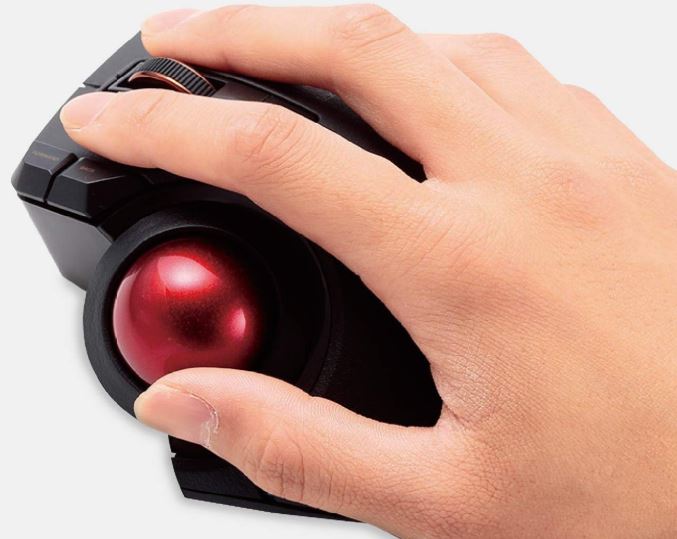 The Trackball
When you're positioning the trackball in thumb space rather than index finger space, you're creating a mouse that's no longer ambidextrous. The EX-G PRO uses a right-handed mouse build, with a trackball in the position of the right thumb. Being able to build specifically for one hand provides ergonomic benefits that need not be explained.
What might need to be explained is the bright red ruby trackball. Why is the ball this ridiculous red color? It's actually not just a matter of aesthetics. The sensors used within these ELECOM trackball mice read the color red better than gray, and gray better than blue. So the choice of color really comes down to providing users with the most accurate and intuitive trackball control.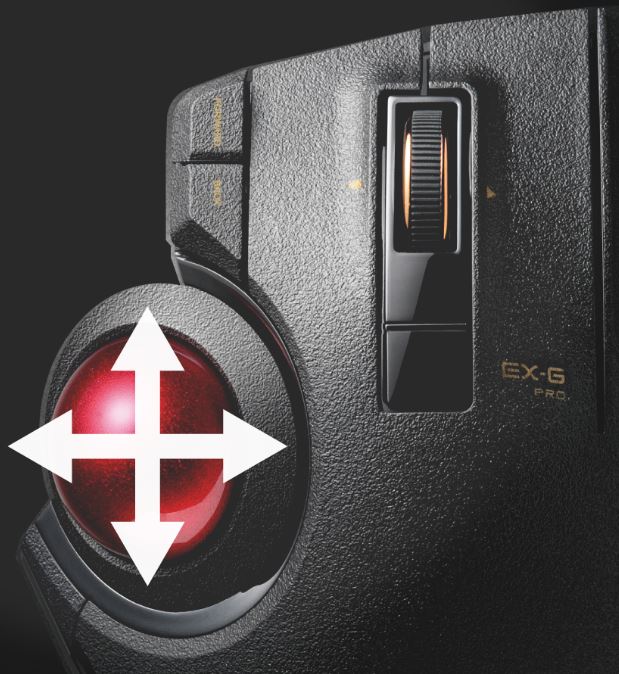 Staying Clean
Though aesthetically, it's worth noting the ruby ball is smudge resistant, which also helps reduce wear and tear on the ball. And the ball can be easily removed for cleaning. Occasionally cleaning your mouse is important regardless of the types of sensors you're using, but when you've got analogue controls like the EX-G PRO, you'll want to clean even more regularly.
That's because like old ball-based mice sensors, physical debris can gradually cause issues with the accuracy of your mouse. You're typically looking at several months between cleanings, but it's still terribly convenient to be able to clean the ruby ball without having to crack open the EX-G PRO.
The back and forward buttons are immediately to the left of the left click. The function assign button is next to the right click, two more programmable buttons beneath the trackball by your thumb. Between the left and right click, the tilt wheel for scrolling down a page. Along the ELECOM EX-G PRO you'll find eight programmable buttons, but some of those buttons have preexisting functions which would need to be removed for the count of eight to be technically correct.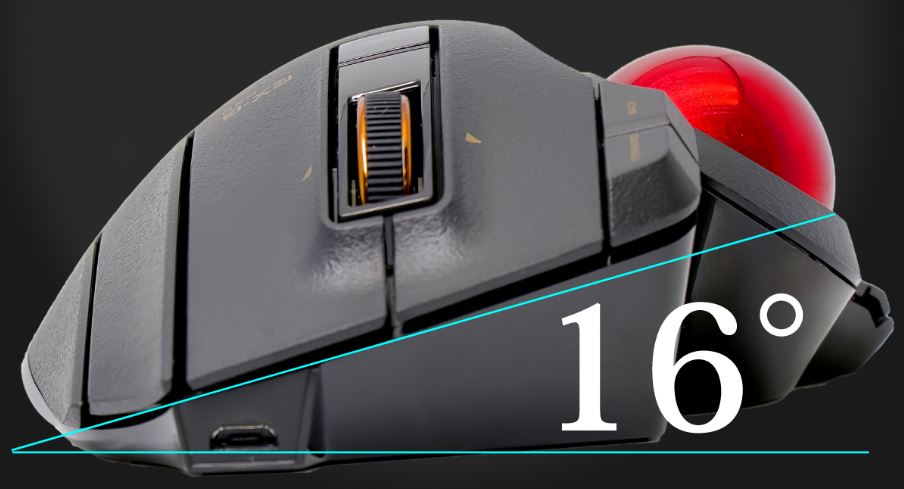 Trackball Mouse Connectivity
One of the biggest deal-breakers with mice is how they connect. Some people want standard wireless, some people want Bluetooth specifically, and some people want a wired connection. While they all do the same thing, they're certainly not all the same. But the ELECOM EX-G PRO can do them all.
The EX-G PRO can connect through standard wireless, Bluetooth, or even make a wired connection. The wireless connection uses 2.4GHz band, which is a great low-energy option for saving battery power. But if there are many overlapping Wi-Fi signals in your area, you might want to swap to the Bluetooth connection. And clearly, the wired mode is handy if you run out of battery power, or are using the mouse in a mostly stationary way.
Battery Power
How long does the battery last? That depends on the mode of operation. For using the wireless connection, you can expect between 200 and 300 days, depending on if you're using the energy saving mode. That's an estimate which is based on 8 hours of computer use every day.
For people who are logging more modest hours, like two or three per day, you can expect to change the battery quite a bit less often. For the battery powered mode, you're looking at closer to 3-4 months, again depending on if you use the energy saving mode.
Clearly, a rechargeable design makes this mouse good for traveling, gaming, and office work. But the real success of its portability is how the wireless receiver can be stored in the bottom of the mouse. And the real strength of its accuracy comes down to its gaming-grade optical sensor. Every motion of the mouse, from scrolling to strafing, provides just the right feel of responsiveness to your hand.
Critical Comfort
This might sound odd, but the most important part of buying a trackball mouse is comfort. The real differences between a trackball mouse and an ordinary mouse mostly break down to factors of comfort. So yes, it does matter if that comfort is wasted on a mouse which feels awkward in your hand.
The EX-G PRO has positioned the trackball precisely for comfort. And not just comfort, but lasting comfort as you continue to use the mouse for hours on end. But this does depend on you being right-handed, or at least being able to tolerate using a right-handed mouse.
If you have a specific reason for wanting an index finger ball, ELECOM has a handful of alternatives. And if you're a left handed person, ELECOM has virtually the only left-handed trackball mouse on the market, and certainly the only one worth buying, the ELECOM M-XT4DRBK wireless.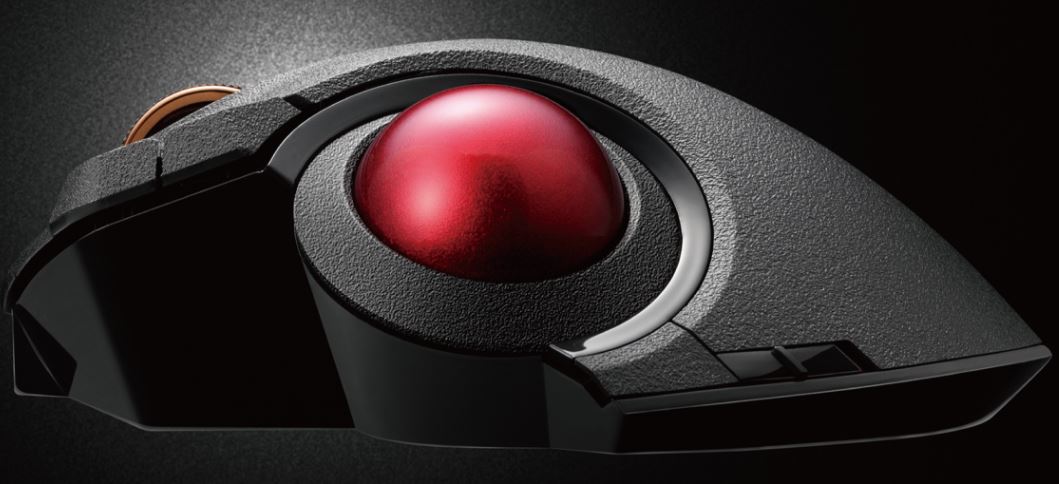 Accuracy
The ELECOM EX-G PRO comes preset with its DPI adjusted to 500/1000/1500. Those settings can be switched to match your preferences through the free ELECOM software. If you're not familiar, DPI is a basic measure of how quickly a pointer can move. But DPI can be misleading when applied to trackballs.
That's because different trackballs use balls which are physically different sizes. Large trackballs only expose a small area of their ball, while a small trackball have most of their surface visible and accessible to the thumb. Those differences play out in the control of your mouse. Just as importantly, some trackballs spin better than others. Consequently, DPI figures can be misleading when it comes to figuring out the actual experience of using the mouse.
As opposed to focusing on DPI, you want to judge sensitivity by rotating a trackball in half a circle. Basically you rotate around the exposed area of the ball to see your mouse pointer move along on the screen. Of course, this doesn't have to be perfect. Acceleration can be adjusted in your operating system. But right out of the box, the EX-G PRO passes this test with flying colors. The open area of the trackball allows you to exert minimum effort and navigate around your entire screen with ease.
Added Help
Swinging around a trackball can be unwieldly. If you've got experience using a trackball mouse, you probably don't need any assistance getting used to one. But if you're just getting started and don't want to be frustrated by struggling to get around, you'll appreciate the ELECOM Mouse Assistant. It helps make right-and-left wheel directions easy and accurate. Whether you're trying to play an MMORPG or working in spreadsheets, it's a nice little bit of added help.
Other Considerations
Compared to a regular mouse, trackball mice aren't as good for rapid linear movement with high precision. If you're playing a competitive first person shooter, you'd be better off with an ordinary mouse. And for drawing, you'll have an easier time with a regular mouse. But that's about it. If you're playing a shooter or drawing, you might want to consider swapping out to a different mouse. The EX-G PRO supports both Windows and OS X devices, but the horizontal scroll is unavailable on Windows RT8.1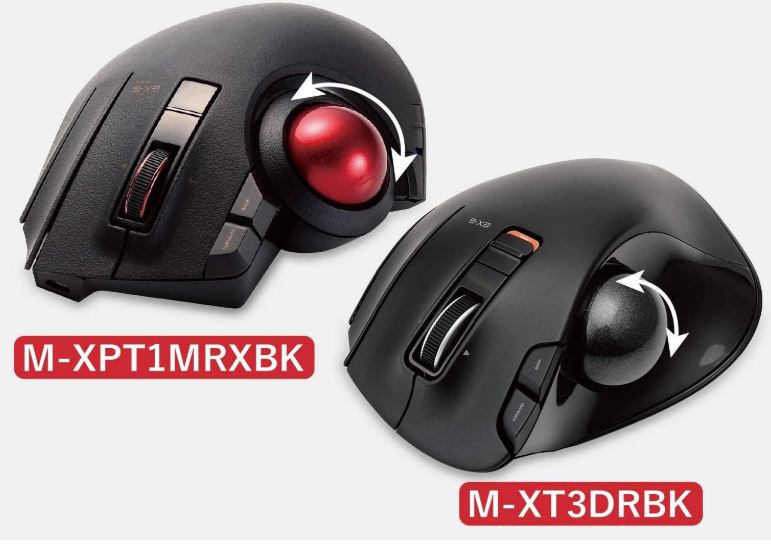 Who Should Choose the ELECOM EX-G PRO?
Inexpensive mice are inexpensive for a reason. They even feel cheap in your hands. And that's true whether you're using a trackball mouse or something more mainstream. But just because you're using a trackball, doesn't mean you should have to settle for second-rate design and ergonomics.
The ELECOM EX-G PRO is everything you want a mouse to be. It feels good in your hand. It has the right amount of additional programmable buttons. And the trackball is as good as any trackball can be. The ELECOM EX-G PRO is basically the best a trackball mouse can be without spending hundreds of dollars, or without meeting some kind of obscure requirements. If nothing else, the versatility of its connection options makes the EX-G PRO worth a close look.