Playing the game of golf has long been a science of personal mastery, discipline and keeping score. However, something as simple as gauging the distance between where you're standing and the green is something that's been based on estimates, thus leading to missed-shots.
You don't have to be a professional in order to intuitively know and have access to this information when you have the simple to use features that a golf GPS rangefinder watch can offer.
At the same time, if the information that you're using is technically inaccurate or very uncomfortable to use, it's not only a waste of time and money, but detrimental to your golf game, which is why performance and comfort are essential qualities.
Within this review, we'll discuss the advantages of owning a Bushnell Neo Ion GPS Rangefinder Watch, as well as the overall features and qualities, so you can form an educated opinion on whether or not it's right for you. Among the criteria that we'll be using will also be appearance, durability and the price-point.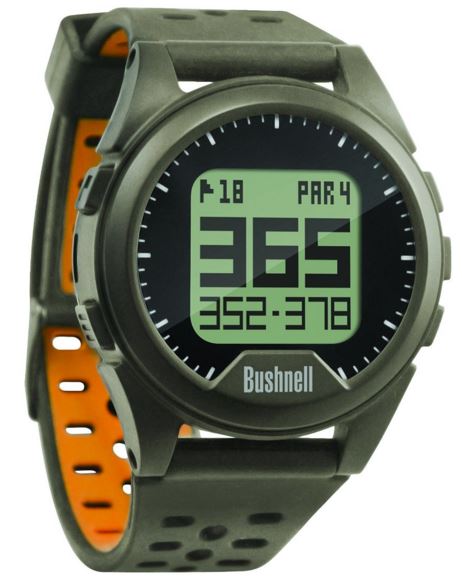 Improve Your Golf Game Internationally
There's a huge amount of dimensionality to golf which is often taken for granted, either because it's very difficult to keep track of, or because it's equally as difficult to understand and have access to.
One of the main advantages of a GPS watch, is the fact that it uses real world information, based on the tens of thousands of golf courses across the planet.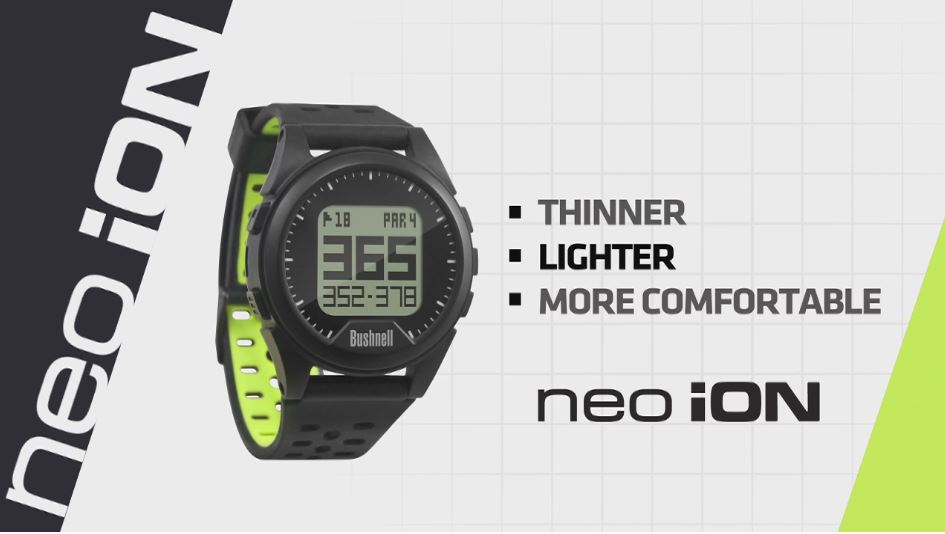 As is each one of Bushnell's Neo golf GPS watches, the ION comes pre-programmed with an tremendous amount of course data, that spans over 35,000 courses in more than 30 countries around the world. The line of GPS golf watches of which the ION is now a forerunner of, has always supplied immense compatibility in the countries where you want to play, whether at home or abroad, and the list continues to expand with each model.
It's also an accepted technology for tournament play, making it a legal and effective option to seriously improve your golf game, no matter which course you play.
Another advantage is that you get all of this versatile performance with a one-time cost for the hardware, meaning that there aren't any unexpected service charges or interrupts due to tiered packaging. All of its features are available to you from the day you buy it.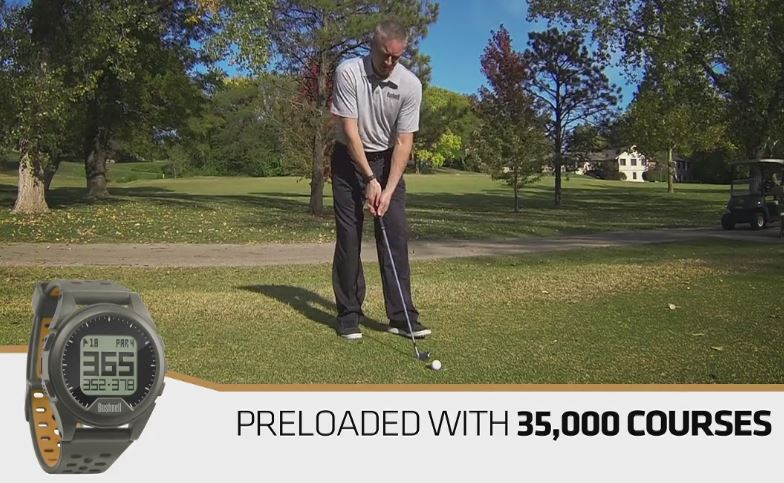 Intuitive Auto Pilot Technology
It's worth mentioning that not everyone has the time or inclination to deal with confusing technology, whether it's on or off the course, for obvious reasons.
One of the benefits of the Bushnell Neo ION is that it's designed to be ready to play when you are, and automatically recognizes which course you're playing on without any physical effort besides pushing a button to turn it on.
In terms of advanced capabilities, you can get an accurate calculate of the distance of your next shot and it also provides up to four layup or hazard distances, so you never have to do the guess work, and can just relax and take the shot.
What makes it even easier to use is the fact that you can automatically advance to the next hole, and it'll automatically do all of the calculations to bring you all of the same information on your next hole.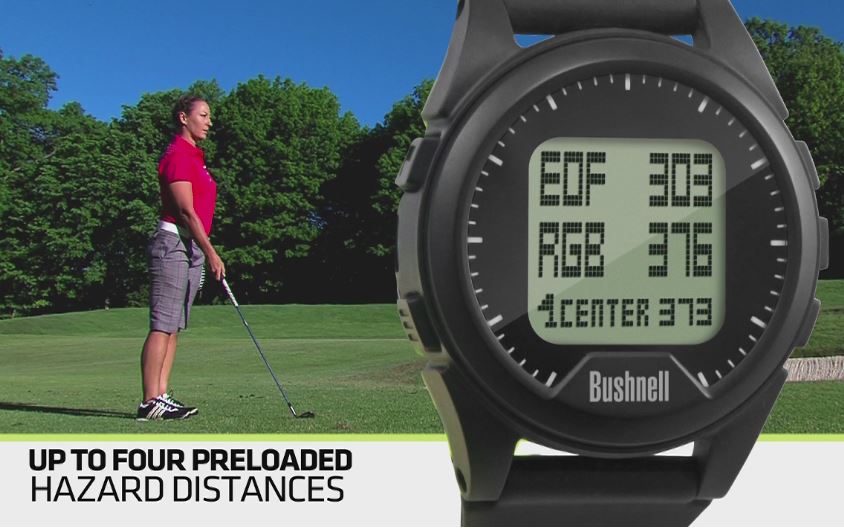 There's also a step counter, for those interested in how far they've moved throughout the day, either for health reasons or to track your progress and improve your exercise regime.
One of the most outstanding features of the Bushnell Neo ION in terms of comfort, is the way information is displayed on the screen, so that you can quickly and efficiently move through menus and see exactly what's relevant to you in the moment. There's even an integrated pedometer!
When in normal use, you can see which hole you're on, your score for that hole, depending on the course, as well as a clear and easy to see display of your distance from the back, front and center of the green.
Quality, Comfort and Durability
There are many methods you can use to gauge the distance between where you're standing and your next shot, and some are more effective than others.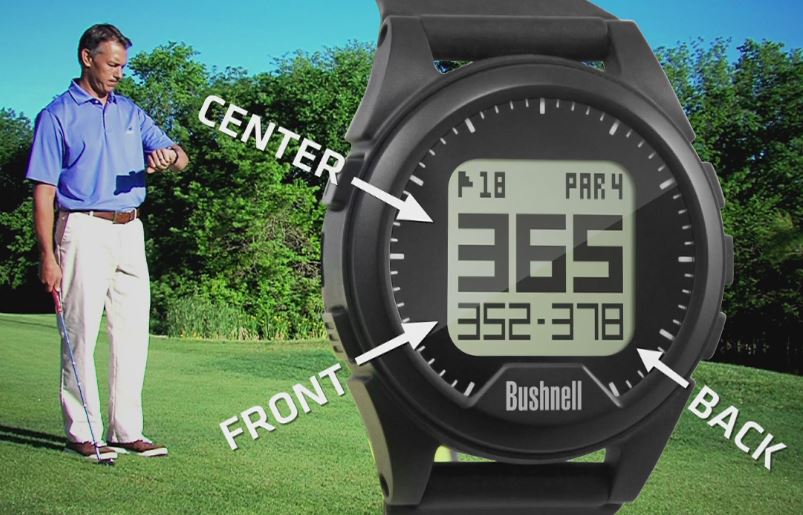 The question on whether the Neo ION solves your problems and whether it's worth your money or not, comes down to the fact that you don't have nearly as much hassle as these other methods. You also get a suite of other features designed into it.
It's a small, intuitive device that sits comfortably on your wrist, ready to use and always works effectively to bring you relevant course information as you play.
Having a useful golf GPS/rangefinder watch right on your wrist is a big advantage over other devices, where you're required to carry something around in your pocket, and also doesn't have the same accessibility and performance features of the Neo ION.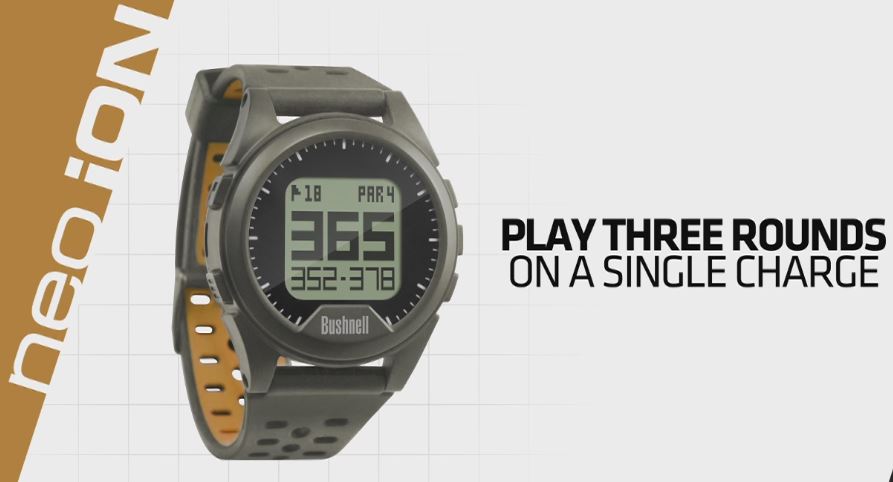 You do pay a handsome price for it, but it's not so much that it's unreasonable, and when you look at the overall quality, it's actually quite fair.
In terms of additional comfort, the wrist band is made of silicon which is given a double injection so that you can wear it all day out on the golf course in the hot sun, and also be comfortable enough that you'd hardly notice it.
This is a nice feature and is complimented by the fact that the ION has a long battery life which should allow you to play at least three rounds on a single charge.
In other words, you can play all day and rely on the Neo ION, but what's almost more important is that the lithium ion battery is rechargeable. It'll continue to provide the same performance and comfort, which is a huge boost for its durability rating.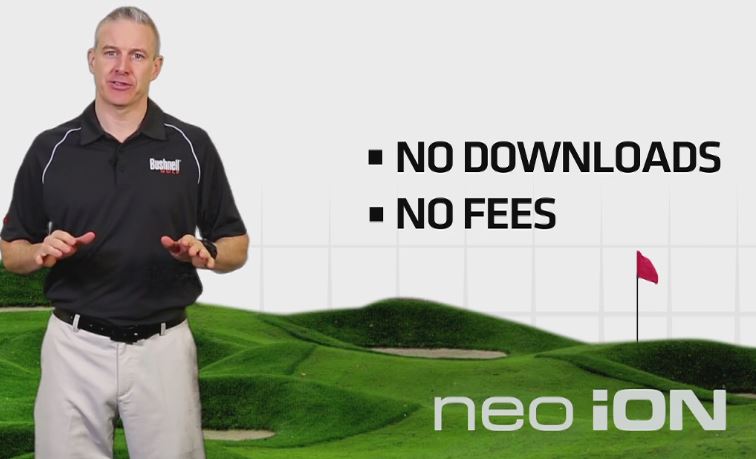 Conclusion
At the time of this writing, the Bushnell Neo Ion GPS Rangefinder Watch is surely the best in its line in terms of performance, and for many reasons is one of the best in its class.
It's intelligently priced to provide outstanding quality that helps improve your golf game while also making it a more pleasurable experience, while also not requiring you to pay service or membership fees.
For this reason, it's quite revolutionary because there are many golf range finders and GPS and rangefinder watches available on the market with strikingly similar qualities and features, it's a much better solution than different types of devices, and is staying ahead of the trend.
You have access to tens of thousands of courses all across the world, which makes it not only something you can use at home, but something that will allow you to play better on courses that you're unfamiliar with.
There are further performance advantages in that it will provide a variety of useful course and hole information, including hazards, precise distances of areas on the green, the status of your shots and even a cumulative step counter.
The Bushnell Neo Ion is designed to be easy to use as well as fit comfortably on your wrist, with any of the necessary functions that you don't want to be done manually, done for you. Best of all, it's covered by an impressive 12 month warranty period that covers you in case of any defects.