Bigger speakers can offer higher levels of performance. Choosing a portable Bluetooth speaker, the most important question you can ask yourself is "how much am I willing to carry?"
If you absolutely need to be able to shove your speaker into a glove compartment or pocket, then you need a small speaker. Otherwise, you can take advantage of size. Bigger speakers can deliver bigger batteries, bigger audio drivers, and an overall better sound. Every additional inch can bring benefits.
Cambridge Soundworks OontZ Angle 3XL Ultra
The Cambridge Soundworks OontZ Angle 3XL Ultra is the largest member of the OontZ series. It's not quite large enough to use as the primary speaker within a home theater, but it's close. The 3XL Ultra carefully rides the line between portability and power, and it makes excellent use of its size.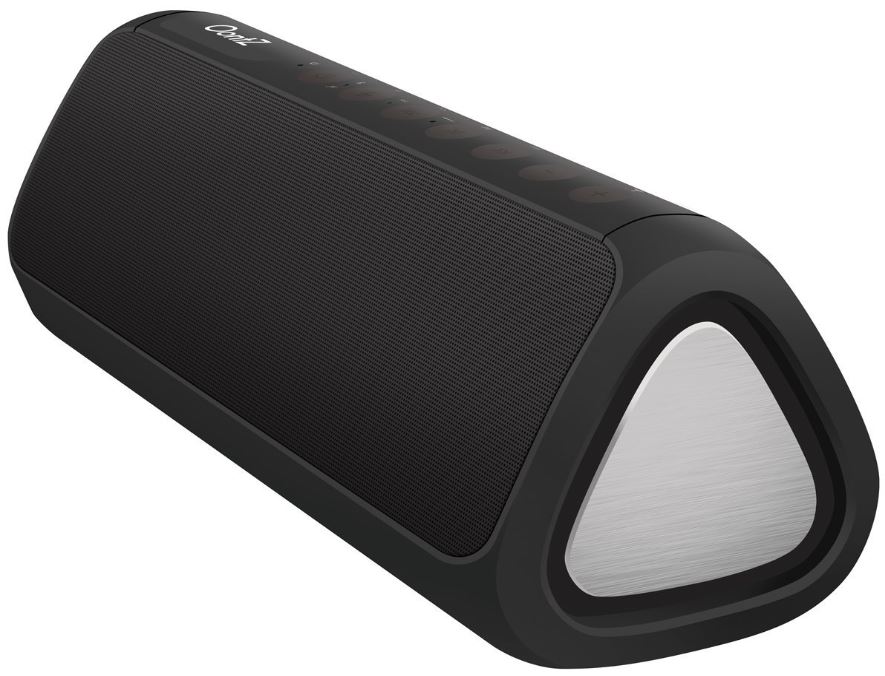 From its high wattage to its powerful wireless connectivity, almost everything about the 3XL feels like it's a premium feature. While there's many things to like, there's no such thing as a perfect speaker. Different people have different audio needs, and there are always minor gripes to be had.
Build & Design
The Angle 3XL Ultra measures roughly 11.5 x 4 x 4-inches. It uses a triangular design distinctive of the OontZ series. Each edge of the triangle is smoothly rounded. And the 3XL weighs about 2.4lbs. That's slightly heavy for a Bluetooth speaker, but it's not so heavy that you would want a carrying handle. Nevertheless, each end of the 3XL is slightly recessed, which gives you a firm grip for carrying.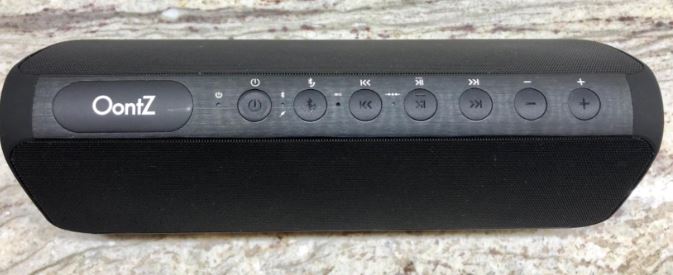 The chassis is largely composed of ABS plastic, which helps make the OontZ Angle 3XL slightly impact resistant. However, the relatively heavy weight of this speaker does not bode well for its chances of survival if it were to endure a serious drop.
Furthermore, the chassis is sealed tightly, granting IPX5 certification. That allows the 3XL to resist dirt, dust, rain, and sweat. You could even bring the Cambridge Soundworks Oontz Angle 3XL Ultra into the shower with you, or spray it down with a hose if it became muddy. But it's not going to handle submersion, so you'll want to keep it out of the pool.
Inputs and Stability
On its backside, the 3XL is built with a small hatch, which swings open against thick round hinges. Underneath the hatch, there's the DC power port, 3.5mm aux jack, USB port, and an indoor/outdoor switch. Each port is labeled in plastic lettering that's engraved on the bottom side of the hatch.
On poorly designed Bluetooth speakers, this waterproofing gate is one of the first things to potentially break. But the extra-thick design of the hinge seems particularly sturdy. On its bottom side, four rubberized feet help lift the OontZ Angle 3XL Ultra slightly off the ground. They also keep it from sliding around.
If the 3XL gets knocked over, the triangular design prevents it from going far. But again, there are a handful of ways that suffering a fall could end very badly for the OontZ Angle 3XL Ultra. You don't want to test your luck.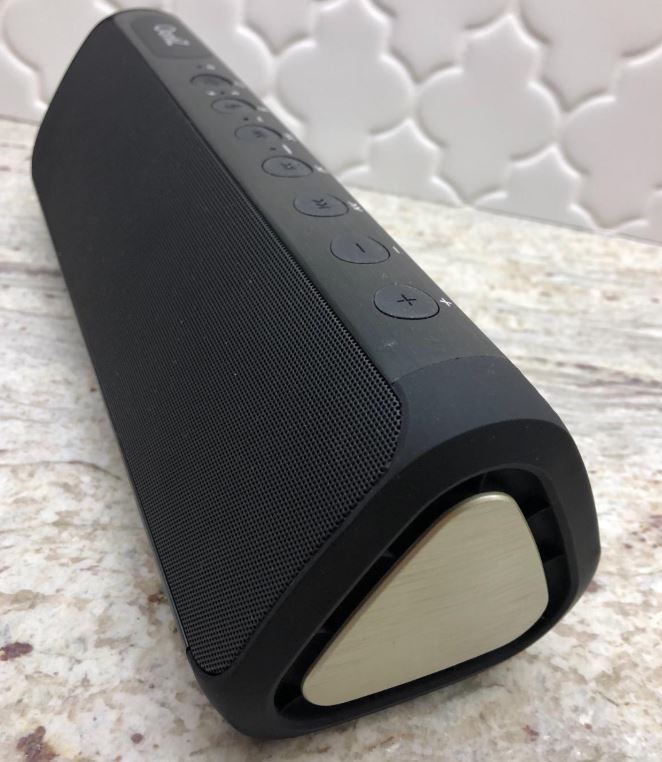 Control Buttons
Along the top of the 3XL, a tiny battery-LED will begin flashing when the OontZ Angle 3XL Ultra drops below 20% battery life. Recently, many Bluetooth speakers are being constructed without these types of battery LED indicators. Many speaker designs are shifting towards giving you these types of notifications through mobile platforms.
Next to the battery LED, there are seven easily identifiable buttons. Each button makes use of redundant labeling, with both printed icons above each button and tactile differences. Among them, you'll find a power button and a Bluetooth pairing button. You'll find a pause/play button surrounded by forward/rewind buttons, and a pair of volume buttons. It's essentially everything you need, and it's exceptionally well-ordered.
Wireless Connectivity
The Cambridge Soundworks OontZ Angle 3XL Ultra wirelessly connects using Bluetooth 4.2, allowing for a maximum connection distance of 100 feet. That makes it easy to quickly connect with your smartphone, tablet, smart-home devices, and so forth. And Bluetooth 4.2 includes many smart features, to help keep those connections working as your devices move inside and outside of the network.
Though it's worth noting that the 100ft connection distance does assume your speaker and the device it's connected to have line of sight. As you place obstacles between them, the distances you can get stable connections drastically shoot downwards.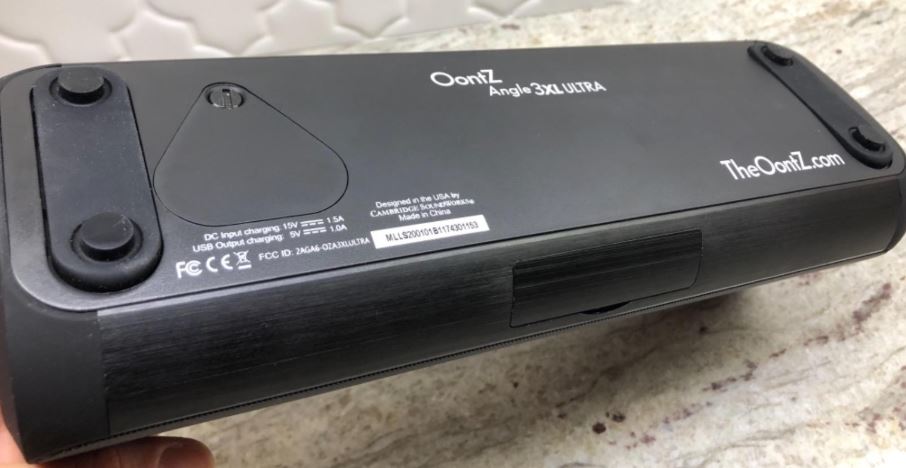 Battery Life
Though the Cambridge Soundworks OontZ Angle 3XL Ultra is actually carrying a very large battery, it's also using numerous, sizeable audio drivers. Battery life expectations depend on a huge number of factors, especially upon the quantity of volume you use.
But the Cambridge Soundworks OontZ Angle 3XL Ultra is capable of lasting through about 8-hours from one charge. That 8-hour estimate can shrink towards 6-hours in inhospitable conditions. But it's certainly still enough for most outings. It takes about 4-hours to recharge the battery from an empty state. The topside battery LED will flash red while it's charging, and become a solid light when it's done.
Additionally, unlike most portable Bluetooth equipment, you can play music while the 3XL Ultra is charging.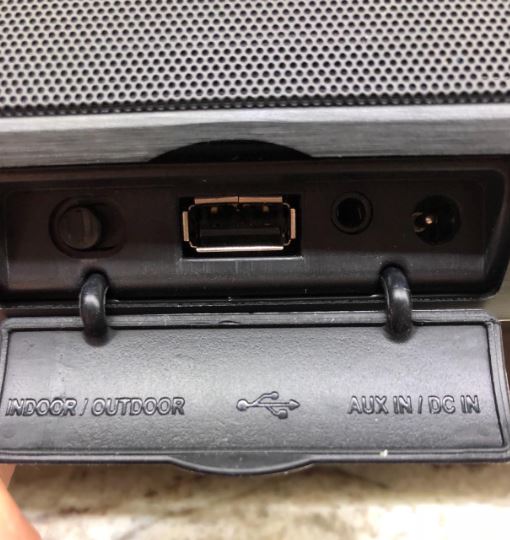 Microphone Quality
Unfortunately, the microphones used within the entire OontZ series are nothing to write home about. They're not particularly worthy of scorn, they just happen to be terrifically average. Because this microphone takes advantage of Bluetooth 4.2, there's a fairly high floor on the call clarity you end up with.
The microphone has a number of common call-based features. Music will automatically pause and resume when you receive, initiate, or end a call. You can even connect the speaker to interact with voice assistants, though native support for those kind of features is thin.
Sound Quality
Internally, the OontZ Angle 3XL uses a pair of 2.75" stereo drivers manage both midrange and bass tones. They're considerably larger than the drivers you typically find inside portable Bluetooth equipment, which often peaks closer to the 2" mark. And as any quality Bluetooth speaker ought to be, the Angle 3XL Ultra is constructed with its own digital audio processor.
In addition to its stereo drivers, the Cambridge Soundworks Oontz Angle 3XL Ultra uses a pair of tweeters to handle the treble range. Independent tweeters are an essential component to creating higher degrees of greater clarity within the treble range. And they perform quite admirably, largely because great tweeters don't require much power to create.
Rounding things out, the 3XL is built with three bass radiators, giving bass performance a minor bump. While you need an independent subwoofer for truly deep bass, subwoofers are power-hogs. They're also better off housed in their own chassis, allowing for a design focused entirely on bass reverberation. Nevertheless, having three bass radiators helps the 3XL produce fairly impressive bass. At least relative to a device without a subwoofer.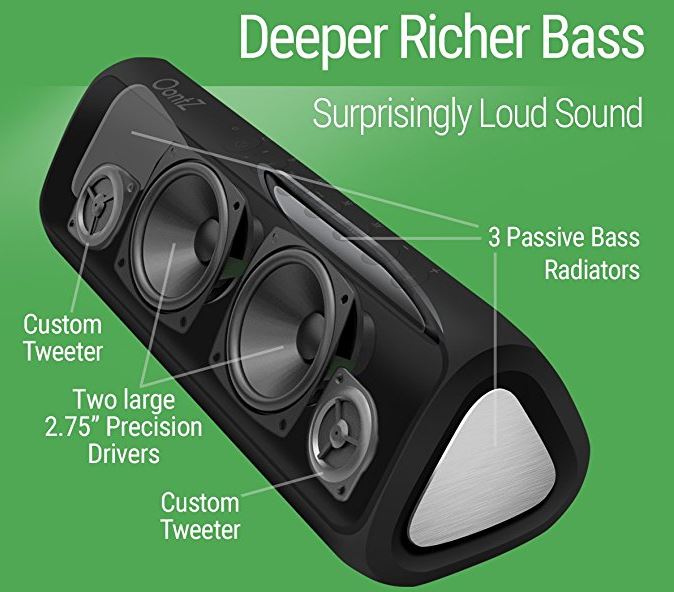 Volume and Sound Modes
All of these drivers combine to a total of 24 watts, also allowing for reasonably high levels of volume. That makes the OontZ Angle 3XL Ultra quite ideal for filling a larger room, a playing in backyard area. It also helps ensure you can raise volume levels without hitting a huge wall of audio distortion in the process.
Next to its port connections, the Cambridge Soundworks OontZ 3XL Ultra has a small indoor/outdoor switch. It makes some significant changes to the sound profile of the 3XL.
While you're using the outdoor mode, sound is projected further outward. The bass radiators are largely unused during this time. While you're using the indoor mode, the 3XL is less concerned with pushing sound great distances, allowing it to focus more on bass tones.
Multi-Speaker Options
Many portable Bluetooth speakers allow you to connect two separate speakers together, and have them play in sync. The OontZ Angle 3XL Ultra is also capable of this type of special pairing. And with their respectable connection distance, you can have two speakers paired together as far as 100-feet apart.
Once they're connected, one can be used as left channel and one can be used as right channel, giving you far greater stereo separation than you can get from one speaker unit alone. And Bluetooth 4.2 helps them remember to automatically pair with each other.
However, you can't connect OontZ of different types. For example, you can pair two 3XL Ultra, but you cannot pair the 3XL Ultra with the OontZ Solo. You need to pair the 3XL Ultra with another 3XL Ultra.
Other Considerations
In the time since it was first released, the Cambridge Soundworks Oontz Angle 3XL has been improved. One of the first things you should do is update the speaker online. The process is fairly simple, and detailed installation instructions are included. But you'll really want to download the update as soon as possible.
Once you've updated the 3XL's firmware, a number of things immediately improve. You get improved playback performance from its 3.5mm connection, improved equalizer abilities for the bass output, and overall better volume stability. The update also fixes a problem with audio playback delay that can occur while watching videos.
The 3XL includes a dual voltage power adapter and a 3.5mm audio cable. The included audio cable is about 5-feet long, and using it can easily add another few hours to your battery life.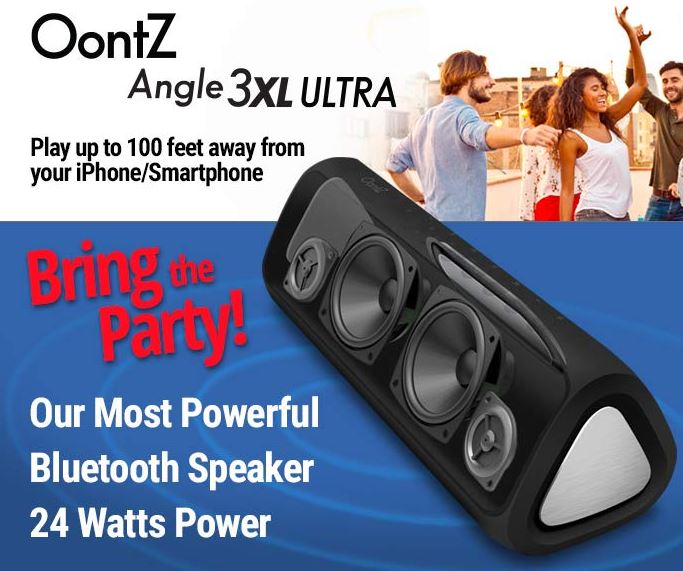 Who Should Choose Cambridge Soundworks Oontz Angle 3XL Ultra?
When you're selecting a Bluetooth speaker, you generally want to choose one that's about as large as you're willing to carry. Bigger speakers like the Angle 3XL Ultra are simply capable of doing more. For evidence, look no further than its three bass radiators, independent tweeters, high-wattage design, and so forth.
The trade-off is simple. The 3XL isn't nearly as portable as other speakers. Though its triangular design makes it easy to hold in one hand, and its weight is no more than four smartphones stacked together. If that's portable enough for you, then the Cambridge OontZ Angle 3XL Ultra is probably an excellent choice. It focused on sound quality above all else, and it easily delivers the sound most people want from these types of speakers.