It's actually amazing what's happened to projectors over the past few years. Today you can find a $200 projector with features that might've cost closer to $2,000 not long ago. Projection technology is still growing by leaps and bounds.
Small visual issues are being worked out, and the setup process is being made easier. Even the bulbs last far longer than they used to. And as the bar has been gradually raised on almost every aspect of a projector's design, it's been getting easier to find great equipment.
Optoma S343 (SVGA, XGA, & WXGA) DLP Projector
The Optoma S343 Series makes things even easier. It has three variants, SVGA, XGA, and WXGA. Each variant is different with respect to its resolution capacities. Though this is oversimplifying things a bit, the most basic of the three is SVGA, while the most advanced is WXGA. Beyond that, each type of Optoma S343 DLP Projector shares essentially the same features and design.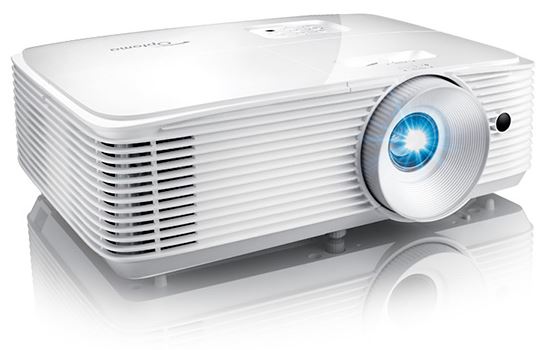 Combined, these features create a projector that's essentially plug and play. The setup process couldn't be easier. Even for people who don't know many things about setting up projectors, getting a great image should only take two or three minutes.
Build & Design
Weighing just short of seven pounds, the Optoma S343 is fairly heavy. Measuring 12.4 x 3.9 x 9.6-inches, that weight is compacted into a rather lengthy frame. For the sake of comparison, the Optoma S343 weighs about the same as a gallon of water. Though its weight doesn't detract terribly from its portability, it's something to keep in mind if you're considering a ceiling mount.

The exterior is constructed with a simple-looking white chassis, which actually feels rather sturdy in your hands. Many projectors feel like you could crush them with your bare hands, making the S343 a nice change of pace with respect to sturdiness.
Like similar projectors within this price range, topside controls allow for manual focus and zoom. The topside also hosts a nine button keypad that's placed next to three status LEDs. The LEDs can give you appraisals about potential heat issues, the longevity of the bulb, and so forth. You can generally ignore them.
Control Buttons and Ports
Unfortunately, the control buttons do not make use of intuitive labeling. You may need to crack open the user guide to help get your bearings. Fortunately, many of the basics are still very simple. For example, turning to its backside, you'll find each connection port is easily identifiable.

Strong labeling across each port ensures there's no need to guess which audio port is made for input, and which is made for output. Among the included connections, you'll find HDMI 1.4, VGA-in, VGA-out, composite, audio-in, audio-out, USB-A (5V/1amp), and RS232. There's a single port of each type. Most people should be able to pick out the right port by sight, and to make things simpler, the VGA in/out ports use color labeling.
Optoma S343 SVGA vs WXGA vs XGA
People understand common terms like 720p and 1080p HD. But when you turn towards the resolutions used by projectors, things are slightly different. After all, projectors create images very differently from a television. Fortunately, the differences are actually pretty simple to wrap your head around.
SVGA projectors have a native resolution of 800 x 600. Compared to what many televisions can do, that's fairly low, but it's approximately the same as DVD quality. That makes the Optoma S343 SVGA DLP Projector a good choice for presenting charts, data, video clips, and other types of casual use. It wouldn't be a terrible choice for a home theatre, but it would be underwhelming.
XGA projectors offer high definition content at 1024 x 768 resolution, which is roughly the same as 720p. And the WXGA variant is a 1280 x 800 resolution using a 16:10 aspect ratio. In other words, it's the widescreen version of XGA because it offers about one fifth more horizontal resolution.
Those these are the native resolutions for each Optoma S343, they're not the only supported resolution. The S343 is capable of supporting UXGA, WXGA, SXGA+, SXGA, XGA, SVGA, VGA, and VESA. Though you can technically expand these projectors out to UXGA 1600 x 1200, it's more important to focus on their native resolution.
Video Quality
The Optoma S343 is capable of adjusting its screen size between 27.7" and 304.4", with a throw ratio between 1.92 and 2.15. From that alone, you can glean almost everything you need to know about the adaptability of the S343. You can discover more clues in each detail of the S343, like its ridiculously deep keystone correction capabilities, which can be moved ± 40°.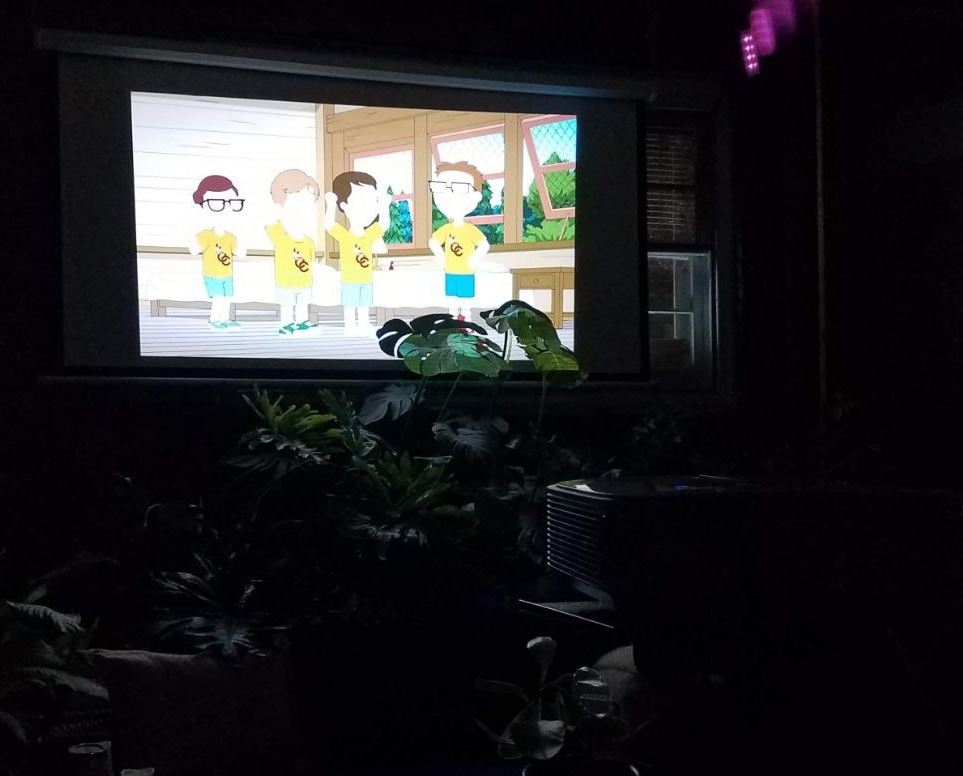 If you wanted to boil down the strength of a projector into a single measurement, the best measurement to choose would probably be brightness. The Optoma S343 delivers 3,600 lumens, making it nearly twice as bright as many comparable projectors. Greater levels of brightness may allow for higher contrast, and more play options while inside rooms with sub-par lighting. In other words, an overall better viewing experience.
Projectors and gaming don't often get along. Problems with responsiveness and lower refresh rates are endemic to the design of most projector technology. But even those relationships are changing with time. The Optoma S343 supports a vertical scan rate of 50-85Hz, and a horizontal scan rate between 15 and 91 KHz. It's enough to support 3D content projection, and enough to make many gamers happy.
The underlying display technology is Texas Instruments 0.55" DMD, offering a total of 1.07 billion displayable colors. That vastly exceeds the basic color gamut of standard monitors and televisions. Combined with its bright output, the S343 can deliver a cinematic quality contrast ratio of 22,000:1.
Sound Quality
It's actually quite rare for projectors to have speakers that are worth using. The Optoma S343 makes use of an onboard 10-watt speaker system. For the sake of comparison, that's about three times the wattage of speakers on a monitor. It's also about the same as ten smartphone speakers. For a reasonably large room, or even sitting on a patio around an outdoor viewing area, you'll find more than enough volume delivered by the S343.
With almost any television or projector, you should seriously consider adding aftermarket speakers. And with some projectors, you should make that consideration more urgently. Though these speakers are unlikely to impress, they're also among the best you'll find on a projector. Most people will have no issue without the need for supplementary speakers.
Remote Control
The quality of the remote is slightly more of a concern for someone who intends to use a ceiling mount installation for the Optoma S343, or otherwise place their projector in a hard-to-reach space. After all, you don't want to have to grab a step-ladder every time you want to change the volume.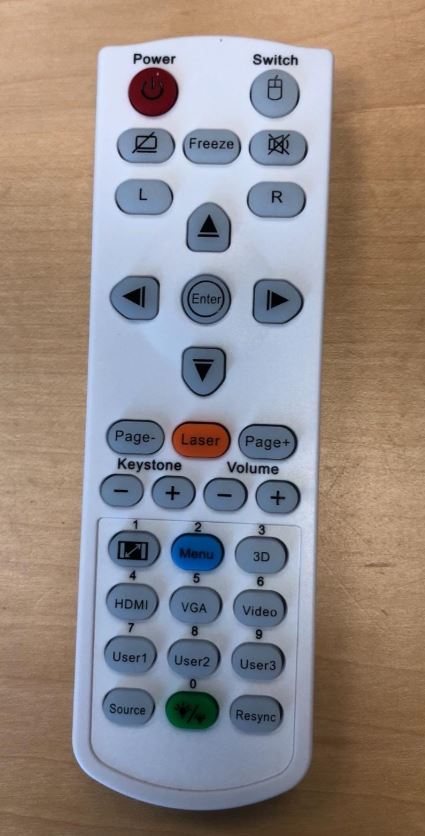 The included remote has nearly three dozen buttons scattered across its face. Its topside hosts the most significant and useful of them. That includes many of the buttons to adjust the size and location of the screen, and the ability to mute the audio or video. Menu navigation makes use of simple directional arrows. And below that, you have the ability to change video sources.
It's strange to see the keystone adjustment and volume buttons not only side-by-side, but also using buttons of the exact same size. This remote is unlikely to win any awards for brilliant design innovations, but it does provide the essential control you need to operate the Optoma S343 DLP Projector without having to touch the analog keypad on the projector itself.
Longevity and Power Consumption
With great brightness comes great power consumption. The Optoma S343 makes use of 230W while using its brightest settings, or about 190W using eco settings. And the longevity of the included lamp heavily depends on which brightness setting you select.
There are four modes of operation to select between: dynamic mode, eco mode, eco+ mode, and bright mode. Eco+ can promise the lamp will survive up to 15,000 hours. Running the brightest mode constantly will drop the expected lifespan of the lamp closer to 6,000 hours. That works out to about one movie every day, for ten years.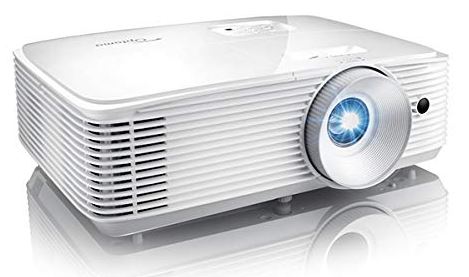 Other Considerations
For heavy projectors like the Optoma S343, it's often easiest to choose among the most pedestrian mounting and storage options. But the S343 does happen to be ceiling-mount compatible if you wish to go that route.
While you're playing a movie, the S343 will reach noise levels of about 27dB. That's considered quite faint, but with healthy hearing it's going to be audible in an otherwise quiet room. For security options, the S343 includes a Kensington lock mechanism, security bar, password protection, and optional keypad lock accessories.
The Optoma S343 includes an AC power cable, remote control, remote batteries, quick start guide, carrying case, and CD user manual. The quick start guide explains everything you need to know to get started, but for someone who needs pictures and step-by-step visual instructions, the setup CD is actually quite useful. The Optoma S343 also includes a 3-year warranty, and a one-year warranty for its lamp.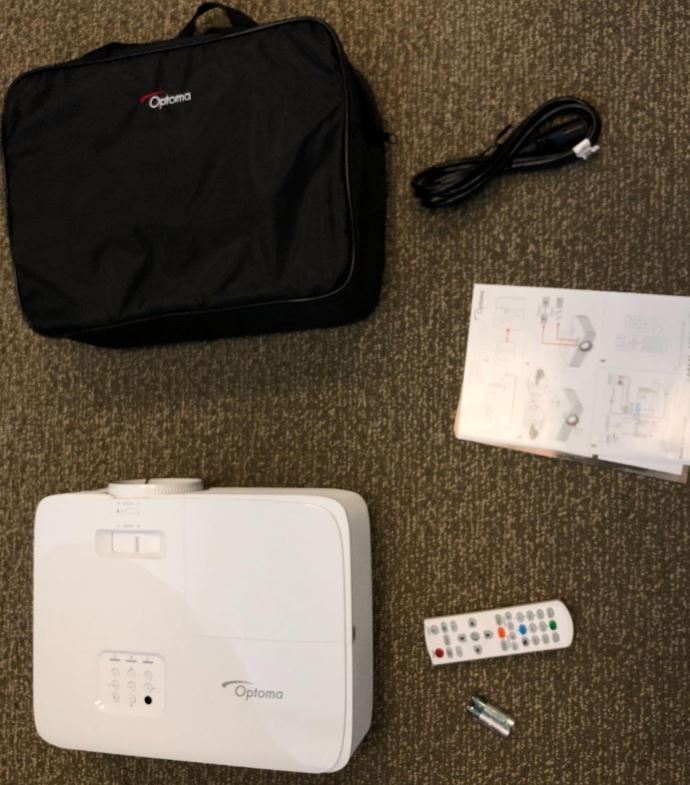 Who Should Choose Optoma S343 DLP Projector?
If you're selecting a projector that costs less than $10,000, then you're going to be making compromises. The Optoma S343 DLP Projector does not have auto-focus features. Its mostly silent 27dB operation shouldn't be a deal breaker, but it's another thing that might be improved upon.
But it does provide a great deal. It achieves ease of use equivalent to plug-and-play. From the time you take it out of its box, you can be playing a movie within minutes. It provides excellent brightness, and a widely adaptable throw ratio. It's got a wide range of connection options, and some of the best speakers you'll find within a projector.
With three native resolutions to select between, the Optoma S343 DLP Projector is widely adaptable to different types of need. For gamers, fans of 3D content, and people who don't want to add additional speakers to their setup, the S343 might be a great choice.
Meet Derek, "TechGuru," a 34-year-old technology enthusiast with a deep passion for tech innovations. With extensive experience, he specializes in gaming hardware and software, and has expertise in gadgets, custom PCs, and audio.
Besides writing about tech and reviewing new products, Derek enjoys traveling, hiking, and photography. Committed to keeping up with the latest industry trends, he aims to guide readers in making informed tech decisions.