One problem with security cameras is that if you want to use several, you can easily end up locked inside one product ecosystem. Suddenly, your choices are narrowed down. You end up spending more money for less, having to struggle to replace cameras, or to add new ones. But those kinds of problems aren't something you necessarily have to live with.
Camect World's Smartest, Most Private Camera Hub
Camect is supposed to be a smart security management system. It's supposed to be private, and it's supposed to be easy to use. Routing all your camera feeds through one central hub, Camect is actually doing a fairly simple job, similar to some kind of adapter. A large part of what it's doing is creating adaptability, so you can avoid getting locked into a single product ecosystem.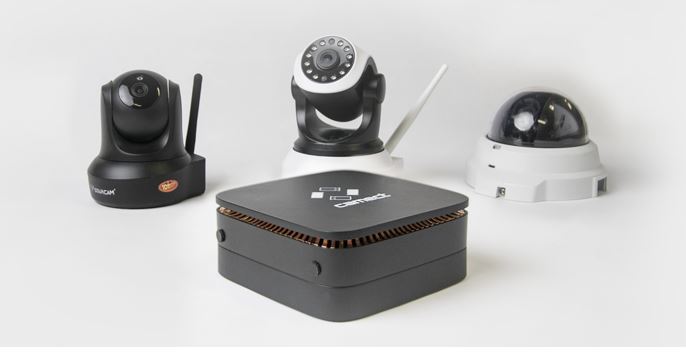 Furthermore, Camect allows you to create an aggregate video feed from any set of security cameras within your home network, without regard for the brand of the camera. As such, the Camect is designed to work alongside most IP cameras. Naturally, there are always going to be a couple of exceptions, and we'll look more closely at those in a moment. But unless you've got some exceptionally high-resolution equipment, you probably aren't going to encounter an issue.
Because everything gets routed through one hub, Camect is designed to allow for secure access from anywhere you happen to be. If you're off-site, the AI-supported smart alerts are capable of reducing the number of false positives you get out of your system.
Design & Layout
The hub itself is incredibly small, measuring only 2 x 5 x 5. Though that 2" height falls to 1.25" when you remove the HDD storage compartment. So if you're looking to keep things compact, Camect can keep up with your needs. That storage compartment may end up being essential depending on how many cameras you end up connecting, but we'll look at that more in a minute.
Another thing to keep in mind is that power consumption peaks at 15 watts when you don't have an external drive. When you add external drives, that power consumption can creep upwards slightly, depending on the drive. But from the starting point, this thing is clearly designed to run on low power, which makes it work quite nicely for cameras that are using remote power supplies.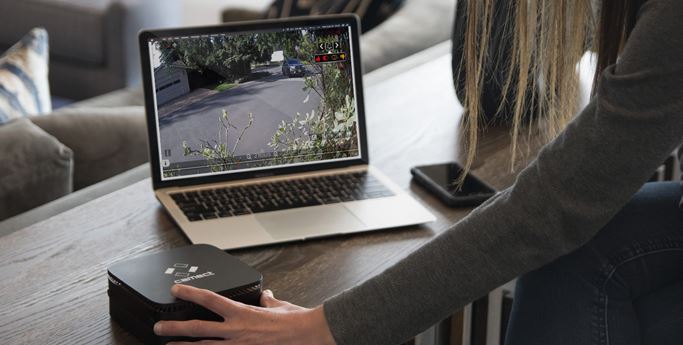 Hub Capacity
There are a couple of limits to this system. The maximum camera handling capacity peaks at 24 megapixels. So if you have 1080p cameras, that means you can support about a dozen cameras. That also works out to support about three 4K cameras. Though capacity can be different if a camera is viewing a "busy" scene, a place where there is a lot of visual interest for the camera to look at.
Cameras have an easier time looking at blank scenes because there's less data being processed, similar to how a simple image ends up taking less space than an image that's rich with colors. You can experience essentially the same thing in a video-game. If you stare at a blank wall without anything moving, the graphic processing unit is going to have an easier time rendering those images than if you're looking at fast motion. Though it can be tough to make these kinds of complexity-judgements in advance, you really don't have to worry too much about it in most circumstances.
Additional Features
The Camect technology is designed around some AI algorithms to help improve the alerts based on your feedback. So if a false alert occurs, you can use that as a data point to make the probability of future false alerts occurring even less likely. In a way, you could say that this helps the camera to learn.
Camect records, identifies motion, and uses its own analysis to figure out what is moving. From there, it can determine if the motion needs to be brought to your attention. So if a person is detected, you might want to know about that. But how about a squirrel? You might not care. Then again, you might. Perhaps the only alerts you want to receive are for squirrels. Interestingly enough, that's possible with Camect.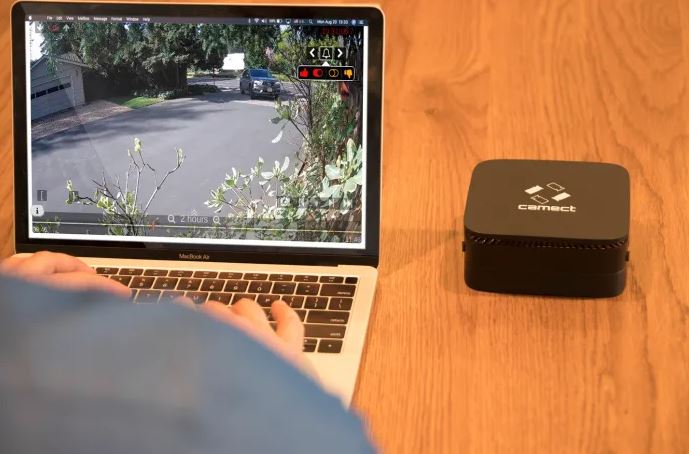 It can also look for some kinds of specific individuals. For example, it can tell the difference between someone who works for UPS, USPS, DHL, FedEx, and so forth. That way, it can alert you "FedEx driver detected." Not looking for people in particular? The AI can be configured to only detect you based on the cars that move by your driveway. That way, you can get an alert when the delivery truck goes by your place.
Camect can detect about twenty in things in total. That includes people, bikes, motorcycles, cars, trucks, busses, various kinds of delivery truck, raccoons, skunks, cats, dogs, birds, rabbits, bears, and flies. If it spots an animal that it can't recognize, like a horse, then it will read "unknown animal." The same is true for vehicles. So if someone shows up in front of your place with a tour bus, you might start getting the "unknown vehicle" alert.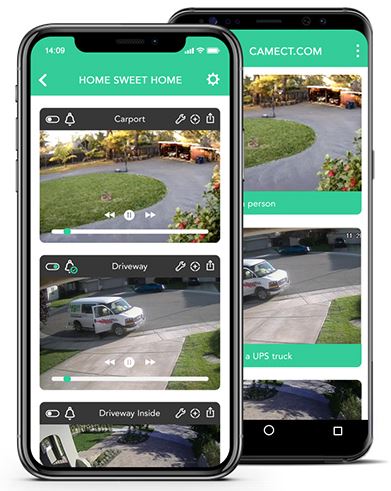 Storage
For storage, there's a pair of USB 3.0 external drives that can be plugged in to extend the external storage. That allows for a maximum of 1TB. The 1TB of expandable storage allows you to start recording content for days upon days, weeks upon weeks, without having to worry about whether or not you'll have space.
Plus, optional cloud backup means this system doesn't keep you locked into the hardware constraints of last generations smart cameras. If you want to go to the cloud, you can head the way. And if you don't like the idea of sending your data online, then you can run entirely on the local memory storage options.
Camect supports 30-days of continuous recording on two cameras for free. If you move up towards their paid subscription service, you'll be able to support five cameras for 30-days of continuous recording. That ends up being around $60 annually, which isn't bad compared to a lot of other services. Some of which charge that much in half of a year.
The Camect is integrated with Dropbox, Alexa, YouTube, and Google Drive. So if you want content to be automatically supported in your Google Drive box, then you can make that happen with very little effort. Whether internet privacy is a grave concern or not, it's nice to have options.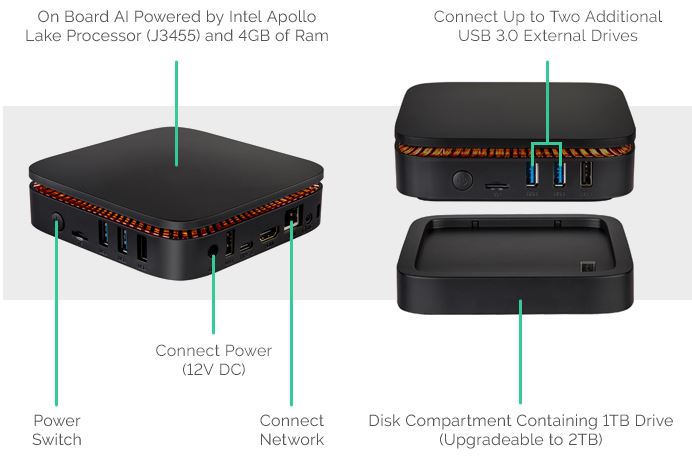 Installation & User App
Setting things up is pretty simple. You connect the Camect into your wireless network, and then the cameras that you use should instantly be identified. Though you may need to do manual identification depending on the kind of camera you have. And doing that really doesn't involve more than a couple additional steps.
The app is pretty impressive. It does a couple of things. For starters, it lets you monitor all your cameras. So if you've got four cameras, you can move between the four feeds from one place. Beyond that, it allows you to monitor both single view and multi-view cameras from the same screen. You can review and rate alerts you receive, so the AI can become better at doing what it's supposed to do.
It's also possible to share or make video clips to be shared. Though the video editing is a little primitive, it's enough to cut and send the clips where you need them to be. For instance, getting them up on YouTube takes about two seconds to do.
And natural, the app lets you configure your preferences. For instance, do you want the motion sensors to be hyper vigilant? The settings window is where you can figure that out. It's also where you can tilt, zoom, pan, or otherwise move the cameras you're using. There's also a quick time lapse review for any period of time that you specify.
Want to see what's happened in the last 6-hours in a particular room? You don't have to sit through six hours of footage to find out, or even pan around through the footage manually. The time-lapsed version of events can clue you in to what took place without a whole bunch of manual review. It's very handy in a lot of circumstances.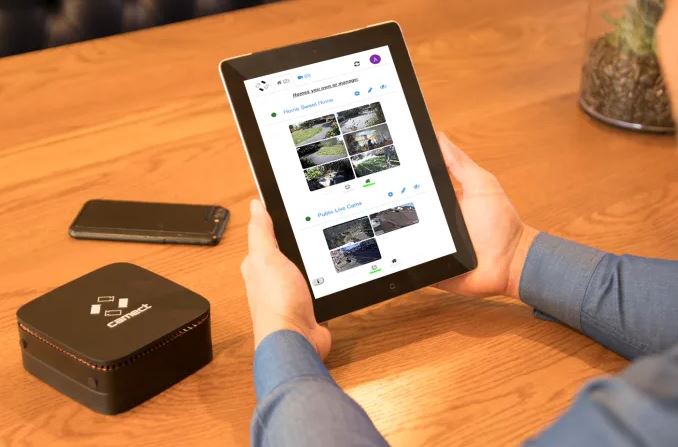 Other Considerations
The minimum FPS required for a smart alert to operate is 5 frames per second. Though technically you can toggle the camera a bit lower than that if you want. But if you decide to run it at 1fps, the camera isn't going to be getting enough data to determine if things are moving or not.
You can use basically any kind of camera. Cametc is compatible with any Onvif-compatible camera. That might include brands like Dahua, Foscam, Amcrast, Reolink, Trivision, and so forth. So you're covered for doorbell cameras, RTSP, outdoor cameras, indoor cameras, nanny cams, Wi-Fi cameras, PoE cameras, night vision cameras, and so forth. No matter the feature set of variety, you can pretty much expect it should work.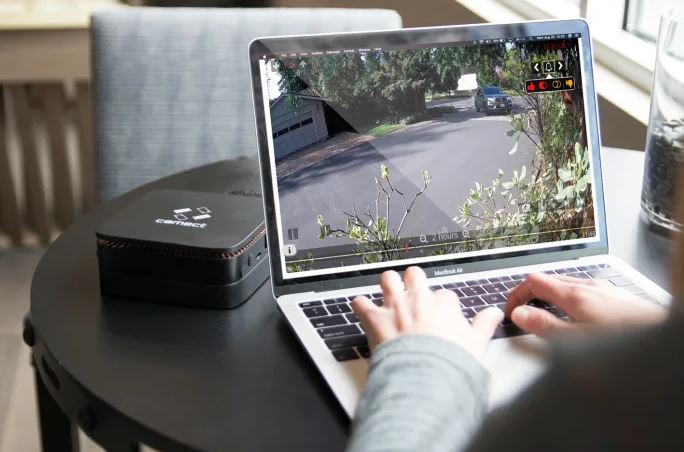 Who Should Choose the Camect World's Smartest, Most Private Camera Hub?
The Camect has a clear purpose for a niche kind of user. Are you someone who's managing several cameras? Camect is going to have some appeal. Are you someone who's monitoring several cameras of different types, or perhaps you want to add another camera to your kit but you don't want it to be the same brand you're already using? Well, the Camect can make all that much simpler.
This system does have a couple of limitations. You can only run about a dozen 1080p cameras on it, and two dozen 720p cameras. And you can only pull about three 4K displays through it. So it's not like you can run an entire shopping mall through this hub. But provided that you're not trying to monitor an enormous 50,000 square foot building, this should really provide more than enough options for the average person. Just as long as you're not looking at industrial/commercial applications.