When you run a home office, choosing the right printer can be a challenge. You want something that can handle your workload, capable of churning out page after page of document without fail. There's also the need for the printer to be compatible with every computer in your office, and you don't want friends and staff to struggle getting it running. Additionally, you want it to be rock solid, as any downtime can have a negative impact on your productivity. You want it to create professional grade prints, with crisp, easy to read text. But most importantly, you want it to be affordable.
With most technology, a higher price means higher specifications. When something is too cheap to be true, you know that you're going to be making compromises. In some ways, this is true with printers. We've all had experiences with a printer that was cheap to buy, but expensive to run.
This experience means that many manufacturers have responded with printers that cost top dollar. The idea is that if you spend more up front, you'll save money on prints in the long run. But this isn't always the case.
The one exception to the rule is the monochrome laser printer market. This is a mature technology, and the hardware is very well developed. If you don't need color, you often get the best of both worlds: low purchase price, and low operating costs.
On paper, the Canon imageCLASS D570 looks to be a printer that can keep up with the best of them. But how does it perform in the real world? And who is this printer designed for? We decided to go hands on to find out.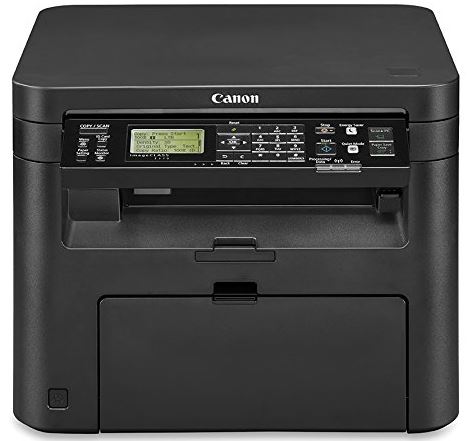 First Look
The D570 has all the markings of a high end office printer. It's got a clean, boxy design, and a control panel that screams full of features. Aside from printing documents, it can scan and copy as well. You can use WiFi, cloud printing services, networking, and good 'ol USB to give virtually any device access to the 250 sheet paper tray, so the specifications do check all our boxes for a mid range office printer. But our main areas of concern are in the cost, and ease of use of this hardware.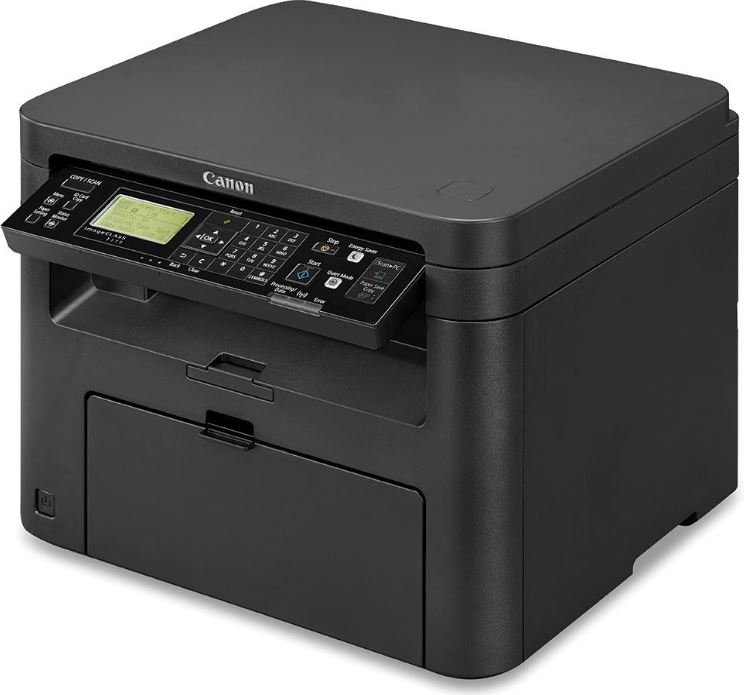 Connectivity
In an ideal world, we'd never have to spend any time getting our printers set up. Historically speaking, this has been avoided by using a print server. You go through a complex set up process on a single computer, then network it to all the others. All print jobs are routed through your print server, so you only have to set it up once. From there, it's plug and play.
If your office is already set up with a print server, then you can simply drop this printer into it's place. It has an Ethernet port, so you just have to connect it to your network and configure the IP to match your old printer.
However, this process is a little outdated. And Canon has plenty of great communication options that make setup a breeze. You can use WiFi direct. Just connect to the wireless network that the printer broadcasts, and print directly from there. It can also be connected to existing Apple AirPrint, Google Cloud Print, or Mopria Print services. If you have never used a cloud print service before, Canon offers their Canon Print Business service which can be installed from the included media.
This is a pretty all-inclusive set of connectivity options, so you should have no trouble using it with any device in your office.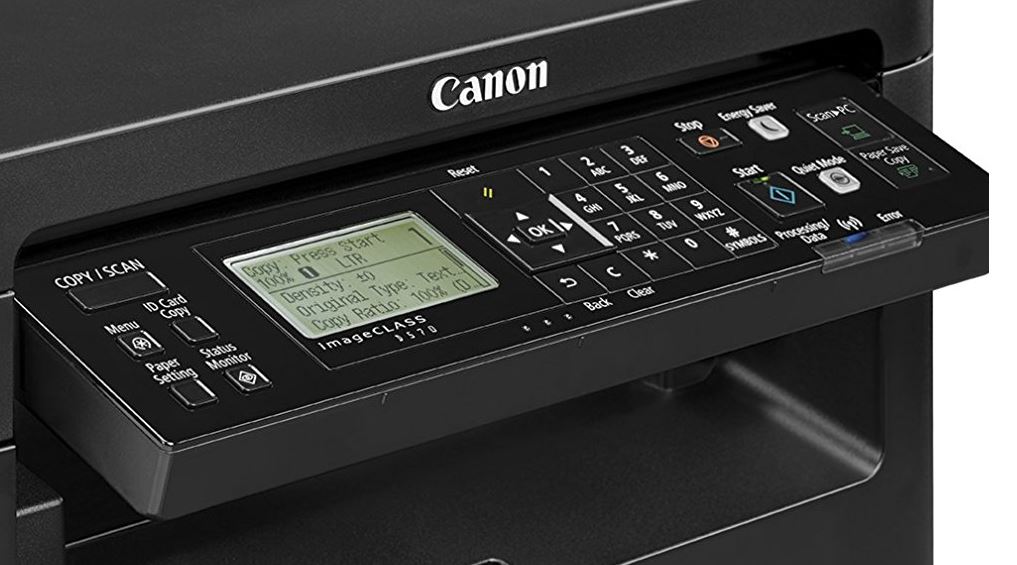 Design & Layout
Although boxy in design, the D520 is surprisingly compact. Its cubic look allows you to place it on any table top, filing cabinet, or shelf that you have available. Most of the space is taken up buy the large 250 sheet paper tray. While this does make it bigger than your standard consumer-grade printer, it saves you from having to reload the paper tray regularly.
Right about the job tray, you'll find the large control panel. This folds out, positioning it in an ergonomic and easy to use location. When not in use, simply push it back into the printer for safe keeping. On this panel you'll find a five-line text-only LCD display, which gives you quite a bit of information on the job at hand. Directly next to it is a numeric keypad and navigation pad, which allow you to move through the menu with ease. To the right of that you'll find the start and stop buttons prominently displayed, next to two buttons that turn on quiet mode and energy saver mode.
The far left side of the panel is reserved for task-type buttons. This lets you select between scanning, copying, and a few other more advanced features which we'll cover shortly.
This might seem like a simple layout, but it's actually quite intuitive. When you're setting up a print job, you move from left to right. Select the job type, punch in the settings, then start the job. Your staff will be able to pick it up and use it right away, and it couldn't be simpler.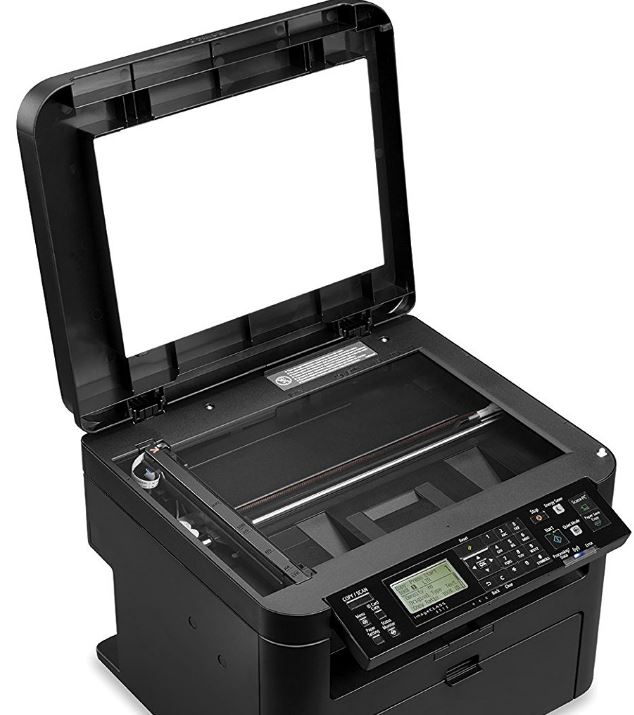 Features
Though the design may be similar to older model printers, there is nothing classic about the D570. The basic features can be divided into printing, scanning, and copying.
With printing, the main advantage is its ability to handle large jobs. It has 512 MB of built in memory. Even if a number of users send it jobs all at the same time, it will never reject any of them. It will simply store the documents internally, and work through the jobs one by one. And it's no slacker in this area, either. Your first page starts printing only six seconds once the job has been received, and it can print out 28 pages per minute. A typical book (200 manuscript pages) will take less than 8 minutes to print, from the time you click send till the time the last page hits the tray. At 600 DPI, print jobs have the typical crispness associated with laser printers.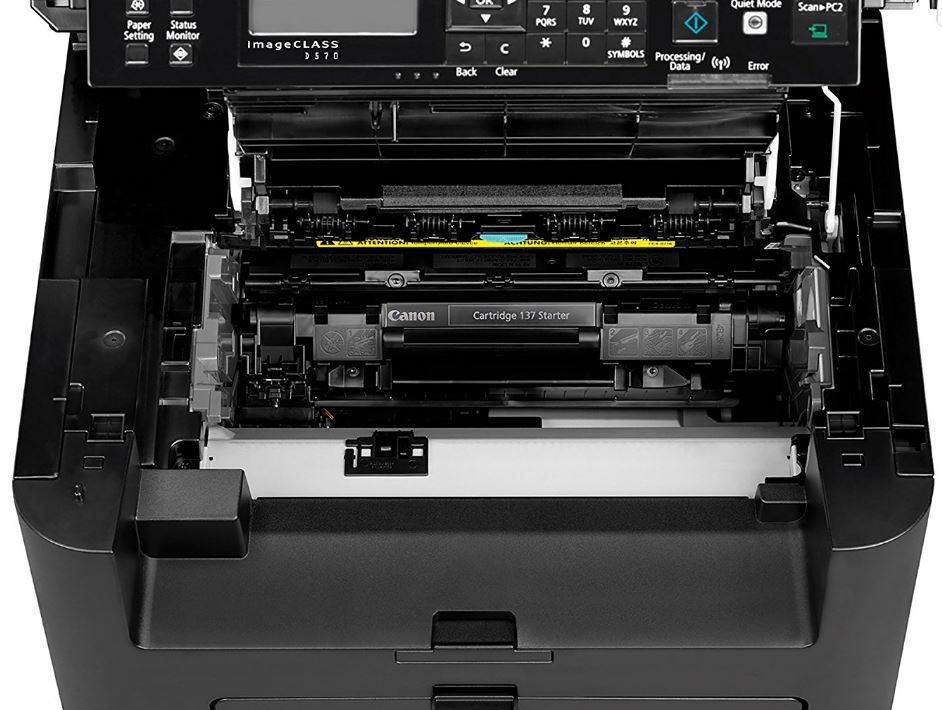 Scanning is done at the same 600 DPI as most color scanners, which is more than adequate for both documents or photos. But where this scanner really performs best is with documents. It has a special interpolated scanning mode, which achieves a 9600×9600 resolution. It does this by making multiple passes, each with different offsets. You get incredibly crisp details, and easy to read text.
This is one of the most detailed scan modes available on a comparably priced printer, and allowed Canon to introduce a special "ID card scan" button. This allows you to take something that is typically compact, and get a full-size digital copy for your records. You can scan to memory, a local USB device, or to a device over the network. It can output image formats such as PDF, JPEG, and TIFF. Alternately, it can use OCR to convert an image to searchable text, producing an editable PDF file.
Printing works much the same as scanning, although the scanner must be in 600 DPI mode, as that's what the printer is capable of. You can adjust the contrast and brightness, although we found that the default settings usually worked pretty well.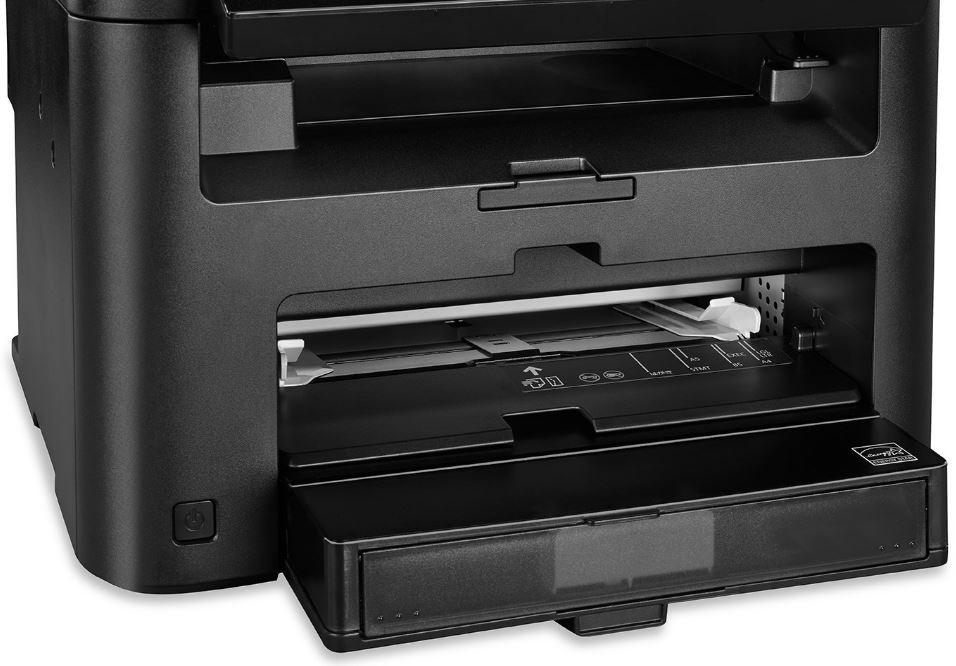 Cost
The cost of running a printer is usually one of the most important factors in your selection process, and monochrome laser printers are typically the most affordable options on the market. Although no starter cartridge is included with the printer, it's compatible with the economical 128 toner cartridge. It yields 2500 pages per cartridge, at a cost of 2.6 cents per page. Although a few high end printers have managed to shave a couple tenths of a penny off the per-page cost, it doesn't get much better that this.
Disadvantages
There is no multi-page feeder on the scanner. If you want to scan more than one page, you have to do it one single page at a time. Raising and lowering the scan bed is a time consuming process, so this printer isn't suitable for large scanning jobs.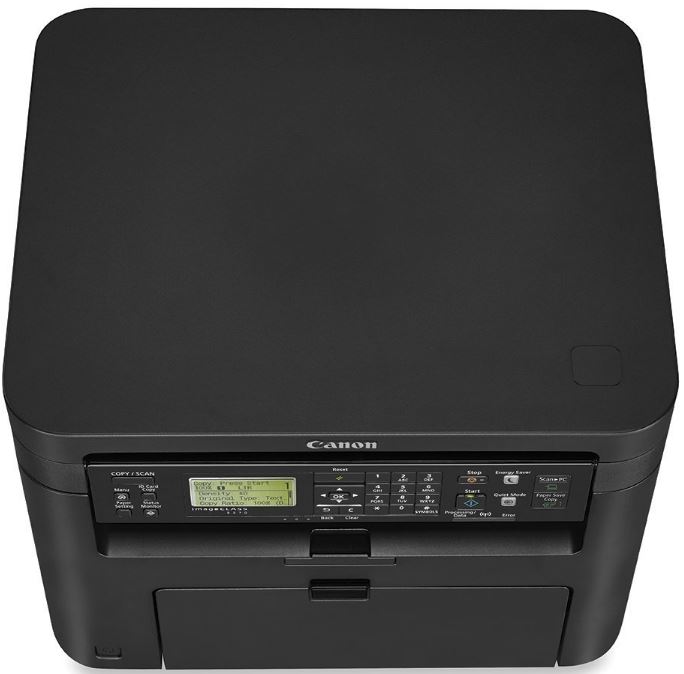 Final Verdict
From a functionality perspective, the Canon imageCLASS D570 offers everything we could ask for. The print quality is excellent, and it's capable of printing at a very high speed. It can handle large jobs, so even when you've got multiple users you're not going to choke it up. When you add on the high quality scanner that can perform both scanning and copying tasks, there is very little to complain about with this printer.
Should you buy it? Well, that all depends on your needs. When you're running a business, purchases usually boil down to the dollars and cents. The typical lifespan of a printer like this is around 3 years. This means that if you print 100 pages per month, your total cost per page (including the purchase of the printer and ink) is around 8.9 cents per page. If you were printing 10,000 pages per month, your total cost is only 2.66 cents per page. This printer does cost a little more than some models. If you're a high volume printer, the purchase price is well worth the savings you'll get in the long run. But if you only print a little, an inkjet is a better option.
We'd recommend this printer to anyone who prints between 1000 and 15,000 pages per month. Any less, and you're better off picking a more affordable option from our review of the best monochrome laser printers. If you're printing more than 15,000 pages per month, you're going to have reliability issues, and you're probably better off renting a printer from a monthly service company. But if you fall within the range we recommended, this is one of the most economical and reliable options on the market.