When technology improves, manufacturers have one of two options. They can make something better, improving performance. Or they can make it cheaper, providing the same performance at a lower price. Projection technology has come a long way in the past few years, but we're noticing a change in the market.
Today, projection technology is good enough that most consumers can afford to recreate the true theater experience in the comfort of their own home. The bulbs are bright enough, the resolution is high enough, and colors are deep enough.
If you look at most projectors on the market, you'll see that they're getting cheaper every day. 1080p projectors dominate the market, and they're much more affordable than they ever were before. But these affordable projectors have conditions, and not everyone can use them.
The two main limitations are light and space. Your room needs to be dark, or the picture will be washed out. The projector needs to be placed far enough away from your screen, or your image will be too small.
With the HDP2510, Phillips aims to fix these two problems. It's got an ultra bright bulb, so you can use it in the daytime. As an ultra-short throw projector, it can make massive screen sizes when placed only a foot or two from the screen. In this review, we'll be going hands on to find out how this projector performs in the real world. We'll see if it can do what it says, and help you decide if this is the right choice for your home theater.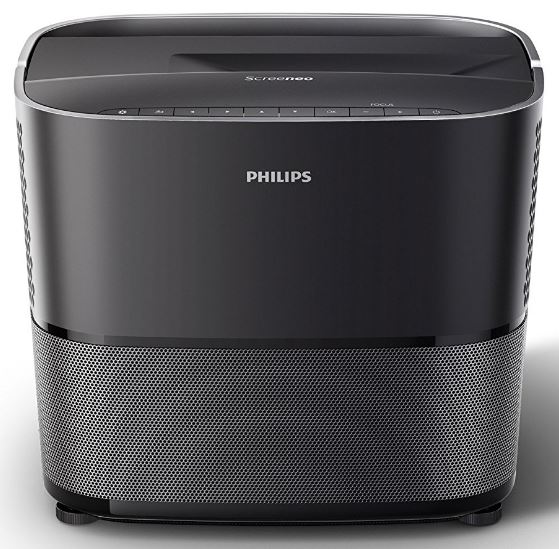 Design
When you first see the Phillips HDP2510 Screeneo 2.0, you'll notice that this looks unlike any other projector on the market. If we had to guess, it would appear more like a high end paper shredder than a projector. But this design has a lot to do with it's unique functionality. Inside, there are a number of chambers and mirrors that refract the light, allowing it to create a large screen from only a few inches away.
When you use it, you'll place it on a TV stand or coffee table. Light comes out the top, and projects diagonally onto the wall above it.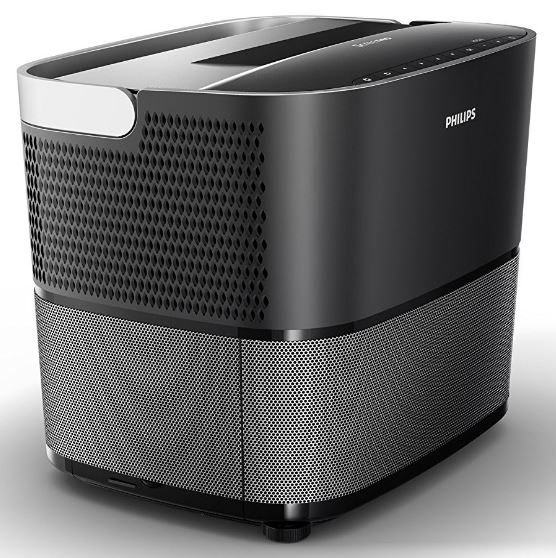 With this in mind, it's going to be front and center of your living room. So it's a good thing that it looks so good. The lower housing is enshrouded with a steel billet grille, which provides both airflow for cooling and allows the sound from the built in speakers to fill the room.
You've also got a full strip of buttons on the front, which allow you to navigate through the on screen menu. This is handy if you lose the remote, but the control layout is a little better on the remote, so we'd prefer to access the menu from the couch.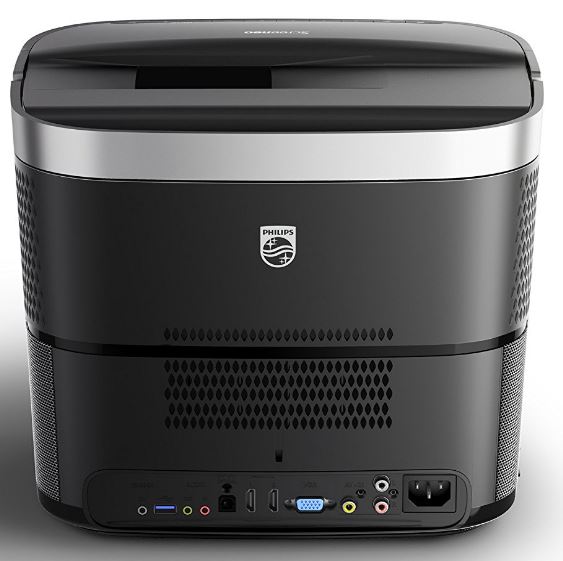 Connectivity
These days, virtually every video source uses HDMI. Many manufacturers are cutting costs by reducing video inputs to HDMI only, and this does work for many consumers. But this projector is designed for consumers who aren't satisfied with the standard. For that reason, Phillips included almost every input you could use. For video, you have both HDMI and VGA. Both of these ports have full compatibility with adapters, so you can use DVI to HDMI, or RGB to VGA. For audio, you have a number of options. You can connect S/PDIF optical inputs, and also use pass-through audio through one of the three analog 3.5mm inputs and outputs.
You also have a USB input, which can be used to connect external storage devices. This projector has a multimedia interface, so you can playback video and audio files without using an external media player.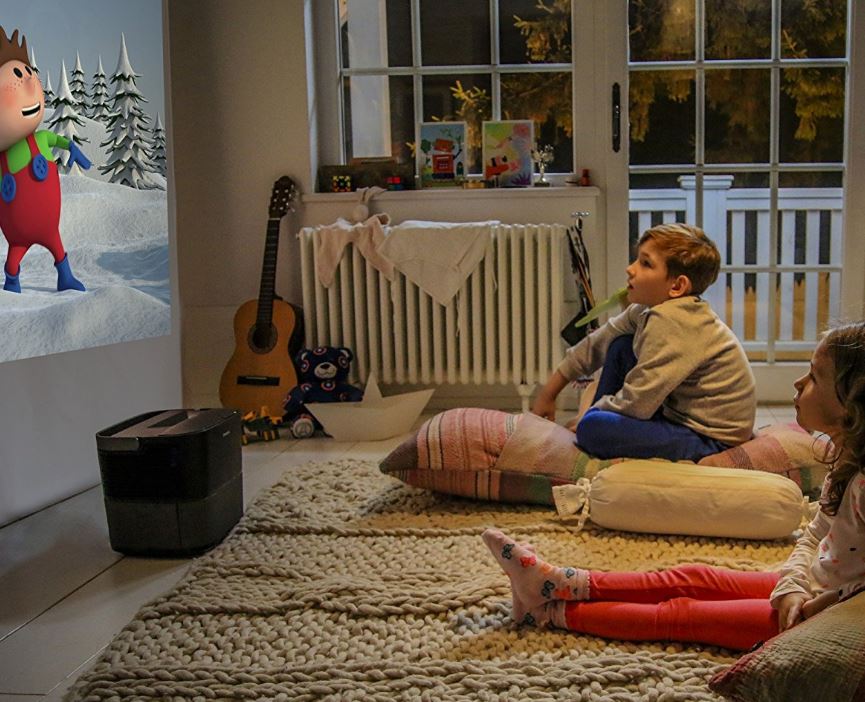 Screen Size
The main advantage of an ultra short throw projector is the fact that you can get a massive screen even in a small room. We've tested a lot of short throw projectors before, but nothing quite like this. Placed only four inches from the wall, it produces a 50-inch screen. 17 inches from the screen, you get a 120-inch screen. In our eyes, this is the perfect length. You can place it on the coffee table, and enjoy a massive screen as large as the top tier of LCD televisions.
You're not going to want to place it much more than 17 inches away from the screen. The built in zoom feature gives you a little flexibility, but currently 120 inches is the largest size screen supported. Any larger, and the image won't be focused correctly.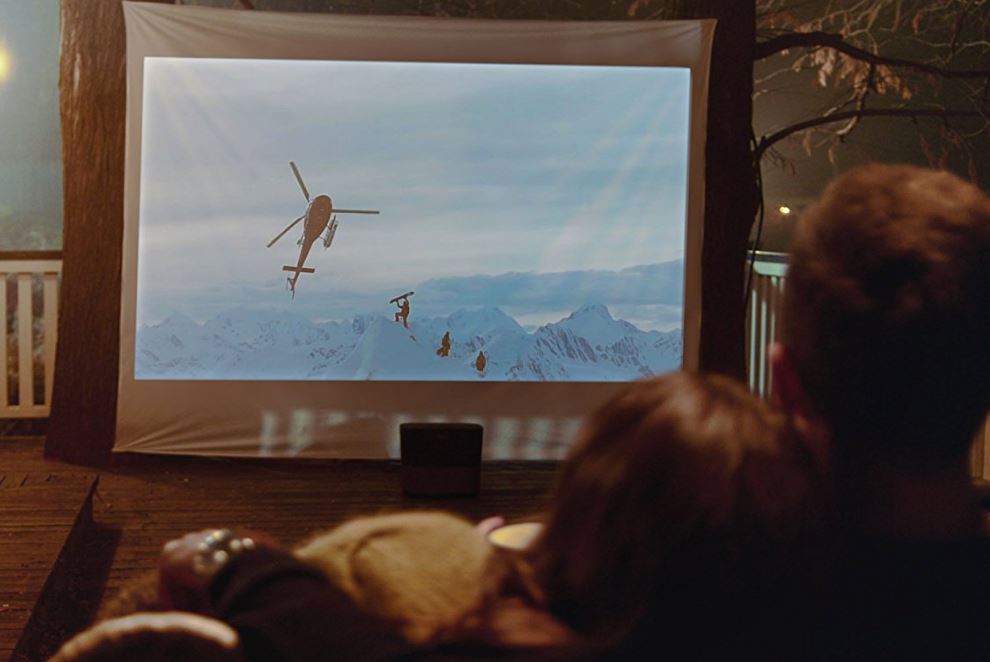 Brightness & Contrast
The lamp is one of the biggest hindrances of a modern projector. If it's too dark, the video will look poor unless your room is totally black. But if it's too bright, you'll have poor contrast and the video will be washed out in any light.
Fortunately, Phillips gives you the best of both worlds with the HDP2510. It produces 2000 color lumens. This means that any color it produces can be up to 2000 lumens. This is an improvement over projectors that produce 2000 ANSI lumens (which is 2000 lumens at the brightest light) or just plain-ol 2000 lumens, which is only measuring the light that the bulb produces and not what hits your screen.
This screen is bright enough to use even in a well lit room, so you don't have to wait for nightfall to watch TV. Even more impressively, this ultra bright bulb lasts 10,000 hours, so you can keep this projector for years to come.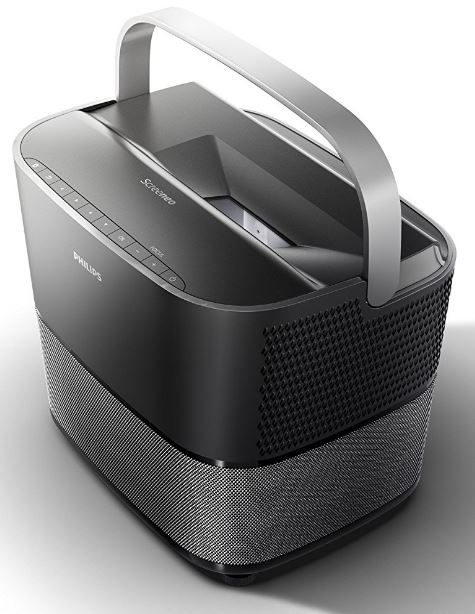 Sound
Most projectors have built in speakers, but very few are noteworthy. But this is one of the few models we've used that actually has a good set of speakers. The drivers are Phillips made, and are powered by a 26-watt amplifier. They're a little better than what you'd get with a standard television, but not quite surround sound quality. That being said, the audio is clear, full bodied, and more than listenable for both music and video.
One of the biggest assets for the sound system is the built in subwoofer. This adds some low level kick that is rarely found in this price bracket, and is aided by the larger than usual size of the projector. For the first time in our reviews, we'd be happy to recommend the built in sound system for full time viewing.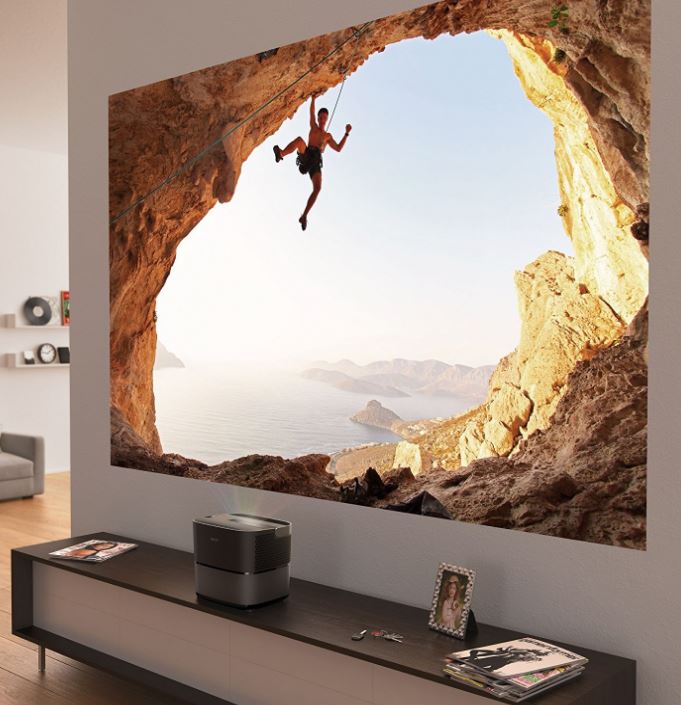 Image Quality
Phillips has included their all-new LuminAce video processor, which drastically improves the image quality. Although it's only 1080p, the image still looks incredibly crisp. This has a lot to do with the fact that it's not a DLP projector, so you don't have any layering issues between multiple color bands.
Additionally, the fact that all colors have an equal brightness drastically improves the smoothness of the image. Colors are well saturated, balanced, and cohesive. We'd rate the video quality to be on par with modern LED technology, so you're not going to be disappointed if you're upgrading from a flat panel TV.
Disadvantages
Although there are many other short throw projectors out there, this is one of the first to use this type of optical technology. If you need the short range, you're going to have to pay a little more than a standard model. For users who haven't been able to make use of competing short throw projectors, this could be a good choice. But if you are looking to save a few dollars and have more space in your room, then you do have other (cheaper!) options.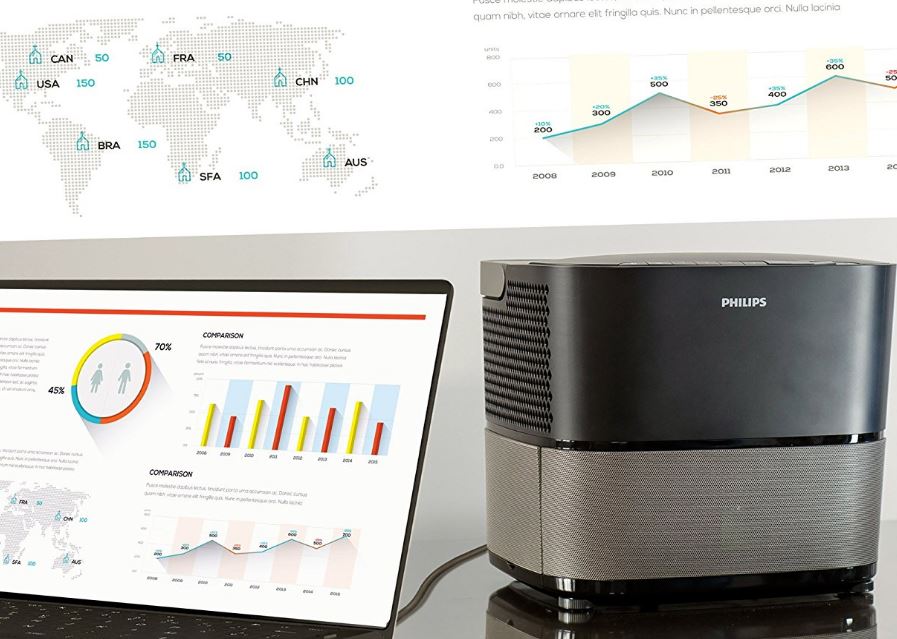 Final Verdict
The Phillips HDP2510 Screeneo 2.0 might not be a cheap projector, but it has several advantages over competing models. For starters, it has the absolute shortest throw of any projector available. Put it a foot away from the wall, and you've already got a screen larger than most flat panel televisions. Additionally, the 2.1 stereo system is one of the best ones that we've ever seen in a projector. To round it off, it's even got a built in video player that can access content directly from your external storage devices.
Is it worth the money? If you're short on space, then this is by far the best option out there. You're also getting a better image quality than most projectors on the market. But if the price is a little too steep for you, there are other options. We rounded up the best of them in our review of the best short throw projectors on the market. If the Phillips HDP2510 doesn't give you everything you need, you might find something more suitable there.
Meet Derek, "TechGuru," a 34-year-old technology enthusiast with a deep passion for tech innovations. With extensive experience, he specializes in gaming hardware and software, and has expertise in gadgets, custom PCs, and audio.
Besides writing about tech and reviewing new products, Derek enjoys traveling, hiking, and photography. Committed to keeping up with the latest industry trends, he aims to guide readers in making informed tech decisions.