As an improvement over the popular SX710, the new Canon PowerShot SX720 HS is specifically designed to deliver stunning image quality with all of the important features that go hand in hand with travelling. We took some time to test it out, see what the new features were, and how they've improved upon their previous design. This review should give you a clearer understanding to what it has to offer and how it performs.
Powerful Features
The Canon PowerShot SX720 HS offers a 40x optical zoom which is impressive in itself, but the real appeal it has is mostly due to its high-quality raw output. The camera's rather small, at a thickness of around 3.5 centimeters. The lens that Canon equipped it with is 24-960, which is fully adjustable – so much that you can capture anything from small insects with a close-up view to huge group photos with a captivating background.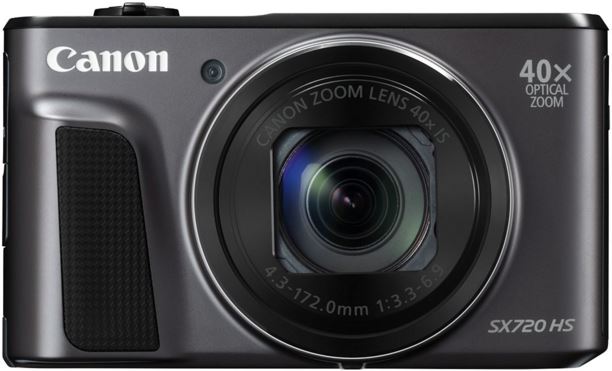 The SX720 is part of Canon's "SX" series, specifically designed for travel photography. It features Canon's upgraded DIGIC 6 image processor and an all-new CMOS sensor, ultimately providing some of the highest-resolution images and HD video, even when there's a lack of decent natural light. If you're relying on camera phones or an old, outdated model, they're not going to be able to give you that "wow" effect, but rather a simple, unprofessional and overall unimpressive image.
The SX720 HS captures professional-grade photos with little to no experience. Designed for a wide range of scenes, its ideal in virtually any location – from big cities to beaches and mountains. You can shoot in broad daylight, at night or during the sunrise or sunset without sacrificing overall image quality. Due to its compact size at 2.4 x 5.7 x 6.3 inches and weighing in just over a pound, it's small enough to carry with you, wherever you end up.
Produce Perfect Travel Photos
As the years go by, you'll likely want to look back at some of the best moments in your life and reminisce. This is a time when high-quality photos help re-experience that same emotional rush. If you analyze some of the most popular travel photos on the web or through social media, you'll notice they're usually never shot by sub-par cameras. With this, we can conclude the ideal camera is one that captures images reflective to what we're actually seeing or experiencing in real life.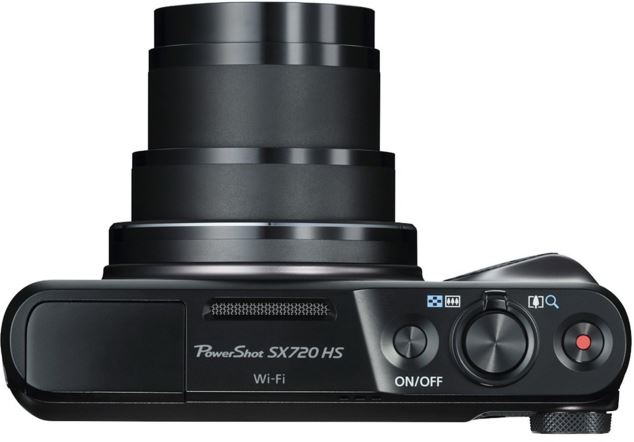 The Canon PowerShot SX720 gives you the ability to shoot up to 20.3 Megapixel high-resolution photos of virtually any medium in beautiful locations, capturing everything in realistic, warm colors. Right off the bat with your initial photos, you can tell there's a very "professional" feeling to the type of images it can capture. Additionally, if you want to experiment prior to post-production, Canon also includes a "Creative Shooting Mode" that displays up to five different versions of the same photo using different filters. It's mostly aimed at beginners or those who need a "quick fix". If you don't plan on editing your photos on your computer, this gives you the freedom to make some adjustments on the fly.
As you can imagine, the internal hardware on the SX720 is top-tier featuring a 20MP sensor and an upgraded Digic 6 image processor. This is even comparable to some of their DSLR's. If you're coming from the previous SX710 model, you won't notice a huge bump in image quality, but the zoom saw a lot of improvement. Nevertheless, image quality remains fairly high even when you're fully zoomed in. It's one of the main concerns people have prior to purchasing cameras that are designed with specific "Travel Zoom" features. Some coming from smartphones may have the the wrong impression since typically, those integrated cameras produce lower quality resolution when fully zoomed in.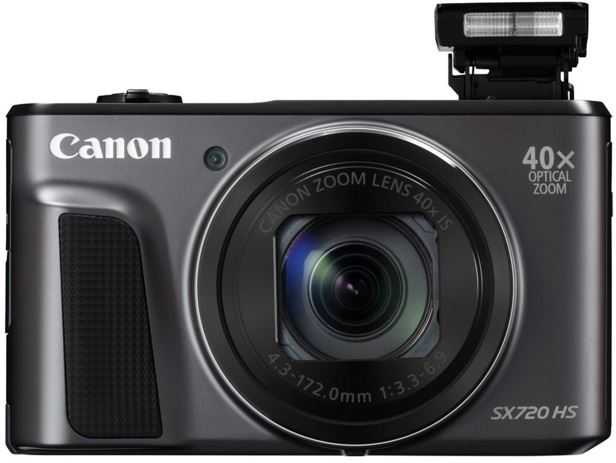 Shoot Full HD Video
Full HD video isn't a very popular feature among many other travel-specific cameras on the market, since most people are focused on taking stills. However, Canon took special consideration when designing the SX720 and gave it the ability to shoot in full 1080p high definition at up to 60 frames per second. Additional to this, it captures magnificent stereo-quality sound that records with a great reach.

One of the best extensions to its video shooting capability is the new "Auto Level" feature that serves as an internal footage stabilizer. If you're shooting from a lot of challenging angles (think hiking among cliffs) or people are pushing you around, the only way to end up with watchable footage is to activate this stabilizer since it automatically corrects everything. From a jittery road to a bumpy trip down the path, it'll properly stabilize the footage so it doesn't become a pain to watch. If you prefer to have more control over your footage, this video feature also provides similar levels of adjustability just as you can do with the regular stills.
Gorgeous Display Screen
Equipped with a large 3 inch LCD on the back, the Canon PowerShot SX720 HS gives you a clear image to view before and during your filming and shooting. Unlike some screens, this one features 922,000 dots for beautiful clarity, paired with a generous viewing angle. Viewing it from the side or from above or below can usually diminish the way it looks. Although there's some slight blur from a very-sharp angle, you can see the screen from nearly any position and still have a clear insight at what's in the scene.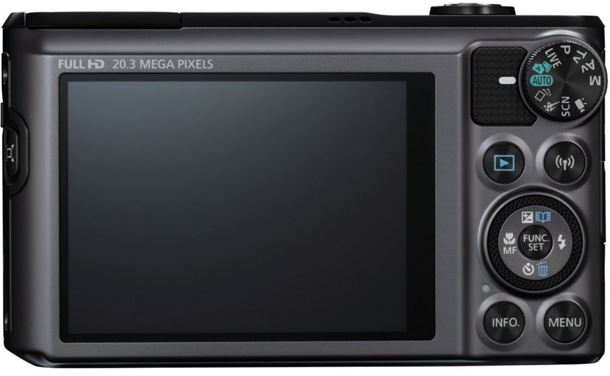 Wireless Connectivity
Integrated WiFi is a relatively new feature, but it seems to be becoming more of the standard between all of the new-release Canon cameras. You can connect the SX720 either via regular Wi-Fi or dynamic NFC. However, we feel that most people won't need this feature as the camera is already designed for instant sharing on social media, but it can also be used as an alternative back-up method. For instance, you can connect the camera to your smartphone (Android/iOS compatible) or upload raw images directly to the cloud in order to prep them for post-production.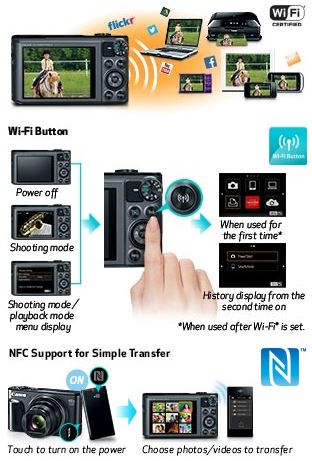 Canon has its own designated image cloud called "Iristra". It's available to all Canon users and is designed to automatically help them load their images with ease. It's a very simple service that gives you the ability to create galleries to ease up your work-flow or share with other people.
Never Run Out Of Memory
If you have multiple memory cards from multiple or previous devices that you've owned, you'll be able to make use of all of them since the SX720's memory is card-agnostic. It supports both SD, SDHC and SDXC cards. This combined with the upgraded 13L battery keeps you shooting when you want to the most.
Canon took special consideration and upgraded the battery on the SX720 to make it charge like a phone, so you don't have to take it out and then place it on an adapter or charger. The main downside in terms of connectivity is the package lacks a USB cable and you'll have to purchase one separately if you want direct access to your images, rather than using memory card readers.
Favorable Battery Life
Over it's predecessor, the battery saw much improvement in regards to its charging ability. If we were to break down the average capacity for a single charge, it amounts to roughly 250 stills, 350 in ECO-mode and a solid 45-55 minutes of HD video. Video shooting drains the battery faster than stills – it's much more resource-intensive. If all you're doing is browsing images or using the internal editor, you'll likely end up with a decent five hours of battery life on a single, full charge. This really can't be beat for travelling as a single charge could potentially last you for days, unless you're shooting all the time.

Strong Points
Upgraded 40x optical zoom retains image quality, even when fully zoomed in.
All-new 20MP CMOS image sensor with a Digic 6 processor.
Beautiful 3-inch display LCD with 922,000 dots.
Aimed at travelers, combining professional output while maximizing portability.
Full 1080p HD video at up to 60 fps for stunning quality, with up to an hour of footage per charge.
Handles both strong daylight and low-light conditions.
Ideal for beginners but also offers a decent amount of adjustability for professionals.
Multiple connectivity options and wireless/cloud functionality.
Final Evaluation
With a wide range of features geared toward the travel and vacation lifestyle, the Canon PowerShot SX720 HS is a great choice for both beginners and experts alike. It boasts a fairly compact design with an impressive 20 MegaPixel CMOS Sensor and the newest Digic 6 processor for outstanding photos in all scenarios. The beautiful 3 inch LCD with 922,000 dots provides superb viewing from almost any angle, making it a great choice for those needing an upgraded view on the scene you're shooting.
Coming in at a justifiable price tag of just under $400, the SX720 is a step up from it's predecessor and quite impressive overall. Set to fully release on March 27th, we're sure it'll become one of the best travel camera's from Canon for the year.