Life is all about the memories we create with the people that we love. Considering that most people have a video recording device at their fingertips at all times, we forget how stark the difference can be between an average video recording device and an amazing video recording device. Don't misunderstand us; we still love our phones. They offer an acceptable recording option for candid camera shots, but if you want your dearest memories to have a professional sheen, a high-quality camcorder is the way to go.
The Canon VIXIA HF G21 Full HD Camcorder is a camera versatile enough to successfully maneuver any challenges that you might throw its way. Whether you are fulfilling a lifelong dream of creating your own independent film or recording the milestones of your child's development, this camcorder is a reliable device that can take care of it all.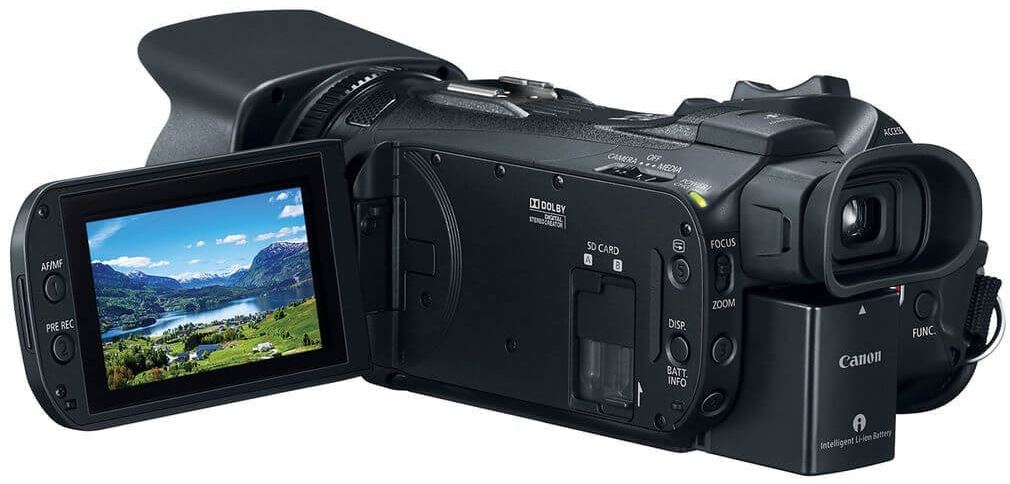 The newest entry to Canon's VIXIA line of home camcorders manages to pack in a slew of professional features with a user-friendly design. This upgraded model of Canon's 2016 release, the VIXIA G40, offers improved specs and the notable addition of WiFi connectivity. This new feature allows you to easily download and share your videos, which is a feature that was noticeably lacking from the 2016 model.
Dimensions
The first thing you'll notice when you open the G21's packaging is the camcorder's size. With features that are typically seen in larger and heavier devices, the compact and sleek design of the G21 was a nice surprise. Build quality is something we've come to expect from Canon devices, and this model doesn't disappoint. The camera's dimensions are a svelte 4.3 x 3.3 x 7.2 inches (109 x 84 x 182mm) without the lens hood.
The approximate weight is 1.6 lbs. (745 g), which is boosted only slightly, to 1.9 lbs. (880 g) when you add the lens hood, battery pack and memory card. Included in the box are a solid lens hood (with Canon's Lens Barrier), a BP-820 rechargeable battery pack, and a compact power adaptor. If you are planning on bringing the G21 on the road, we recommend a sturdy camera case. The camera doesn't feel chintzy by any means, but any added protection is a smart decision when you are dealing with the sensitive circuitry of video technology.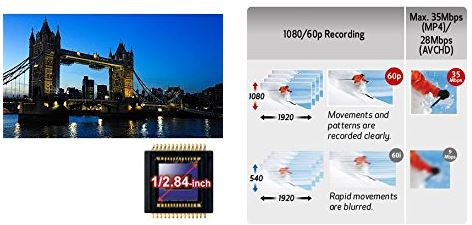 Video Quality
Of course, the most important feature of any camcorder is its picture quality. The G21 offers full HD recording capabilities with a resolution of 1920 x 1080. Perhaps even more impressive is the camcorder's ability to record super high-quality MP4 and AVCHD files in 1080/60p.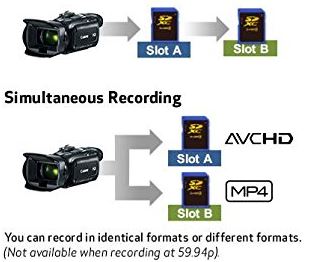 This means that fast-moving subjects will look just as sharp as stationary objects. Both file formats are internet-ready and a breeze to share, with a maximum bit rate of 35 Mpbs for MP4 files and 20 Mbps for AVCHD files. The G21's native 24p Progressive mode adds a cinematic flair to your viewing experience.
Zooming
The G21 features a very respectable 20x optical zoom, which boils down to about the equivalence of a 35 mm 26.8-576m. The advanced coatings and elements that Canon uses on their lenses helps prevent the appearance of any unsightly ghosting or lens flair (sorry J.J. Abrams), producing a clarity and sharpness that keeps distortion to a minimum. If the 20x zoom isn't enough for you, the camera also has a 400x digital zoom, which is perfect for spying on the astronauts in the International Space Station.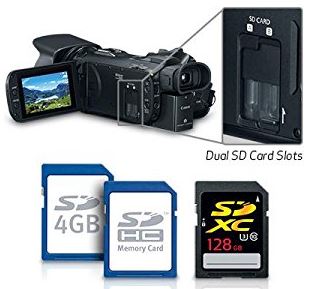 Aperture
We're really excited about the G21's 8-blade circular aperture. In non-circular aperture designs, you'll often notice a distracting starburst effect that makes any pointed light source look like the star of Bethlehem. If lamp posts that look like supernovas are your thing then choose the aperture that works for you, but the circular design of the G21's aperture reduces the potentially destructive lightening effect.
You'll also notice that areas that are out-of-focus look great. While some cameras turn aperture blur into a muddled mush, the Canon design produces smooth and natural blurring. The camcorder also features a manual focus ring, which is nice if you prefer total control over the details of your picture, but isn't necessary for everyone. For those who don't mind a little automation, the control zoom feature will do just fine.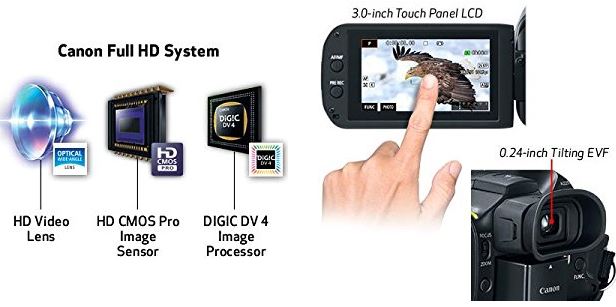 Image Sensor
We were also particularly impressed with the G21's CMOS Pro image sensor which captures right around 2136 x 1362 pixels with its 1/2.84-inch, 2.91 megapixel sensor. We noticed a marked improvement in the camera's low-light performance, a direct result of Canon's optimization of their CMOS Pro sensor technology. The G21 features a low-luminance noise rating of +3 dB, which means that it records a clear, detailed image, even in very low-light conditions. We can really see this coming in handy for amateur filmmakers who might not have the most expensive lighting equipment, but still want to film a professional looking night scene.
Viewfinder and Playback
Anyone who has ever created a visual presentation understands how important composition is to a video's appearance. The G21's 0.24-inch electronic viewfinder displays 1.56 million pixels and 100% field of view, which allows you to make great compositional decisions on the fly.
The viewfinder's 45 degrees of tilt adds some serious versatility to your shot selection. The tilt function is particularly helpful for high angled shots that need to be attacked from above. It makes the filming experience a lot easier on the body. The G21 also has a 3-inch LCD touch panel that is fantastic for reviewing your shot on the fly. While we found the viewfinder to be a good option for most situations, the LCD panel provides a superior viewing experience and allows you to view the screen with multiple people at once.

Storage
We were pleasantly surprised to find that G21's storage features were both practical and cutting edge. The dual SD card slot supports SD, SDHC and SDXC storage formats, with a storage capacity ranging from 32 GB to 2 TB. When you're recording in HD quality, the more storage space you can afford the better off you will be. The video quality looks gorgeous, but beautiful footage requires a massive amount of storage space. You'll be thankful for the extra room.
What really got us excited was the camcorder's ability to record to both SD cards simultaneously. The dual recording feature creates an instant backup for your footage and even allows you to film in different formats on each card. I can't tell you how many times I've accidently deleted a video or discovered that my external storage device was damaged. Anyone who has had a similar experience understands how devastating it can be to lose a video you had planned to cherish the rest of your life. Because of this, we can't stress enough how important the dual recording feature could be for the integrity of your documentation.
Time-Lapse and Slow-Motion
Have you ever watched one of those cool time-lapse videos that speed through an entire day in the matter of seconds? The G21 has a slow and fast motion feature which allows you to record both sped up and slowed down video footage with almost zero quality loss. When the camera is in MP4 mode, the feature lets you record video at a different rate than the playback speed, which really allows you to have some fun with the recording's speed.
If you'd like to make a time-lapse video, the camcorder's interval recording allows you to record frames at specified time intervals. The interval feature can record time-lapse video up to 1200x speed, and slow-motion video as slow as 0.4x speed. Have you ever wanted to watch paint dry? Me neither, but if for some reason you crave the sheer boredom that only the sight of drying paint can satisfy, now you can do so at supersonic speeds.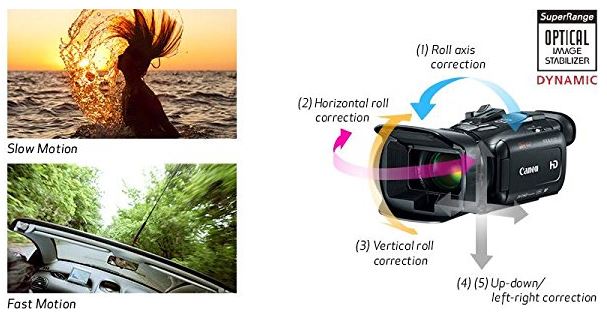 Image Stabilization
While we weren't expecting to see the same smooth quality that devices such as the Steadicam can achieve, the G21's optical image stabilization was surprisingly effective. The device handles image correction for pretty much any directional angle, including roll axis correction. For added control over your shot, Canon allows you to manually manage the image stabilization, but amateurs fear not, there is also an automated and intelligent IS feature and a dynamic IS feature that provides automatic correction for roll and tilt shots.
Final Thoughts
The interplay between the G21's 20x optical zoom, HD CMOS Pro image sensor and DIGIC DV 4 image processor is an impressive display of Canon's strengths. We were impressed with the camcorder's combination of professional features and user-friendly design, as well as its ability to handle a wide-range of shot angles and camera movement. With the features of a higher-end camcorder in a lightweight and portable package make the Canon G21 a very attractive device.
In a Nutshell
Amateur filmmakers, wedding photographers and nostalgic travelers alike will all find that the G21 meets, or even exceeds, their needs. While the higher price point might be a little lofty for someone looking for an entry-level camcorder, the video quality in comparison to lower-end models is unparalleled.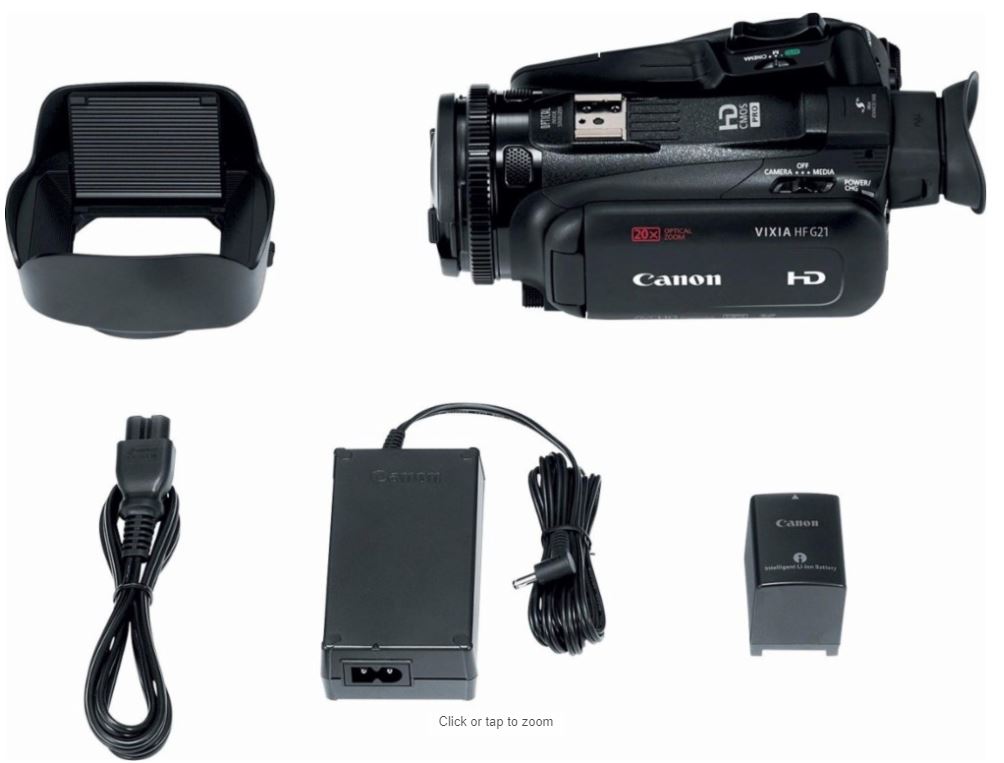 This is, admittedly, not a device that you're going to want to throw around at the beach or bring with you in the pool. The best comparison we can offer you is to think about buying a brand-new Tesla. Now think about stuffing two toddlers and a dog in the back seat. Not very practical, right? We don't recommend trying to squeeze children, or pets, or anything else for that matter inside of your camera either. This is a camera that you're going to want to care for with a loving touch. And it's a device that deserves the extra care.
Don't get us wrong, the G21 in no way, shape or form feels fragile; in fact, quite the contrary. Its build quality is the reason we offer you this small disclaimer, since it feels so durable that it can create the illusion of being unbreakable.
Ultimately, we whole-heartedly recommend the Canon VIXIA HF G21 Full HD Camcorder to anyone looking to make the jump into the higher-end camera market. Its combination of professionalism and usability makes it a great choice for the novice with a flair for the cinematic, or an amateur director looking to make his or her break into the film industry.