The Polaroid Cube ACT II is the first proper update for Polaroid's first action camera release, 2014's Polaroid Cube model. The newest addition to the Cube line features a long list of updated features that will appeal to anyone who is looking to make the leap into the action camera community without dropping the extra money on a GoPro.
The ruggedness and strength of the GoPro is a fine choice for a certain audience, but the Cube ACT II is designed for a broader clientele, including younger people, tech-nuts on a budget, and people who like their action camera a little less geared towards the extreme. It's small, cute and records some great video footage. What more could a little boy ask for? The Cube II is available in three different colors: black, red and blue. All three of the colors feature the patented Polaroid rainbow strip.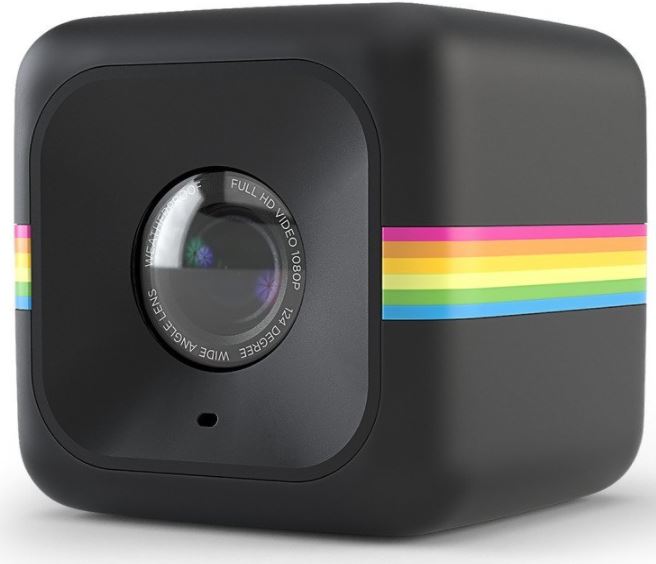 First Impressions
When we first pulled the Polaroid Cube ACT II out of the box, we were skeptical that a that such a small gadget could produce truly solid video quality because, man, this thing is really tiny. This camera is practically dice-sized. Okay, that might be a bit of a stretch, but saying the Cube is about the size of a golf ball is in not an overstatement. Measuring only 35mm high, with cubic measurement of 1 inch around, the Cube is one of the smallest HD cameras on the market that isn't exclusively sold to spies, which doesn't mean spies aren't allowed to buy one if they are so inclined.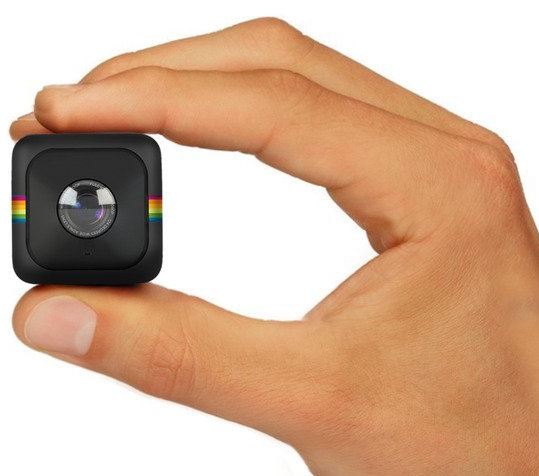 Portability
The Cube was clearly designed with portability in mind. It's so small that we nearly forgot that we had stuffed it in our backpacks. Being able to shove this bad boy into your purse or pocket was super convenient and basically thoughtless. It's a gadget that requires such little effort, and takes up so little space that popping it in your bag of choice is a no brainer.
Charging
The first thing you're going to want to do is give the camera a nice, long full charge. Since the camera is so small it only has enough juice for around 90 minutes of recording time, which for its relative size is more than we would have expected. The Cube's lithium battery recharges using a standard Micro USB 2.0 port. Out of the box it took about an hour to fully charge. We were so eager to get our hands on this bad boy (or bad girl) that the wait was excruciating, but the slight delay was well worth it.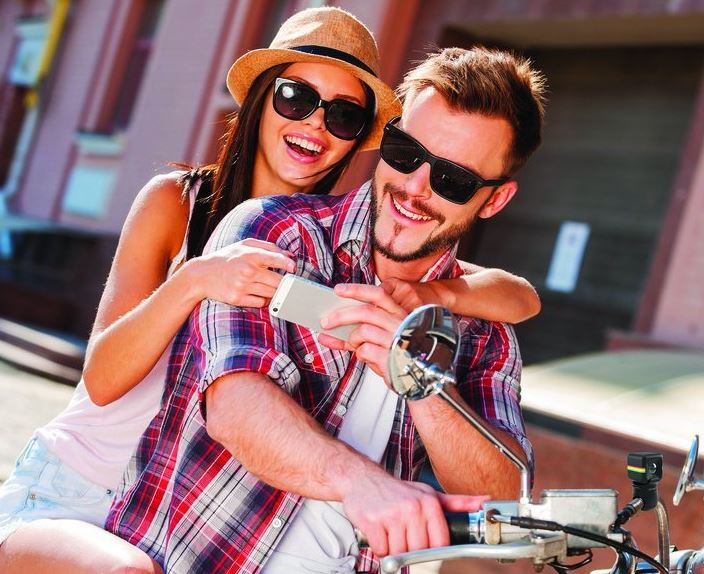 Controls
Turning the Cube's power on couldn't be easier. There is only one button so the controls are pretty limited, but its minimalism makes it super simple to use. Holding down the control button will power the camera on; to take a photo you press the button once and to record a video your press the button twice. It's as simple as that.
Software Interplay
Before you can use the camera, you're going to have to connect the device to the Polaroid Cube app. The app provides you with a step-by-step guide on the syncing process. Since the Cube ACT II is so ridiculously small, it doesn't have space for a viewfinder or a preview screen, so the app becomes your eyes and ears.
The app allows your phone to perform the same functions as a basic preview screen, which is a clever way for Polaroid to eliminate the need for an on-board preview display feature. The app integration is what allows the Cube to be so tiny. After the camera and app are in sync you'll be able to take your first video.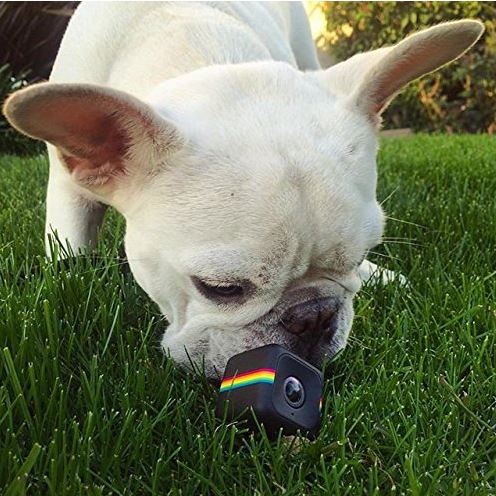 Still Camera
The Cube features a 6 MP CMOS sensor, which works well enough, but isn't this camera's killer feature, It's certainly not the reason why we bought the device. Despite our initial lack of enthusiasm for the Cube's still capabilities, we were pleasantly surprised with the photo quality. Its low resolution isn't going to be helpful for creating large prints, but we suspect that if gallery-sized photo prints are your motivation, you wouldn't be using an action camera to begin with.
Video Quality
The Polaroid Cube's video recorder is what makes this gadget really shine. It offers the user a choice of recording in either 720p or 1080p, both at 30 frames per second. Obviously the higher the bitrate, the more storage the videos are going to suck away from your SD card. Since the Cube's SD drive only allows for up to 32 GB of expanded storage, you're going to have to be mindful of the amount of data you are recording. We admit that having to pace our recording time was a little frustrating, but we don't mind a few sacrifices in exchange for owning such a tiny gadget.
The Cube's 124-degree wide-angle lens (F 2.0, f=3.4mm) makes the video seem as equally large as the camera is small. We tested the camera in a variety of different situations and places; they all looked and sounded great, plus my neighbors didn't even seem to mind that I was spying on them for a few days. The microphone on the Cube was sensitive enough to let us hear everything we were expecting to hear. While you shouldn't expect to hear a pin dropping on the floor from the other side of your house, you'll be able to hear all the sounds in your general proximity with no problem.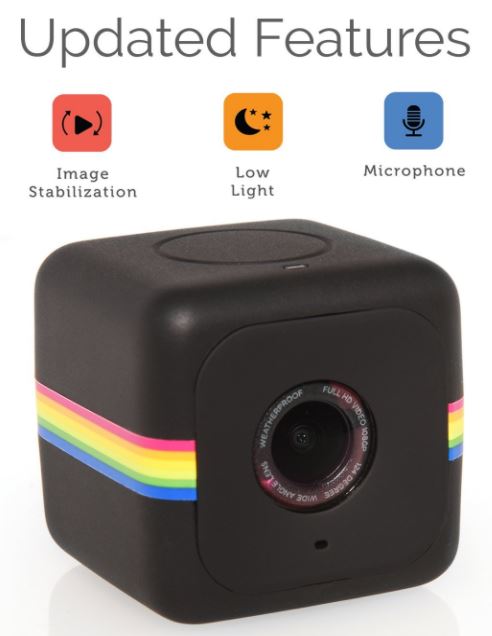 File Format
Videos are saved in the MOV file format, which means that you're going to have to download compatible software, such as Apple QuickTime or an open-source media player such as VLC (which will play pretty much any media file format under the sun), if you're going to play the file on your PC. Polaroid's decision to use MOV files might be baffling to some considering the propriety issues that the format creates for those who are not the most tech-savvy, but it makes sense considering MOV files are typically smaller than AVI files, resulting in a more efficient use of a limited amount of storage space.
Other Features
One of the coolest features on the Cube is its magnetized bottom. While Polaroid sells all kinds of neat accessories, the magnetic surface removes the need to buy a designated mount, which is important if you don't need the extra expense. You'll only be able to securely place your Cube on metallic surfaces, but it beats having to build your own mount out of duct tape.
The Cube II is waterproof and splash proof right out of the box, but it cannot be submerged unless you buy Polaroid's waterproof enclosure accessory. Polaroid's own waterproof kit allows the camera to be safely submerged 10 meters, which means we'll finally be able to buy that 10-meter-deep bathtub I've always wanted. You reading this, Mommy? We told you that dreams can come true! Next up? A life-sized wax statue of Bill Murray (We have our reasons). Does Madam Tussaud's accept commissions? Because if they do, we'm going to need some pro-bono work done, stat.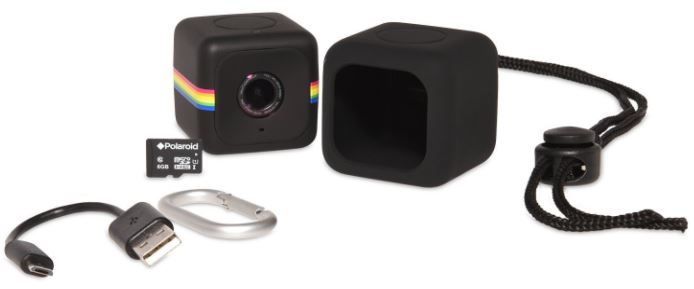 Accessories
Besides the waterproof case, Polaroid offers a decent number of other accessories. Many of the products will be familiar to you if you've ever owned, researched, or been around a GoPro. You've got your standard suction mount (it sucks… in a good way), a monkey stand (watch out for banana peels, but if you're not going to be careful, at least give me a second to grab my slide whistle), a strap mount (perfect for strapping stuff on), a helmet mount (for those awesome bike rides), a bumper case (because you're clumsy and you know it), a tripod mount (because quadpod sounds funny), and several other accessories that we don't have quips written for.
Final Thoughts
The new Polaroid Cube II is just plain fun. We found ourselves looking for excuses to use the camera throughout the day. It even inspired us to be more social than usual. We found ourselves more apt to accept social invitations, which might sound a little looney, but it was an unexpected and welcomed result of owning a camera designed for being active.
Every aspect of the Cube II's design is devoted to attracting to a wider audience than the GoPro; its design is cuter and friendlier; its size and form are easier to grab on the go, and its magnetic bottom is a generous alternative for people who can't afford the added expense of accessories. The camera's still photographs are an acceptable, albeit boring feature, especially when compared to the device's stellar video capabilities. Considering how tiny the camera is, we were really blown away by the video quality.
We'd like to see Polaroid utilize the smartphone app more. There are plenty of features that are noticeably missing from the app experience, such as filters and advanced editing tools.
The Cube II doesn't feel as rugged or sturdy as the GoPro, but we didn't buy this action camera with the expectation that it would be. What we expected was a tiny, sturdy, user-friendly camera that was equally useful in both the club and the shower, sometimes simultaneously (YMCA locker room, here I come).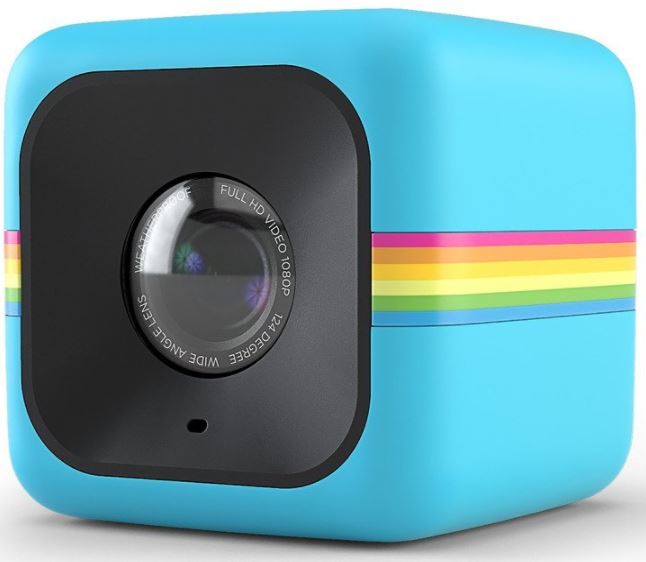 Conclusion
So, what's the bottom line? Would we recommend the Polaroid Cube ACT II? If you aren't expecting a GoPro experience, we think you'll be happy with this smaller and less expensive device. We never once felt like the Cube was in danger of being broken or damaged. If you can pick one up, we wouldn't talk you out of it. The Cube II is one of the most fun gadgets we've had the pleasure to play around with recently, even though it resulted in the exhausting reestablishment of our social lives.