How many cameras can capture 4K content? More than a couple. But there's a big difference between high quality 4K and lower quality 4K. There's also a world of difference to be found between having or not having good autofocus features, how accessible those features are, and how adaptable your camcorder can be in various lighting circumstances.
That can make higher-quality professional camcorders a little difficult to understand for people who aren't tech wizards. Because if you can get a 4K camera for $400, why use a camcorder that costs closer to two grand? The answer is a little complicated, but it's why camcorders like the XA50 and XA55 are made to do more than merely shoot video.
Canon XA50 & XA55 Professional Camcorder
Canon's recently released XA50 and XA55 are supposed to combine 4K quality alongside the core features you need for an on-the-go style camera. As a sort of all in one style kit to help you mix audio and editing from one unit, the XA50 and XA55 are both equally equipped for news gathering or documentary shooting.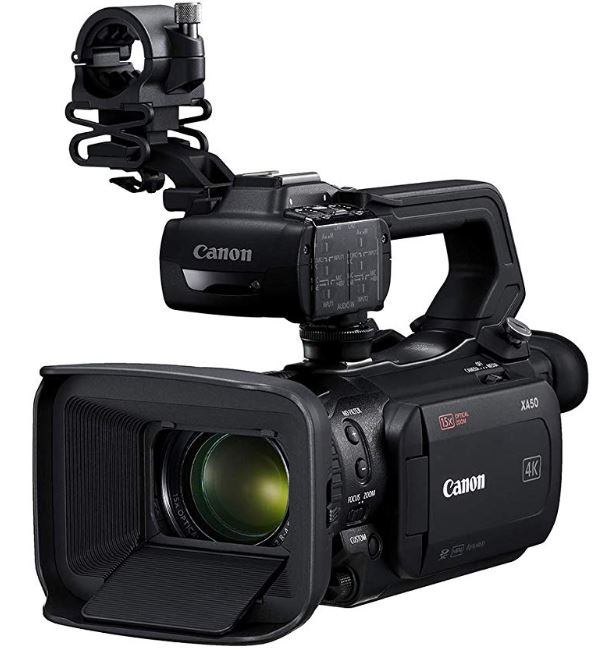 Shooting Capacity
Both the XA50 and XA55 are built with a 1" CMOS sensor, a pair of XLR audio inputs, and a mini-HDMI output. Notably, that sensor is nearly seven times larger than the more common 1/2.84" CMOS sensor, like you might find on a more intro-level camcorder. And the larger sensor actually has a huge number of advantages.
Most of them have to do with working in lower lighting conditions, and reducing noise in your shots around those circumstances. But the larger sensor is also good for working with a shallow depth of field alongside large aperture shots, enabling you to reach a greater depth of visual control in the process. The sensitivity of the sensor and low noise is also partially the result of the XA50 and XA55 both operating around the DIGIC DV6 imaging engine, for a more natural looking image presentation.
Speaking of natural looking images, both camcorders are constructed to provide wide dynamic range gamma support, capable of stretching to 800% past standard. That kind of range allows for a virtually seamless degree of graduations between different tones of color, helping make your image come out looking much smoother. There's also a much greater sense of color accuracy – and with a little care, you can eliminate unwanted highlights and blown-out frames that end up overexposed.
Part of what makes these camcorders special isn't only that they can shoot in 4K, but how they allow you to do it. For instance, the face detection auto finder feature can be operated in one of two modes. The first mode is face priority; the second mode is face-only. Those are almost self-explanatory, but basically the face priority mode will prefer to focus on faces if possible, while the face only mode will refuse to focus on anything except faces.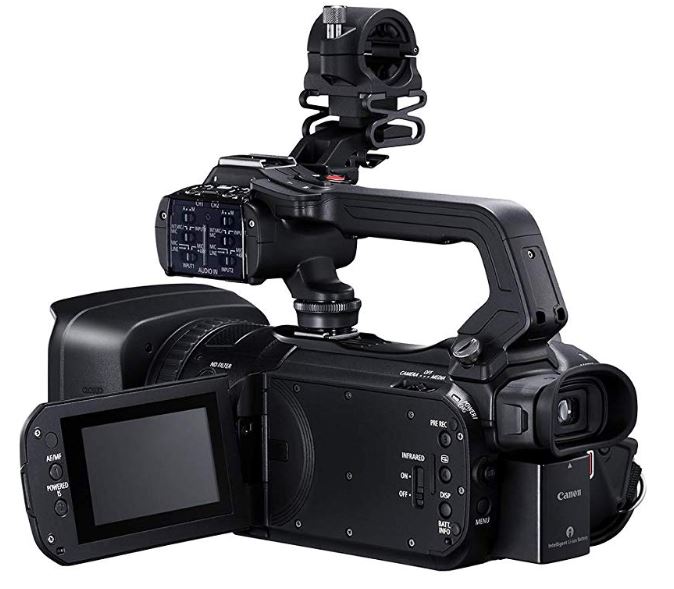 Suppose that your subject is going to temporarily pass behind an object, like stepping behind a telephone pole for a moment. That being the case, the face only mode will stay focused on the same point until it was looking at before losing track of the person's face, and then resumes looking for that face when the person emerges from behind the blocking object. It's nice when the camcorder will stay out of your way and let you work, and that's pretty much what the XA50 and XA55 were made to do.
Depending on how you're trying to autofocus your next scene, being able to swap between these two modes can be incredibly convenient. And accessing them is simple, too. While running the face priority mode, you can select an area by touching the LCD display on the camcorder, allowing the display to detect which face you want the camera to highlight. After the face is no longer detected within your shot, the auto-focus will return back to focusing on its previous position.
Visual Display & Internal Hardware
Speaking of the LCD, the onboard screen is actually a 3" touch screen panel, running alongside a 0.24" electronic viewfinder for helping you frame up your next shot. The EVF is ideal for detecting faces, as discussed above, but it's also got a host of menu options to help you configure and control the artistic and professional potential lurking inside these machines.
Moreover, the touch panel is designed to work with Canon's autofocus technologies for a very streamlined approach to shooting. You can use single taps of your finger to swap between shooting modes. The hardware itself is just as adaptable, with the EVF offering 45-degrees of tilt, for smooth and comfortable operation in several different positions and angles. Great for people who don't necessarily know where their camera will need to be positioned to get their next shot.
For the content you capture, total pixels collected by the sensor work out to around 13.4 megapixels, which is a 4268 x 3148 resolution. But that's the raw number of pixels you're pulling based on that enormous CMOS sensor. The effective pixel capture is down towards roughly 8.29 megapixels, or a 3840 x 2160 resolution. Still quite high.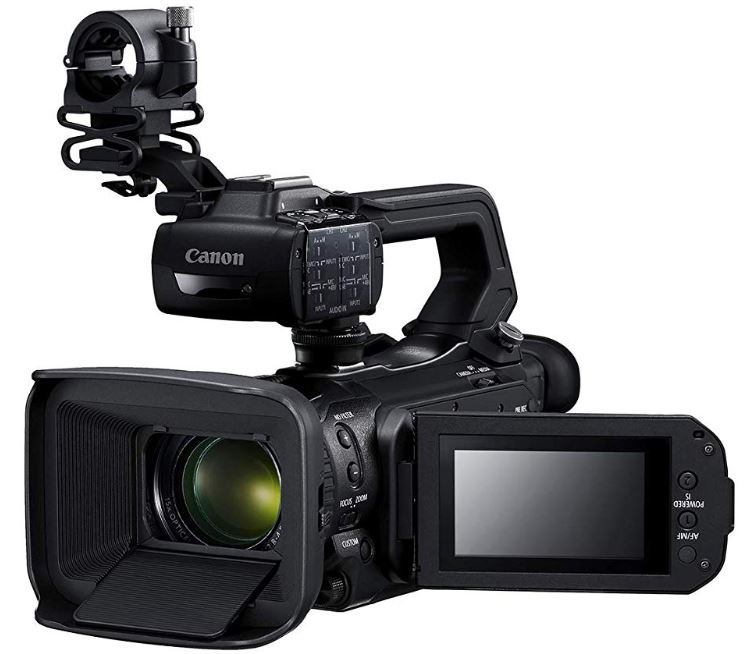 Hardware Configuration
The XA50 and XA55 were also made with a detachable handle, which can be quickly removed or added to the body of the camcorder without the need for any tools. Once attached, you'll find the handle uses a pretty clever zoom lever, and a well-positioned start/stop button that's accessible with your thumb while holding the device. Since the handle can be removed, it may be worth noting that it's also replaceable if you end up losing it or damaging it.
The handle also hosts a pair of XLR terminals which can be independently managed, so audio levels management isn't a hassle among more complex audio setups. Likewise, the handle is able to mount a microphone and a cold-shoe as well, so you can add always one of Canon's other optional peripherals at a later time.
Physically speaking, these camcorders measure 8.5" in height when you've got the handle attached, and 10.4" in length. If you're ignoring the handle, or you pop it off, the height drops down to a more manageable 3.6". In either case, they weigh about 2.1lbs when you're only measuring the weight of the body, which makes them pretty lightweight and manageable for equipment with this much power inside.
And this equipment does have a lot of power. For instance, the optics use an integrated 15x HD optical zoom, which is the equivalent of 23.5 – 382.5mm film. The default f-stop can be set anywhere between f/2.8 through 4.5. And since you're not reliant on a digital zoom, you're able to maintain the clarity of that 1" sensor as you zoom in or out. Likewise, the maximum shutter speed works out to a pretty blazing fast 1/2000/sec, making the XA50 and XA55 suitable for capturing fast-motion shots, including the capture of sports footage.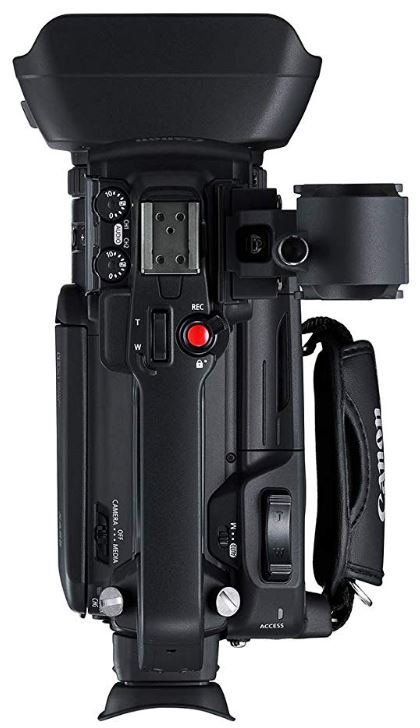 For exposure control, you've got an auto mode, which isn't really surprising. But there's also some gradients to be found within the manual mode, including P, AV, TV, manual exposure, and a huge number of SCN modes. Among those SCN modes, you'll find a beach mode, sunset mode, night mode, firework mode, and so forth. All the staples of similar Canon camcorders which people have come to expect.
For coloration, you'll notice there's broad DR gamma support, allowing for exceptionally high video quality and overall a greater degree of vivacity and accuracy in each shot. Even while you're not inside the best lighting conditions you've ever worked with, the XA50 and XA55 are designed to help maintain clarity.
Slow motion and fast motion are represented, but not as robustly as cameras designed specifically for those purposes. The XA50 and XA55 both use Canon's latest dual pixel AF, allowing for 4K content to be recorded at a steady 30 frames, while you can still reach 60fps operating down at 1080p. The maximum fast-motion is actually 1200x, while the slow motion peaks at 0.4x. That makes it great for being used in creative fields, professional productions, and so forth.
The Big Difference
There's only one big difference between the XA50 and the XA55. The difference is that is the XA55 supports 3G SDI, and the XA50 does not. For people who absolutely must work in the serial digital interface, that makes the XA55 the more obvious choice. But it is a choice that can add nearly 20% to the price of the camera. So amateurs who don't need to access 3G SDI will probably be better off sticking to the XA50.
Everywhere else, the XA50 and XA55 are essentially the exact same machine, right down to the dual SD card slots which they use to record data.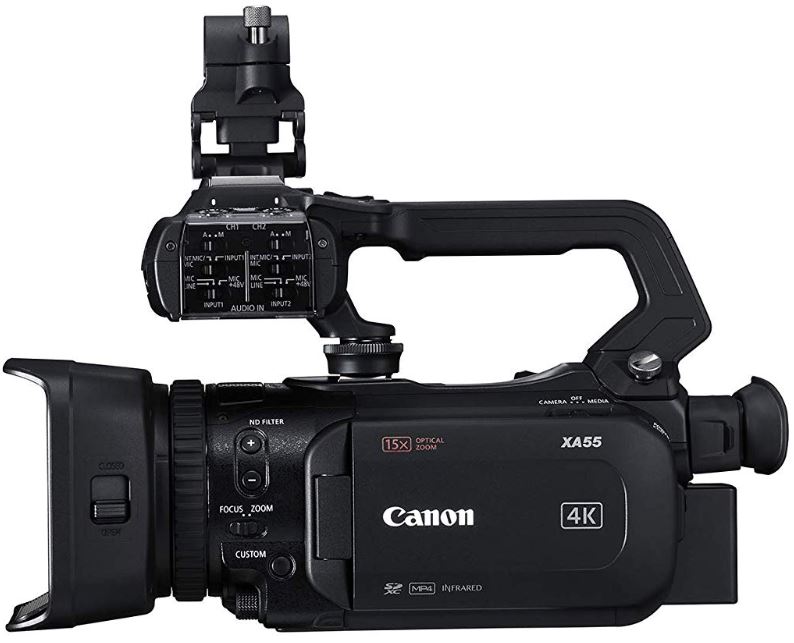 Who Should Choose the Canon XA50 & XA55 Professional Camcorder?
Both the XA50 and XA55 have a considerable price tag attached. But they also are able to offer quite a bit in return. Not only do they deliver 4K content, they deliver uniquely high quality 4K content, thanks to a 1" CMOS sensor, thanks to support for wide dynamic range, and thanks to support from their excellent auto focus features.
And that's really only just the beginning. The 15x optical zoom allows you to get professional footage in a huge variety of circumstances. There's support for infrared mode, and a pair of XRL inputs with a linear PCM 4-channel audio abilities. That allows these camcorders to have a heavy focus on mobile video production, especially due to the inclusion of 24-bit audio recording capacity.
With all the potential for expansion on both of these camcorders, it's really easy to see why professionals running news crews or shooting documentaries might want to get their hands on one. It certainly doesn't hurt that Canon also has a pretty robust library of optional accessories you can pick up to tag-along with these units. Which makes them worth careful consideration for virtually anyone who's interested in professional quality 4K capture.