Air purification can be incredibly important to your health. Even for people who don't necessarily suffer from problems with allergens, the advantages of healthy clean air can hardly be overstated. People who live in urban environments have been shown to literally age faster on a biological level in response to breathing pollution. And that can make a decent air purifier a good investment in your well-being.
But different air purifiers are made with different intentions in mind. You can find them made large enough to purify entire buildings, or small enough to shove into a single bedroom. You can find them accurate enough to pull the tiniest particles from the air, or just strong enough to remove common allergens like pollen.
The list just goes on. Some units connect with Wi-Fi for app control, others can tell you how clean the air is at the present moment. And of course, some are just designed to sit there and silently clean the air for you, with no added fanfare, and no added cost. Clearly, depending on the reasons why you're selecting an air purifier, you're going to want a different kind of machine.
Levoit Vista 200 Air Purifier
Where does that leave the Vista 200? Well, this is actually one of the smaller and portable units you'll find from Levoit. It was clearly not intended to serve an entire household — unless of course your household is a one-bedroom. And with respect to its customization options, you'll find the Levoit Vista 200 was not designed to blow you away with deep adaptability.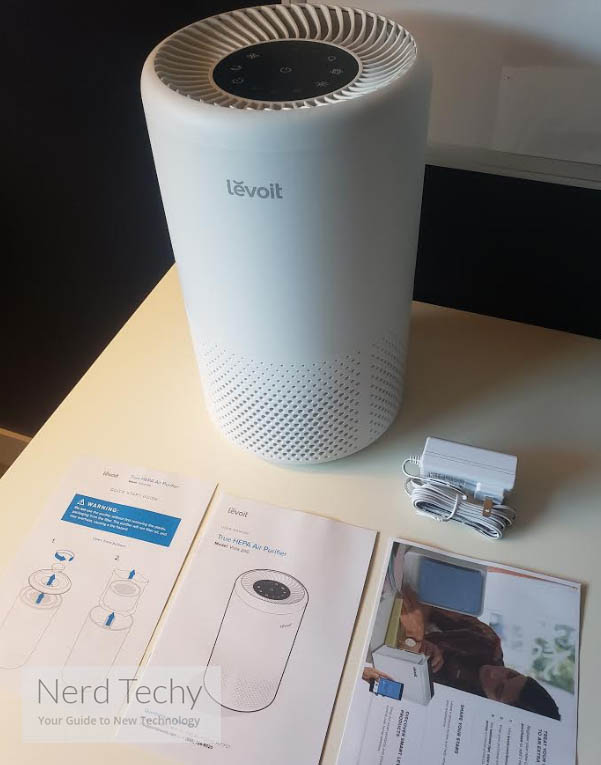 But does it at least provide what the average user is looking to get? How about for people who don't expect to use their air purifier to work wonders, but to just work? That's where the Vista 200 becomes a lot more compelling. Because for a smaller space, it can get a lot of things done. And because it's not packed with a bunch of superfluous features, it can do the job for a price that may not make you recoil in horror.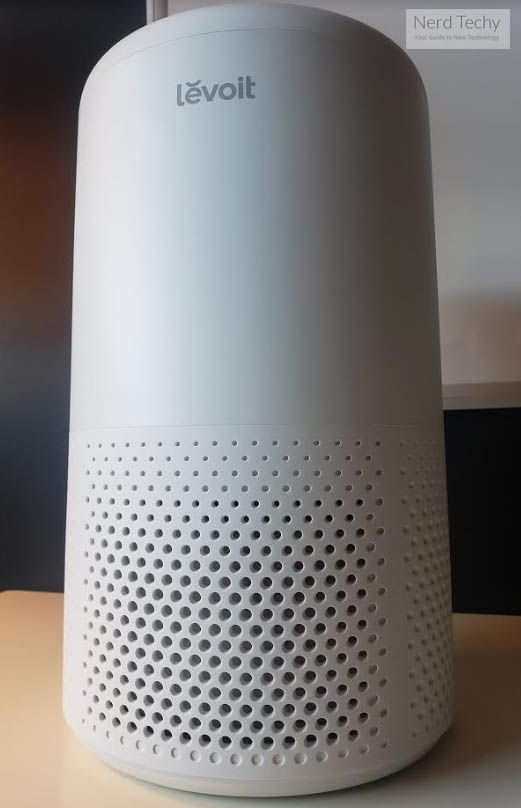 Design & Layout
Since this unit was designed for a fairly small space, the Levoit Vista measures 7.3 x 7.3 x 12.9 inches, and weighs just over 3lbs. That's actually one of the slimmer and more portable air purifiers you'll find out there. But even though it's pretty small, size hasn't gotten in the way of its ability to work as an effective cleaner. After all, most of that is really done by the filters inside.
Atop the unit you'll find a simple display. Because this is more of an entry-level purifier, it shouldn't surprise you that the display isn't a touchscreen. Rather, it's a pretty basic analogue-digital interface. The only noteworthy thing about it is that the topside has a gentle night light, which can be moved between two levels of brightness. The nightlight can also be turned off entirely, if you're someone who doesn't care for it.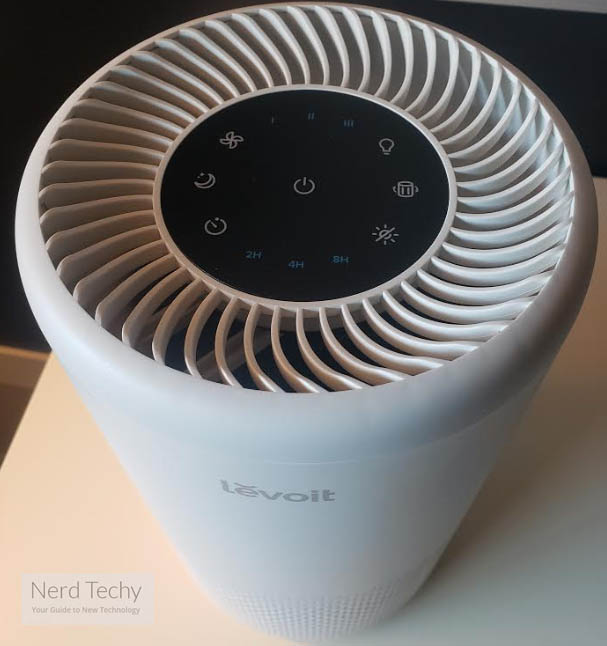 Three Stage Filtration
Similar to the high-end Levoit purifiers, the Vista 200 was made with a three filter purification system. So even though this isn't a $500 supreme purifier, you're still getting essentially the same thing, just on a much smaller scale. Exactly what filters does that include?
As per usual, the first is a pre-filter. It's basically there to grab dust, debris, and other large chunks of stuff. The pre-filter only needs to be cleaned or replaced infrequently, so you can basically forget about it once you've got the Vista running. Of course, the real filtering occurs once the air passes through the included HEPA filter, which isn't quite as forgiving as the pre-filter.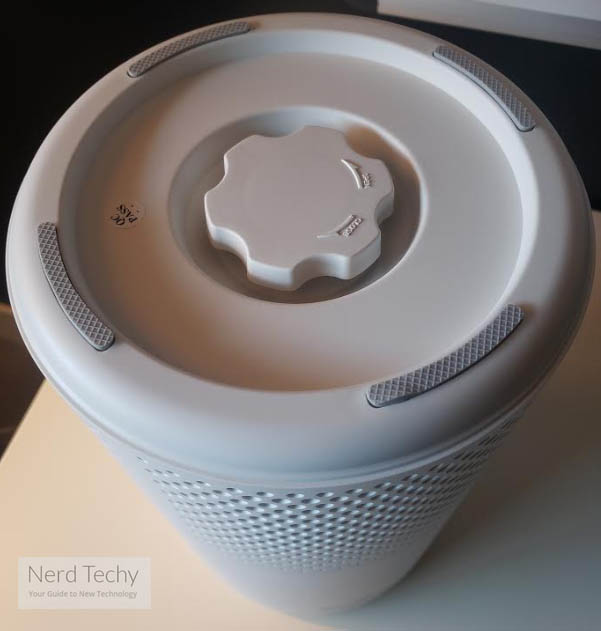 Because the HEPA filter is supposed to capture mold spores, bacteria that's been made airborne, allergens, pollen, and so on. Basically everything you might want to sweep out of the air, with the exception of airborne chemicals. Notably, different kinds of HEPA filters allow you to capture smaller and smaller particles. But the more advanced filters tend to have slightly higher cost as well, so you tend to only want to use a filter that's appropriate to your needs.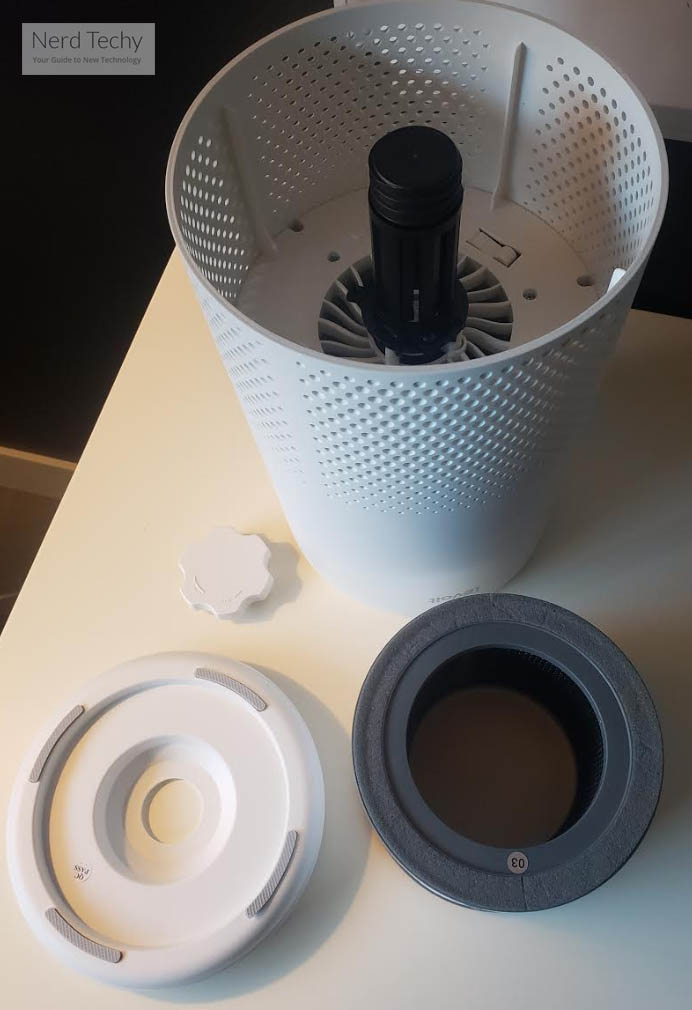 The cost of replacement filters can be tedious, and it can deter some people from getting or maintaining an air purifier. But due to how Levoit designed their filtration system, you can actually squeeze a surprising amount of life from these filters. At least, assuming you're using the Vista 200 in a position where it makes sense to use a unit of this size.
The third and final filter is an activated carbon filter. Similar to all activated carbon filters, these are supposed to eliminate smells from the air. So if there are smells of pet dander or smoke, the carbon pre-filter is there to scrub them away.
Effective Range
The effective range of this purifier is around 161 square feet. That's basically the size of a large living room, roughly 18 x 18 inches. So this unit wasn't intended to clean up your entire home. Rather, it's aimed at bedrooms, offices, and similar spaces where people spend a lot of their time.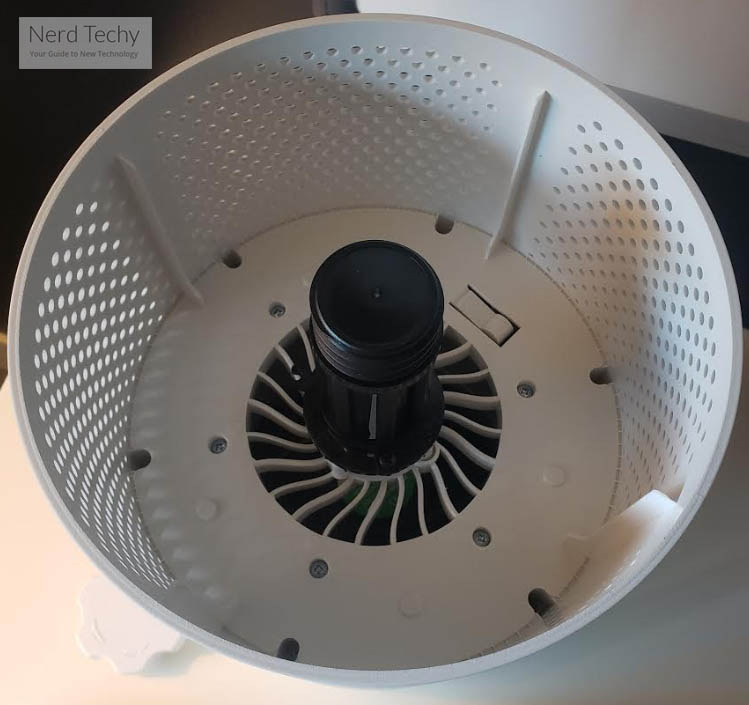 If you're inside a workspace with poor airflow, it's actually much easier to clean spaces that are larger than 140 square feet. Because the same air gets circulated again and again, so that eventually it becomes fairly clean. It's only when you add regular airflow that the 161sq feet limitation becomes easy to see.
In either case, the relatively small size of the unit means it's always possible to transport it from room to room, as may become necessary. Though a lot of people who have desktop computers in their homes prefer to position their air purifier near their PC, which can help prevent the ingress of dust.
Fan Speeds & Noise Levels
There are a total of three fan speeds you can move between. Those speeds are low, medium, and high. Likewise, you're also able to move between a timer on a two, four, or eight-hour setting. And controlling the speed and timer are both done with the touch interface atop the unit.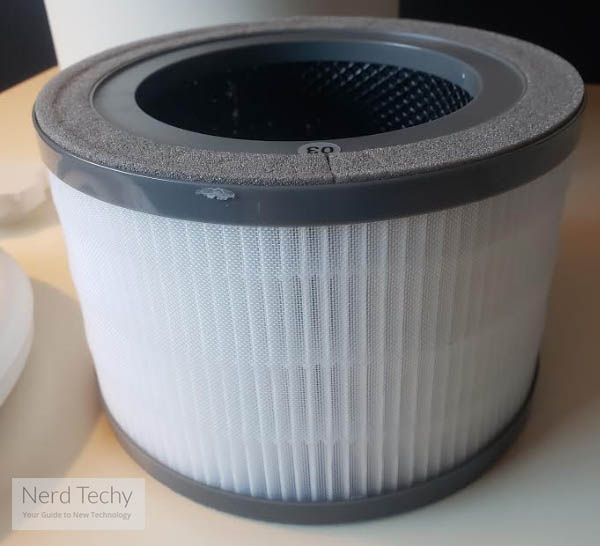 It might seem counterintuitive, but big fans don't tend to make that much noise. At least, not relative to their size. It's smaller fans that are really the noise-makers, especially if they need to start spinning very quickly. With that said, the Vista 200 is reasonably quiet. But that's only true when you don't need the unit to be running at full speed.
Running with the lowest fan speeds, you'll find the noise level peaks down towards 25dB. That's pretty much as noisy as a laptop that's been turned on, or about as noisy as a gaming console. In other words, you virtually can't hear it unless you press your ear against the purifier. Running with the highest possible fans speeds, you're up towards 52dB.
That's pretty close to a conversational level of noise, or comparable to a microwave that's in operation. You can hear it while it's going, and though it won't interrupt a conversation, you wouldn't want it running that loudly while you were watching television.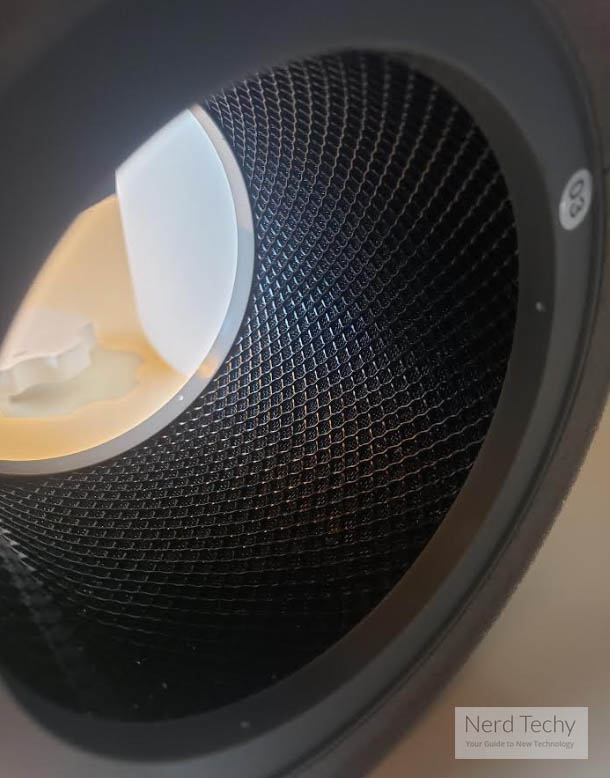 Other Considerations
Another thing to note is the Vista 200 was designed to save energy costs. That's because it's using a brushless motor that consumes less than a single watt of electricity. As a result, with this purifier, you're using around one third less electric than a lot of similar air purifiers. Running this machine 24/7 should cost less than $10 per year, though the cost of electric varies by region, so that figure may vary a little bit as well.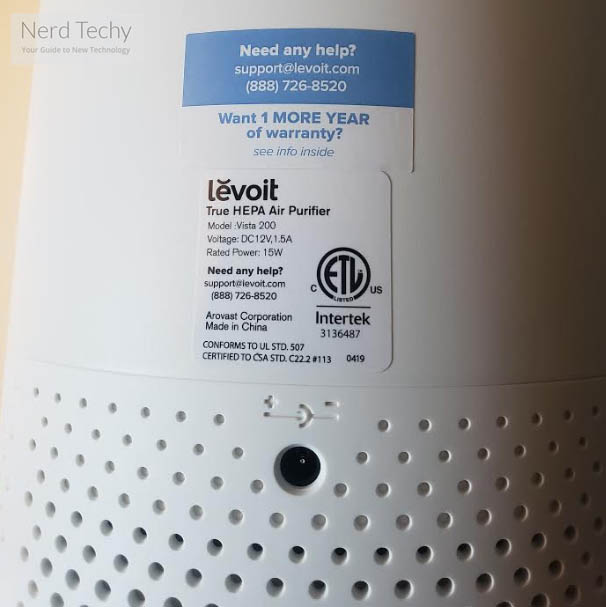 Unfortunately, the onboard reminder to let you know when it's time to replace the filter is based on a static timer. It's not a dynamic sensor that can help you determine how much wear and tear you've actually put into the filter. So you have to operate based on the HEPA filter's manufacturer recommendations, or otherwise use your best judgement when deciding to replace them. But it should be around six to eight months between changes.
The Vista 200 includes a pre-installed HEPA filter, an AC power adapter, and a user manual. The Levoit Vista also includes a two-year warranty. Since this machine is essentially just a fancy fan, you really don't have to worry much about it croaking within two years. Provided you treat it reasonably well. Because like with any fan, a couple of accidental drops, especially during operation, can be disastrous.
Who Should Choose the Levoit Vista 200 Air Purifier?
Anytime you're picking an intro-level machine, you're not going to end up with all the latest and greatest features available. In this case, you'll find no real depth of customization when it comes to the timers and speed levels. You can move between a slower fan, a medium fan, and a higher fan speed, but you can't open an app and start doing a bunch of Wi-Fi control from a distance.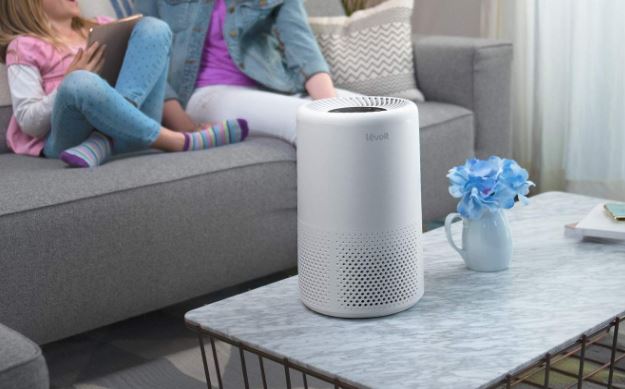 For people who are particularly worried about noise, not having those control options is a little subpar. But those kinds of deficits are the sort of thing that most people should be able to shrug off because you can do a good-enough job of managing noise with the onboard timers.
When it comes to actually cleaning the air, the Vista 200 does as good a job as any other purifier with similar HEPA filters, including many of the units that cost several times as much. Its small size doesn't really get in the way of solid operation, provided only that you're not expecting this machine to clean any more than one large room, or perhaps two small rooms.
For someone who has a need to use something stronger than a HEPA filter, it should be obvious that the Vista isn't going to get you where you want to be. You would need to shell out far more money for something like the Molekule Air Purifier. But outside of industrial environments, the Vista 200 ought to be a good choice for most people in most small spaces.
Meet Derek, "TechGuru," a 34-year-old technology enthusiast with a deep passion for tech innovations. With extensive experience, he specializes in gaming hardware and software, and has expertise in gadgets, custom PCs, and audio.
Besides writing about tech and reviewing new products, Derek enjoys traveling, hiking, and photography. Committed to keeping up with the latest industry trends, he aims to guide readers in making informed tech decisions.