Most people don't know much about audio converters. So when people start looking for one, they often think that they are no more complicated than an ordinary signal converter. In other words, no different than changing one type of connection port into another type of connection port. But DACs are actually far more sophisticated than that. Because when you're moving an audio signal, even minor alterations in the signal could end up affecting the way things sound.
Choosing the Best DAC Digital Toslink to Analog RCA Converter
Ask any audiophile — picking audio equipment can be insanely complicated. But the good news is that picking a DAC can be a bit of an exception. Especially if you're someone who's more interested in connecting the DAC to your television than you are to a massive surround sound stereo system. In any case, you're probably only going to have to think about three selection criteria:
Type of Connections
You'll have no trouble finding DACs which provide both coaxial and optical input/output options. It's also quite easy to find adapters with 3.5mm audio jacks and RCA connections. But how many of each port, and in what ratio will you find them? What kind of devices are you hoping to connect? Are you trying to connect your game console or a television? Answering those kinds of questions can help point you in the right direction.
Audio Supported
You may want to pay attention to the resolution supported by the adapter. Typical support starts down around 32kHz sampling rates, and then pushes out towards 96kHz. You'll have to think less about whether or not 24-bit sound is supported because that's become somewhat universal, even on the cheapest and least noteworthy DACs out there.
Depending on the quality of your speakers or headphones, the DAC can be even more important. Because when your audio equipment reaches a certain level, you can start to hear the difference between one amplifier and another. In fact, the amplifier is what gives a speaker its own unique characteristics — you could call it a voice.
You may also need to look specifically for 5.1 or 7.1 surround sound support. Cheaper DACs will typically not be able to accommodate these formats, but it's sometimes possible to find some affordable ones that still get you there.
Construction Quality
You won't have to ruminate too much on this criterion. But it helps to know that your equipment isn't going to stop working the first time it gets bumped. And it helps to know that your connection headers won't fall off when placed under the slightest bit of horizontal force. These kinds of things aren't always easy to identify without actually handling the DAC in question.
Depending on how long you plan on making use of your DAC, you might also want to look gold plated connection terminals. Gold isn't the only metal that can be used to resist corrosion, but when it comes to audio equipment, it's one of the best and easiest to identify.
Avantree DAC
Avantree could be the least-known brand among this list, but their DAC is nothing if not a bargain. At least, for people who are looking for a basic DAC that's only expected to interact with two or three other devices. Which means the Avantree DAC isn't going to be the right choice for just anyone, but it definitely will have a distinct appeal to a certain type of user.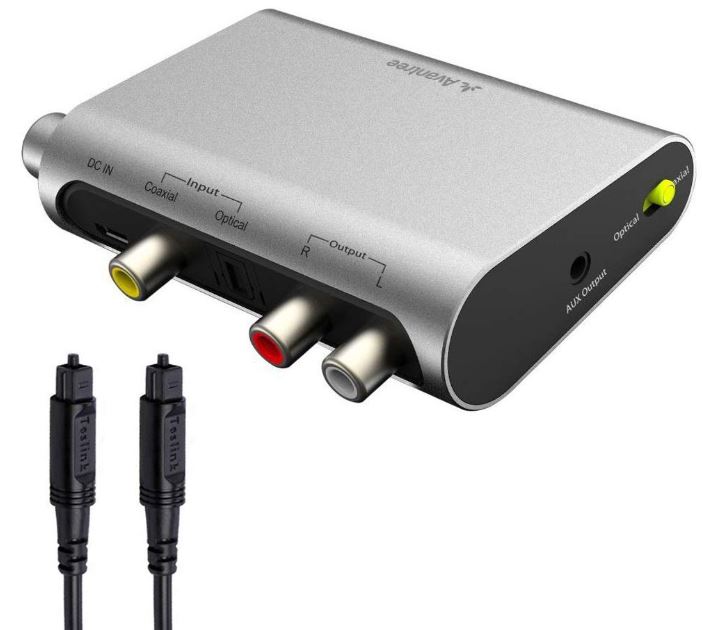 Design & Layout
The Avantree DAC is essentially a starter DAC aimed at people who are looking to integrate the unit into a home entertainment system. Physically speaking, it's got a fairly small 3.4 x 0.9 x 2.3-inch build, and it weighs just under three ounces. Certainly small enough to setup basically anywhere, or take with you as needed.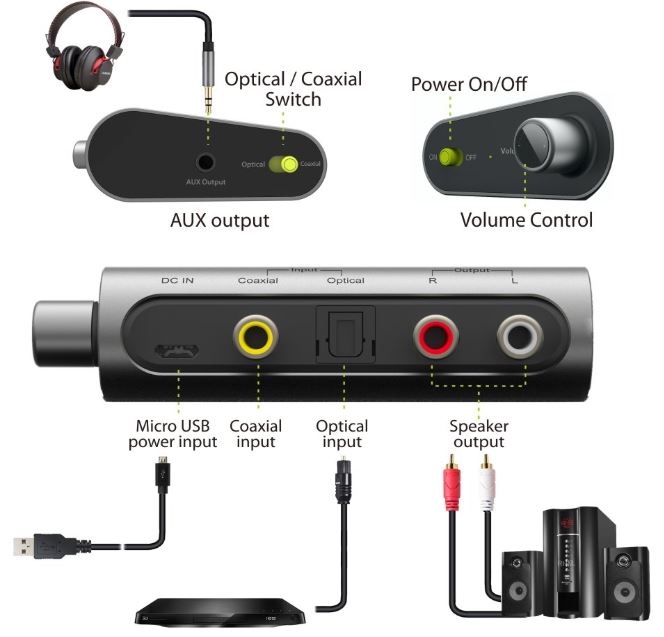 The chassis is made from black and gray ABS plastic. It looks cheap, but the quality of construction is actually pretty solid. ABS is great for handling heat, and it's great for its durability. In short, you don't have to worry about this DAC falling apart the first time you accidentally drop it. But how about actually using it?
Connections & Ease of Use
The audio input options include both coaxial and optical cables. For outputs, you're looking at 3.5mm AUX or RCA connections. Pretty standard for this kind of kit. The side of the unit has an on/off switch, which can effectively function as a mute button. It's also nice they've made the switch in bright yellow, giving it a high contrast, and easily allowing you to see the current setting from afar.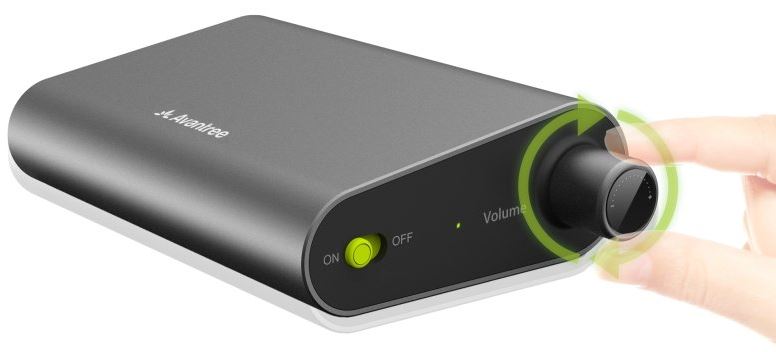 Next to that, you'll find a volume wheel that can be scrolled to raise or lower your volume settings. Instead of using a small wheel that's barely sticking out of the chassis, the Avantree DAC is using a rather large volume wheel, allowing you to get two or three fingers around it. Larger wheels also provide more granular control over volume because you can turn the knob in meaningfully smaller increments.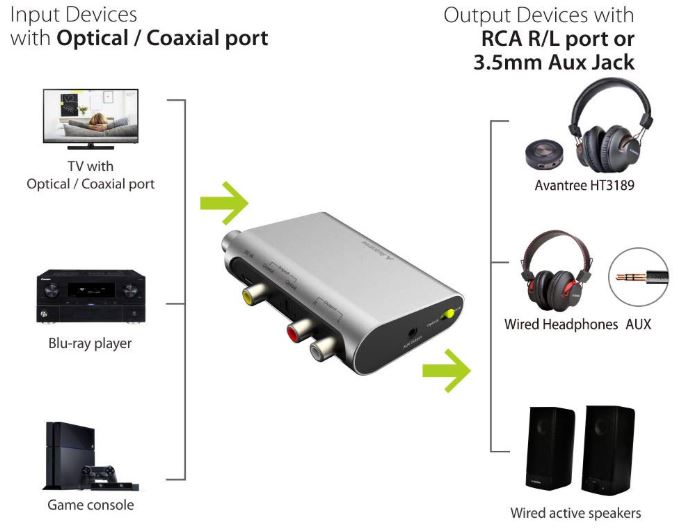 Other Thoughts
The total output impedance from the Avantree DAC is 32Ω. That's scarcely different from the kind of output you can get from desktop computers. Meanwhile, the sampling rate is actually fairly respectable, spanning 32~192 KHz alongside 16 to 24-bit music. In other words, it almost doesn't matter what kind of audio you want to pull through this thing. The only thing this DAC isn't equipped to do is powering high impedance headphones, but that's really something you'll only find will interfere with using some types of audiophile equipment.
It may be worth noting that the audio format supported include LPCM and PCM. That allows this converter to be used not only for headphones, but for televisions and similar large devices. That might include Blu-ray players, AV amplifiers, Satellite receivers, and so forth. You can even connect game consoles. Though this converter doesn't include a bunch of extras, and it cannot be used to amplify headphones, it does include a two-year warranty.
Prozor Digital to Analog Converter
The Prozor Digital to Analog Converter is quite similar to the Avantree DAC. Similar to their DAC, this converter allows you to have access to game consoles, Blu-ray players, home cinemas, AV amps, and so forth. But it's actually slightly more expansive than the Avantree DAC – at least depending on how many different devices you hope to connect.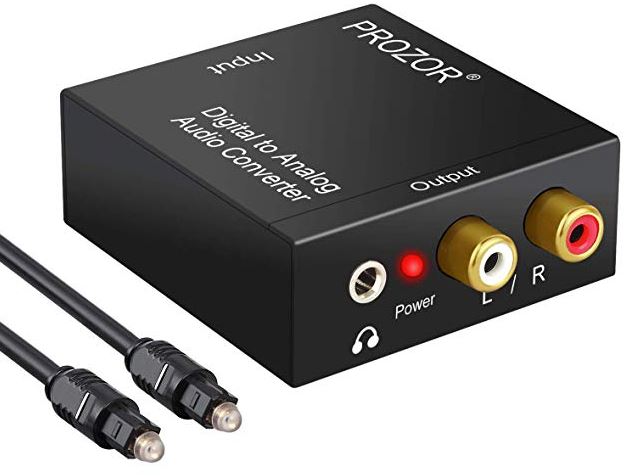 Design & Layout
The Prozor Digital to Analog Converter measures 1.1 x 0.3 x 0.8 inches, and weighs just over 3 ounces. That's considerably smaller than the Avantree converter, which makes it fully portable and quite easy to find a spot for placement. But being a smaller unit, there are also less spaces for connections and plugs. Those kind of tradeoffs are somewhat inevitable when picking DACs similar to this.
But in any case, it's typically possible to take the Prozor converter and shove it behind your television or otherwise hide it out of your way. You might feel less compelled to hide this DAC though. Because this converter was built from essentially the same materials as the Prozor converter, but it looks far more professional and clean.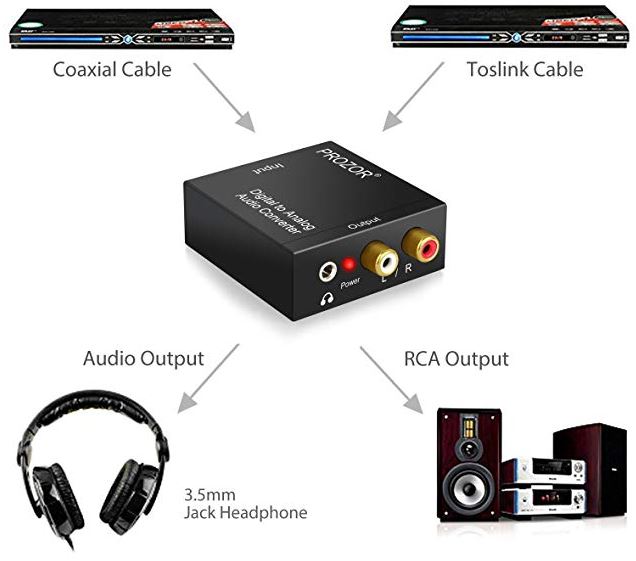 Connections & Ease of Use
Being a smaller unit, it's worth noting this converter was designed to help facilitate a single pair of connections. For inputs, you're looking at one Toslink connection, one coaxial RCA connection. For output, you're looking at a pair of RCA connections, or alternatively, a single 3.5mm jack. It's all powered with a 5.mm USB cable. A separate power adapter is actually not included with this kit. And it's important not to use plugs this DAC isn't designed for – it can only use 5V 1A plugs.
Each of these connections are very well labeled, with white text over a black chassis, creating high visibility from the contrast. The left and right RCA connections are also color coded for convenience. Another thing you can certainly say about this DAC is that it's easy to install, and it's about just as easy to operate. Since you only need to connect two or three wires, it's almost foolproof as well.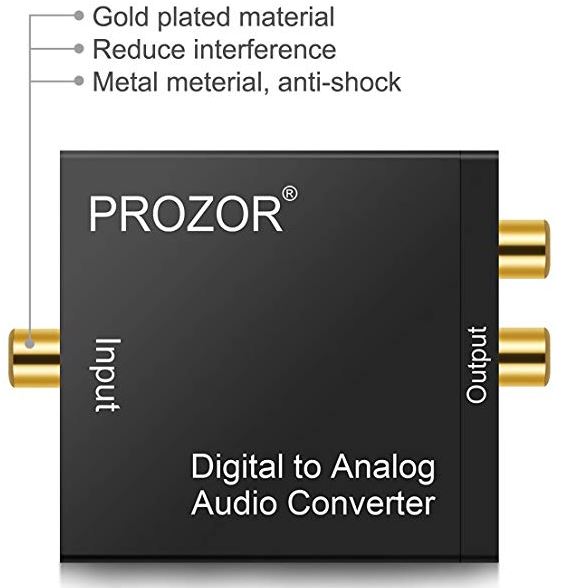 Other Considerations
The supported sampling rates span from 32KHz to 96KHz, and 24-bit output. That includes bit stream connections on both right and left connections. There are people who have music files which exceed 96KHz and 24-bit sampling. But moving beyond 96KHz provides only theoretical benefits, which may or may not apply to a small number of audiophiles with deep pockets.
Additionally, the Prozor Digital to Analog Converter also supports uncompressed PMC and LPCM. In addition to not supporting peak sampling rates, this device is not compatible with 5.1 channel sound. As such, this DAC is really a better choice for someone who's only using a simple 2.1 channel output.
FiiO D3
While Avantree and Prozor aren't big brand names, FiiO actually has some name recognition. At least, they have some name recognition among audiophiles. That's because they're one of the most important brands in the high end audio industry. But one of the things that makes FiiO special is that they've got a number of amps and DACs with highly approachable pricing. And that's not something that you can say that often about products in the audiophile space.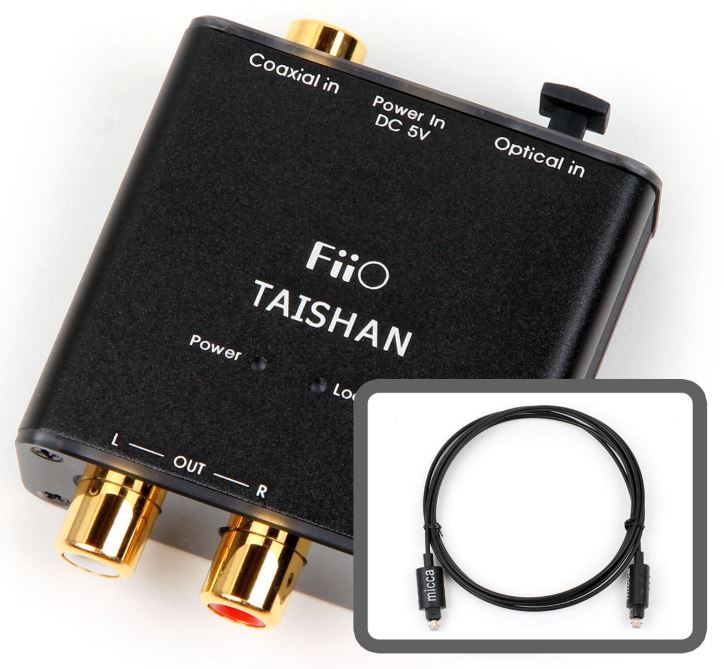 Design & Layout
Similar to other amps, the FiiO D3 will convert coaxial and optical inputs over to an RCA or 3.5mm audio connection. But unlike the other amps on this list, the D3 uses a Cirrus CS8416 digital receiver chip. If you're not familiar with that build, a good way to characterize that chip is to imagine it like a serious tool being made by serious sound developers who happen to be on a very tight budget.
Another thing you'll want to notice is that along the top of the unit, there's a switch that allows you to toggle between the optical input and coaxial input. Having that option means you can spend less time connecting and disconnecting wires between uses, making the D3 fairly smartly designed. This means you don't have as many sheer connection outputs, however.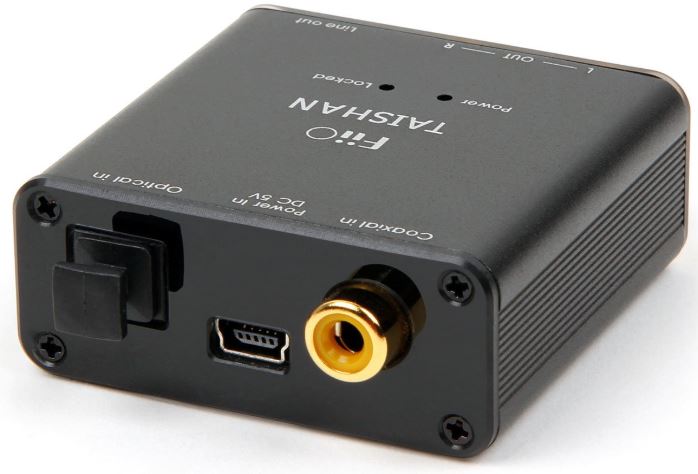 Connections & Ease of Use
As such, it's worth pointing out that the FiiO D3 was not made for the same kind of circumstances as the other amps on this list. Running a single coaxial/optical isn't going to be for everyone, but it does make a lot of sense for headphones. You really wouldn't want to take the D3 and shove it behind your television, it's actually much better suited for being used with headphones. Though if you do run 192kHz sound to your television, the D3 would still be able to help you out.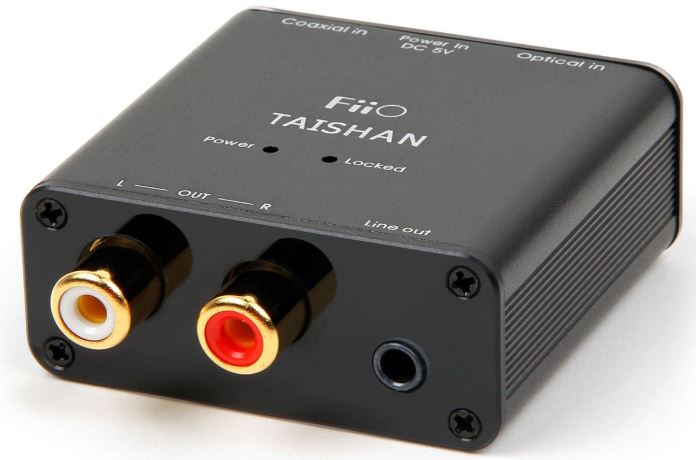 Other Considerations
The performance of the chip is something you'll be able to appreciate if you're someone who's using 96kHz or 192kHz content alongside speakers or headphones which are capable of doing justice to those high definition sampling rates. In addition to those sampling rates, you've also got support for 24-bit resolution sound. Plus, the D3 includes its own 6ft Toslink digital audio cable. That certainly doesn't hurt its overall value.
Picking the Best DAC Digital to Analog Converter
Are you looking for the simplest, cheapest option, most reliable DAC you can find? Are you trying to shove that DAC behind your television? The Prozor will be an excellent home cinema companion. It provides the bare essential connections you'll need to work alongside consoles, Blu-ray players, and other home entertainment systems. And for people who only need the bare essentials, it will work great.
By contrast, the Avantree DAC is essentially one step above the Prozor DAC. It has a similar build quality, and a similar cost to performance ratio. But it also has nearly twice as many inputs. For people who are connecting with more than one device, the Avantree DAC should really make a lot of sense. Of course, neither of these DACs can technically reach audiophile standards, but the average listener will never know the difference.
The FiiO D3 is quite different. This could technically be used like the Prozor DAC, stuffed behind a TV. But it was actually designed primarily with headphones and speakers in mind. And it further distinguishes itself by reaching out to 192kHz sampling rates, far outstripping its competitors. For people who are interested in connecting their headphones to a DAC, the FiiO D3 is probably your best bet around this price.
Meet Derek, "TechGuru," a 34-year-old technology enthusiast with a deep passion for tech innovations. With extensive experience, he specializes in gaming hardware and software, and has expertise in gadgets, custom PCs, and audio.
Besides writing about tech and reviewing new products, Derek enjoys traveling, hiking, and photography. Committed to keeping up with the latest industry trends, he aims to guide readers in making informed tech decisions.