We've always dreamed of owning our very own drive-in movie theater. It's just one of those childhood fantasies that has never quite escaped our psyches. We grew up enamored by film. Well, not just film, all pop culture. We visually devoured every piece of TV and movie content we possibly could. Our addiction to film has never gone away. Our motion picture palettes might be a tad bit more refined when compared to our 8-year-old counterparts, but we still have an undying craving for ocular stimulation.
While TV, smartphone and tablet displays are all just fine and dandy, if you want a true cinematic experience, you need a good, ole projector. Projectors are what make the movie theater such a special experience. That and that delicious buttered popcorn that only movie theaters can get right. The biggest obstacle for owning a projector is the price. True movie projectors can easily cost over $1000. We don't know about you, but we don't have that type of expendable money just laying around the house. We need those $100 bills to dramatically blow our noses in!
That's why when we find an affordable projector, we can't help but get excited. When we first saw the CiBest BL45 video projector, we thought the price was a typo. A sub-$100 projector with great reviews? There was no way. But in fact, there was a way. Over the past week we've taken the BL45 for a test run, playing around with its features and observing its performance. The following is our honest review of the CiBest BL45 projector.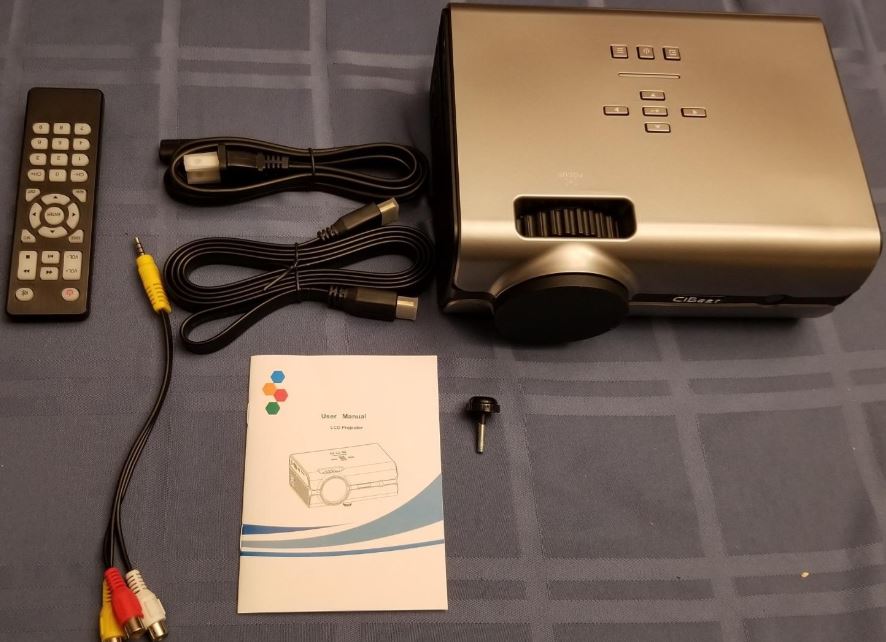 What's in The Box?
The BL45 ships in a relatively plain cardboard packaging container with a black outline of the projector's design on the box's surface. There's nothing much to report with the actual packaging design. In most cases, no news is good news when it comes to packaging, and that holds true with the BL45. The contents of the box are well-packaged and don't appear to be at any risk of being damaged during shipment. Included in the box is the projector itself, a power adaptor, a 3-in-1 AV cable, an HDMI cable (we were particularly impressed with this addition since many HD products do not include HDMI cables, oddly enough), the remote control (batteries not included. Sad face.) and the user manual.
Dimensions
The BL45 is what the industry calls a mini-projector. CiBest has designed their projector to be ultra-portable and easy to conceal. The device measures in at 8.3 in. x 6.5 in. x 3.4 inches, so if you're looking for something discrete, this is a great option. Most projectors that we've reviewed are rather large and cumbersome. The BL45 only weighs 3.7 lbs, which makes it one of the lightest home projectors on the market. The BL45 takes up very little surface real estate, so pretty inconspicuous, if you're the type of person who thinks projectors are unattractive.
The small size made traveling with the projector a breeze. Throughout the week we traveled with the BL45 to our friends' house, our parents' house and our office. We hardly felt a difference in our backpacks. An additional 3 lbs. is easy to miss.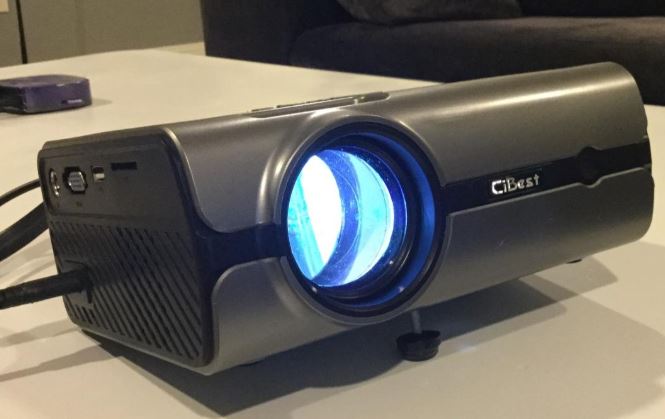 Resolution
Considering its relatively small stature, the BL45 has plenty of hardware power packed in. The projector has a native resolution of 800 x 480 pixels, with a 16:9/4:3 contrast ratio. The BL45 supports up to 1080p resolution and does a very good job of displaying HD content despite its native 480p resolution. The contrast ratio of 2000:1, with 2,000 lumens of brightening power.
From a purely spec-driven perspective, we agree that the BL45 isn't the most desirable projector on the market, but you'd be surprised at how great 1080p content looks on an upscaled 100" projected screen. The resolution scaling is quite good, and didn't seem to significantly reduce the video quality. For the budget price, the resolution exceeded our expectations.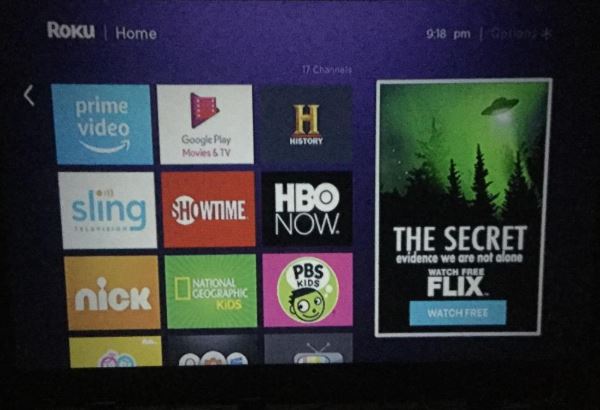 Screen Size
The BL45 can project a screen size up to 170". The recommended screen size is between 80" and 100" with a distance of 6.6 ft. to 8 ft. We found the sweet spot to be around 85". When the display size goes higher that 100" you can expect the picture quality to decrease. If you've never used a home projector before, you're in for a treat. The difference between a 42" TV screen and a 100" projector screen is like night and day. At 170" the picture has noticeably degraded, but not enough that it makes the projector unusable at larger screen sizes. CiBest hit the nail on the head with their recommended distance and screen size.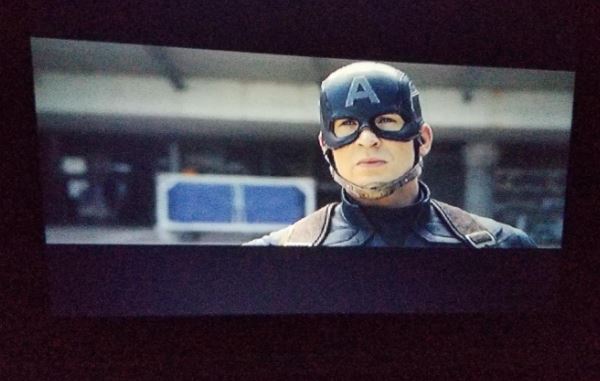 Since everyone has a different screen size preference, we highly recommend playing around with the size and distance to meet your demands. For most people, we'd bet that 80" to 100" will be best, but if you're in a smaller room and don't have 80" to spare, we wouldn't be too concerned. The BL45 will work just as well at lower screen sizes.
Sound
Unfortunately, the CiBest BL45 does not support Dolby sound systems. If you're a die-hard Dolby fan, you're going to have to patch the audio through a third-party software client in order to process the sound. Is it a pain in the butt? A little bit. Besides its lack of Dolby support, the on-board sound system actually isn't too shabby. The included surround sound stereo speaker produces impressive acoustic fidelity for such a tiny, budget device. We still highly recommend upgrading to an external sound system, as we do for all home projectors, though specifically in this case. If you want to have the best experience possible, an external surround system is the way to go.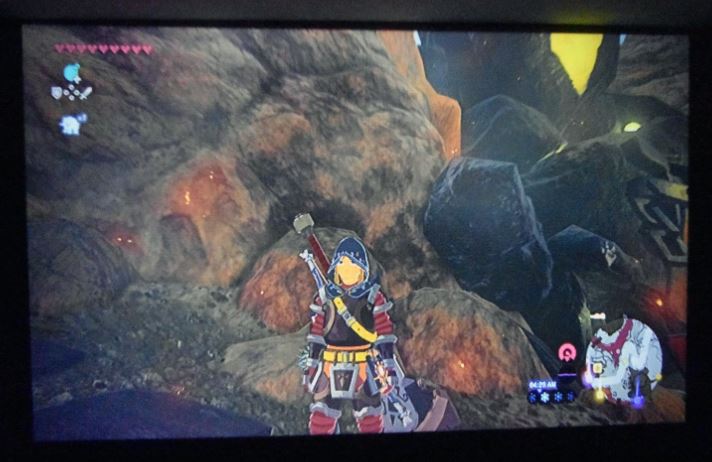 Inputs
The BL45 includes an impressive number of input options, including HDMI, AV, VGA, SD, USB and cable. We tested the input ports with a variety of different gadgets, including PCs, laptops, gaming consoles and our cable box. We were particularly impressed with how the projector handled our PC display. The BL45 is also great for gaming. There is something about a 100" screen that makes gaming way more immersive than that of a standard display. Imagine playing your Xbox One in a movie theater. Pretty awesome, right?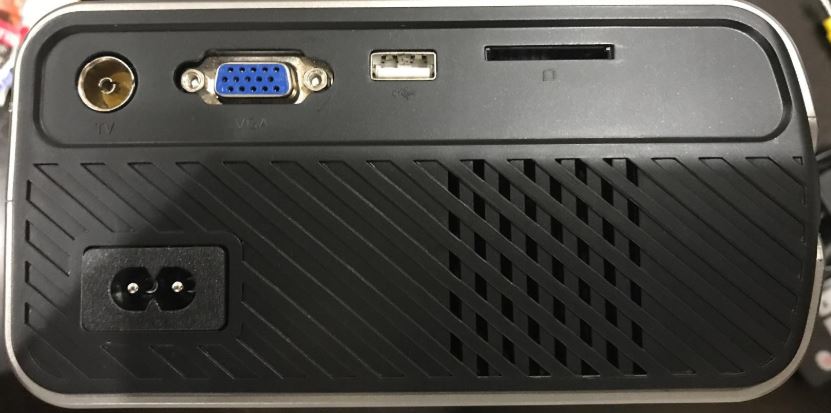 There is a slight caveat. The BL45 is not natively compatible with Android or iOS devices. This does not mean you can't use them though. In order to connect an Android device, you'll need to use a MHL adaptor. To project an iOS device, you'll need to purchase a Lightening to HDMI adaptor. There is also no Bluetooth support, so consider adaptors your new best friend. This is a budget projector, so any unessential features have been eliminated to keep costs down. If you can look past the projector's lack of Bluetooth support, then you should be happy with the wide-selection of inputs.
Lamp Life
One place where CiBest refused to slouch was with their bulbs. The BL45's lamp life is more than 30,000 hours, which basically means you can use the projector 10 hours per day for over 10 years and still be in business. Even though you can watch it that much, doesn't mean that you should. In order to limit eye strain, you should take a break every 3 or 4 hours. This also allows the projector's bulbs to have a cool down period. While modern projectors aren't known for over-heating, giving the bulbs a rest is still considered an effective operational procedure. We worked the BL45 to the bone and didn't notice any overheating or heat-induced performance issues.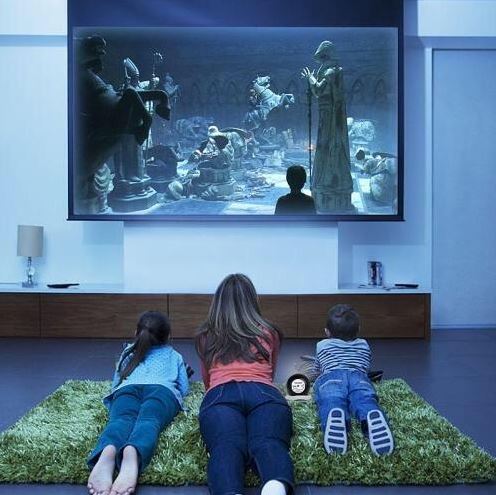 Cooling System
Speaking of overheating, we'd like to jive a bit about the BL45's cooling fan system. CiBest has done a great job of keeping the fan from interfering with the BL45's sound quality. Even after sustained use we never audibly noticed the fan unless we were specifically listening for it. There are several home projectors which feature obnoxiously loud cooling systems, so the BL45's ultra-low sound signature fan is a very welcomed surprise.
Lens and LEDs
The BL45 features a high transmittance wear- and scratch-resistant lens. Unless you're going out of your way to gouge scratches in the lens, we don't foresee any superficial scratches or wear spots getting in the way of your picture. CiBest has also included advanced LED technology which allows the BL45 to shine 70% brighter than standard LEDs. CiBest has also taken care in assuring that despite the brighter display, the projector does not leave a significantly increased energy output. In a well-lit room, the bright LEDs don't make a huge difference, but in a dimly-lit room the additional brightness is blinding in the best way possible. If the super-LEDs are too bright for you, you can adjust the brightness to your liking.
Design
While we've already discussed the BL45's dimensions, we haven't touched much on the actual design and form factor. CiBest's projector mixes portability, elegant lines and an iconic metallic finish to create a gadget that looks considerably more expensive than it is. The projector's build quality doesn't feel cheap. Affordable electronics often feel like they're going to crumble apart in your hands. If you've ever bought a cheap charging cable at a dollar store, you know exactly what we're talking about. The BL45 isn't like that at all. Despite the comparatively low-price, the projector feels decidedly premium.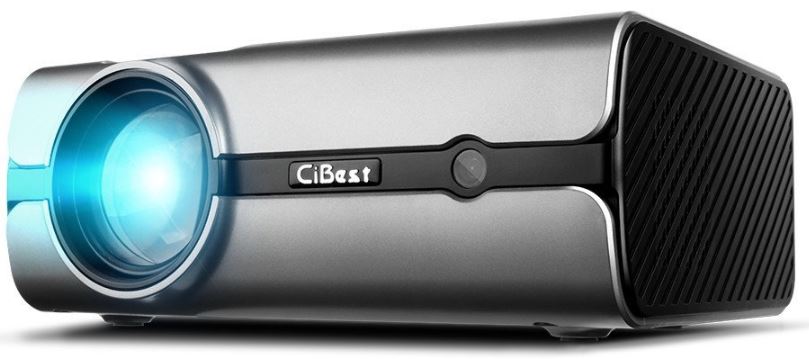 Final Thoughts
For what it's worth, the CiBest BL45 is an excellent choice for the gadget fiend on a budget. You're not going to get premium features and you're not going to have Bluetooth connectivity, but for the price, we can't be too choosy. The projector's combination of portability, ease of use, massive screen size, extended lamp life and decent HD upscaling makes the BL45 a welcome addition to an entertainment system.
Here's the bottom line: If you're looking for 4K quality resolution, dozens of input ports, the most advanced sound features and wireless connectivity, you're barking up the wrong tree. But for everyone else, the CiBest BL45 is a perfectly serviceable alternative.
Meet Derek, "TechGuru," a 34-year-old technology enthusiast with a deep passion for tech innovations. With extensive experience, he specializes in gaming hardware and software, and has expertise in gadgets, custom PCs, and audio.
Besides writing about tech and reviewing new products, Derek enjoys traveling, hiking, and photography. Committed to keeping up with the latest industry trends, he aims to guide readers in making informed tech decisions.