Gaming chairs are gaining popularity these days. With the amount of people who spend their day sitting for long hours in front of the PC, it's very important that you have the right chair for proper ergonomics and posture.
There are many options available that you can select from, which can make the decision process a bit difficult. We have spent the time to put together a comprehensive list of the four gaming office chairs that will give you the perfect level of comfort and durability. There are certain key features to be kept in mind while selecting a PC gaming chair including softness, proper back and head rests, durability, angle adjusters, price, and warranty. With so many different ones, you need to be careful and specific in your requirements while picking the best one.
Dxracer Formula Series DOH/FE08/NR
The Dxracer Formula Series DOH/FE08/NR is a comfortable gaming chair for relaxing in the easiest manner. Its full sized frame, quality, and adjustable support system makes it one of the favorites among consumers. It has many features that makes it the best gaming office chairs among others.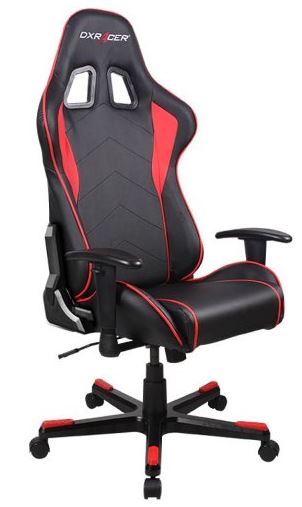 Features
Resilient Armrest Surface – Pleasant and soft to the touch, the DX Racer office chair uses the highest quality polyurethane to bring a high level of comfort to those who use it for hours on end.
Large Angle Adjuster – Equipped with a 170 degree limitless angle adjuster that gives the chair the maximum comfort level. The adjustability is very easy.
Universal Casters – Durable, quiet, firm and safe. This is due to the fact that it's covered in advanced PU while combined with heavy ABS. The universal casters are very helpful to make this office chair strong, sturdy, and stable.
Multi-Dimensional Ergonomic Design – Your spine gets an appropriate amount of support and comfort. As a company, DX Racer brings in ten years of ergonomics research to get the design right.
Rocking Function – Due to the pivotal mechanism used, the chair can be tilted up to 12 degrees and at any desired position.
Newly Designed Base – The newly designed base of the DX Racer office chair provides a footrest shaped base so that you can rest your feet while you sit. It's stamped with a racing tire platform.
The Dxracer Formula Series DOH/FE08/NR is available for around $349 and is protected by a generous 2-year limited warranty. It comes with computerized embroidery, a lumbar cushion, imported fabric, new nylon base, an angle adjusting lever, universal casters, a headrest cushion, an adjustable armrest, and a height lifting lever.
DX Racer FE08NO
The DX Racer FE08NO Office Chair is one of the top-rated high back office and gaming chairs currently available. It overcomes the issue that low back office chairs often have that makes it impossible to rest the neck. The DX Racer FE08NO can be lowered 180 degrees to a horizontal position for a quick nap during long working hours. It's obvious that it was specifically designed for the highest level of comfort and softness.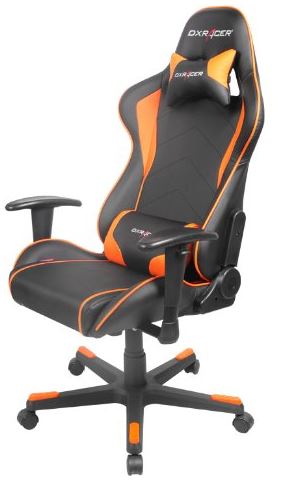 Features
Higher Backrest – This office chair provides an extra high backrest to save spinal and neck pain. It's very comfortable and is designed keeping in mind the most comfortable and natural body position.
Heavy Duty Aluminum Base – The DX Racer FE08N0 comes included with a heavy duty aluminum base with the latest design to ensure durability and longevity.
Special Soft and 8 Position Adjustable Armrests – In order to protect your wrist and shoulders, this office chair comes with special soft armrests with 8 levels of adjustments.
Breathable Material – Equipped with patented breathable material like that in a race car. It's light and airy to provide a cozy and relaxing time that breathes well.
Ergonomic Design – The ergonomic design makes the chair very efficient and comfortable. It comes included with a lumbar cushion and a headrest cushion.
180 Degree Angle Adjuster – For maximum support and ease of use, this office chair has the great feature of 180 degree angle adjustments. You can adjust it to any level as you please and be as comfortable as you'd like.
The DX Racer FE08NO Office Chair can be purchased for around $349, but keep in mind that it comes included with a generous 12 month warranty. This way, you can feel good to know that if anything happens unexpectedly to your investment in the first year of ownership, it's covered.
Boss Black LeatherPlus Executive Chair
The Boss Black LeatherPlus Executive Chair is a luxurious high-level office chair that provides stability, comfort and durability at a reasonable price. It's very easy to assemble, has a great ergonomic design with a waterfall seat arrangement to make it a must-have for those who want a stylish and reliable chair for PC gaming.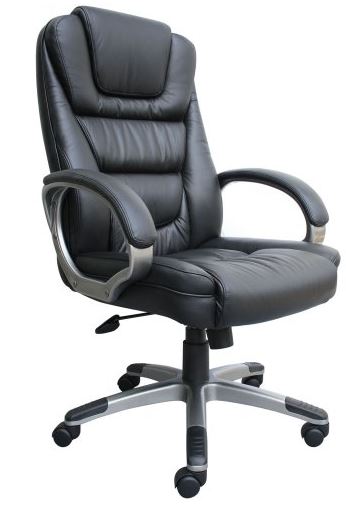 Features
Easy to Assemble – There are no tools needed to assemble this executive chair. It can be put together from un-boxing in about 5 to 10 minutes.
Upright Locking Position – The upright locking position gives it a sturdy and structured back and body rest while you're spending continuous hours on the computer.
Ergonomic Design – Keeping the comfort level in mind, it's created with ergonomic back design with lumbar support. This is the proper support needed to make certain that you won't experience fatigue or discomfort.
Added Durability – Made out of an incredibly durable leather alternative product called LeatherPlus. It's created out of polyurethane and is used to provide utmost durability and softness.
Great Comfort – Features such as the adjustable tilt tension control, the pneumatic gas lift seat height adjustment and the upright locking position provide a maximum level of comfort.
Upholstered with Leather – For added longevity and years of continuous reliability and durability.
Waterfall Seat Design – The waterfall seat design gives you the ability to sit for long hours and yet not ever feel any form of leg fatigue.
The Boss Black LeatherPlus Executive Chair can be purchased for around $136, making it a reasonable bargain considering the comfort and durability it promises to provide for years to come. You can tell that the chair is ideal for those who want the best, but don't want to invest a ridiculous amount of savings.
DXRacer RJ118/NBW/ZERO
Rated as one of the best for 2016, the DXRacer RJ118/NBW/ZERO is a state of the art Office/Gaming Chair that's built for maximum comfort and high productivity. With a completely unique design that boasts an ergonomically friendly lumbar support, you're assure hours of comfortable gaming without any aches. Let's take a closer look at the details of it.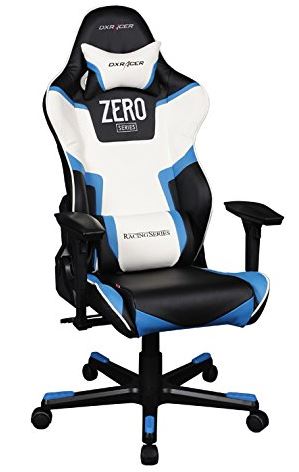 Features
Ergonomic Comfort – DXRacer is well known for their ability to create a comfortable and efficient design that's ready for countless hours of play or work time. With extra cushion around the lumbar area, and a padded headrest, it positions your body in the most ideal form.
Tall Backrest – The backrest is generously sized in order to accommodate people of all body types. This supports your spine and neck with the flexibility you need to adjust it as you please.
Unique Design – From first glance you can tell this isn't your average office chair. It's designed around a race car seat that DXRacer actually has their own patent for.
Great Airflow – Since they've used a mesh-like fabric, it breathes well and provides excellent airflow for helping to keep your body at a cooler, more-comfortable temperature.
Adjustments – There are several different adjustments that can be altered in order to create more custom-like fit. There's adjustable pieces that come included.
Sturdy Design – Built for quality and designed to last, you can tell that it's top of the line right from unboxing. The base is a heavy aluminum material that keeps you weighted down and sturdily supported at all times.
Tilt Mechanism – Equipped with an adjustable tilting mechanism that offers a generous amount of angle to be incorporated into the fit of the chair. It tilts and locks in whatever position you'd like it to.
Priced at around $369, we see the investment quite worth it if you spend a lot of time on your computer. Designed with the comfort you need, and the quality you trust, DXRacer has done it again with a phenomenal office gaming chair that we can highly recommend. Since it's put through rigorous quality tests before they ship, you can be assured that yours will arrive ready to go for multiple years in the future.
Finding the best PC gaming chair can be time consuming a little overwhelming. But with our reviews of the three most fantastic, highest rated PC gaming chairs of 2016, you truly cannot go wrong.