Portable audio is a priority for a lot of people these days. Listening to your favorite music via headphones or your smartphone's speaker isn't ideal for all situations. If you'd like to share your tunes or simply crank the volume with better sound quality, a portable Bluetooth speaker is your best choice.
As obvious as it may seem, not all Bluetooth speakers are created equally. Some are designed for high-end sound quality while others are meant to provide a blend affordability and decent sound. Prices can range anywhere from $10 to $1000+ so it's understandable why so many listeners have a tough time selecting the right one.
With portable audio, the most popular kind of speakers are priced reasonably and built with enticing features. Take the Zosam V5 Outdoor Speaker for instance. It's inexpensive, highly reviewed and built with many captivating features that will surely turn a few heads. But is it really what it's all cracked up to be? We were lucky enough to receive a few of these speakers in exchange for our honest review. Let's dive deeper and see what it's capable of and how each of the features pan-out.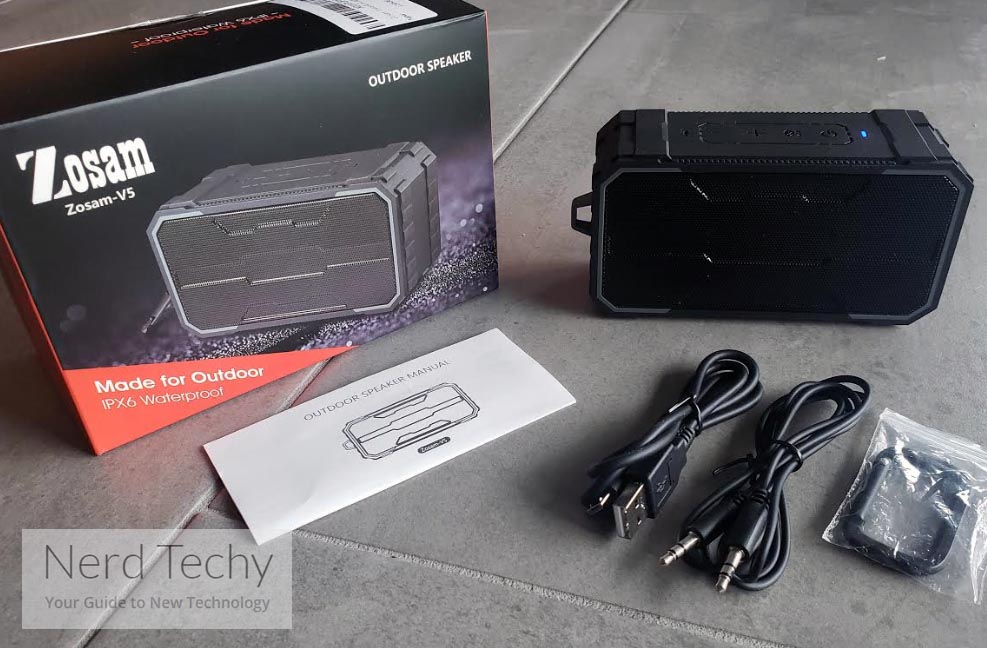 First Look
One of the first things you'll notice about the Zosam V5 Portable Bluetooth Speaker is the inexpensive price-tag. Coming in just over $25, it's priced to appeal to a broad range of consumers. Likely those who want better sound but don't necessarily want to pay a premium for a name-brand model. Regardless, seeing that there are over 400 reviews on Amazon, it's clear that the V5 is already a popular choice for many consumers.
Upon its arrival, we opened the box and were quite pleased with the compact design that Zosam implemented. Measuring just over 5″ wide, 2.75″ tall and 2″ deep, it's incredibly compact and much smaller than we originally anticipated by just looking at the photos of it. It's not exactly "pocket-sized" but definitely handheld.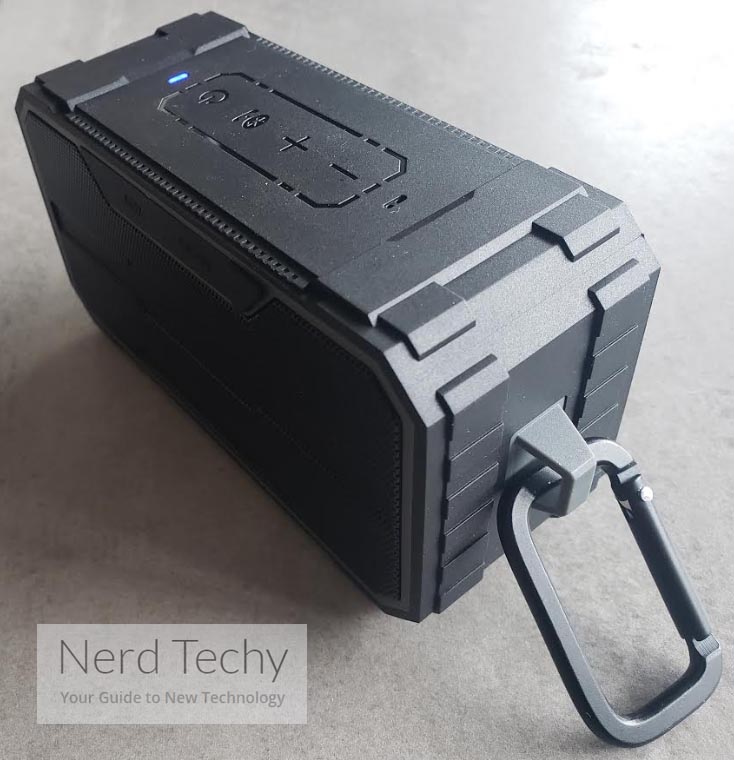 On the top you have all of the functional buttons including the power/on/off/pause button, Bluetooth/call function button, next/previous track and volume buttons, as well as an integrated mic and a tiny LED status indicator. The front and back feature a metal grille cover that's quite typical of any speaker. Although the metal grille looks nice, unfortunately, sound only emits from the front. On the back side towards the top is a small rubber flap that reveals three inputs – auxiliary, micro SD and DC-in for charging. Each side identical other than one side having a loop to clip the included carabiner. Flip it over and on the base you'll notice two extremely grippy rubber strips that keep the speaker stationary when you have it placed down. Overall, the build quality seems rugged and built to withstand a bit of abuse. It feels solid in your hand and there's no residual rattling or tackiness to mention.
In the box you'll find a USB charging cable, auxiliary audio cable, carabiner clip, instruction manual and of course – the speaker itself. There's no carrying case or optional accessories. It seems that Zosam only included everything necessary and nothing extra, which is totally fine in our opinion.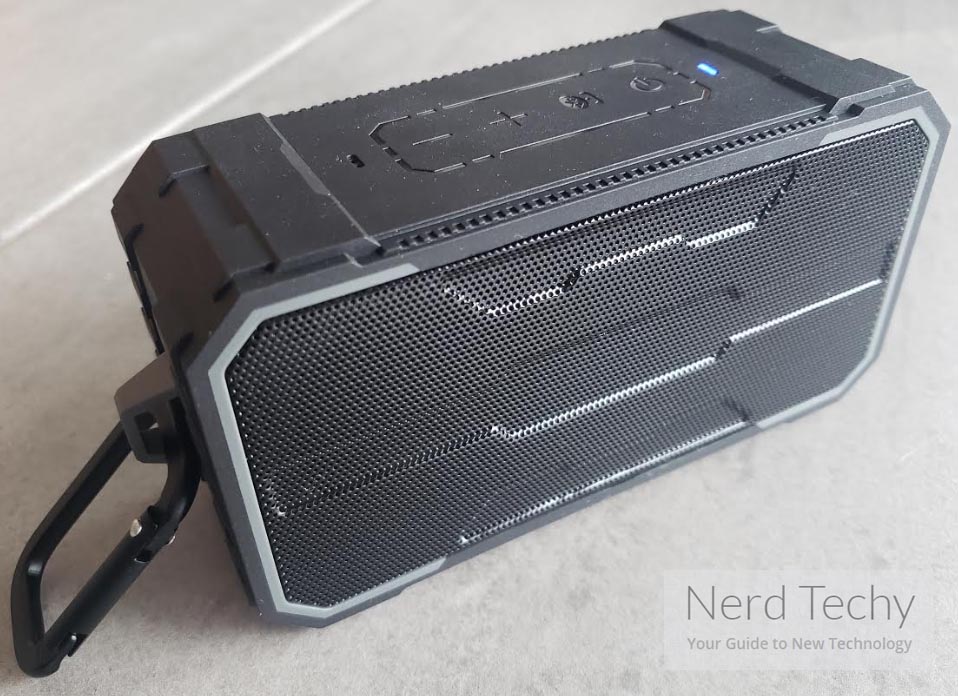 Setup Process
When setting up the speaker for first-time listening, we didn't even need to glance at the instruction manual. Simply make sure Bluetooth is activated on your smartphone (or other device) and power on the speaker. You'll hear "device is ready for connection" and the LED indicator will begin blinking blue. You should then select "Zosam V5" on your smartphone's available Bluetooth devices. Immediately after that, you'll hear "device connected", clearly indicating that you're ready to go.
Equipped with Bluetooth version 4.2, you can effortlessly use the speaker without any wires for around 66 feet. Or so they say. In our testing with direct line of sight, the speaker seemed to hold a signal at around 55 feet but started to drop after that. You could experience better or worse wireless connectivity based on a wide range of environmental factors. However, even 50+ feet of range is pretty impressive and nice to have.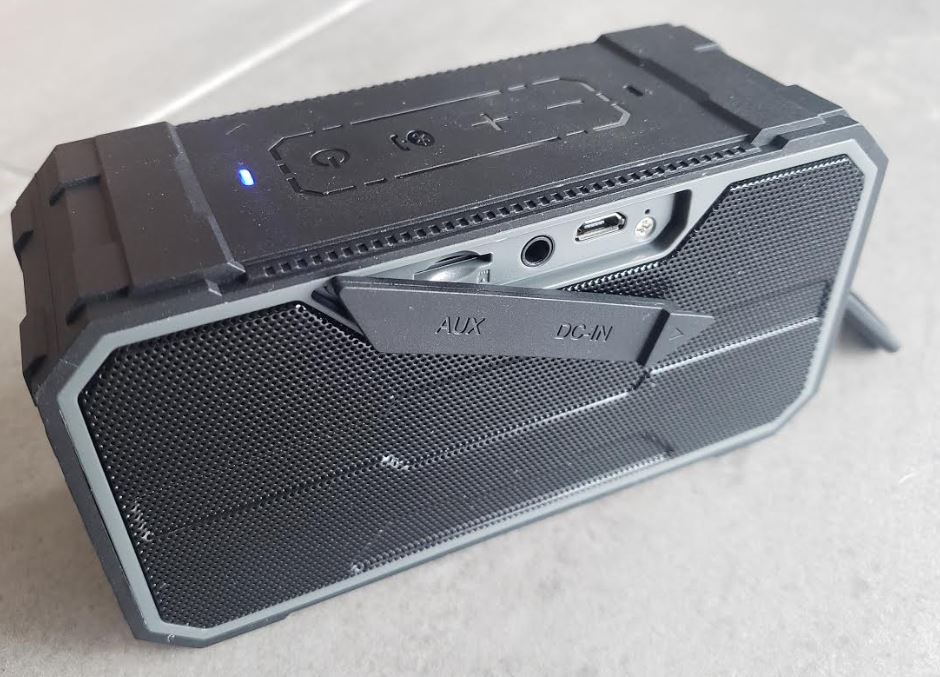 Sound Quality
Arguably the most important thing about any portable speaker is the audio quality. We tested the V5 while listening to rap, hip hop, rock, classical and country music. Playing a wide range of genres through it we felt like we gave it a fair chance to perform acceptably.
With the Zosam V5, they've included 10 watt dual drivers that are designed to emit full bodied stereo sound. Listening to it for the first time, we were immediately impressed with the volume range. This little speaker can get LOUD. In fact, much louder than we ever expected, so don't let it's small size fool you. Comfortably listening from 5 feet away, we had the volume turned up only 1/3 of its maximum level and this seemed appropriate without drowning out every other sound in the room. Cranking it up to the maximum volume, it's so loud that you could easily hear it from a distance, but this is where the clarity seems to suffer.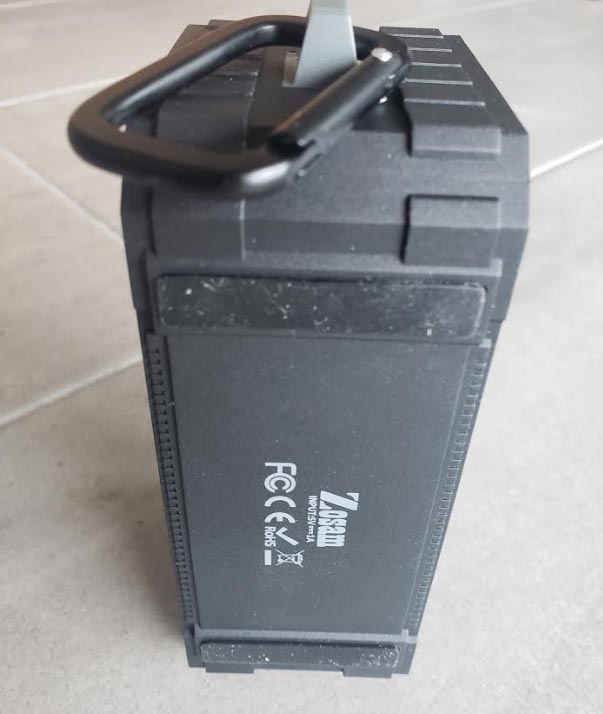 The clarity is decent, until you turn up the volume beyond about 2/3. This brings out a "tinny" kind of sound that doesn't sound all too nice. There's a bit of distortion at this level but we're more concerned about the tinniness. It brings out an unfavorable soundscape that leaves us wanting a bit more. Since this is the case, we'd say it's ideal that you keep the speaker turned down a bit and not above 2/3 if you want the best audio quality.
As far as bass goes, there's really not a whole lot to write home about. There's no subwoofer built into the Zosam V5 so deep lows and rumbling bass seem to be absent. It's quite understandable and expected with a budget-priced speaker like this, but it still would have been nice with the inclusion of even just a tiny subwoofer.
All and all, the sound quality is about average for what you're paying. We highly recommend keeping the volume at an acceptable level to avoid distortion and unpleasant tones. If you're looking to fill a room or backyard party with primo audio quality, it may be worth looking into something a bit more powerful.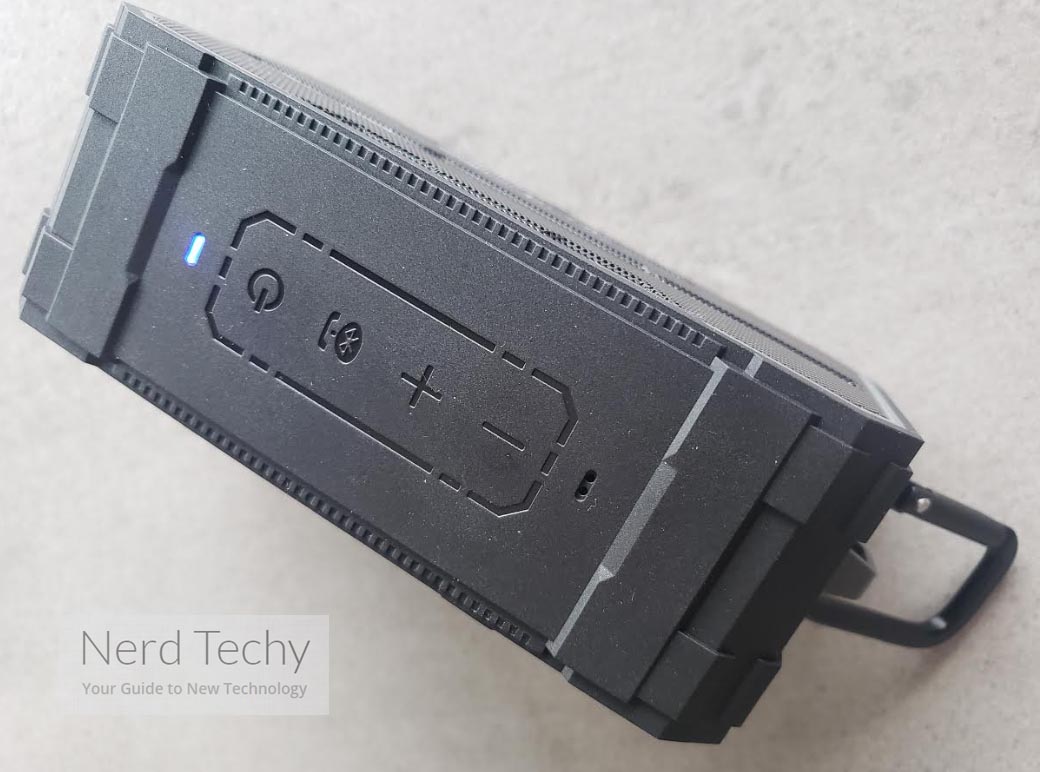 Battery Life
Built inside of the Zosam V5 is a 2200 mAh rechargeable battery that carries an advertised 10 hour playtime. Although it comes shipped with a partial charge, we highly recommend plugging in the included USB charging cable to the DC-in port located on the backside of the speaker. Keep it on the charger and you'll see a red LED glow while it's charging. When the charge is complete, it'll turn off. At that time, you'll know that the battery is at its fullest capacity and it's ready to be used for its full duration. Expect it to take around
We wanted to test out the battery life for ourselves so we decided to keep music playing consistently through the speaker for as many hours as it took for it to stop working. Volume levels are a crucial variable when it comes to battery longevity so we kept the volume exactly at 50%. In a matter of 7 hours, the LED indicator began blinking red. This clearly indicates that the voltage of the battery is lower than 3.3 volts. We kept it playing and at just under 9 hours, the speaker couldn't be powered anymore and it turned off. With this test, we could conclude that the speaker could likely match the advertised 10 hour battery life if we kept the volume turned down a bit less than 50%.
The 10 hour battery life is definitely feasible and not an exaggeration which is nice to see. Some manufacturers grossly over-estimate the battery duration – not the case here.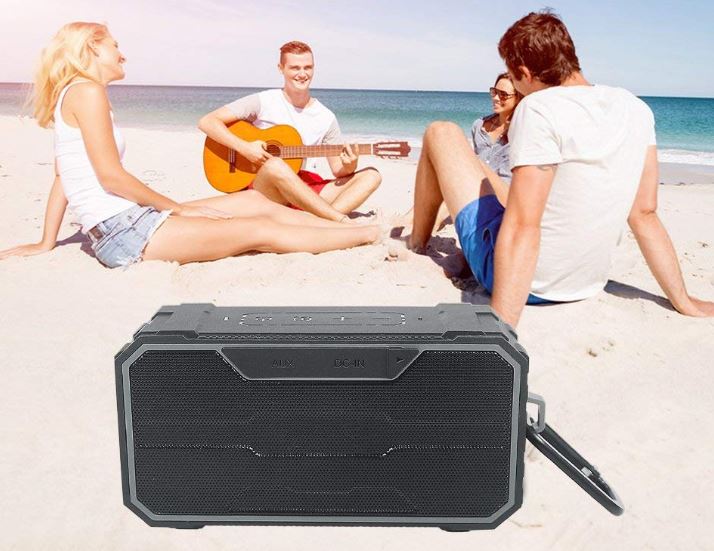 Durability
The Zosam V5 is clearly constructed for a rugged lifestyle, especially considering its IPX6 capabilities. Plainly put, it's built for outdoor use where wind, water, dust and heights are a real threat. The IPX6 rating is nice to have since it means that it's been rigorously tested against water and dust penetration. Technically speaking, it can hold up to consistent pressurized water for up to 30 minutes without any water penetration. While you cannot and should not ever submerge the Zosam V5 in water, it can withstand most outdoor elements that you put it up against.
In addition to its waterproof capabilities, the V5 has been built to withstand a bit of abuse. We dropped it from 4 feet onto a concrete surface and it still worked just as perfectly as it did when we unboxed it. While not recommended, it can withstand reasonable drops onto hard surfaces without worry. Yes, the exterior may become scuffed or beat-up, but the internals always seemed to hold up.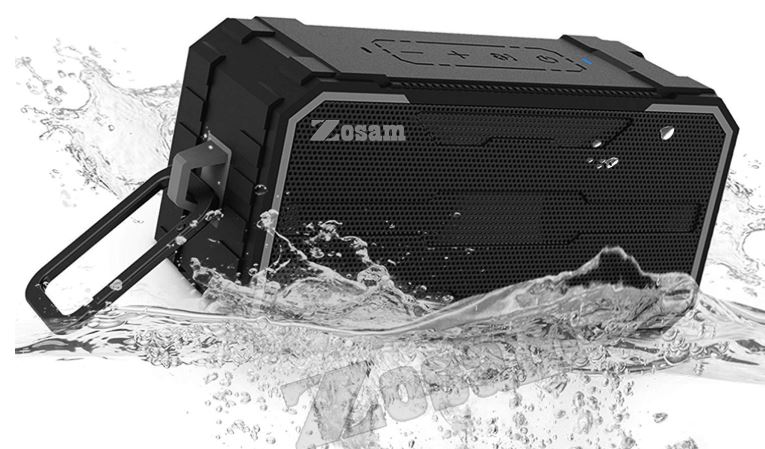 Final Thoughts
While the Zosam V5 Outdoor Bluetooth Speaker isn't the absolute highest quality choice on the market, it offers an ideal blend of affordability, sound quality and durability. It's clear to say that Zosam went above and beyond when it came down to the design and integration of certain characteristics like the battery life and quality construction. Yes, the sound quality is decent below 2/3 volume, but the bass seems to be lacking. Understandably, you're not going to get everything at this price-point but you definitely get a lot.
There are many other wireless speakers on the market, but few seem to provide everything that the Zosam V5 does. If you're not ready to shell out the investment for a name-brand speaker, we highly recommend considering the V5. It's ideal for small parties but not massive gatherings where you'll need more power and a more-acceptable bass. It's designed to impress and provide a blend of quality and affordability – it does just that! Truly amazing for the price!