CUIUIC Portable Monitor
Pros
High contrast ratio and low latency.
Accepts an ordinary HDMI cable.
Compact, slim, portable design.
Very affordable.
Comes with a protective soft case.
Cons
Not suitable for graphic design work.
Carry case doesn't have room for the cables.
Nowadays, dual monitors have become more popular than ever. They used to be the realm of programmers, who would code on one screen and test code in the other. But with display costs getting cheaper by the year, more and more people are using a second monitor.
For example, suppose you're a gamer, and your team uses Discord. Yes, you could always use the Discord overlay. But it's even cleaner to have your Discord chat on a second monitor. That way, you get a clear look at your game.
But a traditional display is only really practical with a desktop computer. If your lifestyle keeps you on the road a lot of the time, you'll be using a laptop. This means you're once again limited to using a single display.
Unless, of course, you use a portable monitor. Portable monitors are ultra-slim, and are designed to be carried in your laptop bag. That way, you can have a second monitor with you wherever you go.
There are also other applications for a portable monitor. Let's say you're a console gamer, and you spend a lot of the time on the road. You may not always have a big, convenient TV to plug into.
Instead, you can bring a portable monitor on vacation, and play your games anywhere you like. But it's important to choose the right monitor. For example, a great gaming monitor might be less than ideal for graphic design. Do your research before you buy, and you won't be disappointed.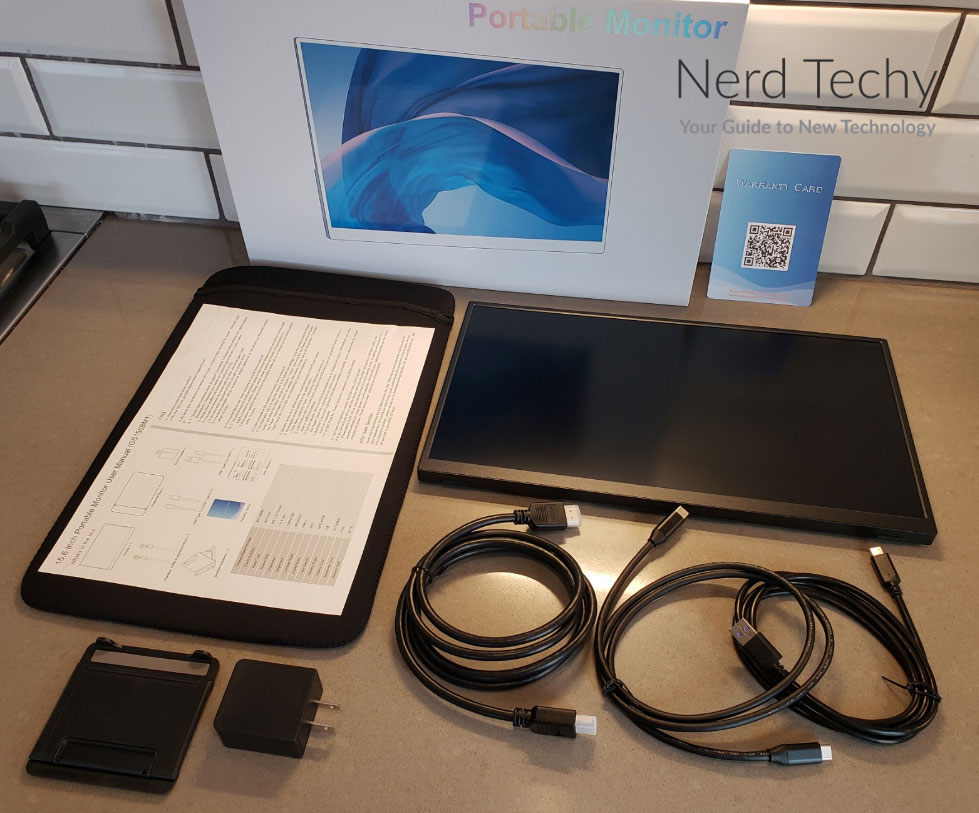 CUIUIC Portable Monitor
Today, we're going to review the CUIUIC Portable Monitor. This is an ultra-slim monitor with a 15.6-inch 1080p display. It comes with a protective fabric sleeve, and can connect via HDMI or USB Type-C. It also has only 1 millisecond of latency, which is an essential feature for gamers.
Of course, those are just a few of the features you should be thinking about. We'll also have to talk about how it's constructed, and how durable it is. We'll need to look at how it's powered, and how bright the display is. And we'll discuss other aspects of the display like the color gamut and contrast ratio. After that, we'll know enough to render our verdict. Let's get started!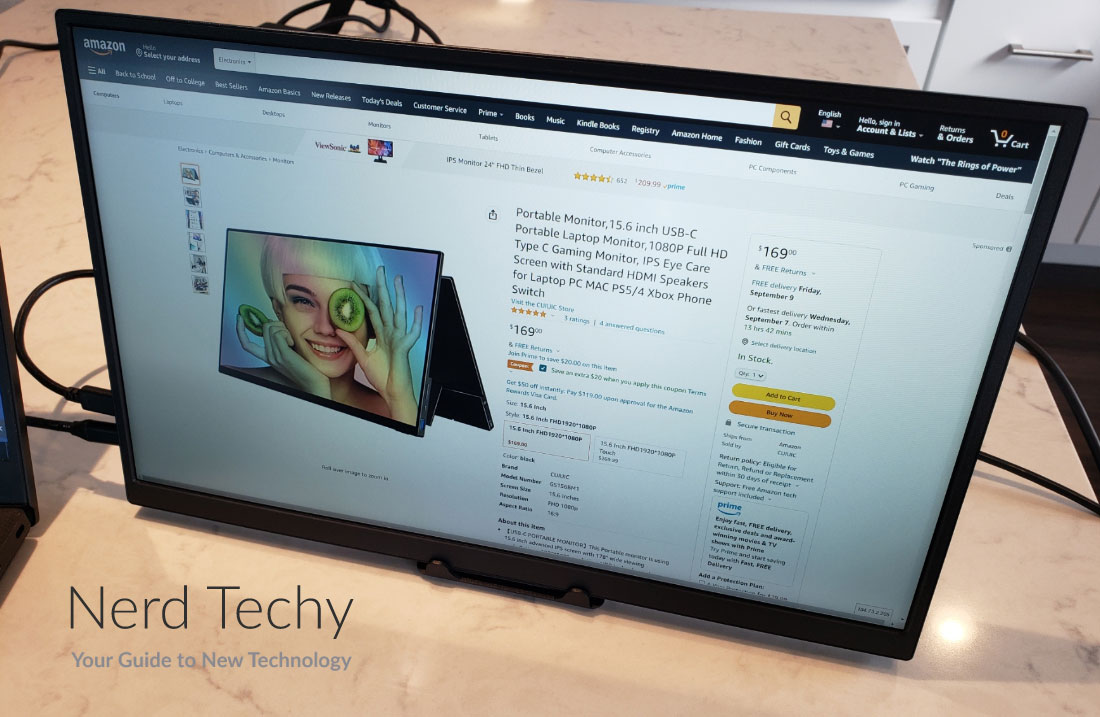 Overall Design
The CUIUIC Portable Monitor is as rugged as you'd expect from a portable display. Instead of plastic, it's constructed from a tough aluminum alloy that can take a beating. The finish is matte black, with a narrow bezel around the 15.6-inch display. The bezel is slightly fatter on the bottom, providing some separation from whatever surface the monitor is sitting on.
The input and output ports, as well as the controls, are located on the sides of the housing. On the left side, at the bottom corner, you'll find the HDMI input port. Above that is a pair of USB Type-C ports. At the top is a 3.5mm aux port, where you can connect a set of headphones.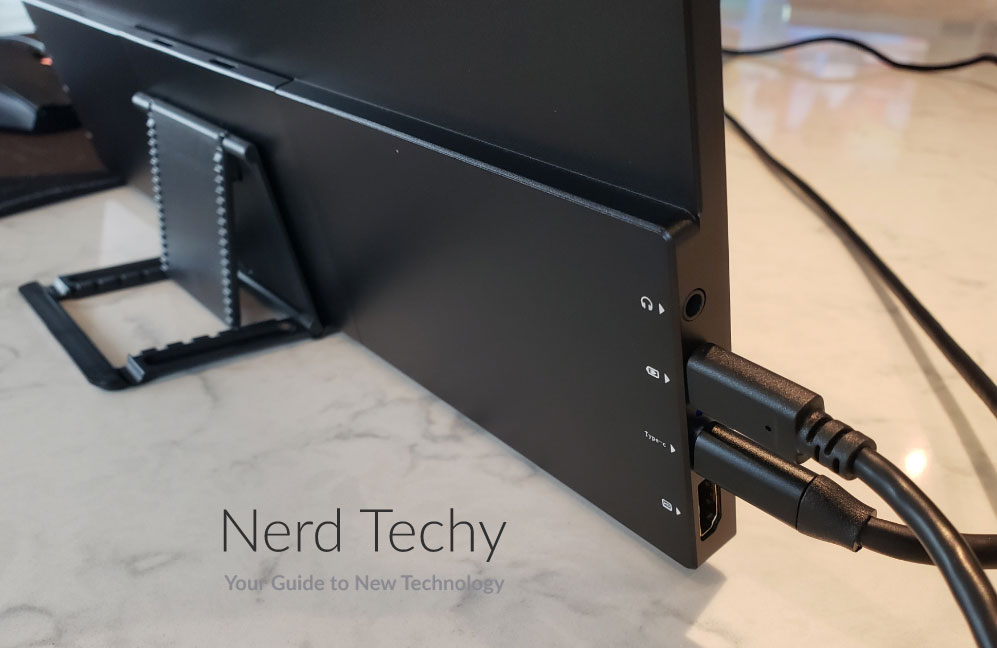 On the right side, there's a USB Type-A port. Above that, you'll see a set of black buttons. The small button just above the USB port is a multi-function button. It turns the monitor on and off, but also activates the menu and selects options. The bar-shaped button on top adjusts the brightness or volume, depending on the context. You'll also use it to navigate the menu.
In the back of the display is a pair of built-in stereo speakers. They provide decent audio for the size, but there's just not much space here. You'll be just fine if you're watching YouTube videos or participating in a Zoom call. For anything else, you'll definitely want a headset or a pair of headphones.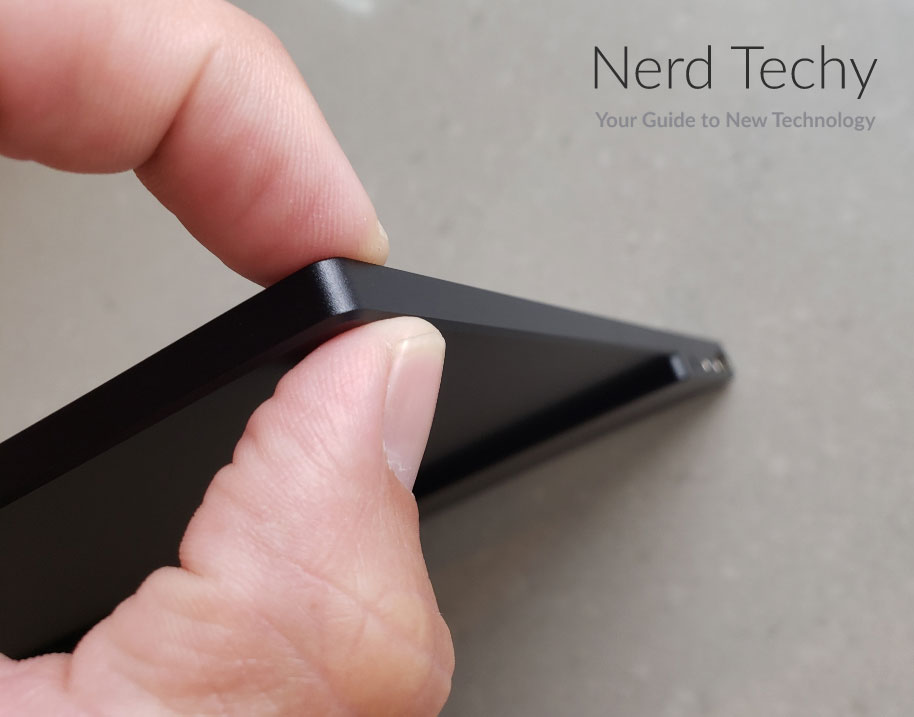 Size and Portability
As its name implies, the CUIUIC monitor is designed to be portable. The advertised thickness is 0.2-inch, which is the thickness at the top. Near the bottom, it's a bit fatter to accommodate the ports and buttons. But it's still less than a quarter of an inch thick, at only 0.23-inch. It has a total width of 14.06 inches, and a height of 8.43 inches. And at only 1.7 pounds, it's lighter than most laptops. You can easily carry it in your laptop bag, backpack, or briefcase, and you'll barely notice it's there.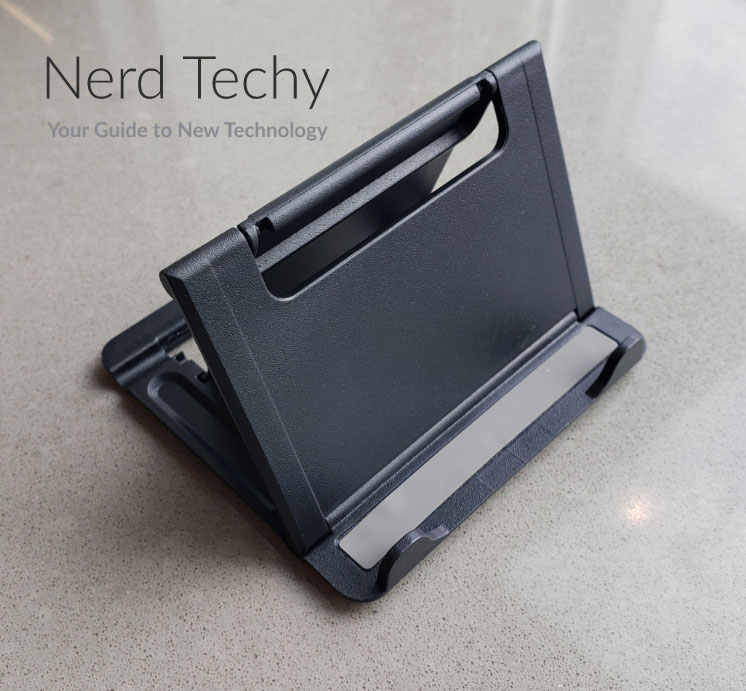 In the middle of the back is the perfect place for the included kickstand. This can open as wide as 75 degrees, so you can position the display at a steep or shallow angle. As a result, you'll be able to work comfortably in just about any position.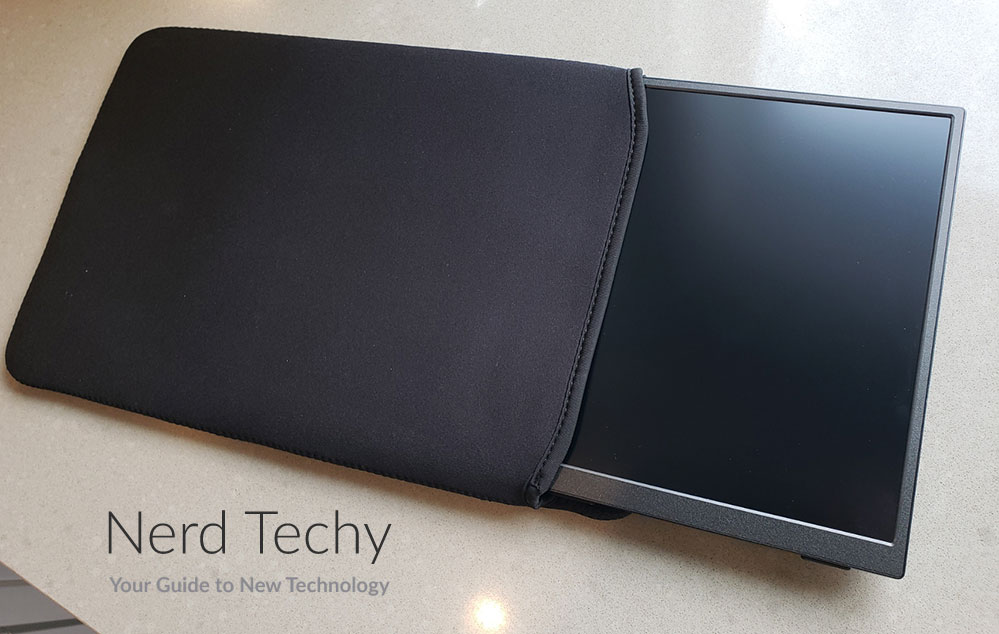 Along with the monitor itself, you get a fabric carrying sleeve. The sleeve is black, just like the monitor, and it's made from a thin polyester. It's a far cry from bulletproof, but it's tough enough for everyday transport. There's stitching around the edges for reinforcement, and it's open at the short end. The front face has an angled cutout, which makes it easy to slip your display in and out.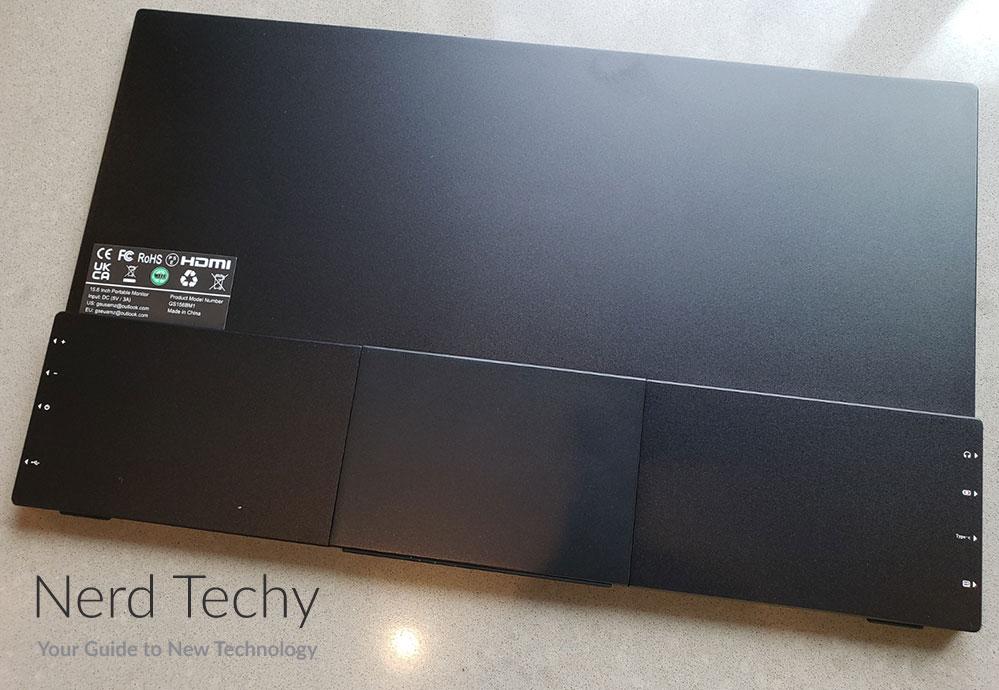 Connectivity and Compatibility
There are two ways to connect the CUIUIC to your device. In most cases, the simplest option will be to use the HDMI port. We very much appreciated this, since most portable monitors require you to use a Mini HDMI adapter. Instead, you can easily connect to your laptop or game console.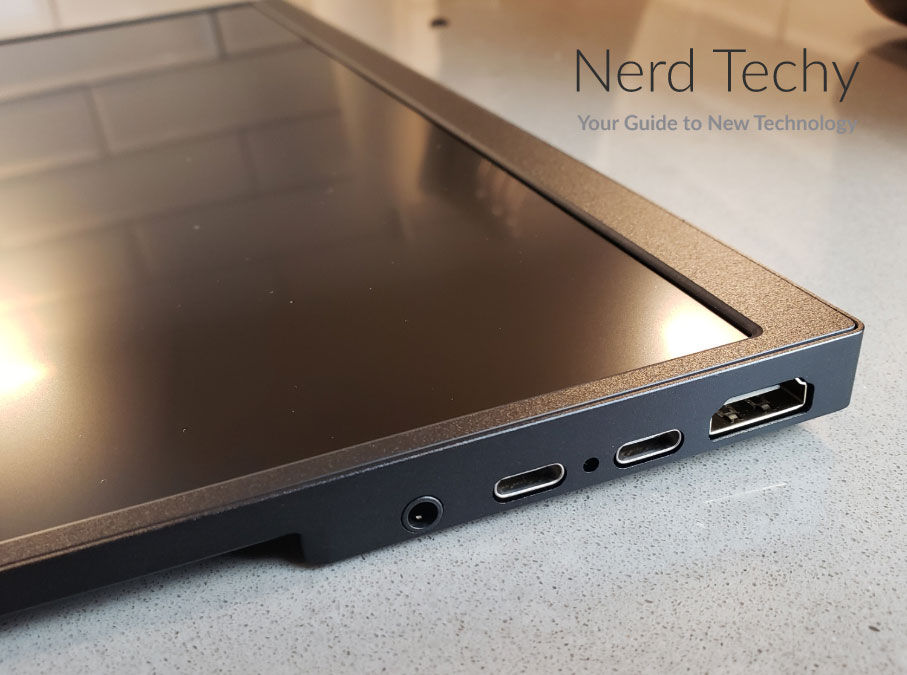 For some laptops, it can be easier to connect via USB Type-C. Either way, the cable you need will be in the package. The kit includes an HDMI cable, a USB Type-C to Type-C cable, and a USB Type-A to Type-C cable.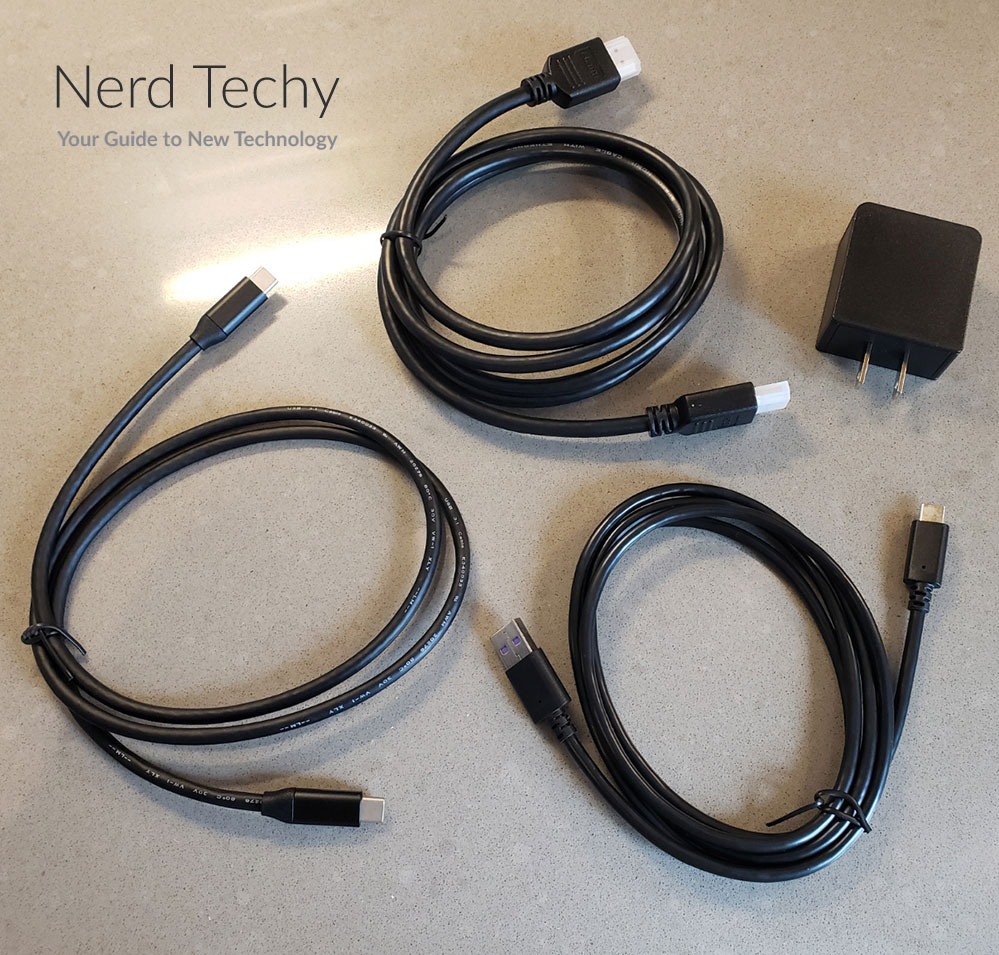 The Type-A to Type-C cable is used to supply power. You'll need this with any console or with most laptops. You'll also need a high-wattage USB power adapter, which is not included in the package. Note that you may be able to use your laptop to supply power via a second USB Type-C cable. However, only a handful of laptops supply the wattage necessary to power an external display.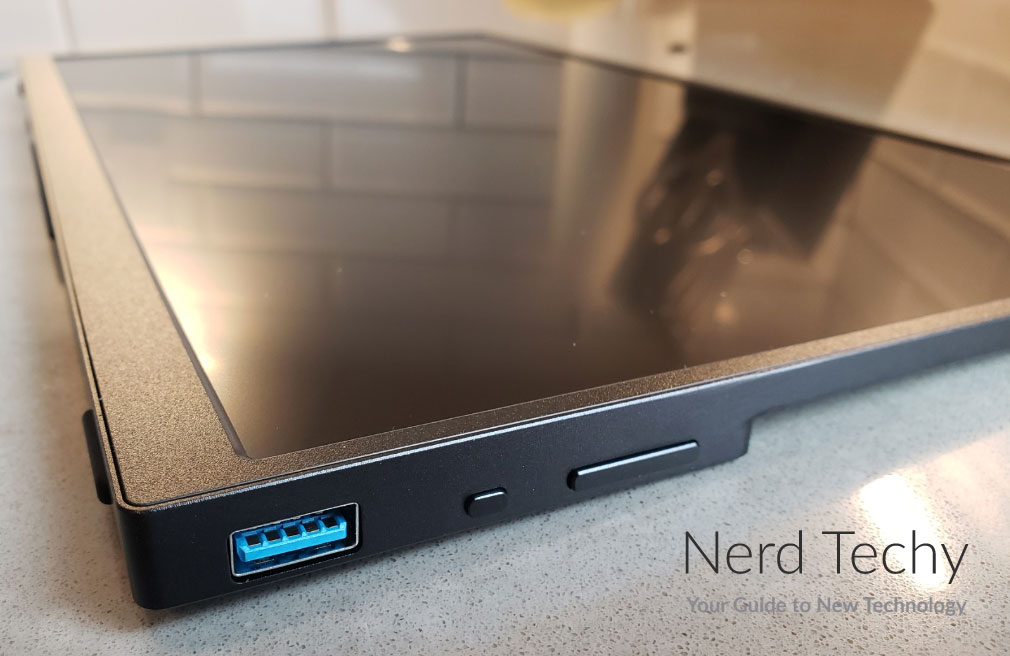 The USB Type-A port at the bottom right provides pass-through connectivity for other peripherals. You can plug a keyboard into it, or use it to connect your USB mouse. This is a handy feature if your laptop is short on USB ports and you prefer traditional peripherals.
Resolution and Refresh Rate
The CUIUIC Portable Monitor has a resolution of 1080p, or 1,920 x 1,080 pixels. In the era of 2K and 4K displays, this might not sound very impressive. But let's be real – this is a 15.6-inch screen. At that size, anything higher than 1,080p is going to be mostly pointless. At a certain size, your eyes won't be able to distinguish individual pixels. There's simply no point in making a small display higher than 1080p. Once your screen gets bigger than 17 inches, it's worth considering an upgrade to 2K or 4K.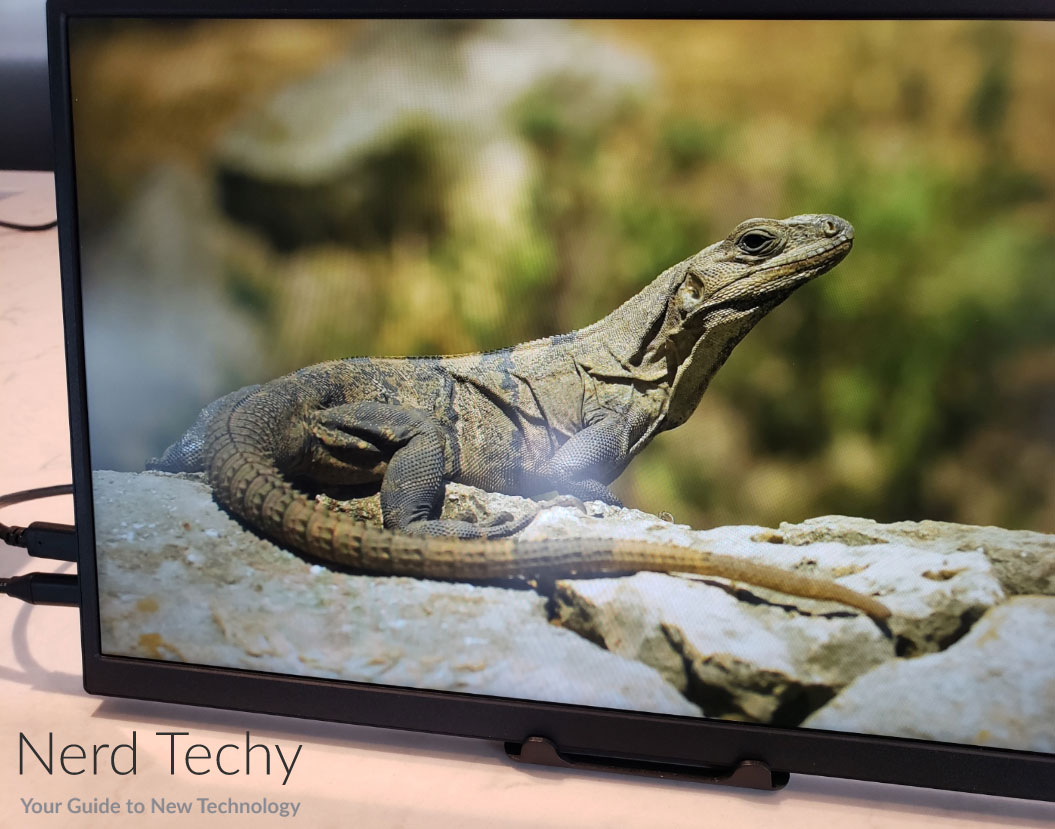 This is an IPS display, which means it's designed to be viewed from almost any angle. In total, it supports a viewing window of 178 degrees. This gives you plenty of freedom when it comes to placement. The colors won't change or become negativized just because you're viewing the screen at a wide angle.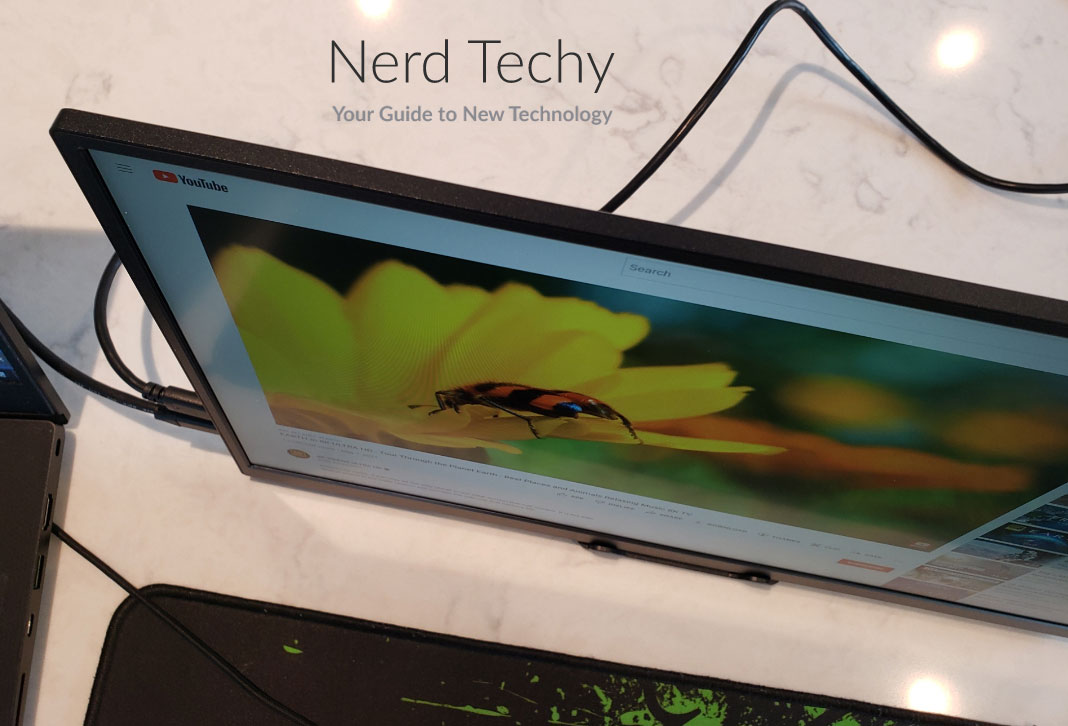 The screen has a refresh rate of 60Hz. That's twice the framerate of standard video, and suitable for gaming. Some gamers may hold out for 120Hz or more, but it really depends on what you're playing. If you play a lot of action games and you're very sensitive to motion blur, go for it. For most people, 60Hz is all you're ever going to need.
One last thing to note is the insanely low latency of only 1 millisecond. This is important for gamers, because you want your inputs and displays to be in sync. The lower the latency on all of your devices, the smoother your gaming experience will be.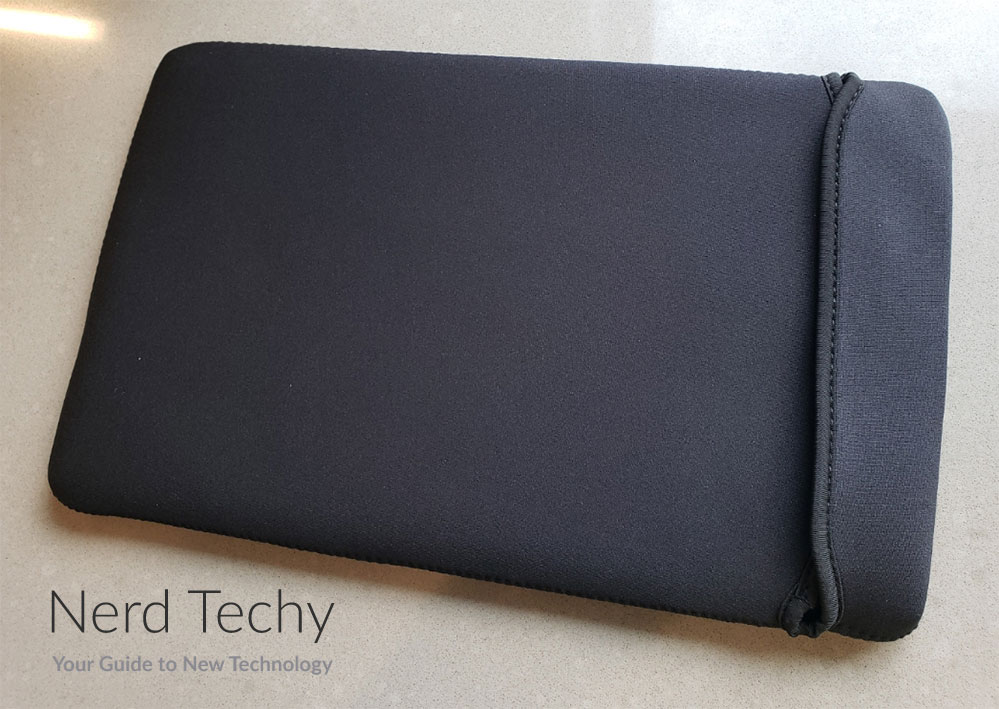 Brightness and Color Quality
The CUIUIC monitor's screen has a maximum brightness of 400 nits. That's brighter than the average monitor, which is great news if you're working in a brightly-lit environment. Anything short of direct sunlight won't create glare or create bright spots. And if you're in a darker space, you can always turn the brightness down.
This monitor's color gamut covers 100% of the SRGB color space. That's equivalent to 72% of the NTSC color space, which is roughly comparable to Adobe RGB. For gaming, watching videos, or web chats, you'll have more than enough color. That said, graphic designers will want a monitor that covers more of the Adobe RGB color space. Otherwise, your prints might come out differently than the on-screen preview.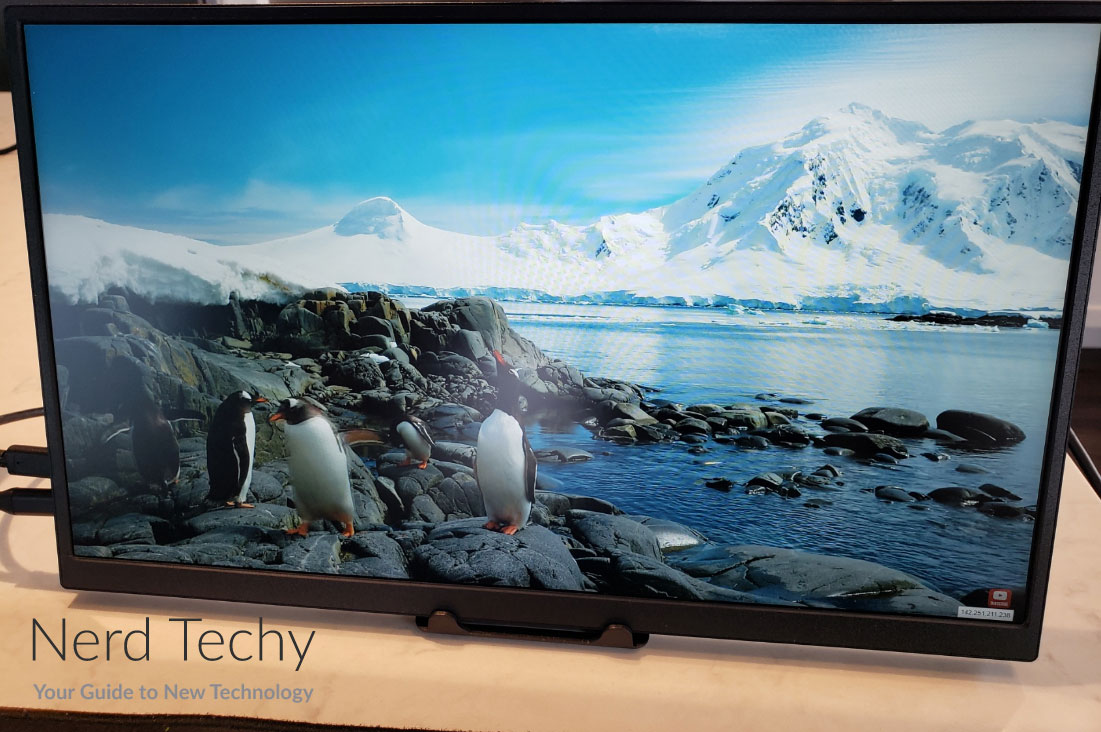 CUIUIC's display utilizes high dynamic range (HDR) technology. HDR monitors are more vibrant than ordinary monitors, with richer colors and more saturation. This is great for watching Blu-Rays, or for anyone who wants the most beautiful possible picture.
The contrast ratio of 2,000:1 is very impressive for the price. This is the measurement of the brightest versus the darkest tones on the screen. The higher the contrast ratio, the more detail you'll be able to make out during dark scenes. Typically, we look for contrast ratios between 1,000:1 and 3,000:1. Below 1,000:1, and you start running into picture issues. Above 3,000:1, and your eyes can't tell the difference. 2,000:1 is right in the sweet spot.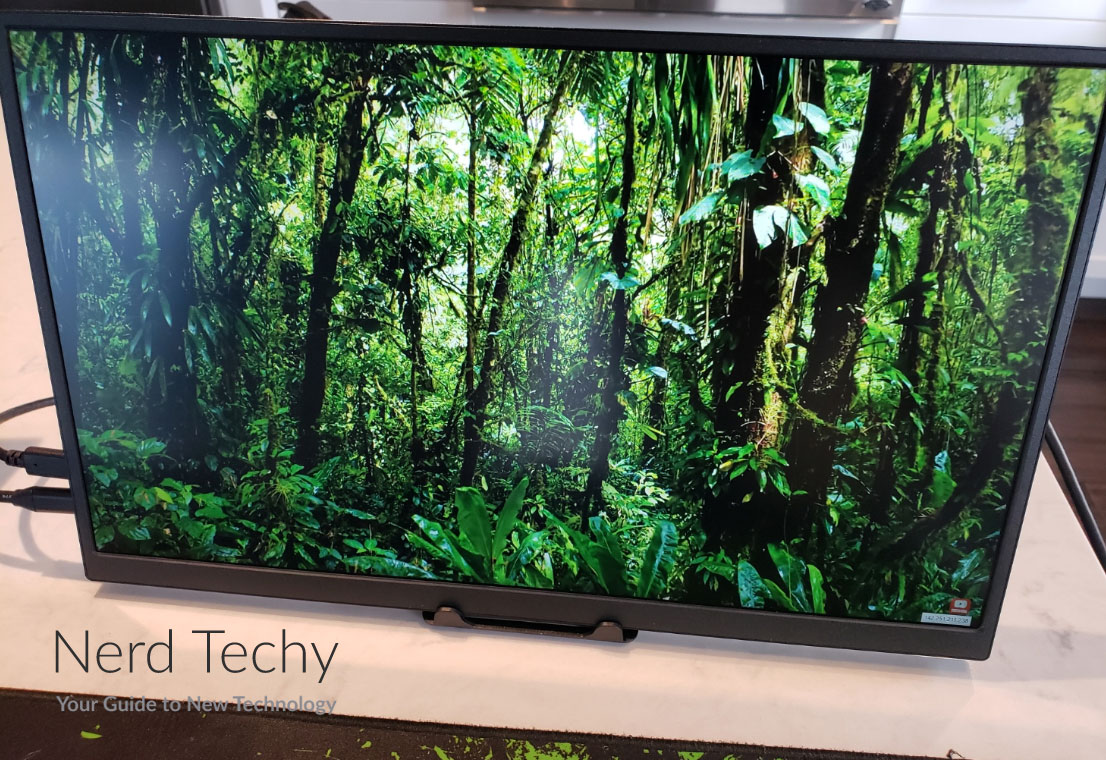 The last thing we should note is that the CUIUIC monitor is a low blue light display. Blue light signals your brain that it's daytime, and it can keep you up at night. You turn off your monitor, but your brain still thinks it's time to be awake. Less blue light allows you to fall asleep naturally after you turn off your display.
Final Verdict
The CUIUIC Portable Monitor is a great little display. It's slim and lightweight, and the included kickstand is well-engineered. The 1080p video looks crisp at 15.6 inches, and the HDR color is bright and vibrant. Best of all, the monitor is easy to connect, whether by HDMI or USB Type-C.