When you're gaming, a good display is an essential part of the equation. A sub-par display can introduce lots of latency, which slows down your response time. Poor color clarity can also be a problem, especially in games with a lot of monochrome environments. You want a crisp, clean resolution, so you can make out all the details. And a higher frame rate never hurts, since it reduces motion blur.
This is all well and good when you're in the comfort of your own home. But when you go out on the road, you've opened a whole new can of worms. You never know when and where a monitor is going to be available. And even where one is, you don't know what kind of quality you're going to get. At the same time, it's simply not practical to travel with a full-sized monitor. Instead, you need a slim, portable monitor that's optimized for gaming.
Note: At no extra cost to you, we may earn a commission for purchases using our links. Learn more.
Not long ago, we reviewed the best PS5 portable monitors. Now, we're going to do the same thing, but with the Xbox Series X/S in mind. At first, you might think that you'd be looking for the same things regardless of your console. And in many senses, that's true. After all, the PS5 and Xbox Series X/S are similar consoles, with similar video requirements. On the other hand, both Xbox consoles have their own quirks that set them apart from the PS5. Let's talk about what makes a good portable monitor, and then look at today's three options.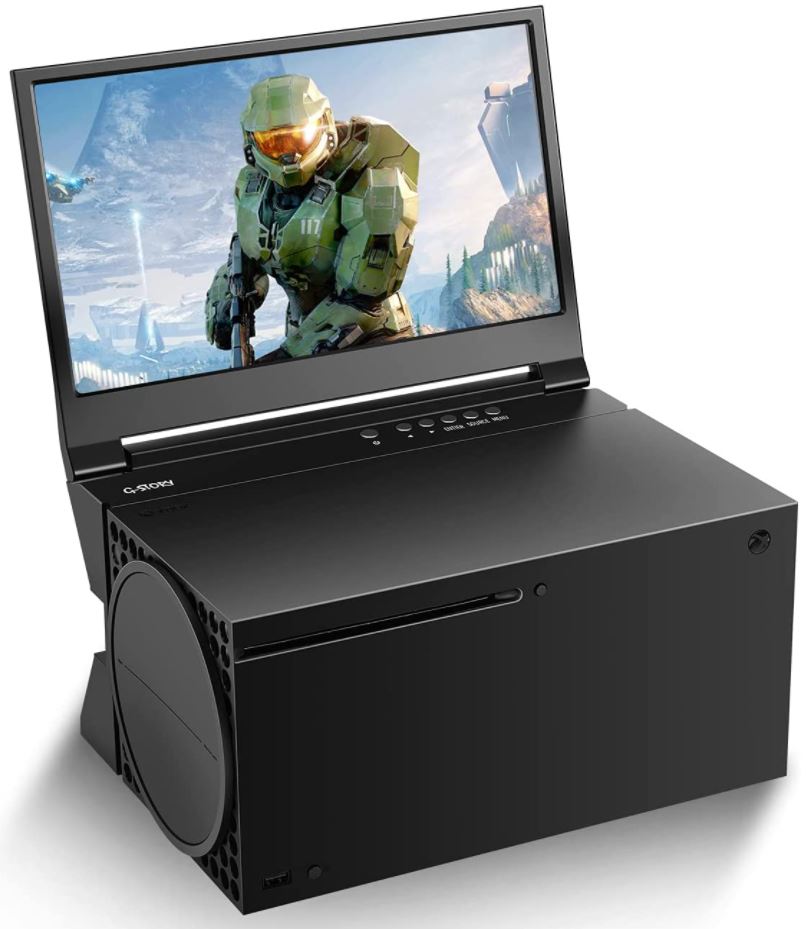 G-STORY 12.5″ 4K Portable Monitor for Xbox Series X
G-STORY specializes in all things console-related. We recently reviewed their Xbox Series X Carrying Case, and we loved the design. So it made sense to take a look at their portable Xbox monitor. It's worth noting that this monitor is designed for the Series X only. If you own a Series S, skip ahead to the next section.
The G-STORY 12.5″ 4K Portable Monitor for Xbox Series X has a unique design. Its matte black shell matches the Series X exactly, and it looks like a seamless part of the console. The monitor panel is attached to a big, broad base that clips into the back of your console. The base has an open design, with a cutout for all of your system's USB ports.
If you're using other peripherals like an external SSD, the monitor won't get in the way. The bottom of the display is hinged, allowing it to fold down over the top of the console. As a result, it's convenient to store when it's not in use. Just keep in mind that due to the orientation, your Xbox will have to be laying flat. The monitor will not work with the system in a vertical configuration.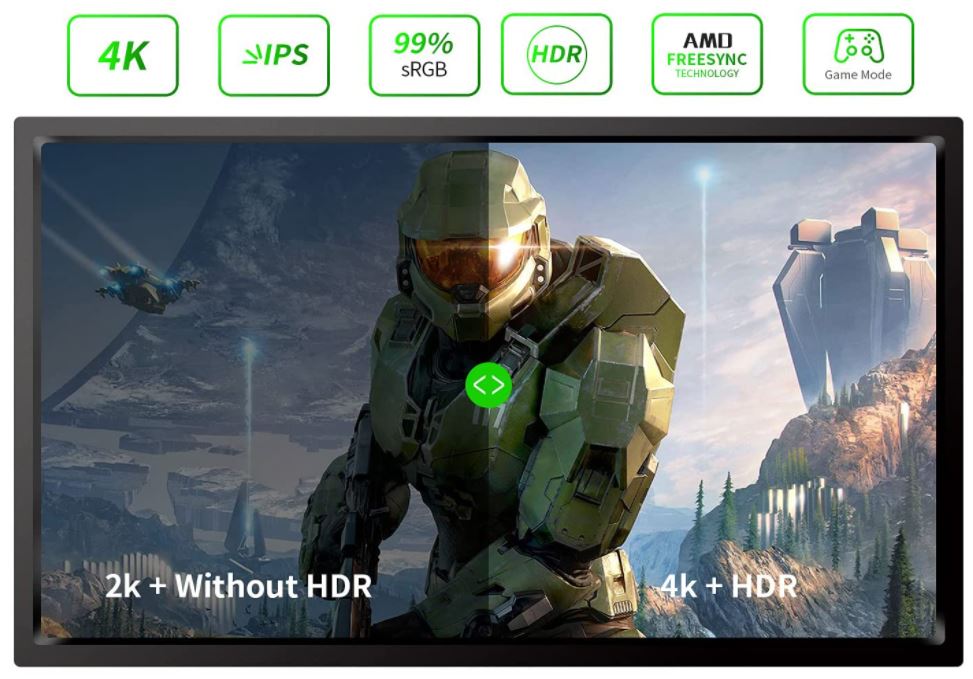 When the display is open, you'll see a row of buttons at the bottom. The leftmost is a power button, which turns the screen on and off. Another button controls your input source, and the rest can be used to navigate the menu. This enables you to activate HDR mode, which delivers a higher contrast and more vibrance. Or, you can use standard mode for framerates as high as 120 FPS. You can also adjust the FreeSync settings, which can be used to reduce stuttering and motion blur.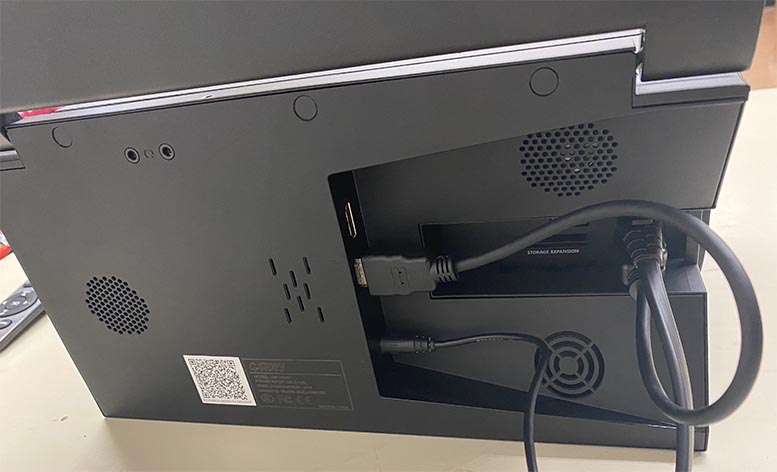 The screen itself has a diagonal measurement of 12.5 inches. That's a bit small, but it's perfect for sitting on top of the Xbox Series X. It's also an IPS display, which means you can see non-distorted colors from any angle. The default version is a true 4K display, with four times the pixels of a 1080p screen. That said, you can order a 1080p version for a significant discount. Both versions boast a color gamut of 99% of the sRGB color spectrum. That's right up there with some of the best gaming monitors, and it's pretty impressive in a portable display.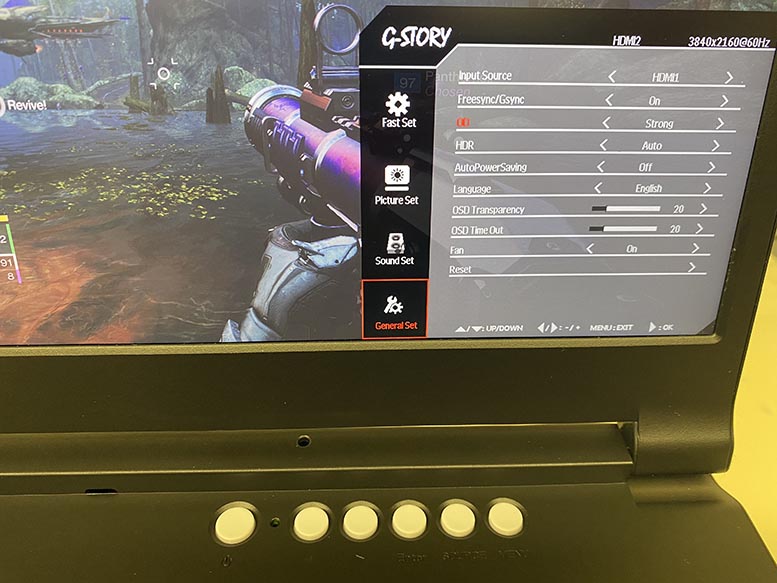 This portable monitor sports not one but two HDMI ports. This allows you to connect a second video source, and switch back and forth. Both ports work a little bit differently. HDMI 1 provides the best framerate, at up to 120 FPS. But to get that framerate, you'll need to drop the resolution to 1080p. You can use this port for 4K, but only at 30 FPS. Alternatively, you can get 4K video at 60 FPS on the HDMI 2 port. This provides a different balance between video resolution and frame rate.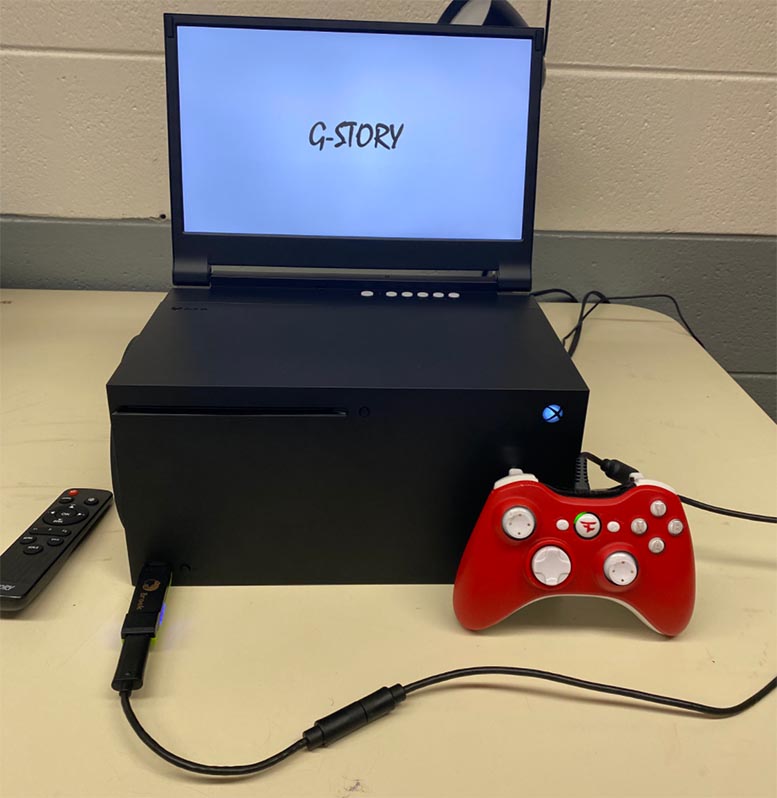 The back of the G-STORY monitor's base has a pair of 2.5-watt speakers built in. These provide decent quality stereo sound, better than you'd expect for the size. Even so, let's keep this in perspective. These are 2.5-watt speakers, so they're not that loud, and they're a bit tinny. If you really want top-tier audio, use a headset or headphones.
The kit includes a remote control, which is handy if you're not playing at arms' length. It comes with a tiny HDMI cable, which connects to the back of your console. And power is supplied by a simple DC adapter, which plugs into your wall outlet. All of this is protected by G-STORY's 12-month manufacturer's warranty. If that's not enough, they also offer a 30-day, no-questions-asked return window. If you decide you don't like it, just ship it back.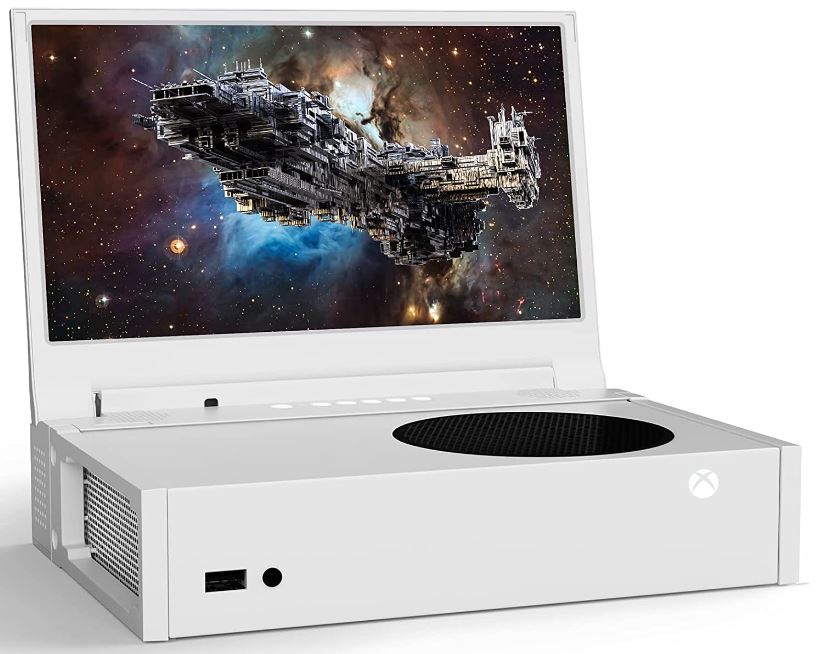 DEPGI 12.5″ 1080P Portable Monitor for Xbox Series S
The DEPGI 12.5″ 1080P IPS Portable Monitor for Xbox Series S is an excellent choice. It clamps onto the back of the console housing, with a hinged design and a collapsible display. It also matches the housing, although in this case that means it's white, not black.
Use Coupon Code GJZ728AV for a $100 off when you purchase the DEPGI Portable Monitor for Xbox Series S
There are additional vent supports that wrap around the sides of the Xbox, but don't block the vents. That said, when the screen is collapsed, it will block the top vent. If you hook up to a larger monitor, you'll need to open this one up or remove it altogether.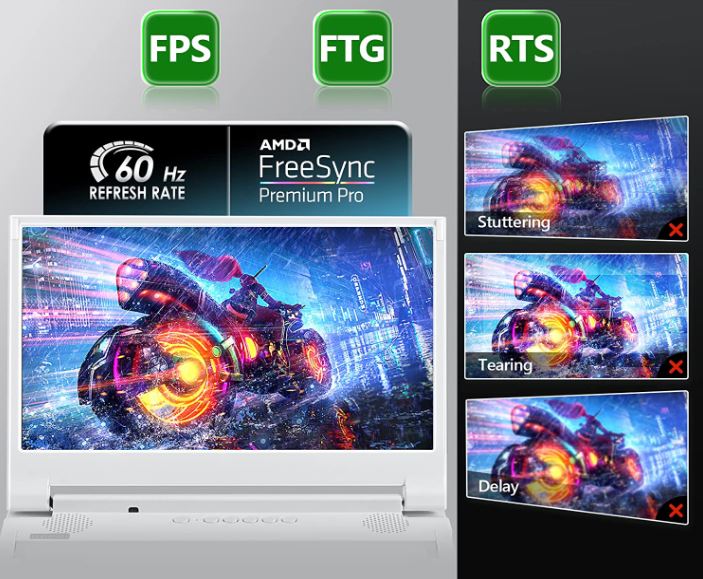 There are buttons on the base to control the various functions located directly below the screen. Speaking of, you have a beautifully vibrant 12.5-inch 1080P IPS display, with a 99% sRGB color gamut and an HDR mode. It utilizes AMD's FreeSync Technology with a 60Hz refresh rate. What this means is no stuttering, tearing or delay, regardless of the type of game you're playing.

There are no speakers built into this monitor, but there is a 3.5mm aux port. This gives you the flexibility to connect your own external speakers or a pair of wired headphones.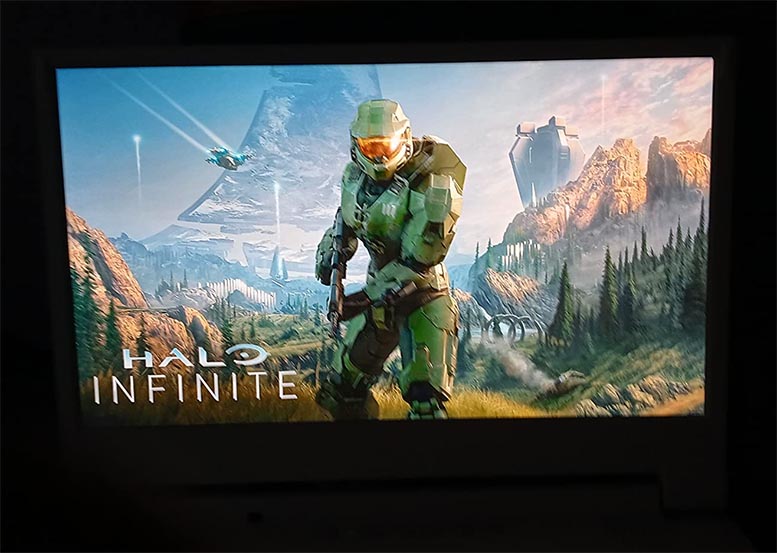 Once you have it attached to your console, you can fold the monitor inward and place it in a backpack. The size it adds to the Series S isn't very significant. Best of all, it looks sleek and well-made.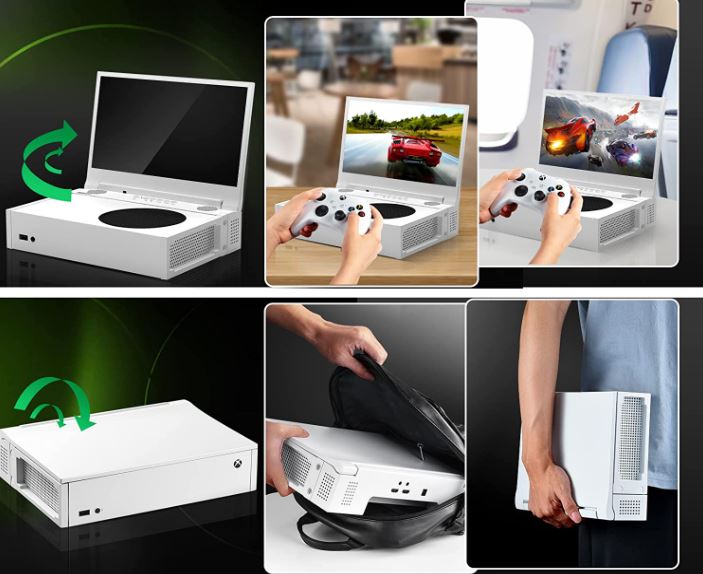 Rounding out the kit is a simple wireless remote, DC power cable/plug, a power and HDMI cable to connect the Series S console. You also get Amazon's excellent 30-day free return window in case you decide it isn't for you.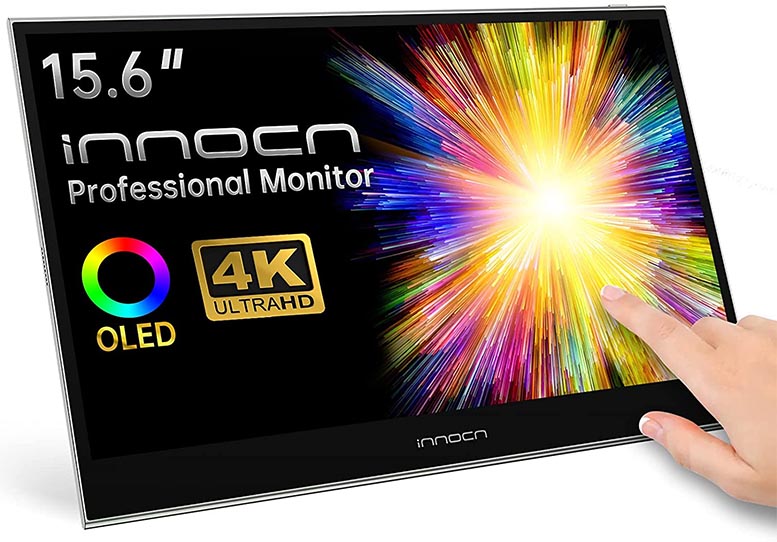 INNOCN 15.6″ 4K OLED Portable Monitor
We've reviewed several of INNOCN's monitor's before, including the INNOCN 15K1F. So we were eager to get a good look at the new INNOCN 15.6" 4K OLED Portable Monitor. This is a wide, flat monitor with an attractive silver housing and a black border around the screen. It's ultra-slim, at less than a quarter inch in thickness, and it weighs only two pounds. It's also well-protected, with a folding case that covers it during transport. When you're ready to play, flip open the case and use it as a kickstand.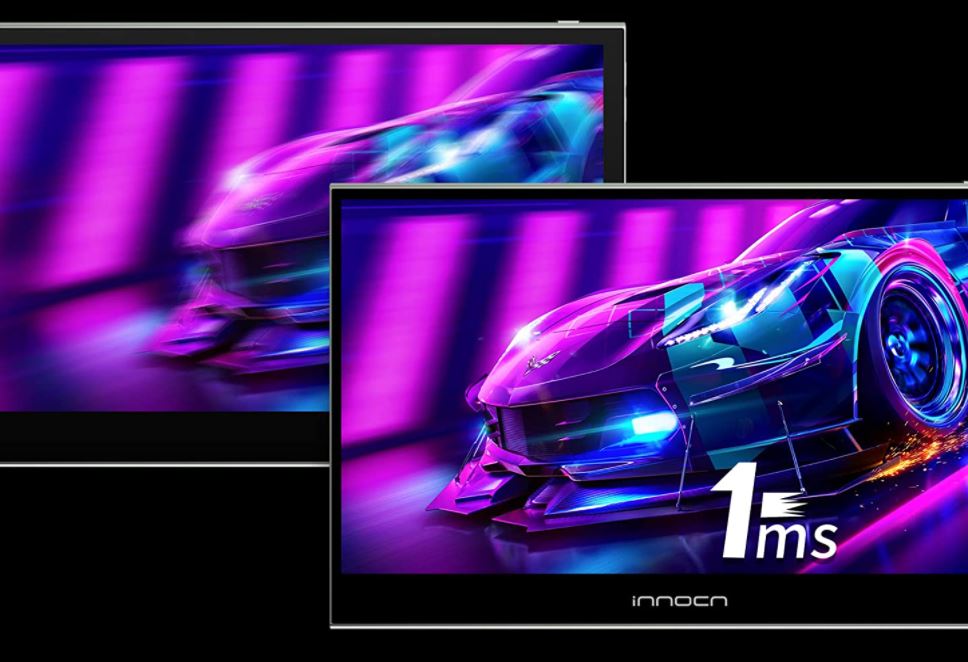 This is a fairly large portable display, at 15.6 inches. It also offers 4K resolution, meeting the demands of the Xbox Series X. The color gamut of 100% of DCI-P3 is on par with movie industry standards. And with a 100,000:1 contrast ratio, it's great for even the darkest, grimmest game titles. Best of all, it has less than 1ms of latency, so it's ideal for online gaming.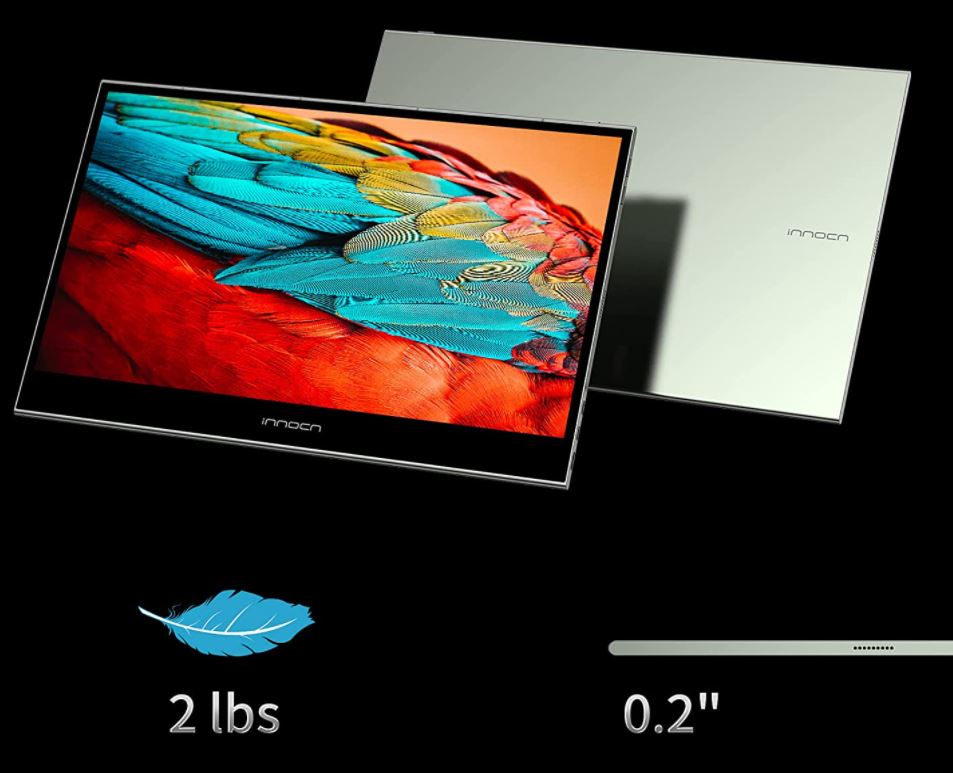 The INNOCN 15.6" display is highly versatile, with both USB Type-C and Mini HDMI connections. When you're using it with a tablet or laptop, you can take advantage of the touchscreen function. This lets you zoom in and swipe without a mouse. Moreover, the internal battery provides enough charge for four hours. If you need more than that, just plug into a wall outlet using the included USB power cable and wall adapter.
What Makes a Good Portable Monitor?
What features should you be looking for when you choose a portable monitor? A lot depends on your needs, but there are a few things you should always have in mind. Here are those basic features.
Display Size and Resolution
When it comes to display size, bigger is usually better. But with a portable monitor, you're looking at a trade-off. The larger the display, the less portable it's going to be. Your typical portable monitor will measure 15.6 inches or less on the diagonal. That's around the size of a mid-sized laptop screen. You can find some that are as large as 17 inches, but that's starting to push the envelope for portability. Along the same lines, think about the display's thickness. A big, fat monitor is going to be tough to carry around.
Resolution is another important concern. Just as with a larger monitor, you're going to want to see as detailed an image as possible. At a bare minimum, you'll want at least a 1080p Full HD display. Then again, the Xbox Series X is a 4K system, and even the smaller Series S puts out 2K video. If you want to get the most out of your new console, a 4K monitor is going to be ideal.
Frames Per Second
Second only to resolution, refresh rate is among the most important features gamers look for in a monitor. With the new Xbox consoles pushing 120 frames per second, you're going to want a monitor that can keep up. At a bare minimum, you're going to want at least 60. There's no excuse to be using a 30 FPS display these days. Higher is always better for future-proofing, but anything over 120 won't help with today's Xboxes.
Connection Options
Another important consideration is how you're going to connect the monitor. Both the Xbox Series X and Series S connect via HDMI. To keep things simple, it only makes sense to use an HDMI monitor. That way, you don't have to mess around with any adapters. That said, some monitors also allow you to connect via USB Type-C. This can make your portable monitor more versatile if you have a USB Type-C smartphone, tablet, or laptop.
Power Source
When you're choosing any portable device, you need to think about how it's getting its power. Are you plugging into a wall outlet, or do you want a battery-powered monitor? Keep in mind that a good quality gaming monitor is going to draw a lot of juice, so the battery will add some weight. Along the same lines, you'll need to plug your Xbox console into an outlet. So you'll already be close enough to electricity that monitor power is not a concern. Then again, a battery-powered monitor can be more versatile if you want to use it for more than console gaming.
Final Verdict
So, which of these monitors is the best choice for you? The G-STORY 12.5″ Portable Monitor for Xbox Series X and DEPGI for Series S are both great choices. They fit directly onto your console, which makes transport easier. You get enough performance to match your system's capability, in terms of both resolution and FPS. The colors are vibrant, and the Series X version even has its own built-in speakers. There's a lot to like about both of these displays.
The INNOCN 15.6″ 4K OLED Portable Monitor doesn't clamp onto your Xbox console. But it does provide professional-grade quality for gamers and content creators alike. Not only that, but the USB Type-C video option makes it more versatile than an HDMI monitor. If you want a portable display that does more than just gaming, this is an excellent choice.
Please consider sharing:
Note: At no extra cost to you, we may earn a commission for purchases using our links. Learn more.