Laifen Swift
Pros
Powerful drying performance.
Ionizer keeps hair from frizzing.
Straightforward controls and easy operation.
High-quality attachments.
Does not get very hot to the touch.
Cons
Power cord too short for professional stylists.
Filter cover sometimes slips down by itself.
Whether you're going to work or going out, you want to look your best. If you're Dwayne Johnson and sport a gorgeous bald head, congratulations! You don't have to worry about styling your hair.
But if you have certain hairstyles, you have to put in a lot of work. Depending on your desired look – and your hair type – this often involves using a blow dryer. For one thing, it isn't always practical to let your hair dry naturally. If you have long, thick hair it can take an entire day just to dry out. This obviously limits what you can do with it.
For example, suppose you have rich, curly hair. You want your hair to look perky and bouncy. But when it dries naturally, the curls can get weighed down and become matted. Dry that hair out and work in a little mousse, and it will have more than enough body. That's why if you walk into pretty much anyone's bathroom, you'll find a blow dryer.
But blow dryers come with their own issues. The quick rush of air creates a lot of friction, which can generate static in your hair. That's why your hair may end up frizzy after you've blown it dry. There's even a slew of products to apply to your hair after drying it to tame any strays. An ionized hair dryer is a perfect solution to that problem.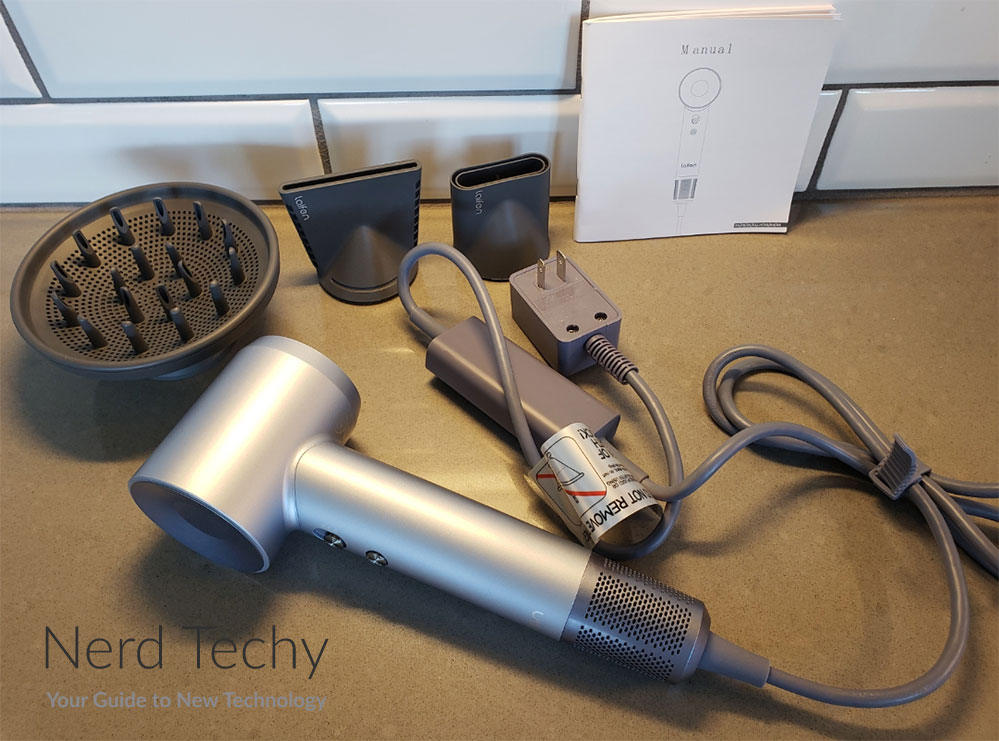 Laifen Swift High Speed Hair Dryer
Today, we'll be reviewing the Laifen Swift High Speed Hair Dryer. This is a compact hair dryer that's surprisingly powerful for the size. It has a built-in ionizer that keeps your hair from frizzing. And with multiple attachments and settings, it's suitable for any hair or style.
But is it the right choice for you? To find out, we're going to take a much closer look. We'll talk about the basic design and how it's put together. We'll discuss how you control it, and the different settings you can choose. In addition, we'll also evaluate the various accessories, as well as the ionization function. At that point, we'll have a complete picture of what we're dealing with. Let's get started!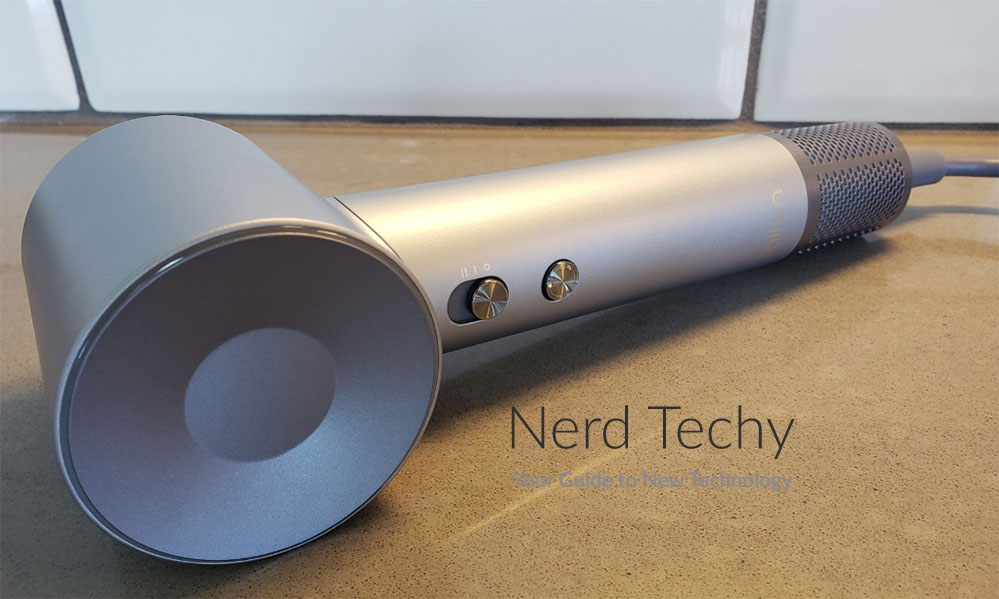 Overall Design
The Laifen Swift High Speed Hair Dryer has a matte plastic housing. It seems fairly durable, and can withstand an ordinary drop without immediately cracking. The matte finish is also easy to keep clean, which is handy for anything you keep in your bathroom. You'll also have your choice of four colors: silver, black, red, or white.
The design is minimalist, with no unnecessary curves, angles, or bulk. The handle is slender and elegant, with a round, tapered design, and a small "Laifen" imprint near the bottom. It attaches to the bottom of a short, stubby upper housing.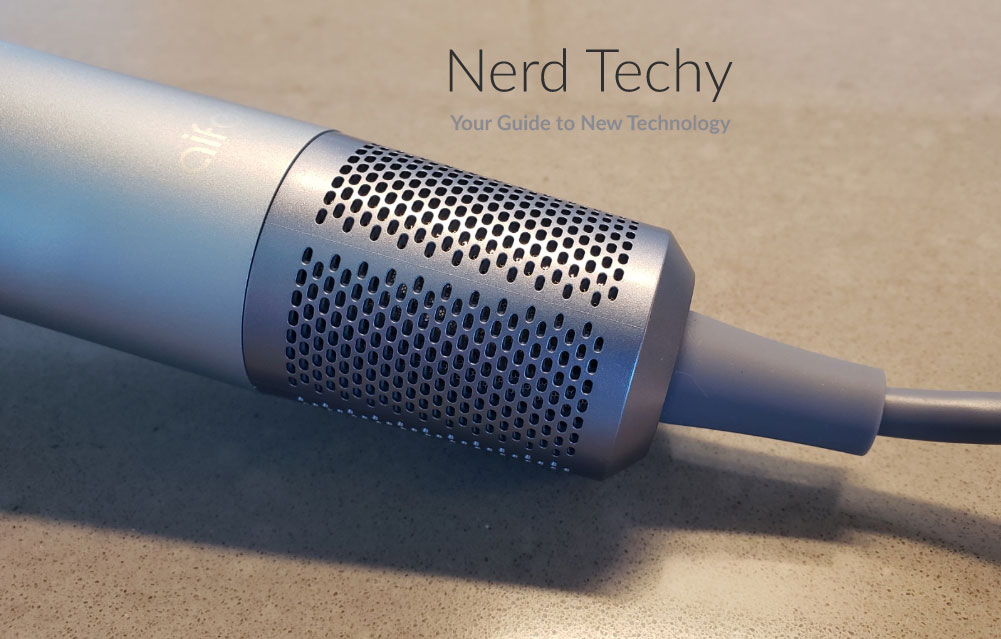 The back of the housing has a slight indent, and the front is open to form an outflow vent. The total size is 10.9 inches tall, 2.76 inches wide, and 3.5 inches long, and it weighs just 14.35 ounces. This makes the Swift an excellent choice for anyone who spends a lot of time on the road. Pop it into your suitcase, and it will only add a negligible amount of bulk.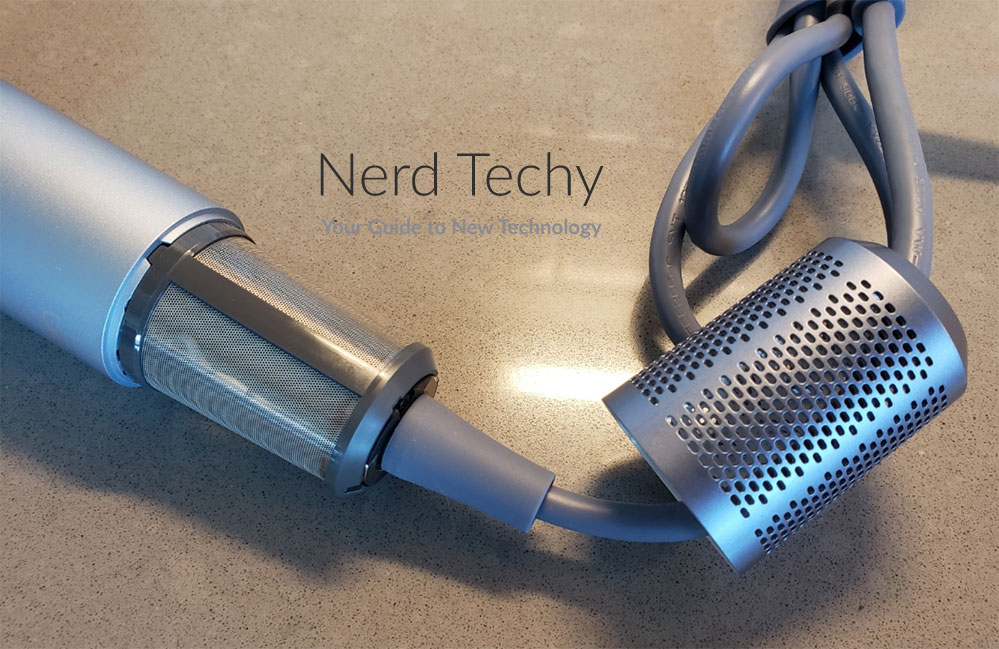 Unlike a traditional hair dryer, the intake vent isn't located on the back. Instead, it's at the bottom of the handle. There's an outer inlet cover that slides down so you can clean an inner mesh filter. Unfortunately, the outer cover can sometimes come loose on its own, which can be frustrating. On the other hand, it's not a safety issue. The inner filter is extraordinarily fine, and won't allow your hair to get sucked into the blow dryer.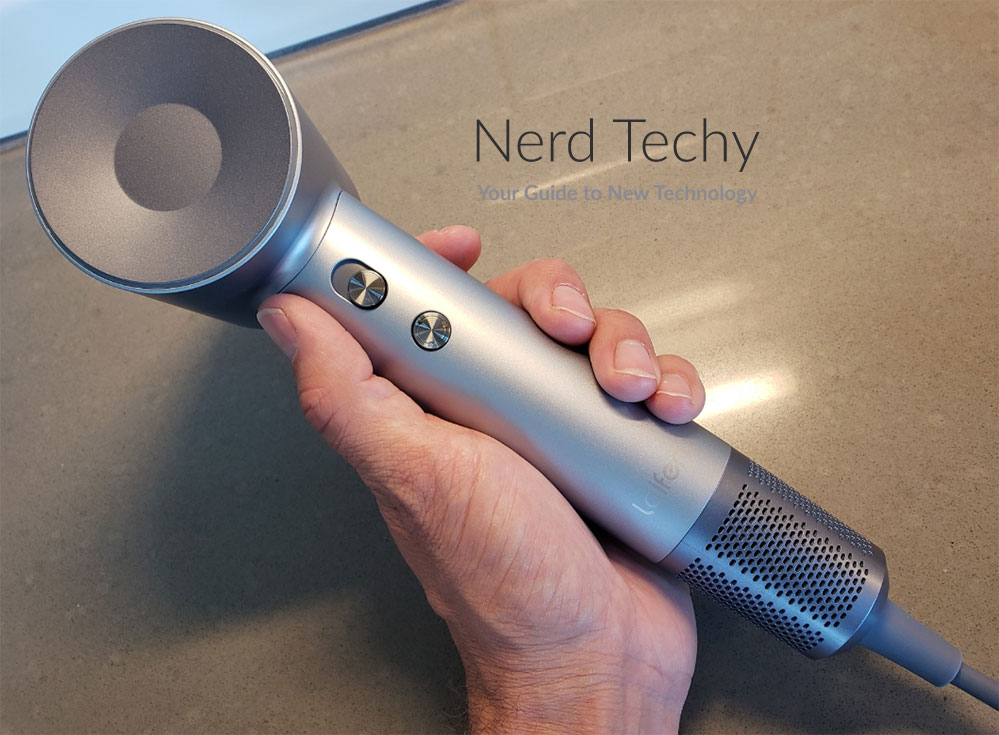 Controls and Operation
There's a round silver switch on the handle, which you can operate with your thumb. In the bottom position, your dryer will be off. Slide the switch forward, and the motor will turn on the lowest speed. Push it forward one more setting, and it will go to the highest setting.
Below the power switch is the temperature control button. This button has an LED light ring built into it, which indicates the current temperature setting. When it's blue, you'll be blowing cool, room-temperature air. Press it again, and the light will turn yellow to indicate that it's blowing warm, 120-degree air. A third press will turn the light red and increase the temperature to 176 degrees.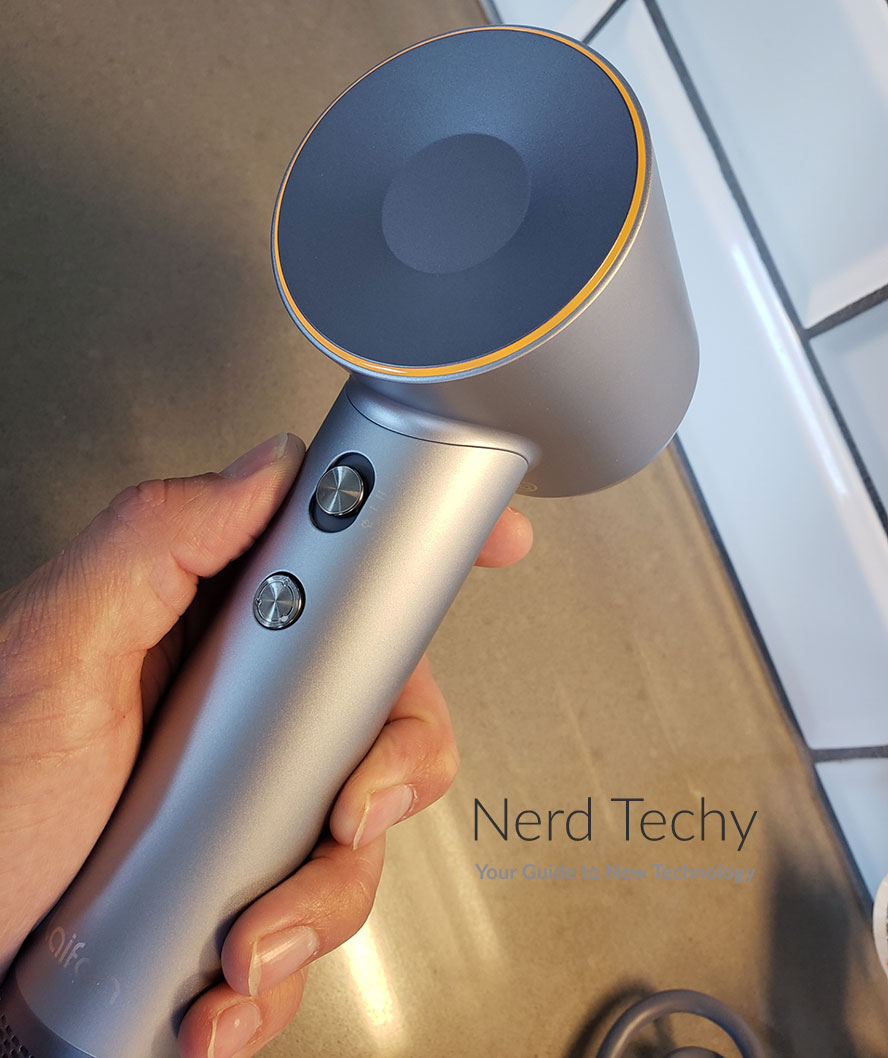 Alternatively, you can press and hold the temperature button for two seconds. This will activate the special circulating mode. In circulating mode, the temperature slowly oscillates between cool and hot. It's useful if you want to dry out your hair quickly but don't want to subject it to sustained high heat.
The Swift connects to your power outlet with a 5.9-foot cord. The end of the cord has a GFCI switch, which will trigger if there's a short-circuit. This is designed to protect you from electrocution if you drop it in your sink. Our only complaint is that the cord is only long enough for home use. Considering the price, it would have made sense to build in a longer cord for professional hairdressers.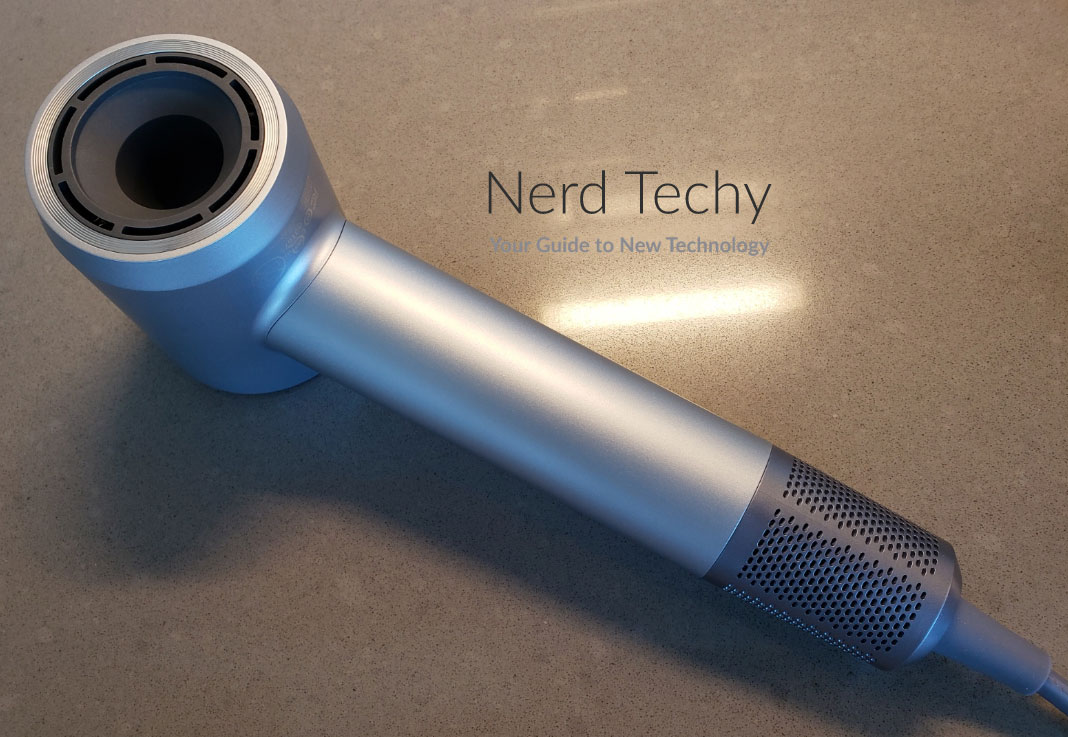 Drying Performance
The Laifen Swift has a powerful 110,000 RPM motor. The motor is brushless, which makes it more long-lasting than a traditional electric motor. Without brushes to wear out, there's one less thing that can break.
The motor is also very quiet. Even on the most powerful setting, it only produces 59dB of sound. Now, let's be realistic; this is a hair dryer. If it's blowing right next to your head, you won't be able to carry on an ordinary conversation. But behind a closed door, it's not going to wake up other people in the house.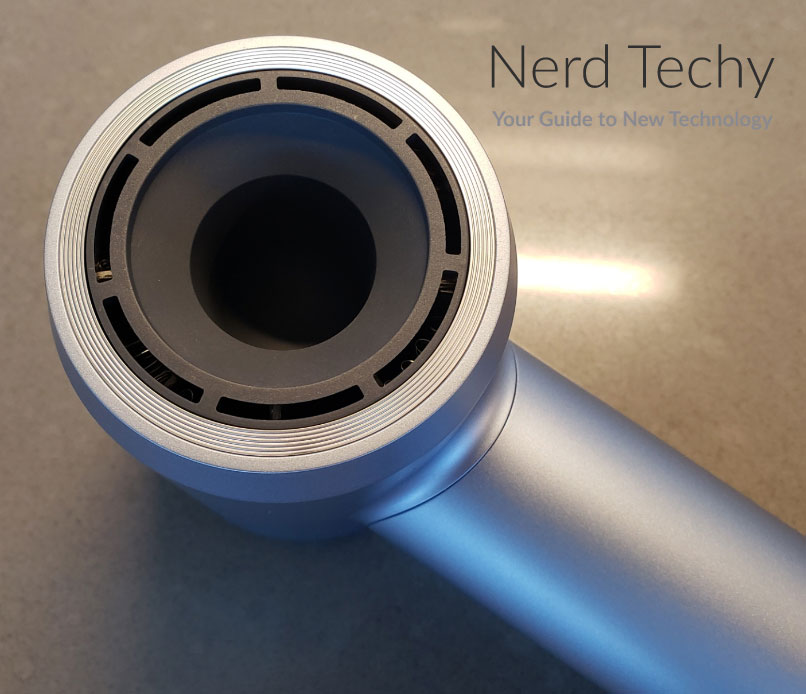 The air flow on the maximum setting is exceptionally powerful, at more than 70 feet per second. That's about twice as fast as your typical off-the-shelf hair dryer. You can dry your hair in about five minutes, although there will obviously be some variation. Shorter, thinner hair will dry faster, and longer, thicker hair will take more time to dry.
One thing we very much liked was the reliability of the temperature controller. Most hair dryers will simply apply a certain amount of current to a heating element. Depending on the ambient temperature, the resulting air may be hotter or cooler than it's supposed to be. The Swift has a built-in thermostat and microprocessor that checks the air temperature 100 times per second. It constantly adjusts the heating element as needed to maintain a precise temperature.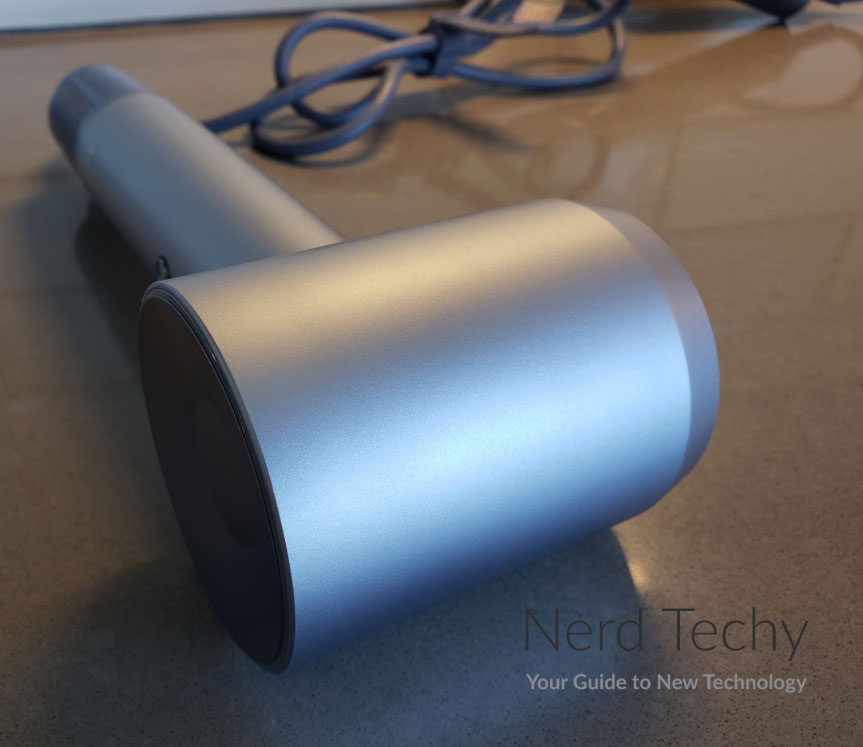 Accessories
There are four different attachments with the Swift hair dryer. The first is the 360-degree rotating magnetic nozzle. This nozzle attaches via a magnetic ring around the outside of the opening, and the connection is very secure. It can be twisted to adjust the angle of the air stream, and has a medium-sized opening. This is the standard nozzle, and it's the one you'll probably use most of the time.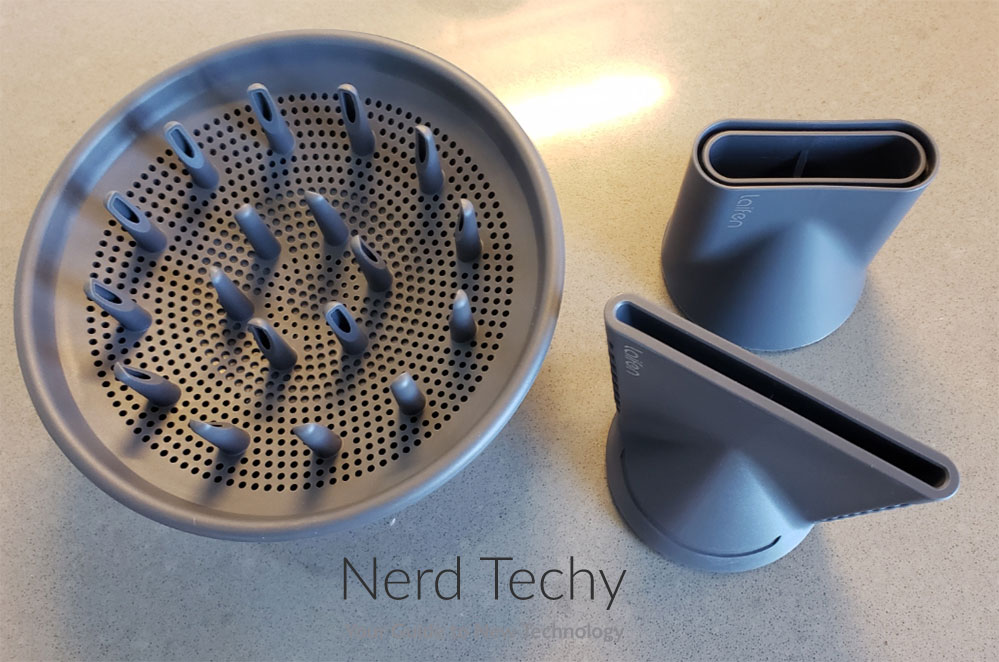 The second nozzle is narrower and flatter. This flatter design restricts the air flow, causing it to rush faster out of the dryer. This is great for creating certain hair styles or for blowing out your hair in a hurry.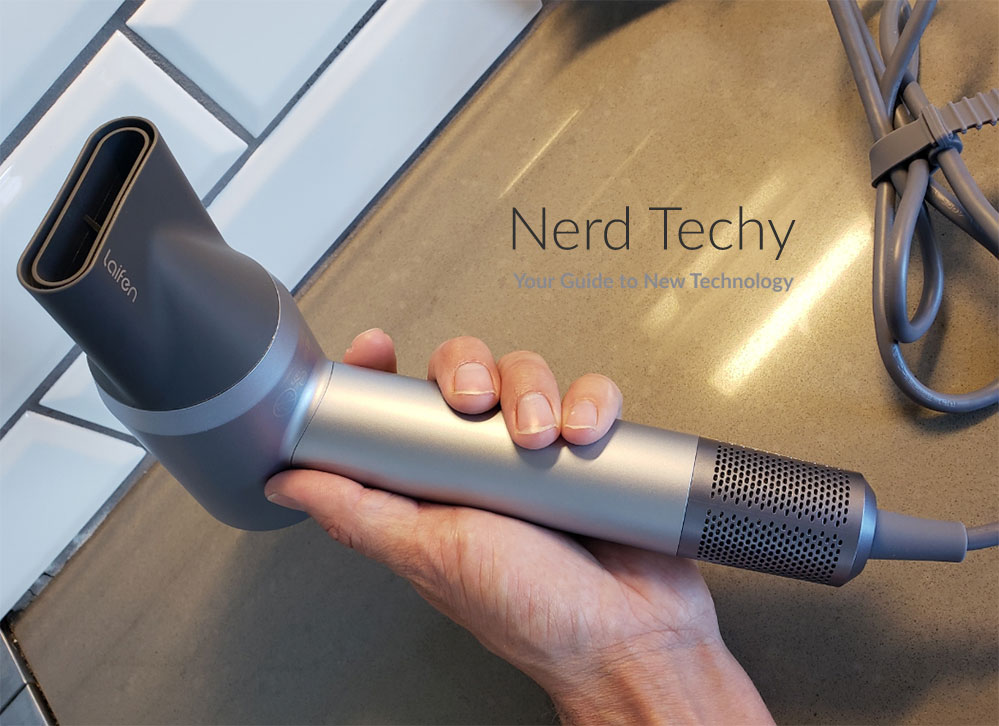 The third option is the diffuser attachment. The diffuser is like a big bowl that sits on the end of your dryer. It's the exact opposite of the narrow nozzle. There are a bunch of little holes throughout the diffuser, which spread the air out over a larger area. As a result, it comes out more slowly and doesn't ruffle your hair. This is the best attachment for curly hair, or for many hair styles that require a lot of volume.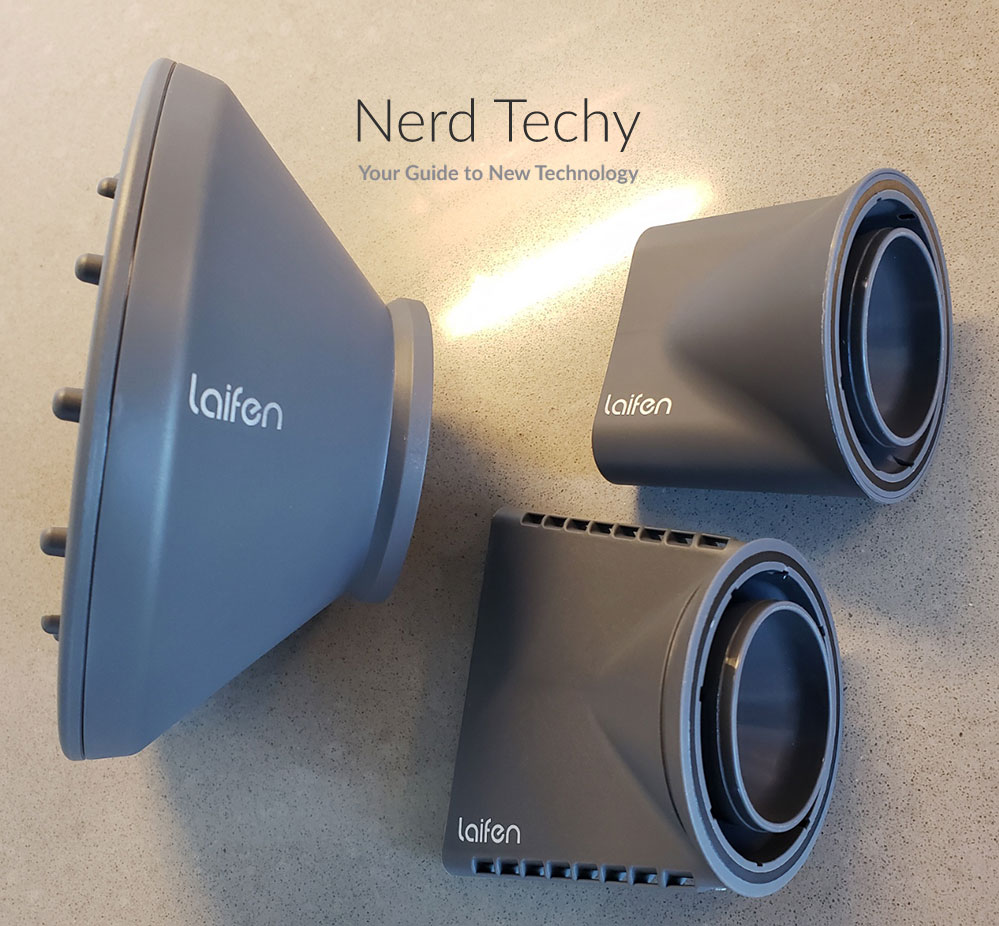 All of the nozzles are made from an attractive matte black plastic that stands up well to heat. Even after extended use, they won't suffer any damage. We should also note that you can order a discounted version of the Swift with only the magnetic nozzle.
Of course, you can always use the dryer without a nozzle. It won't reduce or diffuse the flow, so you'll get a moderate rate of drying.
Ionization and Extras
The Laifen Swift's most unique feature is the ionization function. A built-in ionizer produces 200 million negative ions. We're not sure if that's per minute, per hour, or what other measurement they're using. But it does seem to be effective at reducing static and preventing frizzy hair. It's not foolproof – some hair is just naturally frizzy. But if your hair is only frizzy after blow drying, here's your solution.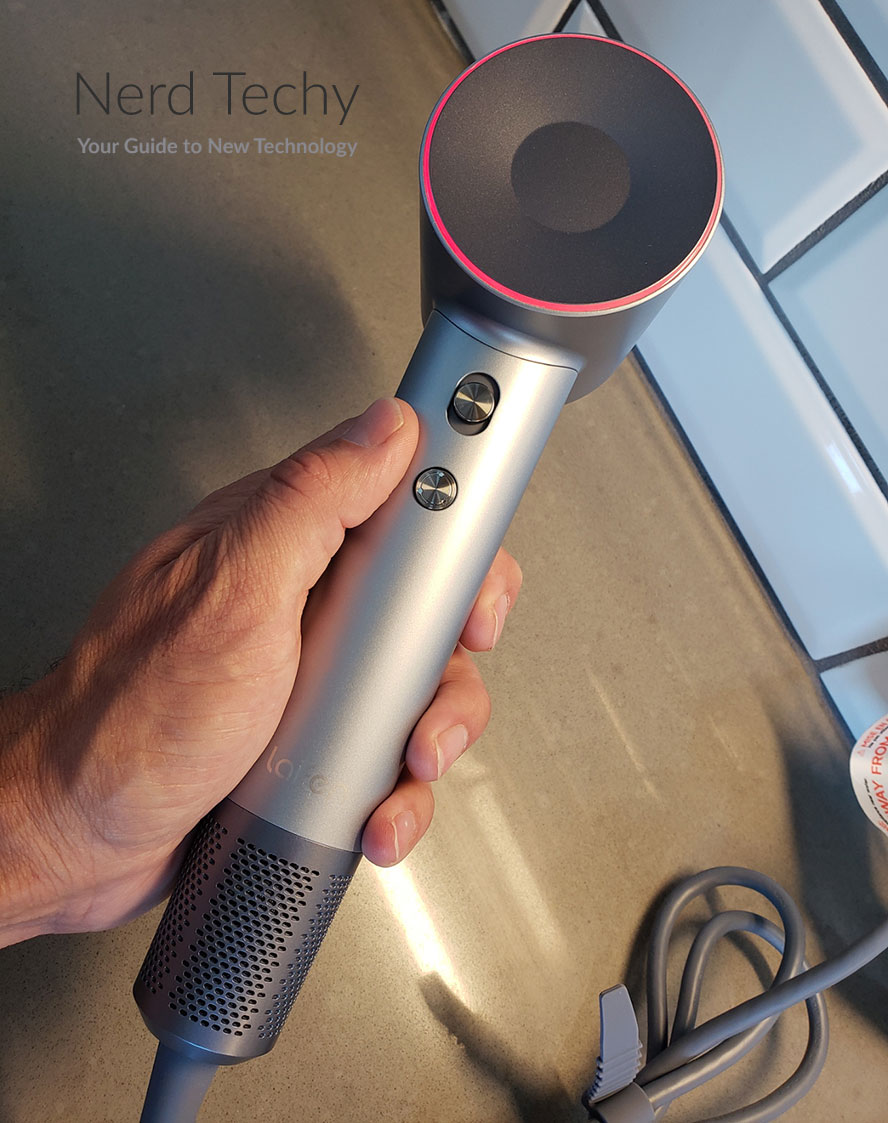 There are also some important safety features built into the Swift. To begin with, it has a fire-resistant frame. In order for it to catch fire, it would need to get far hotter than the heating element. Beyond that, the circuitry has overheating protection. If the element starts to get too hot, it will automatically shut down. The same goes for overcurrent. If there's a power surge, the GFCI will kick in and prevent any permanent damage.
Laifen backs their hair dryer with a two-year manufacturer's warranty. If it fails due to a defect in labor or materials, you'll get a free replacement or a full refund. Beyond that, they offer a 30-day return window. If you try the Swift and decide you don't like it, you can ship it back for a refund.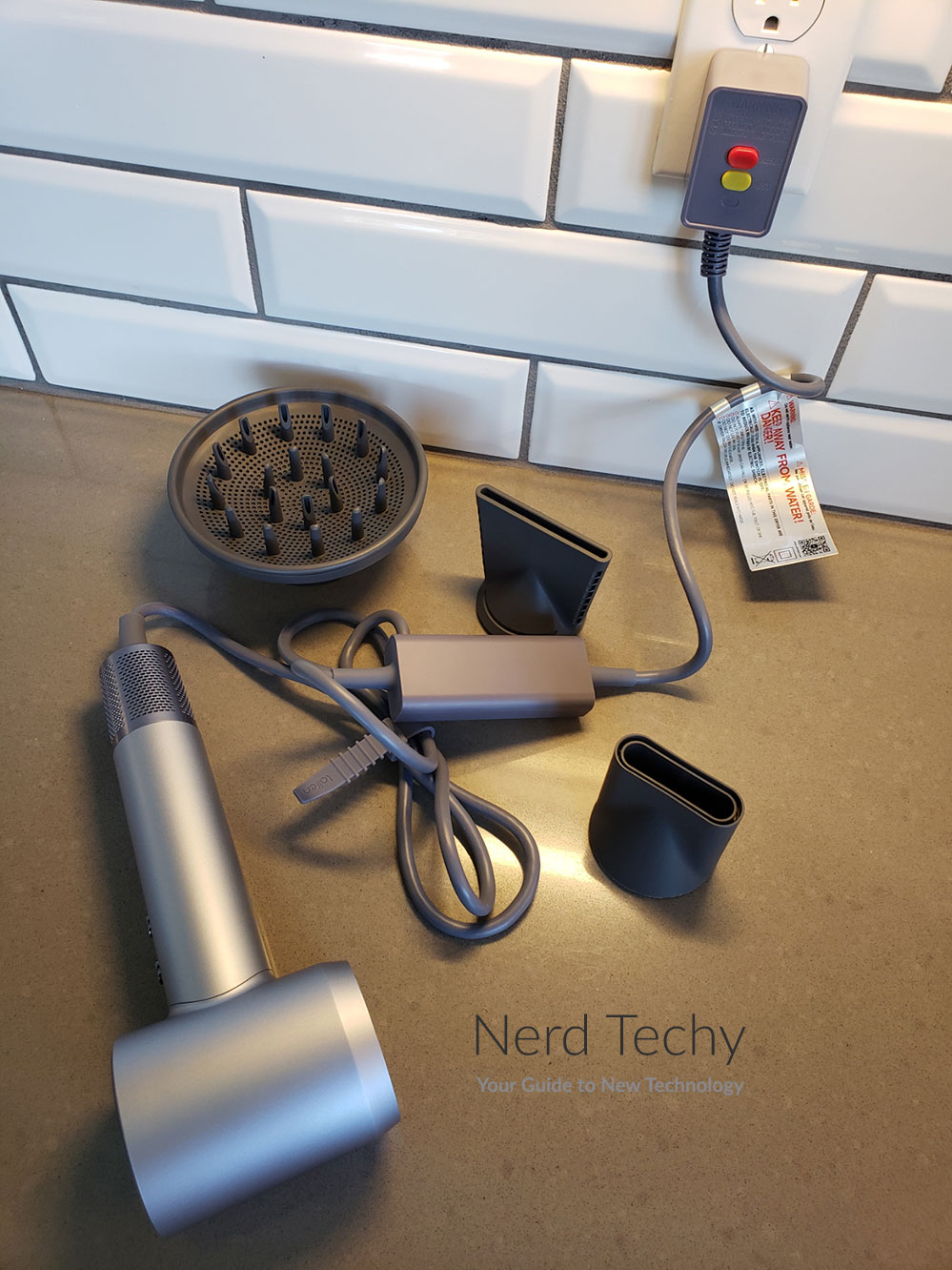 Final Verdict
The Laifen Swift High Speed Hair Dryer is a powerful little machine. It has twice the blowing power of an average blow dryer in a more compact package. The controls are straightforward, with a single speed switch and a temperature button.
The ionization function seems to be pretty effective at controlling fly-away hairs. And with three high-quality nozzles, you can create a variety of hair styles. We would have liked to see a longer power cord. But considering all the benefits, that's a minor complaint.
Meet Derek, "TechGuru," a 34-year-old technology enthusiast with a deep passion for tech innovations. With extensive experience, he specializes in gaming hardware and software, and has expertise in gadgets, custom PCs, and audio.
Besides writing about tech and reviewing new products, Derek enjoys traveling, hiking, and photography. Committed to keeping up with the latest industry trends, he aims to guide readers in making informed tech decisions.